This website uses cookies to ensure you get the best experience while browsing it. By clicking 'Got It' you're accepting these terms.


The best of EcoWatch, right in your inbox. Sign up for our email newsletter!
A pipeline fire in Nigeria in 2006 caused, like an explosion Friday, by pipeline vandalism. PIUS UTOMI EKPEI / AFP / Getty Images
A man outside his flooded home in Lokoja in the Kogi state of Nigeria following heavy rains there. SODIQ ADELAKUN / AFP / Getty Images
Nigeria declared a national disaster in four states Monday in response to deadly flooding that National Emergency Management Agency (NEMA) spokesperson Sani Datti partly attributes to climate change, CNN reported.
EcoWatch Daily Newsletter
Amnesty International activists clean up a Shell gas station in Gothenburg in protest against Nigeria oil, April 2010.
Amnesty International is calling for an international investigation into Royal Dutch Shell's practices, alleging in a new report released Tuesday that the oil giant was involved in human rights violations committed by the Nigerian government in the early 1990s.
The report, created following a review of thousands of internal company documents and testimony statements, charges Shell with aiding Nigerian security forces in silencing protests in the country's oil-producing Ogoniland region.
Oil in the Niger Delta. Amnesty International Canada
By Andy Rowell
The decades-long struggle for social and environmental justice in the Niger Delta continues, largely unseen by the wider world.
On Aug. 11, hundreds of people from the Niger Delta stormed the Belema flow station gas plant owned by Shell in the Rivers State region of the Delta. The plant transports crude oil to the Bonny Light export terminal, from where it is shipped overseas.
Moving oil is a dirty business, and never has that been more clear than this past month. Since March 11, the global oil industry has had 13 spills on three continents. In North and South America alone, they've spilled more than a million gallons of oil and toxic chemicals—enough to fill two olympic-sized swimming pools.
How bad was it? Here's an infographic of all the oil spills, leaks and derailments in the past 30 days.

All spills in order of occurrence:
March 11 – 21: Gwagwalada Town, Nigera
A week-long leak of Kilometer 407.5 NNPC (Nigeria National Petroleum Corp) pipeline. No official number of barrels spilled released, however the spill saturated a hectare (10,000 sq metres) of marshy ground near a major water source.
Tuesday, March 19: Fort Simpson, Northwest Territories Canada
Enbridge Norman Wells Pipeline leaks 6,290 barrels of crude oil
Monday, March 25: Fort MacKay, Alberta Canada
Suncor tar sands tailings pond leaks 2,200 barrels of toxic waste fluid into the Athabasca River
Wednesday, March 27: Parker Prairie, Minnesota U.S.
CP Rail train derails and spills 952 barrels of tar sands crude oil
Friday, March 29: Mayflower, Arkansas U.S.

Sunday, March 31: A power plant in Lansing, Michigan U.S.
16 barrels of an oil-based hydraulic fluid spills into the Grand River
Tuesday, April 2: Nembe, Nigeria
After suffering a reported theft of 60,000 barrels of oil per day from its Nembe Creek Trunkline pipeline, Shell Nigeria shuts off the pipe for nine days to repair damage
Wednesday, April 3: 350KM southeast of Newfoundland, Canada
A drilling platform leaks 0.25 barrels of crude oil
Wednesday, April 4: Chalmette, Louisiana U.S.
0.24 barrels (100 lbs) of hydrogen sulfide and 0.04 barrels (10 lbs of benzene) leak at an Exxon refinery
Monday, April 8: Esmeraldas, Ecuador
The OPEC-managed OCP pipeline leaks 5,500 barrels of heavy crude oil, contaminating the Winchele estuary
Tuesday, April 9: 29KM NE of Nuiqsut, Alaska U.S.
Human error during maintenance spills 157 barrels of crude oil at a Repsol E&P USA Inc pipeline pump station
Visit EcoWatch's ENERGY page for more related news on this topic.
——-
By Janet Larsen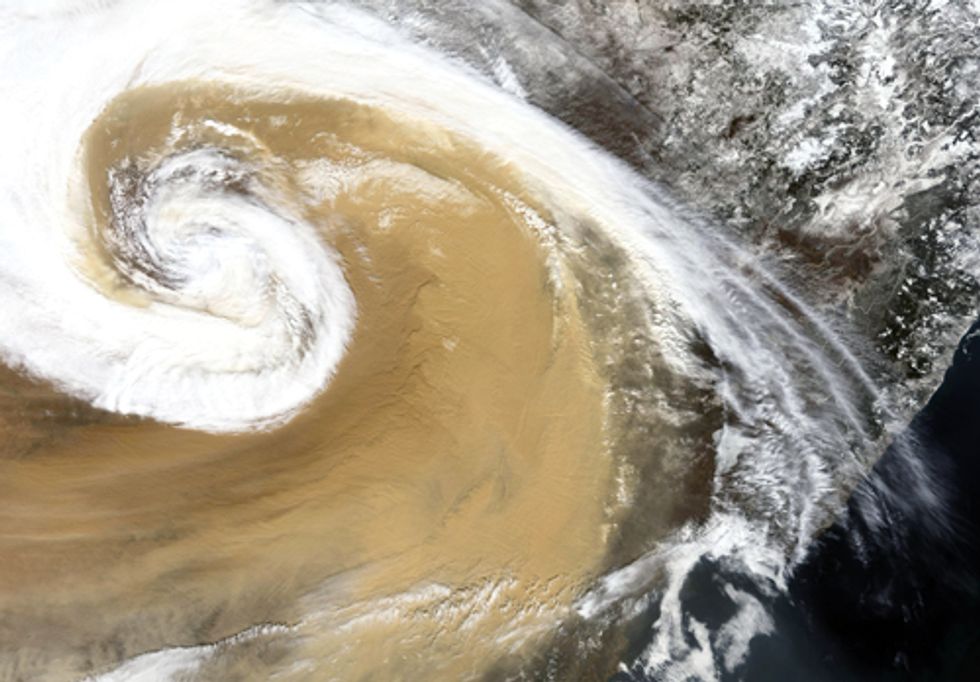 Unfortunately, dust bowls are not just relics of the past. Today two new dust bowls are forming: one in northern China and southern Mongolia and the other in Africa south of the Sahara.
When most people hear the term "dust bowl," they think of the American heartland in the 1930s, when a homesteading wheat bonanza led to the plowing up of the Great Plains' native grassland, culminating in the greatest environmental disaster in U.S. history.
Despite warnings from researchers and some farmers, history repeated itself in the Soviet Virgin Lands Project in the 1950s to early 1960s. Some 100 million acres (40 million hectares) of grassland were plowed under in Russia, Kazakhstan and western Siberia during Premier Nikita Khrushchev's push to produce ever more food from the land. When drought hit, the topsoil started to blow away. By 1965, nearly half the newly planted area was degraded by wind erosion. Yields plummeted. Ultimately farmers staged a retreat, abandoning much of that land.
Unfortunately, dust bowls are not just relics of the past. Today two new dust bowls are forming: one in northern China and southern Mongolia and the other in Africa south of the Sahara. Whereas the dust bowls in the U.S. and the Soviet Union were the result of overplowing, the main culprit in Asia and Africa is overgrazing. Although arid or semiarid grasslands are typically better suited for grazing livestock than for farming, once they are overstocked their protective grass covering deteriorates and they face erosion all the same.
Forty percent of China's land area is grassland. Following agricultural reforms that began in the late 1970s, in which collectively owned livestock were transferred to household ownership, China's cattle herds grew from 52 million in 1980 to nearly 105 million in 2000, according to the U.N. Food and Agriculture Organization (FAO). Meanwhile, China's population of sheep and goats ballooned from close to 180 million to 280 million. Such a high concentration of grazing animals has put unsustainable pressure on the land. For comparison, the U.S.—a country with comparable grazing capacity—hosts a similar number of cattle but only 9 million sheep and goats.
The fastest growth in China's livestock occurred with goats; starting in the mid-1980s, the herd size doubled in just 10 years. This is particularly troubling because a fast expansion of goat populations relative to cattle can indicate grassland deterioration. Goats are hardy, able to survive where few other grazers can. They can make efficient use of remaining greenery on nearly barren landscapes. Yet large numbers of goats often portend further environmental degradation because as the animals remove existing vegetation, they leave soils vulnerable to erosion from wind or rain.
Noting that an extraordinary 90 percent of China's grasslands are degraded, the Chinese government has embarked on restoration programs, including re-vegetation, grazing bans and livestock confinement. The government also has moved nomadic herders off the land or limited their movement under the guise of environmental protection. Evidence from the field, however, reveals that disrupting traditional grazing patterns can exacerbate land degradation and leave pastoralists more vulnerable to the vagaries of the weather.
FAO data indicate that since 2000, China's cattle numbers have shrunk by 20 million, and the growth in sheep and goat herds appears to have stalled. Whether this can be attributed to policies aimed at reducing herd size or the relocation of herders is unclear.
Meanwhile, much damage has been done, and China's dust bowl rages on. More than a quarter of China's land area is covered by desert, and each year spreading sands claim additional territory. Expanding deserts in the arid northwest are merging. Since 1950, more than 24,000 Chinese villages have been abandoned or are seriously in danger of succumbing to traveling dunes, with some 35 million people directly affected.
The effects reach far beyond the desert margins. Spring is the dust storm season. The snow melts and the wind picks up, transporting dust and sand particles from northern China and Mongolia as far as Beijing and on to Korea and Japan, sometimes even crossing the Pacific to cloud parts of North America. The China Meteorological Administration reports that a single severe dust storm in 2006 dumped 330,000 tons of dust from the west onto Beijing: a stunning 44 pounds for each of the city's residents. In 2007, a dust storm originating in China's spreading Taklimakan Desert circled the globe in just under two weeks.
Desert scholar Wang Tao notes that in the first decade of the twenty-first century, China experienced 87 dust storms. Records of very strong dust storms (in which visibility is reduced below 200 meters) show an increase over recent decades, from 5 in the 1950s to 13 in the 1970s, 23 in the 1990s, and 21 between 2000 and 2009. (See data.)
The Korean Ministry of the Environment notes a similar rise in dust storms arriving from China and Mongolia, with talk of a lengthening and strengthening "yellow dust season" in South Korea. Dust events clouded 23 days in the 1970s, 39 days in the 1980s, 77 days in the 1990s, and 118 days from 2000 to 2011.
As bad as Asia's dust storms are, the largest source of dust in the atmosphere on a global scale is Africa. Dust has long traveled out of Africa's deserts and drylands, which make up two thirds of the continent's land area; in fact, dust blowing out of Chad's Bodélé Depression is thought to help fertilize the lush Amazon rainforest. Nearly 75 percent of Africa's drylands are degraded. With land suffering the double whammy of drought and overuse, dust carried out of West Africa has increased over the last 40 years. Studies suggest that the larger influx of African dust may even be teaming up with rising ocean temperatures to damage Caribbean coral reefs.
In the Sahelian zone south of the Sahara the squeeze is on, with fast-growing populations trying to eke out a living by farming or grazing herds on ever less productive land. Desertification is particularly acute in Burkina Faso, Chad, and Niger, as well as in Nigeria, Africa's most populous country, where an estimated 868,000 acres are lost to desert each year. Conflicts over land between herders (largely Muslim) and farmers (largely Christian) are legion, with both groups exacerbating erosion. Nigerian pastoralists, largely in the country's north, have dramatically expanded their herds, putting additional pressure on soils already vulnerable because of erratic rainfall. In 1990, Nigeria had 14 million cattle, 12 million sheep, and 23 million goats. By 2010, cattle populations had climbed just slightly to 17 million, but the number of sheep tripled to 36 million, and goats jumped to 56 million.
Both Africa and China have launched ambitious initiatives to halt the spread of deserts with Great Green Walls of trees. Political leaders—including former Nigerian President Olusegun Obasanjo (an early champion of the African Wall) and Abdoulaye Wade, former President of Senegal—tend to favor such large symbolic projects. Indeed in the throes of the U.S. Dust Bowl, President Franklin D. Roosevelt was similarly taken with the idea of a giant shelterbelt. But as happened in the U.S., desert containment plans in the Sahel and China have broadened in scope beyond basic tree belts to encompass more holistic land management and poverty alleviation activities. The limited success at holding back the sands in China thus far, where since the early 1980s an estimated 40 billion trees have been planted (although far fewer have survived), confirms that stopping desertification involves much more than planting trees.
Climate change is complicating the matter even further. Large parts of the planet are trending toward dryness, with a marked increase in aridity since the 1970s, when global temperatures started to climb. As the Earth heats up further, droughts are projected to become even more pronounced. A rapid reduction in greenhouse gas emissions to prevent runaway global warming, along with a slowdown in the growth of both human and livestock populations to reduce pressure on the land, are what it will take to increase our chances of leaving dust bowls to history.
Visit EcoWatch's FOOD page for more related news on this topic.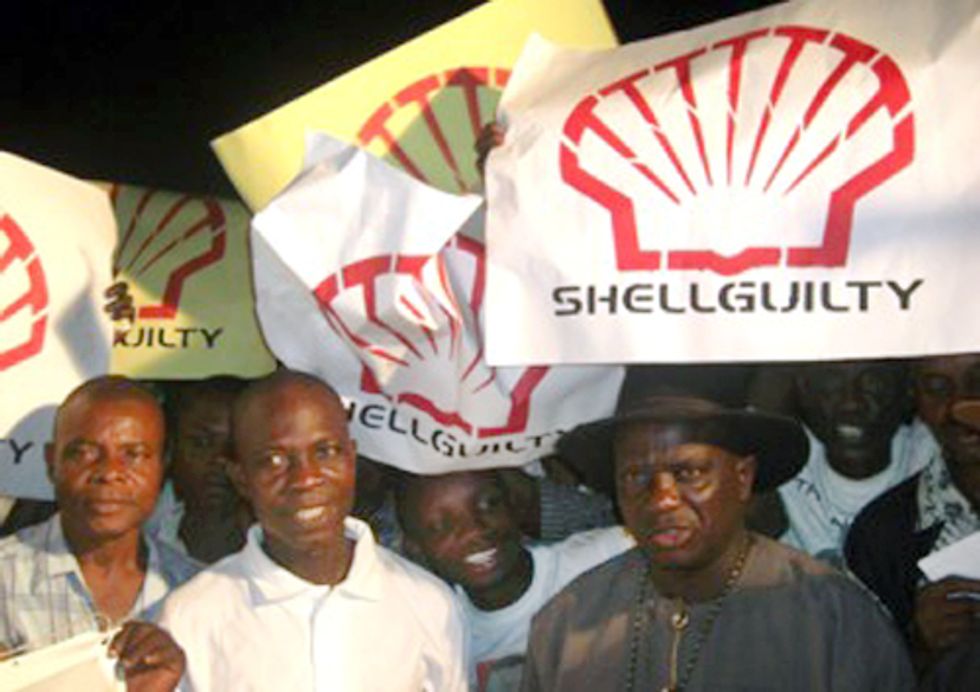 Early Monday morning, 71,010 Shell employees received an email from the company's "Grassroots Employee Empowerment Division" providing information on Kiobel v. Royal Dutch Petroleum, a pivotal human rights case being argued in the U.S. Supreme Court this month. The email contained links to news stories, as well as a tool to help employees tweet their feelings about the case at key U.S. news anchors and Oprah Winfrey.
The only thing is, Shell has no "Grassroots Employee Empowerment Division," and they don't want publicity for the case. The email was in fact the work of an activist group called People Against Legalizing Murder (PALM), who received the list of Shell emails from what they believe to be a group of disaffected employees. (A similar leak occurred two years ago.)
Within minutes of the email being sent out, Shell internally blocked the site, preventing employees from accessing it. "I would love to participate, but access is denied to all links you sent out," wrote one employee among many. The 71,010 employees were informed this morning of the situation and the site's new URL.
PALM intended the action to help shine a spotlight on the case, brought by the widow of Dr. Barinem Kiobel, who was hanged along with novelist Ken Saro-Wiwa for opposition to Shell's drilling plans in West Africa. Shell is alleged to have aided paramilitary forces that raided more than 60 villages, killed more than 800 people and displaced 30,000 more.
To prevail, Shell lawyers must overturn a 200-year-old law, the Alien Tort Statute (ATS), that compensates victims of international crimes. (The law has been used to compensate Holocaust survivors who sued for restitution from corporations that profited from slavery and forced labor during World War II). Shell's lawyers are arguing that their corporation is not subject to the ATS because it is not a person.
"When it comes to things like election spending, Shell and other corporations want to have all the rights of people," said Sean Dagohoy from PALM. "But when accused of murder, Shell conveniently argues that they aren't a person. A ruling in their favor would be a very dangerous precedent, and would badly undermine the United States' reputation as a place that cares about human rights. That's why we attempted to reach out to Shell employees to help get the word out."
"Surely most Shell employees, like most people, don't want multinationals to get away with murder just because murder's convenient," said Andy Bichlbaum of the Yes Lab, which provided technical assistance for the action.
"Shell needs to let its employees speak," said Mike Bonanno of the Yes Lab. "They can prevent it for a day, but in the long run they have no choice.
WHAT YOU CAN DO
Shell employees may never be able to visit this site while at work, but you can stand in for them by raising the issue with a key journalist. First, select a journalist: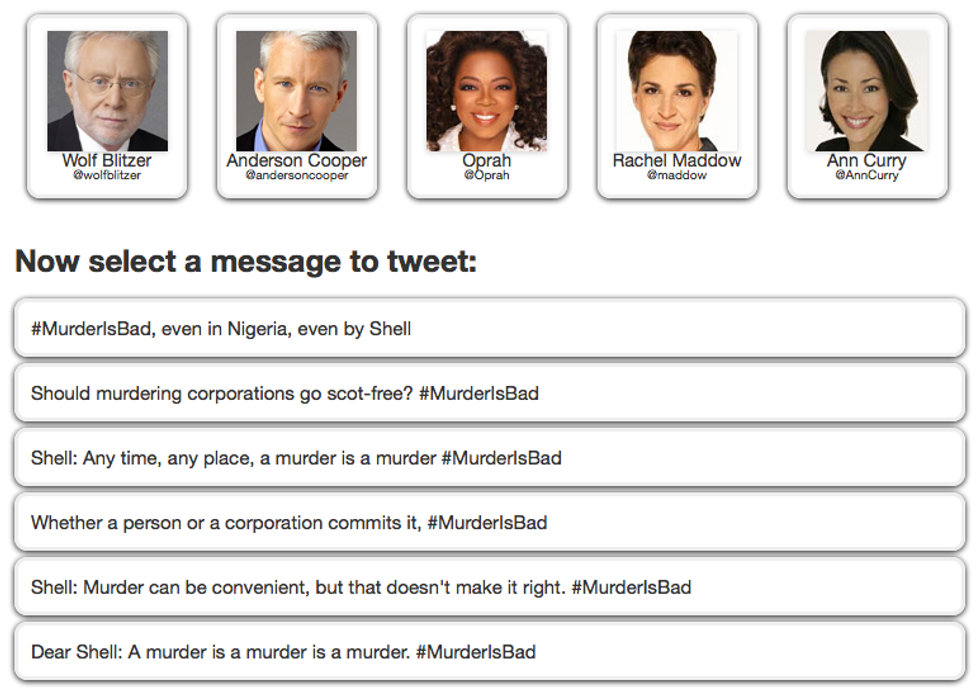 Visit EcoWatch's ENERGY page for more related news on this topic.
By Paul E McGinniss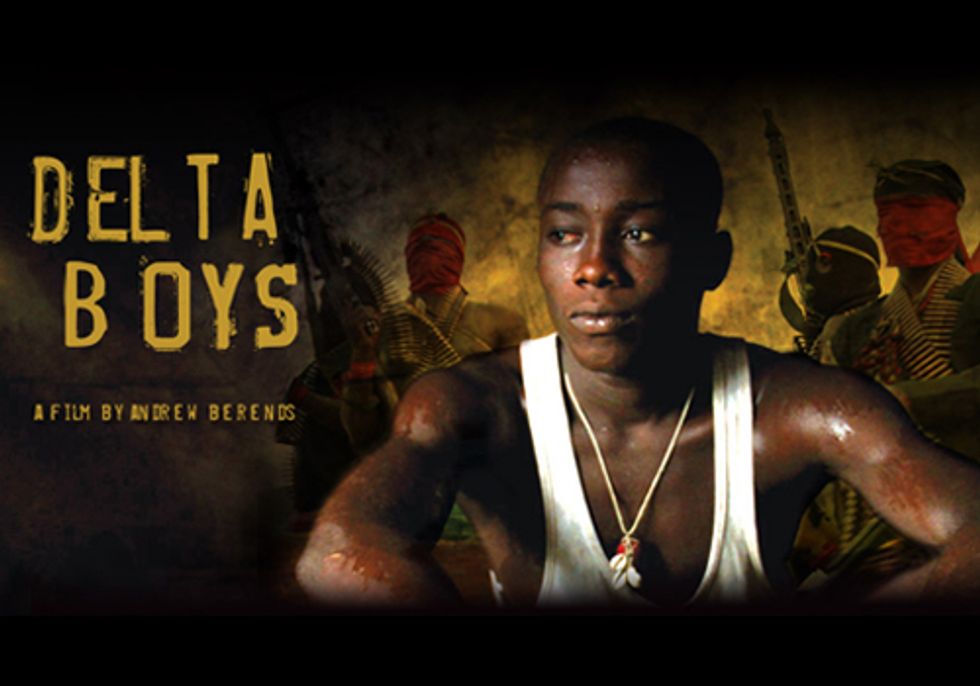 Delta Boys is a must-see film about Niger Delta militant rebels who are fighting government and environmental oppression in oil-rich Nigeria. Award-winning filmmaker, Andrew Berends, who was arrested in Nigeria during the filming of this documentary, bravely crosses the lines of Nigeria's oil conflict to bear witness to the lives of the militants engaged in the bloody struggle and the civilians caught in the crossfire.

Nigeria, Africa's most populated country, is the fifth largest oil supplier to America. No matter how far away this problem seems, it is something much closer to home than most of us want to believe. As we nervously watch the price of gasoline go up at the pumps, we try to forget where it comes from and at what cost.
While focusing on the rebels living in the Niger Delta where hundreds of millions of dollars of oil is extracted every year, Delta Boys reveals the impoverished lives of all who reside in the Niger Delta. The area has been destroyed by the oil industry and the Nigerian government. They turn a blind eye to the hundreds of oil spills that occur every year and the ongoing suffering of the indigenous population. 
It's no surprise that some have raised arms to rebel given the crimes perpetrated against them. The Washington Post reported that in December 2011 about 40,000 barrels of crude oil leaked between a floating storage vessel and an oil tanker in a Royal Dutch Shell field off the coast of Nigeria.
Reuters recently reported: "An oil spill near an ExxonMobil oilfield off the southeast coast of Nigeria has spread along the shore for about 15 miles, and locals said it was killing fish they depend upon to live."  
While I am not a supporter of violent protest, it's hard not to have some compassion for the rebels involved in the conflict. Nigerians who live on the Delta can no longer fish and live off the land. There are no schools. There are no jobs. There are no hospitals or healthcare. There are no adequate roads. Despite billions of dollars pumped, (or should I say pimped?), out of the ground, oil rich executives and government officials seem not to be human enough to be concerned about the pollution, help the local population or share even a small fraction of the wealth. Perhaps the powers that be hope the common people living in the Niger Delta will just die off and leave an invisible wasteland while continuing to line their pockets with the dirty money from the oil industry.
In the end, Delta Boys is a film not just about oil conflict in Nigeria, it is also a damning reveal about the international oil industry's devastating social and environmental policies across the globe and the complicit, corrupt governments who partner with them to pump oil, no matter the social or environmental cost.  
In the same vein as The Big Fix, a masterful cinematic expose about the devastating BP Horizon oil spill in the Gulf of Mexico, and Crude, a film chronicling the devastation wrought by the oil industry in Equador, Delta Boys is yet another wake up call for the world to encourage finding a better way to fuel itself.
But, have we really heard the wake up call? I think not. Since the BP spill, there have been many more oil spills around the world and they all seem to go largely unnoticed. Did anyone really pay attention to the 2011 oil spill in the North Sea? Or the Spring 2012 Natural Gas leak in the North Sea spewed a stream of toxic natural gas into the air for months and created miles and miles of a toxic poison "sheen" around the well?
Closer to home, how many of us even remember that in 2010, after the BP Horizon Spill, a pipeline break in Michigan sent 819,000 gallons of toxic tar sands sludge sliding into the Talmadge Creek and Kalamazoo River? The LA Times reported: "Before the spill, many residents weren't even aware a pipeline ran through their community. And Government investigators concluded that the pipeline's Canadian owner, Enbridge Inc., knew about the crack that led to the spill five years before the accident."
Is any of this teaching us a lesson? Seems like we're stuck in a kind of "Ground Hog Day" film scenario where we wake up and make the same mistakes over and over and over again. Recently, the New York Times reported: "In late August 2012, the Interior Department granted Shell permission to begin preparatory work on its first well in the Arctic Ocean, moving the company a critical step forward on its tortuous quest to drill for oil off the coast of Alaska."
Whether you are a Democrat or Republican, it does not matter. The toxic legacy of the oil and gas industry continues to haunt us. No matter your political persuasion, sticking your head under the tar sands and pretending how we fuel the planet doesn't effect us isn't going to work anymore.
Visit EcoWatch's ENERGY page for more related news on this topic.
--------
Delta Boys premiers Oct. 16 on leading digital platforms and storefronts through Sundance Institute Artists Services Program and Cinedigm Entertainment Group.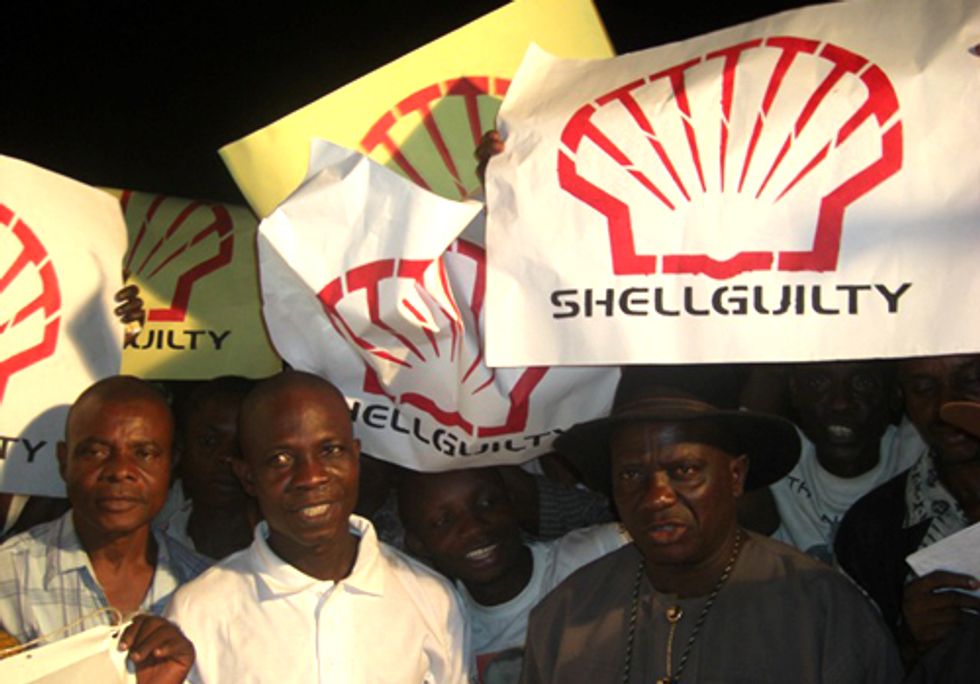 On Feb. 28 the Supreme Court will hear oral arguments in a case that will determine whether the U.S. truly supports the principles of international law for human rights accountability. Kiobel v. Royal Dutch Petroleum will examine whether corporations enjoy impunity when they are complicit in torture, extrajudicial executions and genocide, or whether they can be sued in the same manner as any other private individual under U.S. law for such egregious violations. Human Rights First submitted an amicus brief in the Kiobel case urging the Supreme Court to rule that corporations can be held liable for human rights violations they commit abroad.
"The idea that non-Americans should be able to use U.S. courts to sue non-Americans for international law violations committed abroad is not new," said Human Rights First's Gabor Rona. "'Universal jurisdiction is not only a well-established practice in international law, it is required for grave breaches of the Geneva Conventions, such as murder and torture, and by the U.N. Convention against Torture."
The alleged facts of the case are gruesome—Esther Kiobel, for herself and on behalf of her late husband, Dr. Barinem Kiobel and 10 other Nigerians, claims that Royal Dutch Shell Petroleum Co.—along with one of its subsidiaries, and a British firm, Shell Transport and Trading Co.—aided and abetted the Nigerian military dictatorship's use of murder and torture against opponents of oil exploration in the Ogoni region of the Niger Delta between 1992 and 1995.
The case is brought under the Alien Tort Statute (ATS), a U.S. law that has in recent times developed into a means for foreign victims of international law violations committed by non-Americans to sue in U.S. courts. The idea of corporate legal responsibility has been well established since Nuremberg, where the U.S. aggressively, and correctly, championed the prosecution of I.G. Farben, the German corporation that made Zyklon B gas for use in the Nazi gas chambers. The only procedural difference is that this case is a civil lawsuit, rather than a criminal prosecution.
Human Rights First has long advocated that U.S. courts should comply with international legal norms and principles that prevent the worst human rights abusers from enjoying impunity. In addition to its amicus brief in the Kiobel case, the organization engaged in intensive advocacy with the U.S. government, urging it to weigh in on the case in favor of corporate liability. For example, in a letter to the Solicitor General last November, Human Rights First's President and CEO Elisa Massimino noted that for the Court to interpret the ATS narrowly "fails to take into account the emerging global consensus regarding the responsibility of corporations for the human rights impacts of their global operations." The government then submitted its own brief in support of the victims' right to sue.
"The case takes on a particularly poignant meaning in light of another recent U.S. Supreme Court case, Citizens United, that treats corporations as people under the U.S. Constitution when it comes to matters of First Amendment rights," concluded Rona. "If corporations are people for purposes of rights, they should also be treated as people for purposes of responsibilities. And requiring them to be responsible for complicity in murder and torture is the least our judicial system should demand. Anything less would imply that no corporate atrocity is so great that it requires accountability."
For more information, click here.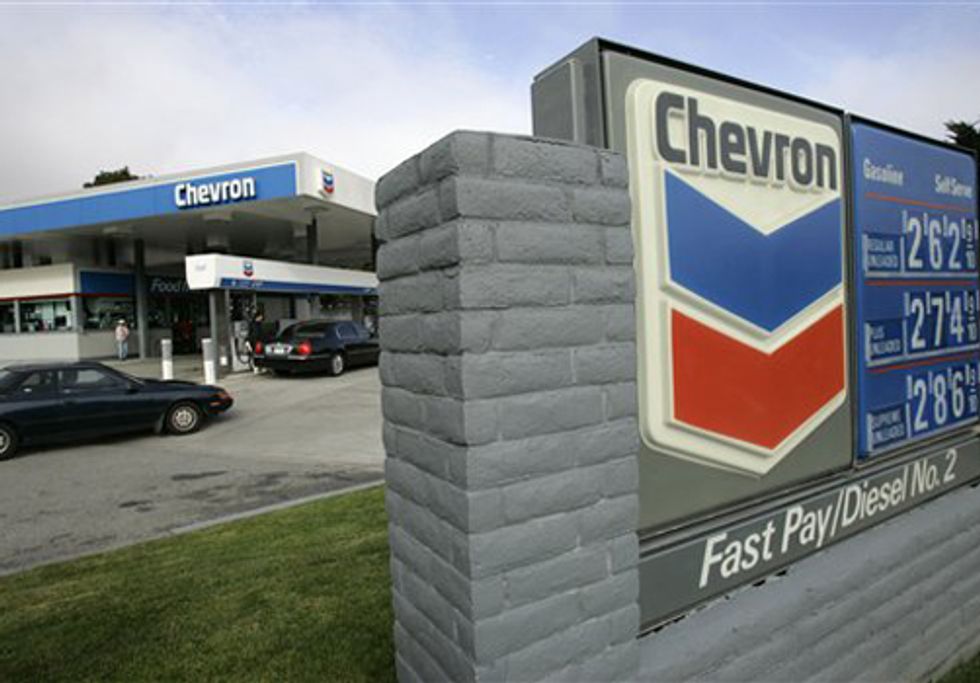 Early Jan. 16 an offshore Chevron Corp. drilling rig caught fire off the coast of Nigeria, leaving grave doubt concerning the safety of the workers on board. The fire is the latest in a string of high-profile safety, operational and legal incidents including an ecologically disastrous oil spill off the coast of Brazil and a historic $18 billion award against Chevron for environmental and human rights abuses in an Ecuadorian appellate court.
Chevron spokesman Scott Walker confirmed reports of a fire caused by an explosion big enough to be heard by local Funiwa residents ashore, according to Reuters, although the cause and ramifications of the accident are still unclear.
"I heard a really loud bang and there was a fire," said local village chief Young Fabby, interviewed by Reuters.
Nigeria—the fifth-largest crude oil exporter to the U.S.—is still dealing with December's Shell oil spill, deemed the nation's worst in a decade, spilling up to 40,000 barrels of oil (according to a Shell spokesman) and affecting approximately 115 miles of coastal Nigerian waters, according to the Associated Press.
Chevron is the world's fourth-largest energy company. In 2010, Chevron yielded an average of 524,000 barrels of oil a day from their Nigerian operations and continues to maintain the exploration rights to approximately 2.2 million acres of space around Nigeria's coastline and delta.
Currently, Chevron still faces criminal charges for negligence in the Brazil oil spill clean-up, with fines up to $11 billion USD. A conviction could result in a permanent ban from ever conducting business in Brazil again.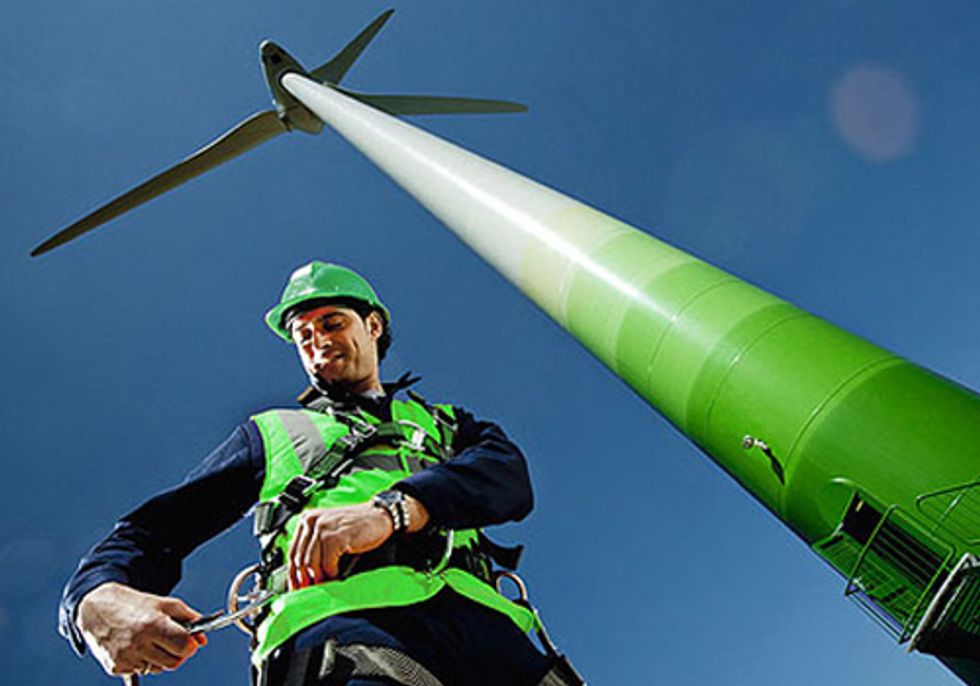 By Bob Keefe
Used with permission of NRDC – Switchboard
Fossil fuel lobbyists and their allies in Congress continue to dispute the need to support development of more renewable energy in America.
Never mind that more than 90 percent of Americans say developing renewable energy should be a national priority.
Never mind that renewable energy, led by the solar industry, is among the fastest-growing and most promising job sectors in our economy.
Never mind that with every solar panel or wind turbine we install, we reduce emissions from coal, oil and other fossil fuels that pollute our air, warm our planet and in turn, foster more climate-related disasters.
Need more reasons for why we need to support development of renewable energy in America?
Scan the headlines—like these from just the past few days:
From the New York Times:
Iran Threatens to Block Oil Shipments, as U.S. Prepares Sanctions
WASHINGTON—A senior Iranian official on Tuesday delivered a sharp threat in response to economic sanctions being readied by the United States, saying his country would retaliate against any crackdown by blocking all oil shipments through the Strait of Hormuz, a vital artery for transporting about one-fifth of the world's oil supply.
From the Associated Press:
Nigerian Offshore Oil Spill Covers 115 miles
LAGOS, Nigeria—An oil spill near the coast of Nigeria is probably the worst to hit those waters in a decade, a government official said Thursday, as slicks from the Royal Dutch Shell PLC spill approached the country's southern shoreline.

The slick from Shell's Bonga field has affected 115 miles of ocean near Nigeria's coast, Peter Idabor, who leads the National Oil Spill Detection and Response Agency, told the Associated Press. Idabor said the slick continued to move toward shore Thursday night, putting at risk birds, fish and other wildlife in the area.
From the Los Angeles Times:
Gasoline Prices Set December Record
The most expensive year ever for gasoline purchases in the U.S. is heading to a close—but not without another dig at motorists' wallets.

Pain levels at the pump rose again over the last week in California and across most of the nation, assuring that 2011 will mark the second year in a row that prices have posted record December highs.

The average price of a gallon of regular gasoline in California hit $3.576, up 2 cents since Dec. 19, according to the Energy Department's weekly survey of service stations. That shattered—by 28.9 cents—the old record of $3.287 a gallon set in December 2007 and was tied in December 2010.

Nationally, the numbers told a similar story. The U.S. average for a gallon of regular gasoline rose 2.9 cents over the last week to $3.258. That was 20.6 cents a gallon higher than a year earlier and 20.5 cents higher than the record high set in December 2007.
Three more reasons, taken from just a few days' worth of news, why America needs to keep pressing forward on renewable energy development.
Iran can't block the sun from shining on solar panels or the wind from blowing on turbines in America. Cars that get better mileage or run on renewable fuels mean we save money at the pump. Less dependence on fossil fuels means fewer environmental disasters like those in Nigeria or in the Gulf of Mexico.
Some say we don't need to support development of more renewable energy in America. Why?
For more information, click here.