This website uses cookies to ensure you get the best experience while browsing it. By clicking 'Got It' you're accepting these terms.
www.youtube.com
By Luis Martinez and Kit Kennedy
In a forceful show of climate leadership, Governors Andrew Cuomo (NY), Jerry Brown (CA), and Jay Inslee (WA) and former Secretary of State John Kerry came together in New York City Wednesday as part of Climate Week to celebrate the progress and growth of the U.S. Climate Alliance, the bipartisan coalition that has grown to 14 states dedicated to meeting the Paris agreement climate goal. The coalition was founded by Cuomo, Brown and Inslee after President Trump announced the U.S. intent to withdraw from Paris.
President Trump may prefer to pretend that climate change isn't real—Gov. Cuomo quipped that the Trump administration is in "the State of Denial"—but these leaders detailed the extraordinary strides they're making, in the absence of White House leadership, to slash greenhouse gas emissions and grow their economies at the same time. For New Yorkers, it's exciting to see Cuomo's leadership on clean energy and climate continue to accelerate, from setting strong renewable energy goals, to a successful push with other Regional Greenhouse Gas Initiative states to further slash carbon emissions, to banning fracking.
The Public Service Commission (PSC) voted to approve New York's Clean Energy Standard Monday, making an enforceable commitment to Gov. Cuomo's goal of sourcing 50 percent of the state's power from renewable energy by 2030.
The Public Service Commission voted to approve New York's Clean Energy Standard today, making an enforceable commitment to Gov. Cuomo's goal of sourcing 50 percent of the state's power from renewable energy by 2030.Kevin P. Coughlin / Office of the Governor
"The Clean Energy Standard is a monumental step forward in ensuring the governor achieves his ambitious 50 percent by 2030 renewable energy goal," Lisa Dix, senior New York representative for the Sierra Club, said.
"Governor Cuomo has shown his commitment to climate leadership by moving New York and the nation, towards a renewable energy future, while at the same time creating thousands of jobs across the state, protecting ratepayers from volatile fossil fuel prices and improving New Yorkers' public health and environment."

Today's decision comes after more than a six-month process that began in December when Gov. Cuomo instructed the PSC to ensure that New York powers 50 percent of the electric sector with renewable energy by 2030. After the PSC's initial proposal in early 2016, more than 11,000 New Yorkers submitted comments and hundreds came out to the public hearings hosted across the state supporting the governor's proposal for an enforceable renewable energy target.
In addition to the Clean Energy Standard order, New York is also moving forward on developing the state's offshore wind portfolio. The New York State Energy Research and Development Authority (NYSERDA) is expected to release an offshore wind blueprint to lay out a long-term statewide plan for developing this invaluable resource. Recently, NYSERDA announced its intent to bid into a federal leasing process for New York's Wind Energy Area and the Long Island Power Authority announced its support for building New York's first offshore wind farm and the largest offshore wind project in the country, 30 miles off the coast of eastern Long Island.
Making a long-term commitment to a pipeline of offshore wind projects will be crucial to achieving the governor's 50 percent by 2030 goal while also establishing New York as the regional offshore wind hub—supercharging the state's economy by bringing high-paying, local jobs and manufacturing opportunities to local communities.
"With today's order and recent actions on Governor Cuomo, Governor Cuomo is clearly setting New York as a climate and renewable jobs leader," David Alicea, organizing representative for the Sierra Club's Beyond Coal Campaign, said.
"We look forward to working with his administration as they develop these policies and a long-term large-scale offshore wind plan to build a robust renewable energy economy for the state."
EcoWatch Daily Newsletter
Southern Tier Residents
Southern Tier residents delivered a $202,000 giant eight by three foot fake check to Sen. Libous' (R-NY) Binghamton district office today to "buy their senator back" from pro-fracking business interest and from big oil and gas lobbyist. $202,000 is the same amount of money Sen. Libous took in campaign contributions from fracking oil and gas interests in the last two years, according to the good government group Common Cause. Community residents presented the check and demanded that Sen. Libous put science and the people's interest above oil and gas interests, that Sen. Libous stop saying "the Southern Tier supports fracking" and that he stops taking contributions from pro-fracking business interests. The bottom line: residents demanded that Sen. Libous represent his constituents, not big oil and gas industry.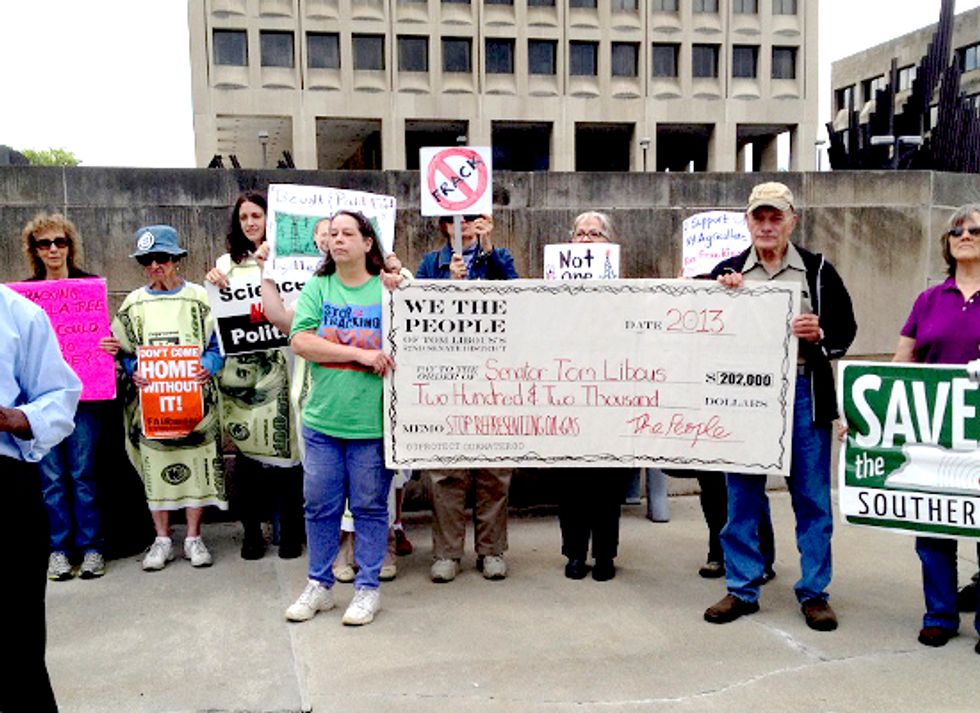 The outrageous sum of contributions from pro-fracking interests is made worse by recent revelations that Sen. Libous has questionable personal ties to companies and relationships with individuals who stand to financially benefit significantly from fracking.
For years, Sen. Libous has been a staunch proponent of fracking, advocating for it in the legislature, in the press and speaking at gas industry sponsored rallies. He claims the Southern Tier overwhelmingly supports fracking, even as the polls show that is not the case. This year, Sen. Libous vowed to prevent a moratorium bill from coming to the Senate floor for a vote.
"Southern Tier residents are fed up with Sen. Libous being a puppet of the oil and gas industry," said Isaac Silberman-Gorn of Citizen Action New York. "Sen. Libous has long misrepresented his constituents on fracking in place of his own financial ties and outrageous campaign contributions from the oil and gas lobby. The fact is that a majority of Southern Tier residents don't want fracking because the truth is that fracking threatens our health, our water, our air and our way of life."
"It's unconscionable that Sen. Libous not only acts the part of the oil and gas industry's puppet but is also undermining the values of Democracy by preventing a vote on a fracking moratorium in the senate," said Alex Harris of Democracy Matters. "Adding insult to injury, he opposes campaign finance reform which would prohibit our elected officials from being bought and sold like Sen. Libous is by the oil and gas industry."
Residents delivered the eight by three foot check for $202,000.00 to Sen. Libous' district office at 44 Hawley Street in Binghamton, NY.
"Sen. Libous has unquestionably espoused gas industry propaganda for years without giving the actual science and evidence about the harms caused by fracking a second thought," said Scott Lauffer of the Sierra Club. "The only thing Sen. Libous has represented on fracking is big oil and gas."
"This is the reality of Campaign Finance Reform in NYS. The state Assembly passed the Fair Elections Act, the Senate has two bills that have been introduced (The Fair Elections Act and The Integrity in Elections Act), the Governor introduced Campaign Finance Reform Act, this week," said Lawrence Parham, upstate campaigns manager. "Lastly, the vast majority of statewide polls show that there is bipartisan majority support for Fair Elections (72 percent Siena poll) all across the state. We need the IDC [Independent Democratic Conference] and the Senate Republicans to let the Fair Elections bills come to the floor for a vote because it will place limits on big money's influence in our state politics."
Although the gas industry's spokespeople and propaganda campaign assure the safety of fracking, New Yorkers are not buying it and remain opposed to fracking, while the truth is coming out that fracking is far from safe and that the gas industry cannot be trusted. A recent investigation by the Times Tribune in Pennsylvania revealed many cases of water contamination from fracking.
Visit EcoWatch's FRACKING page for more related news on this topic.
——–
Sign the petition today, telling President Obama to enact an immediate fracking moratorium:


On Jan. 11, 2012, the U.S. Environmental Protection Agency (EPA) submitted its comments on New York State's revised draft Supplemental Generic Environmental Impact Statement (dSGEIS) and the proposed state regulations and general permit for horizontal drilling and high-volume hydraulic fracturing—better known as fracking—to develop the Marcellus Shale and other low-permeability gas reservoirs.
The U.S. EPA found that the emerging plan to regulate natural gas drilling in the gas-rich Marcellus Shale needs to go further to safeguard drinking water, environmental sensitive areas and gas industry workers. According to the New York State Department of Environmental Conservation (DEC), the U.S. EPA's comments were among an estimated 40,000 received during a four-month comment period on its proposed plan to regulate the environmental risks of drilling.
According to the comments submitted by the U.S. EPA, to free the gas trapped in the Marcellus and other shale formations, drillers pump millions of gallons of water mixed with sand and chemicals deep underground under pressure. The wastewater can get into drinking water by being disposed of at sewage treatment plants. The comments go on to say, that New York's current permitting system for water treatment plants doesn't include limits on pollutants frequently contained in drilling wastewater, such as radionuclides, which can cause cancer at high levels.
The U.S. EPA said it needs to be more closely involved in analyzing and approving any treatment plant's application to accept drilling wastewater. And while the DEC's proposed rules suggest limits on radioactive elements such as radium, the U.S. EPA said it's not clear who would be "responsible for addressing the potential health and safety issues" related to radiation exposure.
The DEC listed a number of out-of-state treatment plants as potential recipients, but due to capacity limits, the U.S. EPA warned that these plants can't handle more wastewater.
What to do with this wastewater is a problem in many states. In Pennsylvania, the Monongahela River, which provides drinking water to 350,000 people, became contaminated in 2009 after the state greatly increased its high-volume hydraulic fracturing industry without a secure plan on how to manage the wastewater.
In Ohio, the chemical-laced fracking wastewater generated in Ohio and other states, including New York and Pennsylvania, is being injected into wells about 9,000 feet deep. On New Year's Eve, the Youngstown, Ohio area, home to many of these injection wells, experienced a 4.0 magnitude earthquake that is believed by experts to be caused by high-pressure liquid injection of fracking wastewater. The Dec. 31 earthquake was the eleventh that region had experience since March 2011.
Health risks to workers close to wastewater and other potentially radioactive materials, including the large amounts of soil and mud unearthed by drilling, concerns the U.S. EPA. "At a minimum, the human health risks to the site workers from radon and its decay products should be assessed along with the associated treatment technologies such as aeration systems or holding for decay," the agency wrote.
Right now all eyes are on the DEC as their final ruling will greatly impact what other states decide to do concerning regulation of this highly-controversial industry. According to Judith Enck, the U.S. EPA regional administrator who issued the agency comments, New York "will help set the pace for improved safeguards across the country."
Stay tuned to EcoWatch.org and our Fracking Page as we'll keep you up-to-date on the DEC ruling and other fracking news.