This website uses cookies to ensure you get the best experience while browsing it. By clicking 'Got It' you're accepting these terms.


The best of EcoWatch, right in your inbox. Sign up for our email newsletter!
Pexels
By Eoin Higgins
The New York City Council passed the world's "largest single carbon reduction effort that any city, anywhere, has ever put forward" on Thursday afternoon, marking a major milestone in the fight against the climate crisis.
At a rally in front of the New York Stock Exchange on Tuesday, community and social justice groups demanded that New York City divest from Wall Street and establish a public bank.
0debtzone / Twitter
Chanting, "Wells, Chase, B of A, public bank's a better way!" social justice groups rallied at the New York Stock Exchange on Tuesday to demand that New York City divest from Wall Street banks and establish a public bank that is "expressly chartered to serve the public interest."
EcoWatch Daily Newsletter
iStock
By Rachel Hubbard
Tuesday, the city of Paris has said it will explore the possibilities of suing the fossil fuel industry. In response to the city's recent climate damage including massive recent floods, Paris is considering taking this action following in the footsteps of New York and other U.S. cities.
The following is a speech given by Naomi Klein in New York City on Jan. 10.
I want to thank Mayor de Blasio for this historic announcement that New York is divesting from fossil fuels and suing five oil majors.
NYC Mayor's Office / Twitter
New York City's iconic Empire State Building glowed green Wednesday night following two "watershed" announcements—that the city would seek to divest its pension funds from fossil fuel investments, and that it filed suit against five oil giants for contributing to climate change.
"The Empire State Building is shining green tonight because it's time to put our planet first. #DivestNY," Democratic Mayor Bill de Blasio tweeted Wednesday.
350.org
By Andrea Germanos
Climate advocates hailed what they say is a "watershed" moment on Wednesday following two announcements by New York City: that the city would seek to divest its pension funds from fossil fuels within five years, and that it filed suit against give five fossil fuel giants for their role in driving the climate crisis.
New York's Republican-controlled State Senate voted 42-18 Tuesday in favor of a measure that would kill New York City's five-cent fee for carryout bags.
"Many families have a hard time just getting by, paying for groceries, rent and heat," Sen. Simcha Felder (D-Brooklyn), who introduced the bill, said before Tuesday's vote.
If everything goes to plan, New York City and Long Island will be harnessing the Atlantic Ocean's strong and dependable winds as a source of renewable energy.
For the next 30 days, I'm going to be wearing every single piece of trash that I create. At first that might sound crazy, but anybody who knows me, knows that I am indeed crazy ... crazy in a good way. My biggest goal in life is to inspire people to think about how our little daily actions affect the world around us both near and far.
Neil Young and TIDAL have partnered to give New York City subway riders a unique experience.
From July 15 - 31, the "S" shuttle train will have an eco-centric installation called the Earth Train. The train is wrapped in various Earth images—trees, water, clouds, etc.—and filled with facts that Young wants to share with riders.
Photo credit: TIDAL X Earth
Earth Train was inspired by Young's album, Earth, which features songs about living on the planet together. The 98-minute uninterrupted album features 11 songs from his 2015 tour with Lukas Nelson & Promise of the Real mixed with sounds of the Earth, Rolling Stone reported.
"Our animal kingdom is well represented in the audience," Young said. "And the animals, insects, birds and mammals actually take over the performances of the songs at times."
Songs include After the Goldrush, Love & Only Love, Vampire Blues, Hippie Dream, Mother Earth and Western Hero, Rolling Stone said. Four tracks from Young's 2015 LP The Monsanto Years are included as well as I Won't Quit, a track he debuted on his last tour.
Between Noon and 3 p.m. Friday, TIDAL members that stop by the "S" train platform at Grand Central can pick up a complementary round-trip MetroCard. All attendees will also receive a 3-month membership voucher courtesy of TIDAL and Young.
Check out these incredible images of the Earth Train:
Photo credit: TIDAL X Earth
Photo credit: TIDAL X Earth
Photo credit: TIDAL X Earth
Photo credit: TIDAL X Earth
New York City council members Stephen Levin and Corey Johnson introduced legislation today—Introduction 853—that would ban the discharge, disposal, sale or use of any wastewater or natural gas waste produced by fracking.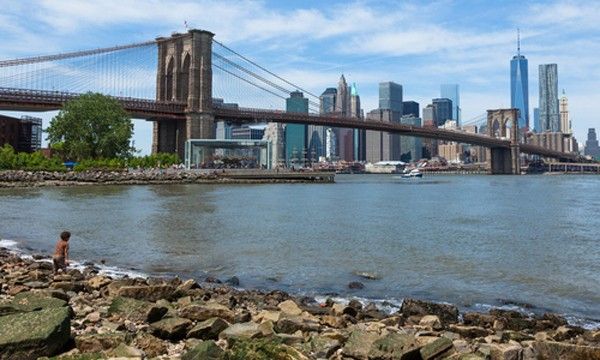 Photo credit: Shutterstock
"Hydrofracking waste is highly toxic and doesn't belong in any of the five boroughs," said Council Member Stephen Levin. "With this legislation we can keep this toxic waste out of New York City and send a clear message that we are opposed to fracking in our state."
"Extracting natural gas by fracking creates a tremendous amount of toxic waste and we must ensure its disposal or alternative use does not endanger our city" said Council Member Corey Johnson.
This legislation would prevent fracking waste from being treated at any of the 14 wastewater treatment plants in New York City owned and operated by the New York City Department of Environmental Protection, and privately owned facilities. Wastewater treatment plants release effluent back into the surface water throughout the city and council members Levin and Johnson want to be sure that this water is free of dangerous contaminants found in hydrofracking waste. This legislation would also prevent wastewater and other fracking waste products from being used during deicing and snow removal.
"Toxic, radioactive waste is the dirty underbelly of the fracking process, and it certainly has no place in New York City," said Alex Beauchamp of Food & Water Watch. "We need to do what our neighbors on Long Island and upstate have already done, and protect ourselves by banning fracking waste once and for all."
Riverkeeper staff attorney Misti Duvall "applauds the important step that New York City is taking today to protect New York City residents from the improper reuse and disposal of fracking waste." She urges city council to pass strong legislation as soon as possible.
YOU ALSO MIGHT LIKE
Colorado Town Sues State, Gov. Hickenlooper and COGA to Protect Right to Ban Fracking
Study Finds 8 Fracking Chemicals Toxic to Humans