Children's diets improve outside the schoolhouse when their schools adopt healthy nutrition policies and practices that emphasize whole grains, fruits and vegetables.
According to new research published in the current issue of Childhood Obesity, when schools made snacks available that were mostly or entirely healthful, students' overall diet improved.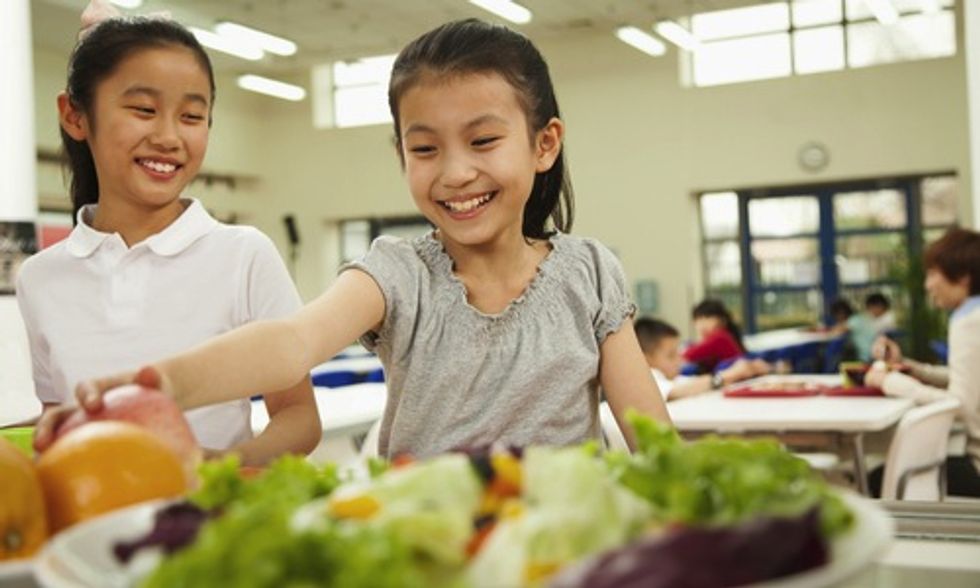 Photo courtesy of Shutterstock
The U.S. Department of Agriculture will ask schools to implement its Smart Snacks nutrition standards on July 1, 2014. Those recommendations will set limits on calories, salt, sugar and fat in foods and beverages, as well as promote snack foods with more whole grains, low-fat dairy, fruits and vegetables.
In the study, team of researchers at Michigan State University (MSU) tested standards similar to the USDA's new requirements and demonstrated the new standards have the potential to improve students' overall eating habits.
For example, schools that offered healthful snacks a la carte at lunchtime or in vending programs boosted their students' overall daily consumption of fruit by 26 percent, vegetables by 14 percent and whole grains by 30 percent. Students also increased their consumption of fiber, calcium, and vitamins A and C.
"When healthful food options are offered, students will select them, eat them and improve their diet," said lead researcher Katherine Alaimo, MSU associate professor of food, science and human nutrition. "Our study shows that schools can make the kinds of changes required by the forthcoming USDA guidelines and these changes can have a positive impact on children's nutrition."
The researchers also compared schools that adopted a variety of nutrition programs and policies. Some schools made limited changes, while others implemented more comprehensive programs to assess and improve the school's nutrition environment.
Changes schools made included raising nutrition standards for snacks and beverages, offering taste tests of healthful foods and beverages to students, marketing healthful foods in school and removing advertisements of unhealthful foods. Students' overall diets improved when schools implemented three or more new nutrition practices or policies.
"Creating school environments where the healthy choice is the easy choice allows students to practice lessons learned in the classroom and form good habits at an early age, laying a foundation for a healthy future," said Shannon Carney Oleksyk, contributing author and healthy living adviser for Blue Cross Blue Shield of Michigan.

EcoWatch Daily Newsletter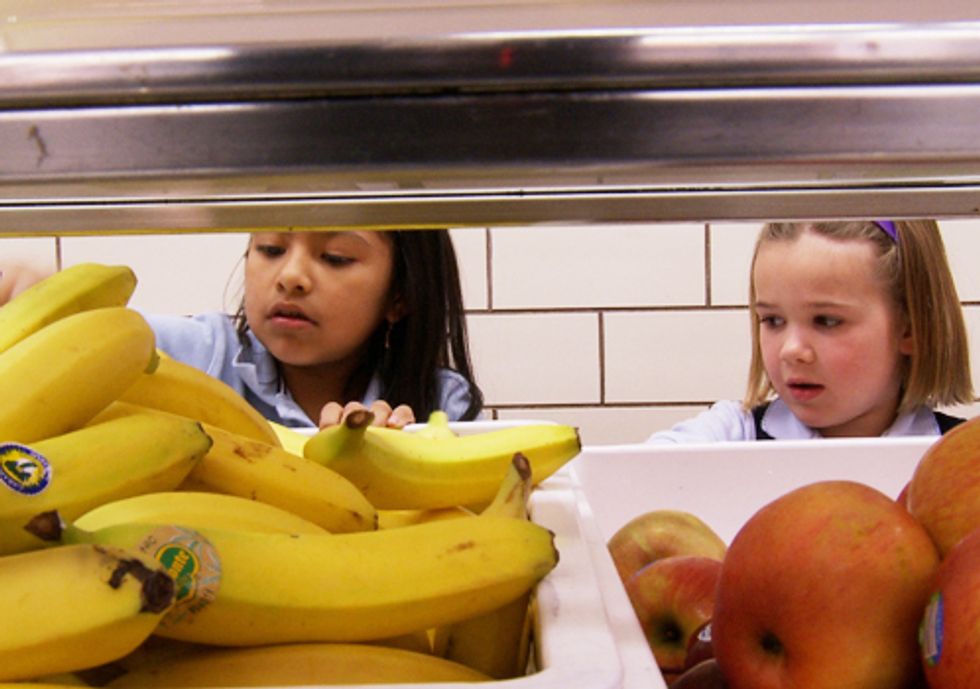 By Marion Nestle
Michelle Obama and Tom Vilsack announced new nutrition standards for school meals Jan. 25, to what seems to be near-universal applause (the potato growers are still miffed, according to the New York Times).
The new standards are best understood in comparison to current standards (see chart). They call for:
More fruits and vegetables
A greater range of vegetables
A requirement for whole grains
All milk to be 1 percent or less
Only non-fat milk to be permitted to be flavored
This may not sound like much. But given what it has taken the U.S. Department of Agriculture (USDA) to get to this point, the new standards must be seen as a major step forward.
See, for example, the comparison of an old and new weekly menu (this has not changed since USDA's original proposal in January last year).

The new one looks so much better. Now it's up to schools to make the new standards work, make the foods taste yummy, and get kids to be willing to try new foods.
To review the history—This all started when the USDA asked the Institute of Medicine (IOM) to design nutrition standards that would:
Increase the amount and variety of fruits, vegetables, and whole grains
Set a minimum and maximum level of calories
Focus more on reducing saturated fat and sodium
The new standards come pretty close to what the IOM recommended (see the earlier chart), with some now-famous exceptions. The IOM proposed limits on starchy vegetables. USDA then proposed to limit starchy vegetables to two servings a week. It also set a minimum for the amount of tomato sauce on pizza that could count toward vegetable servings.
Under pressure from potato growers and suppliers of school pizza, Congress weighed in and overruled the USDA on both counts.
The result—pizza now counts as a vegetable.
To give some idea of the extent of lobbying on all sides of this issue, USDA's January proposal elicited 132,000 public comments (these are someplace at www.regulations.gov and are addressed in the Federal Register notice).
I asked in a previous post whether this kind of congressional micromanagement made sense (absolutely not, in my view). I also wrote previously about the intense lobbying efforts to make sure these standards would never be released.
Despite congressional and industry opposition, the standards are out.
Applause is very much in order for Mrs. Obama's leadership on this issue.
Good work. Now let's get busy on the next challenges:
Set nutrition standards for competitive foods in schools—those sold outside of the lunch program as snacks and meal replacements.
Teach kids where food comes from.
Teach kids to cook.
For the record:
The initial press release—It is headlined "First Lady to Announce New Nutrition Standards for Meals Served in America's Schools: Public-Private Partnership Aims to Connect More Kids to Nutrition Programs." I'm not sure where the Public-Private Partnership comes into this.
USDA's actual press announcement provides links to the Nutrition Standards home page and other relevant documents.
Additions—Dana Woldrow sends this link to shed some light on the curious business of private-public partnerships. Here's one where Goya foods is giving out teaching materials in schools.
For more information, click here.
boonchai wedmakawand / Moment / Getty Images
Delta-8 THC is a cannabis product that has become a bestseller over the past few months, as many consumers find they can legally purchase it from CBD retailers. Its proponents say that Delta-8 THC will give you a nice little buzz, minus some of the more intense feelings (including paranoia) that are sometimes associated with marijuana.

Delta-8 THC is being marketed as a legal option for consumers who either don't live in a state with legal cannabis, or are a little apprehensive about how traditional psychoactive THC products will affect them. But is it all it's cracked up to be? Let's take a closer look, exploring what Delta-8 THC is, how it differs from other THC products, and whether it's actually legal for use.
<h2>What is Delta-8 THC?</h2><p>To better understand <a href="https://www.nytimes.com/2021/02/27/health/marijuana-hemp-delta-8-thc.html" target="_blank">Delta-8 THC</a>, it helps to cover some basics about THC and cannabis.</p><p>Cannabis plants come chock full of different <a href="https://www.nccih.nih.gov/health/cannabis-marijuana-and-cannabinoids-what-you-need-to-know" rel="noopener noreferrer" target="_blank"><em>cannabinoids</em></a>. These are naturally-occuring chemical compounds that bind with receptors throughout your body. They can offer a wide range of mental, emotional, and physical effects; indeed, the healing and therapeutic properties marijuana or <a data-linked-post="2648563694" href="https://www.ecowatch.com/strongest-cbd-oil-2648563694.html" target="_blank">CBD products</a> offer can be attributed to cannabinoids.</p><p>One of the most common cannabinoids is what's known as Delta-9 THC. Simply put, this is the part of marijuana that gets you "high." It's worth noting that Delta-9 THC remains illegal in many states, except for in the most minute doses, and is still illegal at the federal level. CBD products are made with trace amounts of THC, ensuring that consumers can enjoy positive health effects in a perfectly legal way, without the risk of getting high.</p><p>On a chemical level, <a href="https://www.nytimes.com/2021/02/27/health/marijuana-hemp-delta-8-thc.html" rel="noopener noreferrer" target="_blank">Delta-8 THC</a> is not too different from Delta-9 THC; the distinction comes down to just a few molecules. But those molecules make a big practical impact: Delta-8 THC will give you a buzz, but the psychoactive effects are considerably milder than with Delta-9 THC.</p><p>More specifically, many cannabis enthusiasts report that Delta-8 THC helps them feel good but also leaves them relatively clear-headed; and, it doesn't produce the anxiety or jitteriness that often characterize a Delta-9 THC high.</p><p>Additionally, because of the way the law is written regarding Delta-9 THC, some CBD companies now sell Delta-8 THC products in places where traditional cannabis is still illegal.</p><h2>What's the Difference Between Delta-9 THC and Delta-8 THC?</h2><p>Here are the primary differences to note between Delta-9 and Delta-8 THC:</p><ul class="ee-ul"><li>Delta-9 THC is the primary psychoactive ingredient found in marijuana. In other words, it's the part that gets you high.</li><li>Though some states have found workarounds, Delta-9 THC is still illegal under federal law.</li><li>Delta-8 THC is also found in the cannabis plant, though it's not quite as powerful or as well-known. </li><li>Delta-8 THC is milder in its psychoactive effects. And, it's not <em>technically </em>illegal under current law.</li></ul><p>These are just a few of the key distinctions to keep in mind. Delta-8 THC is popular among consumers who want a smoother high, and don't want to violate federal law.</p><h2>Is Delta-8 THC Legal?</h2><p>We noted that Delta-8 THC is not <em>technically </em>illegal. Here, we need to get into some of the nuanced legal considerations that surround this substance.</p><p>First of all, there are plenty of cannabis companies that actively promote Delta-8 THC as a legal way to get high. Again, that's technically true, but is still a point of debate for some.</p><p>For one thing, it's not explicitly listed as an illegal substance. While federal laws, and some state laws, specifically ban Delta-9 THC, Delta-8 THC is never mentioned. More to the point, though, many proponents will cite the<a href="https://www.usda.gov/farmbill" rel="noopener noreferrer" target="_blank"> 2018 Farm Bill</a>. This law legalized several industrial hemp products on a national level, including CBD.</p><p>The Farm Bill also includes some fairly nuanced positions regarding THC. In summary, the law says that hemp and cannabis-derived products are legal so long as they contain less than 0.3 percent Delta-9 THC.</p><p>With that said, some lawyers contend that Delta-8's heyday may soon come to an end. That's because the Farm Bill clears it only so long as it's derived directly from hemp; most of the Delta-8 THC products sold today aren't made from hemp, but rather from synthetically-altered CBD.</p><p>Some of these issues are a little fuzzy, and <a href="https://www.rollingstone.com/culture/culture-features/delta-8-thc-legal-weed-explained-1113859/" rel="noopener noreferrer" target="_blank">the legal future of Delta-8 THC</a> remains a little uncertain. For now, though, many experts would argue that it is legal to purchase.</p><h2>What Kinds of Delta-8 THC Products Are Available?</h2><p><em>Each product featured here has been independently selected by the writer. If you make a purchase using the links included, we may earn commission.</em></p><p>If you're looking to try Delta-8 THC products, you'll certainly find plenty of different products. Dispensaries and legal cannabis stores currently have a trove of products that use this cannabinoid. Some examples include:</p><ul class="ee-ul"><li>Vape cartridges, tinctures, and capsules.</li><li>Beverages made with Delta-8 THC, including some seltzers.</li><li>Edibles, including Delta-8 THC gummy bears, chocolate bars, and more.</li></ul><p>The cannabis industry has really been running with Delta-8 THC, finding creative ways to bring it to market. And chances are, even more products will be springing up in the weeks and months to come. </p><p>It's very important to note that you should only purchase Delta-8 THC products from reputable brands and established cannabis retailers. We do not recommend purchasing any products that contain Delta-8 THC from gas stations or vape shops. If you are looking for a reputable place to explore these products, here are a few brands that we trust and recommend:</p>
<img class="rm-lazyloadable-image rm-shortcode" type="lazy-image" data-runner-src="https://assets.rebelmouse.io/eyJhbGciOiJIUzI1NiIsInR5cCI6IkpXVCJ9.eyJpbWFnZSI6Imh0dHBzOi8vYXNzZXRzLnJibC5tcy8yNjAzNjAyMy9vcmlnaW4uanBnIiwiZXhwaXJlc19hdCI6MTYzMTMxMjAyNX0.wRpb_E9ZFZFNgkYsYh6cleNbTezo16rUeTmifcP_yCk/img.jpg?width=980" id="60683" width="400" height="400" data-rm-shortcode-id="32630bf41fd6909a232194b540c570eb" data-rm-shortcode-name="rebelmouse-image" />
nuleafnaturals.com
<p><a href="https://nuleafnaturals.com/product/full-spectrum-delta-8-thc-oil-30mg-ml/" target="_blank" rel="noopener noreferrer">NuLeaf Naturals Full Spectrum Delta 8 THC Oil</a> is made from organic hemp and organic virgin hemp seed extract. It's available in a 150 mg bottle and a 450 mg bottle, which both provide 15 mg of Delta 8 THC per serving. This formula is also available in a soft gel.</p>
<img class="rm-lazyloadable-image rm-shortcode" type="lazy-image" data-runner-src="https://assets.rebelmouse.io/eyJhbGciOiJIUzI1NiIsInR5cCI6IkpXVCJ9.eyJpbWFnZSI6Imh0dHBzOi8vYXNzZXRzLnJibC5tcy8yNjAzNjE2Ni9vcmlnaW4uanBnIiwiZXhwaXJlc19hdCI6MTY2OTcwNTgzM30.opm4l5-rSqV1HfvrbVE16EEVZvqxI42xgqnsQfL9p2M/img.jpg?width=980" id="2c749" width="400" height="400" data-rm-shortcode-id="a678e76d8cd5e13bae95d9c3ae664b85" data-rm-shortcode-name="rebelmouse-image" />
botanyfarms.com
<p>The <a href="https://www.botanyfarms.com/product/delta-10-thc-vape-cartridge/?aff=14" target="_blank">Botany Farms Delta-10 THC Vape Cartridge</a> actually contains both Delta-10 and Delta-8 THC.This is designed to provide the desired effects of Delta-8 THC but without the drowsiness. They also offer a vape cartridge with a 1:1 concentration of <a href="https://www.botanyfarms.com/product/delta-10-delta-8-thc-vape-cartridge/?aff=14" target="_blank">Delta-8 THC</a> and Delta-10 THC. Note that while vape products can be used to aid in smoking cessation, we do not recommend vaping or smoking because of the negative health effects they can cause.</p>
<h2>What are the Pros and Cons of Delta-8 THC?</h2><p>As you consider whether Delta-8 THC is worth your time, it may be helpful to weigh the pros against the cons.</p><p><strong>Pros</strong></p><p>Let's start with some of the positives:</p><ul class="ee-ul"><li>Delta-8 THC does have psychoactive effects, but it's a milder effect than with traditional Delta-9 THC.</li><li>Delta-8 THC is currently legal and widely accessible in multiple states.</li><li>There are a wide number of products that use Delta-8 THC.</li></ul><p><strong>Cons</strong></p><p>Now, a few of the downsides.</p><ul class="ee-ul"><li>Delta-8 THC isn't quite as commonplace as other cannabis products, including CBD, and some of the options on the market are expensive.</li><li>While this substance is technically legal, there are plenty of uncertainties over its legal future. It's something you want to keep in mind.</li><li>As a relatively new product, Delta-8 THC products are not regulated by the FDA and there is not independent testing in place to verify that it is safe or pure.</li></ul><p>As with any cannabis product, Delta-8 THC has its pros and cons. As you seek the cannabis product that's best for you, it's largely a matter of personal preference.</p><p>Also note that smoking, vaping, or otherwise imbibing any kind of cannabis-related product can carry some medical risks and negative health consequences. If you have any specific concerns, we recommend consulting with your doctor before you try any Delta-8 THC product.</p><p><em><strong>Josh Hurst </strong></em><em>is a journalist, critic, and essayist. He lives in Knoxville, TN, with his wife and three sons. He covers natural health, nutrition, supplements, and clean energy. His writing has appeared in Health, Shape, and Remedy Review.</em></p>