This website uses cookies to ensure you get the best experience while browsing it. By clicking 'Got It' you're accepting these terms.


The best of EcoWatch, right in your inbox. Sign up for our email newsletter!
Nepali residents look at floodwaters after the Balkhu River overflowed following monsoon rains at the Kalanki area of Kathmandu on July 12. PRAKASH MATHEMA / AFP / Getty Images
Thanks to dedicated conservation efforts, Nepal now has an estimated 235 wild tigers in the country, a nearly twofold increase from its baseline of 121 individuals in 2009, the World Wildlife Foundation (WWF) announced Sunday on the occasion of Nepal's National Conservation Day.
The South Asian nation is now on track to become the first country to double its tiger population as part of WWF's "TX2" goal to double the world's wild tiger population by 2022—the next year of the tiger on the Chinese zodiac.
EcoWatch Daily Newsletter
Families wade through floodwater to reach Bangladesh Red Crescent's food and drinking water distribution. Kamrul Hassan, Bangladesh Red Crescent
By Andy Rowell
As much of the North American media focuses on the ongoing unprecedented flooding and relief efforts in Texas and now potentially Louisiana, another tragedy is unfolding, which is going largely unreported, in Asia.
Whereas the death toll in Texas stands at 20, the death toll in South Asia is estimated at 1,200 after weeks of unusually strong monsoon rains affecting India, Bangladesh and Nepal.
www.facebook.com
By Moria Hanes
This fall, rangers protecting rhinos, tigers and other endangered wildlife in Nepal's famous Chitwan National Park will get a solar system that powers one of their isolated stations deep in the jungle. At the same time, local women will get the training and tools they need to sell low-cost clean energy technologies to people living in the buffer zone that surrounds the park.
Stephen Bailey
You need a bit of height to appreciate the size of a brick factory. You also need to get close to appreciate the human cost. From a hill over Duwakot you can see people laboring in the grey mud beneath a towering chimney. Down in the factory you can see the weather beaten faces, deformed hands and terrible conditions in which they preform grueling work.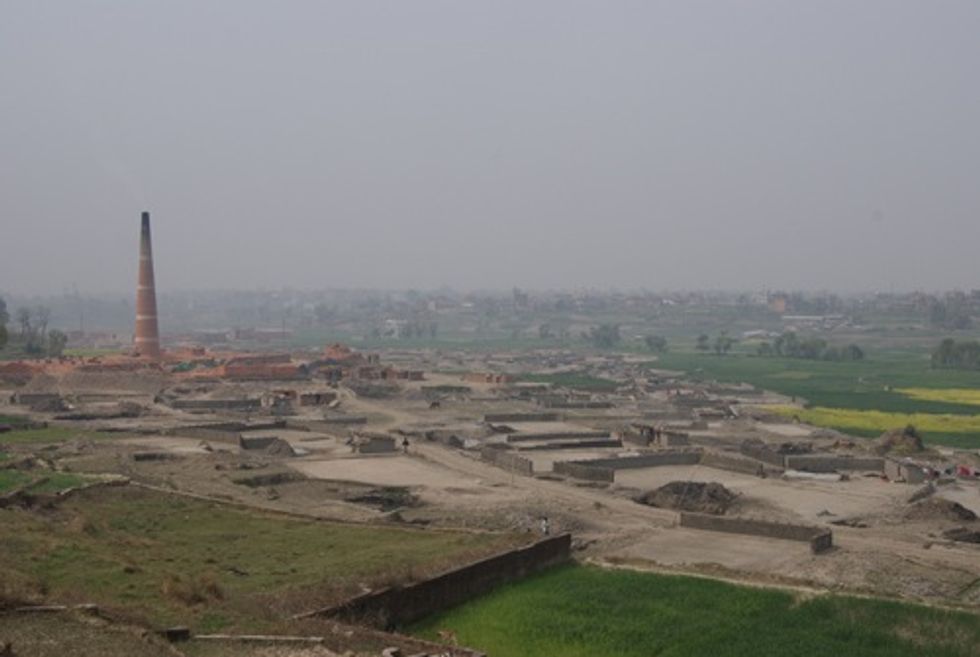 Factories like this exist all over Nepal's Kathmandu Valley, which has become an air pollution disaster zone. The people who work in these factories are impoverished farmers from rural Nepal, working for six months of the year at the brick factory. Many of their farms have been affected by water shortages and rising temperatures—which research has linked to climate change—driving them to work in factories that belch out pollution contributing to that very problem.
One family of four claimed they could make 2,000 bricks a day, earning around 1,200 rupees ($14). Their work day begins around 3 a.m. and doesn't end until sunset. Their homes are tiny one-room brick shacks, with no electricity, heating or toilets. During the winter, nighttime temperatures drop below zero. The brick makers are aware of the pollution, but it is simply not a major concern given their many other struggles. In years to come they will feel the effects.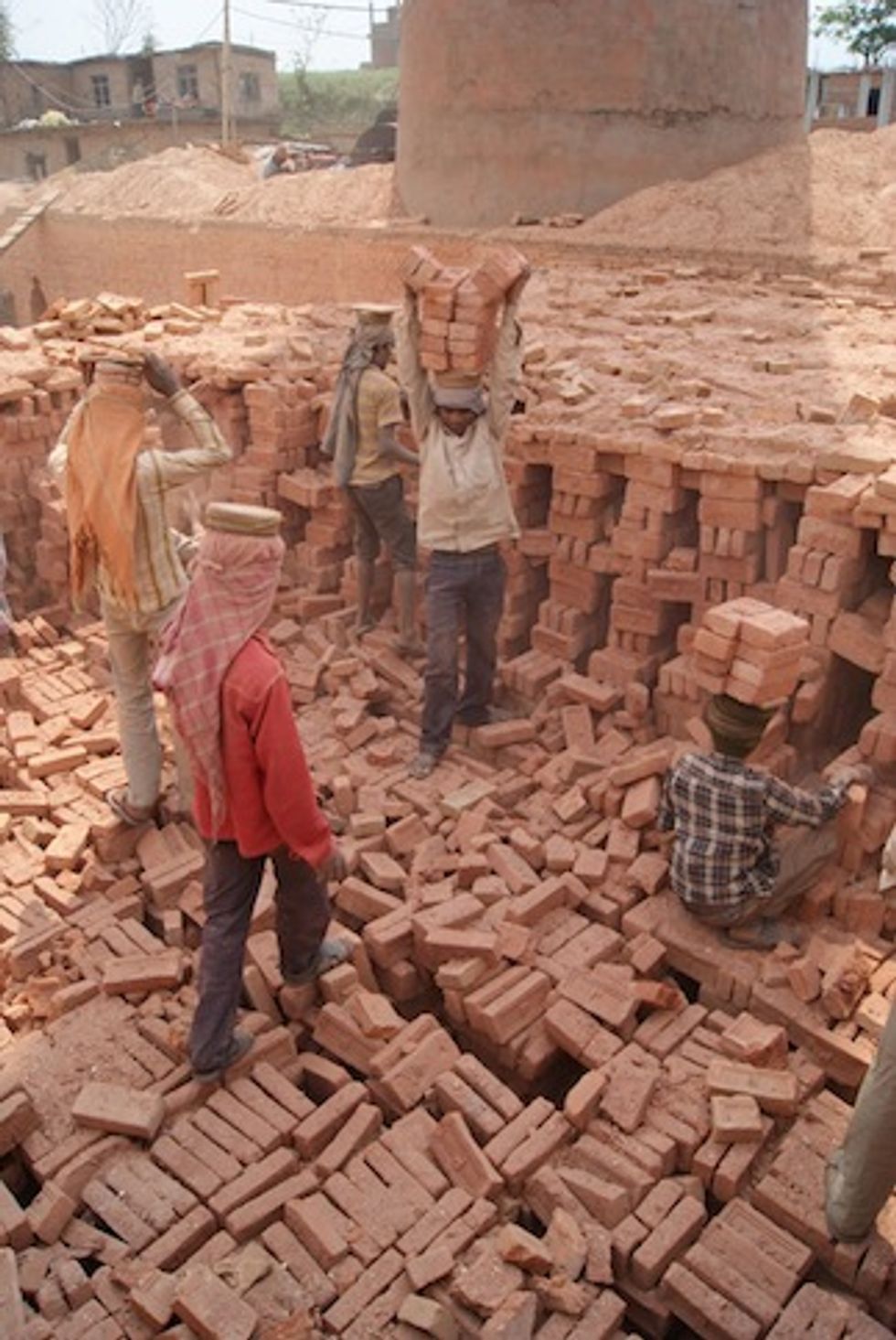 Around 18,000 Australians visited Nepal in 2011 and many probably saw the factory chimneys from the windows of their tour buses. The Duwakot factory in the Bhaktapur district is typical. Locals said it has been in operation for 18 years. The workers in the factory's brick making area are from Kavre, a drought-ridden area just east of the capital, Kathmandu, but a world away from its shopping malls and designer shops.
In Kathmandu, respiratory problems occur at 12 times the national average. The greatest concentration of brick factories is around Bhaktapur, just seven miles away. A survey found 74 kilns in the Bhaktapur district, all feeding the valley's rapid population growth. In the brick firing area, dozens of migrants from the flat, southern Terai region carry 10-14 finished bricks at a time on top of their heads to waiting trucks. These men and women speak little Nepali and look similar to Indians—darker skinned and leaner than Nepal's hill dwellers. Choking dust and fumes swirl in the air as they shuttle back and forth. Overhead the chimney smokes gently.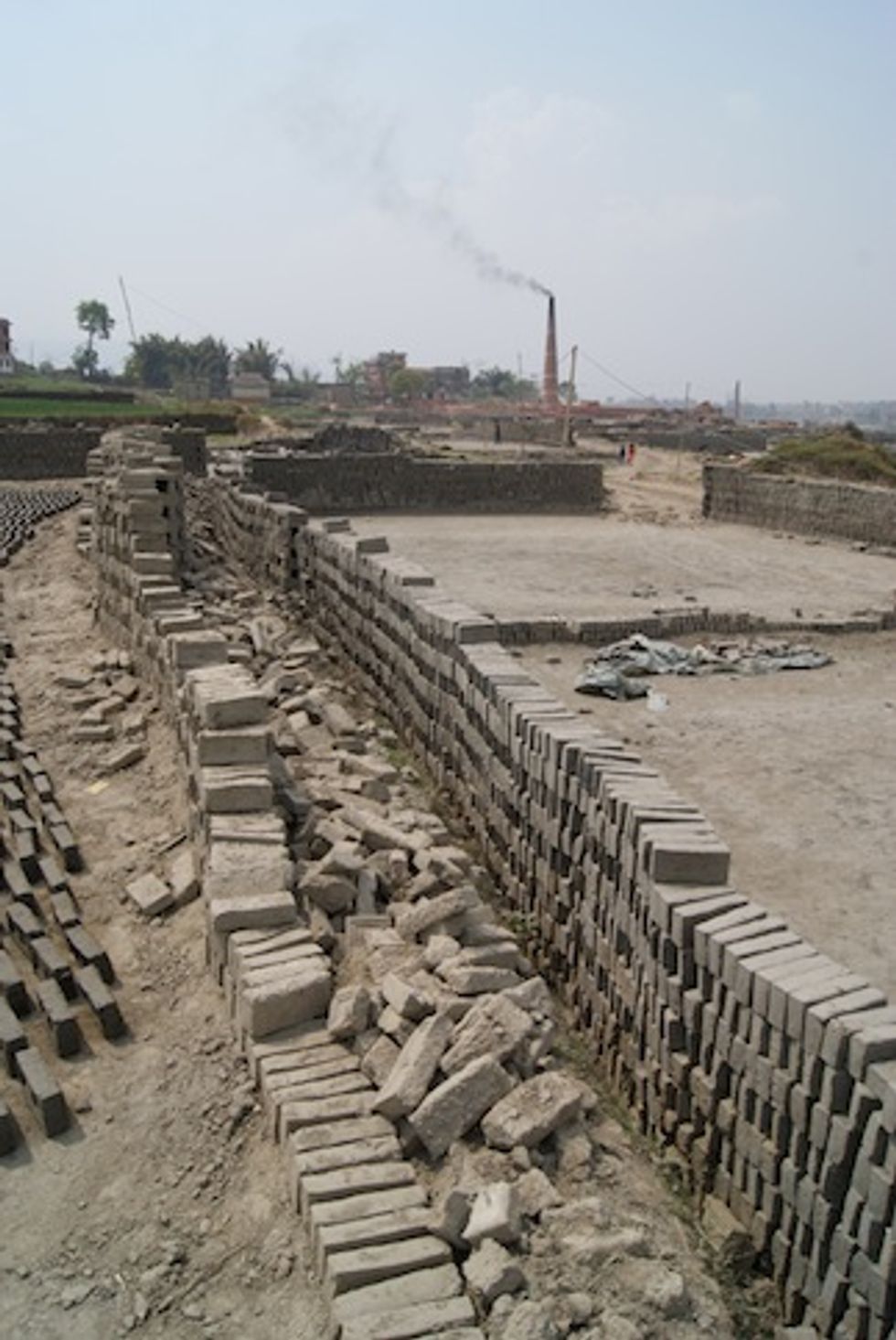 The Terai region is also experiencing a changing climate. People are reporting the monsoon is delayed up to two weeks, increasing the number of drought days—days when the land is stony hard and barren. Nepal as a whole has been categorized as the fourth most vulnerable country in the world due to climate change. The rainfall pattern is said to be changing and temperatures are rising by 0.6 degree a year.
Despite the factories, the vast majority of the pollution driving climate change comes from the developed world. Australia, for example, still produces 164 times as much greenhouse gas per capita as Nepal. In Bhaktapur, the factories use low quality Assam coal. The chemicals they excrete are linked to various health problems from low birth weight, to lung disease, to stunted cognitive development.
Dr. Ram K. Chandyo from Kathmandu's Institute of Medicine has been studying child development in Bhaktapur for many years. Dr. Ram wants to carry out research on the children in the factories. His office is based in Siddhi Memorial Hospital, a non-governmental organization that gives free care to many brick factory children.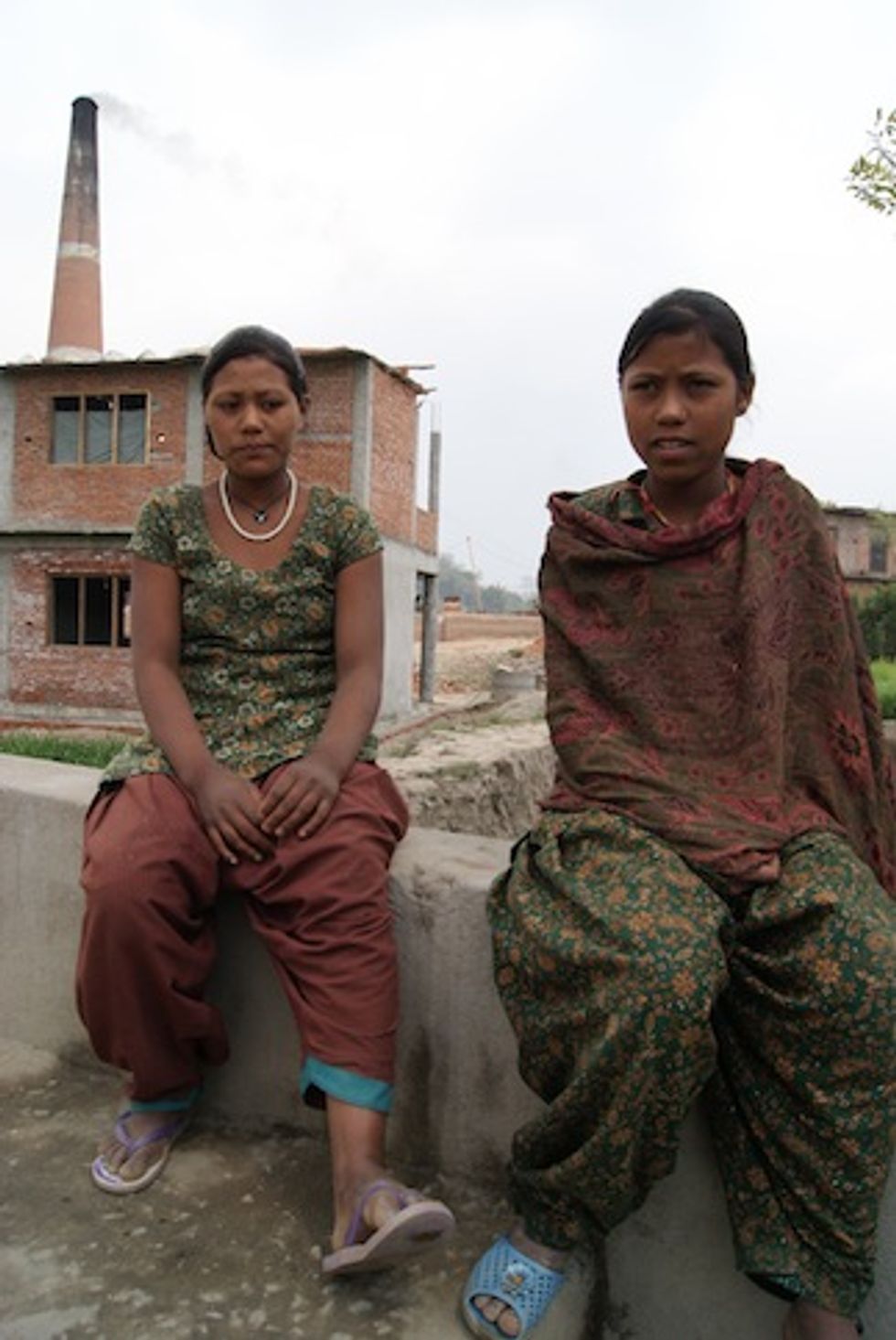 Just past the chimney of the Duwakot factory, at a nearby water source, several young female workers were taking the day off. Sapana and Anita, both 15, are from Rolpa, a poor and mountainous area to the west, which was a heartland of the decade-long Maoist insurgency that ended in 2006. They left their families to work in the brick factory. Dr. Ram said they may now be the principal earners in their families.
Many Nepali girls are also trafficked to brothels in India. Dr. Ram said girls, like those employed at the Duwakot factory, would be more vulnerable to exploitation. The girls giggled when asked about their future. Both have had offers of training in tailoring in their villages.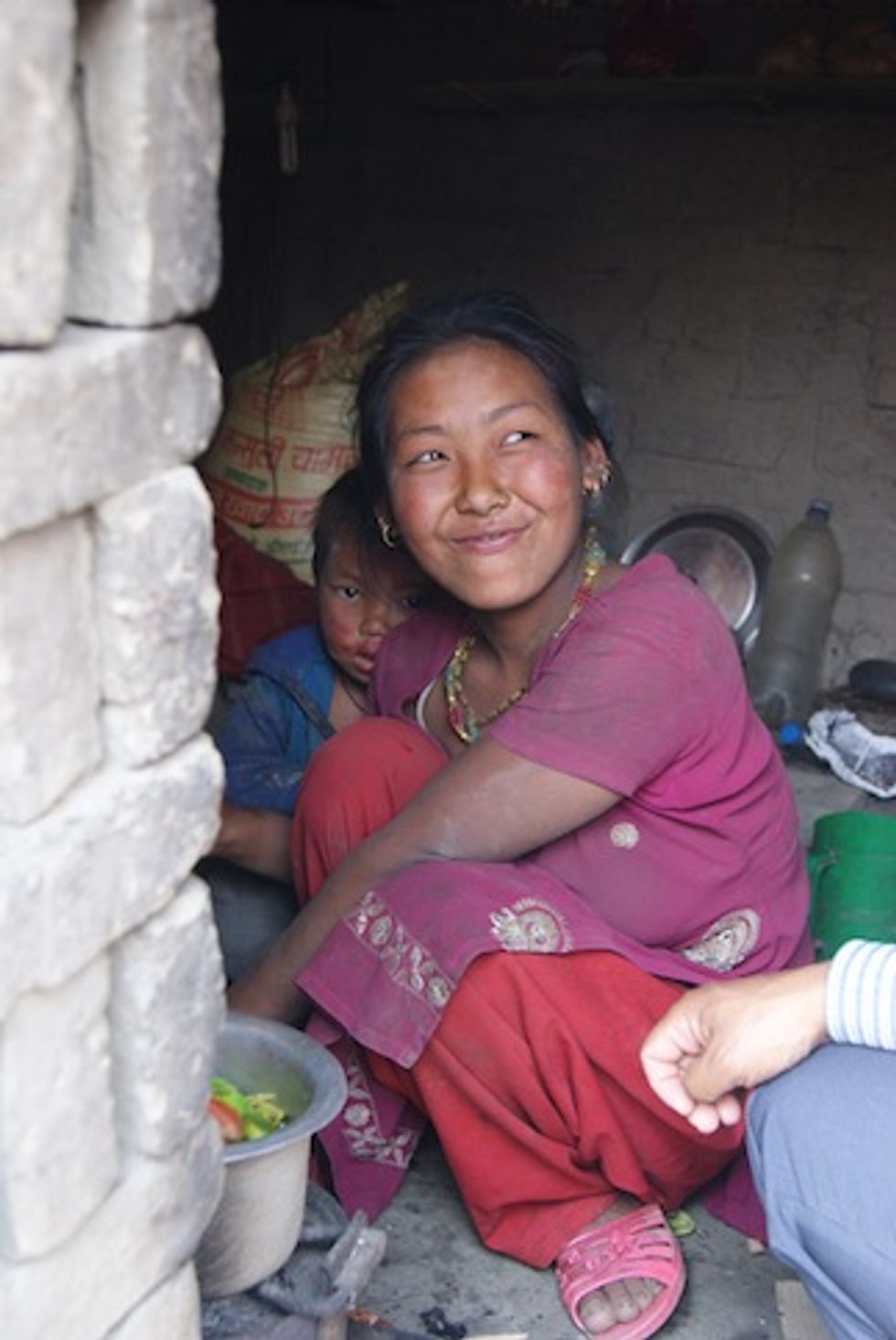 Despite efforts to educate people, most ordinary Nepalis know little about climate change. One local journalist interviewed more than 100 people and found none had even heard the term. Few knew if there was a ministry of the environment. Sapana and Anita did not know the names of any chemicals that might be coming from the factory above them. Yet these are the chemicals that may devastate their country's environment, and may one day kill them.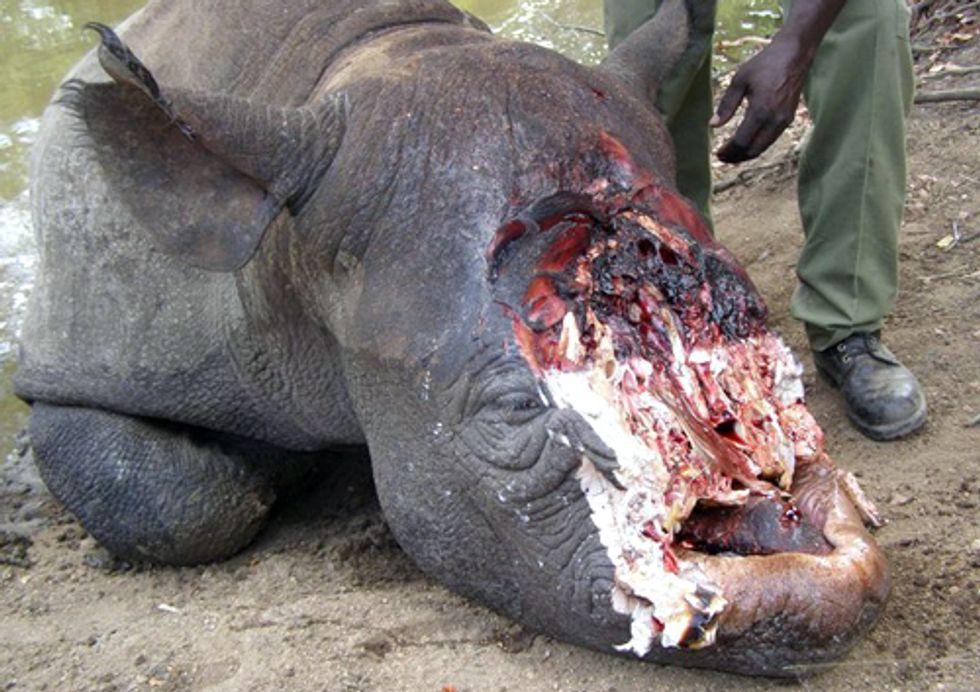 Photo courtesy of Anti-poaching Unit, Zimbabwe
Escalating levels of poaching and illegal trade in rhino horns are seriously undermining rhino conservation efforts, putting the survival of these species at risk—according to a report by International Union for Conservation of Nature (IUCN) and TRAFFIC.
 
The report examines the conservation status and trade in African and Asian rhino species.
 
"The findings of the report are alarming," says Tom Milliken, a rhino expert from TRAFFIC. "Today, rhino poaching and illegal horn trade are at their highest levels in over 20 years, threatening to reverse years of conservation effort, particularly in Africa. There is no doubt that rhino species are facing a serious crisis."
 
According to the report, by the beginning of 2011 there were 20,165 White Rhinoceros (Ceratotherium simum) and 4,880 Black Rhinoceros (Diceros bicornis) in Africa. However, at least 1,997 rhinos were poached between 2006 and September 2012 and over 4,000 rhino horns have been illegally exported from Africa since 2009, with an estimated 92 percent of these coming from rhinos specifically killed to obtain their horn.
 
South Africa, home to 83 percent of Africa's rhinos and 73 percent of all wild rhinos worldwide, is the principal source of rhino horns in illegal trade. A record 668 rhinos were poached there in 2012, according to official government figures released in January 2013.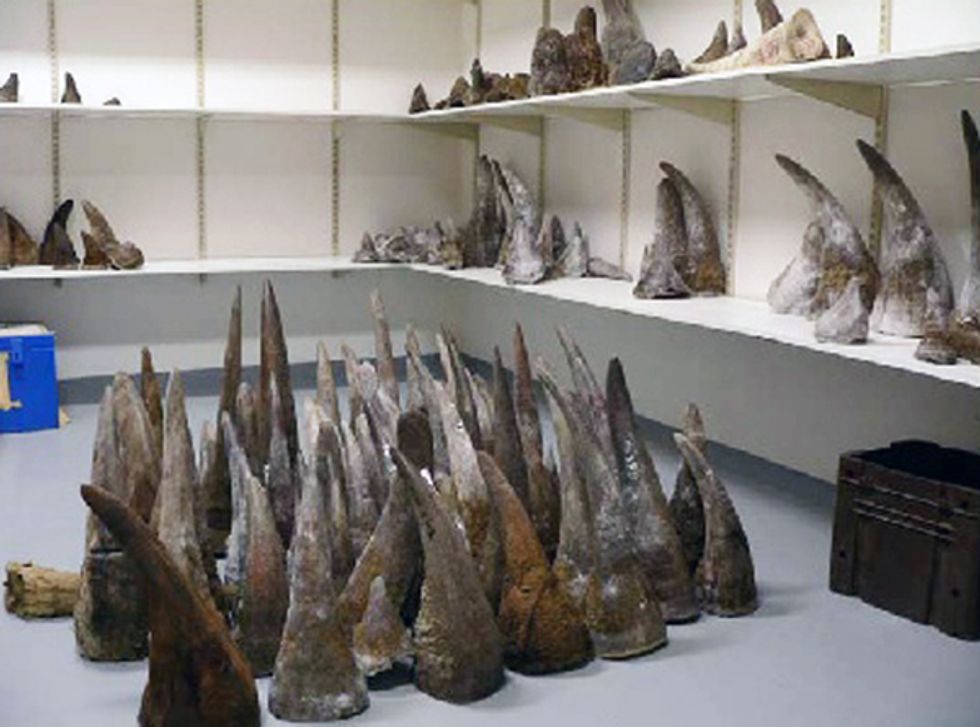 Photo Courtesy of Simon Milledge/TRAFFIC
Illegal trade in rhino horns involves highly organized, mobile and well-financed criminal groups, mainly composed of Asian nationals based in Africa. These networks have recruited pseudo-hunters including Vietnamese citizens, Thai prostitutes and proxy hunters from the Czech Republic and Poland to obtain rhino horns in South Africa on the pretense of trophy hunts for illegal commercial trade. Pseudo-hunting has significantly reduced as a result of a decision to prevent nationals of Vietnam from obtaining hunting licenses and changes to South African law in April 2012. However, there remains a continued need to ensure that only bona fide hunters are granted permits, according to the report.
 
"Rhinos are killed for their horns, which are seen as highly desirable status symbols in parts of Asia, notably Vietnam, but also increasingly in China," says Bibhab Kumar Talukdar, Chair of IUCN Species Survival Commission's (SSC) Asian Rhino Specialist Group. "Horns are also increasingly used for non-traditional purposes such as hangover cure and body detoxifier, especially in Viet Nam."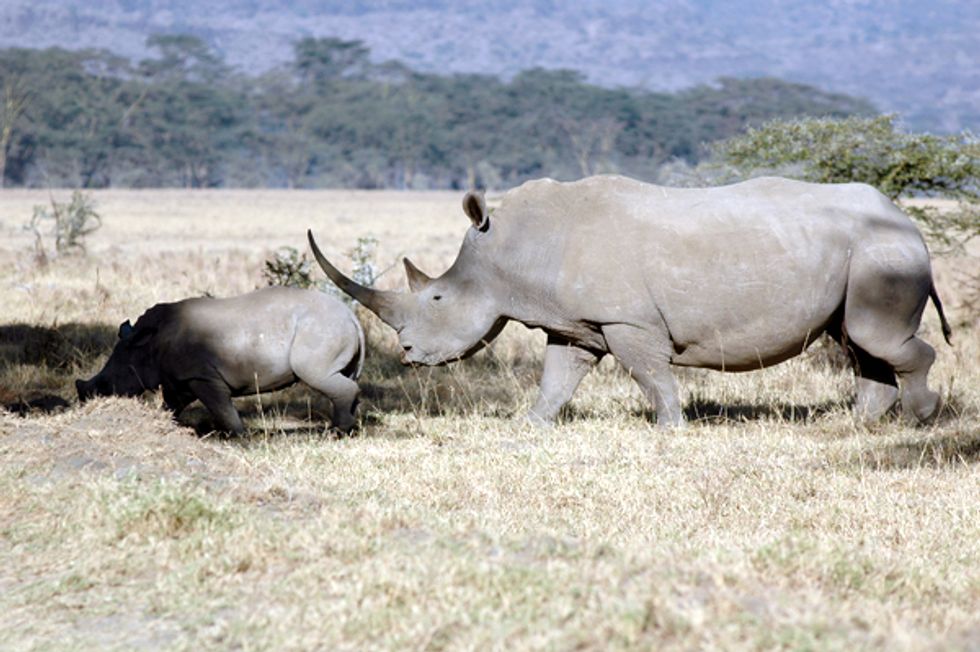 White Rhinoceros (Ceratotherium simum). Photo courtesy of Jean-Christophe Vié
In Asia, although conservation action in Nepal and India has resulted in increased numbers of the Greater One-horned Rhinoceros (Rhinoceros unicornis), the situation in Indonesia and Malaysia remains serious for the world's two rarest rhino species—the Sumatran Rhinoceros (Dicerorhinus sumatrensis) and the Javan Rhinoceros (Rhinoceros sondaicus). The Javan Rhinoceros, with only around 35 to 45 surviving individuals, is confined to a single park in Indonesia after the last animal of its Indochinese subspecies, Rhinoceros sondaicus annamiticus, was found dead, its horn removed, in Vietnam in 2010. The report calls for enhanced protection and biological management of the remaining Sumatran and Javan Rhinoceros to prevent their extinction.
 
Thefts of rhino horns from museums and zoos have increased worldwide, creating the need for improved law enforcement, monitoring and enhanced information management with regards to rhino numbers, sales and translocations, the report finds.
 
"Trade in rhino horns is a global problem that needs to be addressed by the international community by putting pressure on those countries that are driving illegal trade in rhino horn and those with inadequate wildlife legislation, such as Mozambique," says Richard Emslie, from IUCN SSC African Rhino Specialist Group. "At the same time, increased poaching is negatively affecting rhino conservation incentives and budgets, threatening future rhino population growth."
 
The report was compiled by the IUCN SSC African and Asian Rhino Specialist Groups and TRAFFIC, the wildlife trade monitoring network. It was mandated by Convention on International Trade in Endangered Species (CITES) and aims to inform the rhino horn debate at the 16th meeting of the Conference of the Parties to CITES, taking place in March 2013 in Bangkok, Thailand.
Visit EcoWatch's BIODIVERSITY page for more related news on this topic.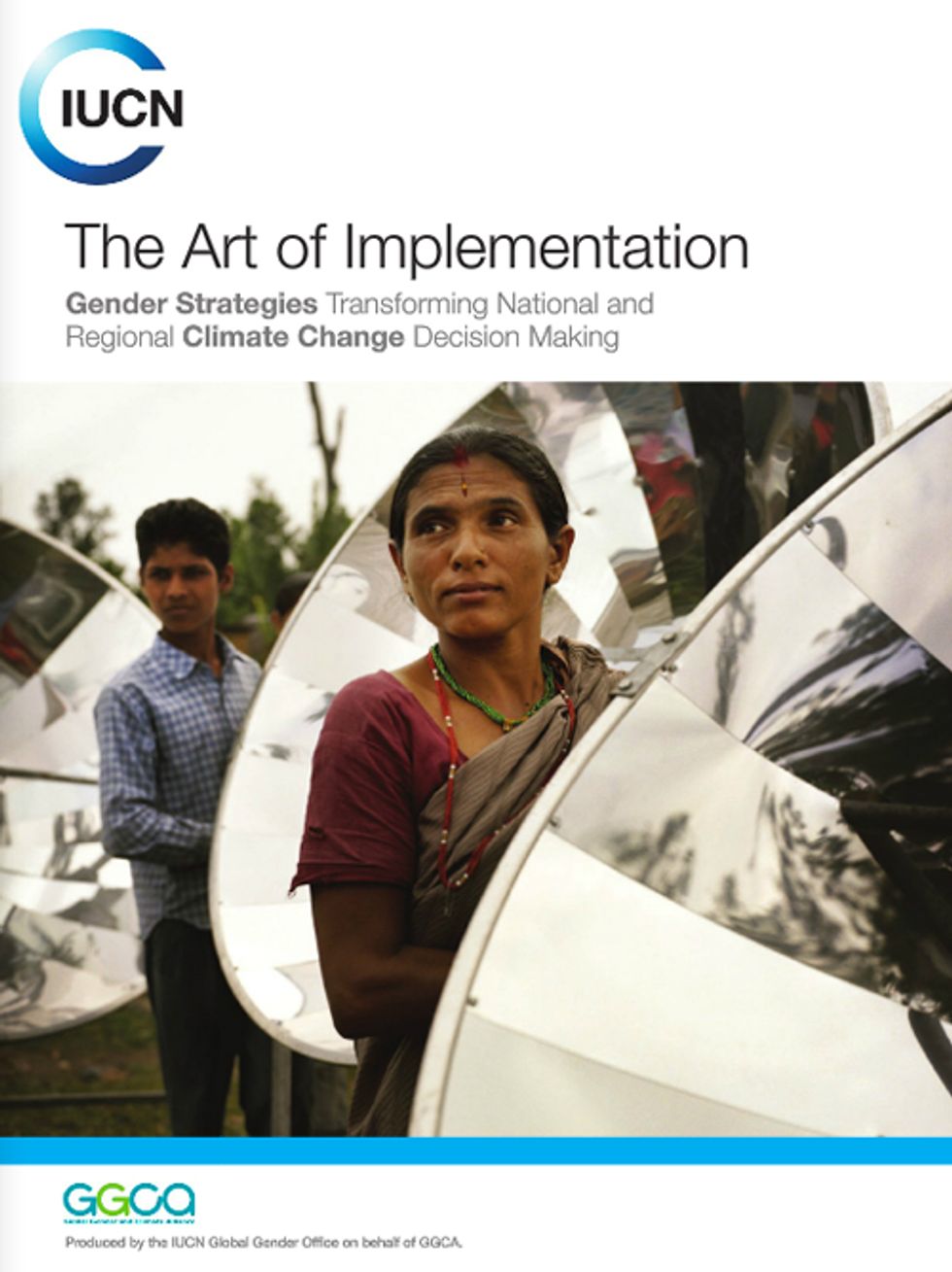 A new International Union for Conservation of Nature (IUCN) publication outlining action plans for women to help them adapt to climate change and minimize its impact has been launched at the 18th Conference of the Parties to the United Nations Framework Convention on Climate Change in Doha, Qatar.
A water taxi network owned and operated by women on the Nile that reduces emissions and provides fast, reliable public transport in a gridlocked Cairo transport system; a recycling project that empowers women as green entrepreneurs in Kathmandu; women-environmental whistleblowers on the coast of Liberia that assist the government in the collection of meteorological data to forecast the weather, acting as an early-warning system for storms and reporting environmental offenses; a carbon-footprint program run by community women and poetry singers in temples in Jordan and Nepal that communicate climate change messages. These are just a few innovative examples included in the book.
The Art of Implementation: Gender Strategies Transforming National and Regional Climate Change Decision Making focuses on the development of climate change and gender action plans—steps to be taken by women to adapt to climate change and minimize its impact. The publication includes a synthesis of strategies and action plans developed by the IUCN Global Gender Office on behalf of the Global Gender and Climate Alliance (GGCA) in Mozambique, Jordan, Egypt, Tanzania, Nepal, Haiti, Panama, Costa Rica, Liberia, the Arab League of States and the Central American Region. It also outlines the methodology used by IUCN.
"A critical step in the development of these action plans is the need to anchor global agreements within national contexts so as to take action on climate change at the local and national level, whilst harnessing the power of women in the process," says Lorena Aguilar, IUCN's Senior Global Gender Adviser. "The strategies and action plans represent a country's intention to empower and respond to the needs of the often invisible 'other half' of the population in the context of climate change. They link national and global policy in a concrete manner, communicate the importance of gender in climate action and frame women as agents of change—and not merely as a 'vulnerable' group."
The book outlines actions designed to adapt to climate change and minimize its impact that can be taken by women and other players in a variety of sectors covering topics as diverse as agriculture and food security, forests and REDD+, water, energy, health, urbanization, integrated coastal management, waste management, tourism, land use and disaster risk management. Each section also includes clear objectives, actions and indicators and identifies the specific institutions responsible for their implementation and delivery.
The action plans provide a comprehensive framework for the development of projects and their implementation, which has been agreed on by governments, UN institutions, contributing country partners, academia, the private sector and civil society, among others.
"Climate change will undermine the very foundation of socioeconomic development and will increase inequality and poverty," says Tarja Halonen, Former President of Finland and main funding partner to the project. "It will have a serious impact on the livelihoods of poor women in developing countries, as the increasing droughts and storms will affect agriculture and water resources, which are often the responsibility of women."
Until recently, policy responses at the global or national level did not reflect this reality. For more than twenty years, gender equality was absent from the United Nations Framework Convention on Climate Change (UNFCCC) and in decision-making by its Conference of the Parties and Subsidiary Bodies. Few National Adaptation Programs of Action (NAPAs) or national communications submitted by Parties to the UNFCCC addressed gender issues in a comprehensive manner, and some did not mention gender considerations at all.
Following several years of advocacy, capacity building, and building awareness, governments have now agreed multilaterally that gender equality is a key component in achieving climate change goals. Since 2008, more than 60 official gender references have entered the UNFCCC negotiation text, and the final outcomes of the Cancun (2010) and Durban (2011) conferences included eight and seventeen references to gender, respectively.
With these global mandates in place, the urgent next step is to turn them into action and determine how to design climate change policies that address these issues.
Visit EcoWatch's CLIMATE CHANGE page for more related news on this topic.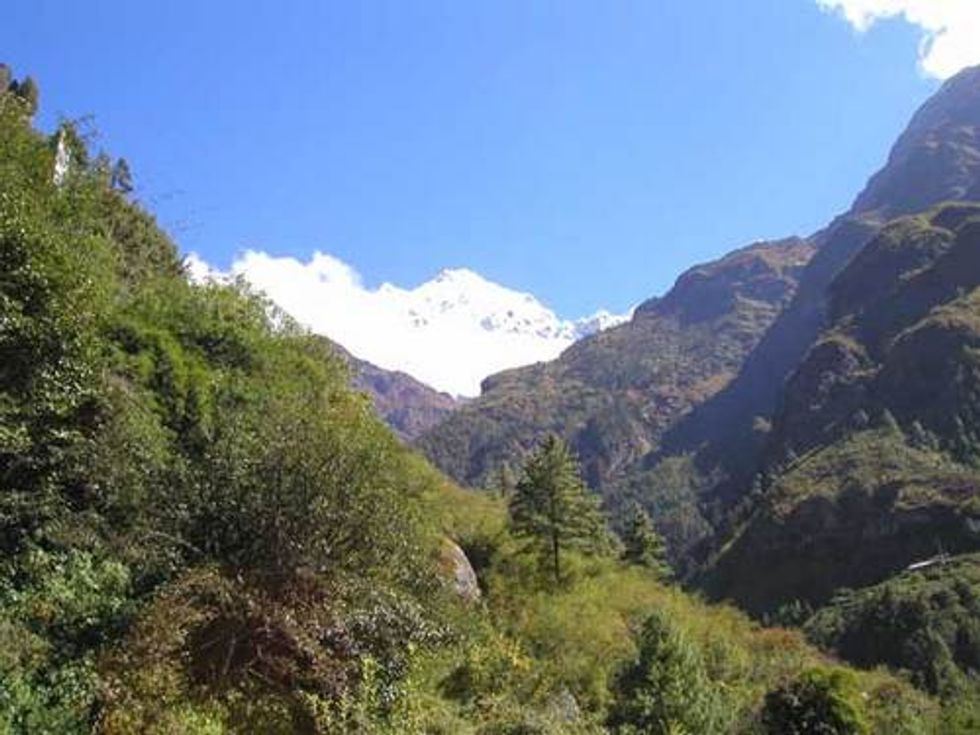 Nepal is often romanticized as a mythical paradise. Its towering peaks and secluded valleys have inspired people for centuries. Yet it is a fragile place that is facing many challenges—one of the biggest being climate change. Nepal is among the most climate-vulnerable countries in the world.
To help address this issue, World Wildlife Federation (WWF) and several other organizations launched a new initiative Nov. 8 called Hariyo Ban. Meaning "green forests" in Nepali, the project is funded through a $30 million U.S. Agency of International Development (USAID) grant.
The goal of this five-year project is to reduce the adverse impacts of climate change and threats to biodiversity in Nepal. Our approach includes:
Effectively managing the landscape, especially through reduced emissions from deforestation and forest degradation (REDD+) readiness
Increasing the ability of people and ecological communities to adapt to climate change impacts
Hariyo Ban will be implemented by WWF, CARE, National Trust for Nature Conservation and the Federation of Community Forest Users Group Nepal in two landscapes:
The Terai Arc Landscape—located in southern Nepal—is home to tigers, rhinos and elephants. More than 7 million people live here. It boasts the world's tallest grasslands and some of the best-known national parks. Its fertile ground has also made it the rice bowl of the country.
The Chitwan-Annapurna Landscape ties the high Himalayas to the Terai. Within the newly minted landscape lie valuable watersheds that support a rich variety of wildlife, including key areas for snow leopards, red pandas and migratory birds. This landscape also harbors a wide variety of ethnic groups.
The project builds on a long-running relationship between WWF and USAID, which have been active in Nepal for several decades. For WWF, this project also marks a return to the world famous Annapurna Conservation Area, which was created through the pioneering efforts of the late Mingma Sherpa and Dr. Chandra Gurung, both of WWF.
"This ambitious project recognizes that forests are truly the wealth of Nepal, as forests not only support the livelihoods of millions of people and provide a safe haven for endangered species but also are vital to combat the impacts of climate change," said Judy Oglethorpe, WWF chief of party, Hariyo Ban Program.
For more information, click here.