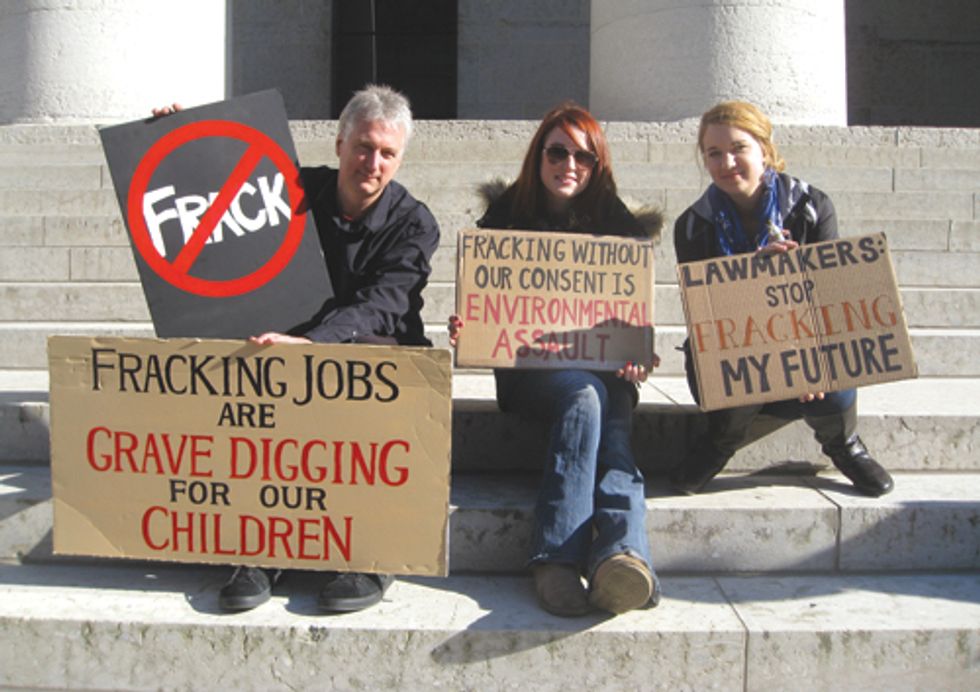 Faith Communities Together (FACT) for Frack Awareness formed last June in response to the growing local concern over the extreme extraction industry, in particular to high-volume, high-pressure hydraulic fracturing for natural gas, best known as fracking.
FACT consists of 15 Ohio faith organizations coming from six different faith traditions— Unitarian Universalists, United Church of Christ, Catholic, Methodist, Presbyterian and atheist—and spans eight Ohio counties, including Cuyahoga, Lake, Geauga, Mahoning, Trumbull, Portage, Belmont and Summit. FACT has 93 participating individuals who range from active members of religious congregations to individuals who are approaching environmental topics from a moral or spiritual perspective.
FACT draws upon the technical and scientific expertise of the Network for Oil and Gas Accountability and Protection (NEOGAP), an Ohio-based group that is organized to educate, empower and advocate for the citizens of Ohio who are facing threats to health, safety and property rights posed by oil and gas development. FACT draws upon the cultural and faith based expertise of several of its members who are part of various clergy. FACT recognizes the ethical and moral challenges that fracking creates for the land and for people.
As members of faith communities in Ohio, FACT works to protect God's Creation from the harm caused by the extraction of resources such as oil, natural gas, coal and other non-renewable sources of energy. FACT will achieve its mission by:
• Educating the public about these issues, including harm to our clean water resources, especially those caused by high volume, high pressure hydraulic fracturing for natural gas.
FACT distributed to its member congregations and individual members a copy of the DVD Ohio, Get FrACTive! To help educate and communicate with congregations and communities. The video looks at the problems fracking brings to health, safety, economy, property rights and values, and discusses methods of educating neighbors and local government leaders about fracking and signing drilling leases.
• Supporting efforts to end the exploitation of workers and landowners involved in these activities, many of whom are impoverished and disadvantaged.
FACT is reaching out to poor, rural communities throughout the eastern areas of Ohio to help provide information about the potential hazards of signing leases, recognizing that income and job opportunities are desperately needed.
FACT welcomed a new member in January—the Ohio Valley Unitarian Universalist Congregation. They will be known as FACT-OV and will serve the Ohio Valley, including Belmont, Guernsey, Harrison and Jefferson Counties in Ohio and Brooke, Marshall and Ohio Counties in West Virginia.
• Encouraging of faith communities not to lease parish land for fracking and to warn their members to not lease their personal land for fracking.
FACT has formed a letter writing committee made up of clergy and lay persons to develop letters to relay this warning.
• Convincing faith communities to help pass federal, state and local laws that protect our water and air, and human health and safety.
Eight FACT members attended the Stop the Madness No Frack Ohio Rally at the Ohio Statehouse on Jan.10. The purpose of this gathering was to urge Gov. John Kasich to protect the environment and public health by passing SB 213/HB 345, which would impose a moratorium on fracking permits and wastewater disposal injection wells. A FACT member congregation, Unitarian Universalist Church of Youngstown, Ohio served as headquarters for a bus transporting citizens from Youngstown to the rally in Columbus.
• Urging faith communities that we must conserve energy and protect our potable water, and develop, promote and incorporate truly clean, renewable sources of energy.
The Unitarian Universalist Association of Congregations' Green Sanctuary Program is a model for this practice.The voluntary program provides a framework for congregations and congregants to proclaim and live out their commitment to the Earth.
Would you like to learn more about the extreme extraction industry and fracking? Would you like to learn of ways your faith organization could become involved with the issue of extreme extraction and fracking? Would you like to find refreshment and rejuvenation as you seek to lead a green and faithful life ? If so, consider attending the next monthly FACT meeting.
Anyone is welcome to attend as a representative of a faith organization (church, temple, mosque and others) or simply as an individual participant. The next monthly FACT meeting is Saturday, Feb. 11 from 9:30 to 11 a.m. in Kent, Ohio. This meeting is to be followed by a "no fracking" rally and march. The rally and march is from 11 a.m. to 1 p.m. beginning on Main Street in Kent.
For more information on FACT or the upcoming monthly meeting, email Kristina.
For more information on NEOGAP click here.
EcoWatch Daily Newsletter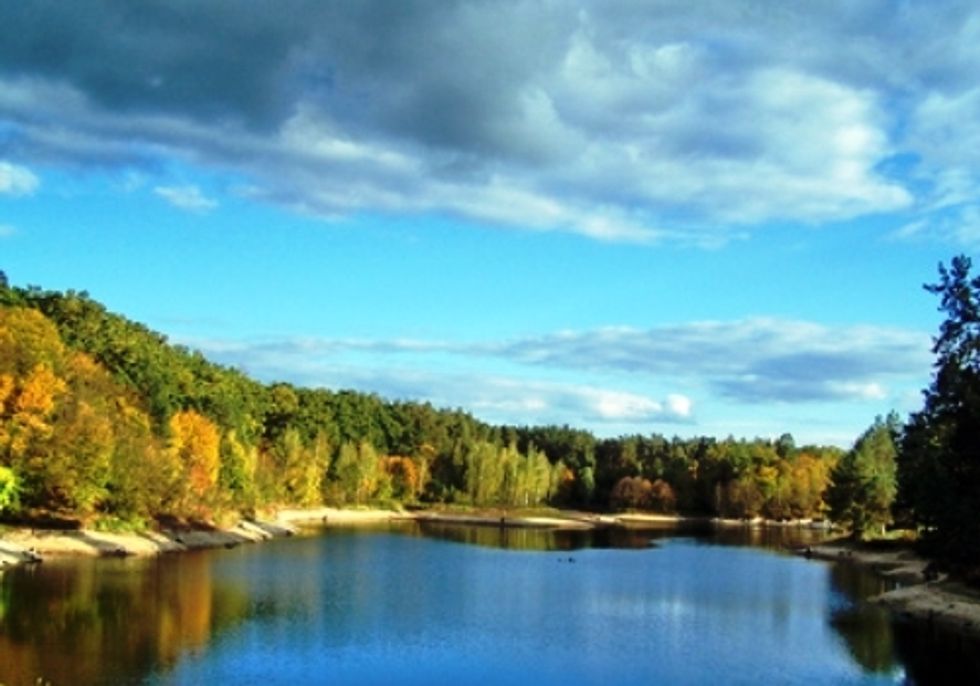 Citing concerns over the first deep-shale drilling operation in Ohio's pristine Grand River watershed, conservation groups are calling on state regulators to tighten controls on drilling for oil and gas in Ohio to better protect water, wildlife and property.
The groups want the Ohio Department of Natural Resources (ODNR) to strengthen state rules to protect water resources by:
• broadening the distance that oil and gas drillers are required to test for water quality before and after drilling.
• expand the list of chemicals for which drillers must test for possible water contamination before and after drilling.
• expand the testing to also include water quantity to test for any changes to water flow from a water well or waterway.
The groups also want ODNR to adopt stronger protections to better protect livestock, wildlife, property values and local communities by:
• banning the disposal of toxic-tainted waste materials at drilling site waste pits.
• stepping up testing in nearby streams to protect fish and wildlife from contamination.
• closing the regulatory loophole that permits drillers to ship radioactive-laced drill cutting waste for disposal at solid waste landfills.
• periodically updating regulations to keep pace with industry practices.
• stopping the unfunded mandate on local communities, which have no local authority to regulate drilling but bear much of the costs from traffic, noise and road damage.
"Ohio's rules need to catch up to the shale gas boom spreading across Ohio, starting right here in the Grand River watershed," said Trent Dougherty, director of legal affairs for the Ohio Environmental Council (OEC). "Oil and gas may be basic commodities. But clean water is priceless. That's why we need the ODNR to protect our heritage of abundant water and wildlife resources and our respect for people's property."
Representatives of the OEC, Buckeye Forest Council and the Network for Oil and Gas Accountability & Protection (NEOGAP) briefed reporters on Jan. 5 at the Middlefield public library in Northeast Ohio's Geauga County. The groups cited a deep shale-gas well located less than 1,500 feet from a tributary of the Grand River—a site that could be the first of hundreds or thousands such wells to eventually dot the Grand River watershed landscape. Drillers set up operations at the site just a few weeks ago.
The Grand River represents one of the finest examples of a natural stream found anywhere in Ohio. According to the ODNR, the Grand River boasts "the most aquatic diversity of any Ohio Lake Erie tributary." The Grand River is designated as an official State Wild and Scenic River and is an angler's paradise—some 90,000 steelhead trout are stocked there each year. Ohio law, however, provides no additional protections from drilling for a State Wild and Scenic River, such as minimum distance set-backs from a drilling site.
The new well, near Parkman, Ohio, is located just a 15 minute drive east of the site of one of the most destructive failures by the oil and gas industry to follow its own best practices—and a colossal lapse of government oversight. Early in the morning on Dec. 15, 2007, natural gas migrated from a natural gas well to the basement of a house in Bainbridge Township. A resulting explosion rocked the house. Thankfully, the two residents in the home were not seriously injured, but the home was severely damaged and dozens of other residential water wells were contaminated.
State investigators determined the gas migration and resulting explosion was caused by over-pressurization of the surface-production casing of the gas well. In layperson's terms, the explosion was the result of poor well construction. This explosion resulted in water well contamination, a lawsuit by 42 neighboring property owners, a year-long investigation by ODNR and the biggest overhaul of the state's oil and gas drilling laws—Ohio Senate Bill 165, passed by the Ohio General Assembly in 2010. The well was located less than 1,000 feet from the house.
Under current Ohio law, a drilling operation may be located as close as 150 feet from an occupied residence. The ODNR is currently developing new regulations to implement the law changes.
In the four years since the Bainbridge event, however, Ohio faces a different form of oil and gas production—the industrial-scale drilling for shale gas. This unconventional drilling involves the use of hundreds of different chemical additives and the disposal of literally billions of gallons of toxic-tainted wastewater from Ohio and neighboring Pennsylvania oil and gas wells.
"Ohio is outdriving its headlights when it comes to identifying and controlling the risks of the shale gas boom," said the OEC's Dougherty. "Ohio is permitting the next generation of wells without first fixing the ills of last generation's risks."
The new generation of drilling, commonly referred to as horizontal hydro-fracking or "fracking," uses high-pressure injection of water, sand and chemicals to release gas and oil trapped in shale formations located thousands of feet below the earth's surface. After drilling vertically to the depth that reaches slightly above the shale formation, the drill bit is turned horizontally and pushed into the shale, sometimes as much as 3,000 feet. Small fractures are created in the targeted area with underground explosions and a mixture of sand, water and chemicals is injected at high pressures into the newly created fractures to further crack the rock and release the trapped gas.
To exploit the deep natural gas-rich deposits in the Utica and Marcellus shale formations, operators must drill and frack like never before. This scale of drilling requires more of everything: more acreage (5 acres cleared per well pad); more chemicals to stimulate production; more fresh water (up to 5 million gallons per fracking cycle) and more truck traffic (up to 13,000 diesel truck trips per well site).
The calls for reform are hard on the heels of a series of 11 earthquakes recorded since March 2011 near Youngstown. Two large earthquakes occurred in December, causing state regulators to ask the operator to cease injecting waste there. ODNR and the well operator appropriately halted operation of injection wells in the area until scientists could analyze the situation. Scientists from Columbia University believe the earthquakes almost certainly were caused by the high-pressure injection of oil and gas waste fluids into a deep underground disposal well located nearby. These experts say that it may take a year for the waste injection rumblings to dissipate.
The environmental groups calling for reform believe Ohio should follow the same sound advice for the entire oil and gas production process—from exploration and production to waste disposal—to ensure that the best regulations are in place to protect the public, property owners, water and wildlife.
"The earthquakes in Youngstown, if nothing else, show that there are countless risks with deep shale drilling. While there will be risks with everything in life, how much risk is acceptable?" Dougherty asked.
In response to these risks, the groups are renewing their call first made in March 2011 for a moratorium on any new deep-shale drilling until drilling practices are demonstrated to be safe for the environment and human health and are properly regulated.
"Ohio's oil and gas laws are deeply flawed in many respects. The spraying of toxic fracking wastewater on community roads, weak to non-existent water well testing requirements and lax wastewater containment rules are just a few examples," said Ellie Rauh, fracking coordinator for Buckeye Forest Council. "The Ohio Division of Oil and Gas can make and enforce rules that fix these problems and that better protect Ohioan's health and the environment. Although the division is currently rewriting its rules, it has not yet addressed any of the crucial health and safety problems that should greatly concern the public. We call on the Ohio Division of Oil and Gas to fill the holes in its regulations and to draft a sensible and protective set of rules."
"With all the fracking that's starting up in Ohio, we are concerned that no one in our state government is really working to effectively safeguard Ohio's most precious natural resource—our safe drinking water," said Ron Prosek, NEOGAP vice president.
"Natural gas can be a bridge fuel to cleaner sources of energy. But the way we're going, Ohio is building a bridge to unknown risk and danger," added Dougherty.
For more information, click here.
--------
The mission of the Ohio Environmental Council (OEC) is to secure healthy air, land and water for all who call Ohio home. The OEC is Ohio's leading advocate for fresh air, clean water and sustainable land use. The OEC has a 40-year history of innovation, pragmatism and success. Using legislative initiatives, legal action, scientific principles and statewide partnerships, the OEC secures a healthier environment for Ohio's families and communities. For more information, visit www.theOEC.org.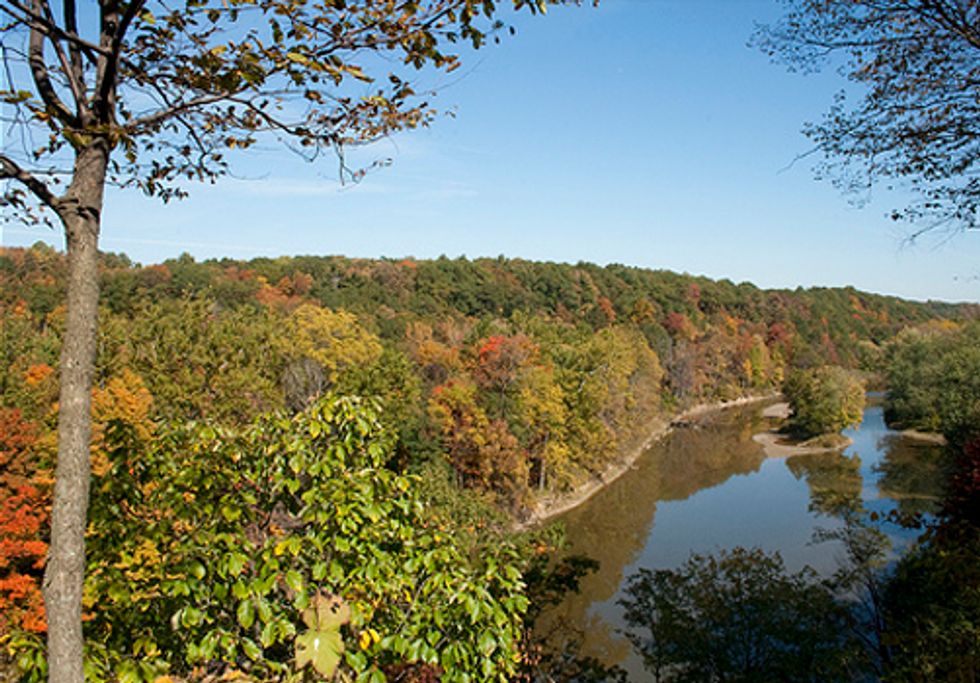 The Ohio Environmental Council (OEC) and partner organizations, including the Buckeye Forest Council and the Network for Oil & Gas Accountability and Protection, are having an event on Jan. 5 at 2 p.m. at Middlefield Library at 16167 East High St. in Middlefield, Ohio, to call attention to the first deep-shale gas well to use horizontal hydraulic fracturing, better known as fracking, in Geauga County on the headwaters of the Grand River.
The Grand River is a wild and scenic river, home to steelhead trout and a critical source of water for Lake Erie. However, the Ohio Department of Natural Resources' (ODNR) series of new drilling rules keep this watershed and others under great risk.
The event will:
• highlight ways in which industry is outperforming ODNR rules, leading many to question whether industry will backslide once regulations are in place.
• question the assumption that Ohio's oil and gas regulations are some of the strongest in the country (as compared to other states).
• expose the radioactive waste loophole in the current regulations.
• outline ways in which ODNR should strengthen rules to better protect the health of all Ohioans.
Immediately following the meeting, a caravan will head to Chickagami Park at 17957 Tavern Rd., Route 168 in Parkman, Ohio, which is on the shores of the Grand River, within two miles of the fracking well site.
For more information click here.
--------
The mission of the Ohio Environmental Council (OEC) is to secure healthy air, land and water for all who call Ohio home. The OEC is Ohio's leading advocate for fresh air, clean water and sustainable land use. The OEC has a 40-year history of innovation, pragmatism and success. Using legislative initiatives, legal action, scientific principles and statewide partnerships, the OEC secures a healthier environment for Ohio's families and communities. For more information, visit www.theOEC.org.