This website uses cookies to ensure you get the best experience while browsing it. By clicking 'Got It' you're accepting these terms.


The best of EcoWatch, right in your inbox. Sign up for our email newsletter!
If you follow environmental news, every day it seems like the world is getting worse. One landmark study found that animals are going extinct 1,000 times faster than their natural rate because of human influence and habitat loss.
To help fight back against these worrying trends, Swiss billionaire and conservationist Hansjörg Wyss will be donating $1 billion over the next 10 years through his Wyss Foundation.
The Aldabra Atoll in the Seychelles. Simisa / Wikimedia Commons
The Seychelles has created two vast new marine protected areas in the Indian Ocean after a groundbreaking finance deal brokered by the Nature Conservancy and other stakeholders, including environmentalist and Oscar winner Leonardo DiCaprio.
In exchange for writing off a portion of its debt, the island nation agreed to protect a total of 81,000-square-miles of ocean—that's about the size of Great Britain.
EcoWatch Daily Newsletter
Christy Williams / WWF
It's been a big year for conservation.
Together we assured the world that the U.S. is still an ally in the fight against climate change through the We Are Still In movement, a coalition of more than 2,500 American leaders outside of the federal government who are still committed to meeting climate goals. WWF's activists met with legislators to voice their support for international conservation funding. And we ensured that Bhutan's vast and wildlife-rich areas remain protected forever through long-term funding.
The Trump administration is considering cutting protections for two national monuments lying south of Hawaii in the central Pacific. The decision, scientists warn, will threaten reefs across the Pacific.

The move, according to a memo from Interior Sec. Ryan Zinke obtained by the Washington Post in September, would "allow commercial fishing" in the Pacific Remote Islands National Marine Monument and the Rose Atoll National Marine Monument.
A baby-pangolin. The U.S. has been instrumental in the past in combatting wildlife trafficking, a role the nation could abandon under Trump's draconian budget.
By William H. Funk
Proposed funding cuts to environmental programs in President Trump's proposed 2018 budget have drawn anxious attention from around the world. But while the biggest numbers deal with rolling back the Obama administration's climate change initiatives, more subtle withdrawals of federal support from lesser known international programs threaten the continued existence of some of the planet's most iconic animals.
President Trump's 2018 budget proposes a 32 percent across-the-board shrinkage of U.S. foreign assistance, affecting hundreds of sustainability, health and environmental programs.
Forests cleared for oil palm plantations in Central Kalimantan, Indonesia. Ulet Ifansasti / Greenpeace
By Tim Radford
Land use is often a forgotten priority, yet those of us who wish to contain global warming and avert catastrophic climate change have a natural ally: the land.
As nations plan to reduce the greenhouse gas emissions from fossil fuel combustion, an international team of scientists has calculated just how much the natural and farmed world could contribute to future stability by absorbing ever more carbon dioxide.
A reef off the coast of Cancún will become the first in the world with its own insurance policy, testing a new strategy meant to encourage local investment in the wellbeing of the reef.
Under the policy, created by insurance company Swiss Re and the Nature Conservancy, local hotels and other organizations dependent on tourism will pay into the policy, receiving reimbursements to repair the reef and local beaches after natural disasters.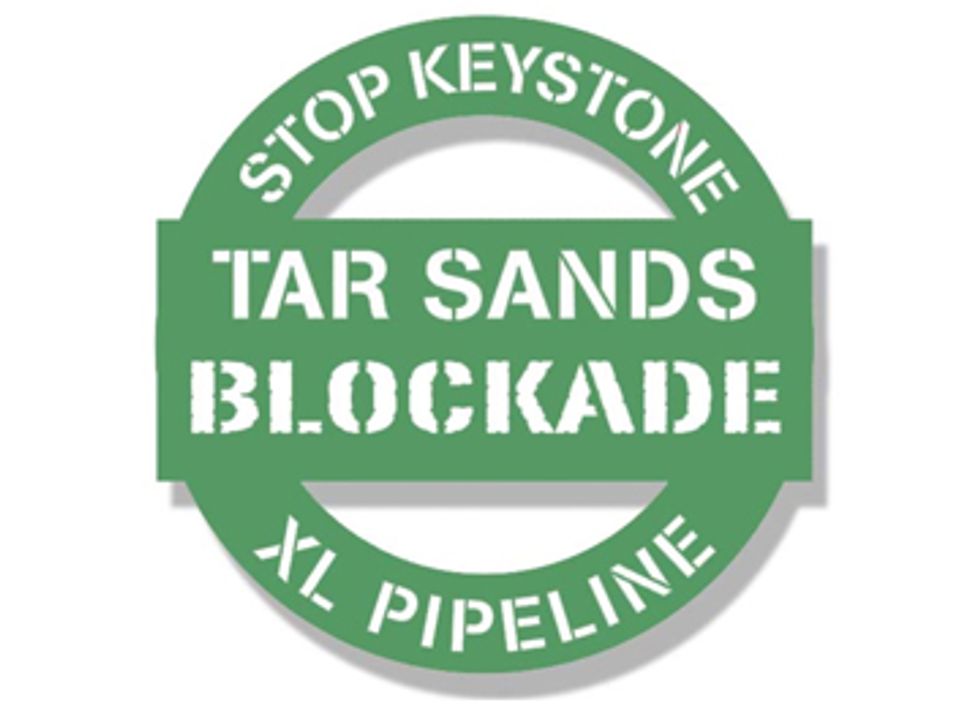 This morning, a fake press release was sent from an email address at yourtdbank.com, to a parody website designed to look like TD Bank's press page announcing the bank's divestment from Keystone XL and tar sands. The fake release cited President Obama's recent climate speech and a host of economic problems for the tar sands industry as reasons for TD Bank's decision to sell its $1.6 billion stake in Keystone XL and live up to their motto to be "As Green As Our Logo."
The media stunt was claimed by the Texas-based nonviolent direct action organization, Tar Sands Blockade, who over the last year has successfully caused major delays to the construction of the southern segment of the Keystone XL tar sands pipeline. The fake story was published by media sources such as International Business Times, before later realizing it was a hoax.
Today's hoax was part of a sustained campaign to encourage financial institutions bankrolling Alberta's tar sands industry to divest from toxic projects like Keystone XL and highlight TD Bank's blatant hypocrisy on environmental issues.
Yesterday, TD Bank touted their eco-consciousness by announcing a partnership with the Nature Conservancy to preserve 107 acres of Florida forests. The tar sands mega-project, which analysts say will only be economically viable if Keystone XL and other pipelines are built, would destroy or degrade 34 million acres of the world's largest, most pristine forest and the largest terrestrial carbon sink.
"Today's media stunt was intended to hold TD Bank accountable for bankrolling the most ecologically devastating project on planet Earth. If TD Bank wants to be 'as green as its logo,' then it must immediately divest from tar sands exploitation and Keystone XL, which will have devastating climate impacts," said Ron Seifert, a Tar Sands Blockade spokesperson.
"TD Bank's green-washing of its preservation of 107 acres in Florida while simultaneously investing in the destruction of a forest the size of the entire state of Florida is downright absurd and must be brought to light."
Visit EcoWatch's KEYSTONE XL and TAR SANDS pages for more related news on this topic.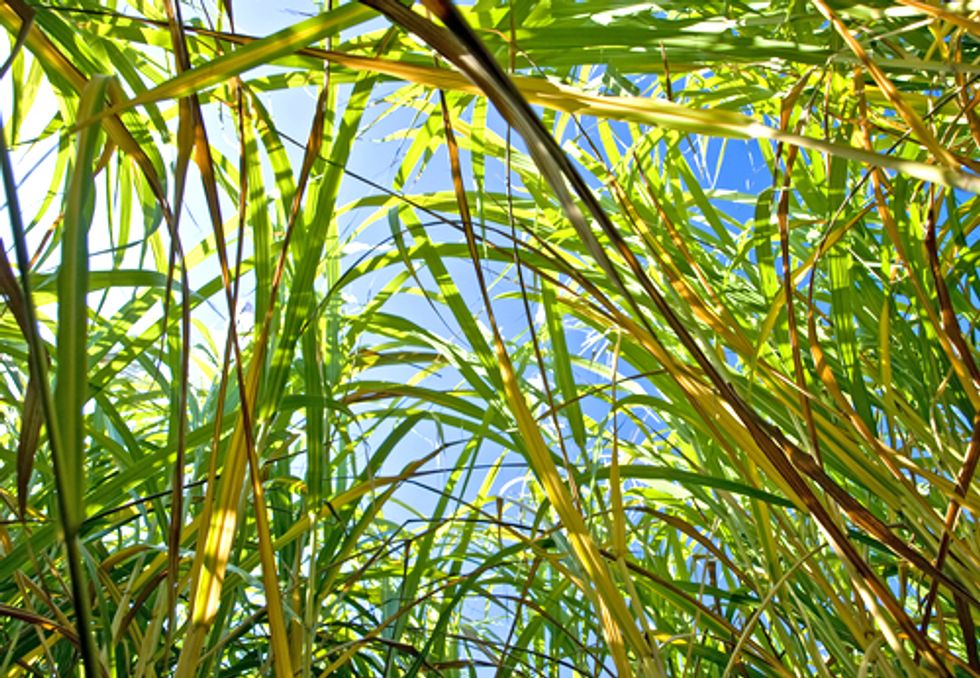 On Feb. 27, 643 organizations, representing tens of millions Americans, expressed strong support for the Conservation Title of the U.S. Farm Bill in a letter sent to Chairwoman of the Senate Agriculture Committee Debbie Stabenow (D-MI) and Chairman of the House Agriculture Committee Frank Lucas (R-OK), as well as the ranking members of those committees.
The letter urges the committees to provide the greatest possible priority for conservation programs in the funding and structuring of Farm Bill reauthorization.
The letter states that, "In our vast collective experience as landowners, farmers, ranchers, forest managers, agricultural and forest businesses, hunters and anglers, local and state government officials, and non-profit organizations representing a wide range of interests, we can say, without any doubt, that the programs within the Conservation Title work cost-effectively to serve the short and long term interests of the American people."
On behalf of the signers, 10 agricultural, forestry, and conservation organizations who coordinated distribution of the letter said that, "Farm Bill conservation programs provide a multitude of benefits for every region of America, not the least of which is helping landowners stay on the land as stewards of America's legacy of natural resources. We, and all the signers of this letter, urge the Agriculture Committees to reauthorize the Farm Bill in a manner that sustains conservation funding to meet our national needs. The conservation efforts in the Farm Bill are critical to a strong economy, healthy and productive rural lands and vibrant communities. We appreciate the leadership of the Chairmen and Ranking Members of the House and Senate Agriculture Committees on this issue."
Additional statements of support include:
Roger Wolf of the Iowa Soybean Association: "The Iowa Soybean Association supports a Conservation Title resulting in stronger soils and safer waters from our most productive working-land areas. Working in partnerships on priority resources concerns, keeping working-land productive and securing performance is key to our farmers."
Becky Humphries of Ducks Unlimited: "While we understand these are difficult times, we believe every possible effort should be made to provide sufficient funding for the Conservation Title programs over the next five years so that they can continue to benefit the American people."
Sara Hopper, agricultural policy director for Environmental Defense Fund and a former staff member of the Senate Agriculture Committee: "Farm Bill conservation programs are a smart government investment in the long-term health of both American agriculture and our environment because they leverage additional resources from agricultural producers, who share the cost of implementing conservation practices on the land. Because increasing global demand for food is intensifying pressure on America's land and water resources, it is more critical now than ever to maintain and strengthen conservation programs."
Ferd Hoefner of the National Sustainable Agriculture Coalition: "Our long-term food security depends on balancing production needs with protection and enhancement of natural resources. No farm bill investment is more important or more cost effective than helping farmers protect natural resources and prevent pollution."
The full text of the letter to the leaders of the Agriculture Committees can be found online, including the complete list of signers.
For more information, click here.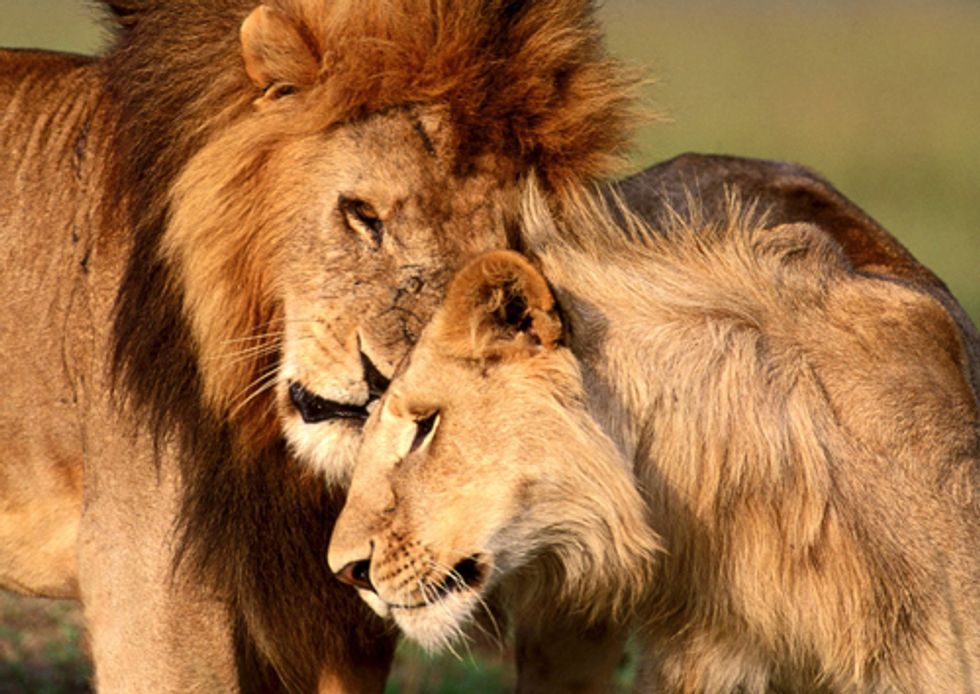 So you think you've had some strange dates? This Valentine's Day, The Nature Conservancy compiled the top 10 most bizarre examples of love in the wild.
"Nature can get pretty wild, especially when love is in the air," said Terry Sullivan, director of The Nature Conservancy in New Mexico.
Unfortunately, many of these creatures are at risk of disappearing forever because of habitat loss, climate change, and other threats.
"Here in New Mexico, the lesser prairie chicken faces an uncertain future because of loss of habitat," said Tish McDaniel, southern short grass project director for New Mexico's Conservancy. "As much as 90 percent of the lesser's habitat has been lost due to fragmentation. We are out of balance."
The lesser prairie chicken is renowned for the extraordinary dance that it performs as part of its mating ritual. To make sure these incredible animals survive in the future, The Nature Conservancy is protecting habitat on the Milnesand Prairie Preserve, the heart of the prairie chicken population. We also collaborate with partners, including landowners, ranchers and farmers, to access funding for habitat restoration projects. Plus, the conservancy, in concert with others, is restoring abandoned oil and gas roads and removing invasive shrubs and non-native trees.
 "Nature is powerful, but for many animals their future depends not only on their mating prowess but on what help we give them," McDaniel added. "If we don't act now to protect the lands these iconic creatures call home, they may not be around for future generations to witness their spectacular mating dances."
In an effort to raise awareness about the importance of protecting prairie chickens, the conservancy partners with the community of Milnesand, the New Mexico Department of Game and Fish Department and Grasslands Charitable Foundation for the 11th Annual High Plains Prairie Chicken Festival on April 20-22. 
In addition to the incredible displays of our own lesser prairie chicken, here are 10 other bizarre mating practices from around the planet:
1) Deep sea angler fish—"Losing yourself in love"
Male anglerfish bite their mates and permanently fuse to their bodies. Over time, the male's brain, eyes and organs dissolve until he turns into a small lump, releasing sperm whenever the female is ready to lay eggs. Scientists first thought the lumps were fins before discovering they were the males. 
2) Prairie Chickens—"Strut Your Stuff"
Male prairie chickens attract females with loud "booming" noises that can be heard miles away. They also perform an elaborate dance—lowering their heads, erecting their neck feathers, inflating orange air sacks, dropping their wings and pointing their tails, all while frantically stamping their feet. 
3) American Burying Beetle—"Family Oriented"
American burying beetles not only are monogamous but also raise their children together. Expectant parents bury dead birds or mice and lay eggs nearby. The parents lie on their backs and use their legs like a conveyor belt to move carcasses up to 200 times their own weight. Once hatched, larvae feed on the carcass or the parents rub their wings together to call the larvae and regurgitate meat into their mouths. 
4) Freshwater mussels—"The bait and switch"
Male mussels release sperm into the water, which females capture downstream. Larvae hatch inside the females' shells but must then attach to a fish to grow. To lure fish, mother mussels wave appendages that look like worms, crayfish or other bait. Some emit a smell of rotting flesh to attract scavenger fish. When fish approach, the mussels shoot the larvae onto the fish. 
5) Prairie Vole—"Born to be Faithful"
Unlike most rodents, prairie voles are monogamous. Scientists have discovered that prairie vole faithfulness is caused by hormone receptors located in their brain's reward centers, giving them the sense of pleasure from monogamy. 
6) Bower birds—"Bachelor Pads"
Male bowers of Australia and New Guinea build large and elaborate bachelor pads on forest floors, decorated with flowers, leaves, shells and even stolen coins—anything they think will attract a mate. Some paint the walls with chewed berries, others build lawns of moss. Drab males build the flashiest pads to compensate for their dull colors. 
7) Lions—"One Track Mind"
When lions mate, the coupling usually lasts only about 20 seconds. But the pair will repeat the act every 20 minutes or so—sometimes up to 40 times a day. This will continue for three to seven days straight, with the male and female neglecting to hunt or eat during the entire time.
8) Tree crickets—"Smooth talker"
Male crickets bite holes in leafs to amplifier their love songs and attract females. Once they mate, however, male sperm packets don't fit inside the females' bodies so a portion hangs out. The ever-ravenous females try to eat the packet before fertilization can occur. To distract her, the male sings and secretes a tasty goo from his back, feeding her until the eggs are fertilized. 
9) Day Octopus—"Keep Your Distance"
Female day octopi are known to eat their partners after mating, so the males keep their distance. When a male finds a female, he extends one arm and waves. If she responds, he uses his arm to place a sperm packet under the female's body covering. The octopi stay at an arm's length—appearing as though they are holding hands. 
10) Little Brown Bats—"Waiting for the Right Time"
Because these bats mate in the autumn—but hibernate during winter—females store sperm for seven months to delay pregnancy until springtime. While bats normally hang upside down, females stand upright to give birth and catch their babies in a membrane between their legs. Newborns cling to their mothers even during nighttime flights as they search for food.
For more information, click here.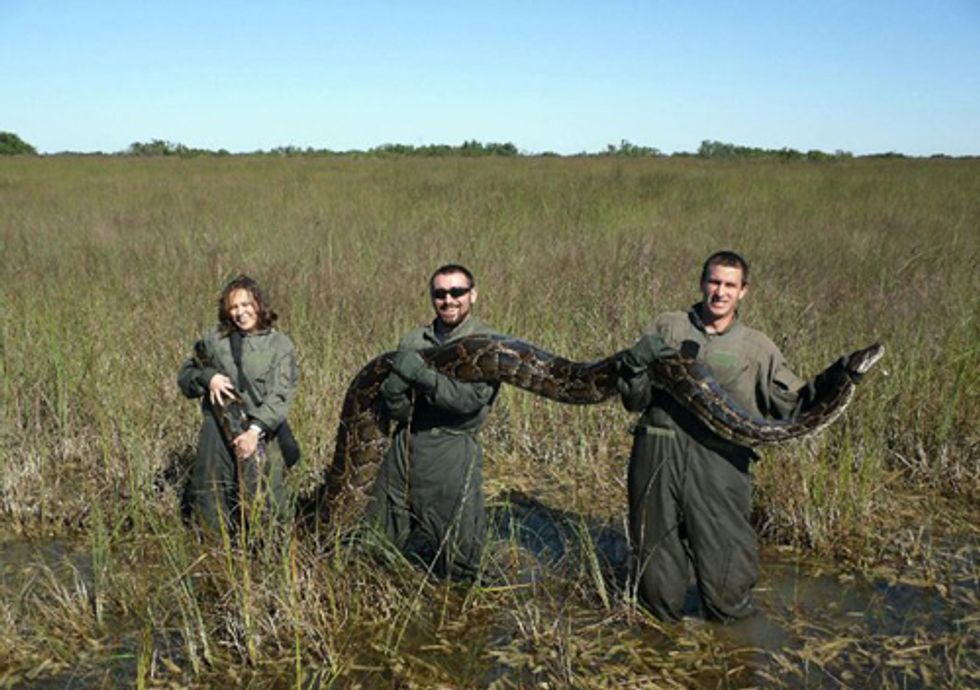 Florida Nature Conservancy Scientist Kris Serbesoff-King called the drastic loss of common mammals in the Everglades due to Burmese pythons, reported by the Florida Academy of Sciences, "really scary" and worries about the repercussions for all wildlife and for Everglades restoration.
The Nature Conservancy not only trains responders through the Python Patrol to capture pythons in an effort to contain the spread but is also working with national partners to develop U.S. policies designed to fend off the next big invasion.
"Right now imported species are innocent until proven guilty," Serbesoff-King said. "As a nation, we need to focus on pre-importation screening—that is to say looking at what will likely be a small number of non-native imported wildlife that could go on to be harmful to the lands and waters life depends on."
Nature Conservancy scientists for years have been working on "risk assessments" for plants and animals coming into the U.S., a series of questions that determines an import's probable impact on native species. It's already been shown with plants that accurate results are possible with little interruption to trade.
"For example, the U.S. Department of Agriculture has just started in the right direction for plants," she said. "There is no pre-screening right now for wildlife."
The Florida Academy of Sciences report, called The Effect of Burmese Pythons on the Mammals of South Florida, was released Jan. 30.
"Prevention is critical as this report clearly shows," Serbesoff-King said. "We have to figure out what the next Burmese python could be. Unfortunately, it might already be out there."
For more information, click here.
—————
The Nature Conservancy is a leading conservation organization working around the world to protect ecologically important lands and waters for nature and people. The Conservancy and its more than 1 million members have protected nearly 120 million acres worldwide.