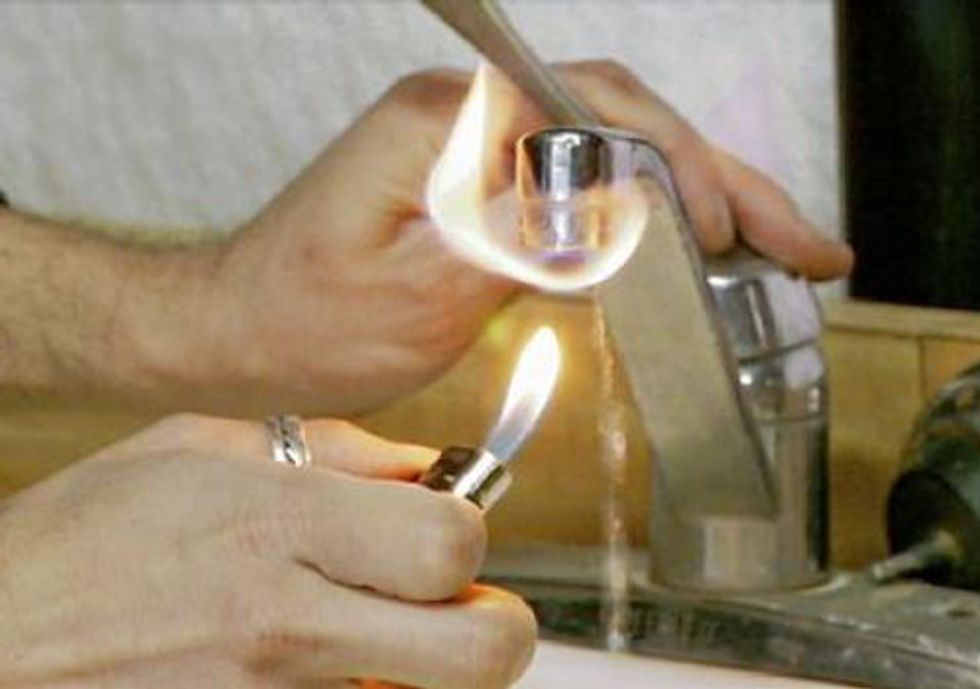 By Amy Mall
Used with permission of NRDC – Switchboard
Natural Resources Defense Council (NRDC) supports federal regulation of hydraulic fracturing under the Safe Drinking Water Act. We believe this is a sensible approach that would ensure a minimum federal floor of drinking water protection in the more than 30 states where oil and gas production occurs.
Opponents of such regulation claim that hydraulic fracturing has never caused any drinking water contamination. They say this because incidents of drinking water contamination where hydraulic fracturing is considered as a suspected cause have not been sufficiently investigated, either because scientists and regulators could not properly investigate (did not have the information or technology needed) or because they chose not to, even where signs point to hydraulic fracturing. Some cases where groundwater was contaminated during hydraulic fracturing operations have been attributed to other causes, such as faulty well structure, even if a well failed during the hydraulic fracturing process.
Below is a list of incidents where drinking water has been contaminated and hydraulic fracturing is a suspected cause. I can't emphasize enough that there are more cases of drinking water contamination around the country related to oil and gas production; those listed below are cases where a homeowner had enough detailed knowledge to know that a nearby well was recently fractured and specifically included that information in reports. In many cases of drinking water contamination where hydraulic fracturing has not been mentioned as the cause, it may be because the homeowner does not know if the nearby gas well was recently fractured. It does not mean that hydraulic fracturing is completely absolved. As you will see, these cases are not limited to just one company or one state. The stories from around the country are unfortunately familiar.
Please send me other incidents of which you are aware, and I will add them to this list.
Arkansas—In 2008, Charlene Parish of Bee Branch reported contamination of drinking water during hydraulic fracturing of a nearby natural gas well owned by Southwestern Energy Company. Her water smelled bad, turned yellow, and filled with silt.
Arkansas—In 2007, the Graetz family in Pangburn reported contamination of drinking water during hydraulic fracturing of a nearby natural gas well owned by Southwestern Energy Company. The water turned muddy and contained particles that were "very light and kind of slick" and resembled pieces of leather.
Arkansas—In 2009, a family in Bee Branch, who wishes to remain anonymous, reported changes in water pressure and drinking water that turned gray and cloudy and had noxious odors after hydraulic fracturing of a nearby natural gas well owned by Southwestern Energy Company.
Arkansas—In 2007, a family in Center Ridge reported changes in water pressure and water that turned red or orange and looked like it had clay in it after hydraulic fracturing of nearby wells owned by Southwestern Energy Company. They told their story on YouTube.
Arkansas—In 2008, a homeowner in Center Ridge reported changes in water pressure and water that turned brown, smelled bad, and had sediment in it after hydraulic fracturing of a nearby well owned by Southwestern Energy Company. He also told his story on YouTube.
Colorado—In 2001, two families in Silt reported a water well blow-out and contamination of their drinking water during hydraulic fracturing of four nearby natural gas wells owned by Ballard Petroleum, now Encana Corporation. Their drinking water turned gray, had strong smells, bubbled, and lost pressure. One family reported health symptoms they believe are linked to the groundwater contamination.
Colorado—In 2007, the Bounds family in Huerfano County reported a pump house exploded and contamination of drinking water during hydraulic fracturing of nearby wells owned by Petroglyph Energy.
Colorado—In June, 2010, the day hydraulic fracturing began on a nearby gas well in Las Animas County, landowner Tracy Dahl checked his cistern and found approximately 500 gallons of grayish brown murky water where water had previously run clear for years. The Dahls have extensive water testing documentation going back many years, verifying that their water has always been clean and clear. They were told by Colorado Oil and Gas Conservation Commission ("COGCC") staff that the water could not be tested for chemicals in the hydraulic fracturing fluid because there is insufficient information about the chemicals used. Three monitor wells on the ranch are now producing methane at an escalating rate.
New Mexico—A 2004 investigation by the U.S. Environmental Protection Agency found two residents who reported that the quality of their water was affected by hydraulic fracturing.
New York—In 2007, the Lytle family in Seneca County reported contamination of drinking water the morning after hydraulic fracturing of a nearby natural gas well owned by Chesapeake Energy Corporation. The water turned gray and was full of sediment.
New York—In 2009, the Eddy family in Allegany County reported contamination of drinking water during hydraulic fracturing of a nearby well owned by U.S. Energy Development Corporation. The water turned "foamy, chocolate-brown."
North Dakota—The North Dakota non-profit organization Bakken Watch reports very serious health symptoms in humans, livestock, and pets after nearby hydraulic fracturing. Their website has photos of sick animals, pit leaks, and corroded tanks. North Dakota state legislators admit they are "understaffed and overwhelmed" and "struggling to provide adequate oversight amid an explosion of activity in North Dakota's oil patch."
Ohio—In 2007, there was an explosion of a water well and contamination of at least 22 other drinking water wells in Bainbridge Township after hydraulic fracturing of a nearby natural gas well owned by Ohio Valley Energy Systems. According to the State investigation, one of the contributing factors to this incident is that "the frac communicated directly with the well bore and was not confined within the "Clinton" reservoir."
Pennsylvania—A gas well near the home of the Simons family in Bradford County was drilled in 2009 and re-fracked in February, 2011. Shortly after the 2011 operation, the Simons family reports that their tap water turned gray and hazy. After the water changed, family members began getting severe rashes with oozing blisters, and one child had to be taken to the hospital for torrential nosebleeds that would not stop, nausea and severe headaches. The Pennsylvania Department of Environmental Protection (DEP) tested the water and found very high levels of methane and other contaminants in the water, but said it was safe to drink. Since the Simons family stopped using any of their water, these symptoms have gone away but the water still "stinks awfully; it is a scummy, rotten, nasty smell..."
Pennsylvania—In September, 2010, a lawsuit was filed by 13 families who say they have been and continue to be exposed to contaminated drinking water linked to hydraulic fracturing. Eight different properties in Susquehanna County are said to have contaminated drinking water. One child has neurological symptoms consistent with exposure to toxic substances. Southwestern Energy, the company operating the well near these families, responded that it promptly investigated all complaints and that both the company and the Pennsylvania Department of the Environment independently tested the water and found no link between gas operations and the water quality and no problems with the integrity of the gas well.
Pennsylvania—In 2009, the Zimmerman family of Washington County reported contamination of drinking water after hydraulic fracturing of nearby natural gas wells owned by Atlas Energy. Water testing on their farm found arsenic at 2,600 times acceptable levels, benzene at 44 times above limits, naphthalene at five times the federal standard, and mercury and selenium levels above official limits.
Pennsylvania—In 2008, two families in Gibbs Hill reported contamination of drinking water after hydraulic fracturing of a nearby natural gas well owned by Seneca Resources Corporation. Their water had strong fumes, caused burning in lungs and sinuses after showering, and caused burning in the mouth immediately upon drinking. The state found that the company had not managed the pressure in the well properly and had spilled used hydraulic fracturing fluids that contaminated the drinking water supply.
Pennsylvania—In 2009, families in Bradford Township reported contamination of drinking water after hydraulic fracturing of nearby natural gas wells owned by Schreiner Oil & Gas. The drinking water of at least seven families has been contaminated.
Pennyslvania—In 2009, the Smitsky family in Hickory reported contamination of their drinking water after hydraulic fracturing of nearby natural gas wells owned by Range Resources. Their water became cloudy and foul-smelling. Testing found acrylonitrile, a chemical that may be used in hydraulic fracturing.
Pennsylvania—A family in Bradford County reports that its water turned black and became flammable from methane contamination in 2009 after hydraulic fracturing of a nearby well operated by Chesapeake Energy. The water cleared for a while but turned black again in 2010. Relatives living down the road also report their water turning black in 2010.
Texas—Larry Bisidas is an expert in drilling wells and in groundwater. He is the owner of Bisidas Water Well Drilling in Wise County, and has been drilling water wells for 40 years. Two water wells on his property became contaminated in 2010. When his state regulator stated that there has been no groundwater contamination in Texas related to hydraulic fracturing, Mr. Bisidas replied, "All they've gotta do is come out to my place, and I'll prove it to them."
Texas—In Wise County, Catherine and Brett Bledsoe report that their drinking water became contaminated in 2010 soon after hydraulic fracturing began on two natural gas wells bordering their property. The water stung their eyes during showers, and their animals refused to drink the water. Without any assistance from regulators, the Bledsoes paid for their own water testing. The testing found benzene, a known carcinogen, at double the safe levels.
Texas—In 2007, three families who share an aquifer in Grandview reported contamination of drinking water after hydraulic fracturing of a nearby well owned by Williams. They experienced strong odors in their water, changes in water pressure, skin irritation, and dead livestock. Water testing found toluene and other contaminants.
Texas—The Scoma family in Johnson County is suing Chesapeake Energy, claiming the company contaminated their drinking water with benzene and petroleum by-products after hydraulic fracturing of natural gas wells near the Scoma home. The family reports that its drinking water sometimes runs an orange-yellow color, tastes bad and gives off a foul odor.
Texas—Tarrant County Commissioner J.D. Johnson, who lives in the Barnett shale area, reported groundwater contamination immediately after two gas wells on his property were hydraulically fractured. His water turned a dark gold color and had sand in it.
Texas—Carol Grosser, in south Texas, noticed changes in her water after a neighbor told her a nearby well was being hydraulically fractured. Carol noticed changes in her water pressure and rust-colored residue in her stock tanks. The fish in her tanks died, and some of her goats had abnormal milk production and produced kids with unusual birth defects.
Texas—Toby Frederick began noticing a foul odor and discoloration in his water after "an oil company blew out some casing during a hydraulic fracturing job northeast of his property." Mr. Frederick paid for his own water samples, which found traces of benzene, a known carcinogen, in his water. He sent samples to his local Ground Water Conservation District, but never received any results. The Texas Railroad Commission told him his water was drinkable, even though it is brown and smells like diesel fuel.
Texas—The Executive Director of the Upper Trinity River Groundwater Conservation District in north Texas stated that the District "gets 'regular reports' from property owners who said that 'since a particular [gas] well had been fracked, they've had problems' with their water wells, such as sand in them, saltier water or reduced water output...."
Texas—Susan Knoll in the Barnett shale reports that last year her drinking water became foamy right after hydraulic fracturing of a well adjacent to her property. Since that time, additional gas wells have been fractured near her home and her drinking water has continually gotten worse. It sometimes foams, becomes oily, and has strong odors that burn Susan's nose when she smells her water. Susan has a lot of videos and more information on her blog.
Texas—Grace Mitchell, a resident of Johnson County, Texas, is suing Encana and Chesapeake. According to her lawsuit, soon after drilling and hydraulic fracturing took place near her home in 2010, her water became contaminated, feeling slick to the touch and giving off an oily, gasoline-like odor. Testing results performed on her well water confirmed it was contaminated with various chemicals, including C-12-C28 hydrocarbons, similar to diesel fuel.
Texas—The Harris family of Denton County, Texas, is suing Devon Energy. They say that their water became contaminated soon after Devon commenced drilling and hydraulic fracturing near their home in 2008, and that their water became polluted with a gray sediment. Testing results performed on the well water found contamination with high levels of metals: aluminum, arsenic, barium, beryllium, calcium, chromium, cobalt, copper, iron, lead, lithium, magnesium, manganese, nickel, potassium, sodium, strontium, titanium, vanadium, and zinc.
Virginia—Citizens reported drinking water contamination after hydraulic fracturing. Water was murky and had oily films, black sediments, methane, and diesel odors. Individuals experienced rashes from showering. The Buchanan Citizens Action Group reported over 100 documented complaints of adverse effects of hydraulic fracturing and the Dickenson County Citizens Committee reported ground water quality deteriorated throughout the county as a result of the large number of hydraulic fracturing events.
West Virginia—The Hagy family in Jackson County, West Virginia, is suing four oil and gas companies for contaminating their drinking water. They say their water had "a peculiar smell and taste" and the parents as well as their two children are suffering from neurological symptoms. A news article reports that the lawsuit makes the connection between the drinking water contamination and the hydraulic fracturing process.
West Virginia—In Marshall County, Jeremiah Magers reported in October, 2010, that "As soon as they 'fracked' those gas wells, that's when my water well started getting gas in it." He also lost all the water in his well.
West Virginia—In Wetzel County, Marilyn Hunt reported to the EPA in 2010 that: "frac drilling is contaminating the drinking water here." Residents report health symptoms, such as rashes and mouth sores, as well as illness in their lambs and goats, which they suspect is linked to drinking water contamination.
Wyoming—Families in the small town of Pavillion have been reporting contamination of their drinking water for at least ten years. Hydraulic fracturing has been used in the many wells in the area owned by Encana Corporation. Drinking water has turned black, smelled bad, and tasted bad. Individuals report medical symptoms they believe are related to water contamination. The U.S. Environmental Protection Agency found contamination in 11 water wells, and concluded in the draft report on its investigation that: "the data indicates likely impact to ground water that can be explained by hydraulic fracturing."
For more information, click here.
EcoWatch Daily Newsletter
waterlust.com / @tulasendlesssummer_sierra .
Each product featured here has been independently selected by the writer. If you make a purchase using the links included, we may earn commission.
The bright patterns and recognizable designs of Waterlust's activewear aren't just for show. In fact, they're meant to promote the conversation around sustainability and give back to the ocean science and conservation community.
Each design is paired with a research lab, nonprofit, or education organization that has high intellectual merit and the potential to move the needle in its respective field. For each product sold, Waterlust donates 10% of profits to these conservation partners.
Eye-Catching Designs Made from Recycled Plastic Bottles
waterlust.com / @abamabam
The company sells a range of eco-friendly items like leggings, rash guards, and board shorts that are made using recycled post-consumer plastic bottles. There are currently 16 causes represented by distinct marine-life patterns, from whale shark research and invasive lionfish removal to sockeye salmon monitoring and abalone restoration.

One such organization is Get Inspired, a nonprofit that specializes in ocean restoration and environmental education. Get Inspired founder, marine biologist Nancy Caruso, says supporting on-the-ground efforts is one thing that sets Waterlust apart, like their apparel line that supports Get Inspired abalone restoration programs.
"All of us [conservation partners] are doing something," Caruso said. "We're not putting up exhibits and talking about it — although that is important — we're in the field."
Waterlust not only helps its conservation partners financially so they can continue their important work. It also helps them get the word out about what they're doing, whether that's through social media spotlights, photo and video projects, or the informative note card that comes with each piece of apparel.
"They're doing their part for sure, pushing the information out across all of their channels, and I think that's what makes them so interesting," Caruso said.
And then there are the clothes, which speak for themselves.
Advocate Apparel to Start Conversations About Conservation
waterlust.com / @oceanraysphotography
Waterlust's concept of "advocate apparel" encourages people to see getting dressed every day as an opportunity to not only express their individuality and style, but also to advance the conversation around marine science. By infusing science into clothing, people can visually represent species and ecosystems in need of advocacy — something that, more often than not, leads to a teaching moment.

"When people wear Waterlust gear, it's just a matter of time before somebody asks them about the bright, funky designs," said Waterlust's CEO, Patrick Rynne. "That moment is incredibly special, because it creates an intimate opportunity for the wearer to share what they've learned with another."
The idea for the company came to Rynne when he was a Ph.D. student in marine science.
"I was surrounded by incredible people that were discovering fascinating things but noticed that often their work wasn't reaching the general public in creative and engaging ways," he said. "That seemed like a missed opportunity with big implications."
Waterlust initially focused on conventional media, like film and photography, to promote ocean science, but the team quickly realized engagement on social media didn't translate to action or even knowledge sharing offscreen.
Rynne also saw the "in one ear, out the other" issue in the classroom — if students didn't repeatedly engage with the topics they learned, they'd quickly forget them.
"We decided that if we truly wanted to achieve our goal of bringing science into people's lives and have it stick, it would need to be through a process that is frequently repeated, fun, and functional," Rynne said. "That's when we thought about clothing."
Support Marine Research and Sustainability in Style
To date, Waterlust has sold tens of thousands of pieces of apparel in over 100 countries, and the interactions its products have sparked have had clear implications for furthering science communication.
For Caruso alone, it's led to opportunities to share her abalone restoration methods with communities far and wide.
"It moves my small little world of what I'm doing here in Orange County, California, across the entire globe," she said. "That's one of the beautiful things about our partnership."
Check out all of the different eco-conscious apparel options available from Waterlust to help promote ocean conservation.
Melissa Smith is an avid writer, scuba diver, backpacker, and all-around outdoor enthusiast. She graduated from the University of Florida with degrees in journalism and sustainable studies. Before joining EcoWatch, Melissa worked as the managing editor of Scuba Diving magazine and the communications manager of The Ocean Agency, a non-profit that's featured in the Emmy award-winning documentary Chasing Coral.