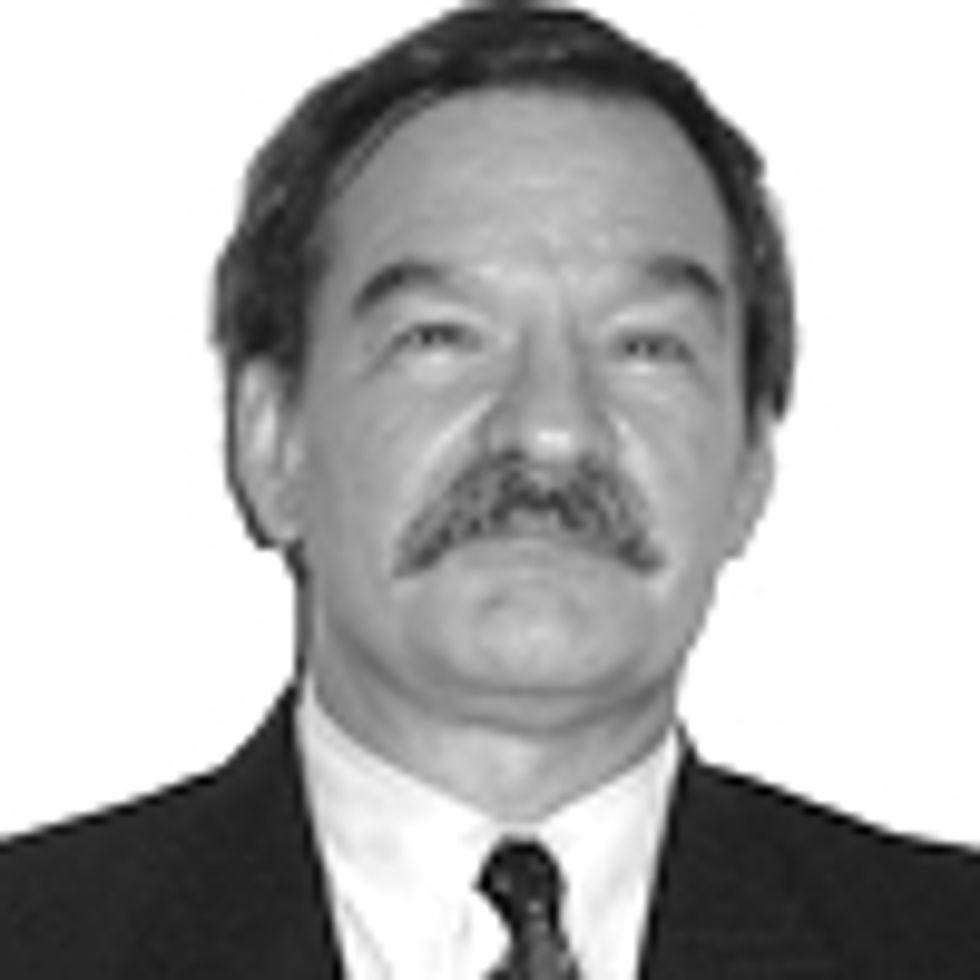 "This country needs an all-out, all-of-the-above strategy. . . that develops every available source of American energy. . . We have a supply of natural gas that can last America nearly one hundred years. . . The development of natural gas will . . . prov(e) that we don't have to choose between our environment and our economy. . . And by the way, it was public research dollars. . . that helped develop the technologies to extract all this natural gas out of shale rock—reminding us that Government support is critical in helping businesses get new energy ideas off the ground."      
-Barack Obama, Jan. 25 State of the Union speech
Obama said more than this about energy in his State of the Union (SOTU) speech almost a month ago. He talked about the near-doubling of renewable energy in the three years of his presidency and plans to develop "clean energy" on public lands. He stated that he "will not cede" the wind, solar or advanced battery industries to China or Germany. He supported programs to reduce energy waste in buildings. And he used the words "climate change" once, which was one more time than he used it in his 2011 SOTU speech.
But the most striking new idea in the area of energy was his full-throated defense of fracked natural gas as both an example of the important role of government research and the fuel that we can depend on to meet our energy needs for "nearly one hundred years."
This was a very, very bad development. And it is, accordingly, incumbent upon the climate movement and the progressive movement generally to take up this challenge in this important election year. There must be a loud, popular outcry this year against fracking, as well as all of the other extreme energy extraction methods and fuels—mountaintop removal coal, deep water offshore and Arctic Ocean oil/gas drilling and tar sands oil.
President Obama says that fracked natural gas allows us to essentially chill out. Because of it, "we don't have to choose between our environment and our economy."
What a disappointing, inaccurate and alarming statement.
It's as if the around-a-thousand—so far—documented cases of water poisoning from fracking are caused by one or two "bad apple" companies in the gas industry that can be easily made to see the error of their ways. No, no no!
It's as if the impact of thousands of heavy truck trips per well, or the huge amounts of water used and mixed with dangerous chemicals to produce contaminated waste water in the process of extracting gas from shale, are easily fixed—not!
And it's as if the process of drilling for, extracting, processing, transporting, storing, distributing and burning fracked—as well as conventionally-produced—natural gas is not an environmental hazard, a major contributor to the dangerous heating up of the earth.
Over the past two years, a number of studies have produced evidence that, indeed, natural gas is just this:
In 2010, and again in 2011, the U.S. Environmental Protection Agency updated its estimates of greenhouse gas leaks from the oil and gas industry. For the gas industry, they increased their estimate of methane leaks by an astounding 156 percent compared to their previously estimated figures. And bear in mind that methane, the primary component of natural gas, is at least 72, more likely 105, times as powerful a greenhouse gas as carbon dioxide over the first 20 years after it is released into the atmosphere.
In April of last year Robert Howarth, Renee Santoro and Anthony Ingraffea at Cornell University published a groundbreaking analysis which estimated that between 3.6 percent and 7.9 percent of the methane from natural gas produced via fracking is leaked into the atmosphere over the entire life cycle of the gas, from production to burning. This compares to a life cycle estimate for conventional gas development of between 1.7 percent and 6 percent. Howarth and his team used this information to project that, over a 20 year period of time, "the greenhouse gas footprint for shale gas is at least 20 percent greater than and perhaps more than twice as great as that for coal."
In October of last year an analysis by Nathan Hultman and others from the University of Maryland projected, despite critical commentary about Howarth/Santoro/Ingraffea's study, that over a 20 year period the "greenhouse gas footprint of electricity from unconventional gas [fracking], relative to that of coal," is between approximately 97 percent and 119 percent.
And just two weeks ago, in a Feb. 7 article in Scientific American, "Air Sampling Reveals High Methane Emissions from Natural Gas Field," it was reported that research done in Colorado backed up the conclusions of Howarth and the others at Cornell: "Led by researchers at the National Oceanic and Atmospheric Administration (NOAA) and the University of Colorado, Boulder, the study estimates that natural-gas producers in an area known as the Denver-Julesburg Basin are losing about 4 percent of their gas to the atmosphere—not including additional losses in the pipeline and distribution system. This is more than double the official inventory, but roughly in line with estimates made in 2011 that have been challenged by industry."
As President Obama said, it is true that "we don't have to choose between our environment and our economy," but that's not because natural gas in shale is a clean fuel. Natural gas is a dirty fossil fuel that, new studies are showing, is probably worse than coal when it comes to its heating-up impact on our atmosphere, especially in the next 20 years, the time period when we absolutely must, on a worldwide basis, leave fossil fuels behind as our primary energy sources.
"We don't have to choose" because when we get serious about prioritizing conservation, energy efficiency and renewable energy primarily from the sun, wind and earth (geothermal), this will be a tremendous driver of economic development while being good for our seriously damaged natural environment.
We don't need an "all-out, all-of-the-above" energy strategy. We need an "all-out, reduce-fossil-fuels-and-onto-efficiency-and-renewables" energy strategy.
It's kind-of like what presidential candidate Obama said on Feb. 4, 2008 in Newsweek—"We will have a bold energy agenda that drastically reduces our emission of greenhouse gases while creating a green engine that can drive growth for many years to come."
The earth has been hard hit in the four years since Feb., 2008 by weather disaster after weather disaster clearly related to our disrupted climate. And yet we are facing the prospect of a debate in 2012 between the two major party candidates over energy policy in which little is said about this deepening crisis or the genuinely clean energy solutions to it.
It is up to the climate movement and the movements against extreme energy extraction to speak up and take action loudly and clearly to force those who want to lead us to respond. Let's shape the debate.
—————
Ted Glick has been active since 2004 building the climate movement and since 1975 building the independent progressive political movement. Other writings and information can be found at http://www.tedglick.com, and he can be followed on twitter at http://twitter.com/jtglick.
EcoWatch Daily Newsletter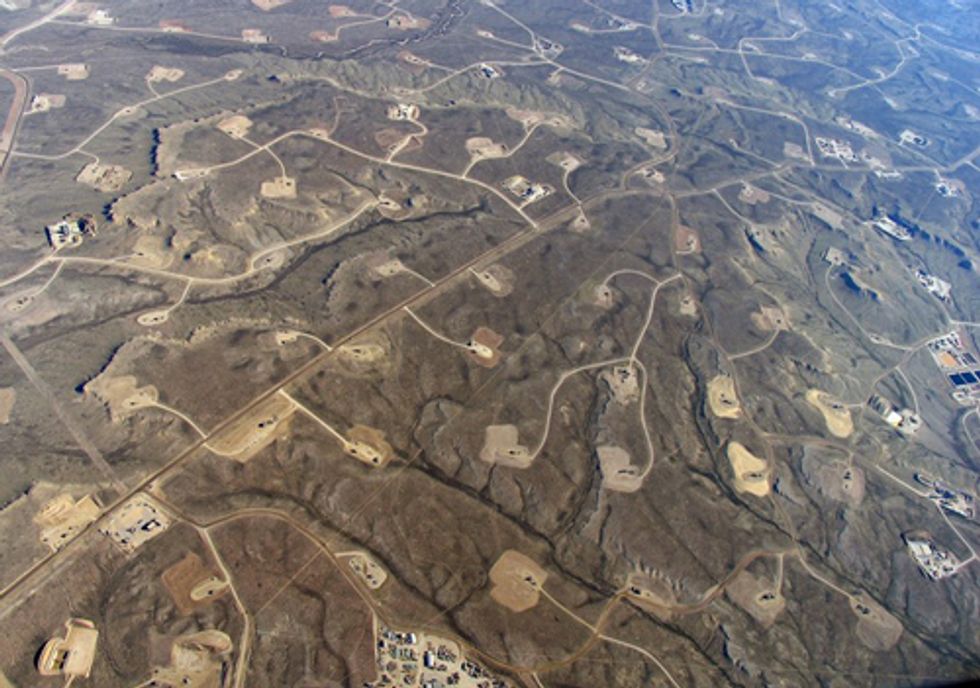 Recently released data from the U.S. Bureau of Land Management (BLM) undercuts the oil and gas industry's public relations campaign urging for more drilling and less safeguards on public lands. The data from the BLM shows a reported record amount of natural gas production, millions of acres held by leases that are not being produced, and thousands of unused drilling permits—dispelling the notion that America must leave more of its public lands open to drilling.
"Unfortunately for the oil and gas industry's hundred-million-dollar PR blitz, the facts tell a different story," said Dave Alberswerth, senior energy policy advisor for The Wilderness Society.
"We've seen reported record production of natural gas and billions of dollars in profits for the oil and gas industry, and at the same time we're seeing unused drilling permits all across the West and tens of millions of acres of unused federal leases. How can the industry say they're being locked out in the face of this new information?"
The BLM's 2011 Oil & Gas Statistics report shows a record high amount of natural gas extracted from federal leases, more than 5.3 million cubic feet—nearly double the highest total ever recorded by the BLM since they began keeping records in 1984. The agency's records show an increase in leasing of federal acres—up to more than 2 million acres in fiscal year (FY) 2011, from less than 1.4 million acres in FY 2010. The number of leases also increased, to 2,188 in FY 2011 from 1,308 in FY 2010.
Further, oil and gas companies still have a large number of unused drilling permits—the "green light" to start a well. In June of 2010 BLM reported more than 7,000 approved but unused federal drilling permits—the data released Jan. 5 shows that the industry continues to acquire permits they are not using.  In FY 2010, 1,400 wells were drilled despite more than 4,000 drilling permits issued—in FY 2011 that number went to 3,260 wells drilled while 4,244 were issued.
"The bottom line is that the industry is making billions of dollars and has enough leases and permits to produce record amounts of natural gas from our federal lands. They are sitting on tens of millions of acres of unused federal leases and thousands of unused federal drilling permits. We can continue to permit oil and gas development in a responsible manner that also safeguards our wild places," said Nada Culver, senior director of agency policy.
For more information, click here.
waterlust.com / @tulasendlesssummer_sierra .
Each product featured here has been independently selected by the writer. If you make a purchase using the links included, we may earn commission.
The bright patterns and recognizable designs of Waterlust's activewear aren't just for show. In fact, they're meant to promote the conversation around sustainability and give back to the ocean science and conservation community.
Each design is paired with a research lab, nonprofit, or education organization that has high intellectual merit and the potential to move the needle in its respective field. For each product sold, Waterlust donates 10% of profits to these conservation partners.
Eye-Catching Designs Made from Recycled Plastic Bottles
waterlust.com / @abamabam
The company sells a range of eco-friendly items like leggings, rash guards, and board shorts that are made using recycled post-consumer plastic bottles. There are currently 16 causes represented by distinct marine-life patterns, from whale shark research and invasive lionfish removal to sockeye salmon monitoring and abalone restoration.

One such organization is Get Inspired, a nonprofit that specializes in ocean restoration and environmental education. Get Inspired founder, marine biologist Nancy Caruso, says supporting on-the-ground efforts is one thing that sets Waterlust apart, like their apparel line that supports Get Inspired abalone restoration programs.
"All of us [conservation partners] are doing something," Caruso said. "We're not putting up exhibits and talking about it — although that is important — we're in the field."
Waterlust not only helps its conservation partners financially so they can continue their important work. It also helps them get the word out about what they're doing, whether that's through social media spotlights, photo and video projects, or the informative note card that comes with each piece of apparel.
"They're doing their part for sure, pushing the information out across all of their channels, and I think that's what makes them so interesting," Caruso said.
And then there are the clothes, which speak for themselves.
Advocate Apparel to Start Conversations About Conservation
waterlust.com / @oceanraysphotography
Waterlust's concept of "advocate apparel" encourages people to see getting dressed every day as an opportunity to not only express their individuality and style, but also to advance the conversation around marine science. By infusing science into clothing, people can visually represent species and ecosystems in need of advocacy — something that, more often than not, leads to a teaching moment.

"When people wear Waterlust gear, it's just a matter of time before somebody asks them about the bright, funky designs," said Waterlust's CEO, Patrick Rynne. "That moment is incredibly special, because it creates an intimate opportunity for the wearer to share what they've learned with another."
The idea for the company came to Rynne when he was a Ph.D. student in marine science.
"I was surrounded by incredible people that were discovering fascinating things but noticed that often their work wasn't reaching the general public in creative and engaging ways," he said. "That seemed like a missed opportunity with big implications."
Waterlust initially focused on conventional media, like film and photography, to promote ocean science, but the team quickly realized engagement on social media didn't translate to action or even knowledge sharing offscreen.
Rynne also saw the "in one ear, out the other" issue in the classroom — if students didn't repeatedly engage with the topics they learned, they'd quickly forget them.
"We decided that if we truly wanted to achieve our goal of bringing science into people's lives and have it stick, it would need to be through a process that is frequently repeated, fun, and functional," Rynne said. "That's when we thought about clothing."
Support Marine Research and Sustainability in Style
To date, Waterlust has sold tens of thousands of pieces of apparel in over 100 countries, and the interactions its products have sparked have had clear implications for furthering science communication.
For Caruso alone, it's led to opportunities to share her abalone restoration methods with communities far and wide.
"It moves my small little world of what I'm doing here in Orange County, California, across the entire globe," she said. "That's one of the beautiful things about our partnership."
Check out all of the different eco-conscious apparel options available from Waterlust to help promote ocean conservation.
Melissa Smith is an avid writer, scuba diver, backpacker, and all-around outdoor enthusiast. She graduated from the University of Florida with degrees in journalism and sustainable studies. Before joining EcoWatch, Melissa worked as the managing editor of Scuba Diving magazine and the communications manager of The Ocean Agency, a non-profit that's featured in the Emmy award-winning documentary Chasing Coral.