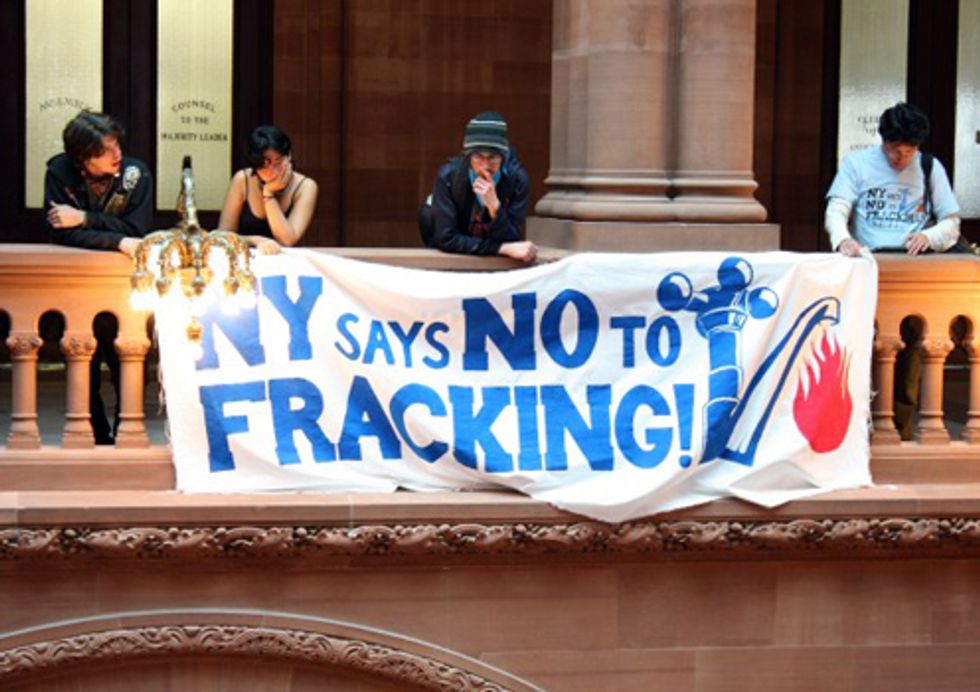 By Kate Sinding
Used with permission of NRDC - Switchboard
Jan. 11 marks the last official moment for New Yorkers across the state to speak up and have their opinions heard about the current proposal for the expansion of fracking here. The public comment period for the state's environmental impact study (known by its full name as the revised draft Supplemental Generic Environmental Impact Statement, or RDSGEIS) and proposed regulations on fracking is coming to a close.
As the deadline approaches, Natural Resources Defense Council (NRDC) is putting the finishing touches on more than 500 pages of detailed technical and legal comments—both from scientific experts and our own expert legal staff—to add to the more than 20,800 comments the state has received so far, and the thousands more expected tomorrow. (A link to our full comments will be made available as soon as they are submitted.) 
Although it would be impossible to give a complete rundown of what we will be submitting, I wanted to share just a few of our top-line takeaways.
First and foremost, although there were some notable improvements and it's clear that the Department of Environmental Conservation (DEC) has done some hard work since the last review, there are still significant deficiencies in both the impact study and the regulations, demonstrating that the state is not prepared to move forward with fracking.
The bottom line—when you rush, you make mistakes, and that is exactly what happened here. Not only are critical analyses still missing and/or incomplete, but the decision to release the impact study together with the draft regulations has resulted in many of the proposed mitigation measures getting lost in translation.
Since July, we've gathered a team of experts—covering the fields of hydrology, geology, toxicology, petroleum engineering, water quality, air quality, health and others—who have provided an in-depth review and critique of the state's findings and have likewise confirmed that there are significant parts of the review where the state needs to go back, re-do the review properly, and reissue it for public review and comment.
On top of the issues we have previously identified, this in-depth technical analysis has identified a host of additional deficiencies. Here are just five of our most pressing new concerns, each one of which, on its own, demonstrates that the environmental review process is far from complete:
There's no plan at all to deal with toxic wastewater.  The wastewater generated from fracking operations is among the worst our expert toxicologist has ever seen. Yet the state has absolutely no plan whatsoever for how the vast amounts of toxic wastewater expected from fracking operations would be managed.  We've seen the impacts of improper wastewater management elsewhere—including contaminated rivers from treatment in municipal sewage plants in Pennsylvania and earthquakes from improper deep well injection in Ohio—and it is inexcusable for the state not to have some plan in place before allowing new fracking here.
The scope of the action is too broad. The current version of the impact study and proposed regulations purport not only to address fracking in the Marcellus shale region, but also shale formations such as the much deeper Utica Shale, yet the study only directly looks at the impacts of drilling in the Marcellus. As our experts point out, every shale formation is different, and so are the environmental concerns with developing different regions. Separate shale formations demand their own environmental reviews. Until that happens, drilling in these other formations should be off the table.
Health risks are omitted entirely. There's next to zero exploration of the health impacts fracking could have on New Yorkers. Yet it is increasingly recognized that a full health impact assessment is a critical component of a thorough examination of the potential risks of fracking. Just last Thursday, the nation's top environmental health expert called out the need for comprehensive new analysis of the health risks of fracking.
Flawed socio-economic analysis doesn't calculate negative impacts. The state itself has acknowledged that it needs to re-do its socio-economic analysis because of glaring omissions. Most significantly, while overstating potential economic benefits, the report includes only seven pages out of more than 250 on the potential negative economic impacts, when we know that there are real and substantial economic risks associated with fracking.
Fracking could be allowed in flood zones and other critical vulnerable areas. The analysis fails to consider how the effects of climate change could result in fracking operations taking place in major flood plains, including places that were under water during Hurricane Irene last year. This presents serious pollution risks, particularly as drilling is proposed to occur in and around flood-prone communities.
Over and over, we've told the state to slow down, yet the Fracking Express keeps barreling forward. Gov. Andrew Cuomo (D-NY) rushed to push out the environmental impact study and proposed regulations after only six months in office, and the result is huge gaps in the proposed regulatory program. These are gaps that would make moving forward with new fracking not only dangerous, but contrary to the purpose of the environmental law that requires the study's creation (the New York State Environmental Quality Review Act, aka SEQRA).
We recognize that there is significant pressure from industry to move forward, but taking the time to undertake a complete, legally sufficient consideration of the impacts of fracking is not too much to ask when the risks involved could have grave, lasting—if not permanent—effects on New Yorkers and communities statewide. One needs only to look next-door to Pennsylvania to see that's true. Fracking is the biggest environmental issue facing New York in a generation, and Gov. Cuomo must stay true to his word that he will not authorize any new fracking unless the risks have been properly and fully evaluated, and necessary safeguards identified and implemented.
For more information, click here.
EcoWatch Daily Newsletter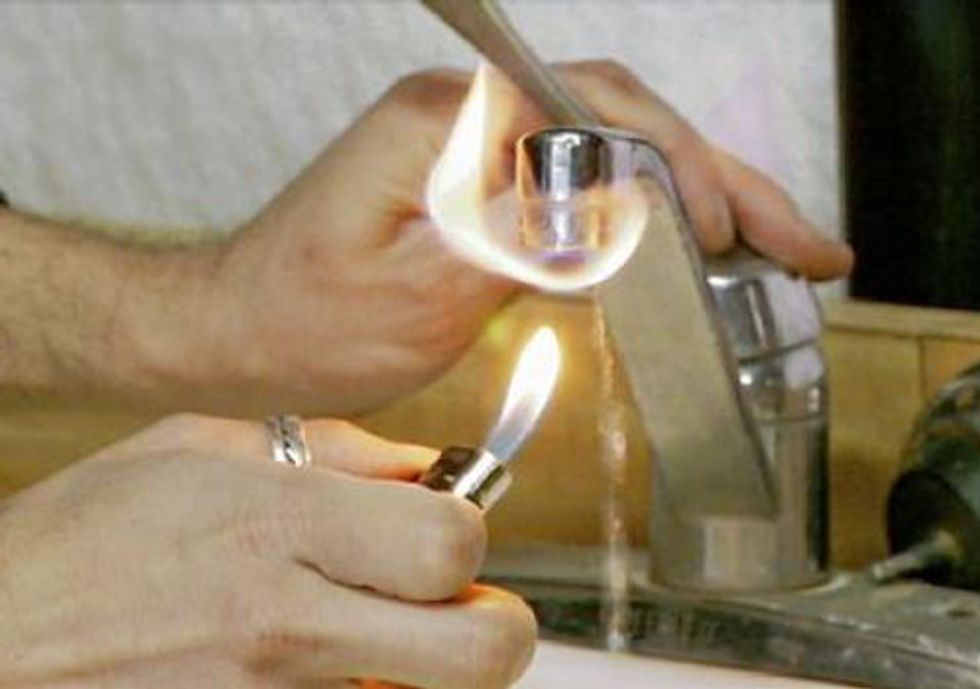 By Amy Mall
Used with permission of NRDC – Switchboard
Natural Resources Defense Council (NRDC) supports federal regulation of hydraulic fracturing under the Safe Drinking Water Act. We believe this is a sensible approach that would ensure a minimum federal floor of drinking water protection in the more than 30 states where oil and gas production occurs.
Opponents of such regulation claim that hydraulic fracturing has never caused any drinking water contamination. They say this because incidents of drinking water contamination where hydraulic fracturing is considered as a suspected cause have not been sufficiently investigated, either because scientists and regulators could not properly investigate (did not have the information or technology needed) or because they chose not to, even where signs point to hydraulic fracturing. Some cases where groundwater was contaminated during hydraulic fracturing operations have been attributed to other causes, such as faulty well structure, even if a well failed during the hydraulic fracturing process.
Below is a list of incidents where drinking water has been contaminated and hydraulic fracturing is a suspected cause. I can't emphasize enough that there are more cases of drinking water contamination around the country related to oil and gas production; those listed below are cases where a homeowner had enough detailed knowledge to know that a nearby well was recently fractured and specifically included that information in reports. In many cases of drinking water contamination where hydraulic fracturing has not been mentioned as the cause, it may be because the homeowner does not know if the nearby gas well was recently fractured. It does not mean that hydraulic fracturing is completely absolved. As you will see, these cases are not limited to just one company or one state. The stories from around the country are unfortunately familiar.
Please send me other incidents of which you are aware, and I will add them to this list.
Arkansas—In 2008, Charlene Parish of Bee Branch reported contamination of drinking water during hydraulic fracturing of a nearby natural gas well owned by Southwestern Energy Company. Her water smelled bad, turned yellow, and filled with silt.
Arkansas—In 2007, the Graetz family in Pangburn reported contamination of drinking water during hydraulic fracturing of a nearby natural gas well owned by Southwestern Energy Company. The water turned muddy and contained particles that were "very light and kind of slick" and resembled pieces of leather.
Arkansas—In 2009, a family in Bee Branch, who wishes to remain anonymous, reported changes in water pressure and drinking water that turned gray and cloudy and had noxious odors after hydraulic fracturing of a nearby natural gas well owned by Southwestern Energy Company.
Arkansas—In 2007, a family in Center Ridge reported changes in water pressure and water that turned red or orange and looked like it had clay in it after hydraulic fracturing of nearby wells owned by Southwestern Energy Company. They told their story on YouTube.
Arkansas—In 2008, a homeowner in Center Ridge reported changes in water pressure and water that turned brown, smelled bad, and had sediment in it after hydraulic fracturing of a nearby well owned by Southwestern Energy Company. He also told his story on YouTube.
Colorado—In 2001, two families in Silt reported a water well blow-out and contamination of their drinking water during hydraulic fracturing of four nearby natural gas wells owned by Ballard Petroleum, now Encana Corporation. Their drinking water turned gray, had strong smells, bubbled, and lost pressure. One family reported health symptoms they believe are linked to the groundwater contamination.
Colorado—In 2007, the Bounds family in Huerfano County reported a pump house exploded and contamination of drinking water during hydraulic fracturing of nearby wells owned by Petroglyph Energy.
Colorado—In June, 2010, the day hydraulic fracturing began on a nearby gas well in Las Animas County, landowner Tracy Dahl checked his cistern and found approximately 500 gallons of grayish brown murky water where water had previously run clear for years. The Dahls have extensive water testing documentation going back many years, verifying that their water has always been clean and clear. They were told by Colorado Oil and Gas Conservation Commission ("COGCC") staff that the water could not be tested for chemicals in the hydraulic fracturing fluid because there is insufficient information about the chemicals used. Three monitor wells on the ranch are now producing methane at an escalating rate.
New Mexico—A 2004 investigation by the U.S. Environmental Protection Agency found two residents who reported that the quality of their water was affected by hydraulic fracturing.
New York—In 2007, the Lytle family in Seneca County reported contamination of drinking water the morning after hydraulic fracturing of a nearby natural gas well owned by Chesapeake Energy Corporation. The water turned gray and was full of sediment.
New York—In 2009, the Eddy family in Allegany County reported contamination of drinking water during hydraulic fracturing of a nearby well owned by U.S. Energy Development Corporation. The water turned "foamy, chocolate-brown."
North Dakota—The North Dakota non-profit organization Bakken Watch reports very serious health symptoms in humans, livestock, and pets after nearby hydraulic fracturing. Their website has photos of sick animals, pit leaks, and corroded tanks. North Dakota state legislators admit they are "understaffed and overwhelmed" and "struggling to provide adequate oversight amid an explosion of activity in North Dakota's oil patch."
Ohio—In 2007, there was an explosion of a water well and contamination of at least 22 other drinking water wells in Bainbridge Township after hydraulic fracturing of a nearby natural gas well owned by Ohio Valley Energy Systems. According to the State investigation, one of the contributing factors to this incident is that "the frac communicated directly with the well bore and was not confined within the "Clinton" reservoir."
Pennsylvania—A gas well near the home of the Simons family in Bradford County was drilled in 2009 and re-fracked in February, 2011. Shortly after the 2011 operation, the Simons family reports that their tap water turned gray and hazy. After the water changed, family members began getting severe rashes with oozing blisters, and one child had to be taken to the hospital for torrential nosebleeds that would not stop, nausea and severe headaches. The Pennsylvania Department of Environmental Protection (DEP) tested the water and found very high levels of methane and other contaminants in the water, but said it was safe to drink. Since the Simons family stopped using any of their water, these symptoms have gone away but the water still "stinks awfully; it is a scummy, rotten, nasty smell..."
Pennsylvania—In September, 2010, a lawsuit was filed by 13 families who say they have been and continue to be exposed to contaminated drinking water linked to hydraulic fracturing. Eight different properties in Susquehanna County are said to have contaminated drinking water. One child has neurological symptoms consistent with exposure to toxic substances. Southwestern Energy, the company operating the well near these families, responded that it promptly investigated all complaints and that both the company and the Pennsylvania Department of the Environment independently tested the water and found no link between gas operations and the water quality and no problems with the integrity of the gas well.
Pennsylvania—In 2009, the Zimmerman family of Washington County reported contamination of drinking water after hydraulic fracturing of nearby natural gas wells owned by Atlas Energy. Water testing on their farm found arsenic at 2,600 times acceptable levels, benzene at 44 times above limits, naphthalene at five times the federal standard, and mercury and selenium levels above official limits.
Pennsylvania—In 2008, two families in Gibbs Hill reported contamination of drinking water after hydraulic fracturing of a nearby natural gas well owned by Seneca Resources Corporation. Their water had strong fumes, caused burning in lungs and sinuses after showering, and caused burning in the mouth immediately upon drinking. The state found that the company had not managed the pressure in the well properly and had spilled used hydraulic fracturing fluids that contaminated the drinking water supply.
Pennsylvania—In 2009, families in Bradford Township reported contamination of drinking water after hydraulic fracturing of nearby natural gas wells owned by Schreiner Oil & Gas. The drinking water of at least seven families has been contaminated.
Pennyslvania—In 2009, the Smitsky family in Hickory reported contamination of their drinking water after hydraulic fracturing of nearby natural gas wells owned by Range Resources. Their water became cloudy and foul-smelling. Testing found acrylonitrile, a chemical that may be used in hydraulic fracturing.
Pennsylvania—A family in Bradford County reports that its water turned black and became flammable from methane contamination in 2009 after hydraulic fracturing of a nearby well operated by Chesapeake Energy. The water cleared for a while but turned black again in 2010. Relatives living down the road also report their water turning black in 2010.
Texas—Larry Bisidas is an expert in drilling wells and in groundwater. He is the owner of Bisidas Water Well Drilling in Wise County, and has been drilling water wells for 40 years. Two water wells on his property became contaminated in 2010. When his state regulator stated that there has been no groundwater contamination in Texas related to hydraulic fracturing, Mr. Bisidas replied, "All they've gotta do is come out to my place, and I'll prove it to them."
Texas—In Wise County, Catherine and Brett Bledsoe report that their drinking water became contaminated in 2010 soon after hydraulic fracturing began on two natural gas wells bordering their property. The water stung their eyes during showers, and their animals refused to drink the water. Without any assistance from regulators, the Bledsoes paid for their own water testing. The testing found benzene, a known carcinogen, at double the safe levels.
Texas—In 2007, three families who share an aquifer in Grandview reported contamination of drinking water after hydraulic fracturing of a nearby well owned by Williams. They experienced strong odors in their water, changes in water pressure, skin irritation, and dead livestock. Water testing found toluene and other contaminants.
Texas—The Scoma family in Johnson County is suing Chesapeake Energy, claiming the company contaminated their drinking water with benzene and petroleum by-products after hydraulic fracturing of natural gas wells near the Scoma home. The family reports that its drinking water sometimes runs an orange-yellow color, tastes bad and gives off a foul odor.
Texas—Tarrant County Commissioner J.D. Johnson, who lives in the Barnett shale area, reported groundwater contamination immediately after two gas wells on his property were hydraulically fractured. His water turned a dark gold color and had sand in it.
Texas—Carol Grosser, in south Texas, noticed changes in her water after a neighbor told her a nearby well was being hydraulically fractured. Carol noticed changes in her water pressure and rust-colored residue in her stock tanks. The fish in her tanks died, and some of her goats had abnormal milk production and produced kids with unusual birth defects.
Texas—Toby Frederick began noticing a foul odor and discoloration in his water after "an oil company blew out some casing during a hydraulic fracturing job northeast of his property." Mr. Frederick paid for his own water samples, which found traces of benzene, a known carcinogen, in his water. He sent samples to his local Ground Water Conservation District, but never received any results. The Texas Railroad Commission told him his water was drinkable, even though it is brown and smells like diesel fuel.
Texas—The Executive Director of the Upper Trinity River Groundwater Conservation District in north Texas stated that the District "gets 'regular reports' from property owners who said that 'since a particular [gas] well had been fracked, they've had problems' with their water wells, such as sand in them, saltier water or reduced water output...."
Texas—Susan Knoll in the Barnett shale reports that last year her drinking water became foamy right after hydraulic fracturing of a well adjacent to her property. Since that time, additional gas wells have been fractured near her home and her drinking water has continually gotten worse. It sometimes foams, becomes oily, and has strong odors that burn Susan's nose when she smells her water. Susan has a lot of videos and more information on her blog.
Texas—Grace Mitchell, a resident of Johnson County, Texas, is suing Encana and Chesapeake. According to her lawsuit, soon after drilling and hydraulic fracturing took place near her home in 2010, her water became contaminated, feeling slick to the touch and giving off an oily, gasoline-like odor. Testing results performed on her well water confirmed it was contaminated with various chemicals, including C-12-C28 hydrocarbons, similar to diesel fuel.
Texas—The Harris family of Denton County, Texas, is suing Devon Energy. They say that their water became contaminated soon after Devon commenced drilling and hydraulic fracturing near their home in 2008, and that their water became polluted with a gray sediment. Testing results performed on the well water found contamination with high levels of metals: aluminum, arsenic, barium, beryllium, calcium, chromium, cobalt, copper, iron, lead, lithium, magnesium, manganese, nickel, potassium, sodium, strontium, titanium, vanadium, and zinc.
Virginia—Citizens reported drinking water contamination after hydraulic fracturing. Water was murky and had oily films, black sediments, methane, and diesel odors. Individuals experienced rashes from showering. The Buchanan Citizens Action Group reported over 100 documented complaints of adverse effects of hydraulic fracturing and the Dickenson County Citizens Committee reported ground water quality deteriorated throughout the county as a result of the large number of hydraulic fracturing events.
West Virginia—The Hagy family in Jackson County, West Virginia, is suing four oil and gas companies for contaminating their drinking water. They say their water had "a peculiar smell and taste" and the parents as well as their two children are suffering from neurological symptoms. A news article reports that the lawsuit makes the connection between the drinking water contamination and the hydraulic fracturing process.
West Virginia—In Marshall County, Jeremiah Magers reported in October, 2010, that "As soon as they 'fracked' those gas wells, that's when my water well started getting gas in it." He also lost all the water in his well.
West Virginia—In Wetzel County, Marilyn Hunt reported to the EPA in 2010 that: "frac drilling is contaminating the drinking water here." Residents report health symptoms, such as rashes and mouth sores, as well as illness in their lambs and goats, which they suspect is linked to drinking water contamination.
Wyoming—Families in the small town of Pavillion have been reporting contamination of their drinking water for at least ten years. Hydraulic fracturing has been used in the many wells in the area owned by Encana Corporation. Drinking water has turned black, smelled bad, and tasted bad. Individuals report medical symptoms they believe are related to water contamination. The U.S. Environmental Protection Agency found contamination in 11 water wells, and concluded in the draft report on its investigation that: "the data indicates likely impact to ground water that can be explained by hydraulic fracturing."
For more information, click here.
Like many other plant-based foods and products, CBD oil is one dietary supplement where "organic" labels are very important to consumers. However, there are little to no regulations within the hemp industry when it comes to deeming a product as organic, which makes it increasingly difficult for shoppers to find the best CBD oil products available on the market.
<p>Here you can learn about the importance of organic hemp oil, why it's better for the environment, and which CBD companies actually make trustworthy products with sustainable farming processes. origins which weigh heavily on many consumers who want to buy a product that's produced in the best way possible for not only themselves to ingest, but for the environment as well through sustainable farming methods. </p><h2>What Is CBD Oil?</h2><p>First things first, CBD stands for cannabidiol, and it's a cannabinoid found within cannabis sativa plants. This plant compound is believed to have many potential benefits, and it is primarily derived from hemp plants via a CO2 extraction process. </p><p>Since CBD is extracted from industrial hemp, which contains only trace amounts of THC (the psychoactive component in cannabis plants), this means that CBD won't make you feel high like marijuana, which has much higher levels of THC that causes psychoactive effects. Instead, the effects of CBD are much more subtle and promote a general sense of calm and relaxation in most users.</p><h2>What Makes a CBD Oil Organic?</h2><p>In terms of organic labels, perhaps the most important (and prominent) certification comes from the United States Department of Agriculture (USDA). This government organization has been labeling foods as "organic" for many years, but what exactly does this certification entail? Essentially, a label indicating that a product is "USDA Organic" or "Certified Organic" means that at least 95% of the ingredients are obtained from organic sources.</p><p>For a crop to be considered organic by the USDA, it must be grown without the use of industrial solvents, irradiation, genetic engineering (GMOs), synthetic pesticides, or chemical fertilizer. Instead, farmers rely on natural substances and <a href="https://www.usda.gov/media/blog/2012/03/22/organic-101-what-usda-organic-label-means" rel="noopener noreferrer" target="_blank">mechanical, physical, or biologically based farming</a> techniques to cultivate healthy and organic crops.</p><p>Before the passage of the 2018 Farm Bill, no hemp-derived products could be dubbed as "certified organic" since the hemp plant and its extracts were still categorized as a Schedule I Controlled Substance. However, it's still difficult for CBD companies to obtain a USDA certified organic label for their products due to the legal grey area that still surrounds CBD extracts. </p><p>Because of these challenges, and due to the fact that industrial hemp has only recently become an agricultural crop, very few CBD oils are USDA certified organic. Rather, many CBD products contain hemp extracts from plants that were grown in organic conditions but may not be federally certified.</p><h2>What are the Best Organic CBD Oil Brands?</h2><p><em>Each product featured here has been independently selected by the writer. If you make a purchase using the links included, we may earn commission.</em></p><em><br></em>