By Yes! Editors
Traditional food preparation techniques do more than just preserve food. They remove natural toxins and increase nutrients, as well as the body's ability to fully use them.
Here's a list of time-honored food preparation and preservation techniques, some of which you can try at home: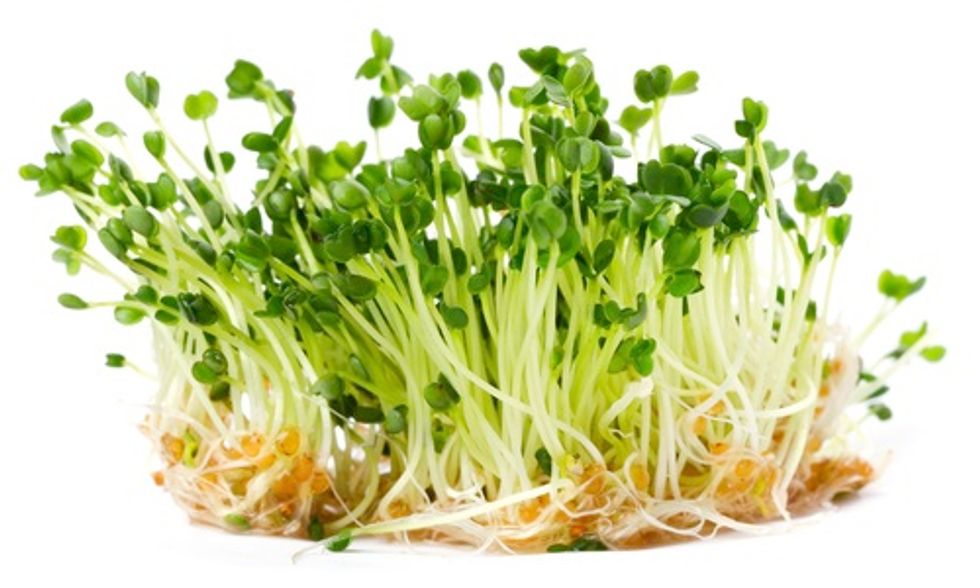 Shutterstock
1. Fermenting—Acetic acid, lactic acid, and alcohol act as natural preservatives. Improves digestibility because microbes have predigested. Can create new nutrients, especially B vitamins. Adds helpful bacteria.
2. Soaking—Improves digestibility. Reduces phytic acid, allowing absorption of more minerals, such as iron and calcium. Soaking grains breaks down phytic acid, a substance that prevents the absorption of minerals like calcium, magnesium, iron, and zinc. Also, as grains soak, vitamin content increases, especially B vitamins.
3. Sprouting—Deactivates enzyme inhibitors, making the sprouted seed more digestible.
4. Nixtamalization—Soaking corn with lime (calcium hydroxide) or wood ashes (potassium hydroxide) increases digestibility and bioavailability of niacin, protein, and calcium. Decreases phytic acid and harmful mycotoxins.

5. Pounding—Removes the bran or hull of a seed or grain, which contain most of the antinutrients. Increases digestibility.
6. Drying—Removes moisture, slowing bacterial growth. 
7. Salt curing—Draws water out of cells, killing microorganisms and preventing spoilage. Salt denatures meat proteins and produces glutamate, which enhances flavor.
8. Smoking—Dries meat and adds phenolic compounds that bind to the surface of the food and act as antioxidants, preventing rancidity.
Visit EcoWatch's FOOD page for more related news on this topic.

EcoWatch Daily Newsletter
By Rady Ananda
Less than a year after Frito-Lay announced plans to make half their products without "any artificial or synthetic ingredients," the $13 billion company was sued last week in federal court for fraudulently marketing the snacks that contain genetically modified ingredients.
Somehow, "artificial" and "synthetic" doesn't include "genetically modified" in Frito's mind.
In its April 2011 Seed-to-Shelf disclosure campaign, Frito-Lay promised to inform consumers about each individual snack's ingredients, even setting up an app for smartphone users to swipe the product's barcode and read about it. Ann Mukherjee, Frito-Lay's senior vice president and chief marketing officer, said, "What better way to share the story behind Frito-Lay snacks than by giving consumers a look inside our Flavor Kitchen to see first-hand the all natural ingredients and real foods that inspire the products we make?"
Real foods? All natural? Even Monsanto defines genetically modified organisms as unnatural, which the lawsuit quoted, "Genetically Modified Organisms (GMO)—plants or animals that have had their genetic makeup altered to exhibit traits that are not naturally theirs."
The World Health Organization agrees, defining GMOs as "organisms in which the genetic material (DNA) has been altered in a way that does not occur naturally."
The lawsuit names only one plaintiff, Julie Gengo of Richmond, California, but includes all those who purchased Frito's products which bear the "ALL NATURAL" label. Last August, the law firm Milberg LLP invited potential litigants to contact them.
Though Gengo holds a Bachelor of Science in electrical engineering, she earns a living as an independent marketer for such organizations as Berkeley Playhouse/Julia Morgan Center for the Arts, Vital Systems, Bay Area Green Tours, Oxfam America and Slow Money Northern California. She describes herself as "an ongoing environmental, and healthy foods advocate."
In early 2009, she wrote Genetically Modified (GM) Foods' Another Reason to Buy Organic, warning people that Frito-Lay uses GMOs. According to the complaint, since 2007, she regularly bought the company's Tostitos and Sun Chips believing they were "all natural" as indicated in advertising and on the package.
On Dec. 20, Frito's Naturally Delicious webpage still boasted: "All Frito-Lay snack chips made with natural ingredients start with all-natural corn or potatoes and healthier oils. For our flavored LAY'S®, TOSTITOS® and SUNCHIPS® products, we are using all natural seasonings that don't have artificial or synthetic ingredients."
But because they contain GMOs from genetically modified corn and genetically modified soy, in five separate counts, plaintiff charges Frito-Lay with fraud, deception, unfair competition and false warrants under several laws including the federal Magnuson-Moss Warranty Act.
Based in New York City and specializing in class-action lawsuits on behalf of investors and consumers, Milberg LLP also has offices in Los Angeles, Tampa and Detroit. Founded in 1965, the firm now employs about 75 attorneys.
After two successful class action suits against military contractors Raytheon and General Electric, in 2006 Milberg was the target of a criminal probe by the U.S. Department of Justice (DOJ). The firm and some of its partners were indicted on 20 criminal counts including bribery, racketeering and fraud. The DOJ press release alleges the firm participated "in a scheme in which several individuals were paid millions of dollars in secret kickbacks in exchange for serving as named plaintiffs in more than 150 class-action and shareholder derivative-action lawsuits."
Four of Milberg LLP's partners served time in prison, and the firm paid $75 million in fines before the DOJ dropped the matter, reports Wikipedia.
Frito-Lay North America is a wholly-owned subsidiary of PepsiCo, Inc. Though Pepsi uses genetically modified sweeteners (high fructose corn syrup) in its soft drinks, it does not label them for U.S. consumers, adhering to the U.S. regulator policy of hiding GMOs from the public.
In 2009, the U.S. Food and Drug Administration (FDA) proposed rules banning GMO labels. Despite government policy of keeping GMO food ingredients secret from the public, citizens are advancing toward requiring full disclosure.
The Frito-Lay lawsuit was initiated in California where a GMO-label law has been proposed for vote in the November 2012 election.
In Ohio, a district court overturned the ban on labeling milk as free from artificial hormones last year. The FDA approves the genetically modified additive, which has been linked to cancer and lower milk quality. Developed by Monsanto, rBGH is banned in Canada, the European Union, Japan and Australia.
For more information, click here.
chandlerphoto / Getty Images
More and more homeowners in Raleigh, NC, have embraced renewable energy like solar power. This popular option allows residents to fuel their homes cleanly and effectively, minimizing their home's environmental footprint while lowering their monthly utility bills. What are the best solar companies in Raleigh, NC? We'll show you the top options, plus provide important information on solar panel systems, federal tax credits, and more.
<p>If you're looking to adopt solar energy in Raleigh, North Carolina, one of the first steps in the process is to find the best renewable energy company. Thankfully, there are a number of excellent solar power providers throughout the area. They can provide the expertise and reliable technology you need to upgrade your home and truly take advantage of solar energy systems.</p><h2>Our picks for the best solar energy companies in Raleigh</h2><p><em>Each product featured here has been independently selected by the writer. If you make a purchase using the links included, we may earn commission.</em></p><ul class="ee-ul"><li><a href="https://www.8msolar.com/" rel="noopener noreferrer" target="_blank">8M Solar</a></li><li><a href="https://www.ncsolarnow.com/" rel="noopener noreferrer" target="_blank">NC Solar Now</a></li><li><a href="https://www.gosunpro.com/" rel="noopener noreferrer" target="_blank">Sunpro Solar</a></li><li><a href="https://blueravensolar.com/" rel="noopener noreferrer" target="_blank">Blue Raven Solar</a></li><li><a href="https://renuenergysolutions.com/" rel="noopener noreferrer" target="_blank">Renu Energy Solutions</a></li><li><a href="https://www.emeraldenergync.com/" rel="noopener noreferrer" target="_blank">Emerald Energy</a></li><li><a href="https://covenantsolar.com/" rel="noopener noreferrer" target="_blank">Covenant Solar Tech</a></li><li><a href="https://yessolarsolutions.com/" rel="noopener noreferrer" target="_blank">Yes Solar Solutions</a></li><li><a href="https://sundollarenergy.com/about-us/" rel="noopener noreferrer" target="_blank">Sun Dollar Energy</a></li><li><a href="https://www.duke-energy.com/home/products/renewable-energy/nc-shared-solar" rel="noopener noreferrer" target="_blank">Duke Energy</a></li></ul><h2>How we chose the best solar companies in Raleigh</h2><p>In order to create a list of the best solar power installers in Raleigh, North Carolina, we compared each company on a number of important categories. Our picks for Raleigh's best solar energy companies are based on the following:</p><ul class="ee-ul"> <li><strong>Coverage area. </strong>Some companies offer wider, more consistent coverage areas than others. We sought to include companies that make solar power readily available to both Raleigh and nearby areas like Durham and Cary.</li><li><strong>Services.</strong> We also ranked Raleigh's local solar providers on how many total services they offer. For instance, how much help do they offer in terms of consultation, solar system design, and installation? </li><li><strong>Installation process. </strong>We also evaluated local solar energy providers on the basis of whether they can install your new solar panels. Do they send an installation team to your home, or do you have to contract with a separate installation company?</li><li><strong>Pricing and financing. </strong>As you look for the best solar company in Raleigh, you'll definitely need to think about your budget. We've tried to evaluate companies on the basis of affordability and flexible financing options.</li><li><strong>Panel efficiency. </strong>Solar panels can vary quite a bit in terms of how much sunlight they absorb, and how efficiently they convert that solar energy to a usable AC stream. We've selected local companies that offer exemplary technology with the highest <a href="https://www.energy.gov/eere/solar/solar-performance-and-efficiency" target="_blank">solar panel energy efficiency</a>.</li><li><strong>Rebates.</strong> Along with flexible financing options, some solar installers make it easy for you to claim clean energy rebates, another useful way to offset your total energy cost.</li><li><strong>Warranty.</strong> When investing in a significant piece of technology, such as a solar panel system, it makes sense to seek some consumer protections. A good warranty can offer ample peace of mind.</li><li><strong>Professional affiliation. </strong>We looked for companies endorsed or certified by leading professional organizations. These include the <a href="https://www.seia.org/about" target="_blank">Solar Energy Industries Association (SEIA)</a>, the <a href="https://www.nabcep.org/about-us/" target="_blank">North American Board of Certified Energy Practitioners (NABCEP)</a>, the Better Business Bureau (BBB), and more. This is one of the easiest ways to evaluate a solar company's reputation.</li></ul><p>With these factors in mind, we're now ready to take a look at a few of the most highly recommended solar power and renewable energy companies in Raleigh, North Carolina.</p><h2>The best solar energy companies in Raleigh, NC</h2><p class="shortcode-media shortcode-media-rebelmouse-image"> <img type="lazy-image" data-runner-src="https://assets.rebelmouse.io/eyJhbGciOiJIUzI1NiIsInR5cCI6IkpXVCJ9.eyJpbWFnZSI6Imh0dHBzOi8vYXNzZXRzLnJibC5tcy8yNTcwMDY2My9vcmlnaW4uanBnIiwiZXhwaXJlc19hdCI6MTY3NTU4Njk2MH0.4uZ3uc3dKy_eV6VkhXe01FTYZygEbPN2vPY52fIj148/img.jpg?width=980" id="6ae05" class="rm-shortcode" data-rm-shortcode-id="c6d86615b9c32f2ec78431ce0441e6c8" data-rm-shortcode-name="rebelmouse-image" data-width="1200" data-height="721"> <small class="image-media media-photo-credit" placeholder="Add Photo Credit...">Blend Images - Done Mason / Getty Images</small></p><h3><a href="https://www.8msolar.com/" target="_blank">8M Solar</a><br></h3><p>Based in Wake Forest, 8M Solar is one of the best-rated clean energy companies in North Carolina. Their services are NABCEP-certified, they are SolarEdge and Tesla certified installers, and they are endorsed by Duke Energy. The owners are directly involved in all aspects of solar panel system design to provide hands-on expertise, and their panels come with generous 25-year warranties.</p><p><strong>Why buy: </strong>Simply put, 8M Solar is one of the best companies to choose if you're looking for a straightforward way to go green and decrease monthly utility costs. The company claims that their rates are, on average, 10 percent lower than their competitors. Formidable expertise, best-in-class technology, robust warranties, and affordable pricing make 8M Solar a top choice.</p><h3><a href="https://www.ncsolarnow.com/" target="_blank">NC Solar Now</a></h3><p>Since 2010, NC Solar Now has been a dependable clean energy partner to homeowners throughout the state. Their company is built around a vision for sustainability and ensuring that all families have access to affordable energy. The company is a member of the NC Sustainable Energy Association (NCSEA), the NC Clean Technology Center (NCCTC), is endorsed by Duke Energy, and was chosen as one of the top 20 solar contractors in the US by <a href="https://www.generalcontractors.org/the-best-commercial-solar-contractors-in-the-us/" target="_blank">General Contractor Magazine.</a></p><p><strong>Why buy:</strong> NC Solar Now is a great all-around option for anyone looking to embrace the promise of clean solar power. They are locally owned and operated, they offer flexible pricing for both residential and commercial properties, and they can help you take advantage of all available solar incentives and rebates.</p><h3><a href="https://www.gosunpro.com/" target="_blank">Sunpro Solar</a></h3><p>Sunpro is a nationally known and NABCEP-certified company. They offer cost-effective pricing and leading rooftop solar technology that allows you to save big bucks on your home utility bills. SunPro takes a lot of pride in having first-class customer service and their team is also available to help you claim clean energy tax incentives.</p><p><strong>Why buy:</strong> Sunpro is one of the most-trusted solar energy installers in the country, and even ranked #5 on Solar Power World's 2020 list of the Top Residential Solar Installers in the U.S. They handle everything from design to installation, and offer 25-year guarantees on labor and equipment.</p><h3><a href="https://blueravensolar.com/" target="_blank">Blue Raven Solar</a></h3><p>Blue Raven Solar is one of the fastest-growing solar companies in the country, operating in a number of states throughout the Southeast and beyond. They're passionate about helping homeowners save money on their electricity bills, and that's allowed them to become a clean energy provider of choice in the Raleigh-Durham area, as well as Asheville, Charlotte, and Greensboro.</p><p><strong>Why buy:</strong> Blue Raven Solar offers a truly comprehensive solar energy service, including surveying, solar panel system design, installation, and more. The company also offers highly competitive pricing and excellent financing options (including $0 down), and has received rave reviews from their customers as one of the most trusted solar energy companies around.</p><h3><a href="https://renuenergysolutions.com/" target="_blank">Renu Energy Solutions</a></h3><p>Based in Charlotte, Renu Energy Solutions provides dependable solar energy services to homeowners throughout the state. Since 2010, this locally-owned and operated company has been one of the Charlotte area's trusted names in solar energy. They offer free solar assessments, along with plenty of assistance finding flexible financing solutions.</p><p><strong>Why buy:</strong> This is another great example of a local business with world-class solar expertise. Choose them for friendly service, competitive pricing, and high-quality tech. Plus, Renu offers manufacturer's warranties of up to 25 years (depending on the specific solar panels you choose).</p><h3><a href="https://www.emeraldenergync.com/" target="_blank">Emerald Energy</a></h3><p>Emerald Energy is a Raleigh-based contracting company best known for offering design, consulting and installation for solar energy solutions. They offer zero money down and no interest financing on systems, and can help you take advantage of the many solar rebates and incentives that are offered in North Carolina.</p><p><strong>Why buy: </strong>For a fully-licensed local contractor with real clean energy bona fides, Emerald Energy is one of the best companies you'll find. Their in-house system design and installation services can help you enjoy cleaner electricity, energy independence, and lowered utility bills.</p><h3><a href="https://covenantsolar.com/" target="_blank">Covenant Solar Tech</a></h3><p>Covenant Solar Tech is locally owned and operated in Raleigh, North Carolina. They deliver a full spectrum of services, including consultation, design, installation, financing, and beyond. For those exploring solar energy options, they offer free solar estimates, and boast some truly outstanding customer reviews.</p><p><strong>Why buy:</strong> Covenant Solar Tech offers expert installation with friendly, personable customer service. They are one of the best local Raleigh companies in the solar energy game. Their solar energy expertise and experience was also recently enhanced by the company's purchase of Sun Dollar Energy.</p><h3><a href="https://yessolarsolutions.com/" target="_blank">Yes Solar Solutions</a></h3><p>Yes Solar Solutions is a terrific clean energy company located in Cary, NC. Their installers proudly service residents of Raleigh and the surrounding area. The company has been around since 2009, and in that time they've helped more than 1,000 homeowners go solar. They are a certified installer for Tesla solar equipment, offer free assessments and various financing options.</p><p><strong>Why buy:</strong> Yes Solar Solutions is NABCEP accredited and has a long history, an impressive track record, and plenty of ways to help you cut energy costs. Reviews of the company attest to their excellent customer service in helping people go solar.</p><h3><a href="https://sundollarenergy.com/about-us/" target="_blank">Sun Dollar Energy powered by Covenant Solar Tech</a></h3><p>Sun Dollar Energy started a family-owned solar power contractor serving homeowners throughout North Carolina. The small solar company with local roots offered a personalized experience for customers. In January 2021, the company was purchased by Covenant Solar Tech, but will still provide the same reliable service under the Sun Dollar Energy name.</p><p><strong>Why buy:</strong> Sun Dollar Energy powered by Covenant Solar Tech is your best bet for a truly homegrown, local solar energy provider. They offer years of experience and their licensed, NABCEP-certified installers helped them become a leading provider in the area, with positive customer reviews for their easy installation process.</p><h3><a href="https://www.duke-energy.com/Our-Company/Environment/Renewable-Energy/Solar-Energy" target="_blank">Duke Energy</a></h3><p>Duke Energy might not be the first name you think of for this list, but they provide a wide range of solar energy solutions across the Raleigh area. Not only does Duke Energy provide solar rebates worth up to $6,000, they also offer services like <a href="https://www.duke-energy.com/home/products/renewable-energy/generate-your-own" target="_blank">net metering</a> that can help offset your electric bill with the energy from your solar energy system.</p><p><strong>Why buy:</strong> Duke Energy has made some admirable commitments to renewable energy in recent years. With programs like NC <a href="https://www.duke-energy.com/home/products/renewable-energy/nc-shared-solar" target="_blank">Shared Solar</a>, the company allows you to support solar energy generation and development each month even if you can't install solar panels on your own home, making solar energy more accessible.</p><h2>What types of solar energy are available in Raleigh, NC?</h2><p class="shortcode-media shortcode-media-rebelmouse-image"> <img type="lazy-image" data-runner-src="https://assets.rebelmouse.io/eyJhbGciOiJIUzI1NiIsInR5cCI6IkpXVCJ9.eyJpbWFnZSI6Imh0dHBzOi8vYXNzZXRzLnJibC5tcy8yNTcwMDY3OC9vcmlnaW4uanBnIiwiZXhwaXJlc19hdCI6MTY1MjEyOTA1MX0.hZ7m-mEyAd_MBxOlVzFtHSuyPbttXtbGtvW1D6wGgh4/img.jpg?width=980" id="f92ca" class="rm-shortcode" data-rm-shortcode-id="659abb8e87ff463fb88bbe715ccafe0d" data-rm-shortcode-name="rebelmouse-image" data-width="1200" data-height="713"> <small class="image-media media-photo-credit" placeholder="Add Photo Credit...">Buena Vista Images / Getty Images</small></p><p>As you consider your options for solar energy in the Raleigh area, it's important to note that different companies provide varied kinds of access to the sun's energy.<br></p><p>For instance, most of the companies on our list are truly solar installers, which means they can help you upgrade your home with solar panels and batteries, allowing you to directly absorb the sun's rays, convert it to electricity, and use that electricity to power your home.</p><p>But a few companies, like Duke Energy, do something a little different: They essentially allow you to choose a plan where you get solar power straight from Duke's solar energy facilities as part of your home's energy, but also use regular electrical power when necessary.</p><p>Make sure you understand these different models as you seek the right solar power provider for your home.</p><h2>How does solar panel installation work?</h2><p>It is also helpful to know more about the process of having solar panels installed on your home.</p><p>Usually, the process begins with an energy audit. A certified installer will arrive at your home, assess your energy needs, and also evaluate how much sun exposure you get. They will then recommend the number of panels that need to be installed on your roof, as well as the ideal locations for those panels.</p><p>Once installed, these solar panels draw energy from the sun and store it in a battery. This solar power is then converted to AC power, using a component known as an inverter, which can then power all your home appliances and devices.</p><p>If you have any specific questions about the installation process, it's usually best to go straight to your installer. Note that while the initial investment in equipment can be steep, that's usually it in terms of overall solar expense: the sun's energy is free, and you won't need to invest in any further fuel sources.</p><h2>Choose the best rooftop solar company in Raleigh</h2><p>There are countless reasons for Raleigh homeowners to embrace clean energy: it's a great way to minimize your environmental impact; it can lower your household energy expenses; and you can take advantage of the many rebates and tax advantages offered in the state.</p><p>As you consider different players within the solar industry, choose wisely, starting with some of the recommendations we've offered here. These are renewable energy companies that have solid reputations and proven track records of solar energy service.</p><p><em><strong>Josh Hurst </strong></em><em>is a journalist, critic, and essayist. He lives in Knoxville, TN, with his wife and three sons. His writing on natural health, nutrition, and supplements has appeared in Health, Shape, and Remedy Review.</em></p>