This website uses cookies to ensure you get the best experience while browsing it. By clicking 'Got It' you're accepting these terms.


The best of EcoWatch, right in your inbox. Sign up for our email newsletter!
Grand Teton National Park, Wyoming. Carol M. Highsmith Archive / Library of Congress
By Jillian Mackenzie
If you've visited the wilderness recently, you may have noticed something: people. People with walking sticks, people with selfie sticks, people with more people in tow. Surging numbers of visitors are hiking, camping, and all-around loving the outdoors. A whopping 330,882,751 of them spent 1.44 billion hours in our national parks in 2017—up 19 million hours from 2016. Great news, except that all this wilderness enthusiasm does come with a downside. "We're seeing record numbers of people connecting to nature, and that's a good thing," said Dana Watts, executive director of the Leave No Trace Center for Outdoor Ethics. "But with that comes an increase in the impact to the land."
Simulated flooding caused by a Category 3 hurricane striking Theodore Roosevelt Island in Washington, DC. NPS
The National Parks Service (NPS) quietly released a long-delayed report that mentions humanity's role in climate change, which officials had removed in earlier drafts.
The report, published Friday without a press release or any social media activity from the parks department or Interior Secretary Ryan Zinke, shows estimates of sea level change for 118 coastal national park sites and estimates of storm surge for 79 of the sites.
EcoWatch Daily Newsletter
I'm looking up at the final ascent to Angels Landing in Utah's Zion National Park, trying to work up my courage to scale the Dr. Seuss–like series of sheer climbs and even sheerer drops, the canyon 1,500 feet below me on either side. My biggest fear isn't a misstep—though the highly eroded trail is coated with slippery dust—but being bumped by one of the thick crowd of hikers impatiently waiting their turn at each knife-edge passing.
Turns out I'm not the only one worried about the risks posed by crowds and erosion to Zion's famed peaks and canyons. Concerns about visitor health and safety have become so acute that the National Park Service has unveiled a proposed management action plan that includes such draconian measures as limiting the number of visitors in Zion Canyon at any one time and requiring permits for the most popular hikes.
"It doesn't take many people to wear sandstone back down into sand and we've seen a surge in degradation due to people disrespecting the fragile ecosystem," said Alyssa Baltrus, chief of interpretation and visitor services for Zion National Park. Among the biggest problems is "social trailing"—people making their own bypass trails when popular routes get too crowded—and cars pulling off the road into non-designated parking areas.

Zion's overcrowding crisis has been a long time coming; visitor numbers have risen year over year for decades. But for the past six years, it's been one boom year after another, with 2015 seeing a jump of more than 450,000 visitors during 2014 to a record 3.7 million. Although visitor numbers for 2016 aren't in yet, the expectation is that they'll top 4 million.
While Zion used to be popular primarily from late spring to early fall, those seasons now extend further each year. For instance, take March, traditionally quiet because of cold and snow. This year, March visitation jumped 112 percent during 2015.
If you've been to Zion in recent years, you know the result. Parking lots fill up by 8:30 a.m., with street parking extending farther and farther back down the highway through the highly congested town of Springdale and beyond. While there's a well-run shuttle system designed to handle the overflow, the buses also fill up, with long wait times to get on and people packed together, like the subway at rush hour. Even once visitors disperse among the various park highlights, the crush of people snapping selfies at must-see spots such as the Emerald Pools can be oppressive.
The most common subject of complaints from visitors? "Other visitors," said Baltrus. Some of the most vociferous griping has been about Angels Landing and the Narrows, a spectacular hike up a slot canyon, much of which takes place while wading knee-deep in the Virgin River.
Permits are required for the 16-mile "top down" hike, but anyone can venture up the lower five-mile stretch of the Narrows from the Temple of Sinawava—and they do; it's common during the high season to slosh your way upriver behind large (and often loud) groups in matching gear rented from local outfitters.
To deal with the problems, the park service has taken a series of actions over the years, from closing Zion Canyon to cars and instituting the shuttle system to adding portable toilets in the parking lots, scheduling extra end-of-day buses and expanding overflow parking.
But those are stopgap measures at best. Some strategies resulted in additional unforeseen problems. For example, in an effort to stop Angels Landing hikers from availing themselves of the natural facilities, the park service installed evaporative toilets at Scout Lookout, the final rest stop. But it miscalculated the need.
"Because of the increase in use at Scout's Lookout, the toilets quickly fill with liquid and stop effectively evaporating waste," said Baltrus. That waste must be removed by helicopter, which proved much harder to do than planned. The result: roped-off Porta-Johns reeking a few feet from picnickers. "Over the past two years, we have been asking visitors to use the restrooms at the bottom of the trail instead and only use the ones at Scout's Lookout for emergencies, but our efforts have not been very successful," she said.
In other words, the real problem remains the sheer number of people in what is a relatively small park and for that, the only solution is visitor limits. The National Park Service seems to be serious about taking what could be a first-ever step.
"A key component of this proposed action would be to directly manage visitor use levels in the park through establishment of visitor capacities," reads the Visitor Use Management Plan newsletter. "Visitor capacities, which could vary by season and/or specific areas of the park, would be established, along with implementation techniques that would directly manage the amount and time of visitor access."
More specifically, the Visitor Use Management Plan includes options such as:
Using a timed-entry system to access the shuttle system to regulate the flow of visitors up the canyon throughout the day.
Instituting an online advance reservation system for visitor passes.
Requiring reservations for all campsites and eliminating the remaining first-come, first-served sites.
Redesigning the south entrance area to prevent traffic jams, including adding a kiosk station and an express lane for those who prepaid.
Streamlining the process to come into the canyon on foot or with a bicycle.
Constructing a multimodal trail to encourage visitors to walk between major canyon attractions rather than take the shuttle.
Exploring technology to prepay entrance fees prior to arrival and an automated gate pass system to facilitate entrance.
In other words, so much for spontaneity; you'll need to plan ahead if you want to see the glories of Zion Canyon between May and October.
It's not just in the canyon that crowds are a problem. Ask anyone who's sat in the snaking line of cars waiting to check out the window views from the historic Zion-Mount Carmel Tunnel. Every summer the lines get longer, in large part because of the need to stop two-way traffic to allow oversize vehicles like RVs to pass. One option on the table is to add an automated traffic signal; another is to restrict passage of oversize vehicles to certain times of day.
Needless to say, the more draconian options are being met with resounding no's, at least in some quarters. But regular visitors hope the changes will bring back their beloved Zion of the past. In Springfield, where residents are trapped from getting into and out of town at some times of day, change is long overdue.
The initial public comment period closed on Nov. 23 and now the difficult work of deciding among the various possible scenarios begins. But not to worry if you haven't had your say yet. In the spring, the National Park Service will unveil its recommendations and then invite further comments.
"The potential actions are all possibilities that came from the initial community meetings and they're there to generate further discussion and to inspire people to think of other ideas," said Baltrus. "The more input and ideas we get at this point in the process, the better the alternatives will be."
Got your own idea for how to save Zion from being loved to death? Get ready to speak up.
Reposted with permission from our media associate TakePart.
By Adam Markham
U.S. natural and cultural resources—the parks, landmarks and history of America—are under assault from climate change. So it is troubling that Ryan Zinke, Donald Trump's pick to run the Department of the Interior (DOI), seems unsure whether climate change is a real problem or not.
Just this week, in an interview with the LA Times Zinke said "The climate is changing, I don't think you can deny that. But climate has always changed" continuing that "I don't think there's any question that man has had an influence" but that "what that influence is, exactly, is still under scrutiny." And in October 2014, Zinke said "It's not a hoax, but it's not proven science either…"
Who is Ryan Zinke?

Zinke is a 23-year Navy Seal veteran and fifth-generation Montanan who was elected to the House in 2014 after serving six years in the state senate. He ran for election on national security and energy independence issues and is an advocate of increased coal, oil and gas development on public lands.
In his first term as a Congressman he has voted to:
Weaken controls on air and water pollution in national parks
Lift the federal ban on crude oil exports
De-fund efforts to clean up Chesapeake Bay
Weaken the Antiquities Act by limiting the president's ability to designate new national monuments
In 2015 the League of Conservation Voters gave Zinke a bottom-of-the-barrel 3 percent score for his environmental record. He would have scored zero but for his one positive vote against cutting off funding for the Department of Energy's Office of Energy Efficiency and Renewable Energy.
The Statue of Liberty was closed to visitors for nine months after Hurricane Sandy. NPS / Earthcam
In 2016 the National Parks Action Fund, a group affiliated with the National Parks Conservation Association, gave Zinke an F for his voting record on key bills affecting national parks. He has, however, been a strong supporter of the Land and Water Conservation Fund and co-sponsored a bill to extend funding for the Historic Preservation Fund.

Congressman Zinke favors opening more public lands to oil and gas drilling, is a strong supporter of Montana's coal industry and has voted against regulations to protect waters in national parks from toxic surface mining run-off. He has drawn the line, however, at the prospect of privatizing public lands, saying selling them off is "a non-starter … in Montana, our public lands are part of our heritage."
In July 2016, he resigned as a delegate to the Republican National Congress over the inclusion of the transfer of federal lands to the states in the party platform. According to a March 2016 profile by Troy Carter in the Bozeman Daily Chronicle
"Zinke sees himself as a traditional conservationist and he's upset about the current state of forest health. Annual forest fires, he believes, are only going to get worse. The answer is for Congress to "put more scientists in the forest and less lawyers … I have a deep admiration for Teddy Roosevelt. I have a deep admiration for the original concept of the Clean Water Act, the Endangered Species Act, all of which were signed, by the way, into law by Dick Nixon."
Why is the Department of Interior So Important?
The Department of Interior's primary responsibilities are to protect and manage the U.S.'s natural resources and cultural heritage, provide scientific information about those resources, and uphold the federal government's responsibilities to recognized American Indian and Alaska Native tribes.
DOI manages 500 million acres of public lands, 700 million acres of subsurface minerals, 35,000 miles of coastline and 29,000 historic structures. DOI agencies include the National Park Service, Bureau of Land Management, Fish and Wildlife Service and the U.S. Geological Survey.
With 70,000 staff and a huge and diverse portfolio, DOI is the steward of the nation's extraordinary natural, cultural, historic and heritage resources, and nowhere is that more apparent to the American public than in the national parks. The National Park Service is the most popular federal agency after the Postal Service and its more than 400 properties receive more than 300 million visits annually.
National Park Service archaeologists working at an Alaskan site.NPS
To take on the role of Secretary of the Interior is to assume responsibility for the legacies of John Muir, Theodore Roosevelt, Lady Bird Johnson, and all the other American visionaries that have recognized the sacred trust each generation should have for the next in protecting and managing the U.S.' natural and cultural heritage.

To do this with any kind of success in the 21st century requires that any incoming secretary must support climate change science and monitoring within DOI and advocate its incorporation in management and resilience strategies for public lands, wildlife, cultural resources and historic sites. A recent analysis concluded that sea level rise alone poses a risk to more than $40 billion worth of national park assets and resources.
National Park Service Director Jon Jarvis has called climate change "fundamentally the greatest threat to the integrity of our national parks that we have ever experienced" and current Interior Secretary Sally Jewell said at Glacier National Park in August this year "You cannot get out on these landscapes and deny climate change is there. I see it everywhere I go."
When Glacier National park was established there were 150 glaciers, now there are only 25 and all are expected to gone by or before 2030. A new climate attribution study published in Nature GeoScience concluded that global glacier retreat provides "categorical evidence" of climate change.
Congressman Zinke, whose district includes Glacier National Park also has noticed the changes, but questions the extent of human responsibility.
In May 2015 in Bozeman, Montana, he said, "I think, without question, the climate is changing … You know, if you go up to Glacier (National) Park and you have your lunch on one of the glaciers, you will see the glacier recede as you eat lunch … So you know I have seen the change in my lifetime. I think man has had an influence … the degree to what that influence is .. ?"
Zinke's acknowledgement that the glaciers of Glacier are melting hasn't yet shaken his faith in fossil fuels: "I think you need to be prudent. It doesn't mean I think you need to be destructive on fossil fuels, but I think you need to be prudent and you need to invest in all-the-above energy … I think natural gas probably provides the easiest path forward and the cleanest protection…"
Climate Change and Our National Parks
Under the leadership of Secretary Jewell, her predecessor Secretary Salazar and Director Jarvis, the National Park Service has become one of the most active U.S. agencies in monitoring and communicating about climate impacts as well as putting in place management strategies to respond. Its interdisciplinary Climate Change Response Program is a ground-breaking and highly successful initiative that has gained international attention and plaudits, and which should be continued and expanded under the new administration.
Saguaro National Park is one of many vulnerable to climate change. NPS
In June 2014 Secretary Jewell told USA Today "I would say the science is clear. Whether or not you choose to think about the causes of climate change, all you have to do is open your eyes and look around you to see that climate change is real …So we can no longer pretend it's going to go away. We have to adapt and deal with it."

Secretary Jewell's personal observations from her travels throughout the National Park system are backed up by a large and growing body of scientific literature. A recent study concluded that three-quarters of all national parks are experiencing early spring. As UCS showed in our 2014 report Landmarks At Risk, climate impacts such as intense extreme rainfall events, damaging floods, worsening droughts, thawing permafrost and coastal erosion are affecting national parks throughout the country.
Some of the most convincing evidence of climate impacts of climate change and of the work of National Park Service scientists can be found right in Congressman Zinke's backyard—Yellowstone National Park. Average annual temperatures have risen 0.17 C per decade since 1948 and spring and summer temperatures are predicted to rise by 4.0-5.6 C by the end of the century, making hot dry summers the norm and transforming the ecosystems this iconic landscape.
Across the American west, climate change is driving a trend toward larger, more damaging wildfires and fire season has lengthened by an extraordinary 78 days since 1970.
Yellowstone winters are already shorter, with less snowfall and many more days when temperatures rise above freezing than there were in the 1980s. Earlier snow melt and warmer summer temperatures are dramatically changing stream flow, river temperatures, and the condition of seasonal wetlands in the park, putting populations of native cutthroat trout, chorus frogs, and trumpeter swans at risk for the future.
Whitebark pines in Yellowstone National Park are threatened by warming temperatures, shorter winters and mountain pine beetle infestations.Adam Markham
Damaging climate impacts to wildlife and ecosystems have been recorded in Saguaro, Rocky Mountain, Glacier Bay, Biscayne and Great Smoky Mountains National Parks as well as Yosemite, the Everglades and many others.

Cultural resources are no less at risk. As the Union of Concerned Scientists's 2016 joint report with UNESCO and UNEP, World Heritage and Tourism in a Changing Climate documented, The Statue of Liberty was closed for nine months after Hurricane Sandy and $77 million has had to be spent to restore services and access on Liberty and Ellis Islands.
Extreme rainfall has damaged the Spanish mission church at Tumacácori in Arizona; sea level rise threatens black history at Fort Monroe in Virginia and the Harriett Tubman Underground Railroad National Monument in Maryland; colonial heritage is at immediate risk from rising water levels at Jamestown, Virginia; American Indian heritage has been damaged by floods and fires at Mesa Verde and Bandelier; and Native Alaskan archaeology thousands of years old is being lost forever as a result of coastal erosion at Cape Krusenstern and elsewhere in Alaska.
Unlike natural ecosystems which have the capacity to change or move, cultural heritage such as buildings, artifacts or archaeology can be permanently damaged or instantly destroyed by a fire, flood or storm.
In a 2014 policy memorandum to all the National Park Service staff, Jon Jarvis noted that "Climate change poses an especially acute problem for managing cultural resources because they are unique and irreplaceable—once lost, they are lost forever. If moved or altered, they lose aspects of their significance and meaning." Aside from thousands of historic structures and sites, there are approximately 2 million archaeological sites within the National Park System alone, many of which are vulnerable to climate change.
Moreover, responsibility for managing the National Register of Historic Places—well over 1.5 million buildings, structures and historic sites—also lies with the National Park Service. Hundreds of sites or historic districts on the register have already been identified as severely vulnerable to climate impacts, including, for example:
San Francisco's Embarcadero
The historic districts of Annapolis, Maryland and Charleston, South Carolina
NASA's Kennedy Space Center
Mies van der Rohe's Farnsworth House in Plano, Illinois
The Role of Climate Science in the Department of Interior
As incoming secretary, Congressman Zinke will inherit a department steeped in climate science and well organized and equipped to deploy it in the service of managing the nation's natural and cultural heritage for future generations. It will be vital that he listens to the scientists and resource managers on his staff.
Mies Van Der Rohe's Farnsworth House in Plano, Illinois, is one of hundreds of buildings on the National Register of Historic Places at risk from climate impacts.Victor Grigas
DOI plays a vital role in delivering policy-relevant climate science, monitoring climate impacts, and adapting management strategies in the light of the latest scientific findings. The department's 2014-2018 strategic plan states that:

"Impacts observed by Federal resource managers include drought, severe flooding, interrupted pollination of crops, changes in wildlife and prey behavior, warmer rivers and streams, and sea level rise. The DOI will bring the best science to bear to understand these consequences and will undertake mitigation, adaptation, and enhancements to support natural resilience and will take steps to reduce carbon pollution, including through the responsible development of clean energy. The DOI will be a national leader in integrating preparedness and resilience efforts into its mission areas, goals, strategies, and programs; identifying vulnerabilities and systematically addressing these vulnerabilities; and incorporating climate change strategies into management plans, policies, programs, and operations."
DOI operates eight regional Climate Science Centers that synthesize climate impacts data and make it useful and relevant for resource managers and the general public. It has also established a network of 22 Landscape Conservation Cooperatives which bring federal and state agencies together with non-governmental organizations, tribal entities, and academic institutions to manage natural and cultural landscapes across jurisdictional boundaries, with a strong emphasis on integrating climate management.
Playing Roulette with Ryan Zinke?
Zinke will become the nation's top steward of our natural and cultural heritage. It would be the height of folly to take this on without fully acknowledging the damage climate change is causing our public lands and historic sites, or the predominant role of fossil fuels in causing climate change.
And it would be nothing short of catastrophic to roll back the leadership steps that the National Park Service and other DOI agencies have taken to develop and communicate science-based management strategies to make public lands and cultural resources more resilient.
In 1936 President Franklin D. Roosevelt said:
"There is nothing so American as our national parks. The fundamental idea behind the parks … is that the country belongs to the people, [and parks make] for the enrichment of the lives of all of us."
Congressman Zinke has the opportunity to further this vision in the service of us all, but to do so he must acknowledge the role of climate change and most of all, listen to the hundreds of dedicated scientists on the staff of the Department of Interior.
In the past, Zinke has likened energy policy in a potentially changing climate to Russian roulette:
"If we're playing Russian roulette … you have a one in six chance of that chamber being loaded with a bullet and you spin it, and you've got to put it to your head, and squeeze the trigger. So even if there's a one in six chance … even if it's a chance of global warming and it's a catastrophe, then I think you need to be prudent."
The scientists whose work he will be overseeing at DOI can tell him, however, that there's more than just one bullet in the gun. Maybe it's already fully loaded.
Three wildlife groups sued the federal government Tuesday, asking for the Yellowstone bison to be listed as a threatened or endangered species in order to protect the iconic animals from hunting and prescribed culling. Currently, park officials manage the population to about 4,000 animals using these methods. The population now numbers about 4,500.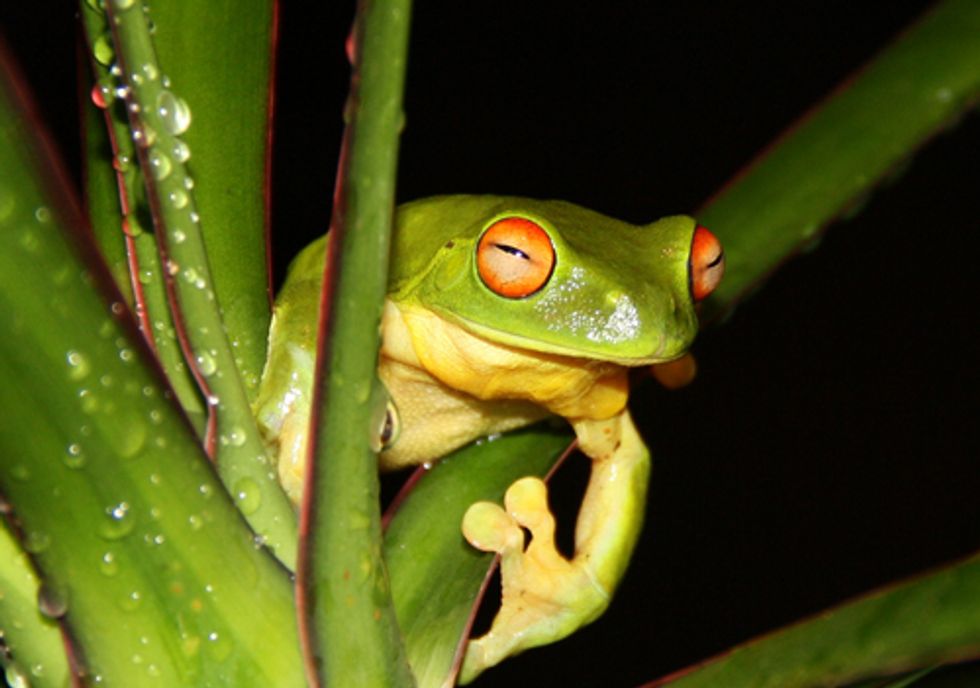 A coalition of California environmental groups are outraged that San Francisco's Mayor Ed Lee has vetoed legislation designed to protect the city's Sharp Park Wetlands and the endangered California Red-Legged Frogs and San Francisco Garter Snakes that live there. The city currently operates a golf course on the property. The course was built on top of the wetlands, which the city pumps out to sea to improve playing conditions—at the expense of the multitude of wildlife species that depend on the site's rare wetland habitat. More than 95 percent of California's coastal wetlands have been destroyed or damaged.
The legislation would have paved the way for the closure of the Sharp Park Golf Course and the turning over of the management of the land to the National Park Service. "Golf is a game, it is not crucial to life on this planet, and there are over 10,000 golf courses in the USA. Wetlands however, are not a game. They are a matter of life or death for a large number of endangered species," said Dr. Kerry Kriger, founder of Save The Frogs, an amphibian conservation organization based in Santa Cruz, California.
Mayor Lee, a golfer, refused to meet with any representatives of the Save The Frogs, the Wild Equity Institute, the Sierra Club or the National Parks Conservancy Association prior to issuing the veto. "By vetoing the legislation without ever meeting with environmental groups the Mayor has labeled himself as 'anti-environment', he has damaged San Francisco's reputation as a progressive leader and he has extended the death sentence that endangered frogs face every time the city uses taxpayer money to pump the Sharp Park Wetlands out to sea," said Dr. Kriger. "The mayor blew a brilliant opportunity and should redeem himself by rescinding the veto immediately."
Save The Frogs supporters sent the mayor's office more than 4,000 letters asking him to protect the wetlands. Mayor Lee expressed no remorse about the veto, stating, "I remember the clubhouse very well, a lot of my friends went to the clubhouse to have some great dinners there."
The federally endangered California Red-Legged Frogs that live at Sharp Park are killed when their egg masses get stranded on land during the city's pumping operations and when tadpoles get sucked through the pumps and out to sea. The Red-Legged Frogs were nearly eaten to extinction in the 1890's by the California gold miners. Now they are threatened by habitat destruction, roadkill and non-native species such as American Bullfrogs, which are voracious predators that are being imported into California by the millions each year to satisfy San Francisco's burgeoning frog meat trade. "Humans have been persecuting the California Red-Legged Frogs for over a century. I think it's time we gave them a little assistance," says Dr. Kriger. Save The Frogs is calling on the mayor to rescind his veto.
The city of San Francisco is currently being sued for illegally killing endangered wildlife at the golf course, which loses more than $100,000 per year. Social justice groups say closing the golf course would allow San Francisco to direct more money to youth programs in the city. The U.S. Fish & Wildlife Service last week denied the city's attempt to classify golf course activities as "recovery actions" and put them on notice not to kill endangered species without proper permits.
For more information, click here.
—————
SAVE THE FROGS! is America's first and only public charity dedicated to amphibian conservation. The mission of SAVE THE FROGS! is to protect amphibian populations and to promote a society that respects and appreciates nature and wildlife.
The Wild Equity Institute is building a healthy and sustainable global community for people and the plants and animals that accompany us on Earth.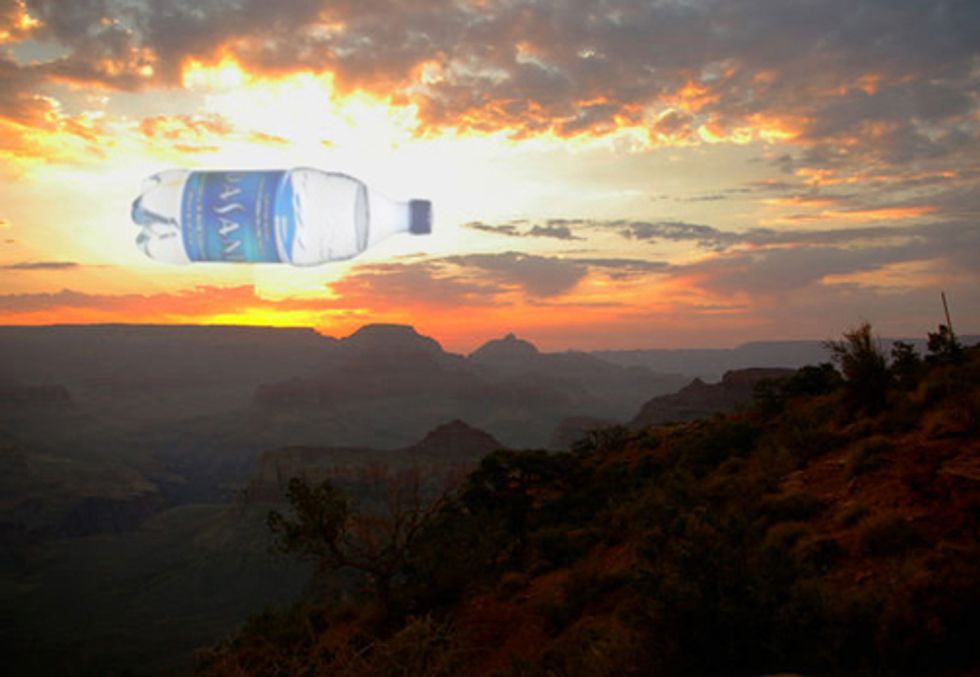 A new National Park Service (NPS) policy issued Dec. 14 may lead the way for plastic bottle bans in all national parks. This announcement comes after nearly 100,000 people across the country joined a popular campaign on Change.org calling on the NPS to ban plastic water bottles following the park's decision to abruptly cancel implementation of a ban amid charges of corporate influence from Coca Cola.
Stiv Wilson, who started the campaign on Change.org, signed by almost 100,000 people, said:
"While it is commendable that the National Park Service has decided not to completely cow to Coca-Cola on a plastic bottle ban, the new policy is still troubling.
"Unfortunately, the new directive, which allows park superintendents to implement bottle bans in their jurisdiction, may not result in changes best for our national parks. If the barriers to implementation of bottle bans are too cost-prohibitive or onerous for the superintendents to act, then we've only witnessed a bait and switch.
"The public outcry around the Park Service's seemingly backroom corporate deals has been overwhelming, and the public expects the NPS to go the whole way and save our national parks from plastic pollution."
Stiv Wilson launched the campaign on Change.org after learning of allegations that the NPS nixed its long-planned ban on plastic water bottles in the Grand Canyon due to a last-minute lobbying effort by Coca-Cola, a major national park donor actively opposed to bottled water bans. Wilson worked as a journalist before dedicating his life to reducing plastic pollution and joining the staff of 5 Gyres, a nonprofit focused on plastic pollution.
"Mobilizing 100,000 people to take action is no small feat," said Corinne Ball, organizing director at Change.org. "Stiv has demonstrated, through using Change.org's unique platform, that anyone, anywhere can act on issues that are important to them and create meaningful change."
Live signature totals from Stiv Wilson's campaign can be found by clicking here.
Related Links:
For Public Employees for Environmental Responsibility exposes the controversy, with documents from a whistleblower, click here.
For New York Times coverage that prompted Mr. Wilson to launch his campaign, click here.
For Stiv Wilson's blog post about the National Park Service directive on 5gyres.org, click here.
For more information, click here.
—————
5 Gyres is a research organization that seeks to communicate the global impact of plastic pollution in the world's oceans and employ strategies to eliminate the accumulation of plastic pollution in the 5 subtropical gyres. Almost 100,000 people have joined Stiv Wilson's campaign on Change.org
Change.org is the world's fastest-growing platform for social change—growing by more than 500,000 new members a month, and empowering millions of people to start, join, and win campaigns for social change in their community, city and country.