This website uses cookies to ensure you get the best experience while browsing it. By clicking 'Got It' you're accepting these terms.


The best of EcoWatch, right in your inbox. Sign up for our email newsletter!
Multicolored balloons flying to the sky. Jakkree Thampitakkull / Getty Images
We get it. Balloons are fun and make great decorations. But we hate to burst your bubble—balloons can be a big problem when they are deliberately released into the environment.
The litter is not only a blight on landscapes, waterways, trees and power lines, but balloons and balloon strings can entangle, choke or kill marine life and other animals. That's not to mention the wasteful use of helium, a non-renewable resource.
EcoWatch Daily Newsletter
Goddard Media Studios / NASA
By Alex Kirby
The Gulf Stream is slowing, the North Atlantic is cooling. An international scientific study has found new and harder evidence that one of the planet's key heat pumps, the currents which exchange warmth between the tropics and the Arctic, are weaker today than at any time in the last thousand years.

After nearly 20 years, scientists have finished their survey of an area of deep coral reefs in the Hawaiian Archipelago and what they have found is really amazing.
Down past the shallow reefs surrounding the islands, researchers discovered the largest known continuous coral reef system on Earth measuring more than three square miles with some areas showing 100 percent coral cover. The system contains more than twice the number of distinct species that can be found on shallow Hawaiian reefs, and in one spot, nearly every single species they found was unique to that region, according to the National Oceanic and Atmospheric Administration (NOAA).
Kure Atoll, the northernmost reef in the Hawaiian archipelago, hosts mesophotic reefs with the most species unique to a specific location found in any marine ecosystem on Earth.NOAA and Hawaii Undersea Research Laboratory
In recent years, there has been a greater effort to document coral reef ecosystems at depths of 100 feet to more than 500 feet, now referred to as Mesophotic Coral Ecosystems (MCEs), or "the twilight zone." Those efforts from a team of geologists, biologists and botanists were revealed Tuesday in the journal, PeerJ.

"What is unique about this study is how vast and dense the coral cover is," lead researcher Richard Pyle from Bishop Museum in Honolulu told the Associated Press. "Although there was a bit of a hint that corals could survive ... down at those depths, these reefs off Maui were far and away much more dramatic both because they were deeper and they had higher coral cover percentage."
Mesophotic coral ecosystems, such as this one found at 230 feet in Maui's 'Au'au Channel, are populated with many of the same fish species found on shallow reefs.NOAA and Hawaii Undersea Research Laboratory
Expeditions to discover and investigate MCEs were challenging in the past because they are too deep to reach using traditional scuba gear, and too shallow to justify the cost—between $30,000 to $40,000 a day—for most deep-diving remotely operated vehicles (ROVs) and submersibles.

However, NOAA said advances in undersea technologies in the past decade now make it possible to investigate these ecosystems.

In this study, scientists used a rebreather, which recycles the helium that's mixed in with a scuba tank's oxygen. With this system, divers can manage to stay submerged for seven hours, which is necessary when you have to ascend slowly to avoid the bends, Wired reported. They also used NOAA-funded submersibles that carried extra tanks and helped illuminate the area.
Much of what researchers know about coral reef ecosystems comes from those in shallow water, and what they've seen up until this point is discouraging. Overfishing, pollution, coastal development and climate change have threatened coral reef ecosystems worldwide, which are being obliterated due to bleaching.
Scientists now hope that increased knowledge of MCEs will help characterize the health of coral reefs in general, particularly in the face of increasing stress.

"With coral reefs facing a myriad of threats, these findings are important for understanding, managing and protecting coral-reef habitat and the organisms that live on them," Kimberly Puglise, an oceanographer with NOAA's National Centers for Coastal Ocean Science, said. "Some species studied can live in both shallow and mesophotic reefs, and the species could potentially replenish each other if one population is overexploited."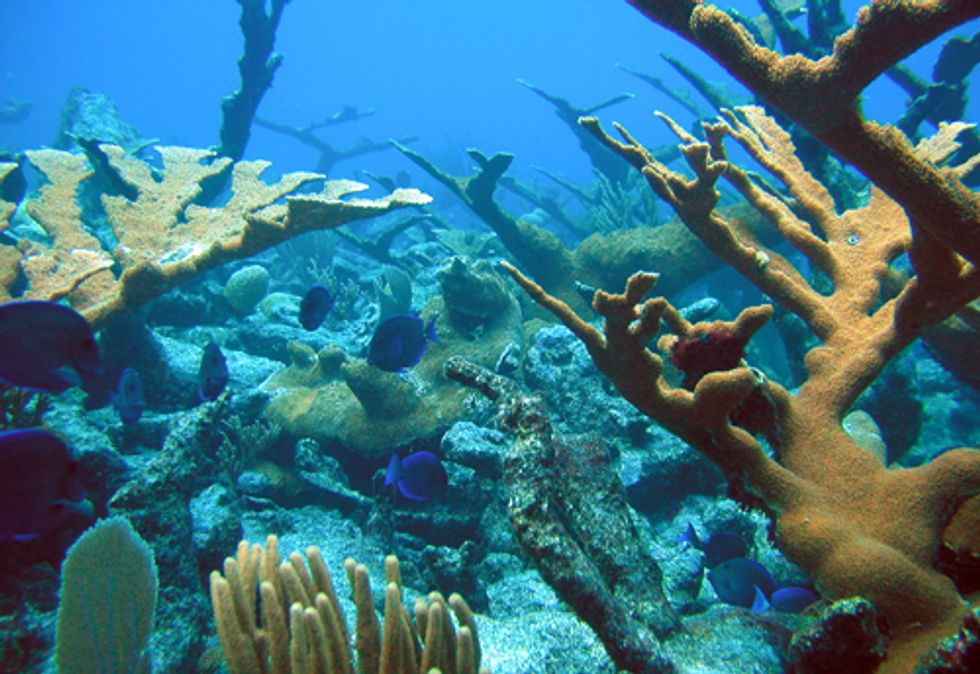 The following is a statement from Frances Beinecke, president of the Natural Resources Defense Council, on the government reorganization plan announced by President Obama:
"Streamlining government to better serve the American people is a worthy undertaking. But we are extremely troubled by the proposal to relocate the National Oceanic and Atmospheric Administration (NOAA) within the Department of Interior.
"This is not merely some technical, bureaucratic shift. The move could erode the capabilities and mute the voice of the government's primary agency for protecting our oceans and the ecosystems and economies that depend on them.
"We understand the president's interest in creating a more nimble, coherent entity for economic policy; but that can be done without sacrificing the scientific and environmental strengths of NOAA, and the independent perspectives it brings to critical issues."
For more information, click here.
—————
The Natural Resources Defense Council (NRDC) is an international nonprofit environmental organization with more than 1.3 million members and online activists. Since 1970, our lawyers, scientists, and other environmental specialists have worked to protect the world's natural resources, public health, and the environment. NRDC has offices in New York City, Washington, D.C., Los Angeles, San Francisco, Chicago, Livingston, Montana, and Beijing.