Brendan Smialowski / AFP / Getty Images
When Environmental Protection Agency (EPA) head Scott Pruitt resigned his position Thursday, he explained in a letter to President Donald Trump that he was stepping down because "the unrelenting attacks on [him] personally, [and his] family, are unprecedented and have taken a sizeable toll on all of [them]."
What he didn't mention was that he is also subject to more than a dozen federal ethics investigations, due to an "unprecedented" list of scandals that came to light during his nearly 17 months in office. All investigations will continue despite his departure, The New York Times reported Thursday.
No one knows which, if any, of these scandals finally persuaded Pruitt to call it quits, but, as America bids Pruitt goodbye, here is a look back at 10 of his most corrupt actions.
1. He Cost the EPA Millions For Security: In October 2017, Pruitt already had a security team three times the size of his predecessors' when he upped it from 18 to 30 bodyguards. At the time, it was estimated this would cost the EPA $2 million a year just for salaries. The total cost, including travel, was closer to $3 million, The Huffington Post reported. Perhaps the EPA's strangest security expenditure during Pruitt's tenure was the $2,749.62 spent on "tactical polos" and "tactical pants," which The Intercept uncovered last month.
2. He Spent $90,000 in Tax Dollars on Travel in Just Two Weeks: Pruitt had a "blanket waiver" to fly first class on the taxpayer dime until he started flying coach this year. Almost a year ago, the Environmental Integrity Project revealed that Pruitt had charged taxpayers $12,000 for frequent flights back to his home state of Oklahoma in the spring of 2017. Then, in one particularly egregious example, he and his aides spent at least $90,000 on first class or military flights during just two weeks of June 2017 while traveling to promote the president's agenda.
3. He Wasted Taxpayer Money on Bizarre Office Luxuries: Reports first surfaced in September 2017 that Pruitt would spend $25,000 to install a soundproof phone booth in his office. That booth ended up costing $43,000, and it wasn't the only strange item he bought himself on the taxpayer's dime. Those included biometric office locks for $5,700, fountain pens for $1,500 and fancy journals for $16,000, according to The Huffington Post.
4. He Hired A Conservative Attack Group to Help with Media Coverage: In December of 2017, news broke that Pruitt's EPA had hired Definers Public Affairs, a group linked with campaigns to stalk and harass environmental activists and journalists, to help the EPA craft its media coverage. The $120,000 no-bid contract was canceled after the story broke, The Huffington Post reported.
5. He Rented a Condo from an Energy Lobbyist's Wife: In the scandal that many thought would be his last, Pruitt rented a DC condo at the below-market-rate of $50 a night from the wife of energy lobbyist J. Steven Hart. At the time, Pruitt and Hart insisted there was nothing unethical about the arrangement, but emails obtained by the Sierra Club showed that Hart did lobby the EPA during and after Pruitt's stay in the family digs.
6. He Penalized Staffers who Spoke Out: The New York Times reported in April that Pruitt demoted or reassigned at least five staffers who had questioned him on decisions ranging from his desire for a $70,000 desk upgrade or his policy of using sirens and flashing lights when late for dinner in DC.
7. He Asked his Staff to Go Far Above and Beyond: In a Senate hearing in May, Pruitt admitted that one of his employees had worked for free trying to find him a place to live when he first arrived in DC, something Democratic Senators said broke the law, since free labor constitutes a gift and federal officials are not allowed to receive gifts of over $10 from employees. Pruitt also sent staffers on snack runs and asked them track down an old mattress from the Trump International Hotel in DC, according to The Huffington Post. Last week, employees came forward saying he would ask them to put hotel reservations on their personal credit cards, failing to pay them back in at least one instance, The Washington Post reported.
8. He Used His Position to Help His Wife's Career: In another example of making inappropriate demands of staff, he asked his scheduler to set up a meeting with Chick-fil-A CEO Dan Cathy about acquiring a restaurant franchise for his wife. The meeting never ended up taking place, but Pruitt also asked senior EPA administrator Samantha Dravis to find his wife a job that paid at least $200,000 a year, The Guardian reported.
9. He Hobnobbed with the Industries He Was in Charge of Regulating: In June, The New York Times reported that Pruitt had attended a University of Kentucky basketball game in front-and-center seats belonging to coal billionaire Joseph W. Craft III, with whom Pruitt had met at least seven times during his first 14 months at the EPA. There are also ongoing federal investigations into Pruitt's meeting with the National Mining Association and his appearance in a National Cattlemen's Beef Association video, The New York Times reported.
10. He Knew He Was Doing Wrong
: Two days before Pruitt's resignation,
CNN reported
that an EPA whistleblower said that Pruitt and his aides kept a secret calendar for possibly controversial meetings with industry officials and others, a practice that would violate federal laws against "falsifying" or hiding public records. Two Democratic congresspeople had called on the EPA inspector general to investigate the claim the same day that Pruitt tendered his resignation,
CNN further reported
.
EcoWatch Daily Newsletter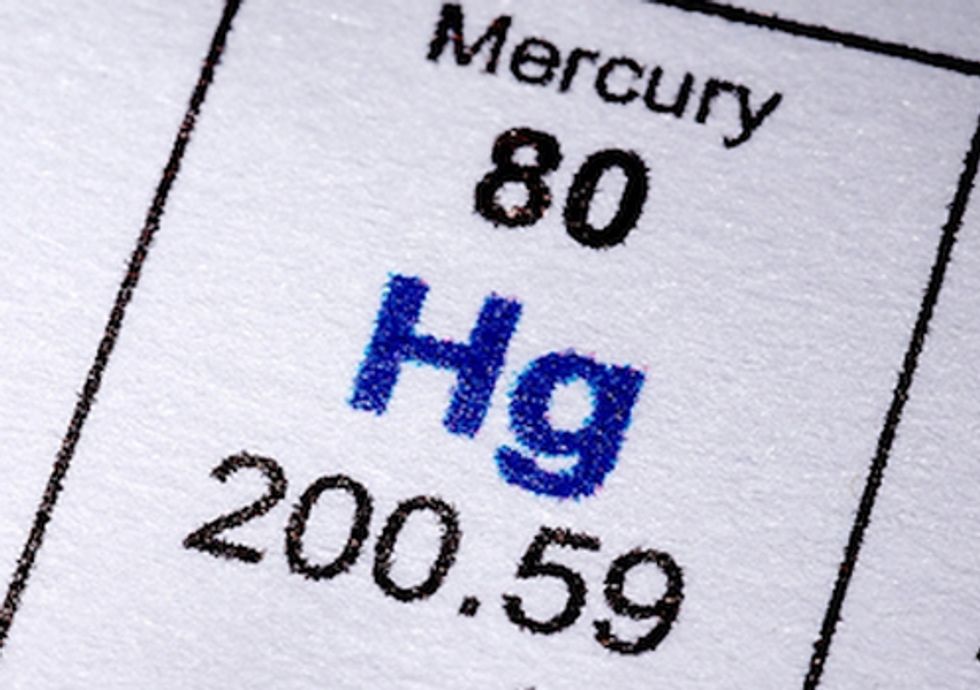 On Feb. 16 representatives of the nation's dirtiest polluters and their friends at special interest groups like the National Mining Association, filed the first lawsuits to block long overdue action to clean up toxic mercury pollution, acid gases and other hazardous air toxics. Toxic mercury is a potent brain poison that threatens prenatal babies and young children, and is linked to severe learning disabilities, deafness, blindness, cerebral palsy and other life-threatening illnesses.
These landmark protections, issued by the Obama administration in December, were published in the Federal Register on Feb. 16. The protections will cut toxic mercury pollution from dirty power plants by more than 90 percent. The vast majority of Americans support these protections, which will ensure a safer, cleaner nation and healthier kids.
But the polluter lobby and their friends in Congress are ignoring this immense public support and the health benefits of mercury protections—opting instead to continue their quest to block life-saving public health protections. In addition to the legal attack, Sen. Jim Inhofe (R-OK) introduced an obscure legislative maneuver to nullify these protections.
In response, a coalition on environmental and clean air advocacy groups issued the following statements:
"Today's attack by corporate polluter front groups on the health of American families and the safety of prenatal babies and young children is outrageous and contemptible, but it's no surprise. The country's dirtiest polluters want to keep their license to pollute the air we breathe and the water we drink without limits or consequences. It's time to put an end to that pollution spree, and protect American children from toxic mercury pollution." – Michael Brune, executive director, Sierra Club
"Earthjustice and our allies have fought a long time to bring these protections about, and we've no intention of stopping now. We will defend them from polluters' attacks in Congress and in the courts, and we will keep working to make sure the safeguards are enforced at coal-burning and oil-fired power plants across the country." – Trip Van Noppen, president, Earthjustice
"The Mercury and Air Toxics Standards are one of the most important public health measures we've seen in a generation. They'll save thousands of lives every year and protect the developing brains and nervous systems of countless American children. Unfortunately, a few utility companies will probably spend lots of money on lobbyists and lawsuits to stop these standards. I would hope that, instead, they'd spend that money to reduce the mercury emissions from their plants and protect the health of their customers." – Fred Krupp, president, Environmental Defense Fund
"On behalf of our clients Conservation Law Foundation, Natural Resources Council of Maine, Environment America, Izaak Walton League of America and the Ohio Environmental Council, Clean Air Task Force will strongly oppose industry attempts to delay or deny the powerful health and environmental benefits of this landmark rule." – Ann Brewster Weeks, senior counsel, Clean Air Task Force
"These long-overdue mercury standards are likely to be among the Obama administration's most significant environmental accomplishments—part of the historic progress America is making toward curbing harmful pollutions that contaminate our air, water, lands and wildlife, and contribute to asthma attacks, heart attacks and even premature deaths." – Frances Beinecke, president, Natural Resources Defense Council
"Industry groups that have had more than a decade to prepare for today's rule to reduce toxic air pollution have, instead, chosen protect higher profits over public health. We will continue the fight to secure these vital and long overdue public health protections." – John Suttles, senior attorney, Southern Environmental Law Center
For more information, click here.
waterlust.com / @tulasendlesssummer_sierra .
Each product featured here has been independently selected by the writer. If you make a purchase using the links included, we may earn commission.
The bright patterns and recognizable designs of Waterlust's activewear aren't just for show. In fact, they're meant to promote the conversation around sustainability and give back to the ocean science and conservation community.
Each design is paired with a research lab, nonprofit, or education organization that has high intellectual merit and the potential to move the needle in its respective field. For each product sold, Waterlust donates 10% of profits to these conservation partners.
Eye-Catching Designs Made from Recycled Plastic Bottles
waterlust.com / @abamabam
The company sells a range of eco-friendly items like leggings, rash guards, and board shorts that are made using recycled post-consumer plastic bottles. There are currently 16 causes represented by distinct marine-life patterns, from whale shark research and invasive lionfish removal to sockeye salmon monitoring and abalone restoration.

One such organization is Get Inspired, a nonprofit that specializes in ocean restoration and environmental education. Get Inspired founder, marine biologist Nancy Caruso, says supporting on-the-ground efforts is one thing that sets Waterlust apart, like their apparel line that supports Get Inspired abalone restoration programs.
"All of us [conservation partners] are doing something," Caruso said. "We're not putting up exhibits and talking about it — although that is important — we're in the field."
Waterlust not only helps its conservation partners financially so they can continue their important work. It also helps them get the word out about what they're doing, whether that's through social media spotlights, photo and video projects, or the informative note card that comes with each piece of apparel.
"They're doing their part for sure, pushing the information out across all of their channels, and I think that's what makes them so interesting," Caruso said.
And then there are the clothes, which speak for themselves.
Advocate Apparel to Start Conversations About Conservation
waterlust.com / @oceanraysphotography
Waterlust's concept of "advocate apparel" encourages people to see getting dressed every day as an opportunity to not only express their individuality and style, but also to advance the conversation around marine science. By infusing science into clothing, people can visually represent species and ecosystems in need of advocacy — something that, more often than not, leads to a teaching moment.

"When people wear Waterlust gear, it's just a matter of time before somebody asks them about the bright, funky designs," said Waterlust's CEO, Patrick Rynne. "That moment is incredibly special, because it creates an intimate opportunity for the wearer to share what they've learned with another."
The idea for the company came to Rynne when he was a Ph.D. student in marine science.
"I was surrounded by incredible people that were discovering fascinating things but noticed that often their work wasn't reaching the general public in creative and engaging ways," he said. "That seemed like a missed opportunity with big implications."
Waterlust initially focused on conventional media, like film and photography, to promote ocean science, but the team quickly realized engagement on social media didn't translate to action or even knowledge sharing offscreen.
Rynne also saw the "in one ear, out the other" issue in the classroom — if students didn't repeatedly engage with the topics they learned, they'd quickly forget them.
"We decided that if we truly wanted to achieve our goal of bringing science into people's lives and have it stick, it would need to be through a process that is frequently repeated, fun, and functional," Rynne said. "That's when we thought about clothing."
Support Marine Research and Sustainability in Style
To date, Waterlust has sold tens of thousands of pieces of apparel in over 100 countries, and the interactions its products have sparked have had clear implications for furthering science communication.
For Caruso alone, it's led to opportunities to share her abalone restoration methods with communities far and wide.
"It moves my small little world of what I'm doing here in Orange County, California, across the entire globe," she said. "That's one of the beautiful things about our partnership."
Check out all of the different eco-conscious apparel options available from Waterlust to help promote ocean conservation.
Melissa Smith is an avid writer, scuba diver, backpacker, and all-around outdoor enthusiast. She graduated from the University of Florida with degrees in journalism and sustainable studies. Before joining EcoWatch, Melissa worked as the managing editor of Scuba Diving magazine and the communications manager of The Ocean Agency, a non-profit that's featured in the Emmy award-winning documentary Chasing Coral.