This website uses cookies to ensure you get the best experience while browsing it. By clicking 'Got It' you're accepting these terms.
Sockeye salmon in Little Redfish Lake Creek, Sawtooth National Recreation Area, Idaho. Neil Ever Osborne / Save Our Wild Salmon
The Ninth U.S. Circuit Court of Appeals has sided with almost a dozen conservation and fishing organizations, the Nez Perce Tribe and the State of Oregon in their efforts to improve wild salmon and steelhead survival as the fish migrate to the Pacific Ocean.
Almost a year ago, in April 2017, U.S. District Judge Michael Simon ruled that federal dam managers on the Columbia and Snake Rivers have to meet higher spill requirements in the spring when baby salmon are migrating to the ocean—meaning they must allow more water to flow over the dams between April and mid-June, to help facilitate safe passage for young salmon.
A gloved hand pulls a lobster from a tank. WoodysPhotos
By Sam Schipani
Last year was not a good one for the North Atlantic right whale. Seventeen of them were discovered to have died, about 4 percent of a total population of 455. Numbers have been low for decades—the species was declared endangered in 1973—but if the current trend continues, the North Atlantic right whale, one of the most endangered marine mammals in the world, could go extinct by 2040.
EcoWatch Daily Newsletter
A U.S. appeals court ruled that federal agencies can list species as threatened based on projections of how climate change will impact their habitats.
National Oceanic and Atmospheric Administration
Oil companies and Alaska natives had challenged the National Marine Fisheries Service's decision to list a seal species as threatened because of sea ice loss, but the court upheld the decision.
"The service need not wait until a species' habitat is destroyed to determine that habitat loss may facilitate extinction," Judge Richard A. Paez wrote.
For a deeper dive:

LA Times, AP, The Hill, Arctic Daily News, Gizmodo, IB Times, Climate Home

For more climate change and clean energy news, you can follow Climate Nexus on Twitter and Facebook, and sign up for daily Hot News.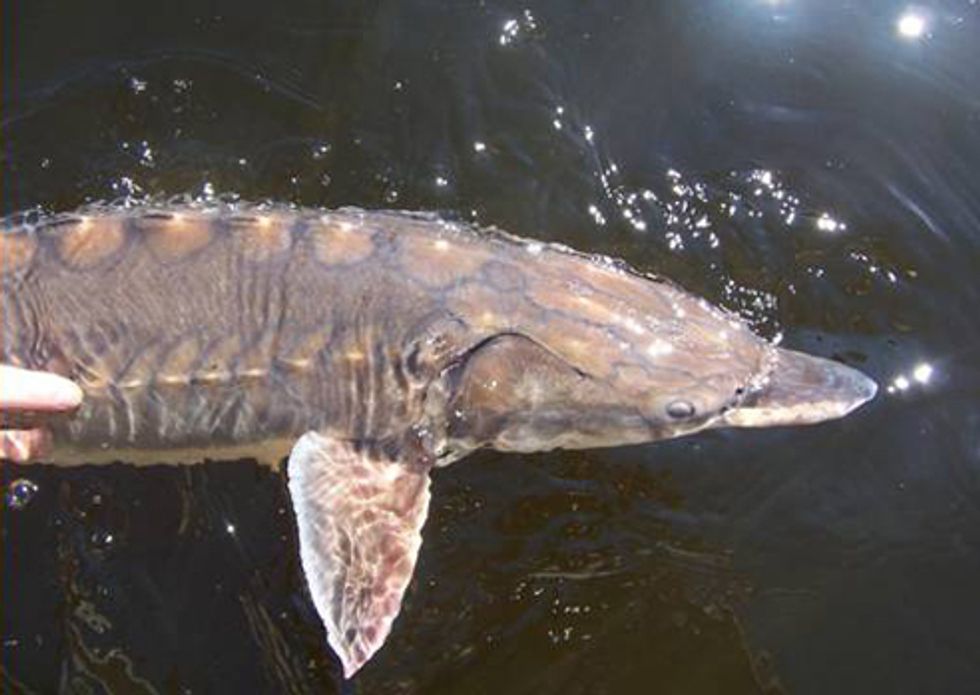 The National Marine Fisheries Service (NMFS) announced Jan. 31 that it will list the Atlantic sturgeon in the Delaware River as an endangered species under the federal Endangered Species Act, because the species is presently in danger of extinction. The Atlantic sturgeon of the Delaware River are listed as part of the New York Bight distinct population segment, which includes all Atlantic sturgeon that spawn in watersheds draining to coastal waters from Chatham, Mass. to the Delaware-Maryland border on Fenwick Island.
NMFS believes there are fewer than 300 spawning adults in the Delaware River population. Just over 100 years ago there were estimated to be 180,000 spawning adult females. Although NMFS recognizes a number of threats, including fisheries bycatch and degraded water quality, imperiling the Atlantic sturgeon, NMFS explicitly identifies the Delaware River Main Channel Deepening Project as a threat to the species—"[T]he location and scope of the project in the Delaware River, coupled with the lack of information on the precise location of spawning and other important habitat in the Delaware River, indicate that the project could be very harmful to the Delaware River riverine population of Atlantic sturgeon." NMFS also identified the increased risk of vessel strikes resulting from more and/or larger ships on the Delaware River as a factor in its listing decision.
 
"Experts have identified our Delaware River Atlantic Sturgeon as being genetically unique, found nowhere else in the world but our River," said Maya van Rossum, the Delaware Riverkeeper. "The National Marine Fisheries Services has stated multiple times that the Delaware River Deepening project is a direct threat to their spawning habitat and the species. We used to have so many sturgeon in our river that the Delaware was known as the caviar capital of the nation. Now we risk losing them forever. We simply have too few to spare for a make-work boondoggle like the Delaware River deepening. Morally speaking, extinguishing the Delaware River unique genetic line is wrong. Economically it makes no sense either—if we were to restore the sturgeon population to historic levels, we could generate an estimated $400 million a year of economic income for the region. Why throw our tax dollars at a deepening project that is an economic loser for the region and that the ports don't need?" van Rossum said.
 
Jane Davenport, senior attorney at the Delaware Riverkeeper Network, said—"As of today, federal agencies like the Army Corps of Engineers, as well as private parties like shipping companies, are on notice that each and every Atlantic sturgeon in the Delaware River will be protected by the ESA's wide-ranging prohibitions against killing or harming it or degrading its habitat. Congress gave public interest groups like the Delaware Riverkeeper Network the explicit right to enforce these protections through citizen suits in federal court, a right we fully intend to exercise as necessary to protect this ancient fish."
 
The Atlantic sturgeon, Acipenser oxyrinchus oxyrinchus, is a large, long-lived, late-maturing, slow-reproducing migratory fish with a distinctive long snout and armor-like plates. It spawns in rivers such as the Delaware and migrates hundreds of miles to the ocean and back again. Mature adults may live as long as 60 years, reach lengths up to 14 feet, and weigh more than 800 pounds. The Delaware River once supported the largest known population of Atlantic sturgeon in the world.
 
For more information on the listing, click here.
For more information, click here.