'Pruitt is administrator of the EPA but he's behaving like the emperor of the swamp. His imperial tenure needs to end.' Senator Tom Udall / Twitter
A group of 39 senators and 131 representatives signed a resolution calling for the "immediate resignation" of Scott Pruitt, the scandal-plagued U.S. Environmental Protection Agency (EPA) administrator.
The document represents a record number of senators to formally demand a cabinet official to step down.
The resolution comes in the wake of Pruitt's growing list of controversies: his request for a $43,000 sound-proof phone booth violated federal law; his $50-a-night stay at a Capitol Hill condo owned by the wife of an energy lobbyist; his questionable use of taxpayer money for first-class and charter flights, as well as a 'round-the-clock security detail; and reports that he gave large pay raises to his closest aides.
That's not to mention Pruitt's continued efforts to dismantle the legacy of the very agency he heads.
Per the resolution, "The Agency is hemorrhaging staff and experts needed to protect the health, safety, and livelihood of millions of people of the United States, with more than 700 employees of the Agency having left or been forced out of the Agency during his tenure as Administrator."
"By delaying the effective date of regulations, easing enforcement of existing regulations, and delaying implementation of new regulations, Administrator Pruitt is helping polluters at the expense of the health, safety, and livelihood of millions of people of the United States," it adds.
No Republicans added their name to the document, even though Republican Reps. Elise Stefanik (NY), Carlos Curbelo (FL) and Illeana Ros-Lehtinen (FL.) have previously called for Pruitt's resignation or firing.
The effort was led by Senator Tom Udall (D-NM) and Representative Kathy Castor (D-FL).
"During his time in office, Pruitt has waged all-out war on the bedrock protections that keep our air and water clean, prevent toxic chemicals from contaminating our communities, and safeguard the health of our kids and families," Udall said. "He has done lasting damage to public health and safety—gutting the EPA's core mission—all to benefit his campaign donors and grease the wheels for his big polluter friends."

It's not just politicians who are calling for Pruitt's ouster. More than 30 environmental and civil rights organizations, including the NAACP, the Sierra Club and Friends of the Earth, took out full-page newspaper ads on Wednesday in The New York Times, the New York Post and Pruitt's home-state paper, The Oklahoman, The Hill reported.
Scott Pruitt, maybe this is finally enough publicity for you? We're calling for your resignation in the @nytimes,… https://t.co/JuqeyP4cls

— Sierra Club (@Sierra Club)1524063930.0
Meanwhile, President Donald Trump has praised Pruitt—who has carried out the administration's deregulatory agenda—for "doing a great job."
Trump is reportedly fond of his EPA chief, even though John F. Kelly, the White House chief of staff, has urged the president to let Pruitt go.
"No one other than the president has the authority to hire and fire," White House press secretary Sarah Huckabee Sanders said earlier this month. "The president feels that the administrator has done a good job at EPA."
She said the White House is conducting an internal investigation into Pruitt's conduct.
While Security spending was somewhat more than his predecessor, Scott Pruitt has received death threats because of… https://t.co/kneEeK0koP

— Donald J. Trump (@Donald J. Trump)1523145803.0
From Your Site Articles
Related Articles Around the Web
EcoWatch Daily Newsletter
Christine Irvine / 350.org
By Jamie Henn
Let's talk for a moment about how the climate movement is going to fight back in 2018.
But first, a public service announcement.
This Jan. 31, movement leaders like the one-and-only Bernie Sanders, 350.org co-founder Bill McKibben, Rev. Lennox Yearwood of the Hip Hop Caucus, Jacqueline Patterson of the NAACP, and more, are coming together for an event called "Fossil Free Fast: The Climate Resistance," to lay out a movement game plan for 2018.
If you're in the DC area you should attend the event (tickets here). If not, you can host or join a house party to tune into the broadcast with fellow activists in your community. There are more than 100 parties already registered nationwide. This isn't an evening you want to miss.

OK. Now let's get down to the business of resistance.
After a year of watching the Trump administration wreck havoc on our communities and the climate, we know that 2018 is going to bring an onslaught of new assaults. On the climate front, those attacks will take the form of cutting environmental protections and easing the way for more fossil fuel extraction.
We got a preview of horrors to come in January, when the administration announced it would be opening up our coastlines for offshore drilling. That's on top of plans to expand mining on public lands, allow for drilling in the Arctic National Wildlife Refuge, and rubber stamp any and all new fossil fuel projects the industry can come up with.
Even more insidious is the way in which U.S. Environmental Protection Agency Administrator Scott Pruitt is attempting to dismantle decades of environmental regulations. If there's a rule in place to protect public health or the environment, you can bet Pruitt is taking a hatchet to it. At the top of his kill list for 2018 is the Clean Power Plan, the Obama-era policy to limit pollution from coal fired power plants and one of our most important tools to combat rising emissions.
But there's an Achilles heel to Trump and his cronies' plan to smother the nation with pipelines and smog, because no matter the actions they take in Washington, DC, these fossil fuel projects need to get built in towns, cities and counties across America. Trump can crow all he wants about coal, oil and gas, but ultimately, it's not his little hands doing the construction. Even with the full backing of the White House, the only way a fossil fuel project moves forward is if it can secure all the necessary permits and local support. That can be tough for new mines and it's especially difficult for major pipelines, which often run through multiple states and dozens of towns and counties along their proposed routes.
Which brings us to the first way that we're going to fight back in 2018: organizing in our communities to stop all new fossil fuel projects.
Right now there isn't a project in North America that doesn't face some form of community resistance. From British Columbia to Pennsylvania, local groups are building alliances to resist any new project the industry throws our way. By working together, we can hold back fossil fuel projects long enough so that renewables take over and the economic case for building these pipelines and mines disappears. We're not going to win every fight, but so far, the resistance is working and even the most inevitable seeming projects are now facing stiff opposition.
Take the case of Keystone XL. One of Trump's first actions when he was elected was to approve the federal permit for the project. Since then, he's been bragging that they " built the Keystone XL pipeline." Meanwhile, the actual pipeline is still rusting above ground somewhere in the Dakotas waiting to be assembled. In the real world, Keystone XL is still miles away from construction. TransCanada, the company building the project, may have a permit, but they're still struggling to line up enough buyers for the tar sands oil they want to ship down to Texas (the company announced last week it had secured two-thirds of the commitments it needs, but even those pledges are shaky and had to be propped up by the government in Alberta). TransCanada also hasn't secured construction rights from farmers and ranchers along a new route they've been forced to take through Nebraska.
There's even a bolder roadblock facing Keystone: you. Over the past few months, nearly 15,000 people have signed the Promise to Protect, a pledge to travel to the route of the pipeline if TransCanada attempts to start building and peacefully resist construction in every way we can. The Promise to Protect should send a chill down the spine of TransCanada and any of their financial backers. Our organizing has held this pipeline back for over seven years and Trump can't do anything about it. You could have the CEO of ExxonMobil in the White House (oh wait, he's secretary of state) and Keystone still wouldn't get built. This resistance isn't going anywhere.
Even if you don't live near a pipeline or a fracking well there's still a way to contribute to stopping projects. Just like in the fight against Big Tobacco or nuclear power, we're going to be using the model of local resolutions to beat back the fossil fuel industry everywhere they rear their head. Our goal is to pass hundreds of "Fossil Free" resolutions in cities and towns across the country that ban the construction of new fossil fuel projects. In doing so, we'll help tie up the industry in a web of resistance and helping protect our communities in perpetuity.
That's job number one: stop all new fossil fuel projects. But playing defense isn't enough—we also want to go on offense to build the world that works for all of us, not just a wealthy few. Which brings us to job number two.
The second way we're going to fight back in 2018 is driving forward a fast and just transition to 100 percent renewable energy for all.

Together, we're going to use 2018 to build a groundswell for 100 percent renewable energy in cities and towns across America. By the end of the year, our goal is to have won at least 100 commitments from communities to go to 100 percent renewable in a just and equitable way. More than that, we want to show the inevitability of the entire country moving in this direction. That means a lot of public education to show people this world is possible, and a lot of political pressure to make sure that every candidate for elected office has signed onto our goal of 100 percent for all.
For many climate advocates, the 100 percent piece will seem clear. Over the last decade, advances in renewable energy technology have made it possible to get all of our power from the sun, wind and water. New breakthroughs in battery storage mean that old concerns about the "reliability" of renewables are quickly fading away. The vision of a carbon-free world is quickly coming into focus.
But what about the justice and equity piece? We know that our current fossil fuel-based energy system, and all the pollution that comes with it, didn't just get built on a whim. It was enabled by and has perpetuated deep social inequality. While predominantly white, affluent communities can flip on the light switch and still enjoy clean air and water, poorer communities of color are often stuck with a power plant or oil refinery polluting their neighborhoods and threatening their children's health. Meanwhile, because of corporate monopolies and a lack of worker protections, the vast wealth being created by the fossil fuel economy has flowed in one direction: upwards. As fossil fuel billionaires have pocketed ever more profits, workers and entire communities have been left behind. Climate change just exacerbates these pre-existing inequalities. The same communities who have born the brunt of our pollution-based economy are often on the frontlines of climate impacts.
With the transition to 100 percent renewable energy, we have perhaps a once in a lifetime opportunity to rebuild our economy in a more just and equitable way. Through public investments, we can guarantee that it's not just the rich who can afford to put up solar panels, but those who live in public housing or rental units who are first in line for retrofits and upgrades. With worker training programs and the right incentives, we can make sure that there are enough jobs created so that both workers in the fossil fuel industry and those who never had a shot at a good paying, union job, can get employment in the renewables sector. By making sure that everyone has a seat at the table, we can design transition plans that make sure we truly have 100 percent "for all" rather than just the 1 percent.
That's the work we need to continue in 2018. There are already great 100 percent efforts underway, from Sierra Club's "Ready for 100" campaign to the NAACP's "Solar For All" effort. Our job is to double, triple, and quadruple these efforts. Remember those "Fossil Free" resolutions I mentioned above? This is the second piece of that puzzle. As we call on our cities and towns to ban new fossil fuel infrastructure, we'll also ask them to commit to "100 percent for all" and then work with them to make sure they're implementing these plans.
These two pieces of local resistance, fighting projects and promoting renewables, can make up the bulk of our efforts in 2018, but there's another key way we need to make progress. That's because as beautiful and brilliant our distributed resistance is going to be, we still need a way to strike at the heart of the fossil fuel industry. As we work from the bottom up to flip our energy mix, we also need to hit the industry where it hurts: their pocketbooks.
The third way we're going to fight back in 2018 is by continuing the fossil fuel divestment movement and ensuring that not a penny more goes to new fossil fuel projects.
Over the last five years, the fossil fuel divestment campaign has grown from a handful of college campuses to the largest divestment effort in history. By now, nearly 700 institutions representing $6 trillion in assets have made some form of divestment commitment. In December, the trillion dollar Norwegian Sovereign Wealth Fund announced that it was expanding its coal divestment to include oil and gas. Soon after, the World Bank announced that it was no longer going to finance new oil and gas development.
'Tide Is Turning': Cheers Erupt for NYC's Suit Against Fossil Fuel Giants and Divestment https://t.co/KaBVYn0JmN… https://t.co/hspjQtAHy6

— EcoWatch (@EcoWatch)1515613215.0
Perhaps the most amazing series of announcements came just a couple weeks ago. Governor Andrew Cuomo kicked things off by announcing that New York State was going to pursue fossil fuel divestment. Not to be outdone by Albany, Mayor Bill de Blasio took an even bolder step forward, announcing that New York City would not only be divesting from fossil fuels, but also suing the five largest publicly held oil companies for damages caused by climate change. It's hard to overstate the significance of this move. The world's most iconic city and heart of the global financial industry has declared war on fossil fuels.
It feels like fossil fuel divestment may be reaching a tipping point. With New York city and state taking a steps forward, the excuses for others to hold back are looking increasingly lame, and risky. Oil, coal and gas are quickly becoming the guns and tobacco of the 21st century: investments-non-grata for institutions with a conscience. Even those without a conscience are dropping their stocks, however, since nobody wants to be the last one holding onto fossil fuels when the rest of the world realizes the industry is doomed.
Our job in 2018 is to push divestment over the top. Every new city, state and institution that makes a divestment commitment helps hasten the day when the entire economy moves away from fossil fuels and into clean energy. Forget trying to engage with fossil fuel companies—we've had three decades of those sorts of efforts and little show for it—it's divestment that will send a clear signal that business as usual is no longer possible. As fossil fuel stocks become increasingly tainted, it will becomes less and less acceptable for banks (who worry deeply about their brands) to finance new coal, oil and gas development, putting the industry in even more of a precarious situation.
Bring these three pieces together—stopping fossil fuels, building momentum towards 100 percent, and divestment—and we've got ourselves a game plan for 2018. Now here's the timeline. This year, we've got two key dates to work towards.
The first is Sept. 8, 2018. That's the weekend before the Global Climate Action Summit, a major conference being held in San Francisco to drive forward local action on climate change. The summit is connected with the United Nations climate talks, but instead of focusing on national governments, the meeting in September will focus on the commitments from "non-state actors," i.e. cities, states, investors, businesses and other institutions.
Our goal is to leverage this summit as a way to drive forward the three demands above: no new fossil fuel infrastructure, 100 percent renewable energy for all, and fossil fuel divestment. Since every one of our mayors and governors is being invited to make a commitment for the summit, every one of them can be pressured to meet our demands before that September deadline. Just to make sure, we're planning a mobilization the weekend before, on Sept. 8, at city halls and state houses across the country. Whether those rallies are a celebration of the commitments our elected officials have made, or a protest demanding they do more, will depend on them.
After we take to the streets in September, we'll focus on the next key date on the calendar. You guessed it: Nov. 8. If it isn't abundantly clear by now, elections have consequences. We need to make sure that this election day, every single person that cares about climate justice is registered to vote and knocking on doors to send a clear signal to the establishment that we need elected officials who don't just believe in climate change, but are ready to do something about it. Nonprofits that can't engage in electoral activity will be investing in public education and voter registration, while political organizations will be promoting climate champions and taking down deniers and industry puppets. As activists, our job will be to figure out how we can make the biggest difference locally and support any and all national efforts that support our end goals.
So, let's get to work. Fossil Free Fast, the event on Jan. 31, is when the action begins. It's also the perfect opportunity for you to get a group together in your community, or meet up with an existing crew, and lay out your game plan for working on the goals above (and whatever other priorities you want to take on) over the coming year.

2018 isn't a year to sit on the sidelines or behind the comfort of your screen. It's a year to get out and organize. The resistance is everywhere and it's brilliant and beautiful and brave. The deepest thanks to all of your who are already deeply involved in driving it forward. To the rest of you, join us.
Jamie Henn is co-founder and director of strategic communications for the international climate campaign 350.org.
Reposted with permission from our media associate Common Dreams.
From Your Site Articles
Related Articles Around the Web
waterlust.com / @tulasendlesssummer_sierra .
Each product featured here has been independently selected by the writer. If you make a purchase using the links included, we may earn commission.
The bright patterns and recognizable designs of Waterlust's activewear aren't just for show. In fact, they're meant to promote the conversation around sustainability and give back to the ocean science and conservation community.
Each design is paired with a research lab, nonprofit, or education organization that has high intellectual merit and the potential to move the needle in its respective field. For each product sold, Waterlust donates 10% of profits to these conservation partners.
Eye-Catching Designs Made from Recycled Plastic Bottles
waterlust.com / @abamabam
The company sells a range of eco-friendly items like leggings, rash guards, and board shorts that are made using recycled post-consumer plastic bottles. There are currently 16 causes represented by distinct marine-life patterns, from whale shark research and invasive lionfish removal to sockeye salmon monitoring and abalone restoration.

One such organization is Get Inspired, a nonprofit that specializes in ocean restoration and environmental education. Get Inspired founder, marine biologist Nancy Caruso, says supporting on-the-ground efforts is one thing that sets Waterlust apart, like their apparel line that supports Get Inspired abalone restoration programs.
"All of us [conservation partners] are doing something," Caruso said. "We're not putting up exhibits and talking about it — although that is important — we're in the field."
Waterlust not only helps its conservation partners financially so they can continue their important work. It also helps them get the word out about what they're doing, whether that's through social media spotlights, photo and video projects, or the informative note card that comes with each piece of apparel.
"They're doing their part for sure, pushing the information out across all of their channels, and I think that's what makes them so interesting," Caruso said.
And then there are the clothes, which speak for themselves.
Advocate Apparel to Start Conversations About Conservation
waterlust.com / @oceanraysphotography
Waterlust's concept of "advocate apparel" encourages people to see getting dressed every day as an opportunity to not only express their individuality and style, but also to advance the conversation around marine science. By infusing science into clothing, people can visually represent species and ecosystems in need of advocacy — something that, more often than not, leads to a teaching moment.

"When people wear Waterlust gear, it's just a matter of time before somebody asks them about the bright, funky designs," said Waterlust's CEO, Patrick Rynne. "That moment is incredibly special, because it creates an intimate opportunity for the wearer to share what they've learned with another."
The idea for the company came to Rynne when he was a Ph.D. student in marine science.
"I was surrounded by incredible people that were discovering fascinating things but noticed that often their work wasn't reaching the general public in creative and engaging ways," he said. "That seemed like a missed opportunity with big implications."
Waterlust initially focused on conventional media, like film and photography, to promote ocean science, but the team quickly realized engagement on social media didn't translate to action or even knowledge sharing offscreen.
Rynne also saw the "in one ear, out the other" issue in the classroom — if students didn't repeatedly engage with the topics they learned, they'd quickly forget them.
"We decided that if we truly wanted to achieve our goal of bringing science into people's lives and have it stick, it would need to be through a process that is frequently repeated, fun, and functional," Rynne said. "That's when we thought about clothing."
Support Marine Research and Sustainability in Style
To date, Waterlust has sold tens of thousands of pieces of apparel in over 100 countries, and the interactions its products have sparked have had clear implications for furthering science communication.
For Caruso alone, it's led to opportunities to share her abalone restoration methods with communities far and wide.
"It moves my small little world of what I'm doing here in Orange County, California, across the entire globe," she said. "That's one of the beautiful things about our partnership."
Check out all of the different eco-conscious apparel options available from Waterlust to help promote ocean conservation.
Melissa Smith is an avid writer, scuba diver, backpacker, and all-around outdoor enthusiast. She graduated from the University of Florida with degrees in journalism and sustainable studies. Before joining EcoWatch, Melissa worked as the managing editor of Scuba Diving magazine and the communications manager of The Ocean Agency, a non-profit that's featured in the Emmy award-winning documentary Chasing Coral.
AdamChandler86 / Flickr
The NAACP is launching a major environmental justice campaign on Jan. 13 to mark the Martin Luther King, Jr. Day of Service.
The "Solar Equity Initiative" aims to provide solar job skills training to 100 individuals, install solar panels on more than 30 homes and community centers in low-income neighborhoods and communities of color, and strengthen equity in solar access policies in at least five states.
The first panels will be installed on transitional housing for domestic violence survivors being served by the Los Angeles-based Jenesse Center, a nationally recognized non-profit domestic violence prevention and intervention organization. Clients served by the Jenesse Center will also get hands-on training from GRID Alternatives during the installation, which will provide the women skills to access the booming solar energy industry.
The NAACP said that the Jenesse installation is expected to save the center an estimated $48,825 in lifetime financial savings and will help reduce harmful toxins and offset 90.06 tons of carbon emissions—the equivalent to planting more than 2,000 trees or taking 17 cars off the road.
"Underserved communities cannot be left behind in a clean energy transition," said NAACP president and CEO Derrick Johnson. "Clean energy is a fundamental civil right which must be available to all, within the framework of a just transition."
We are thrilled to share with you that we're teaming up with @NAACP during the weekend of @naacpimageaward and the… https://t.co/aKHoziO03X

— GRID Alternatives Greater Los Angeles (@GRID Alternatives Greater Los Angeles)1515726967.0
Low-income communities, particularly communities of color, are disparately burdened by environmental pollution and the impacts of climate change. A 2011 EarthJustice report found that in Alabama (24.5 percent) and Mississippi (26.5 percent), the poverty rate near coal plants is more than twice the national average. In Tennessee the number of people living below the poverty line near coal plants is 41 percent higher than would be expected from the national average.
As a press release for the new campaign noted:
"Multiple NAACP studies and reports chronicle the disparities in exposure to pollution from fossil fuel based energy production in low income and communities of color. Communities of color and low income communities, as well as population groups such as women, consume the least energy, but are most disproportionately impacted, suffering poor health outcomes, compromised education, loss of livelihoods and loss of life as a result of exposure to toxins and the ravages of climate change."
Other partners supporting the NAACP's solar equity initiative include Solar Energy Industries Association, Sunrun, United Methodist Women and Vote Solar.
"This initiative is in the true spirit of the legacy of Dr. King and underscores the mission of the NAACP to advance equity and justice," said Leon Russell, chairman of the NAACP Board of Directors.
From Your Site Articles
Related Articles Around the Web
Teens play basketball at a public park in Port Arthur, Texas. Karen Kasmauski / International League of Conservation Photographers
African American communities face a disproportionate risk of health issues caused by gas and oil pollution, according to a report issued Tuesday by two advocacy groups.

The report from the National Association for the Advancement of Colored People and the Clean Air Task Force noted the importance of Obama-era U.S. Environmental Protection Agency (EPA) regulations that finalized standard for methane and ozone smog-forming volatile organic compound (VOCs). The report states that if the Trump administration's dismantling of environmental regulations continues, the situation for African Americans will worsen.
The study found oil and natural gas facilities were built or currently exist within a half-mile of more than one million African Americans, exposing these communities to higher risks of cancer due to toxic emissions. "African-Americans are exposed to 38 percent more polluted air than Caucasian Americans, and they are 75 percent more likely to live in fence-line communities than the average American," the report said, referring to neighborhoods near to gas and oil facilities.
Counties located in the Gulf Coast Basin are home to the most counties with oil refineries and higher percentages of African Americans. Michigan, Louisiana and Tennessee, the report found, have the highest percentage of African American residents living in oil refinery counties. Texas and Louisiana, both in the Gulf Coast Basin, were home to the largest African American individuals at risk for cancer, with nearly 900,000 living in areas above the EPA's level of concern.
"The effects of oil and gas pollution are disproportionately afflicting African Americans, particularly cancer and respiratory issues, and the trend is only increasing," said Dr. Doris Browne, the National Medical Association President.
The report also found that oil and natural gas industries violate the EPA's air quality standards from natural gas emissions-related ozone smog in numerous African communities, causing more than 130,000 asthma attacks among school children. This results in more than 100,000 missed school days each year.
Defending the environmental protections finalized during the Obama administration and advocating for additional protections against pollution from the oil and gas industry will help improve the health of many African American communities, the study noted.
But the Trump administration has already begun to dismantle Obama-era EPA steps taken in 2016 that aimed to clean up toxic air pollutants such as benzene, formaldehyde and sulfur dioxide. It is also taking aim at 2016 EPA actions that address the 1.2 million existing sources of methane pollution and other airborne pollution. The White House claims these regulations are unnecessary industry burdens. The Trump administration's moves are being challenged in courts around the country.
"What this administration is discovering as it attempts to undo vital health and environmental protections is that these sensible standards cannot simply be wished away, only to the benefit of the oil and gas industry," said Sarah Uhl, program director of short-lived climate pollutants for Clean Air Task Force.
"Not only do we have the law on our side, we also have the medical and scientific communities who will help ensure that our air, and our health, particularly in fence-line communities, are protected to the full extent of the law."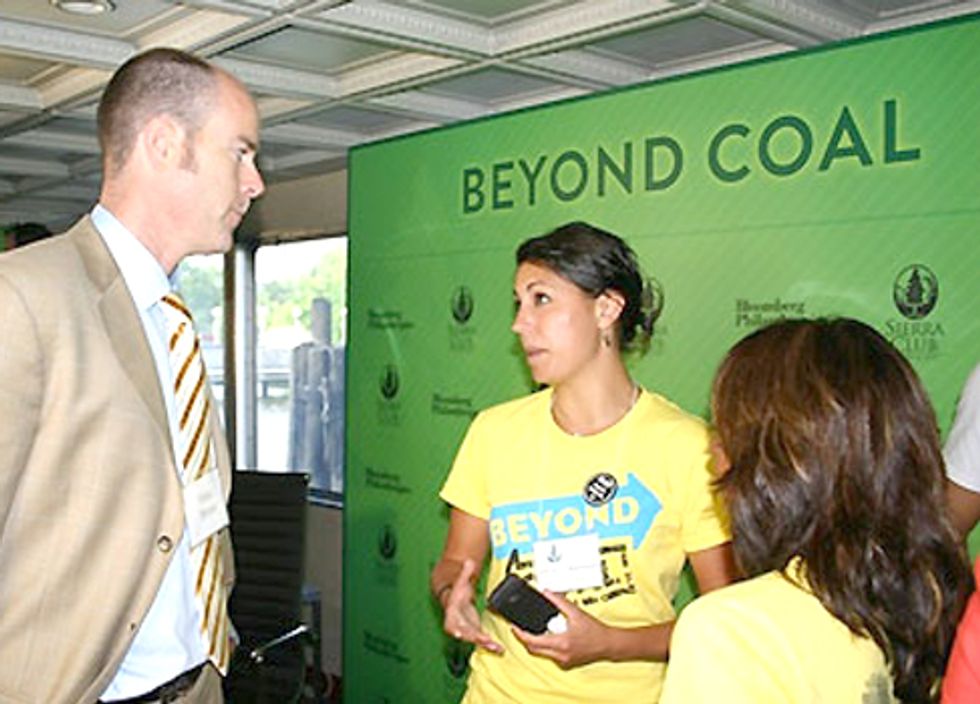 On Feb. 29, Mayor Rahm Emanuel and Midwest Generation announced the planned retirement of the Fisk and Crawford coal plants, two of the oldest and dirtiest coal-fired power plants in the nation located in the heart of Chicago's Southwest side. According to an agreement signed by Midwest Generation, the Clean Power Coalition, and the City of Chicago, the Fisk coal plant in Pilsen will retire in 2012 and the Crawford coal plant in Little Village will retire by 2014. As part of the Chicago Clean Power Coalition, Sierra Club has worked with an incredible group of local community organizations to retire these coal plants due to the dangerous health impacts on the families of Chicago.
"Today's announcement of the retirement of the Fisk and Crawford coal plants is a triumph for Chicago families," said Sierra Club's Executive Director Michael Brune. "These old and dirty plants have been polluting two thriving Chicago neighborhoods for over 100 years. The effort to end pollution from the plants has been an uphill battle for a very long time. This announcement is the culmination of many years of hard work by local families and concerned residents in Pilsen and Little Village, and this victory belongs to them. Pollution from these coal plants has been making local residents sick since 1903, contributing to asthma attacks, respiratory illnesses and other health problems. This is giant leap in our work to move America beyond coal."
Chicago is the only major metropolitan area with not only one, but two polluting coal plants within the city limits, and the Sierra Club, along with the Chicago Clean Power Coalition, has been working with Mayor Emanuel to retire these two Midwest Generation plants. The coal burned in these plants is brought in from Wyoming, the power is sold out of state, and the profits go to a California-based company, leaving Chicago to deal with the pollution. The announcement marks the end of a long and difficult battle led by the Chicago Clean Power Coalition to protect the health of the Pilsen and Little Village residents.
"This is a grassroots victory for environmental justice. Over the past year-and-a-half, hundreds of Chicagoans have logged calls to their Aldermen, to the Mayor, to Midwest Generation, delivered thousands of postcards and petitions, marched in the streets and demanded that every person, regardless of who they are where they live, has the right to breathe clean air," said Tony Fuller, volunteer for the Sierra Club. "This victory proves that when communities and organizations work together, they can stop big polluters in their tracks."
According to a 2011 National Association for the Advancement of Colored People (NAACP) report, Crawford and Fisk were ranked number one and number three respectively on a list of the top environmental justice offenders national wide.
"This is a tremendous victory for our frontline communities who are forced to breathe this air day in and day out," said Rosalie Mancera of Pilsen Alliance. "This is the first of many victories to come in Illinois, as people from all different backgrounds will come together to move coal out of their back yards and bring clean air and clean jobs to their neighborhoods."
While this is a tremendous victory for the health of Chicagoans, Midwest Generation still has four other major coal plants throughout Illinois. Midwest Generation will be making critical decisions in the next several months with whether to make risky investments in retrofitting these old coal plants or choose to set retirement dates and invest in clean energy.
"Chicagoans can breathe easier thanks to Mayor Emanuel's leadership in closing these old, polluting coal plants," said Jack Darin, director of the Sierra Club, Illinois Chapter. "Mayor Emanuel knows that moving Chicago from coal to clean energy works for all of us, and we applaud him for his efforts to bring cleaner air to Pilsen, Little Village, and all of Chicago. Now, as America transitions away from coal, we call on Midwest Generation and other power companies to ensure that communities, workers and families will have a just and stable transition from working with coal to becoming leaders in a clean energy future."
Last Year the Sierra Club joined forces with Michael R. Bloomberg, Mayor of New York City, and his Bloomberg Philanthropies to combat the dangerous health effects coal pollution has on children and families across the nation.
"Mayor Rahm Emanuel and the City of Chicago have taken a big step forward in building a healthier and environmentally sustainable city. Mayor Emanuel is a leader who understands the need for immediate steps to improve public health and make long-term investments in our urban infrastructures," said Michael R. Bloomberg, philanthropist and mayor of New York City. "Today is also a great step forward for the Beyond Coal Campaign that has been working with Mayor Emanuel, residents, and local organizations. With today's development, Chicago joins the legion of cities across America who have committed to putting our country on a new energy path."
Chicago has been a key target for Sierra Club's national Beyond Coal campaign, aimed at replacing dirty, polluting coal-fired power plants with clean energy like wind and solar power.
The Fisk and Crawford plants are the 98th and 99th plants to be retired since the Beyond Coal campaign began. They join the ranks of coal plants like Cane Run in Louisville, Kentucky and GenOn in Alexandria, Va. and a fleet of First Energy Plants in Ohio who announced their historic retirements in recent months. The Beyond Coal Campaign aims to replace dirty, polluting coal-fired power plants with clean energy like wind and solar power. The campaign, in conjunction with allies around the country, have stopped more than 150 coal plants from breaking ground, and the number of planned retirements continues to grow as the nation transitions to a clean energy future.
For more information, click here.