Ocean warming from climate change could make some parts of the world "uninsurable," according to a new report from global insurance trade body, the Geneva Association.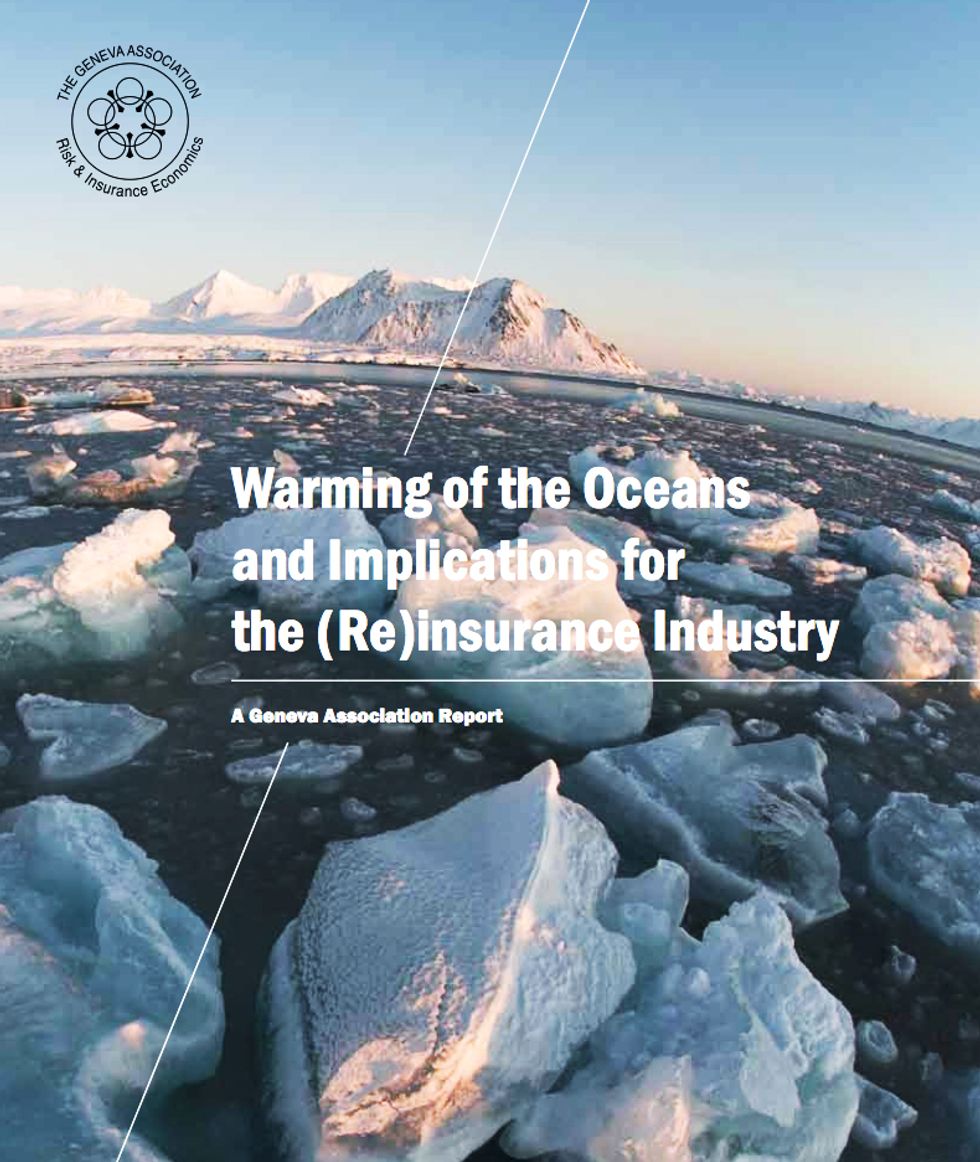 It warns that the speed at which global oceans are warming is threatening the industry's ability to sell affordable policies around the world, with parts of the United Kingdom (UK) and the U.S. state of Florida already facing "a risk environment that is uninsurable."
And these areas are unlikely to be the last that will experience such problems.
But in the UK, hundreds of thousands of homeowners in areas at high risk of flooding will still be able to insure their properties, after the government struck a deal with the industry.
The deal—introduced as part of the government's new water bill—comes just weeks before the current agreement is set to expire and follows lengthy negotiations with the Association of British Insurers.
The agreement will cap flood insurance premiums, linking them to council tax bands so that people in high risk areas will know the maximum they will have to pay, while a levy on all UK household insurers will be used to create a fund to cover claims for people in high-risk homes.
The new bill also includes plans to increase competition in the water market and improve drought resilience. Meanwhile the government announced an extra £370 million of flood protection funding for 2015-2016 and committed to increase funding each year to 2020—adding to the £2.3 billion they say is currently earmarked for flood defenses.
There has been rising friction in recent years between the insurance industry and governments around the world who are struggling to shore up flood protection.
The Geneva Association—which is overseen by executives from some of the world's largest insurance firms—warns that governments will have to step up their action to protect their towns from the effects of climate change.
Warming oceans have already locked-in shifts in climate, even if countries' attempts to reduce greenhouse gases proved successful.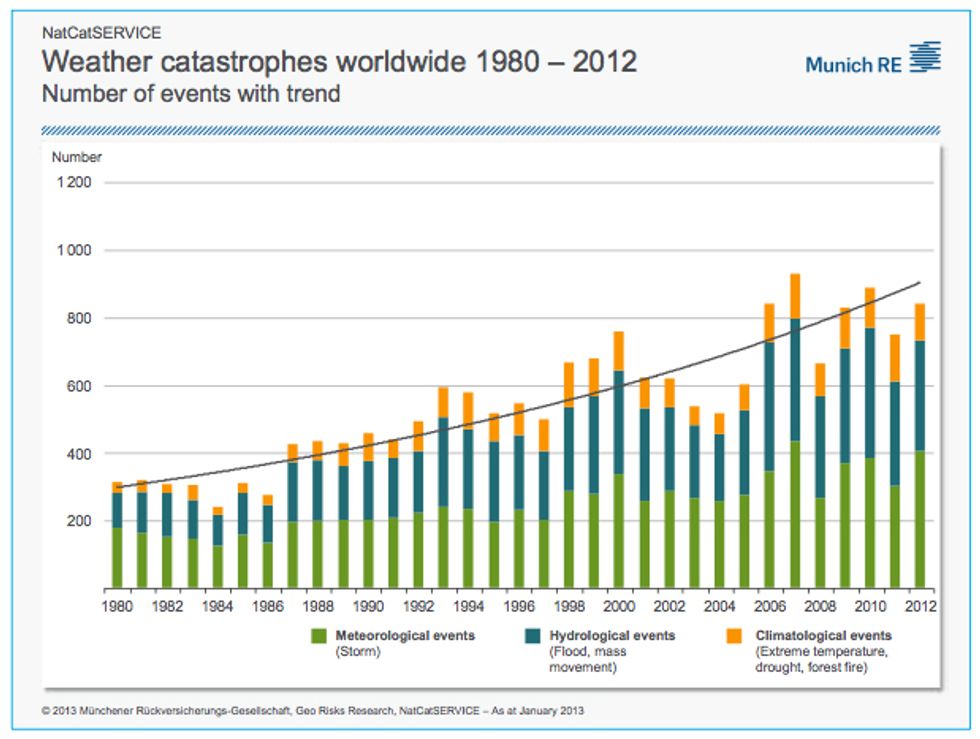 John Fitzpatrick, secretary general of the Geneva Association said:
Given that energy from the ocean is a key driver of extreme events, ocean warming has effectively caused a shift towards a "new normal" for a number of insurance relevant hazards. This shift is quasi irreversible—even if greenhouse gas (GHG) emissions completely stop tomorrow, oceanic temperatures will continue to rise.
 As oceans warm, they expand, contributing to rise sea levels. Melting ice sheets and glaciers are also contributing.
The average global sea has risen nearly 20cm  over the past century—with faster rises seen in more recent years. In its most recent report in 2007, the Intergovernmental Panel on Climate Change estimated that the sea levels rose an average of 1.8mm per year from 1961 to 1993 and 3.1mm from 1993 to 2003.
As well as rising sea levels, scientists believe warmer oceans contribute to an increase in evaporation from the surface of the seas, leading to heavier rains and the potential for more storms.
Such factors may have contributed to Hurricane Sandy, which hit New York and New Jersey last year, costing the U.S. economy about $65 billion, warns the Geneva Association.
Earlier this month, New York Mayor Michael Bloomberg announced a $20 billion plan to protect the city from future storms including building flood walls, levees and gates as well as funding for flood proofing measures for property owners and hospitals.
The number of weather catastrophes, including storms, heatwaves and forest fires have risen from around 300 a year in 1980 to around 900 in 2012, according to figures from reinsurer, Munich Re.
The new report calls on governments to invest more in flood defenses and tighten building restrictions in risky locations to mitigate the fallout of extreme weather hazards. They warn of the growing trend for an increasing number, and value, of properties being built along waterways and coastlines—pushing up the cost when disaster hits.
Visit EcoWatch's CLIMATE CHANGE page for more related news on this topic.

EcoWatch Daily Newsletter
Westend61 / Getty Images
Residential solar energy companies are helping more and more homeowners upgrade their properties to clean energy sources. Solar energy companies can equip you with the technology you need to harness the amazing power of the sun and reduce your need for fossil fuels. In this article, we'll review some of the most trustworthy providers and installers of solar power.
Our picks for the best solar companies
The first step in the process is researching some of the top companies in the solar industry. Here are the ones that stood out in our research.

Each product featured here has been independently selected by the writer. If you make a purchase using the links included, we may earn commission.
How we chose the best solar energy companies
How did we determine which solar power companies to recommend?

To begin with, we took a deep dive into each company's offerings, assessing them for the following criteria:
Range of services offered
Pricing/affordability and financing options
Extent of service area
Solar panel efficiency
Warranty
Temperature coefficient (e.g., how much high temperatures affect efficiency)
Additionally, we weighed membership and certification by professional associations like the Solar Energy Industries Association (SEIA). Affiliation with these groups is a good indicator that a solar energy company is reputable, and that their work is up to the highest standards within the industry.
The best solar energy companies
schmidt-z / Getty Images
With these criteria in mind, consider our picks for the best solar panel providers and installers in the industry.

If you're looking for a company that can walk you through the process of upgrading to solar power for an easy and convenient experience, look no further than to SunPower. The company offers:
A "design studio" app, allowing you to safely and seamlessly design your own solar power system so that you can see a visual of what the finished product will look like once installed.
Online calculators that make it easy for you to determine about how much electricity you will save once you upgrade to solar panels.
Virtual consultations, allowing you to chat one-on-one with a solar power expert and to ask any questions you might have.
SunPower offers leading solar panels and energy storage technology to homeowners across dozens of states. And, they are also the preferred solar partner of many major businesses, including Walmart, FedEx, and Lowes.

Why buy: SunPower is a reliable solar energy company with an impressive tech portfolio and an extremely easy, intuitive process.
Upgrading to solar power can seem a little intimidating, but SunRun is out to bring simplicity. Their approach makes it extremely straightforward to select a custom solar energy plan for your household. Here's what to know about SunRun:
They offer virtual consultations with solar energy experts, making it simple to explore your options and determine which solar set-up is right for your home energy needs.
Each system they design is completely customized to address the customer's needs. SunRun doesn't do "one size fits all" solar equipment options.
Their guarantee, the best in the industry, offers extraordinary peace of mind that your solar system will prove durable and reliable.
SunRun also leads in terms of flexible financing options, making solar power accessible and affordable.
Why buy: With SunRun, the name of the game is customization. This is one of the best solar installation companies to turn to for solar power solutions that are truly made with you in mind.
You probably associate Tesla with their electric vehicles, but did you know that the company also produces high-efficiency solar panels? Depending on your needs and your budget, Tesla can hook you up with an array of solar panels or even a solar roof, making it easy to cut electricity costs and power your home via the sun's vital energy.
Some fast facts about choosing solar power from Tesla:
They offer a price match guarantee and affordable financing options.
Their advanced solar panel technology offers a low profile, a sleek style, and long-term durability.
Home battery backups allow you to save solar power and then access it on demand, whenever you need it.
Why buy: Tesla offers sophisticated solar products for what the company claims is the lowest price of any national provider, which they back with a price-match guarantee. Plus, all of their solar panels come with a solid 25-year performance guarantee.
LG is another well-known tech company that is also a leader in solar energy. Some of their solar panels use a bifacial solar module that captures energy from two directions to increase their efficiency. While they are a solar panel manufacturer, they can also help you with the installation process by finding an LG Pro installer in your area.
They offer an online "solar concierge" service that allows you to evaluate your home energy needs and to compare different options for going solar.
LG offers a 25-year warranty, not only on their technology but also on the work their of their solar installers.
They offer a range of solar panels and supporting products, and they supply you with plenty of information to make a fully informed choice.
Why buy: LG is a company that knows technological innovation. Their award-winning solar energy products are reliably efficient, well-priced, and designed for maximum efficiency.
Panasonic has one of the most impressive tech portfolios in the solar energy industry. Their products boast some of the highest conversion efficiency rates, along with the lowest degradation rates. And they back everything with a generous warranty.
Some additional reasons to choose Panasonic:
They offer a range of solar panels to choose from. With Panasonic, you'll find that you have plenty of options.
They also provide a lot of great online support and consumer education, ensuring you'll get the most out of your solar technology.
Why buy: Panasonic is a solar panel company with products that are tough to beat. Both their pricing and warranties are very appealing, and their HIT high-performance solar panels offer some of the best power conversion rates of any product.
Vivint is a company that offers a full spectrum of services, including solar power consultation, design, and installation. A few reasons why homeowners trust their solar power needs to the Vivint team:
Everything Vivint does is customized. They tailor everything to fit your roof and to help you achieve your home energy goals.
They make the entire process simple, handling all of the little details for you. This includes securing permits, filing the right paperwork, etc.
They emphasize safety, using only the highest caliber of solar panels and backing everything with a world-class warranty.
Why buy: Vivint is noteworthy for their focus on customization, their commitment to safety, and their one-stop-shop solar power solutions. In addition to solar panel installation, they also offer other specialized technology, including solar-powered electric vehicle chargers.
Enphase is another company that stands out, both for their robust technology as well as for their commitment to customization. Their microinverter technology makes their solar system safer by reducing the likelihood of arc fault fires.
They design their solar technology with safety in mind, including fire safeguards that other companies can't match.
Their solar panels are built for durability and can hold up even through the most extreme kinds of weather.
Enphase uses smart technology to update itself; all you need to do is connect it to your home Internet.
They also have one of the best apps in the solar industry, making it simple to monitor your home energy use.
Why buy: Enphase is a company of innovators, and their solar portfolio has a lot to offer. Their system is also modular, meaning you can easily add more panels to your system as you need them.
This solar power provider has won recognition not just for their excellent technology, but also for their sincere commitment to sustainability and to ecological stewardship. And don't let the name throw you off: Though Canadian Solar is based in Canada, they provide solar power solutions in the U.S. and other countries.
Some additional facts about Canadian Solar:

They offer a wide range of products, from energy converters to storage solutions.
Their solar panels boast exceedingly high energy efficiency rates.
Canadian Solar has won a number of awards for its first-class innovations, and one of their products even set a world record for conversion efficiency in 2020.
Why buy: This company has a proven track record of technological excellence, plus a real commitment to ecological stewardship. They also closely monitor their supply chain to ensure that no goods or materials used in their products come from prohibited forms of labor.
First Solar boasts an impressive track record of advocacy for solar power and for renewable energy sources. And, thankfully, they back their advocacy with some excellent solar technologies.
A few reasons to choose First Solar solar panels:
Their technology offers an outstanding temperature coefficient, meaning they won't lose performance during high temperatures.
Their solar cells are among the most reliable and most efficient in the clean energy sector.
First Solar also offers a lot of post-purchase, post-installation help, as needed.
Why buy: First Solar is a great option for anyone who's serious about renewable energy, and who wants the best performance from their solar panels.
The biggest drawback to Go Solar is that, right now, their work is limited to just a few states. But if you happen to live in that part of the country, you're in luck. Go Solar's panels are uniquely calibrated to take advantage of the western region's abundant sunlight. Some additional reasons to pick Go Solar include:
They offer free home solar assessments.
They custom-design solar systems to meet the needs of your home.
They have some of the most trusted installers in the solar power industry.
Why buy: For solar solutions that are tailored to the climate of the American West, definitely consider Go Solar. Plus, with their Give Solar International partnership, they give an equivalent solar panel system to a family in Uganda for each system sold.
How does a solar energy system work?
schmidt-z / Getty Images
As you explore the different options for embracing solar power, it may be helpful to have a baseline understanding of how solar energy systems actually function.

Generally speaking, solar energy systems involve solar panels installed on your roof. These panels absorb the sun's energy, storing it in what are known as photovoltaic cells. These cells convert the solar energy into direct current (DC) energy, then use an inverter to convert that DC energy into alternate current (AC) electricity. AC electricity is what you need to power all your home appliances.

It's important to note that, before you purchase solar panels, it's worthwhile to meet with a solar energy consultant who can tell you more about how many panels your home will require, and also to let you know how those panels should be ideally positioned on the roof.
One more note: If you're concerned about the affordability of solar power, it's important to remember that most solar energy companies provide a host of options, including flexible financing and solar lease options for a system rather than purchase it outright. As you talk with different solar energy companies, don't hesitate to inquire about these leasing and financing options.

Benefits of solar energy
Installing solar panels on your home can yield a number of benefits. Here are just a few examples.
Cleaner energy
One of the main reasons why homeowners choose to install solar cells is that it allows them to truly embrace clean energy sources. Rather than depend on fossil fuels and power plants, you can power your home with renewable energy that comes straight from the sun. This can be a highly effective way to minimize your environmental footprint.
Solar tax credits and rebates
There are a number of ways in which choosing renewable energy can save you money, starting with the fact that there are so many rebates and tax credits available. Essentially, both the federal government and many state governments want to encourage people to "go green" as much as possible, and they will make it worth your while by allowing you to claim these important tax incentives. Some utility companies also offer rebates that can help pay for the upfront costs of solar projects.
Lower electricity bills
Of course, embracing solar power will also help you save money by slashing your electricity bills. Most solar energy companies offer online calculators that allow you to see for yourself how much money you'll save over time, simply by changing to a renewable energy source. There is also an option called a power purchase agreement (PPA) that can allow you to host a solar or renewable energy system from a utility provider in exchange for lowered energy rates. If your solar panel system generates excess energy, the utility will then purchase that energy from you in the form of a net metering credit on your bill.
Make a smart choice about solar power
There are obviously a lot of perks to choosing solar energy for your home. And yet, it can also be a rather daunting process, simply because there are so many solar energy companies to choose from.

Using our guidelines and rankings, start doing your due diligence, seeking the solar power company that's right for you. Remember to look for a company that's well-regarded within the industry and get a consultation before you buy. Always be sure to ask some direct questions about the financing options that are available to you.
Josh Hurst is a journalist, critic, and essayist. He lives in Knoxville, TN, with his wife and three sons. His writing on natural health, nutrition, and supplements has appeared in Health, Shape, and Remedy Review.