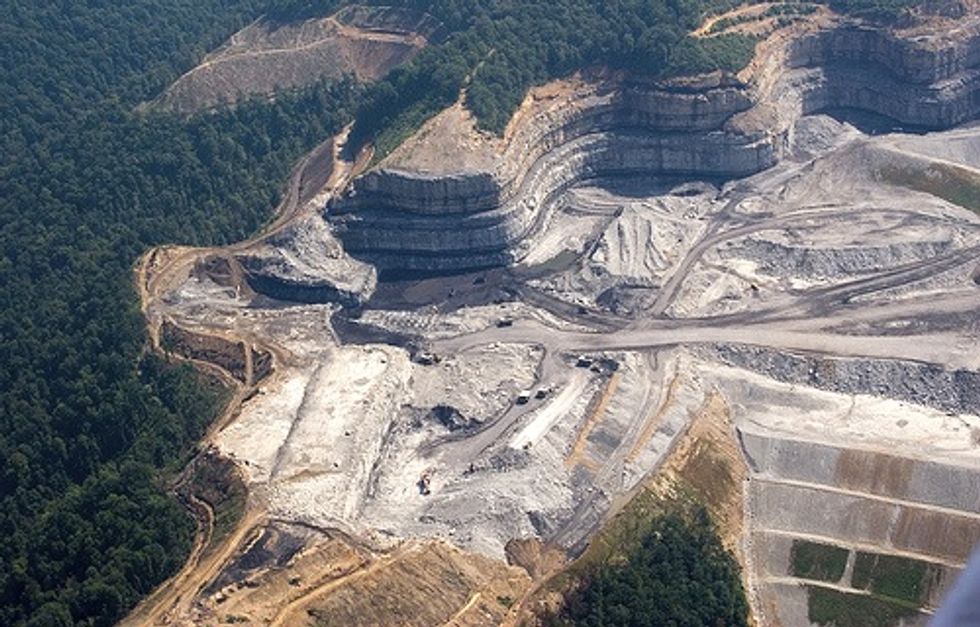 This week the National Commission on the Health Impacts of Mountaintop Removal Mining, a group of independent physicians and scientists, released recommendations for actions necessary to ensure the health and safety of the residents of Appalachia who are impacted by mountaintop removal (MTR) mining.  
The Center for Health, Environment & Justice (CHEJ) commissioned the scientists to review a report prepared by CHEJ that analyzed the existing body of peer-reviewed, scientific studies on the impacts of MTR coal mining on human health. That review led to the recommendations released this week.
"The evidence shows that mountaintop removal threatens public health and the environment. It's time to act to protect rural communities," said commission member Dr. Steven B. Wing, PhD. Wing is associate professor of epidemiology in the School of Public Health at the University of North Carolina.
"Corporate leaders, local, state and national policy makers need to pay attention to the information in this report," said Dr. Jerome A. Paulson, professor of Pediatrics & Public Health at George Washington University, another commission member. "The protection of human health needs to be a higher priority than it has been in the past. A moratorium is an appropriate step until such time as those doing mountaintop removal can document that they can do it without significant harm to human health."
The commission's recommendations include placing an immediate moratorium on MTR mining until health studies have been conducted that provide a clearer understanding of the associations between adverse health impacts, notably adverse reproductive outcomes and MTR mining. In addition, during the moratorium period, appropriate safeguards including remediation and engineering controls should be implemented to mitigate air and water pollution related to MTR mining activities.
This recommendation could be addressed by passage of the Appalachian Community Health Emergency Act (ACHE Act, HR 526). This legislation would require the first comprehensive federal study of the health dangers of MTR coal mining and would place a moratorium on all new MTR mining permits while federal officials examine health consequences to surrounding communities.
Visit EcoWatch's MOUNTAINTOP REMOVAL page for more related news on this topic.
——–
Click here to tell Congress to Expedite Renewable Energy.

EcoWatch Daily Newsletter
By Brian Sewell
We're only a few days into Earth Week—if we must limit it to one week out of the year—but it sure is getting off to a great start. In the past two days, two major court rulings have underscored the need for increased scrutiny from the federal agency responsible for evaluating environmental impacts of mountaintop removal coal mining according to the National Environmental Policy Act (NEPA) and issuing permits under the Clean Water Act (CWA).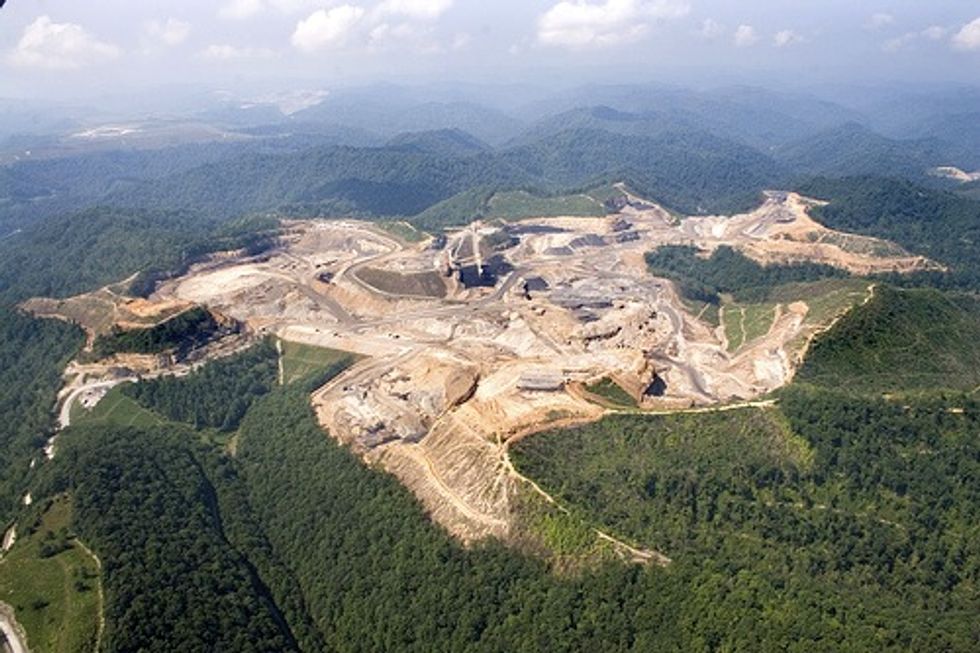 Monday, the 6th U.S. Court of Appeals revoked the U.S. Army Corps of Engineers use of Nationwide Permit 21 (NWP 21), a streamlined and inadequate process that has contributed to the expansion of mountaintop removal in Appalachia since 1992.
In its ruling, the three-judge panel called the Corps' actions "arbitrary and capricious" and found that the agency did not follow the applicable CWA and NEPA regulations, which require it to document its assessment of environmental impacts and examine past impacts before issuing new permits. From the ruling:
Though we generally give greatest deference to an agency's "complex scientific determination[s] within its area of special expertise," we may not excuse an agency's failure to follow the procedures required by duly promulgated regulations.
After opting for streamlined nationwide permitting, the Corps took the easier path of preparing an environmental assessment instead of an environmental impact statement. Having done so, it needed to follow the applicable CWA and NEPA regulations by documenting its assessment of environmental impacts and examining past impacts, respectively. Failing these regulatory prerequisites, the Corps leaves us with nothing more than its say-so that it meets CWA and NEPA standards.
According to the Corps, approximately 70 surface mining permits authorized under NWP 21 qualify for a five-year accommodation to "provide and equitable and less burdensome transition" for coal operators. Whatever its impact on existing mountaintop removal permits, the ruling acknowledges that when it comes to protecting Appalachia, the Corps "say-so" is insufficient.
On Tuesday morning, as word of Monday's win for the mountains continued to spread, the U.S. Court of Appeals for the District of Columbia reversed a ruling that overturned the U.S. Environmental Protection Agency's (EPA) veto of the Spruce Mine surface mine permit—one of the largest mountaintop removal mines in history.
Earthjustice, which along with Appalachian Mountain Advocates, represented West Virginia Highlands Conservancy, Ohio Valley Environmental Coalition, Coal River Mountain Watch, Sierra Club and Natural Resources Defense Council as friends of the court, called the ruling a major blow to the coal industry's attempt to prevent the EPA from protecting communities from the harm caused by mountaintop removal mining in Appalachia.
While an earlier ruling called the EPA's interpretation of Section 404 of the Clean Water Act "magical thinking," today's announcement reaffirms the EPA's role in the permitting process. In her ruling, Circuit Judge Karen LeCraft Henderson, concluded that:
… The Congress made plain its intent to grant the Administrator authority to prohibit/deny/restrict/withdraw a specification at any time … Thus, the unambiguous language of subsection 404(c) manifests the Congress's intent to confer on the EPA a broad veto power extending beyond the permit issuance.
These rulings come as research supporting the irreversible damage done by valley fills which have been found to irreversibly damage water quality and the once-abundant aquatic life of many Appalachian streams.
"Today's decision upholds essential protection for all Americans granted by the Clean Water Act," said Emma Cheuse, an attorney for Earthjustice. "Communities in Appalachia can finally breathe a sigh of relief knowing that the EPA always has the final say to stop devastating permits for mountaintop removal mining. Now, we just need the EPA to take action to protect more communities and mountain streams before they are gone for good."
It has been a good few days for mountains, and the communities of Appalachia. We congratulate and thank our allies — especially Earthjustice, Appalachian Mountain Advocates, West Virginia Highlands Conservancy, Sierra Club, Coal River Mountain Watch, Ohio Valley Environmental Coalition and Natural Resources Defense Council—for their dedication and hard work through years of litigation. Our Earth Week, and the weeks ahead, are brighter for it.
Visit EcoWatch's MOUNTAINTOP REMOVAL page for more related news on this topic.
——–
Click here to tell Congress to Expedite Renewable Energy.

waterlust.com / @tulasendlesssummer_sierra .
Each product featured here has been independently selected by the writer. If you make a purchase using the links included, we may earn commission.
The bright patterns and recognizable designs of Waterlust's activewear aren't just for show. In fact, they're meant to promote the conversation around sustainability and give back to the ocean science and conservation community.
Each design is paired with a research lab, nonprofit, or education organization that has high intellectual merit and the potential to move the needle in its respective field. For each product sold, Waterlust donates 10% of profits to these conservation partners.
Eye-Catching Designs Made from Recycled Plastic Bottles
waterlust.com / @abamabam
The company sells a range of eco-friendly items like leggings, rash guards, and board shorts that are made using recycled post-consumer plastic bottles. There are currently 16 causes represented by distinct marine-life patterns, from whale shark research and invasive lionfish removal to sockeye salmon monitoring and abalone restoration.

One such organization is Get Inspired, a nonprofit that specializes in ocean restoration and environmental education. Get Inspired founder, marine biologist Nancy Caruso, says supporting on-the-ground efforts is one thing that sets Waterlust apart, like their apparel line that supports Get Inspired abalone restoration programs.
"All of us [conservation partners] are doing something," Caruso said. "We're not putting up exhibits and talking about it — although that is important — we're in the field."
Waterlust not only helps its conservation partners financially so they can continue their important work. It also helps them get the word out about what they're doing, whether that's through social media spotlights, photo and video projects, or the informative note card that comes with each piece of apparel.
"They're doing their part for sure, pushing the information out across all of their channels, and I think that's what makes them so interesting," Caruso said.
And then there are the clothes, which speak for themselves.
Advocate Apparel to Start Conversations About Conservation
waterlust.com / @oceanraysphotography
Waterlust's concept of "advocate apparel" encourages people to see getting dressed every day as an opportunity to not only express their individuality and style, but also to advance the conversation around marine science. By infusing science into clothing, people can visually represent species and ecosystems in need of advocacy — something that, more often than not, leads to a teaching moment.

"When people wear Waterlust gear, it's just a matter of time before somebody asks them about the bright, funky designs," said Waterlust's CEO, Patrick Rynne. "That moment is incredibly special, because it creates an intimate opportunity for the wearer to share what they've learned with another."
The idea for the company came to Rynne when he was a Ph.D. student in marine science.
"I was surrounded by incredible people that were discovering fascinating things but noticed that often their work wasn't reaching the general public in creative and engaging ways," he said. "That seemed like a missed opportunity with big implications."
Waterlust initially focused on conventional media, like film and photography, to promote ocean science, but the team quickly realized engagement on social media didn't translate to action or even knowledge sharing offscreen.
Rynne also saw the "in one ear, out the other" issue in the classroom — if students didn't repeatedly engage with the topics they learned, they'd quickly forget them.
"We decided that if we truly wanted to achieve our goal of bringing science into people's lives and have it stick, it would need to be through a process that is frequently repeated, fun, and functional," Rynne said. "That's when we thought about clothing."
Support Marine Research and Sustainability in Style
To date, Waterlust has sold tens of thousands of pieces of apparel in over 100 countries, and the interactions its products have sparked have had clear implications for furthering science communication.
For Caruso alone, it's led to opportunities to share her abalone restoration methods with communities far and wide.
"It moves my small little world of what I'm doing here in Orange County, California, across the entire globe," she said. "That's one of the beautiful things about our partnership."
Check out all of the different eco-conscious apparel options available from Waterlust to help promote ocean conservation.
Melissa Smith is an avid writer, scuba diver, backpacker, and all-around outdoor enthusiast. She graduated from the University of Florida with degrees in journalism and sustainable studies. Before joining EcoWatch, Melissa worked as the managing editor of Scuba Diving magazine and the communications manager of The Ocean Agency, a non-profit that's featured in the Emmy award-winning documentary Chasing Coral.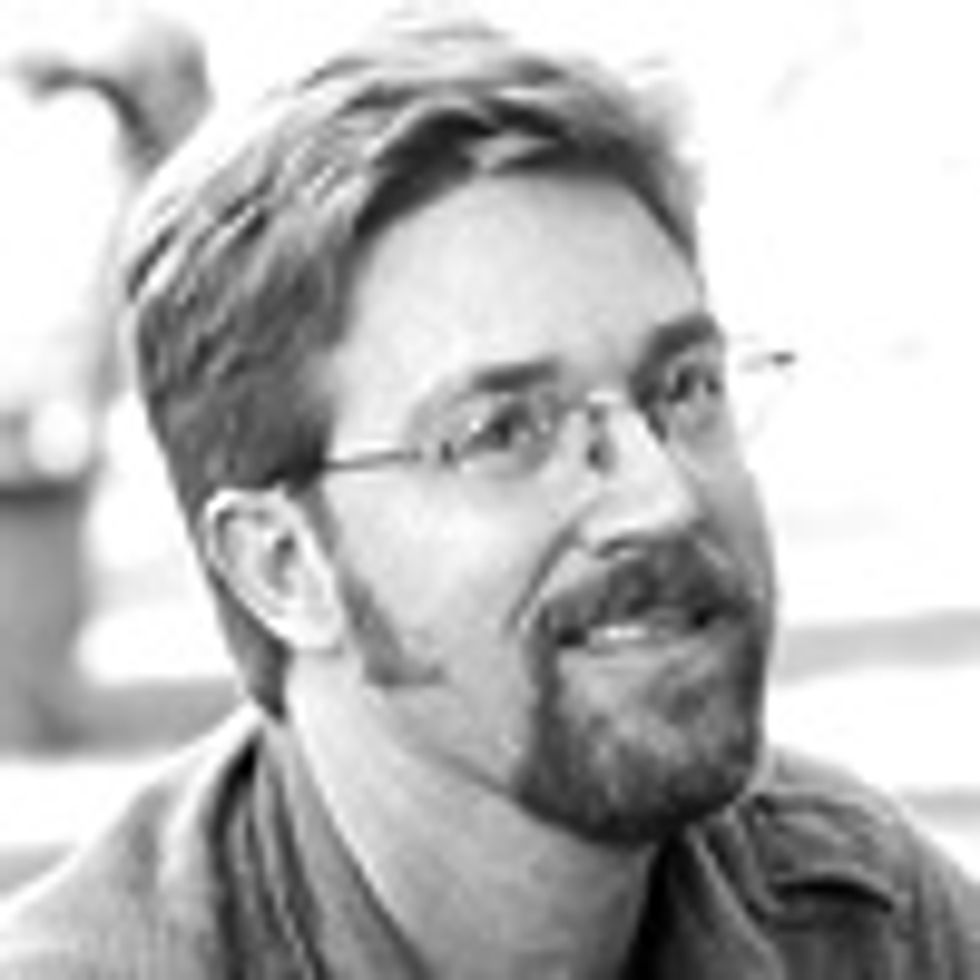 With the daily silica-laced blizzard from five million pounds of toxic explosives in the background, U.S. Rep. John Yarmuth and Rep. Louise Slaughter reintroduced the biggest no-brainer bill of the year for Congress—the Appalachian Community Health Emergency Act (ACHE).
Given its 40-year rap sheet, and 20 peer-reviewed academic studies on the devastating health impacts of mountaintop removal, the job-killing mechanized form of strip mining that only provides 5-7 percent of all U.S. coal production, the ACHE Act simply asks Congress to do what it should have done back in 1971: Place a moratorium on new mountaintop removal mining operations while the first comprehensive federal study of the health dangers is conducted.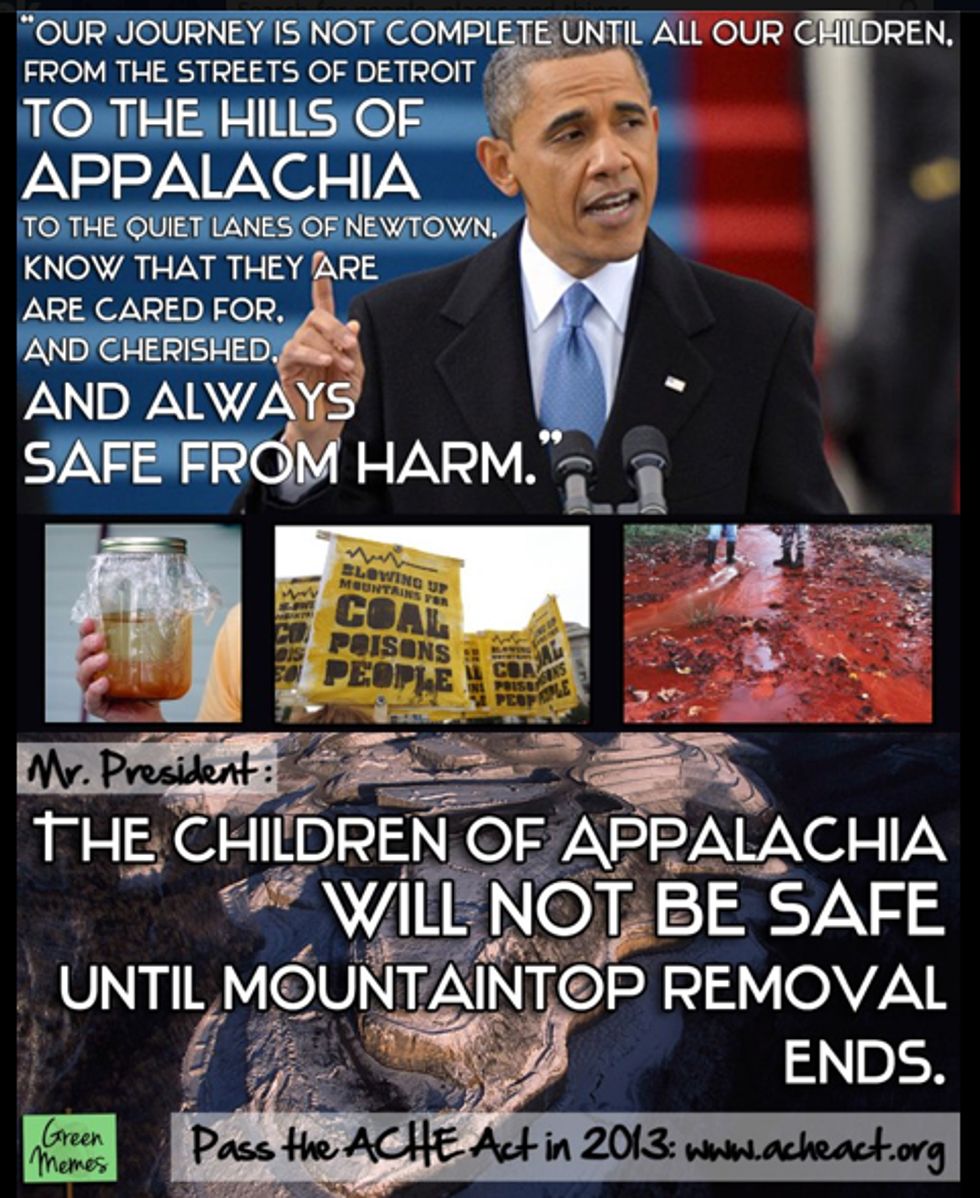 Yes, a no-brainer: Especially when Big Coal, like the Patriot Coal Company, now recognizes the health crisis from mountaintop removal and agrees to phase out large-scale operations, and support for the bill comes from big green groups like the Sierra Club and Earthjustice and religious groups like Christians for the Mountains.
Kentucky Rep. Yarmuth kept it simple: "If it can't be proven that mountaintop removal mining is safe, we shouldn't allow it to continue."
If President Obama and the U.S. Congress are committed to keeping the children in the hills of Appalachia—or the coal country on the Navajo Nation, the heartland and West, for that matter—"always safe from harm," as the President noted in his inaugural address last month, they need to wake up and deal with the daily reality of terrifying birth defect rates, cancer risks, chronic cardiovascular diseases and even fly rock on our nation's most vulnerable citizens—kids.
"The U.S. Geological Survey has advised us not to eat the vegetables or fruits from our gardens because toxic fallout from mountaintop removal blasting has contaminated our soil," said Laura Antrim Caskey, founder of Appalachia Watch, Rock Creek, West Virginia. "We need swift passage of the ACHE Act."
"I have fought the impacts of mountaintop removal (MTR) on my home and health for 18 years," added Maria Gunnoe, a West Virginia-based organizer with Ohio Valley Environmental Coalition, and the 2009 North American Goldman Prize recipient. "Now science is showing that it's killing me and my community, and Congress needs to listen. Cancer here is as common as the cold. The fact is this is not about who is winning; it is about who is dying from the violent impacts of mountaintop removal."
Rep. Slaughter, a New Yorker raised in Harlan County, Kentucky and the nation's only microbiologist serving in the US Congress, spelled it out:
"Every American has a right to live and work in a community free from environmental health risks. And it is our duty to ensure that this right is not infringed upon by industries that consider community health and environmental protection to be less important than their profit margins. Given the growing field of evidence that people living near mountaintop removal coal mining sites are at an elevated risk for a range of major health problems, we should place a moratorium on further mountaintop coal removal activity until we can ensure the health and safety of families in these communities."
Appalachia has not cornered the marketing on coal mining misery; industrial strip mining got its birth in my Illinois woods in the 1850s, and after 150 years of non-stop plunder of our farms, forests and communities the heartland is now facing an unabashed coal rush. Last month, Dine (Navajo) residents traveled to Peabody Energy headquarters to remind the nation of a half-century of destruction and corruption on Black Mesa. The largest strip mine in the East is now expanding unfettered by regulations across Indiana. The colossal Powder River Basin in the West is ramping up efforts to export to the Asian markets.
In the 20-odd states beholden to strip mining, Congress would be wise to create a Coalfields Regeneration Fund like Great Britain to jump start clean energy manufacturing and transition coal mining communities into a sustainable economy.
In the meantime, the ACHE Act is the first step in addressing the long-overdue health costs in Appalachia, and hopefully beyond.
"The failure to do so," as President Obama referred to the threat of climate change, "would betray our children and future generations."
Visit EcoWatch's MOUNTAINTOP REMOVAL page for more related news on this topic.
In Appalachia, children are 42 percent more likely to have birth defects if they live near a mountaintop removal coal mine.
More people are likely to die from cardiovascular disease, and 50 percent are more likely to die of cancer—if they live near one of these sites of utter destruction.
What if those were your loved ones? That is the question posed in a new video released today by Appalachian Voices with a strong message to President Obama: No more excuses. End mountaintop removal now. 
The two-minute video features children giving a basic science lesson about the health and environmental impacts of blowing up mountains and dumping the dirt and rubble into nearby headwater streams. The children describe how the explosions send huge clouds of dirt and dust in the air, and how the mining operations pollute drinking water sources.
"Arsenic, mercury, selenium, lead, magnesium, hydrogen sulfide …" are a few of the toxic compounds the children cite that contribute to a range of health impacts in the coal-mining regions of Appalachia.
The video was produced by Appalachian Voices for ILoveMountains.org, a campaign of a broad coalition of regional groups, the Alliance for Appalachia, to focus national attention on the tragedy of mountaintop removal, which has destroyed more than 500 of America's oldest mountains and buried or poisoned more than 2,000 miles of streams.
The video ends with the children directly addressing President Obama to tell him "No more excuses—end mountaintop removal. Now."  Viewers are directed to the ILoveMountains.org website where they can email the president, sign a petition and share the video. The website also links to a brochure summarizing more than 20 peer-reviewed studies concluding that mountaintop removal coal mining contributes to significantly higher rates of birth defects, cancer, cardiovascular and respiratory diseases in those communities.
Visit EcoWatch's MOUNTAINTOP REMOVAL page for more related news on this topic.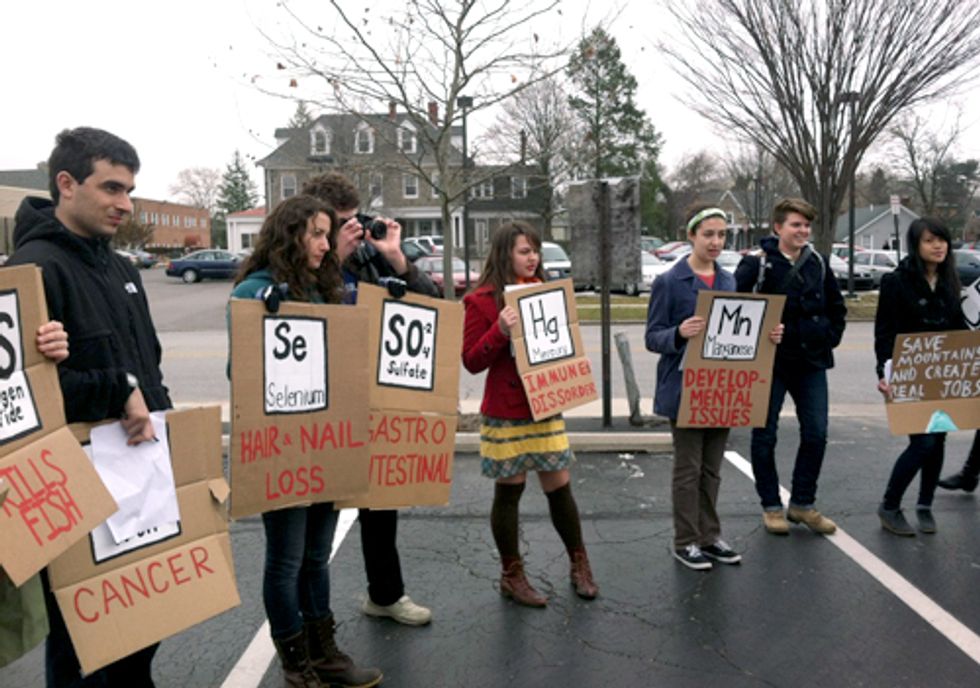 Quakers, students, and community activists held the largest coordinated action of their campaign at 15 PNC banks across the eastern seaboard yesterday as part of Earth Quaker Action Team's (EQAT) effort to end PNC's investments in a controversial strip mining practice known as mountaintop removal. At many locations, concerned community members brought samples of drinking water taken from a well in Eunice, West Virginia that had been contaminated by mountaintop removal operations financed by the bank.
Demonstrations included a banner drop over a highway in Morgantown, West Virginia, mock "taste tests" of contaminated water in Princeton New Jersey, a parade of toxic chemicals, a 15 person sit-in inside a bank in Bryn Mawr, Pennsylvania and more.
"PNC comes from a merger between Pittsburgh National and the Quaker Provident Bank," said Amy Ward Brimmer, executive director of EQAT. "So as Quakers, if PNC is going to advertise itself as a green bank, its important to us that they act with integrity and live up to their environmental commitments."
Mountaintop removal has destroyed more than 500 mountains in Appalachia and buried more than 2,000 miles of streams with toxic chemicals that have been linked to health conditions such as cancer.
"We know PNC can do better, and we are committed to using nonviolence to stand up for the people of Appalachia." said Bryn Mawr student Samantha Shain. "A full sector exclusion [on mountaintop removal investments] will bring Appalachia closer to having clean and safe drinking water for everyone."
Two years ago, in response to demonstrations by EQAT, PNC updated their Corporate Responsibility Report with a policy that prohibits investments in coal companies that source more than 50 percent of their coal from mountaintop removal. The policy, however, does not apply to any of the six largest mountaintop removal corporations that PNC does business with and has not significantly impacted PNC's investments in the industry, according to a report by Rainforest Action Network.
EQAT is a Quaker-based direct action group whose current campaign is Bank Like Appalachia Matters. To support their goals, EQAT has organized an initiative encouraging individuals, Quaker meetings and institutions to remove their money from PNC until the bank commits to a sector exclusion on investments in corporations that practice mountaintop removal.
Actions occurred at PNC Bank branches in:
New Castle County, DE
Princeton, NJ
Bala Cynwyd, PA
North Philadelphia, PA
Media, PA
Harrisburg, PA
West Chester, PA
Washington, DC
Bryn Mawr College, PA
Swarthmore College, PA
Pittsburgh, PA
Center City, Philadelphia, PA
Bloomsberg, PA
Morgantown University, WV
Cincinnati University, OH
Visit EcoWatch's MOUNTAINTOP REMOVAL page for more related news on this topic.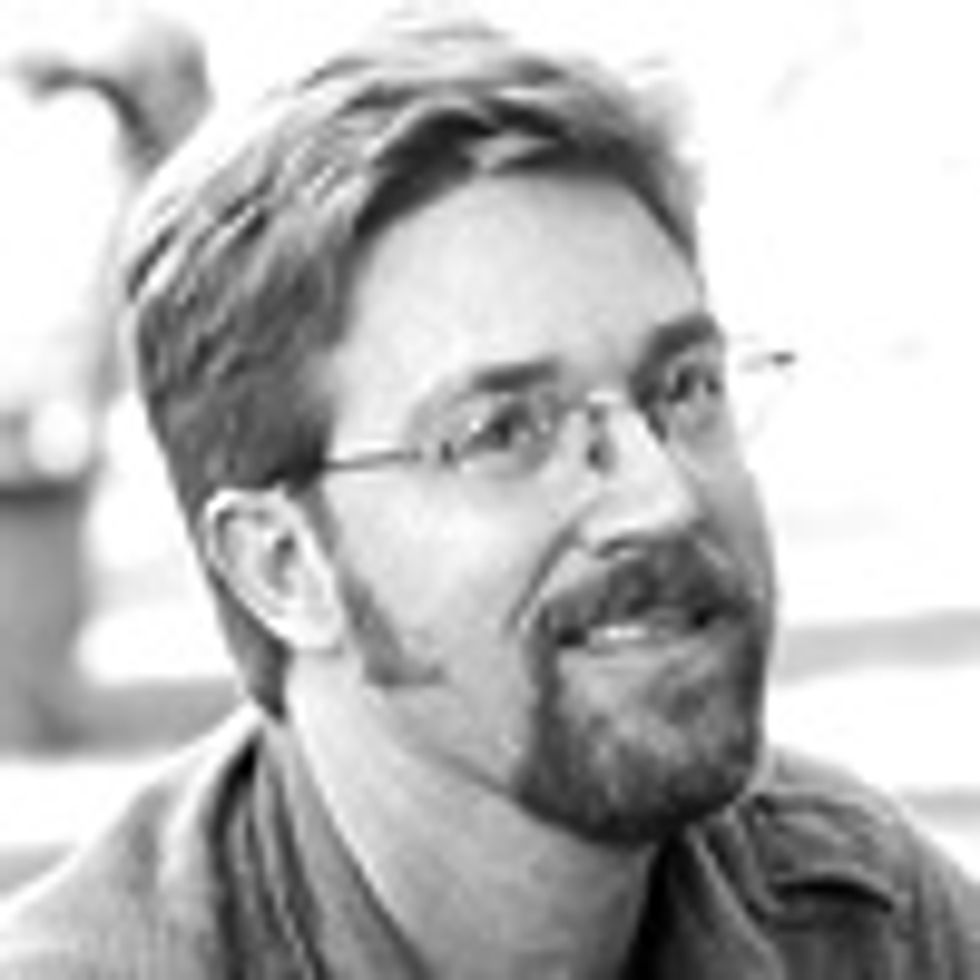 St. Louis-based Arch Coal obviously didn't get the memo last week. 
As fellow absentee coal company Patriot announced its intentions to phase out large scale strip mining operations in central Appalachia, and a renewed effort was launched in Washington, DC to get Congress and the White House to deal with the mounting health and humanitarian crisis and pass the ACHE Act—Appalachian Communities Health Emergency Act—moratorium on all mountaintop removal, Arch displayed its Big Coal hubris by moving forth with a permit application to strip mine the historic confines of Blair Mountain in West Virginia.
Another Blair Mountain Thanksgiving, another outlandish, toxic and unnecessary strip mining permit to fight in an area that virtually every historian and archaeologist and coal miner considers to be one of the most important and sacred sites for labor history—the site of largest armed insurrection for labor rights in the country.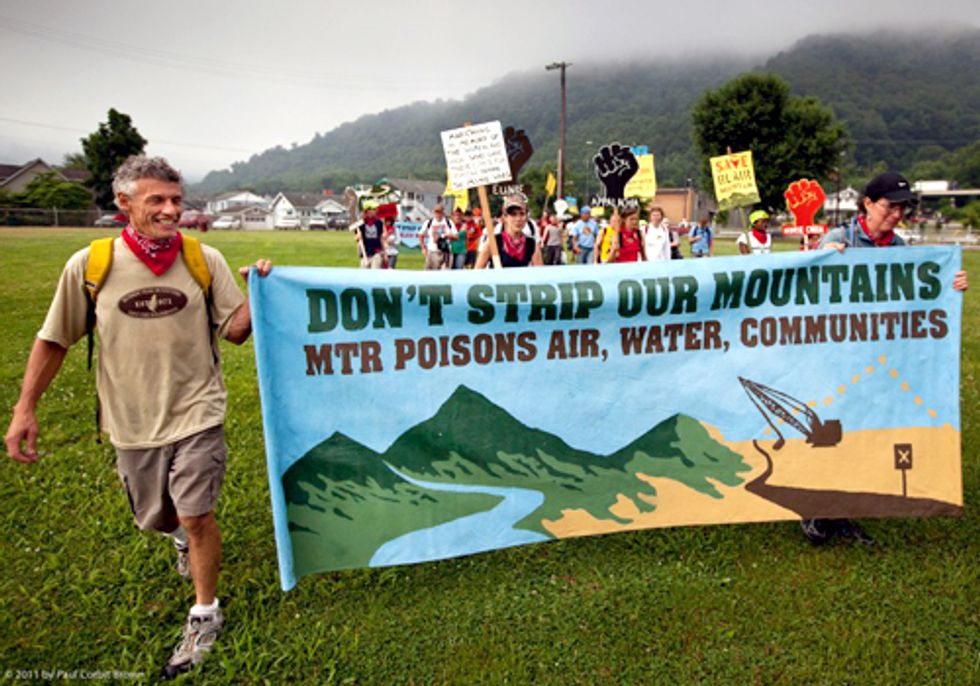 Residents in the Blair Mountain region need you to speak now against the destruction of their history—and their health and livelihood.
Here's a link to the writing letter campaign to the West Virginia Department of Environmental Protection on the proposed permit, which is due at the end of this week.
"The Adkins Fork permit would destroy one of the most important areas of the battlefield," said Brandon Nida, an archaeologist from UC Berkeley and organizer with the Blair Mountain Heritage Alliance located in Blair. "From archaeological surveys, this is the one of the only areas we positively know was occupied by the miners. We've found ammunition from the miners, we know where they fought and died. This is some of the most hallowed ground in labor history."
Earlier this spring, West Virginia-raised Nida gave an overview of Blair Mountain and its historical significance and the latest battle against Arch Coal.
"This permit adds to the cumulative impacts for the Spruce Fork watershed which has an estimated 17,000 acres permitted or with current operations," said Kenneth King, a local resident who has worked to preserve Blair Mountain for the last twenty years. "And it's not just the environment, I'm also really concerned about how this is going to affect people's health."
King cited numerous peer-reviewed health studies linking mountaintop removal mining to health hazards and risks, including rare forms of cancer, respiratory issues, and birth defects.
Here's a video overview of the campaign, featuring local resident King:
King added: "We need everyone to write in, but that is just the first step. This is going to be a tough campaign against one of the largest coal companies in the world. We need people to stay involved as we take this campaign to the national level."
Visit EcoWatch's MOUNTAINTOP REMOVAL page for more related news on this topic.
Call it a moment of truth for Big Coal—and a small crack in the wall of denial for the U.S. Congress and the White House.
On the cliff of bankruptcy, St. Louis-based Patriot Coal Corporation agreed this week to a settlement to phase out its large-scale strip mining and mountaintop removal operations in central Appalachia.  Even more importantly, Patriot became the first coal company to admit "our mining operations impact the communities in which we operate in significant ways, and we are committed to maximizing the benefits of this agreement for our stakeholders, including our employees and neighbors."
That's not quite a full admission of Big Coal's role in the mounting humanitarian crisis from mountaintop removal, but the action by Patriot, engineered in a court settlement thanks to the extraordinary work of the Ohio Valley Environmental Coalition, West Virginia Highlands Conservancy, Appalachian Mountain Advocates and the Sierra Club, is an important step toward abolishing the 40-year nightmare of mountaintop removal.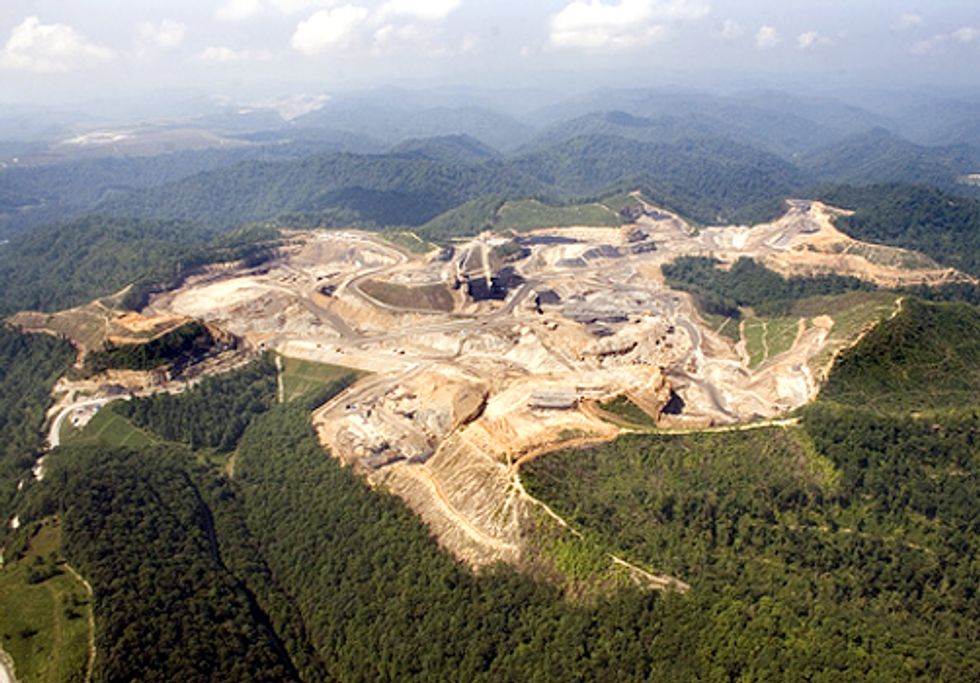 Photo courtesy of Appalachian Voices flight courtesy of SouthWings. Photo by Kent Kessinger
In a line: If Big Coal recognizes the damages of mountaintop removal and agrees to phase it out, isn't it time for the U.S. Congress and President Obama to bring an end to the most egregious environmental and human rights violation in the nation?
For those living amid the toxic fallout of massive strip mining and mountaintop removal operations in central Appalachia, which provides less than five percent of national coal production, the time has come to pass the ACHE Act, the historic bill that calls for "a moratorium on permitting for mountaintop removal coal mining until health studies are conducted by the Department of Health and Human Services."
"I pray this action by Patriot Coal to halt the impact of man's destructive abomination upon God's creation might serve as a catalyst for the U.S. Congress to expedite the enactment of HR 5959," said Mickey McCoy, ACHE coordinator for Kentucky, "reducing cancer death rates and birth defects of children within the human race who reside in Appalachia."
"For a company to admit that it's harming the community is a major step, but we can't wait for all the companies to end mountaintop removal out of the goodness of their hearts," said Debbie Jarrell of Coal River Mountain Watch in West Virginia. "Citizens have pleaded with Alpha Natural Resources, Arch Coal and others for decades to stop this abominable practice, but our pleas have fallen on deaf ears and government agencies have not ended the practice. I worry for my grandchildren's health and for the health of everyone in the community. Patriot is showing that a company doesn't have to threaten its neighbors' health and that mountaintop removal is unnecessary."
In a released statement yesterday, ACHE campaign coordinator Bo Webb added:
"We greatly appreciate the inimitable work of Appalmad, Sierra Club, OVEC and WVHC in bringing about this significant move. However, we cannot afford to rest.  Health damage continues to climb as Alpha Natural Resources and other coal companies persist in blasting mountains to ashes, spreading silica dust and elevated levels of PAH toxins across our communities, contaminating our air, our water and our garden soils. This admission and action by Patriot Coal is a clear mandate to the US Congress to immediately pass the ACHE Act into law; providing an immediate pause on all new mountaintop removal permits and a health study to address the effects of MTR on human beings. Until then, mountaintop removers will continue to jeopardize thousands of citizens' lives while state agencies do nothing to protect us. We've been exposed to hazards such as toxic blasting dust for years, and are now experiencing the long term health impacts. I'm tired of watching my family and neighbors die."
The ACHE Act, HR 5959, would place an immediate moratorium on new or expanding mountaintop removal permits until the federal government completes health studies proving that the practice does not endanger human health. Fourteen original co-sponsors introduced the ACHE Act in the U.S. House of Representatives in June; it now has 27 cosponsors.
According to the ACHE campaign, the bill's co-sponsor U.S. Representative Louise M. Slaughter (NY-28), a native of Harlan County, Kentucky, added to the call for real action by Congress: "When industry representatives admit to the dangers of mountaintop removal mining, there can be no more excuse for inaction or delay.  The Appalachian community has fought hard for today's settlement. It is high-time that the federal government join the fight to end mountain top removal and protect additional Appalachian communities from similar threats to the environment and public health."
Now it's time for the U.S. Congress and the White House to respond.
Visit EcoWatch's MOUNTAINTOP REMOVAL page for more related news on this topic.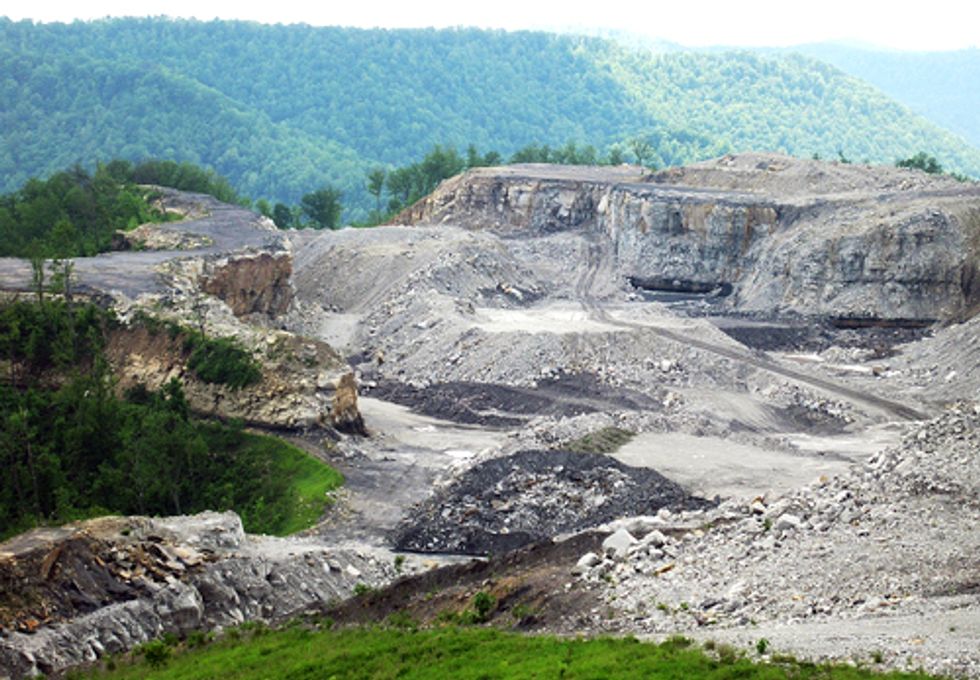 Today, Patriot Coal Corporation (NYSE: PCX) announced its intention to immediately begin phasing out all large scale surface mining in Appalachia. The announcement follows an historic agreement with the Sierra Club, Ohio Valley Environmental Coalition and the West Virginia Highlands Conservancy, represented by attorneys from Appalachian Mountain Advocates.
Patriot, which filed for Chapter 11 Bankruptcy on July 9, sought approval from the groups for an extension to the schedule under which the company is required–pursuant to a court order and settlement resolving prior litigation with the groups–to install expensive pollution controls at several mines in West Virginia. Astonishingly, along with its commitment to end large scale surface mining in the region, the company also acknowledged the impact this destructive form of mining has on local communities and announced its commitment to reduce its environmental footprint. Patriot is among the largest mountaintop removal coal mine operators in Appalachia.
"This is an historic moment for people hardest hit by mountaintop removal coal mining," said Michael Brune, executive director of the Sierra Club. "Tens of thousands of people have worked tirelessly to put an end to this destructive process, and today's agreement is a major step towards ending this abhorrent form of mining and repairing the damage done to communities and ecosystems across the region. Patriot Coal may be the first company to cease mountaintop removal mining but, because of the tireless efforts of committed volunteers and community organizations, it certainly won't be the last."
The agreement requires Patriot to move away from, and ultimately cease, mountaintop removal and all other forms of large-scale surface mining in Appalachia. In return, Patriot will be granted additional time to install selenium treatment at several of its mines. Patriot will also retire significant infrastructure required to perform mountaintop removal mining, including the dragline at its Catenary mine complex, which will be retired immediately, and the dragline at its Hobet mine complex, which will be retired in 2015.
Patriot will also withdraw two applications for Clean Water Act section 404 valley fill permits currently pending before the Army Corps of Engineers, and will surrender its remaining rights under a third permit. These section 404 permits allow companies to dump the waste from mountaintop removal mines into valleys, burying streams and headwaters that are critical to local biodiversity. Further, Patriot has committed to not apply for any additional large-scale surface mine permits, has agreed to not open any new stand-alone surface mines and will only conduct small scale surface mining in conjunction with existing and planned underground mining. The agreement allows Patriot to move forward with its plans to open one new metallurgical coal mine for which a section 404 permit application is pending, but preserves the right of the groups to challenge that permit in the event that the U.S. Environmental Protection Agency identifies water quality concerns with the permit. Patriot will also donate $500,000 to a West Virginia nonprofit organization to be identified by the parties.
Patriot has issued the following statement:
"Patriot Coal has concluded that the continuation or expansion of surface mining, particularly large scale surface mining of the type common in central Appalachia, is not in its long term interests. Today's proposed settlement commits Patriot Coal to phase out and permanently exit large scale surface mining and transition our business primarily toward underground mining and related small scale surface mining. Patriot Coal recognizes that our mining operations impact the communities in which we operate in significant ways, and we are committed to maximizing the benefits of this agreement for our stakeholders, including our employees and neighbors. We believe the proposed settlement will result in a reduction of our environmental footprint. This settlement is consistent with Patriot Coal's business plan to focus capital on expanding higher margin metallurgical coal production and limiting thermal coal investments to selective opportunities where geologic and regulatory risks are minimized. Patriot Coal urges the Court to approve the settlement because it strengthens the Company's ability to continue operating with our nearly 4000 employees, and significantly increases the likelihood that we will emerge from the chapter 11 process as a viable business, able to satisfy our environmental and other obligations."
"It's heartening any day we learn that a major player decides that mountaintop removal is not in the best interest—of the company or of our mountains, streams, and communities," said Jim Sconyers, chair of the West Virginia Sierra Club. "We look forward to the day when full implementation of this agreement is achieved."
In return, Sierra Club, Ohio Valley Environmental Coalition, and the West Virginia Highlands Conservancy have agreed to file a joint motion with Patriot that will extend the time the company is allowed to comply with court ordered selenium controls at the Hobet mine by 15 months. The coalition will also allow Patriot to extend the date of compliance for selenium treatment at 42 other outlets at other mines and facilities by 12 months.
"We've been saying for many years that if companies had to pay the real costs of mountaintop removal, it would not be economically feasible," said Cindy Rank of the West Virginia Highlands Conservancy. "Hopefully, it's now become clear that when coal companies are required to prevent illegal selenium pollution and pay the costs for cleanup themselves it's simply doesn't make economic sense to continue this destructive form of mining."
"We hope that this agreement, while holding Patriot responsible for its legacy of mining pollution, puts the company in a strong enough financial condition through its underground mining that it can honor its obligations to its retirees and workers," said Dianne Bady of the Ohio Valley Environmental Coalition.
The Sierra Club, Ohio Valley Environmental Coalition, and the West Virginia Highlands Conservancy were represented in the matter by Joe Lovett and Derek Teaney of Appalachian Mountain Advocates. The agreement was announced during a proceeding before Judge Robert Chambers of the U.S. District Court for the Southern District of West Virginia.
Visit EcoWatch's MOUNTAINTOP REMOVAL page for more related news on this topic.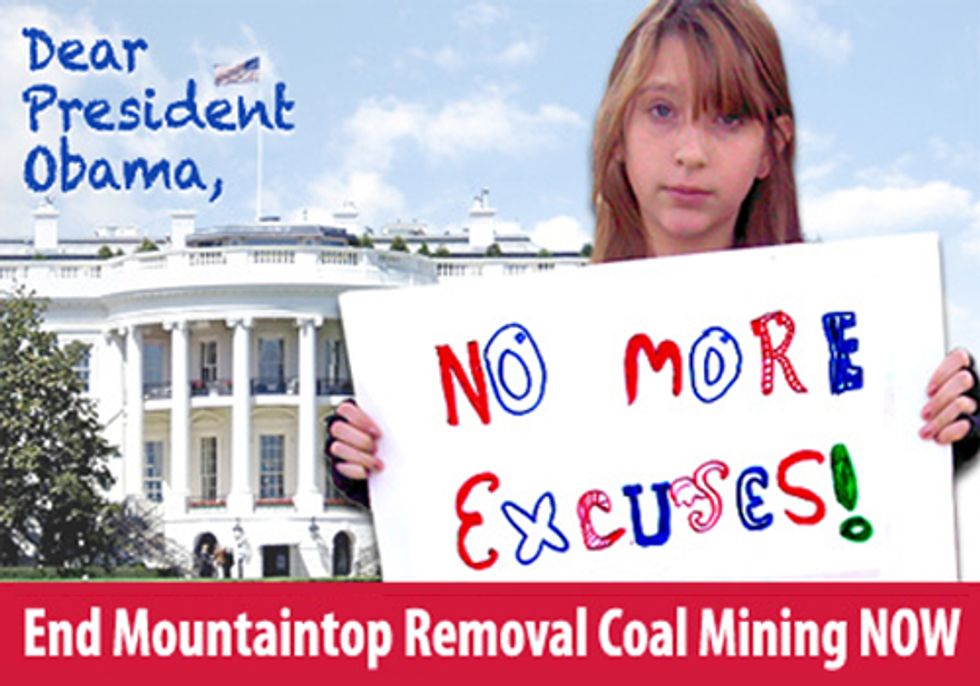 This week, the American people gave Barack Obama four more years to demonstrate his leadership of our nation. We congratulate the President on his victory, but also must hold him accountable to his promise to lead based on science and fact.
With that in mind, we're reminding President Obama that there are no excuses to legitimize the destruction of the Appalachian Mountains—and there never have been.
After Obama was elected in 2008, he said:
"Science holds the key to our survival as a planet and our security and prosperity as a nation ... It's about listening to what our scientists have to say, even when it's inconvenient—especially when it's inconvenient."
But four years later, after more than 20 new scientific studies have been published linking mountaintop removal mining to health problems including significantly higher rates of cancer, heart disease and birth defects in Appalachia, the administration continues to approve permits for mountaintop removal mines.
To date, more than 100,000 people, have pledged to end mountaintop removal coal mining. Now it's time to make our voices even louder.
Over the next few months, as the President begins his second term and a new Congress comes to session, we will be ramping up our efforts to put a definitive end to mountaintop removal coal mining. But we can't do it without you.
We know it won't happen overnight, and that's why we need you to recommit your efforts, recruit your friends and get involved like you never have before.
Stand up for the mountains and communities of Appalachia today. Send a strong message to President Obama: No More Excuses, End Mountaintop Removal!
Visit EcoWatch's MOUNTAINTOP REMOVAL page for more related news on this topic.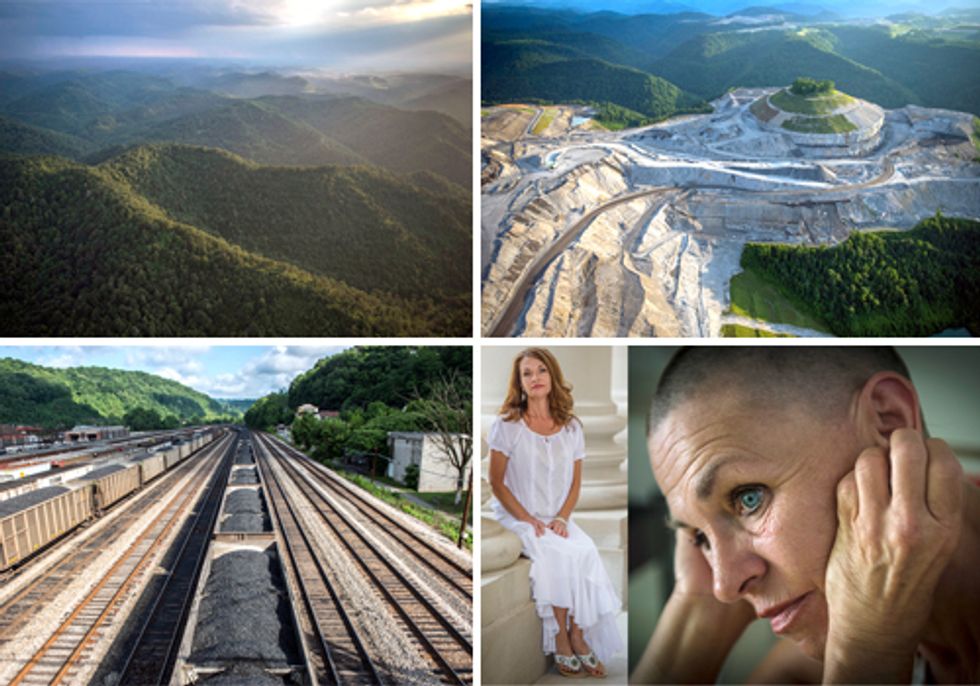 Today the Sierra Club and Sierra Magazine released a photography project examining the effects of coal on the lives of everyday Americans. The feature, Cost of Coal, follows the life-cycle of coal, using sharp, poignant images to show the impact coal mining, burning and disposal has on families across the country.
The Cost of Coal project includes an 18-page photo spread (see a sampling of the photo essay below) in the November/December issue of Sierra, accompanied by a new, interactive website with more than 100 powerful photos and videos of individuals affected by coal. Sierra Magazine partnered with renowned photojournalist Ami Vitale to visit communities in West Virginia, Michigan and Nevada, and document firsthand the devastating consequences of coal on their lives. Through her captivating images, readers learn about the effects of mountaintop removal mining on a husband and wife in Appalachia, coal burning on the health of a family in Detroit and coal ash waste disposal on the entire Moapa Band of Paiutes community in Nevada.
Visitors to the Cost of Coal website can browse through slideshows, organized by location and story. Readers can also take action to help support solutions that would curb the dangerous mining, burning and waste disposal practices described in the article.
"Through the words and images of people most affected by coal pollution, the new Cost of Coal photo series puts a human face on the very real suffering caused by coal mining, coal-fired power plants, and coal waste," said Mary Anne Hitt, director of the Sierra Club's Beyond Coal campaign. "Thanks to these powerful images and stories, readers can now see for themselves how Americans across the country must cope with the devastating effects of coal on their health and their communities, as they live in the shadow of King Coal."
"Even though coal is what powers many of our homes, I had never seen coal in real life until I started on this project" said Ami Vitale, the award-winning photojournalist behind Cost of Coal. "I was so moved by meeting the people whose lives have been so deeply impacted by coal and by hearing their stories, that the first thing I did when I came home after shooting this story was to put solar panels up on the roof."
"This photo feature may be one of the most powerful stories we've ever done," said Sierra magazine executive editor Steve Hawk. "Our goal was to turn the camera away from wonky discussions about things like CO2 emissions and climate disruption, and focus instead on the immediate human costs of coal. I'm proud to be part of a project that, I hope, touches people on an emotional level through words, photos and video."
Visit EcoWatch's COAL pages for more related news on this topic.
--------
West Virginia
Mountaintop-removal mines in Appalachia have demolished an estimated 1.4 million acres of forested hills, buried an estimated 2,000 miles of streams, poisoned drinking water, and wiped whole towns from the map. Lindytown, West Virginia, once home to dozens of families, is now an isolated, lonely place, with only one original family remaining; everyone else sold out to Massey Energy (now Alpha Natural Resources), which was laying waste to a nearby mountain. West of Lindytown, a mountaintop-removal mine caused the population of Blair to fall from 700 people in the 1990s to fewer than 50 today, according to the Blair Mountain Heritage Alliance.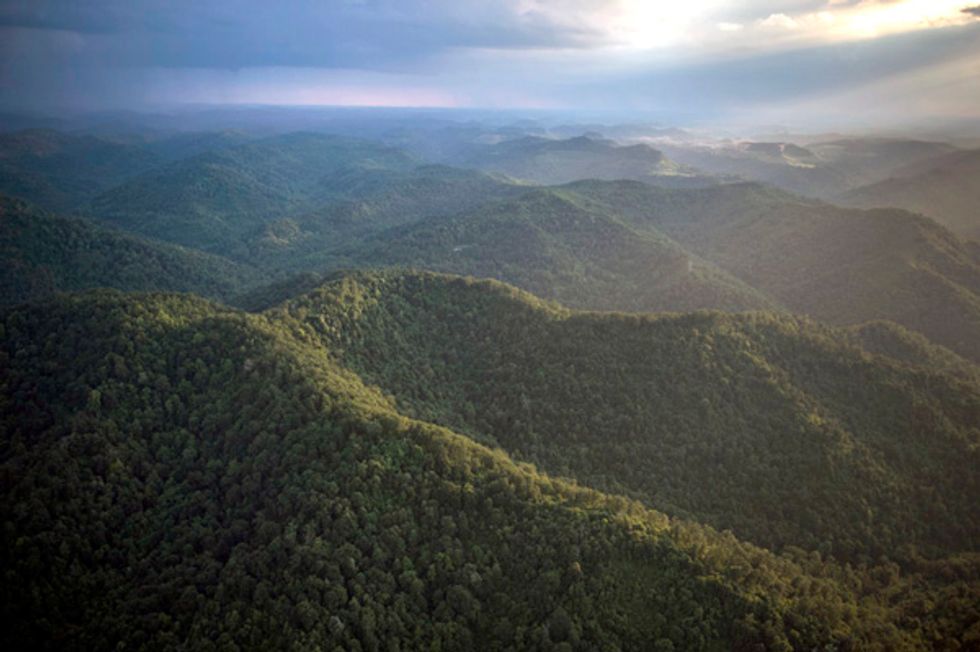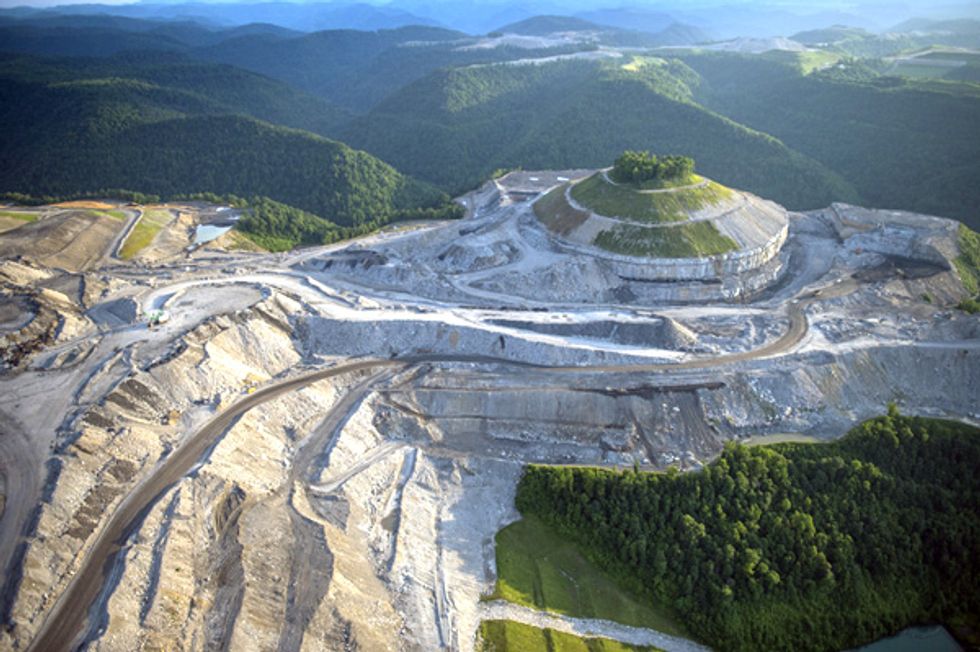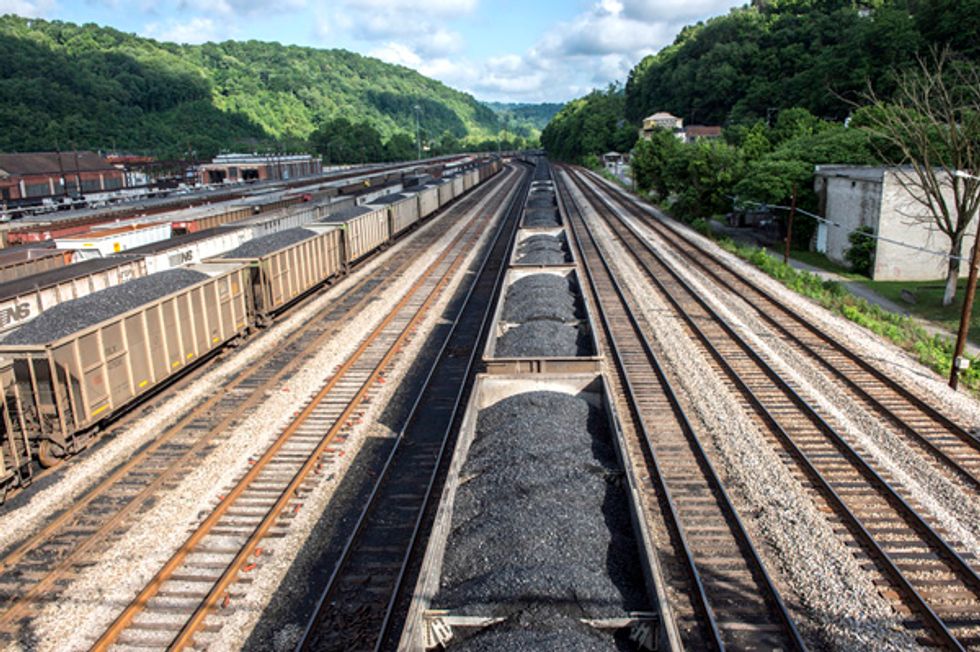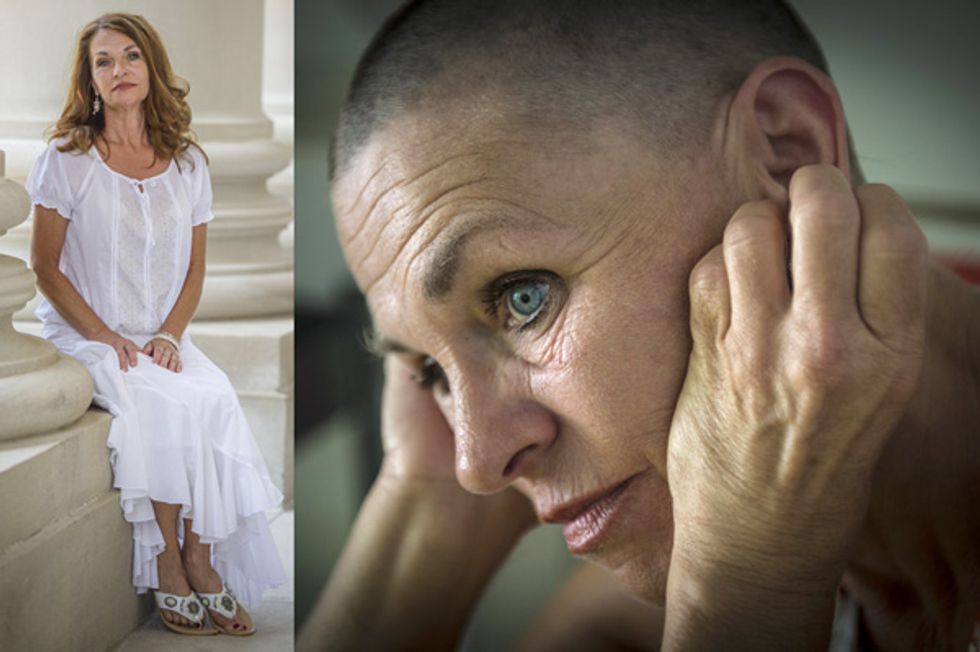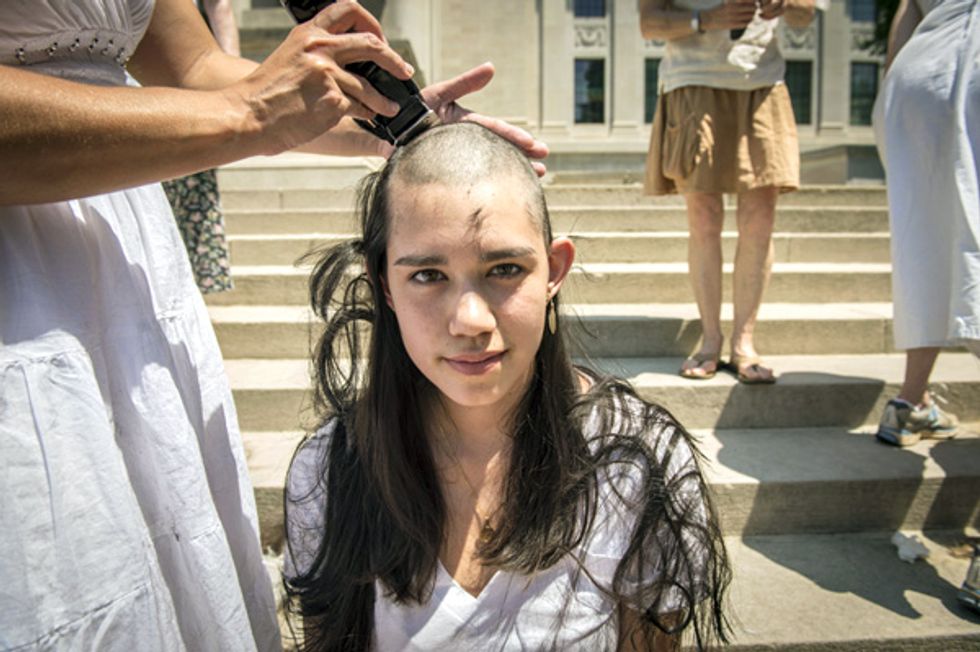 Michigan
For generations, people in River Rouge, Michigan, have lived within sniffing distance of a coal-fired power plant, an oil refinery, a sewage-treatment plant, a steel mill, and other industrial polluters. No studies have precisely measured the cumulative health impacts of those operations on nearby residents, but in 2004 the nonprofit Clean Air Task Force calculated that particulate pollution from coal combustion at the River Rouge Power Plant alone (one of nearly 400 coal-fired plants still in operation nationwide) is annually responsible for 44 deaths, 72 heart attacks and 700 asthma attacks in the surrounding community.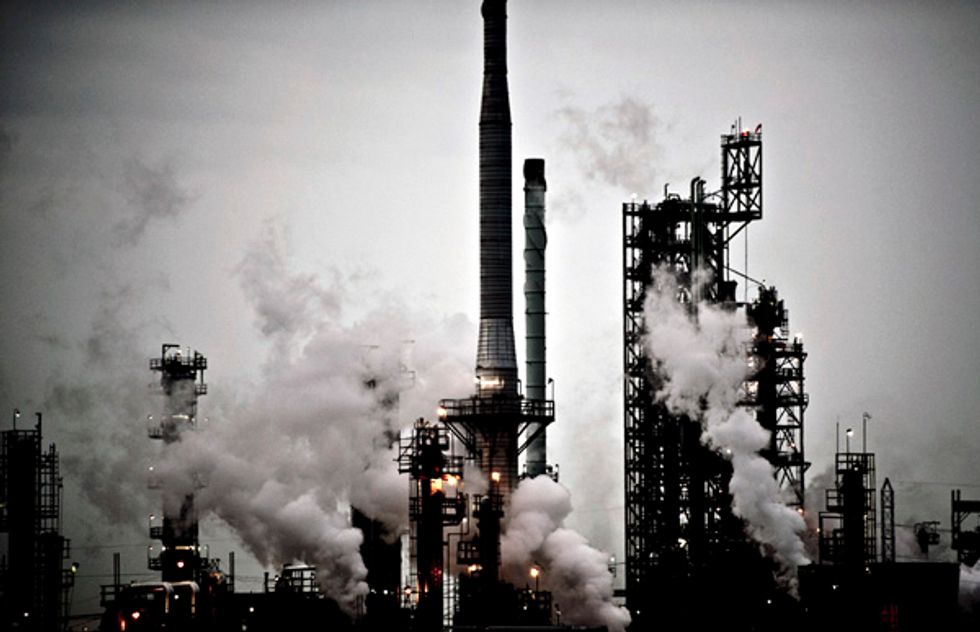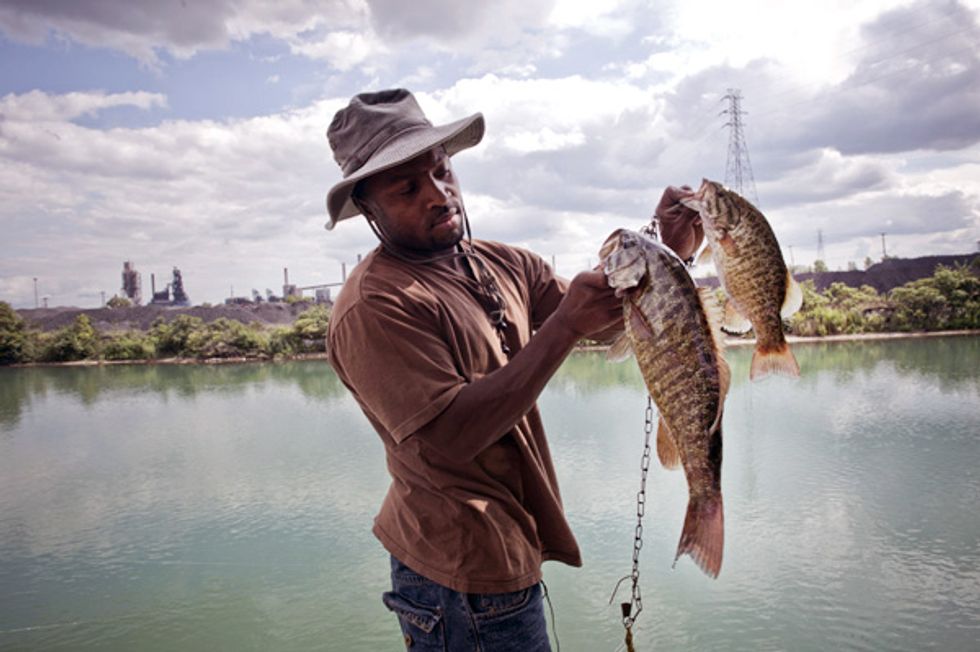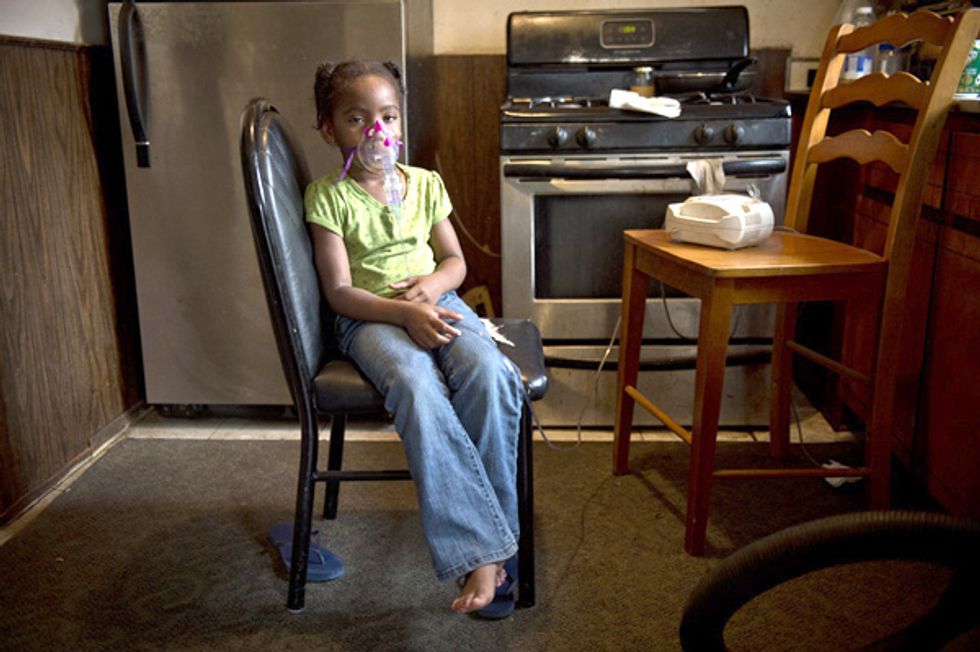 Nevada
Since 1965 the coal-fired Reid Gardner Generating Station, about 50 miles northeast of Las Vegas, has dumped its combustion waste into uncovered "ponds" beside the Moapa Band of Paiutes Reservation. Tribal members believe that the coal ash—which contains mercury, arsenic, selenium, and other toxins and blows into their village in dust storms—has caused asthma attacks, cancer, heart disease, and many premature deaths among the 200 residents there. More than 1,100 coal-ash sites exist nationwide; none is subject to federal regulation.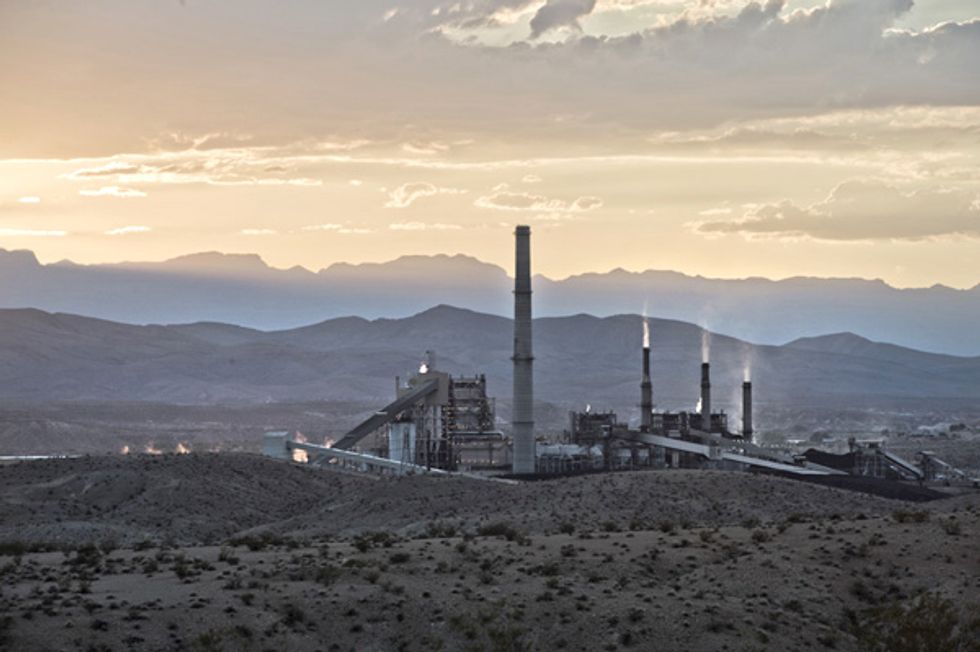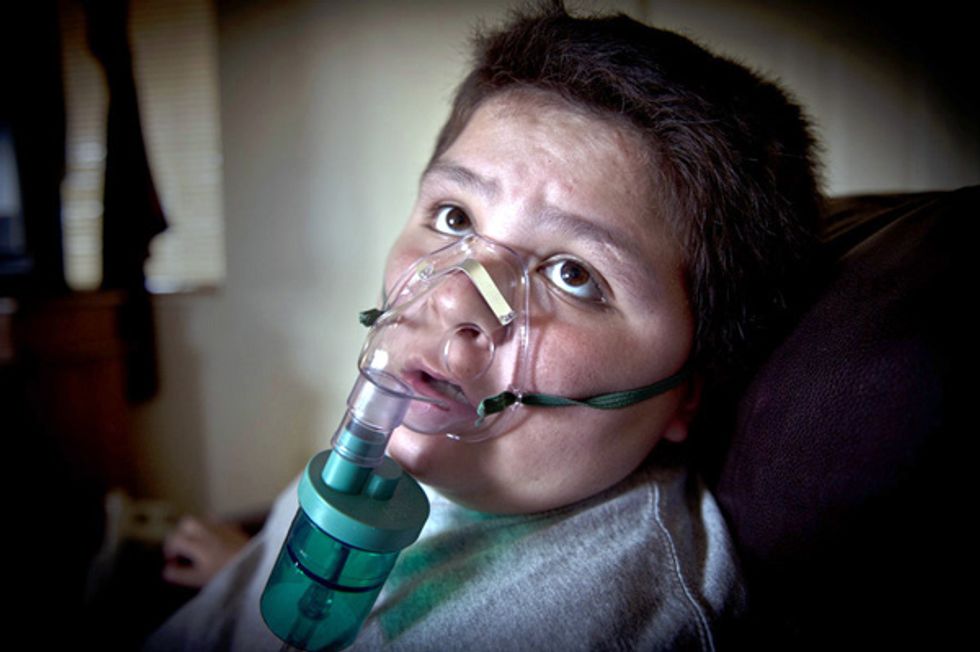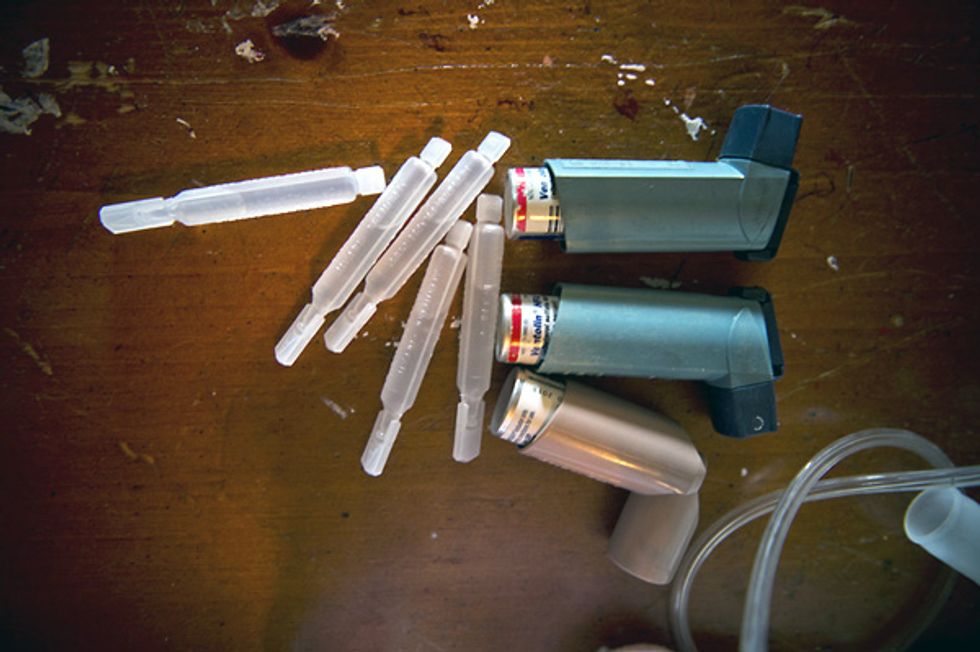 To read the full article and see the complete slide show and video library, visit the Cost of Coal website.

Visit EcoWatch's COAL page for more related news on this topic.
By Donna Lisenby
Waterkeeper Alliance joined hundreds  of people today to stand in solidarity with Appalachia in front of the White House to tell President Obama to be a hero and end mountaintop removal coal mining.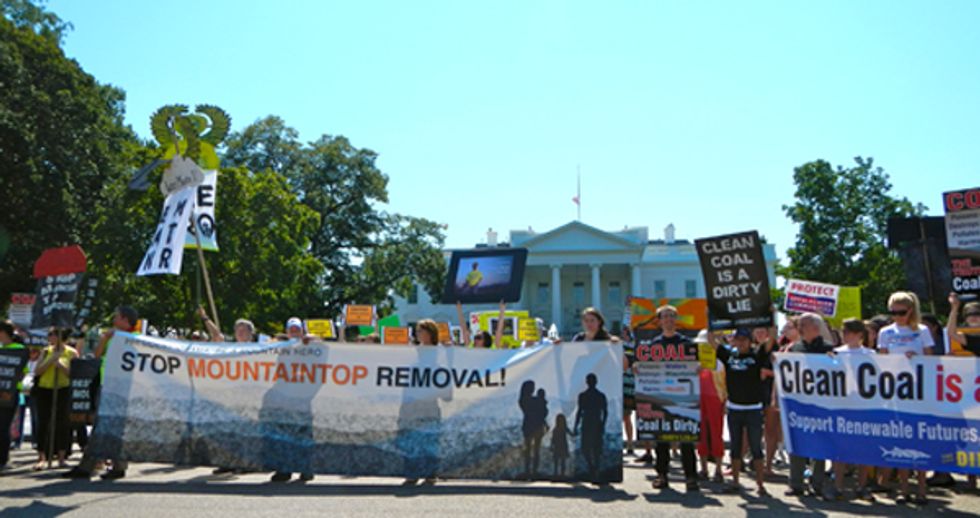 The Summer of Solidarity event began with a rally in Lafayette Park in Washington, DC where speakers spoke passionately about the urgent need to shift towards clean energy and away from extreme forms of dirty energy like coal which poisons our waters, destroys our mountains, pollutes our air and harms our health.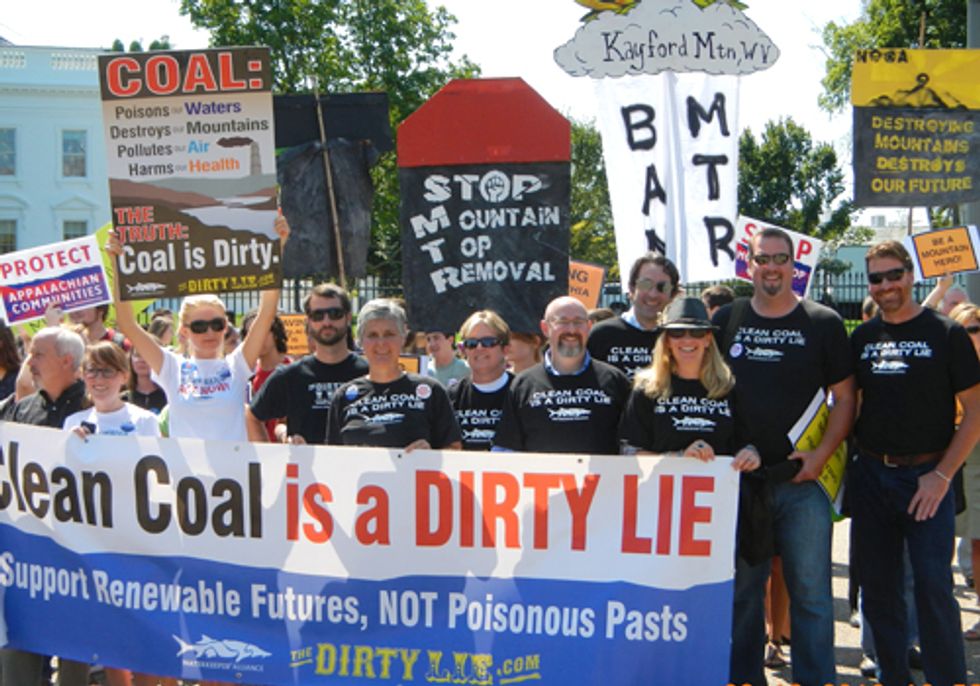 Many speakers invoked the memory of mountain hero Larry Gibson who passed away on Sunday, Sept. 9. Activists carried Larry's fighting spirit to the White House's Council on Environmental Quality by delivering more than 13,000 personal photos and messages urging president Obama to end mountaintop removal coal mining.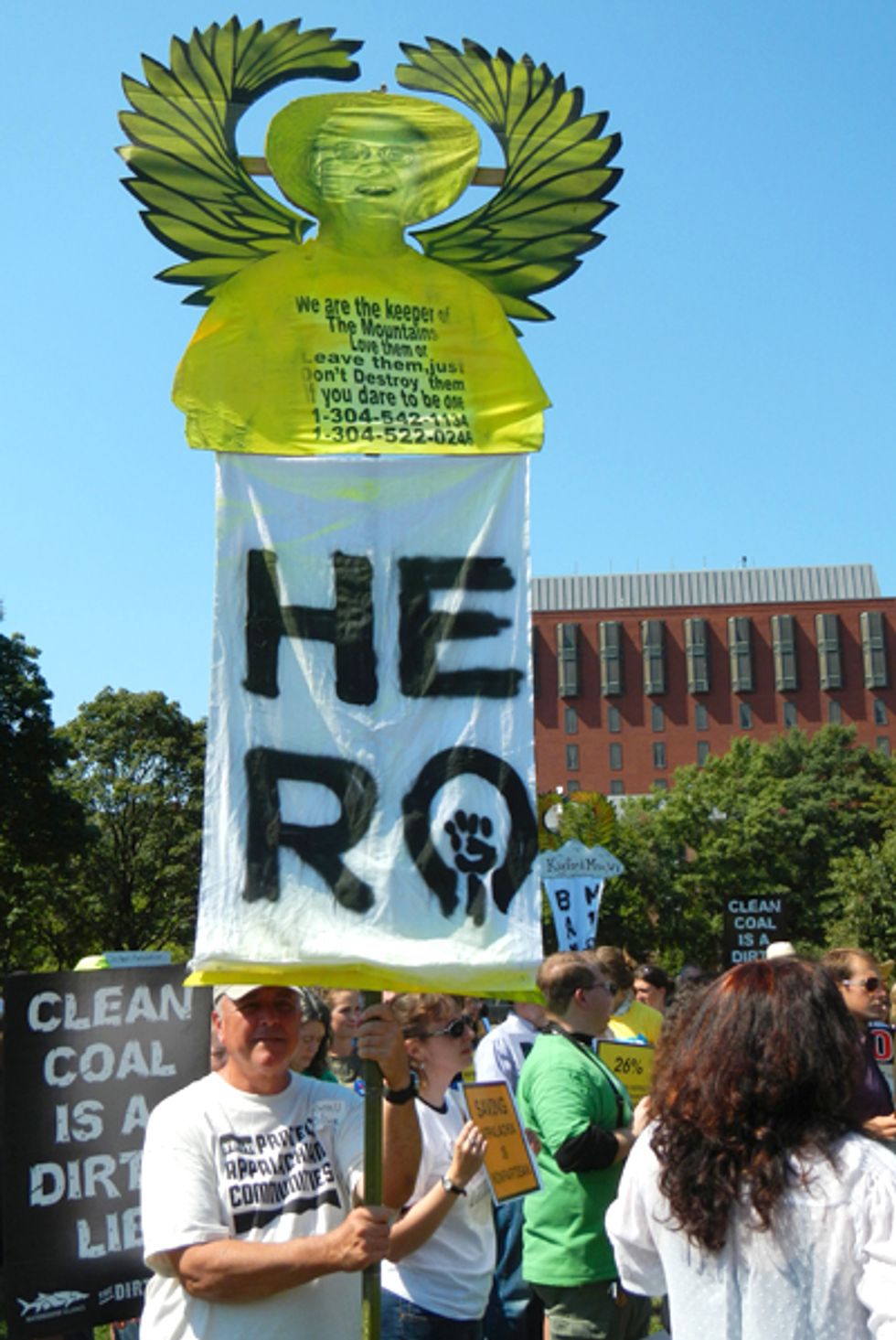 Each of the 13,000 messages decried this radical form of strip mining in Appalachia that has impacted more than 500 mountains and buried more than 2,400 miles of streams. Recent peer-reviewed scientific studies have shown widespread devastating health problems near mountaintop removal mining: citizens near mountaintop removal are 50 percent more likely to die of cancer and 42 percent more likely to be born with birth defects as compared with other people in Appalachia.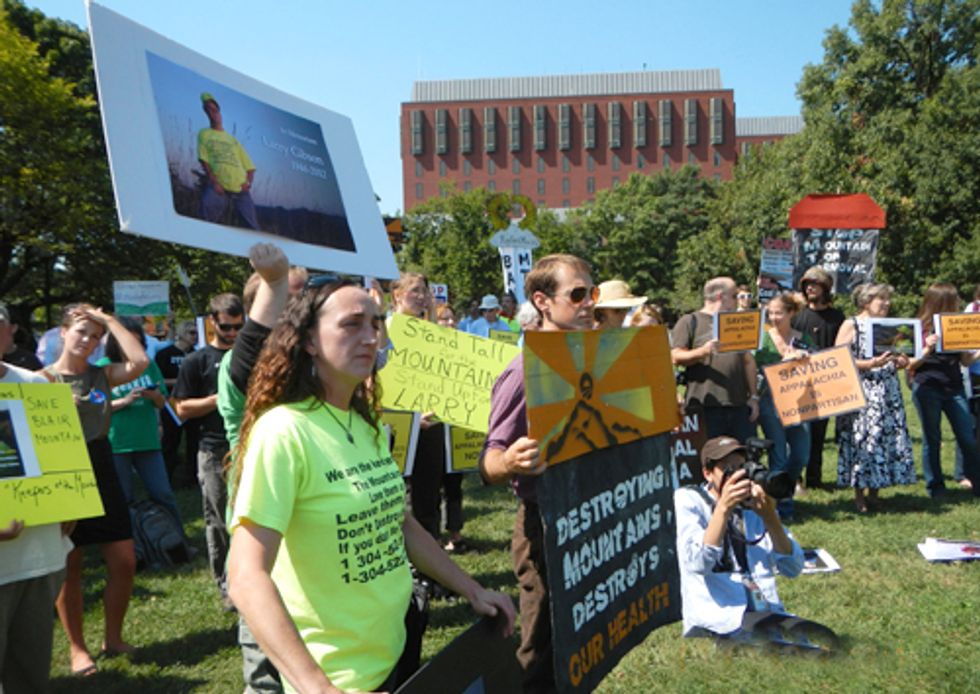 When learning of about Larry Gibson's death on Sunday Waterkeeper Alliance president Robert F. Kennedy, Jr. stated, "My uncle, President Kennedy, said that, 'moral courage is a far greater commodity than physical courage.' Larry Gibson had extraordinary physical courage with standing arrests, beatings, bullets, dog kills, car chases and attacks on his home–but he was the Achilles of moral courage. He stood up for all of us and for American democracy against the apocalyptical forces of ignorance and greed. The coal companies tried to crush him but it could never subvert his integrity or spirit.  Larry was our leader in the coal fields and he died with his boots on."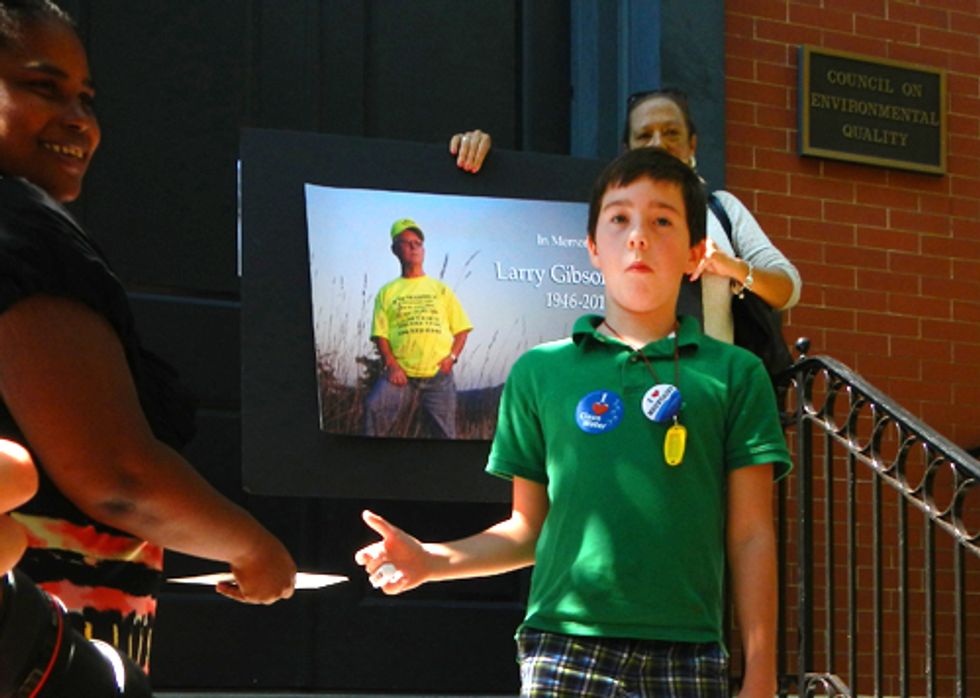 Participating Organizations in the Summer of Solidarity Event at the White House included:
Earthjustice • Ohio Valley Environmental Coalition • Kentuckians For The Commonwealth • Coal River Mountain Watch • Christians For The Mountains • Keeper of the Mountains Foundation • Statewide Organizing for Community eMpowerment • Appalachian Voices • Greater Washington Interfaith Power & Light • The Sierra Club • Waterkeeper Alliance • Natural Resources Defense Council (NRDC) • Chesapeake Climate Action Network • Energy Action Coalition • 350.org • Center for Biological Diversity • Rainforest Action Network
Visit EcoWatch's MOUNTAINTOP REMOVAL page for more related news on this topic.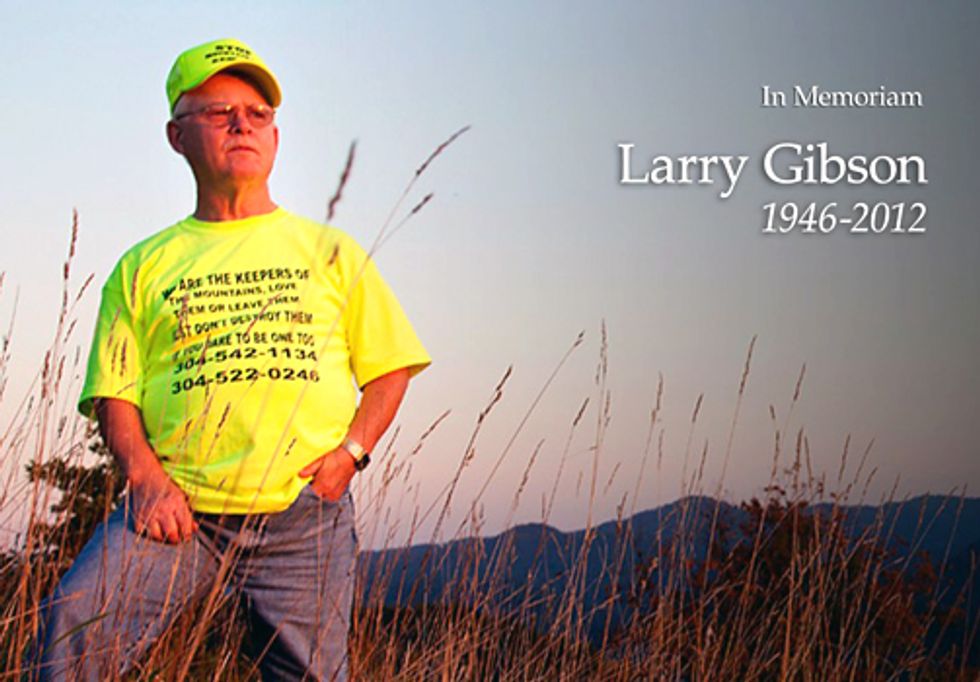 The Summer of Solidarity is making history as citizens from coast to coast rise up to demand an end to extreme forms of dirty energy and a transition to a safe, prosperous, clean energy future for all of us.
The momentum continues this fall as people join with Appalachian citizens, Mountain Heroes, Appalachian community groups, environmental organizations, clean water defenders, faith community leaders and voices for social justice to call for an end to the destructive practices of mountaintop removal coal mining.
On Thursday, Sept. 13 from Noon to 1:30 p.m., at Lafayette Park in front of the White House, stand in solidarity with Appalachians who are working to defend their health, families, waters and communities from this ruinous mining practice.
Later that evening, join concerned citizens and brave leaders for an evening solidarity program of storytelling on courage, faith and community at the All Souls Church—1500 Harvard St. NW, Washington DC 20009—from 7:30 to 9 p.m. Join us as spiritual leaders from across many faith traditions sew a common thread in the work to save mountains and people, and mountain heroes from the hollows of Appalachia share their stories of resilience and courage.
On Sunday, Sept. 9, the movement to end mountaintop removal mining and the environmental justice movement at large lost one of its most dedicated and inspired leaders, Larry Gibson. Larry was excited to be a part of this event and was deeply involved in the planning of it. He felt it was very important that we stand in solidarity with Appalachia right now and call on all of our nation's leaders—regardless of political party—to protect justice, human rights, clean water and mountains in Appalachia. Larry dedicated 30 years to this work, and he never gave up on this fight. On Thursday, Sept. 13, we will dedicate this solidarity event to him and his indomitable spirit, which inspired so many of us. Come help us amplify Larry's message and honor his legacy, and wear your neon yellow-green, which was Larry's trademark.
The following groups are participating in this event: Ohio Valley Environmental Coalition, Kentuckians For The Commonwealth, Coal River Mountain Watch, Christians For The Mountains, Keeper of the Mountains Foundation, Appalachian Voices, Greater Washington Interfaith Power & Light, Sierra Club, Waterkeepers Alliance, Earthjustice, Natural Resources Defense Council, Chesapeake Climate Action Network, Energy Action Coalition, 350.org and Center for Biological Diversity.