In 2001, the Ford Foundation granted $280 million—the largest single donation in the Foundation's history—to a new initiative called the Ford International Fellowships Program (IFP). IFP set out to prove that an international scholarship program could help build leadership for social justice and thus contribute to broader social change. What followed was the creation of a fellowship that provided access to higher education for talented leaders from marginalized communities, giving them an opportunity to further develop their skills and capacities and serve as better agents for social change.
Over the past decade, the program enabled a total of 4,314 emerging social justice leaders from Asia, Russia, Africa, the Middle East, and Latin America to pursue advanced degrees at more than 600 universities in almost 50 countries. Many Ford International Fellows have become leaders in the fields of environmental leadership, protection and research.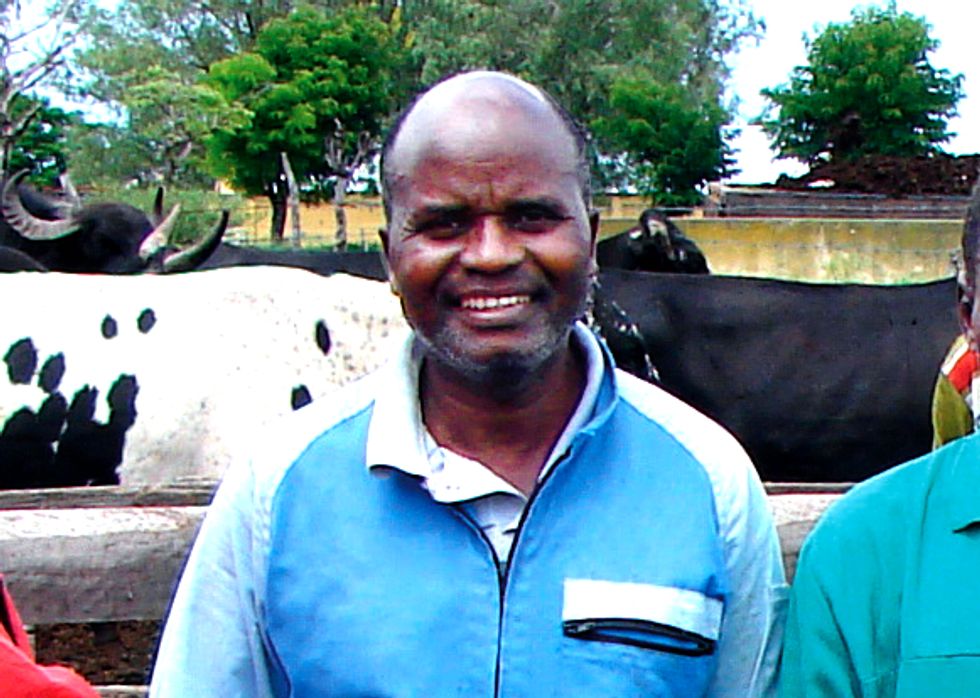 Antônio Tembue grew up on a subsistence farm in rural Mozambique. As in many other parts of Africa, the livelihoods of families in Mozambique are heavily dependent on agriculture and livestock. Farmers depend on crops they grow for food and drink the milk produced from their cattle.
Some families who have no other source of income will sell cattle to pay for food when their crops are not growing, or to afford basic supplies such as school registration fees and uniforms.
Tembue's family raised cattle for generations, only rarely selling cows in times of great distress. One particularly harsh year, when money was short, Tembue's family sold a cow in order to buy food and soap. Soon afterwards, Tembue's favorite cow—his family's source of milk—fell ill and suddenly died.
"It hurt me a lot," Tembue remembers. "I decided if I ever had the opportunity to go to school, I would learn how to treat sick animals so they don't die."
His family belonged to the indigenous Shopi tribe and lived miles away from other towns and without access to many public facilities, including schools. Determined to educate himself and one day become a veterinarian, Tembue walked 24 kilometers every day to attend primary school, managing to return home each evening to complete his chores and schoolwork.
At that time, Mozambique's public education system suffered from a severe lack of adequate facilities and qualified teachers. Tembue became disappointed with his educational experience at home, and at the age of twelve, he made the difficult decision to leave his village and move to Maputo City in search of a better education. He worked as a domestic servant to support evening classes at a city school where the curriculum was more challenging. Because of his high test scores, the government provided him with a scholarship to complete his secondary schooling. After finishing school, he beat the odds again, receiving yet another government scholarship that enabled him to earn a veterinary degree and establish a successful career in Mozambique.
In 2001, he was appointed the Head of the Ministry of Agriculture and Rural Development in the Moamba District of Mozambique. There, Tembue implemented the Agricultural Sector Public Expenditure Program (PROAGRI) with the goals of creating market-based solutions to agricultural development and regulating the use of natural resources. PROAGRI shifted the structure of the Ministry of Agriculture from a top-down, operational style to a decentralized, client-focused model, vastly improving the efficacy of the Ministry, not to mention the agricultural conditions of Mozambique.
Tembue was awarded an IFP fellowship in 2005 to attend the Universidade Federal de Pernambuco in Brazil, where he earned a master's degree in Parasitic Zoonoses Epidemiology. After completing his master's, the National Council for Scientific and Technological Development in Brazil and the Ministry of Science and Technology in Mozambique jointly offered him a grant to continue his studies as a PhD candidate in Veterinary Science.
Tembue completed his PhD ahead of schedule in March 2012 and began working for the National Ministry of Science and Technology, combining his veterinary knowledge and his experiences at the Ministry of Agriculture to help farmers improve the health and yields of their livestock.
"Now that I have my PhD," Tembue says, "I am more committed than ever to helping improve the lives of people in rural communities. I am able to work on projects aimed at improving livestock sanitation and providing veterinary assistance in places like my home community—places that had no such competence before."
EcoWatch Daily Newsletter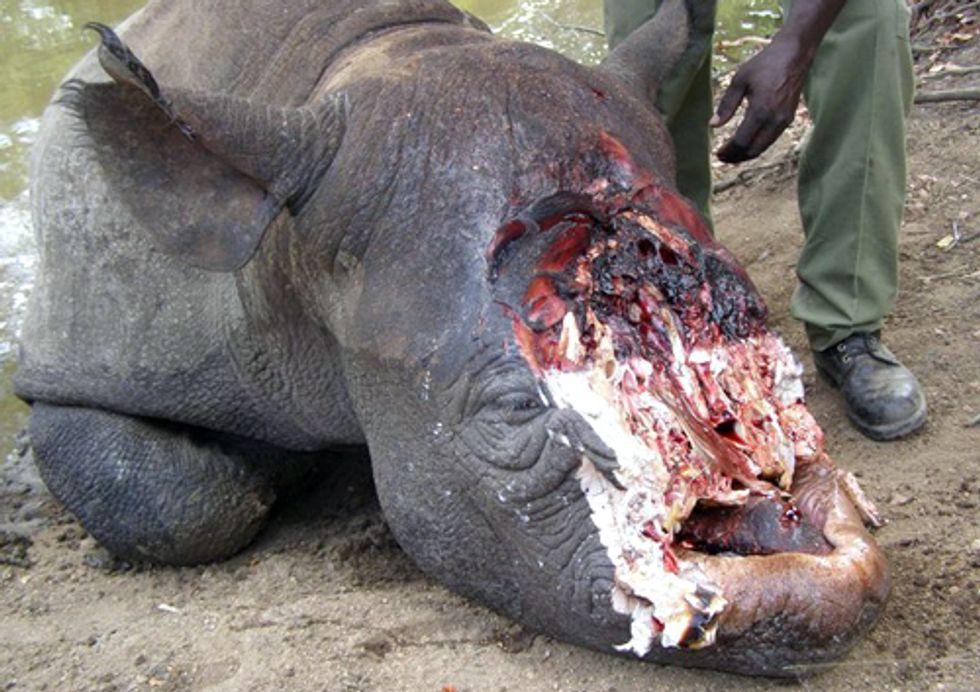 Photo courtesy of Anti-poaching Unit, Zimbabwe
Escalating levels of poaching and illegal trade in rhino horns are seriously undermining rhino conservation efforts, putting the survival of these species at risk—according to a report by International Union for Conservation of Nature (IUCN) and TRAFFIC.
 
The report examines the conservation status and trade in African and Asian rhino species.
 
"The findings of the report are alarming," says Tom Milliken, a rhino expert from TRAFFIC. "Today, rhino poaching and illegal horn trade are at their highest levels in over 20 years, threatening to reverse years of conservation effort, particularly in Africa. There is no doubt that rhino species are facing a serious crisis."
 
According to the report, by the beginning of 2011 there were 20,165 White Rhinoceros (Ceratotherium simum) and 4,880 Black Rhinoceros (Diceros bicornis) in Africa. However, at least 1,997 rhinos were poached between 2006 and September 2012 and over 4,000 rhino horns have been illegally exported from Africa since 2009, with an estimated 92 percent of these coming from rhinos specifically killed to obtain their horn.
 
South Africa, home to 83 percent of Africa's rhinos and 73 percent of all wild rhinos worldwide, is the principal source of rhino horns in illegal trade. A record 668 rhinos were poached there in 2012, according to official government figures released in January 2013.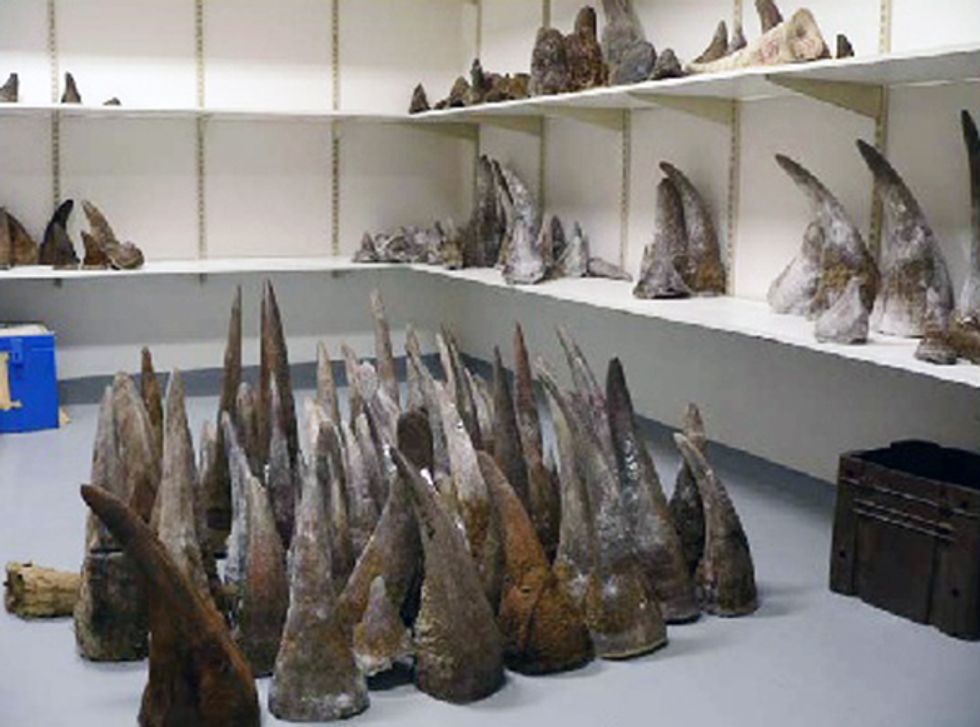 Photo Courtesy of Simon Milledge/TRAFFIC
Illegal trade in rhino horns involves highly organized, mobile and well-financed criminal groups, mainly composed of Asian nationals based in Africa. These networks have recruited pseudo-hunters including Vietnamese citizens, Thai prostitutes and proxy hunters from the Czech Republic and Poland to obtain rhino horns in South Africa on the pretense of trophy hunts for illegal commercial trade. Pseudo-hunting has significantly reduced as a result of a decision to prevent nationals of Vietnam from obtaining hunting licenses and changes to South African law in April 2012. However, there remains a continued need to ensure that only bona fide hunters are granted permits, according to the report.
 
"Rhinos are killed for their horns, which are seen as highly desirable status symbols in parts of Asia, notably Vietnam, but also increasingly in China," says Bibhab Kumar Talukdar, Chair of IUCN Species Survival Commission's (SSC) Asian Rhino Specialist Group. "Horns are also increasingly used for non-traditional purposes such as hangover cure and body detoxifier, especially in Viet Nam."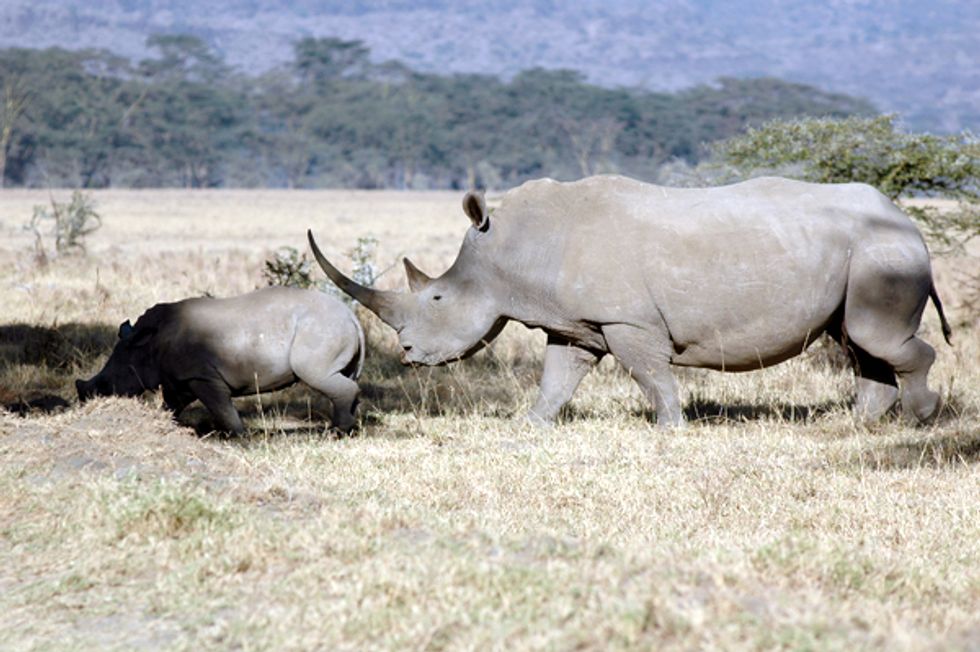 White Rhinoceros (Ceratotherium simum). Photo courtesy of Jean-Christophe Vié
In Asia, although conservation action in Nepal and India has resulted in increased numbers of the Greater One-horned Rhinoceros (Rhinoceros unicornis), the situation in Indonesia and Malaysia remains serious for the world's two rarest rhino species—the Sumatran Rhinoceros (Dicerorhinus sumatrensis) and the Javan Rhinoceros (Rhinoceros sondaicus). The Javan Rhinoceros, with only around 35 to 45 surviving individuals, is confined to a single park in Indonesia after the last animal of its Indochinese subspecies, Rhinoceros sondaicus annamiticus, was found dead, its horn removed, in Vietnam in 2010. The report calls for enhanced protection and biological management of the remaining Sumatran and Javan Rhinoceros to prevent their extinction.
 
Thefts of rhino horns from museums and zoos have increased worldwide, creating the need for improved law enforcement, monitoring and enhanced information management with regards to rhino numbers, sales and translocations, the report finds.
 
"Trade in rhino horns is a global problem that needs to be addressed by the international community by putting pressure on those countries that are driving illegal trade in rhino horn and those with inadequate wildlife legislation, such as Mozambique," says Richard Emslie, from IUCN SSC African Rhino Specialist Group. "At the same time, increased poaching is negatively affecting rhino conservation incentives and budgets, threatening future rhino population growth."
 
The report was compiled by the IUCN SSC African and Asian Rhino Specialist Groups and TRAFFIC, the wildlife trade monitoring network. It was mandated by Convention on International Trade in Endangered Species (CITES) and aims to inform the rhino horn debate at the 16th meeting of the Conference of the Parties to CITES, taking place in March 2013 in Bangkok, Thailand.
Visit EcoWatch's BIODIVERSITY page for more related news on this topic.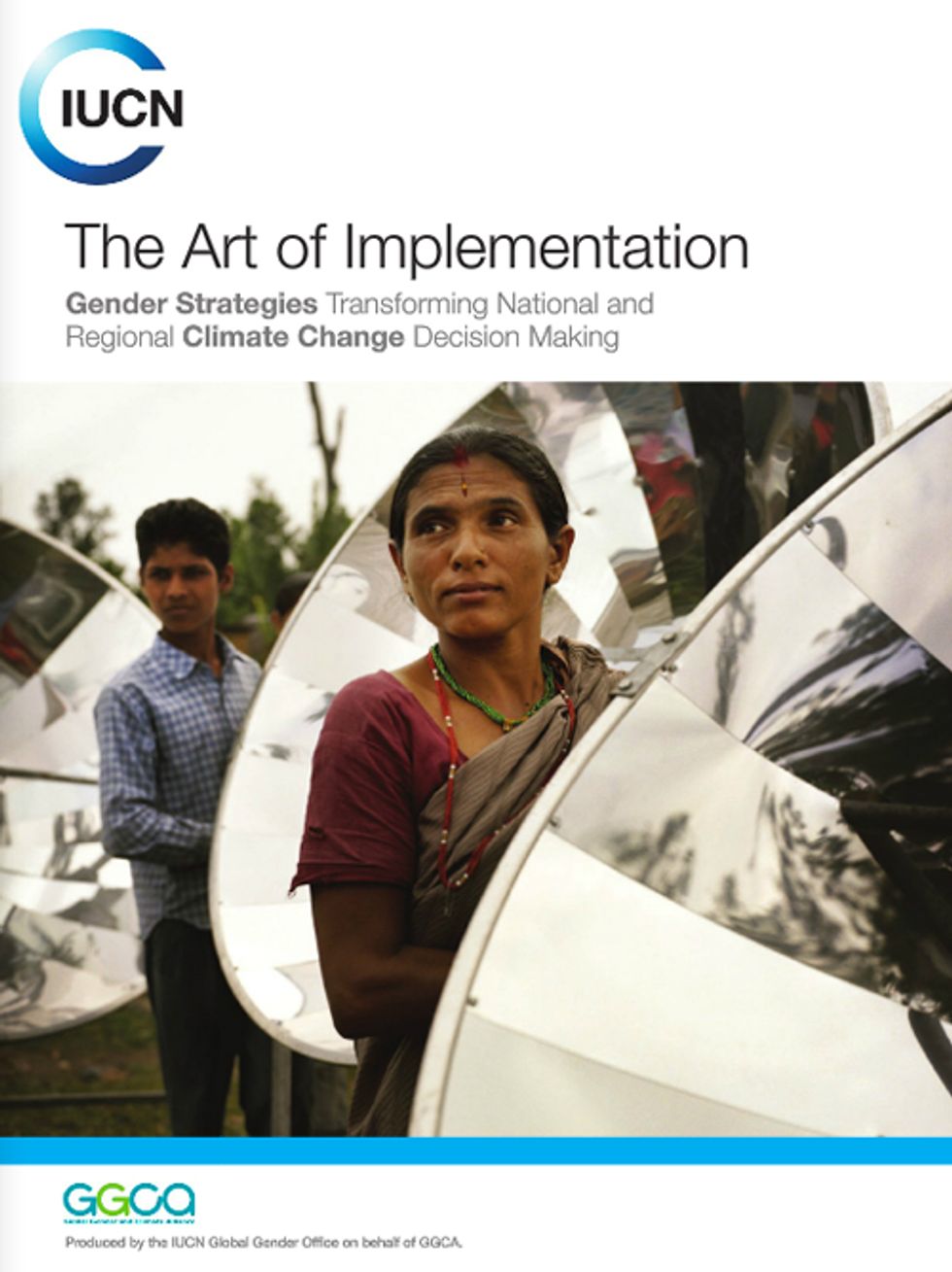 A new International Union for Conservation of Nature (IUCN) publication outlining action plans for women to help them adapt to climate change and minimize its impact has been launched at the 18th Conference of the Parties to the United Nations Framework Convention on Climate Change in Doha, Qatar.
A water taxi network owned and operated by women on the Nile that reduces emissions and provides fast, reliable public transport in a gridlocked Cairo transport system; a recycling project that empowers women as green entrepreneurs in Kathmandu; women-environmental whistleblowers on the coast of Liberia that assist the government in the collection of meteorological data to forecast the weather, acting as an early-warning system for storms and reporting environmental offenses; a carbon-footprint program run by community women and poetry singers in temples in Jordan and Nepal that communicate climate change messages. These are just a few innovative examples included in the book.
The Art of Implementation: Gender Strategies Transforming National and Regional Climate Change Decision Making focuses on the development of climate change and gender action plans—steps to be taken by women to adapt to climate change and minimize its impact. The publication includes a synthesis of strategies and action plans developed by the IUCN Global Gender Office on behalf of the Global Gender and Climate Alliance (GGCA) in Mozambique, Jordan, Egypt, Tanzania, Nepal, Haiti, Panama, Costa Rica, Liberia, the Arab League of States and the Central American Region. It also outlines the methodology used by IUCN.
"A critical step in the development of these action plans is the need to anchor global agreements within national contexts so as to take action on climate change at the local and national level, whilst harnessing the power of women in the process," says Lorena Aguilar, IUCN's Senior Global Gender Adviser. "The strategies and action plans represent a country's intention to empower and respond to the needs of the often invisible 'other half' of the population in the context of climate change. They link national and global policy in a concrete manner, communicate the importance of gender in climate action and frame women as agents of change—and not merely as a 'vulnerable' group."
The book outlines actions designed to adapt to climate change and minimize its impact that can be taken by women and other players in a variety of sectors covering topics as diverse as agriculture and food security, forests and REDD+, water, energy, health, urbanization, integrated coastal management, waste management, tourism, land use and disaster risk management. Each section also includes clear objectives, actions and indicators and identifies the specific institutions responsible for their implementation and delivery.
The action plans provide a comprehensive framework for the development of projects and their implementation, which has been agreed on by governments, UN institutions, contributing country partners, academia, the private sector and civil society, among others.
"Climate change will undermine the very foundation of socioeconomic development and will increase inequality and poverty," says Tarja Halonen, Former President of Finland and main funding partner to the project. "It will have a serious impact on the livelihoods of poor women in developing countries, as the increasing droughts and storms will affect agriculture and water resources, which are often the responsibility of women."
Until recently, policy responses at the global or national level did not reflect this reality. For more than twenty years, gender equality was absent from the United Nations Framework Convention on Climate Change (UNFCCC) and in decision-making by its Conference of the Parties and Subsidiary Bodies. Few National Adaptation Programs of Action (NAPAs) or national communications submitted by Parties to the UNFCCC addressed gender issues in a comprehensive manner, and some did not mention gender considerations at all.
Following several years of advocacy, capacity building, and building awareness, governments have now agreed multilaterally that gender equality is a key component in achieving climate change goals. Since 2008, more than 60 official gender references have entered the UNFCCC negotiation text, and the final outcomes of the Cancun (2010) and Durban (2011) conferences included eight and seventeen references to gender, respectively.
With these global mandates in place, the urgent next step is to turn them into action and determine how to design climate change policies that address these issues.
Visit EcoWatch's CLIMATE CHANGE page for more related news on this topic.