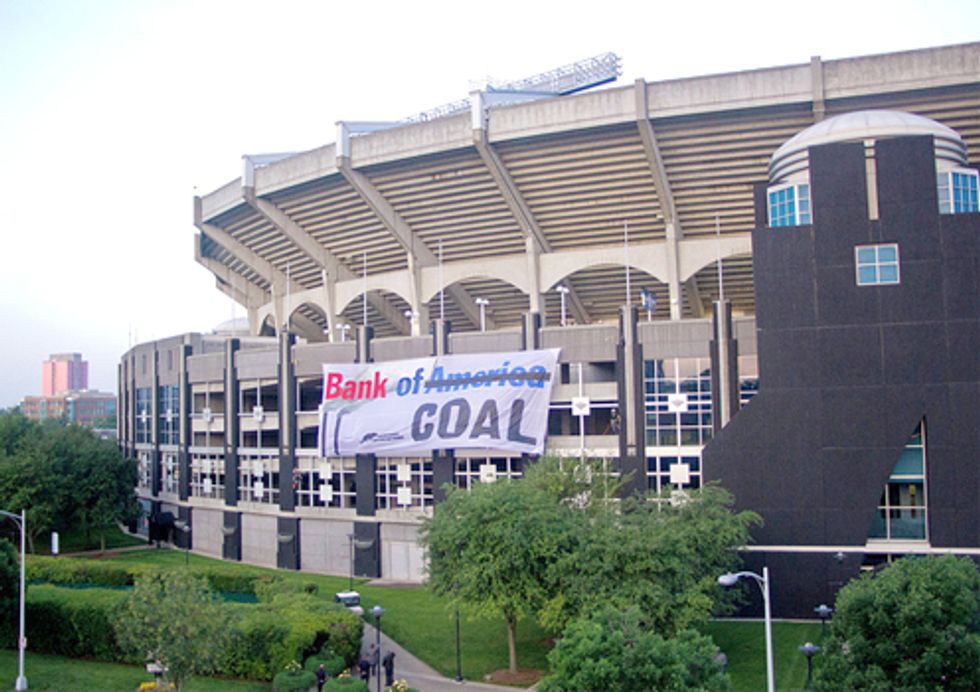 The much-politicized Bank of America stadium received a facelift today when five people with Rainforest Action Network (RAN) skillfully unfurled a 70-foot by 25-foot banner off the top of the building, rebranding the stadium the "Bank of Coal." Just days before the bank's annual shareholder meeting, the act was intended to call attention to the bank's role as the leading financier of the coal industry, one of the main concerns for bank critics.
The advocates, all trained climbers with safety gear, hung from the outside of the stadium more than 100-feet above the ground.
In the past two years alone, Bank of America has pumped $6.74 billion into the U.S. coal industry according to Bloomberg data. The Bank of America Stadium is where President Obama will accept the Democratic Party's nomination to a second term in early September, and, to many, symbolizes the cozy relationship between banks and government highlighted throughout the Occupy protests.
"Today, Rainforest Action Network has taken our message to extraordinary heights because the risk that coal poses to our health and our climate is nothing less than extraordinary. It's past time Bank of America take a leadership role in transitioning our economy away from this dangerous and outdated industry," said Todd Zimmer, a lifelong Charlotte resident and organizer with Rainforest Action Network.
Today's action kicks off a week of events leading up to Bank of America's annual shareholder meeting on May 9 where organizers predict more than 1,000 people plan to protest the company.
Not only is coal burning responsible for one third of U.S. carbon emissions—the main contributor to climate change—but it is also a major public health risk. In 2012, one in every four children living in Charlotte will develop asthma or other respiratory problems, while 3,000 North Carolinians die prematurely every year, all due to air pollution.
There are four coal plants in the Charlotte area. Duke's Riverbend plant, which Bank of America finances, is within 12 miles of Uptown Charlotte.
"Bank of America is the ATM for a dirty industry that is bad for health and bad for business," said Amanda Starbuck, director of Rainforest Action Network's Energy and Finance Program. "If Bank of America would like to regain the trust of the 99 percent, it must adopt sound economic and environmental policies that reflect the values of its customers. Bank of America can start by getting out of bed with the coal industry, and shifting its funding toward renewable energy sources that will have long term benefits for our environment, our health and our economy."
Nationally, coal pollution is responsible for 13,000 premature deaths every year, more than $100 billion in annual health costs and more than 200,000 asthma attacks annually. Pollution from coal-fired power plants leads to smog, which can cause chest pain, coughing and breathing difficulties and can make conditions like bronchitis, emphysema and asthma worse or even fatal. Today, two out of every five U.S. families live in places with unsafe air.
On May 1, RAN released its third annual Coal Finance Report Card, which ranks the largest financiers of mountaintop removal coal mining and coal-fired power plants. Bank of America received a failing grade for its weak coal policy and considerable exposure to the industry. Bank of America funds every sector of the U.S. coal industry, including companies operating controversial mountaintop removal coal mining and those planning to build out coal export terminals along the Pacific Northwest coastline.
Join these activists in speaking truth to power. Sign and share this petition calling on Bank of America to stop funding dirty coal now.
For more information, click here.
EcoWatch Daily Newsletter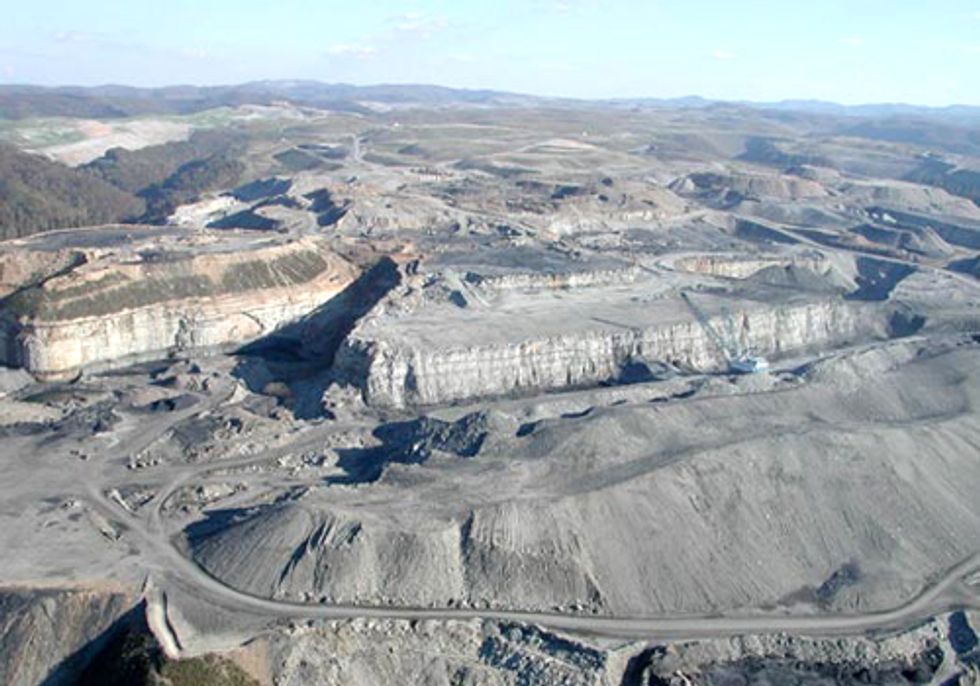 The Tennessee Scenic Vistas Protection Act, introduced by State Sen. Eric Stewart (D-14), was designed to stop surface coal mining that alters or disturbs a ridgeline over 2,000 feet of elevation, effectively banning mountaintop removal coal mining in the state.
On Wed., Feb. 29 the State Senate Energy and Environment committee voted 8-1 to approve an amendment that gutted the bill. The amendment changed the definition of mountaintop removal coal mining to exclude all except the most extreme cases from falling under the "prohibited" category as defined by the original bill.
The Tennessee Director of Appalachian Voices, J.W. Randolph, commented:
"In a disappointing move for the Tennessee mountains, special interests in the Tennessee Senate voted today to allow the continued devastation of the state's scenic peaks and cultural heritage. The amendments to the Scenic Vistas Protection Act removed the original language of the bill and replaced it with a definition that will essentially do nothing to protect the citizens of Tennessee. But, as state Sen. Eric Stewart said, this bill will be back every year until Tennessee mountains are protected.
"Tennesseans won't be fooled by smokescreens and are not concerned by technical definitions of mountaintop removal coal mining. They want to see the destruction of their mountains stopped. The political power of the coal industry in Tennessee has long outlived its ability to create jobs or prosperity in the region. Coal mining actually costs Tennessee taxpayers a net loss of $3 million a year, while the state's mountain-based tourism industry employs 175,000 people and brings in more than $13 billion to Tennessee annually.
"The Tennessee legislature has passed on a historic opportunity to stop the destruction of its mountains and cultural heritage. Citizen advocates and folks in the grassroots who want to protect the mountains will take this fight to the Senate floor to ensure that this bill that Tennesseans have been clamoring to pass is meaningful in protecting Appalachian mountains and communities."
For more information, click here.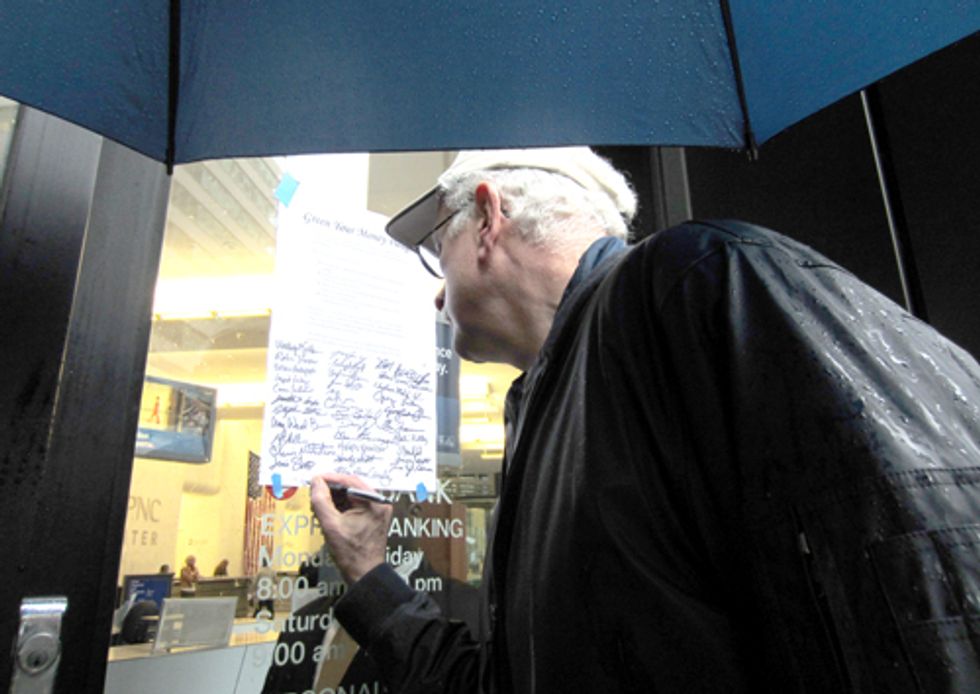 Members of Earth Quaker Action Team (EQAT) launched a website and held a press conference on Feb. 29 with 50 attendees to kick-off their Green Your Money Initiative. Green Your Money is a program to encourage consumers to close their accounts with PNC and pressure the bank to end all financing for companies that practice a controversial form of surface coal mining known as mountaintop removal. EQAT said they are giving PNC until May 31, 2012, or 90 days, to do so.
Kathy Miller, peace activist and member of Chestnut Hill Quaker Meeting announced that her congregation has formally decided to remove $1.9 million, which they have raised to build a new meetinghouse, from their current PNC accounts. "We are deeply concerned about this major destruction of the environment, and think it is important that the financial business and transactions of the Meeting are conducted in accordance with Quaker values and testimonies," Miller said.
Chris Nicholson spoke of his Quaker grandfather, co-founder of Provident National Bank, commonly known as "the Quaker Bank," which, after merging with Pittsburgh National in 1982, became PNC Financial Services. "He was a scientist, botanist, and astronomer, and an active Quaker. He had a strong interest in environmental issues and I am sure that he would object now to PNC money being used for destructive mining practices."
Pallavi Podapati represented members of the Temple and Penn Communities Against Mountaintop Removal, who met last month with senior PNC executives and are now organizing Green Your Money campaigns on both campuses. In addition, Swarthmore professor George Lakey announced plans for a Green Walk for Jobs and Justice, a 200 mile, 16-day walk between Philadelphia and PNC National Headquarters in Pittsburgh, stopping at Quaker meetings, like-minded congregations and PNC banks along the way.
Following the press conference, 30 participants walked to PNC regional headquarters, where they were locked out in the rain by the bank. The demonstrators were able to hand deliver a letter to PNC Philadelphia Regional President J. William Mills, and posted their pledge to the front door of the bank. "By joining together, we can call PNC Bank back into integrity with its publicly stated values, stand with the people of Appalachia, and help take the profit out of financing climate change," said Walter Hjelt Sullivan, program director with EQAT.
Mountaintop removal is a form of surface mining practiced in Appalachia that uses explosives to access the coal beneath. Recently released studies have associated high rates of respiratory disease, cancer and birth defects with proximity to these mining sites. EQAT has given PNC bank until May 31st to enact a 'sector exclusion' that would end its investments in companies that practice mountaintop removal, and has opened the website "GreenPNC.org" to collect Green Your Money pledges.
According to Rainforest Action Network, PNC Bank, which claims to have done "more to energize the green cause" than any other major bank, is one of the largest financiers of mountaintop removal. Published reports show that PNC has provided loans in the last year to companies responsible for up to 47 percent of all mountaintop removal mining, in spite of issuing a new policy in 2010 which appears to distance the bank from the practice.
For more information, click here.
The Tennessee Scenic Vistas Protection Act, which could make Tennessee the first state to put a ban on high-elevation surface mining techniques such as mountaintop removal, faces an important hurdle this Wednesday, Feb. 29, in the Senate Environment Committee. We expect the vote to be very close, so it's all hands on deck in moving these legislators to do the right thing.
Below is a list of the senators who sit on the Environment Committee. Call them and let them know you support the Scenic Vistas Protection Act, and want to vote "YES." Learn more about our work to pass the Scenic Vistas bill by clicking here.
Senate Environment Committee
Committee Officers:
Sen. Steve Southerland, chair: Phone (615) 741-3851
Sen. Jack Johnson, vice-chair: Phone (615) 741-2495
Sen. Jim Summerville, secretary: Phone (615) 741-4499
Members:
Sen. Mike Bell: Phone (615) 741-1946
Sen. Mike Faulk: Phone (615) 741-2061
Sen. Kerry Roberts: Phone (615) 741-1999
Sen. Roy Herron: Phone (615) 741-4576
Sen. Beverly Marrero: Phone (615) 741-9128
Sen. Eric Stewart: Phone (615) 741-6694
In addition, call Gov. Bill Haslam at 615-741-2001. He spoke out against mountaintop removal during the campaign. Ask him to put action to those words by showing the leadership to guide the Scenic Vistas bill through the legislature.
The following television ad is running on Fox News in many of their districts.
For more information, click here.
Greenpeace USA Executive Director Phil Radford announced a campaign on Feb. 14 to make Duke Energy the clean energy company that North Carolina and the U.S. deserve. The announcement follows a protest and demonstration Feb. 13 in which 16 Greenpeace activists were arrested at a Progress Energy coal plant in Asheville, N.C. after unfurling a huge banner atop a smoke stack that read "Duke Energy: the climate needs real Progress." Duke Energy and Progress Energy are seeking a merger which would create the largest utility company in the U.S.
From Phil Radford's announcement: (For the full announcement, click here.)
"Today, I'm officially announcing our campaign to make Duke Energy the clean energy company that North Carolina and the United States deserve.
"We must shine a light on Duke's activities in 2012 because this is a make or break year for the climate, and Duke is at the center of it. The merger alone is enough to warrant an extra level of scrutiny—and has in fact been delayed this far by FERC (The Federal Energy Regulatory Commission) because of concerns about the company holding an energy monopoly in North Carolina. North Carolina ratepayers don't have a choice about where they get their energy. Despite a committed local movement opposing the most recent rate hike, they're seeing a 7.2 percent increase on their electricity bills in March, not to pay for an investment in renewable energy, but to invest more in new coal projects like the Cliffside plant. Enough is enough—Duke ratepayers have said loudly and clearly that they don't want to pay for more investments in dirty energy.
"And Duke Energy also holds a unique position in energy politics right now. It is currently the third largest emitter of CO2 in the U.S.—and that's before it takes on Progress Energy's dirty fleet. CEO Jim Rogers has spoken openly about the threat of climate change and pollution controls for coal plants, and yet Duke holds a membership in the industry group ERCC (Electric Reliability Coordinating Council), a group that was aggressively lobbying against the recently passed Mercury Rule.  It's no secret that Duke's money and influence—$6.5 million in lobbying dollars in 2010—could have a significant impact in U.S. energy policy. To top it all off, this year, Rogers has been the lead fundraiser for the Democratic National Convention, to be held in Charlotte where Duke Energy is based, lending the Democrats $10 million dollars to pay for the convention.
"On 60 Minutes in 2009, Jim Rogers said, "I remember the first time I took a helicopter to look down at a power plant like this, I was 41 years old, and I said, 'Oh my goodness, I'm responsible for that?'" He is. As long as Rogers guides the decisions of Duke Energy, he's responsible for dozens of polluting plants around the country that compromise our children's health and the health of our climate, and the mountains that are blown up to mine the coal he burns in these plants. He's responsible for the 15,714 asthma attacks, 1,447 heart attack, and 951 premature deaths Duke's coal plants cause every year. And Duke is soon to be responsible for Progress's fleet and the pollution that comes with it.
"We're asking Duke Energy to:
Not renew a single new contract for mountaintop removal coal
Deliver at least a third of Duke's energy from renewable sources by 2020.
Quit coal altogether by 2030.
"Our communities and our climate can't wait any longer for real action on the climate."
For more information, click here.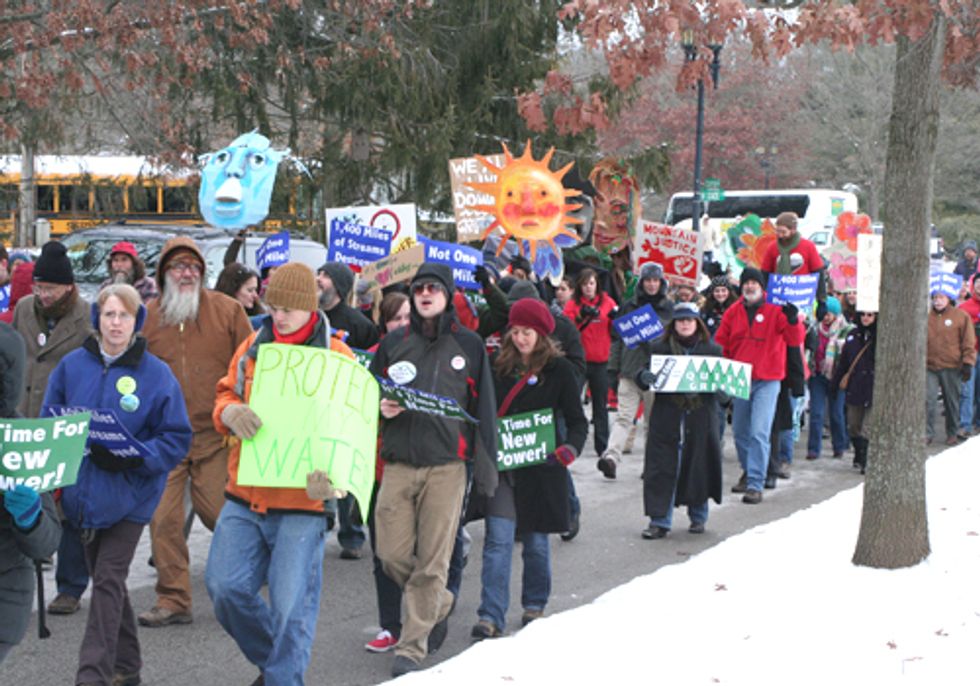 More than 1,000 people are gathering in Frankfort, Ky. on Feb. 14 to celebrate I Love Mountains Day and call for an end to mountaintop removal coal mining—a destructive practice that has shortened lifespans and caused illnesses in Central Appalachia for decades.
The iLoveMountains.org team has just launched an innovative new web tool to illustrate the overwhelming amount of data that shows the high human cost of coal mining, and we invite you to check it out. See it live now by clicking here.
The Human Cost of Coal page maps national data including poverty rates from the 2010 U.S. Census, birth defect rates from the Center for Disease Control, the Gallup-Healthways Well-Being Index, and life expectancy and population numbers from the Institute for Health Metrics and Evaluation. The site also includes summaries for twenty-one peer-reviewed studies that show human health problems such as heart, respiratory and kidney diseases, cancer, low birth weight and serious birth defects are significantly higher in communities near mountaintop removal mine sites.
Ada Smith, a resident of Letcher County Kentucky explains the significance of The Human Cost of Coal:
"Though many of the (health) studies state the obvious for those of us living in these communities, the scientific facts give us much-needed evidence to make sure our laws are truly enforced for the health of our land and people. If we choose to not pay attention to these recent studies we are deciding to make Appalachia a sacrifice zone. What we do to the land, we do to the people."
Share this important new web tool with your friends and family, and follow the action live at I Love Mountains Day or follow #lovemountains on Twitter.
For more information, click here.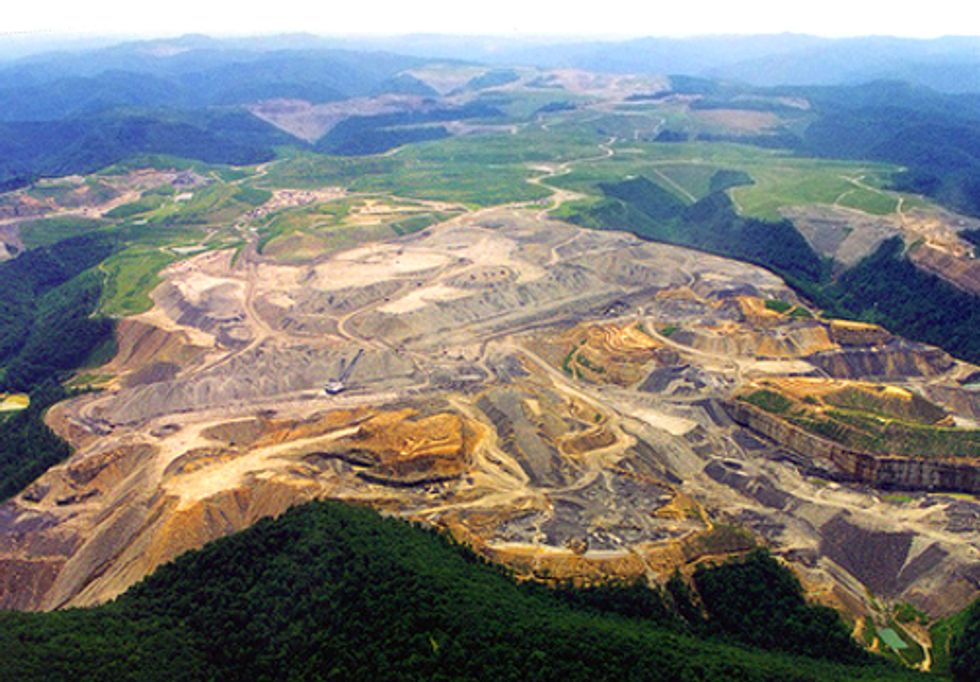 Mountaintop removal coal mining is destroying the mountains and threatening the health and lives of communities across Appalachia. But people in Appalachia are standing up and today they need your support.
Residents of Blair, W.V. have noticed increased activity from mining company Arch Coal around Blair Mountain—the site of the largest labor uprising in American history. Residents are becoming increasingly concerned about Arch's activities and fear they will move forward with plans to mine the historic location.
Just minutes ago, this multi-billion dollar company announced record profits for the fourth quarter of last year. Arch Coal has four planned operations on Blair Mountain, some of which intrude onto the battlefield.
Folks in Appalachia won't stand for Arch Coal's plan to destroy their community and our nation's history just so they can increase their profit margin, and we shouldn't either.
Call Arch CEO Steven Leer today and tell him that Appalachian communities should not fall victim to pad his profit margin.
To allow Arch Coal to destroy Blair Mountain would be to tear out a crucial page of American labor history and burn it. But even more important than the history are the lives of the people living at the foot of this mountain.
Take action today and tell Arch Coal to save Blair Mountain.
For more information, click here.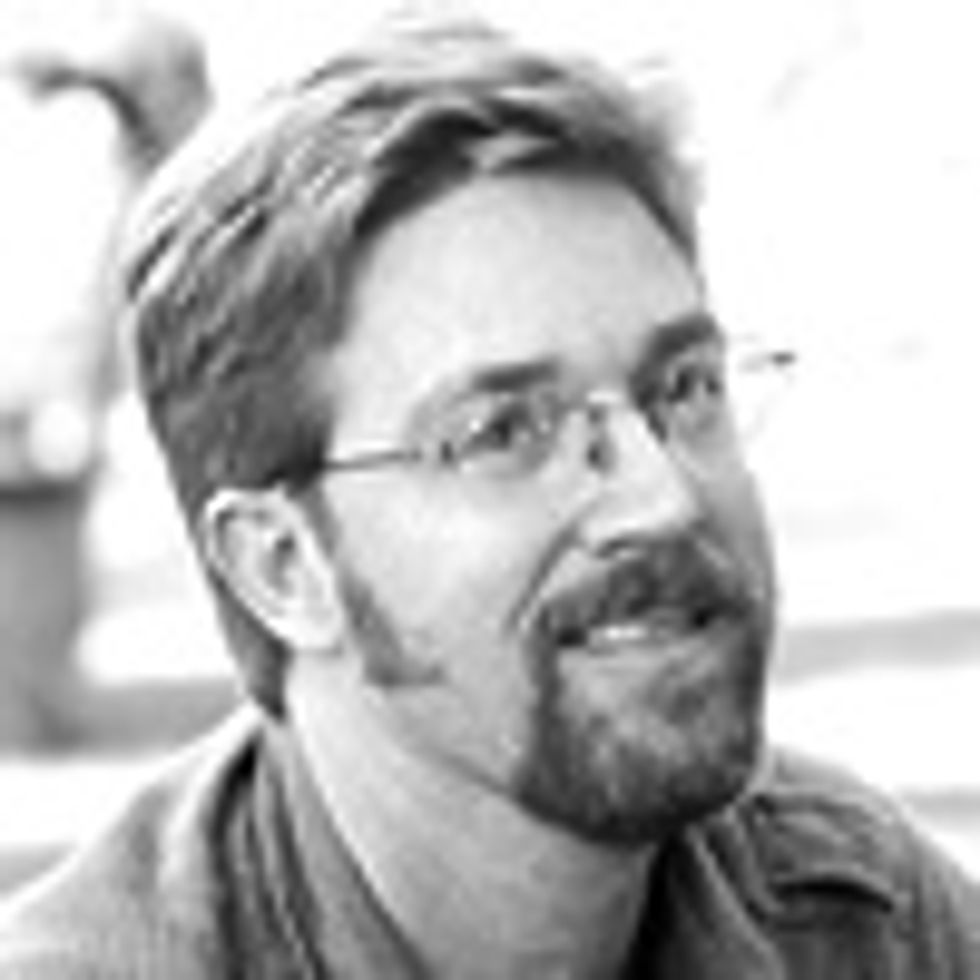 Rising up on the folk-rock charts, New York City-based "Metrobilly" band 2/3 Goat has just released a foot-stomping, evocative and inspiring video performance from their breakthrough new CD, Stream of Conscience.
Featuring lead singer/mandolin player Annalyse McCoy, whose golden pipes resound from the hollers with the haunting beauty and power of a young Shawn Colvin and Patty Loveless, Stream of Conscience is an acoustic-driven foggy mountain breakdown that chronicles the ravages of mountaintop removal operations in the Appalachian hills. A reckless strip mining process that has destroyed more than 300 mountains and 600,000 acres of hardwood forests in McCoy's native eastern Kentucky region alone, mountaintop removal operations throughout central Appalachia have led to a humanitarian crisis of large-scale water contamination, entrenched unemployment, cancer corridors and birth defects, and the largest forced removal of American citizens since the 19th century.
"Music is such an integral part of Appalachian culture and tradition," said McCoy, who grew up in Inez, Kentucky and also works as an actress in New York City. " As a child of Appalachia, I felt that there was no better or more natural way to "give back" to try and help my community than through song. Amid all the destruction that mountaintop removal causes—all the thousands of miles of streams that have been buried, all the remaining water that's been tainted by heavy metals—there is purity and light left in Appalachia; there is Hope."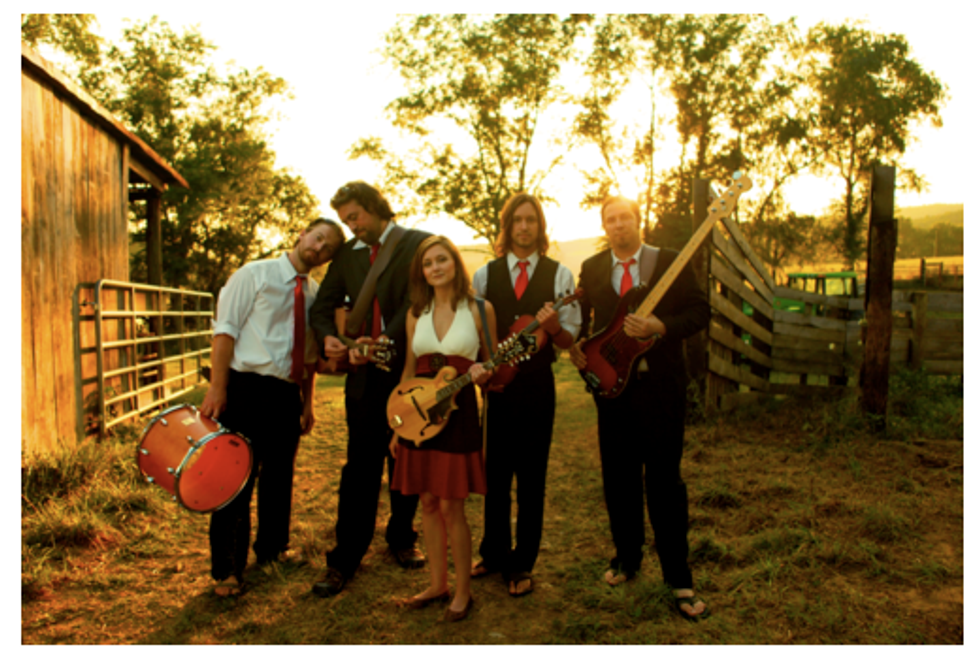 Flanked by cowriter, singer and guitar player Ryan Dunn, whose confident bluesy licks add a natural Johnny Cash resonance to McCoy's June Carter, and talented fiddler Ryan Guerra, 2/3 Goat's new CD was recorded by famed Gin Blossoms producer Chris Mara at the Welcome to 1979 Studios in Nashville.
"Coal has been king for over a hundred years in Appalachia," the band posted on their website. "Taking rock from under the ground is one thing; but blowing up mountains, burying thousands of miles of freshwater streams, inciting flooding in areas where it's never been a problem, and causing the highest cancer rates in the nation from industry runoff is another. Mountaintop removal also takes away more and more jobs from an area that desperately needs them. It's time we take a stand. Our song and music video Stream of Conscience are focused on this very topic. Appalachia is Rising!"
The Stream of Conscience single was featured last week on AOL Music's top charts.
Here's the video:
Alongside the beloved Grammy star Kathy Mattea, Loveless and Emmylou Harris, 2/3 Goat joins other great folk, country and rock acts in the long-time campaign to end mountaintop removal.
"Writing this song, I envisioned the People, this light, flowing down like the cleanest water you'll ever drink; a Stream of Conscience, descending on the industry that's dealt them such a terrible hand, saying, "We will no longer be poisoned!" McCoy said. "I can't wait for that day."
Here's another video performance of 2/3 Goat's version of Darrell Scott's classic, "You'll Never Leave Harlan Alive":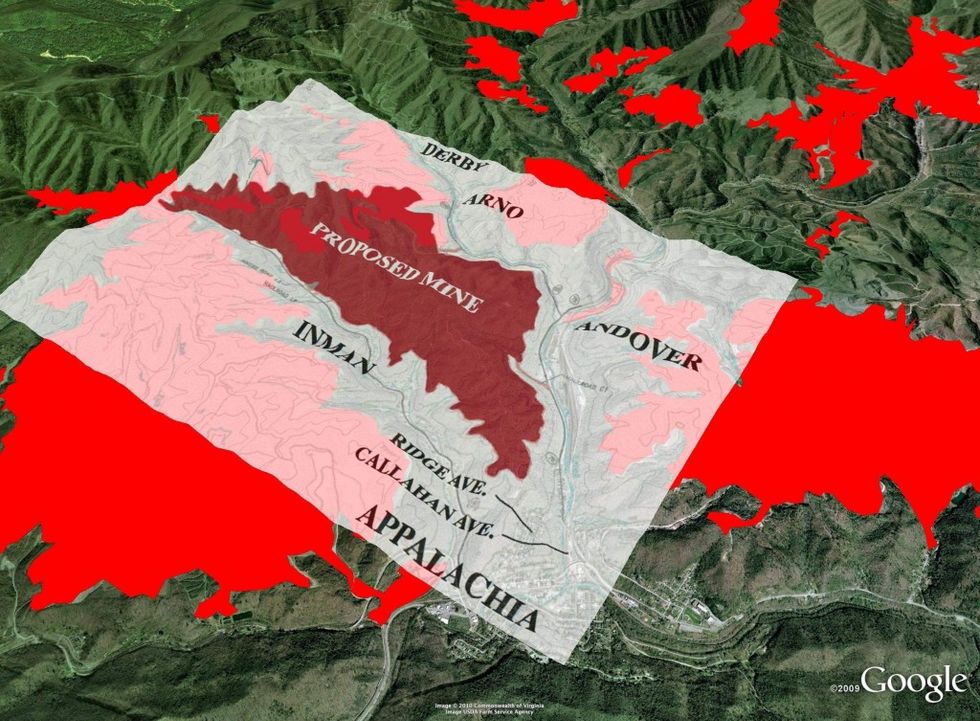 Join us Nov. 16 as we gather in Washington, D.C. in front of the U.S. Environmental Protection Agency (EPA) headquarters alongside community members from Wise County, Virginia to ask the EPA to Keep Ison Rock Ridge standing and reject a permit for mountaintop removal coal mining.
The Wise Energy Coalition is teaming up with Greater Washington Interfaith Power and Light and other local organizations to bring a few hundred people to the doorstep of the EPA. The EPA's authority is all that stands in the way of blasting on Ison Rock Ridge, but the agency has indicated that it is considering allowing the mountaintop removal permit to move forward.
The rally is from Noon to 1 p.m. at 1200 Pennsylvania Avenue NW, at the Federal Triangle Metro station on the Orange and Blue lines.
In Wise County, Virginia, a mountain known as Ison Rock Ridge is slated to be destroyed by a 1,200 acre mountaintop removal coal mine. Ison Rock Ridge sits above five small communities made up of 1,800 people. If the permit is approved, the quality of life for these people would effectively be destroyed.
The proposed mountaintop removal permit boundary calls for mining 300 feet from some community members' homes as well as burying headwater streams that feed the creeks running through their communities.
Your efforts have held this permit at bay for years, but now the EPA is close to making a final decision and the state is siding with the coal companies. We need to make our voices heard louder than ever by showing up at their doorstep and demanding justice. Click here to learn more about Ison Rock Ridge.
Join us today to help bring awareness to the issue and, ultimately, to keep Ison Rock Ridge standing.
If you can't make it to D.C. for the rally, then click here and add your voice by letting EPA Administrator Lisa Jackson and the Obama administration know that Ison Rock Ridge should be protected. Click here.
For more information, click here.