A plastic bag ban went into effect this month in Morocco, the second-largest plastic bag consumer after the U.S. But, officials say, its going to take some time for shops and retailers to get used to the new law.
Morocco bans the use of plastic bags https://t.co/S9512Yf1lU https://t.co/RWjTu61oLo

— The Ocean Project (@The Ocean Project)1468696212.0
Morocco's ban on the production and use of plastic bags went into effect July 1 after the plastic ban bill was passed by parliament in October 2015. As the July 1 deadline approached, shop owners scrambled to find and collect reusable bags. Green campaigners, AlJazeera reported, say consumers may need years to fully comply with the ban.
"It's a big cultural shift with that type of broader law," Jennie Romer, a New York-based lawyer," told AlJazeera. "As long as the government has the motivation to really enforce that. There is a lot of potential. The government entity that is implementing it has to be completely on board in order to make that really happen in practice."
Morocco uses about 3 billion plastic bags a year, according to the Moroccan Industry Ministry. The U.S. uses about 100 billion a year, according to the Earth Policy Institute, and 1 trillion are used globally per year.
Morocco is currently using 3 billion plastic bags a year. That's soon to be over, as Morocco is joining countries... https://t.co/G6tJF3OE5W

— GEI (@GEI)1468683725.0
The North African country has been working on banning plastic bags for years. A ban of the production and use of black plastic bags was put in place in 2009, but the bags were still being produced.
This time around, officials hope to prevent that situation by providing alternate solutions. Moulay Hafid Elalamy, industry minister and initiator of the bill, tweeted that bags made of paper and fabric will be made widely available.
Yassine Zegzouti, president of Mawarid, said changing consumer habits will be the toughest part.
"The formal sector will need four to five years to comply with the new law," Zegzouti said. "But the use of plastic bags is anchored in [consumer] habit. All actors need to change these habits to not have any damage in the future."
Morocco is ranked one of the world's greenest countries, along with Costa Rica, Bhutan and Ethiopia. The country's biggest achievements come in cracking down on carbon emissions and production of solar power. It is considered a green leader among developing nations.
EcoWatch Daily Newsletter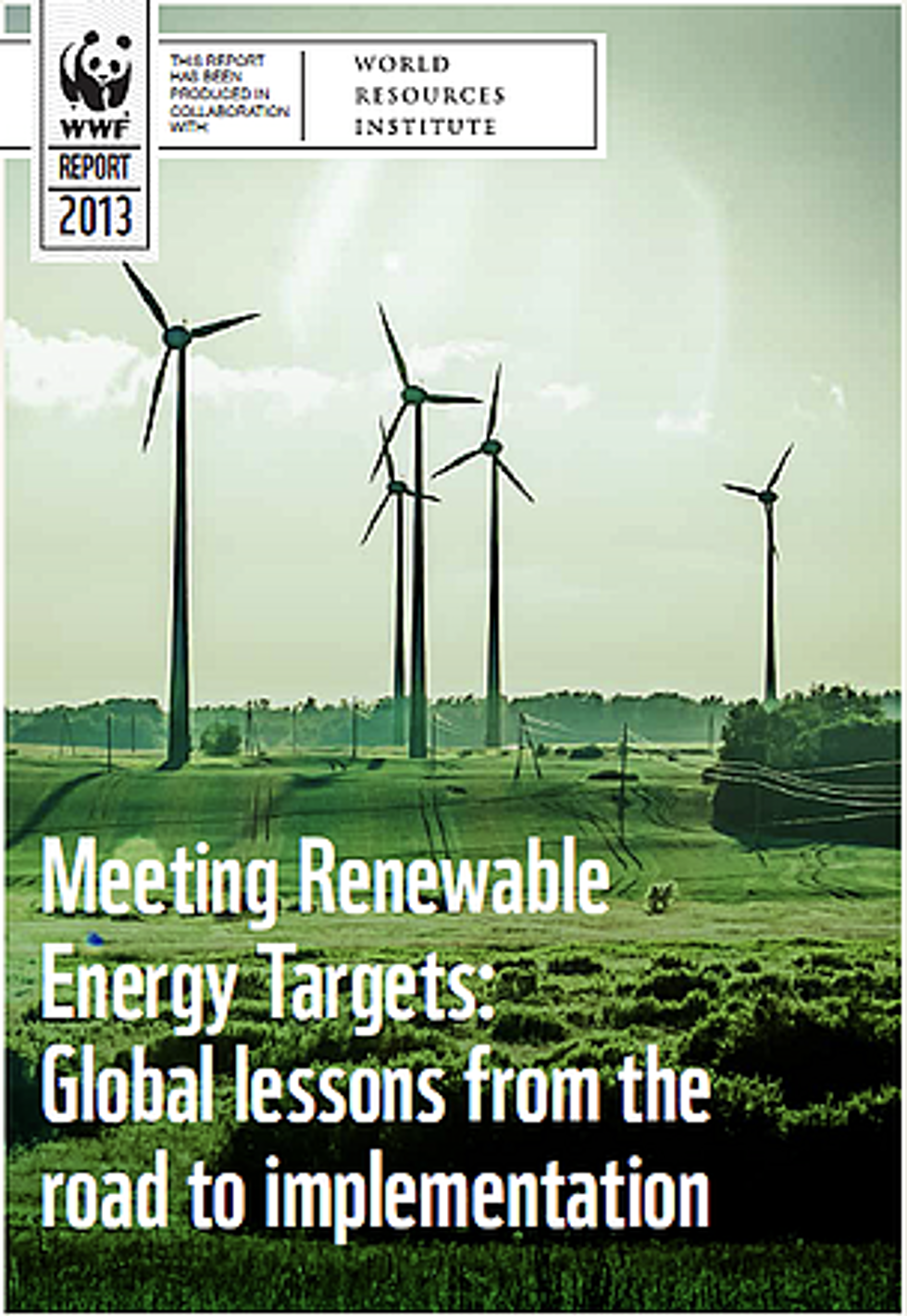 Challenges in scaling implementation of renewable energy must be addressed if the target of 100 percent sustainable renewables by 2050 is to be achieved, according to a new World Wildlife Fund (WWF) report.
In the report, challenges inhibiting scaling up implementation in seven countries—China, India, Germany, Morocco, Philippines, South Africa and Spain—are identified.
The report highlights key findings and understanding of what factors are required in order to reach renewable energy targets at the national level based on lessons learned from experience in renewable energy policy from the seven countries.
WWF Global Climate & Energy Initiative leader Samantha Smith says while setting targets represents a clear commitment to renewable energy, simply setting these targets is not enough.
"The real job is to create an enabling environment, including money, ensuring access for the poor, infrastructure and capacity building. This is what will ensure these targets are achieved," says Smith.
The report shows the challenges to be:
Balancing policy flexibility and stability
Implementing policies that promote cost competitiveness
Identifying appropriate funding and investment security frameworks
Transparency and accountability of decisions
Achieving wide-scale political and social acceptance
Mapping institutional and stakeholders discrepancies and diverging interests 
Overcoming infrastructural lock-in to conventional energy sources
Policy reliability with long-term planning
Sufficient human capacity building
"Financing is a particularly significant challenge and the WWF's global campaign Seize Your Power! launched earlier this month urges governments and financial institutions worldwide to increase investment in renewable energy," says Smith.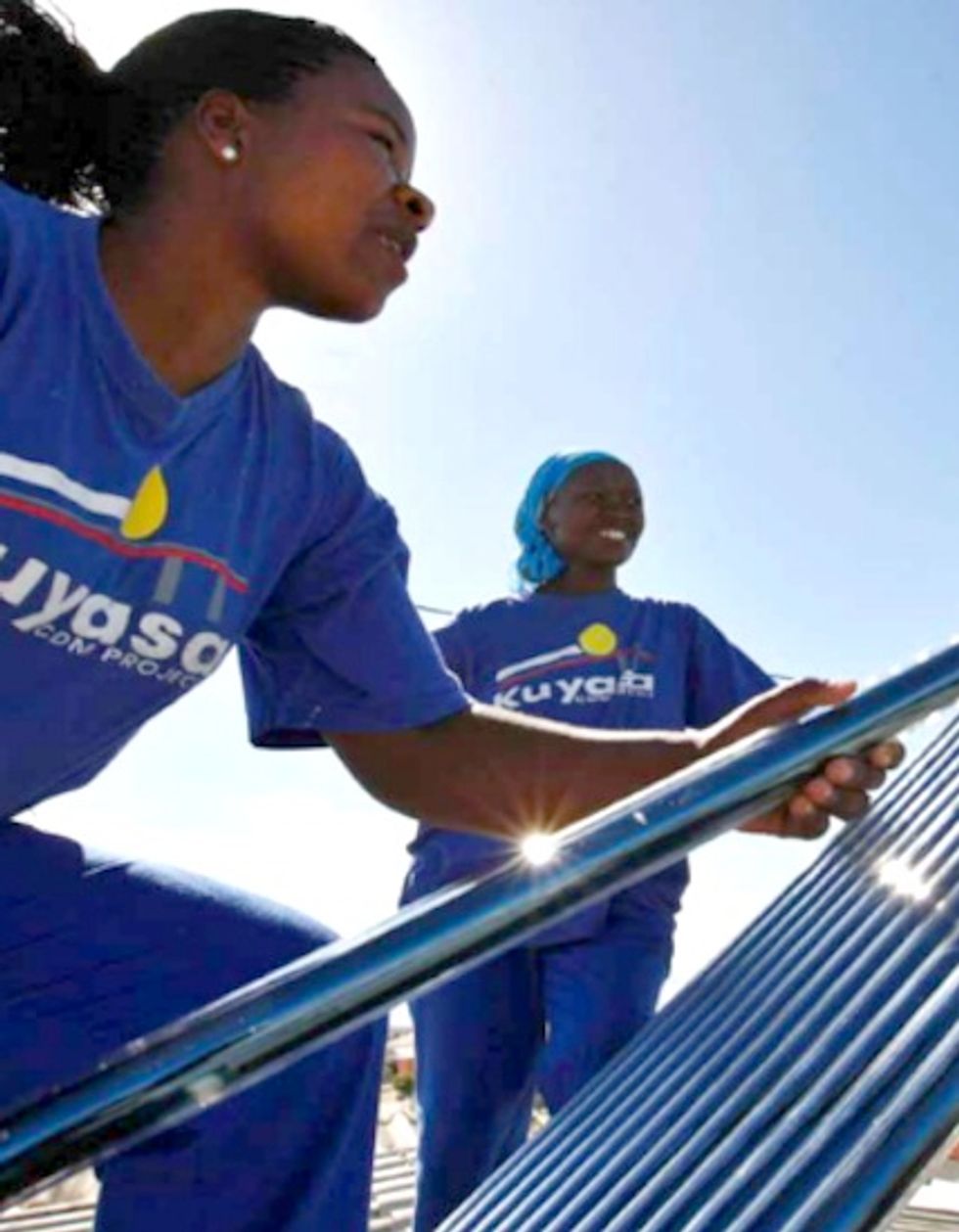 WWF Global Energy Policy Director Dr. Stephan Singer says scaling the implementation of renewable energy is possible "if countries avoid the mistakes and learn from successes" of countries which have pioneered implementation.
"Today, 138 countries worldwide have introduced renewable energy targets, mostly to be met by 2020. But renewable energy targets, important as they are, function only as icing on the cake," says Dr. Singer. 
"Local and national participation by stakeholders, sound national technology assessments, schemes to provide affordable and clean energy to the poor, financing the needed cost of capital and infrastructure, grid integration, monitoring success and bottlenecks as well as a good compliance system are all crucial parts of a sound implementation plan to make renewables the key energy supply source in the few decades ahead," he added.
"Case studies in the report show that in order for renewable energy targets to be implemented successfully, it is not only a question of financing and technology but of good governance. It's about ensuring transparency and public participation in energy planning, effective policy design and investments in human know-how and capacity," says Athena Ballesteros, project manager of International Financial Flows and Environment Project of the World Resources Institute, which collaborated with the WWF to compile the report. 
The report provides clear evidence of what factors are required in order to reach renewable energy targets at the national level. "If addressed appropriately and consistently, these barriers can become opportunities for creating fundamental and solid conditions for successful RE [renewable energy] implementation," says Dr Singer.
Visit EcoWatch's RENEWABLE ENERGY page for more related news on this topic.
——–
Click here to tell Congress to Expedite Renewable Energy.

On the invitation of the German Environment Minister Peter Altmaier, high-level representatives from 10 countries have gathered in Berlin to establish the Renewables Club on June 1. Their common goal is to scale up the deployment of renewable energy worldwide. Founding members of this pro-renewable alliance are China, Denmark, France, Germany, India, Morocco, South Africa, Tonga (as a representative of small and medium-sized island nations), United Arab Emirates, United Kingdom and the director-general of the International Renewable Energy Agency (IRENA).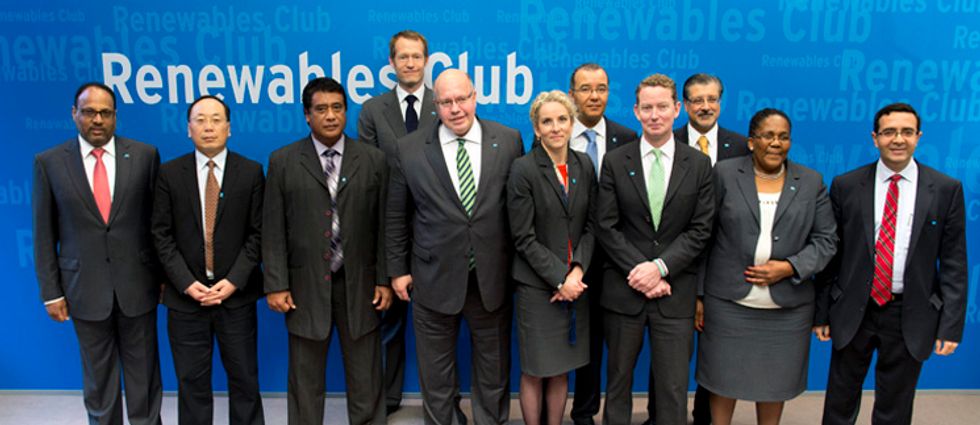 "As members of the Club, we aim to lead by example," said Minister Altmaier. "The Renewables Club is a political initiative of pioneering countries that are united by an important goal: a worldwide transformation of the energy system." In such a system, renewable energy should play a key role in the future global energy supply.
"We are determined to work together as advocates and implementers of renewable energy at global level," said Altmaier. "We in Germany do not stand alone with our Energiewende [energy transition], but are a part of a strong group of leaders."
The Renewable Club's purpose is to supplement and support IRENA.
"Renewable energy is not only a good way of combating climate change, it also contributes to prosperity and supply security throughout the world," said Minister Altmaier. "Especially at a time of growing energy demand, this is the attraction of renewable energy for countries all over the world."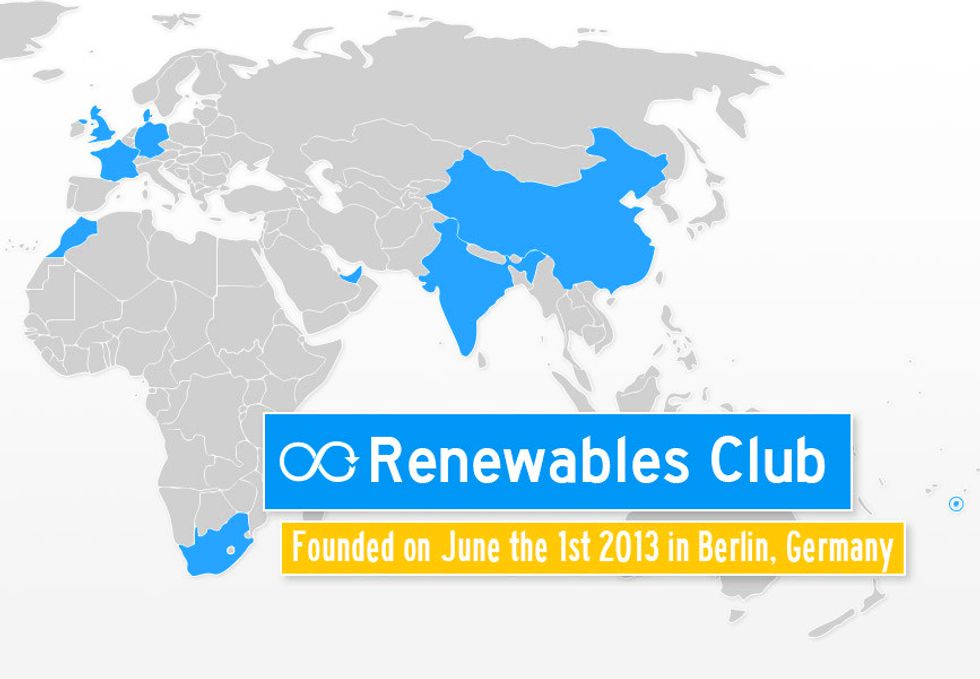 The Renewable Club members agreed to unite in putting renewable energy on the political agenda in the future. At the next UN climate conference, club members plan to jointly present the advantages of renewable energy for prosperity, climate and sustainable development. As a network and driver of ideas, members also aim to generate incentives for projects promoting the global transformation of the energy system.
While the formal foundation of a club of pro-renewable energy nations did not come with any binding targets nor joined projects, it does send out some very powerful messages. One of the most important messages is probably the fact that 10 diverse nations publicly declare that the world has to move to a renewable future at this moment to deal with many of the challenges of our time. The following is a statement from the Renewables Club:
We recognize that, with the global energy demand predicted to rise  tremendously in the years to come, countries are facing investment and infrastructure decisions on a scale that will define the development of generations to come. We also recognize that the current energy system as it stands right now poses risks to the climate, environment, poverty eradication, energy security and development, in particular in most vulnerable countries.
We are convinced that renewable energy, including transmission and interconnection infrastructures, is an essential part of the solution to the existential challenges we are facing and the means to transform the path to sustainability. We stress that renewable energy has entered into a virtuous circle of falling costs, increasing deployment and accelerated technological progress, renewable energy technologies now representing economical choices in an increasing number of countries and regions.
What is even more impressive than the refreshingly clear language are some of the statistics and facts on the Renewables Club, even in its current 10-member set up:
With approximately 2.9 billion inhabitants, the 10 member nations represent about 40 percent of the world population.
With approximately $19 trillion, they also represent about 27 percent of the world economy (measured in nominal Gross Domestic Product).
The members of the Renewables Club represented 40 percent of global investments in renewables last year.
The Renewables Club includes economies that are leaders in technology, innovation, industry, renewable deployment and efficient policy frameworks, as well as those emerging economies that will benefit the most from a rapid transition to renewable energy.
In all fairness, the establishment of this club is perhaps just some symbolic low-level political "noise," but it might also be the beginning of an important international institution that acts as a strong voice for the proven working solutions to many of the world's problems, and as a spearhead against many of the political barriers that hinder progress today.
Perhaps a good indication of the latter is the fact that the formal foundation of this "coalition of the willing" or "axis of renewables" initiated by the German government was precluded by many bilateral agreements, cooperation treaties and even explicit development projects.
Visit EcoWatch's RENEWABLES page for more related news on this topic.
——–
Click here to tell Congress to Expedite Renewable Energy

A new report released on the sidelines of the World Future Energy Summit today, shows that even if all electricity is to be generated through renewable energy (RE) sources, and with solar photovoltaics (PV) alone, it would take up only an insignificant amount of total land area, contrary to common perception.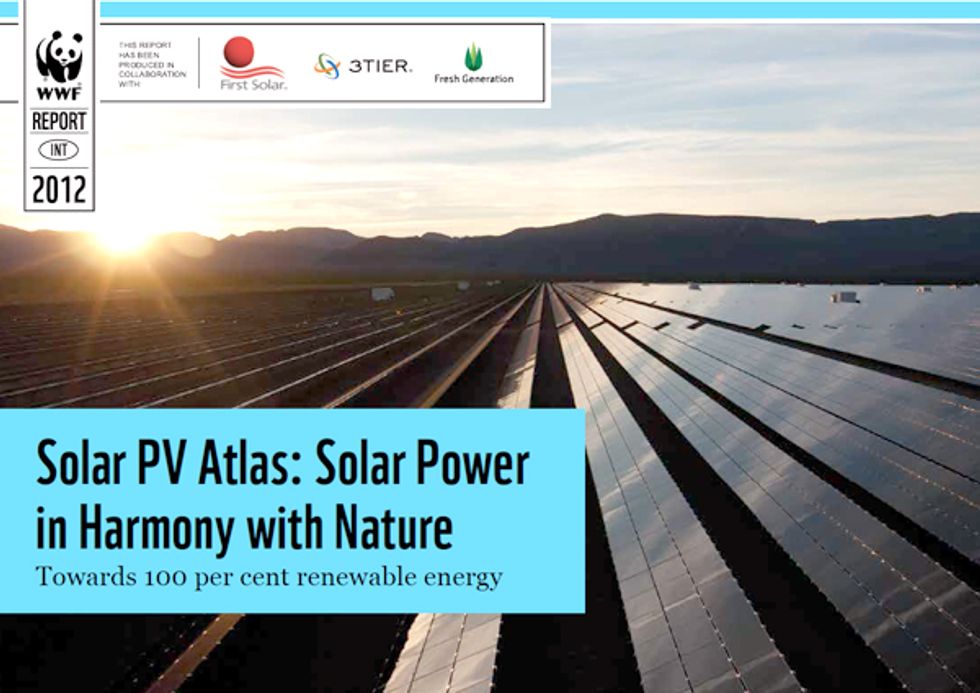 The report, Solar PV Atlas: solar power in harmony with nature, shows through seven cases—six countries and one region—less than 1 percent of the total land mass would be required to meet 100 percent of projected electricity demand in 2050, if generating electricity only with solar PV .
World Wildlife Fund (WWF) teamed up with First Solar, 3TIER and Fresh Generation to develop the report. It looks at Indonesia, Madagascar, Mexico, Morocco, South Africa, Turkey and the Indian state of Madhya Pradesh.
The regions represent diverse geographies, demographics, natural environments, economies and political structures. They receive different but good average levels of sunshine, and all show vast potential for widespread development of solar PV, a well-established, commercially available and reliable technology today.
The report illustrates that PV technology, when well-planned, does not conflict with conservation goals and clarifies that no country or region must choose between solar PV and space for humans and nature.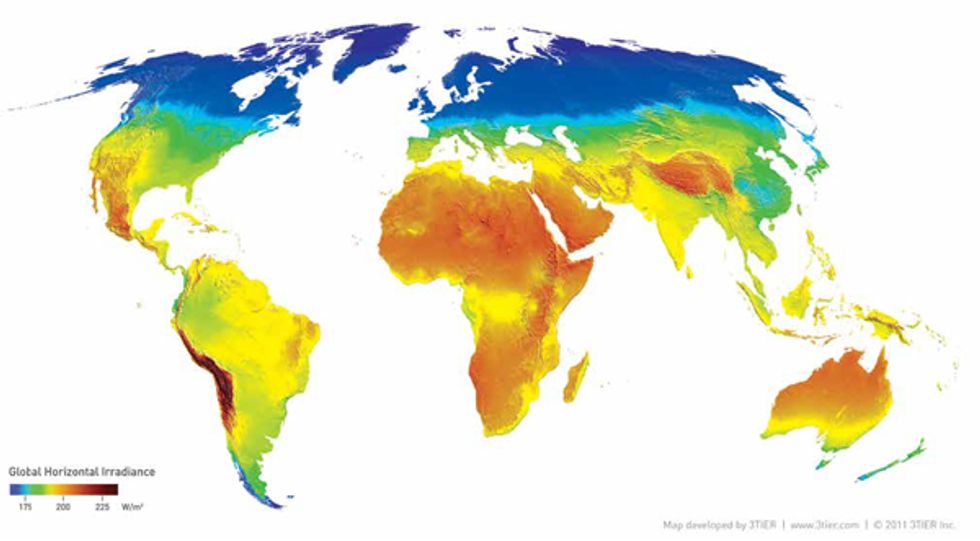 "Research has found that PV power plants provide considerable environmental benefits, including a low carbon footprint and a short energy pay-back time. Replacing existing grid electricity with PV arrays significantly reduces greenhouse gas and heavy metal emissions as well water usage," says Lettemieke Mulder, First Solar vice president for sustainability.
This new report supports WWF's vision of 100 perecent RE by 2050. "We are actively promoting investments and measures in renewable energy technologies that help to make this happen," according to Jean-Philippe Denruyter, WWF's manager Global Renewable Energy Policy.
"As climate change increasingly threatens people and the natural world, it is more important than ever to work for the rapid and wide-scale adoption of well sited, responsibly operated renewable energy power facilities. Environmental protection and renewable energy can and are developing in parallel," says Samantha Smith, leader of the WWF's Global Climate & Energy Initiative.
Visit EcoWatch's RENEWABLES and ENERGY pages for more related news on this topic.
——–
Click here to tell Congress to Expedite Renewable Energy.

Hundreds of activists from the Arab region and around the world attended a historical march at Cornish Park in Doha, Qatar demanding urgent actions to address climate change during the UN climate conference, COP18. Activists are asking for world leaders to help create a world that does not compromise resources and life for future generations or their ability to meet their own needs. The march is thought to be the first event of its kind in the history of modern day Qatar.
Ali Fakhry, IndyACT media campaigner explained, "The marchers are here to ask their country leaders to act now, there is no time left." During the march, people held banners and chanted "Pledge Pledge, Pledge," "Arabs; it's time to lead" and "One Environment, Earth," while calling for urgent climate action, concrete steps towards binding future agreement in Doha and a second commitment of Kyoto protocol to start in 2013.
"Time is running out for us to ensure climate impacts do not spin out of control. We only have one environment and one Earth, as the ministers and decision makers are coming, we need them to hear civil society voices and push for concrete steps they are willing to take whether it is committing to cutting their emissions or ensuring poorer countries get support to take action," said Fakhry.
Activists from more than 15 Arab countries, including Qatar, Mauritania, Morocco, Jordan, Libya, Tunisia, United Arab Emirates, Palestine, Lebanon, Iraq, Algeria, Sudan, Oman, Egypt and Bahrain are also calling on their leaders—during the first climate negotiations ever held in the Middle East—to submit concrete voluntary pledges for mitigation targets at COP18 in order to fulfill their own responsibilities in reducing greenhouse gas emissions.
The march was supported by regional and international NGO networks such as IndyACT, OASIS Doha, 350.org, Climate Action Network and the global TckTckTck campaign, as well as youth activists who were instrumental in the Arab spring and are now organized in the newly founded Arab Youth Climate Movement.
The youth climate movement—another first of its kind in the Arab world launched by IndyACT—unites hundreds of grassroots activists from across the region. On Nov. 10, activists staged a regional Day of Action in the lead up to the UN climate talks in Doha.
Visit EcoWatch's CLIMATE CHANGE page for more related news on this topic.
By Paul E McGinniss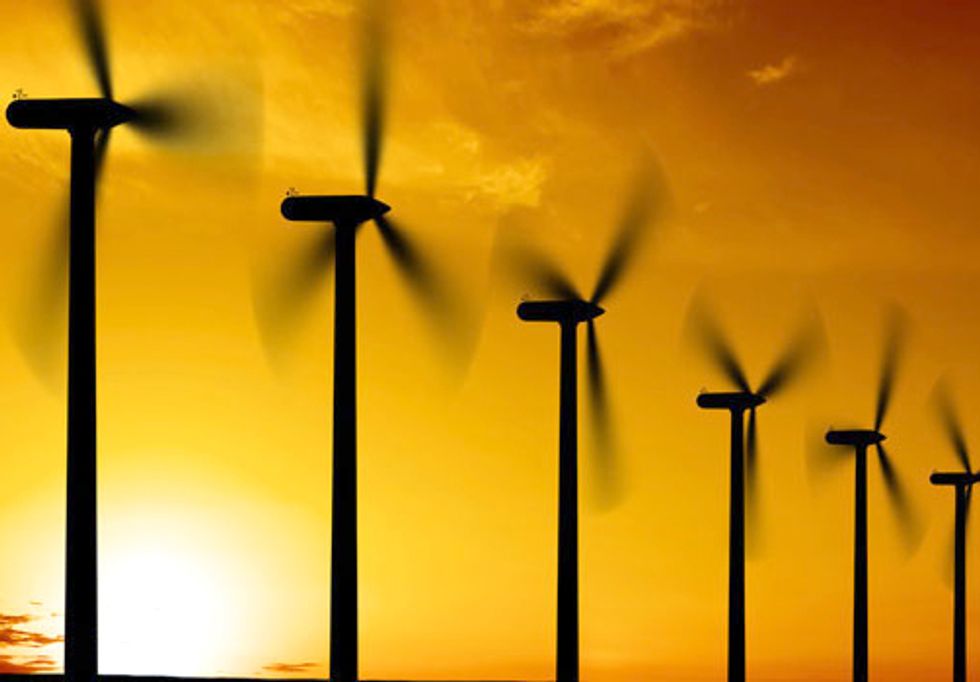 Morocco was the first country in the world to recognize the fledgling American Republic in 1777. Now, they are seeking clean energy independence and asking the world to join them in a green revolution.
This North African country, a constitutional monarchy about the size of California, has recently set a royal goal to ensure that 40 percent of its electricity demand is met from renewable energy sources by 2020. This is an extremely aggressive goal considering more than 90 percent of its current energy use is fossil fuel based and imported.
Astoundingly, with the cooperation of European and worldwide partners, Morocco has even grander plans to power itself entirely by renewable energy and potentially, in cooperation with other Northern African countries, export excess clean energy to Europe.
With these aggressive goals, it shouldn't be surprising that King Mohammed VI of Morocco isn't afraid of what anyone thinks when he talks about the reality of climate change. And talk he does.
In a message to world participants at the September 2102 conference in Morocco, Energy Challenges in the Euro-Mediterranean Region, King Mohammed said:
"Convinced of the vital importance of protecting and preserving the environment, and having realized at an early stage—thanks to its geographical location—the potential impact of climate change, my country resolutely opted for sustainable development which, needless to say, goes hand in hand with human development."
In 2009, King Mohammed announced at a ceremony attended by U.S. Secretary of State Hillary Clinton a $9 billion solar project with the target of creating 2,000 megawatts of renewable power by 2020. According to the Moroccan Minister of Energy and Mining at the time, Amina Benkhadra, the "massive project" will combine economic and social development with environmental protection and efforts to tackle climate change. "The project will reduce energy imports by saving the equivalent of a million tonnes of oil per year and help protect the environment by cutting carbon dioxide emissions by 3.7 million tonnes annually," said Benkhadra."
Morocco's foray into its green future started small, with encouragement of individual solar systems on homes, especially in remote areas with no power. The country rightly understood the importance of localized sources of power generation and micro grids. It was only in 2007 when Morocco installed its first, small 50 kilowatt photovoltaic power plant in Tit Mellil. Then things got on a roll. In 2007, Morocco installed 200,000 square meters of solar water heating panels. In 2008, a combined cycle solar and thermal plant of 427 megawatts was established. But, all this was just the tip of a huge wave of renewable activity which has positioned Morocco to be a major geopolitical player in renewable energy.
In 2010, the largest wind farm in Africa, consisting of 165 turbines, was inaugurated in northern Morocco.
Clean Technica reported in October 2012, that a new memorandum of understanding was signed between the Moroccan government and the Desertec Foundation, a German based entity, to strengthen plans to build a massive series of solar power plants in the northern part of Morocco. These plants will supply not only power for Morocco, but also feed clean energy to Europe via high voltage direct current transmission lines.
"Morocco is a not just a visionary in the region, but also a successful pioneer in the global transition to renewables," said Dr Thiemo Gropp, director of the Desertec Foundation.
In a Clean Technica article, Morocco Stays Renewable Energy Course Amidst Arab Spring, it notes that, "also vital to the renewable energy/energy efficiency strategy's success and job creation, Morocco is investing in building out a modern electricity grid and distribution lines. These are key to the government's plans to export green energy to Europe."
The green headway Morocco is making shows the vital importance of strong leadership.
A Forbes article, Is Morocco the Mediterranean's Green Energy Savior?, states that Fouad Douiri, Morocco's newly appointed Minister of Energy, Mines, Water and the Environment, cited a series of laws passed in 2009. The legislation provided the foundation and grid support for the country's renewable efforts, including the creation of the National Agency for Renewable Energy Development and Energy Efficiency and the Moroccan Agency for Solar Energy.
King Mohammed and his government understand that being energy independent is not just about national security, it's also about bettering the lives of the citizens in the process, protecting a fragile environment, creating jobs and educating the youth.
With an eye toward protecting air and water quality and not just developing energy security, in 2010 Morocco introduced a "green tax" for polluters.
"Although the cost of solar energy is still high, this source of renewable energy opens up promising, strategic prospects since state-of-the-art technologies in this field are readily available ... In addition to generating electricity, this energy sector provides a basis for green growth in addition to contributing to economic and social development. It should also enable our country to sharpen its industrial competitive edge and help us encourage development-oriented scientific research and technological innovations, sensitize our young people about civic environmental values and promote optimal use of alternative energy sources," explains King Mohammed.
On Nov. 12, the Moroccan King announced the creation of a "green city" which has at its heart a university which includes a focus on sustainable development and clean technology. This creative and bold initiative is similar to the visionary green city cum university, Masdar, that is in the works in Abu Dhabi, United Arab Emirates.
Granted, Morocco, unlike the U.S. and some of the neighboring, oil rich countries like Libya, is not blessed with fossil fuel riches. So, obviously, they are not able to develop an energy security plan that relies on fossil fuels. Nonetheless, they are showing larger, wealthier and more powerful countries that with vision and leadership they can modernize and develop themselves sustainably, without fossil fuels.
The fact that Morocco, a country with a GDP of 100.22 billion dollars, an economy much smaller than the state of California—$1.9 trillion economy, the 8th largest GDP in the world), has manged to move so far so fast is a lesson for us all.
Interestingly, many thought California's renewable energy mandates were unrealistic when in 2011 it set a goal of achieving renewable electricity generation of 33 percent by 2020. The LA Times reported after Governor Jerry Brown signed the legislation, "the new law, known as a renewable portfolio standard, is the most aggressive of any state. Several attempts to introduce a federal version have stalled in a divided and preoccupied Congress."
But, the naysayers who doubted that California could do what it set out to accomplish are being proved wrong. The Natural Resources Defense Council reported in California Utilities Exceed Renewable Power Goals, "at a time when there's plenty of disheartening news about the environment, yesterday's report that California is continuing to make rapid progress toward its goals for clean, renewable power generation is reason to cheer. The California Public Utilities Commission's progress report shows that the state's three largest private electric utilities—Pacific Gas & Electric, Southern California Edison and San Diego Gas & Electric—have met the renewable portfolio Sstandard goal of 20 percent of renewable energy from 2011-2013—and are on track to surpass that milestone this year en route to achieving the mandated one-third share by 2020."
Disappointingly, the U.S. government, unlike Morocco and an increasing number of other countries around the world, has not passed a federal renewable portfolio standard. However, most U.S. states across the country are moving in the direction of clean energy with 38 states setting Renewable Portfolio Standards or at least having renewable energy goals.
According to Reuters, the Chancellor Angela Merkel of Germany said this month that the German government remained committed to expanding its renewable energy capacity and would strive to coordinate policies better with the country's 16 states. Further, Merkel and state leaders told reporters that better coordination would help Germany achieve its goal of getting 40 percent of its electricity from renewable sources by 2020, up from 25 percent currently.
With Morocco managing to address local environmental concerns, develop a resilient energy security program and connect to a larger world energy strategy in such a short time, hopefully it will inspire policy makers around the world. The accomplishments in Morocco are especially important for American politicians to consider as they weigh the merits of continued extreme fossil fuel extraction, including approving the Keystone XL tar sands pipeline, fracking and offshore oil drilling.
America should recognize Morocco's achievements and join them on a path toward a clean, peaceful green energy world.
Check out this Al Jazeera English video from 2010, Going Green in Morocco:
Visit EcoWatch's RENEWABLES page for more related news on this topic.
--------
Paul E McGinniss is The New York Green Advocate. He is a green building consultant and real estate broker in New York. He is pretty much obsessed with all things environment and has lately become a resiliency addict.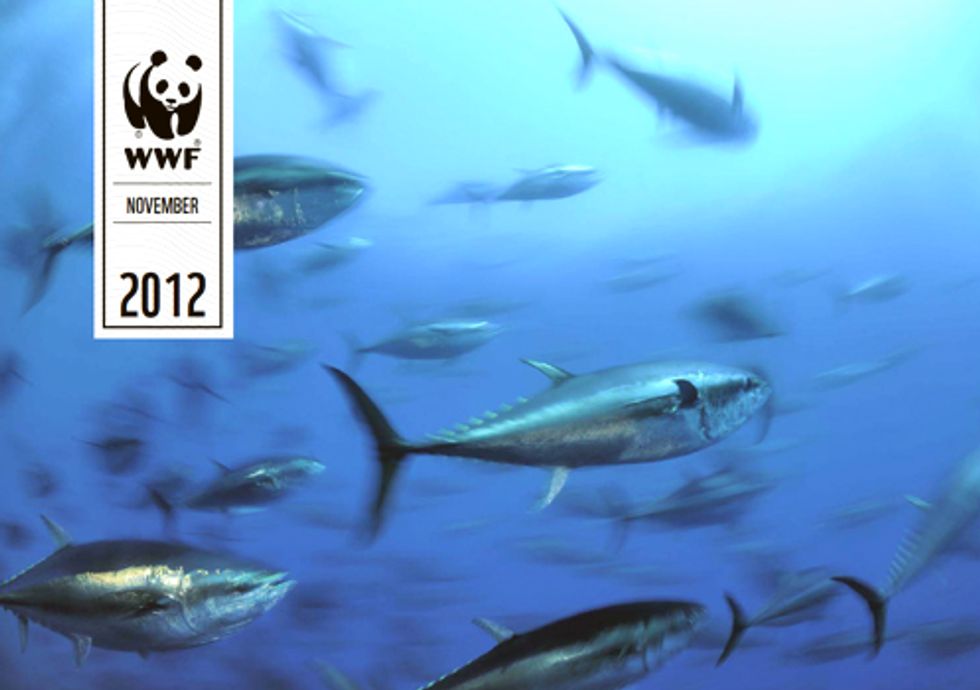 A new study commissioned by the World Wildlife Fund (WWF) uncovers that between 2000 and 2010, the equivalent of 18,704 tons of  live bluefin tuna were traded via Panama without being reported to the International Commission for the Conservation of Atlantic Tunas (ICCAT)—the international body managing the fishery.
Besides Panama, Mediterranean countries including Spain, Italy, Morocco, Tunisia and Turkey were involved, as well as Japan.
WWF calls on ICCAT and the concerned countries to urgently investigate further.  
 
"This is the first ever study on this issue and it probably shows only the tip of the iceberg. We finally managed to get the proof of a situation that has been acknowledged for many years even by ICCAT itself", said Dr. Sergi Tudela, head of WWF Mediterranean Fisheries Program. 
 
Based on official trade and customs databases, it has been revealed that over a decade as much as 14,327 tons of processed Atlantic bluefin was traded via Panama. This volume of trade corresponds to an estimated weight of 18,704 tonnes of live fish. 
 
Bluefin tuna has been exported to Panama from Mediterranean countries including Spain, Italy, Morocco, Tunisia, Turkey and Panama, in turn, re-exported to Japan as much as 13,730 tons of processed bluefin. 
 
The trade detected peaked in 2003 and 2004, with 3000-4000 tons per year, but was still on-going at a lesser extent as late as in 2010.
 
"According to available records, not a single shipment identified by the report was ever reported to ICCAT," added Tudela. "If confirmed, it would fully qualify as illegal, unreported and unregulated (IUU) fishing according to the United Nations' FAO standards and would equal environmental crime."
 
All involved countries mentioned in the study were ICCAT Contracting Parties at the time the unreported trade operations were detected. According to ICCAT rules in force during all the study period, any international trade of Atlantic bluefin tuna had to be duly reported, to enable cross-checking with catch quotas. 
 
The unreported trade of bluefin tuna through Panama, not even recorded in Panama customs, could have happened without the fish having been physically shipped to Panama. Simply, Panamanian-flagged transport vessels and the involvement of intermediary Panama-based companies could have mediated between producer countries and the final market in Japan.
 
According to ICCAT, IUU activities in the bluefin tuna fishery peaked in 2007 with an estimated catch at 61,000 tons, worth more than twice the legal quotas. There is consensus that recent catches have significantly reduced, but strong doubts still exist as to the real amount of fish being caught. 
 
WWF calls on ICCAT, the countries identified in the study and the European Union, to urgently launch a serious investigation that would allow to either ruling out or endorsing the suspicions of IUU activities pinpointed by the study.