The Blue Nile Falls / Tis Abay / Tis Issat near Bahar Dar, Ethiopia, East Africa. Arterra / UIG via Getty Images
Australia's Murray Darling basin covers more than a million square kilometers (approximately 386,000 square miles), 14 percent of the country's landmass. It's the site of tens of thousands of wetlands, but increasing demand for water has stretched its resources to the limit.
Many of the basin's wetlands and floodplain forests are declining—several former wetlands and forests have even been consumed by bushfires, which are becoming more frequent every year. Yet when Australian officials sought to introduce strict water allocation rules, they met with fierce resistance from farmers in the region who depend on irrigation for their livelihood.
This is just one example of the ongoing conflicts over ecological water allocations featured in a new report released by the Global Forest Expert Panel (GFEP) on Forests and Water, an initiative led by the International Union of Forest Research Organizations (IUFRO).
More than 7.5 billion humans currently occupy planet Earth together with an estimated three trillion trees, and both of these populations require water. According to the GFEP report, the growing human population and climate change are exacerbating a looming global water crisis that has already hit home in places like the Murray Darling basin—but the crisis could potentially be averted if humans paid more attention to the links between forests and water.
"This international effort to highlight the interlinkages between forests, water, people and climate is very timely, given the pressures we now face on both human society and natural ecosystems," Caroline Sullivan, an environmental economist at Australia's Southern Cross University who contributed to the report, said in a statement. "For example, here in Australia, we are facing water shortages, massive loss of biodiversity, rising incidence of floods and droughts, and loss of economic capital and human wellbeing."
In Mongolia, freshwater resources are scarce. L'irrésistible silhouette bleue / CC BY-SA 2.0
Despite the links between the global climate, forests, people and water, international bodies like the Intergovernmental Panel on Climate Change (IPCC) and the United Nations Framework Convention on Climate Change (UNFCCC) have tended to view carbon sequestration as the chief role of forests and trees. GFEP co-chair Meine van Noordwijk, chief scientist at the World Agroforestry Centre (ICRAF) in Indonesia and a professor of agroforestry at Wageningen University in the Netherlands, warns that we ignore the importance of water in the climate debate at our own peril.

"In view of the vital role water plays, even in facilitating the continuous sequestration of carbon in standing forests, a lack of understanding of landscape-scale effects amongst the forest and water science communities and policymakers is of increasing concern," Noordwijk said in a statement.
The GFEP report finds that water should be key to discussions of the interactions between forests and the global climate, especially in areas of water scarcity, because strategies focused entirely on carbon sequestration can still have drastic and unintended consequences for water resources. For example, reforestation projects need to take into account the water needs of new foliage and prioritize the use of species that are adapted to local conditions, per the report.
Irena Creed of the University of Saskatchewan in Canada is the other co-chair of the GFEP and co-editor of the report along with Noordwijk. She says that, just as it is missing from the climate debate, water is often overlooked as an important component of forest management.
"[N]atural forests, in particular, contribute to the sustainable water supply for people in the face of growing risks," Creed said in a statement. "And it is also possible to actively manage forests for water resilience."
For instance, the report spotlights the example of the various countries in the Hindu Kush-Himalaya region that have revived dried-up springs by applying water-sensitive land management strategies in recharge zones.
Creed added that the future impacts of climate change introduce a level of unpredictability that we will also have to learn to deal with. "Natural disturbances and human activities influence forest and water relations with their impacts, depending on their timing, magnitude, intensity and duration," she said. "Under a changing climate, these influencing factors vary more than ever, sometimes in unanticipated ways. Forest management for the future must therefore factor in uncertainty."
Noordwijk notes that, "In our assessment, we focused on the following key questions: Do forests matter? Who is responsible and what should be done? How can progress be made and measured?" Because the answers to those questions depend heavily on regional context, Noordwijk, Creed and their co-authors seek to identify "globally relevant information on forest-water interactions" and highlight implications for international policymakers in the report. Specifically, they look at how a better understanding of the climate-forest-people-water connection can help achieve the 17 Sustainable Development Goals (SDGs) laid out by the UN in its 2030 Agenda for Sustainable Development.
"Governments and all stakeholders wanting to achieve the SDGs need to understand that water is central to attaining almost all of these goals, and forests are inseparably tied to water," Hiroto Mitsugi, assistant director-general at the UN's Food and Agriculture Organization, said in a statement. "Policy and management responses must therefore tackle multiple water-related objectives across the range of SDGs, and take a multiple benefits approach."
The report concludes that governance of water and forests as resources can be improved "to reduce the identified hydro-vulnerability in the context of all SDGs, and the persistent and growing threats arising from climate change. Failure to place water at the centre of discussions on forest-climate interactions and diverse forestation strategies, will have important negative impacts on policy effectiveness and ultimately on the provision of water."
International governance can play a "highly important" role, the report states, by creating norms such as the SDGs, and providing opportunities for those norms to be discussed, negotiated and agreed upon. "National level governance can also be radically improved," the report adds, "in particular, by beginning to bring together competing sectors of the economy into national level institutional frameworks that encourage cooperation and negotiation across the broader scope of forest and water interactions."
NASA Study of Increasingly Dire Global Water Shortages Finds 'Clear Human Fingerprints' https://t.co/BNwBktsBtC… https://t.co/Q7tgaDNiBj

— EcoWatch (@EcoWatch)1526569048.0
Reposted with permission from our media associate Mongabay.

From Your Site Articles
Related Articles Around the Web
EcoWatch Daily Newsletter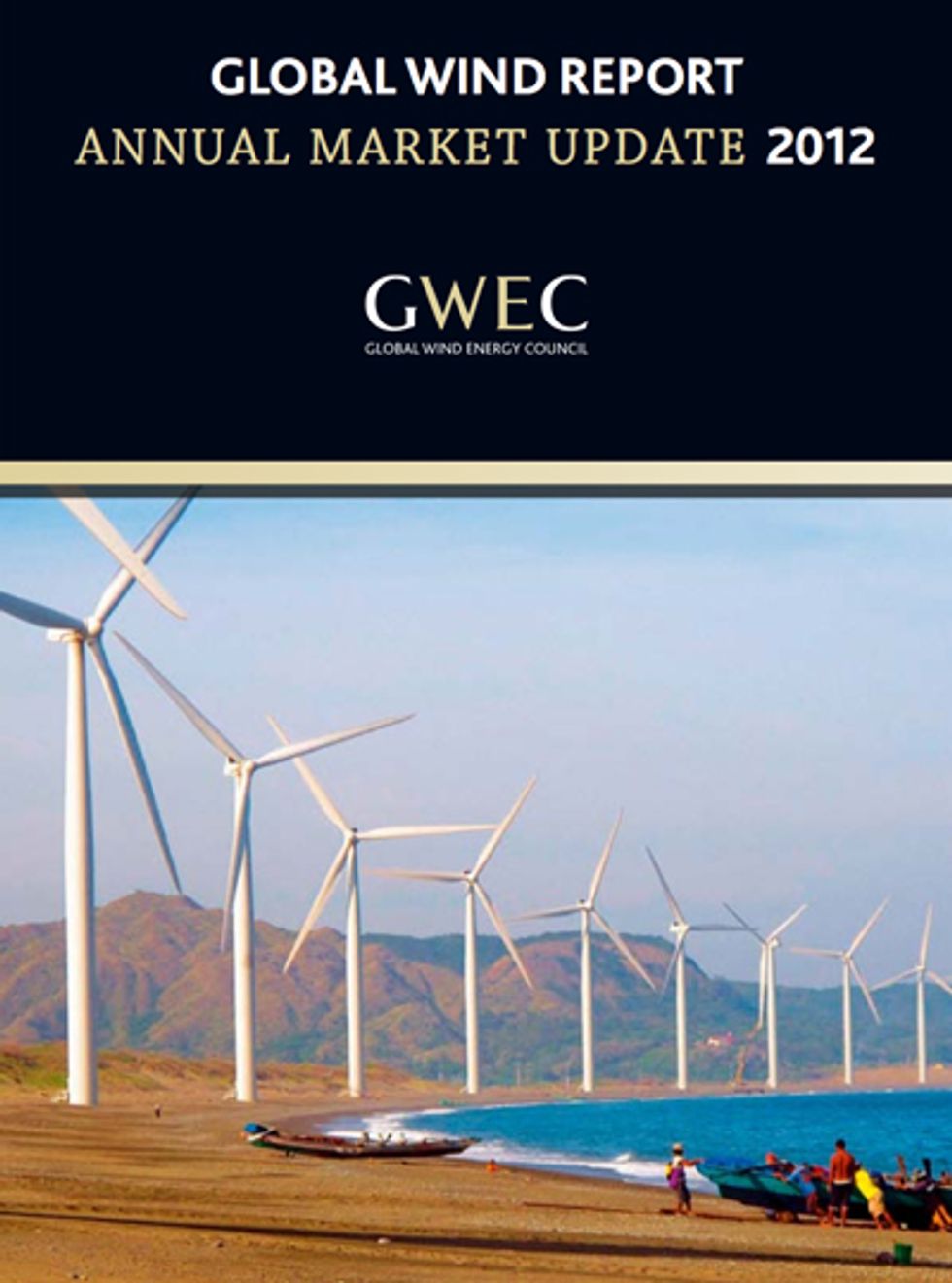 The Global Wind Energy Council (GWEC) released its Annual Market Update this week, with a comprehensive snapshot of the global wind industry at the end of 2012, along with a five year forecast out to 2017. Although policy uncertainty in the main Organisation for Economic Co-operation and Development (OECD) markets is a cause for concern, strong markets in China, India and Brazil, as well as in new markets in Latin America, Africa and the rest of Asia will drive global growth during the period.
"Wind power may be variable, but the greatest threat to the continued stable growth of the industry is the variability and unpredictability of the politicians who set the frameworks for the energy sector," said Steve Sawyer, GWEC secretary general. "However, all of the fundamentals which have driven wind power to date are still in place: energy security, price stability, local economic development, climate change mitigation and local air and water pollution issues; and wind is now competitive in an increasing number of markets, despite fossil fuel subsidies which last year amounted to an incentive to emit CO2 of about $110/tonne."
Record installations in the U.S. and Europe led global installations of 44.8 gigawatts (GW) of new wind power globally in 2012, 10 percent more than was installed in 2011. Global installed capacity has now reached 282.5 GW, a cumulative increase of almost 19 percent. The forecast is for a modest downturn in 2013, however, followed by a recovery in 2014 and beyond; with global capacity growing at an average rate of 13.7 percent out to 2017, and global capacity nearly doubling to 536 GW.
The U.S. regained the number one spot for global markets in 2012 for the first time since 2009, eking out China by 164 megawatts (MW). However, the late extension of the U.S. Production Tax Credit on January 1 means that the U.S. market will drop precipitously in 2013, although with substantial recovery expected in 2014. Europe's record installations in 2012 are unlikely to be repeated in 2014, as a result of policy uncertainty and backtracking.
"European governments are driving up the cost of meeting their 2020 renewable energy targets by making policy changes that undermine investor confidence," said Thomas Becker, CEO of the European Wind Energy Association. "An ambitious and binding 2030 renewable energy target would hugely reduce uncertainty. It would create jobs and exports and boost Europe's world-leading wind industry."

After a year of market consolidation in China, the world's largest market with over 75 GW of installed capacity, Chinese authorities are calling for 18 GW of installations in 2013; and after a year-long policy hiatus in India, the market is expected to recover and return to growth in 2014. Brazil continues to lead the Latin American market, and may surpass 2 GW of annual installations in 2013; and both Mexico and Canada are expected to grow substantially over the period.
There are also hundreds of MW under construction in South Africa, with another 500 MW expected to come to financial close this year, leading a surge in installations in sub-Saharan Africa which began in Ethiopia in 2012. In Asia, Pakistan, Mongolia, the Philippines and Thailand are all expected to see significant installations in 2013 and beyond.
Visit EcoWatch's RENEWABLES and ENERGY pages for more related news on this topic.
——–
Click here to tell Congress to Expedite Renewable Energy.

waterlust.com / @tulasendlesssummer_sierra .
Each product featured here has been independently selected by the writer. If you make a purchase using the links included, we may earn commission.
The bright patterns and recognizable designs of Waterlust's activewear aren't just for show. In fact, they're meant to promote the conversation around sustainability and give back to the ocean science and conservation community.
Each design is paired with a research lab, nonprofit, or education organization that has high intellectual merit and the potential to move the needle in its respective field. For each product sold, Waterlust donates 10% of profits to these conservation partners.
Eye-Catching Designs Made from Recycled Plastic Bottles
waterlust.com / @abamabam
The company sells a range of eco-friendly items like leggings, rash guards, and board shorts that are made using recycled post-consumer plastic bottles. There are currently 16 causes represented by distinct marine-life patterns, from whale shark research and invasive lionfish removal to sockeye salmon monitoring and abalone restoration.

One such organization is Get Inspired, a nonprofit that specializes in ocean restoration and environmental education. Get Inspired founder, marine biologist Nancy Caruso, says supporting on-the-ground efforts is one thing that sets Waterlust apart, like their apparel line that supports Get Inspired abalone restoration programs.
"All of us [conservation partners] are doing something," Caruso said. "We're not putting up exhibits and talking about it — although that is important — we're in the field."
Waterlust not only helps its conservation partners financially so they can continue their important work. It also helps them get the word out about what they're doing, whether that's through social media spotlights, photo and video projects, or the informative note card that comes with each piece of apparel.
"They're doing their part for sure, pushing the information out across all of their channels, and I think that's what makes them so interesting," Caruso said.
And then there are the clothes, which speak for themselves.
Advocate Apparel to Start Conversations About Conservation
waterlust.com / @oceanraysphotography
Waterlust's concept of "advocate apparel" encourages people to see getting dressed every day as an opportunity to not only express their individuality and style, but also to advance the conversation around marine science. By infusing science into clothing, people can visually represent species and ecosystems in need of advocacy — something that, more often than not, leads to a teaching moment.

"When people wear Waterlust gear, it's just a matter of time before somebody asks them about the bright, funky designs," said Waterlust's CEO, Patrick Rynne. "That moment is incredibly special, because it creates an intimate opportunity for the wearer to share what they've learned with another."
The idea for the company came to Rynne when he was a Ph.D. student in marine science.
"I was surrounded by incredible people that were discovering fascinating things but noticed that often their work wasn't reaching the general public in creative and engaging ways," he said. "That seemed like a missed opportunity with big implications."
Waterlust initially focused on conventional media, like film and photography, to promote ocean science, but the team quickly realized engagement on social media didn't translate to action or even knowledge sharing offscreen.
Rynne also saw the "in one ear, out the other" issue in the classroom — if students didn't repeatedly engage with the topics they learned, they'd quickly forget them.
"We decided that if we truly wanted to achieve our goal of bringing science into people's lives and have it stick, it would need to be through a process that is frequently repeated, fun, and functional," Rynne said. "That's when we thought about clothing."
Support Marine Research and Sustainability in Style
To date, Waterlust has sold tens of thousands of pieces of apparel in over 100 countries, and the interactions its products have sparked have had clear implications for furthering science communication.
For Caruso alone, it's led to opportunities to share her abalone restoration methods with communities far and wide.
"It moves my small little world of what I'm doing here in Orange County, California, across the entire globe," she said. "That's one of the beautiful things about our partnership."
Check out all of the different eco-conscious apparel options available from Waterlust to help promote ocean conservation.
Melissa Smith is an avid writer, scuba diver, backpacker, and all-around outdoor enthusiast. She graduated from the University of Florida with degrees in journalism and sustainable studies. Before joining EcoWatch, Melissa worked as the managing editor of Scuba Diving magazine and the communications manager of The Ocean Agency, a non-profit that's featured in the Emmy award-winning documentary Chasing Coral.
By Janet Larsen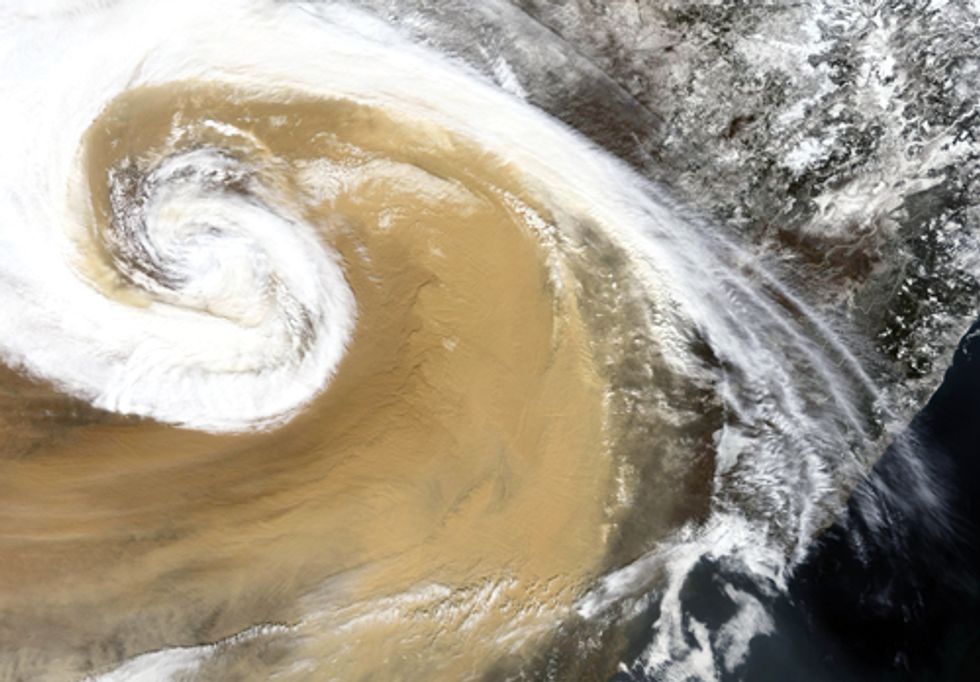 Unfortunately, dust bowls are not just relics of the past. Today two new dust bowls are forming: one in northern China and southern Mongolia and the other in Africa south of the Sahara.
When most people hear the term "dust bowl," they think of the American heartland in the 1930s, when a homesteading wheat bonanza led to the plowing up of the Great Plains' native grassland, culminating in the greatest environmental disaster in U.S. history.
Despite warnings from researchers and some farmers, history repeated itself in the Soviet Virgin Lands Project in the 1950s to early 1960s. Some 100 million acres (40 million hectares) of grassland were plowed under in Russia, Kazakhstan and western Siberia during Premier Nikita Khrushchev's push to produce ever more food from the land. When drought hit, the topsoil started to blow away. By 1965, nearly half the newly planted area was degraded by wind erosion. Yields plummeted. Ultimately farmers staged a retreat, abandoning much of that land.
Unfortunately, dust bowls are not just relics of the past. Today two new dust bowls are forming: one in northern China and southern Mongolia and the other in Africa south of the Sahara. Whereas the dust bowls in the U.S. and the Soviet Union were the result of overplowing, the main culprit in Asia and Africa is overgrazing. Although arid or semiarid grasslands are typically better suited for grazing livestock than for farming, once they are overstocked their protective grass covering deteriorates and they face erosion all the same.
Forty percent of China's land area is grassland. Following agricultural reforms that began in the late 1970s, in which collectively owned livestock were transferred to household ownership, China's cattle herds grew from 52 million in 1980 to nearly 105 million in 2000, according to the U.N. Food and Agriculture Organization (FAO). Meanwhile, China's population of sheep and goats ballooned from close to 180 million to 280 million. Such a high concentration of grazing animals has put unsustainable pressure on the land. For comparison, the U.S.—a country with comparable grazing capacity—hosts a similar number of cattle but only 9 million sheep and goats.
The fastest growth in China's livestock occurred with goats; starting in the mid-1980s, the herd size doubled in just 10 years. This is particularly troubling because a fast expansion of goat populations relative to cattle can indicate grassland deterioration. Goats are hardy, able to survive where few other grazers can. They can make efficient use of remaining greenery on nearly barren landscapes. Yet large numbers of goats often portend further environmental degradation because as the animals remove existing vegetation, they leave soils vulnerable to erosion from wind or rain.
Noting that an extraordinary 90 percent of China's grasslands are degraded, the Chinese government has embarked on restoration programs, including re-vegetation, grazing bans and livestock confinement. The government also has moved nomadic herders off the land or limited their movement under the guise of environmental protection. Evidence from the field, however, reveals that disrupting traditional grazing patterns can exacerbate land degradation and leave pastoralists more vulnerable to the vagaries of the weather.
FAO data indicate that since 2000, China's cattle numbers have shrunk by 20 million, and the growth in sheep and goat herds appears to have stalled. Whether this can be attributed to policies aimed at reducing herd size or the relocation of herders is unclear.
Meanwhile, much damage has been done, and China's dust bowl rages on. More than a quarter of China's land area is covered by desert, and each year spreading sands claim additional territory. Expanding deserts in the arid northwest are merging. Since 1950, more than 24,000 Chinese villages have been abandoned or are seriously in danger of succumbing to traveling dunes, with some 35 million people directly affected.
The effects reach far beyond the desert margins. Spring is the dust storm season. The snow melts and the wind picks up, transporting dust and sand particles from northern China and Mongolia as far as Beijing and on to Korea and Japan, sometimes even crossing the Pacific to cloud parts of North America. The China Meteorological Administration reports that a single severe dust storm in 2006 dumped 330,000 tons of dust from the west onto Beijing: a stunning 44 pounds for each of the city's residents. In 2007, a dust storm originating in China's spreading Taklimakan Desert circled the globe in just under two weeks.
Desert scholar Wang Tao notes that in the first decade of the twenty-first century, China experienced 87 dust storms. Records of very strong dust storms (in which visibility is reduced below 200 meters) show an increase over recent decades, from 5 in the 1950s to 13 in the 1970s, 23 in the 1990s, and 21 between 2000 and 2009. (See data.)
The Korean Ministry of the Environment notes a similar rise in dust storms arriving from China and Mongolia, with talk of a lengthening and strengthening "yellow dust season" in South Korea. Dust events clouded 23 days in the 1970s, 39 days in the 1980s, 77 days in the 1990s, and 118 days from 2000 to 2011.
As bad as Asia's dust storms are, the largest source of dust in the atmosphere on a global scale is Africa. Dust has long traveled out of Africa's deserts and drylands, which make up two thirds of the continent's land area; in fact, dust blowing out of Chad's Bodélé Depression is thought to help fertilize the lush Amazon rainforest. Nearly 75 percent of Africa's drylands are degraded. With land suffering the double whammy of drought and overuse, dust carried out of West Africa has increased over the last 40 years. Studies suggest that the larger influx of African dust may even be teaming up with rising ocean temperatures to damage Caribbean coral reefs.
In the Sahelian zone south of the Sahara the squeeze is on, with fast-growing populations trying to eke out a living by farming or grazing herds on ever less productive land. Desertification is particularly acute in Burkina Faso, Chad, and Niger, as well as in Nigeria, Africa's most populous country, where an estimated 868,000 acres are lost to desert each year. Conflicts over land between herders (largely Muslim) and farmers (largely Christian) are legion, with both groups exacerbating erosion. Nigerian pastoralists, largely in the country's north, have dramatically expanded their herds, putting additional pressure on soils already vulnerable because of erratic rainfall. In 1990, Nigeria had 14 million cattle, 12 million sheep, and 23 million goats. By 2010, cattle populations had climbed just slightly to 17 million, but the number of sheep tripled to 36 million, and goats jumped to 56 million.
Both Africa and China have launched ambitious initiatives to halt the spread of deserts with Great Green Walls of trees. Political leaders—including former Nigerian President Olusegun Obasanjo (an early champion of the African Wall) and Abdoulaye Wade, former President of Senegal—tend to favor such large symbolic projects. Indeed in the throes of the U.S. Dust Bowl, President Franklin D. Roosevelt was similarly taken with the idea of a giant shelterbelt. But as happened in the U.S., desert containment plans in the Sahel and China have broadened in scope beyond basic tree belts to encompass more holistic land management and poverty alleviation activities. The limited success at holding back the sands in China thus far, where since the early 1980s an estimated 40 billion trees have been planted (although far fewer have survived), confirms that stopping desertification involves much more than planting trees.
Climate change is complicating the matter even further. Large parts of the planet are trending toward dryness, with a marked increase in aridity since the 1970s, when global temperatures started to climb. As the Earth heats up further, droughts are projected to become even more pronounced. A rapid reduction in greenhouse gas emissions to prevent runaway global warming, along with a slowdown in the growth of both human and livestock populations to reduce pressure on the land, are what it will take to increase our chances of leaving dust bowls to history.
Visit EcoWatch's FOOD page for more related news on this topic.