f2.8 / shutterstock.com
By Dan Nosowitz
The legalization of hemp as a crop may sound minor, even quaintly of the 1990s, in the wake of the massive economic, environmental and political ramifications of the next farm bill. But it deserves a look.
Senate majority leader Mitch McConnell last week announced a plan to legalize hemp as an agricultural commodity. This brings up several questions. First: Is hemp really still illegal? Second: Mitch McConnell? The Republican from Kentucky? Third: How did the hemp store near my college campus manage to sell all those scratchy hemp sweaters if hemp has been illegal this whole time?
The ban on hemp is not one of the most pressing agricultural topics today compared to the mergers of corporate agribusiness, millions of acres of land destroyed by dicamba and climate change making New York City palm trees a possibility. But it is one of the absolute silliest, dumbest bans on any product in the U.S. and it's looking very likely that, with unexpected bipartisan support, hemp will be legalized quite soon.
Industrial Hemp: A Quick History
Industrial hemp is one of the many varieties of cannabis sativa, same as marijuana, though the two plants look (hemp is tall and skinny; marijuana, stocky and short) and behave very differently. If you're thinking, "Hmm, how different can they be if they're from the same family?" keep in mind that brassica oleracea includes kale, brussels sprouts, cabbage, broccoli and cauliflower. Yep, all the same species.
Hemp is no more similar to marijuana than cauliflower is to kale. While marijuana contains a high amount of THC, the psychoactive compound that gives user the high associated with the plant, THC levels in hemp are so small they're almost undetectable; trying to make a drug out of industrial hemp would be like trying to make a poison from lima beans. (Lima beans contain trace amounts of cyanide.)
Industrial hemp is grown for a variety of reasons: its stalk is covered in layers of bark that can be used to make textiles, plastics, biofuel, insulation and other materials. The seeds are nicely nutritious, not incredibly different from sesame seeds or quinoa and can be pressed into an oil.
The U.S. has a long history of hemp cultivation, dating back to before we were actually a country. Thomas Jefferson is widely believed to have grown the crop. The entire species, including marijuana, was first federally regulated in 1937 with a tax, though it was lifted during World War II as the government urged farmers to grow "Hemp for Victory," owing to the fact that military blockades made it hard to get other fibers. In 1970, the Controlled Substances Act again placed the entire species of cannabis sativa in the DEA's Schedule 1 category.
But even in 1970, legislators realized that cannabis sativa wasn't just for getting a buzz, so the Controlled Substances Act included language exempting certain parts of the plant: the stalk, and the seeds, so long as they weren't capable of sprouting into a plant, were excused even though the plant itself remained banned. In short: It was legal to possess a hemp stalk and process it in any way you wanted, but you couldn't grow it. This forced anyone wishing to use industrial hemp to import the raw materials (not a cheap option), a factor that stunted the hemp industry.
Hemp declined in popularity over the next couple of decades until it was rediscovered as a pretty useful crop in the 1990s. But since it remained illegal, local manufacturers wishing to use hemp had to import it from Canada and Western Europe, where it was widely grown. "By the late '90s, we were all frustrated with having to import hemp from other countries," said Eric Steenstra, president of Vote Hemp, a nonprofit dedicated to educating and pushing for legalization of industrial hemp.
Fast forward to 2011. A guy named Jamer Comer runs for the position of Kentucky's agriculture commissioner and his top priority is the legalization of industrial hemp. Comer actually filed a lawsuit against the DEA for trying to confiscate hemp seeds. It seems kind of far-out for a state that doesn't fit the hippie-revival tone that can be associated with hemp, but running on the hemp platform worked. Comer won. By a lot.
Mitch McConnell Takes Notice
Hemp is a very easy crop to grow, in some ways. It is not particular about climate, it requires zero pesticides, it doesn't require much water compared to a plant like cotton and it can grow in all kinds of soil. Kentucky has a nice chunk of fertile soil, but it also has an awful lot of rocky, hilly land where hemp will actually grow just fine. Mitch McConnell, the long-time senator from Kentucky, noticed Comer's win, and to his credit, actually took a look at industrial hemp. "He sees that it's creating jobs in Kentucky, and economic development, and that it's a good thing for the state," said Steenstra.
By the time Comer took office, work was underway on what would become the 2014 Farm Bill. McConnell noticed the popularity of the hemp legalization push in his home state, and became an actual force for opening regulation to industrial hemp. The 2014 Farm Bill included, owing largely to McConnell, some new allowances for industrial hemp: it could be grown by universities, state agriculture departments and states could even initiate pilot programs. It was a foot in the door, and there are now small hemp operations in more than a dozen states. As difficult as it can be for any small farmer to get loans for their business, a farmer wishing to grow hemp runs into a brick wall of challenges. Banks don't want to issue loans to growers of the crop due to its in-between legal status. "The DEA's stance that this is a controlled substance has led to all sorts of problems, like lack of access to banking, water rights, and property insurance," said Steenstra.
McConnell's new bill, which will have bipartisan support from Democrats, would completely exclude hemp from any controlled substance regulation. It would, correctly, insist that hemp is not marijuana.
Who's Most Against Lifting the Ban on Industrial Hemp Agriculture? Marijuana Growers
A particularly weird thing about the hemp debate is how incredibly un-controversial it is. The DEA opposes it; they won't confirm this, but it seems likely that their opposition is based mostly on losing funding. Interestingly (especially for anyone who thinks hemp farmers might try to hide marijuana in their fields), it's marijuana growers who are most against it. Why? Being that marijuana and industrial hemp are the same species, they can cross-breed. But marijuana growers need extremely specific plants (female only, certain breeds), so pollen blowing in from an industrial hemp operation is a threat that could destroy a marijuana grower's crop.
But on the whole, there's very little opposition to legalization of hemp. Industrial hemp may not be a world-beater of a crop—as we've noted in the past, it removes a lot of nitrogen from the soil, it can be sort of expensive to harvest, and there are more-established and cheaper crops for most of the things you could use hemp for. But still, there is no good reason to ban it. The major player standing in the way of this bill is Chuck Grassley, senator from Iowa and chairman of the Senate Judiciary Committee. Grassley has given a sort of muddled, not totally factually accurate statement outlining his opposition to industrial hemp; his views include that it is not a viable crop (possibly! But neither is poison ivy, and poison ivy isn't banned), and that it would be some sort of door-opener to marijuana.
"It seems that the main reason hemp is being put forward as a legitimate crop is to promote the legalization of marijuana. That is something I cannot support," he wrote. He spends the majority of this statement talking about psychoactive marijuana and the dangers of illegal drugs. Grassley is powerful, but very, very few other elected representatives have anything worse than a "who cares?" attitude towards industrial hemp.
"McConnell is in a position to really do something with this, and I think for most members of Congress this is not really a controversial issue," said Steenstra. "I think we have our best shot yet of trying to get this done."
"Reposted with permission from our media associate Modern Farmer.
From Your Site Articles
Related Articles Around the Web
EcoWatch Daily Newsletter
For years now, Senate Majority Leader and possible undercover turtle Mitch McConnell has been a stalwart defender of his Kentucky home in the so-called war on coal.
Delegates holding "Trump Digs Coal" signs at the Republican National Convention in July at the Quicken Loans Arena in Cleveland, Ohio.
With Obama on his way out and energy lobbyists ready to move into the White House, McConnell is surely telling everyone the war is soon over, right? Not exactly.
Which is why McConnell now says it's "hard to tell" if jobs will return because coal mining is "a private sector activity." Turns out that cheap natural gas and renewables are the real enemy of coal, not all those pesky regulations that fight asthma, black lung or climate change. After nearly a decade railing against the war on coal, it seems regulations are secondary to the one force the right loves most: the free market.
Which is why we now see a variety of stories that explain why Donald Trump can't stop the growth of clean energy. So he'll probably have to walk back on this campaign promise. Just like his promise to drain the swamp. Or to release his tax returns. Or to disclose his charitable giving. Or to ban Muslims from entering the U.S. Or to repeal Obamacare. Or to build a wall and make Mexico pay for it.
At this rate, Trump might break a record for broken promises before even starting his term.
Which is actually pretty encouraging.
waterlust.com / @tulasendlesssummer_sierra .
Each product featured here has been independently selected by the writer. If you make a purchase using the links included, we may earn commission.
The bright patterns and recognizable designs of Waterlust's activewear aren't just for show. In fact, they're meant to promote the conversation around sustainability and give back to the ocean science and conservation community.
Each design is paired with a research lab, nonprofit, or education organization that has high intellectual merit and the potential to move the needle in its respective field. For each product sold, Waterlust donates 10% of profits to these conservation partners.
Eye-Catching Designs Made from Recycled Plastic Bottles
waterlust.com / @abamabam
The company sells a range of eco-friendly items like leggings, rash guards, and board shorts that are made using recycled post-consumer plastic bottles. There are currently 16 causes represented by distinct marine-life patterns, from whale shark research and invasive lionfish removal to sockeye salmon monitoring and abalone restoration.

One such organization is Get Inspired, a nonprofit that specializes in ocean restoration and environmental education. Get Inspired founder, marine biologist Nancy Caruso, says supporting on-the-ground efforts is one thing that sets Waterlust apart, like their apparel line that supports Get Inspired abalone restoration programs.
"All of us [conservation partners] are doing something," Caruso said. "We're not putting up exhibits and talking about it — although that is important — we're in the field."
Waterlust not only helps its conservation partners financially so they can continue their important work. It also helps them get the word out about what they're doing, whether that's through social media spotlights, photo and video projects, or the informative note card that comes with each piece of apparel.
"They're doing their part for sure, pushing the information out across all of their channels, and I think that's what makes them so interesting," Caruso said.
And then there are the clothes, which speak for themselves.
Advocate Apparel to Start Conversations About Conservation
waterlust.com / @oceanraysphotography
Waterlust's concept of "advocate apparel" encourages people to see getting dressed every day as an opportunity to not only express their individuality and style, but also to advance the conversation around marine science. By infusing science into clothing, people can visually represent species and ecosystems in need of advocacy — something that, more often than not, leads to a teaching moment.

"When people wear Waterlust gear, it's just a matter of time before somebody asks them about the bright, funky designs," said Waterlust's CEO, Patrick Rynne. "That moment is incredibly special, because it creates an intimate opportunity for the wearer to share what they've learned with another."
The idea for the company came to Rynne when he was a Ph.D. student in marine science.
"I was surrounded by incredible people that were discovering fascinating things but noticed that often their work wasn't reaching the general public in creative and engaging ways," he said. "That seemed like a missed opportunity with big implications."
Waterlust initially focused on conventional media, like film and photography, to promote ocean science, but the team quickly realized engagement on social media didn't translate to action or even knowledge sharing offscreen.
Rynne also saw the "in one ear, out the other" issue in the classroom — if students didn't repeatedly engage with the topics they learned, they'd quickly forget them.
"We decided that if we truly wanted to achieve our goal of bringing science into people's lives and have it stick, it would need to be through a process that is frequently repeated, fun, and functional," Rynne said. "That's when we thought about clothing."
Support Marine Research and Sustainability in Style
To date, Waterlust has sold tens of thousands of pieces of apparel in over 100 countries, and the interactions its products have sparked have had clear implications for furthering science communication.
For Caruso alone, it's led to opportunities to share her abalone restoration methods with communities far and wide.
"It moves my small little world of what I'm doing here in Orange County, California, across the entire globe," she said. "That's one of the beautiful things about our partnership."
Check out all of the different eco-conscious apparel options available from Waterlust to help promote ocean conservation.
Melissa Smith is an avid writer, scuba diver, backpacker, and all-around outdoor enthusiast. She graduated from the University of Florida with degrees in journalism and sustainable studies. Before joining EcoWatch, Melissa worked as the managing editor of Scuba Diving magazine and the communications manager of The Ocean Agency, a non-profit that's featured in the Emmy award-winning documentary Chasing Coral.
By Geoffrey Sea
[Read Part II, Part III and Part IV of this series]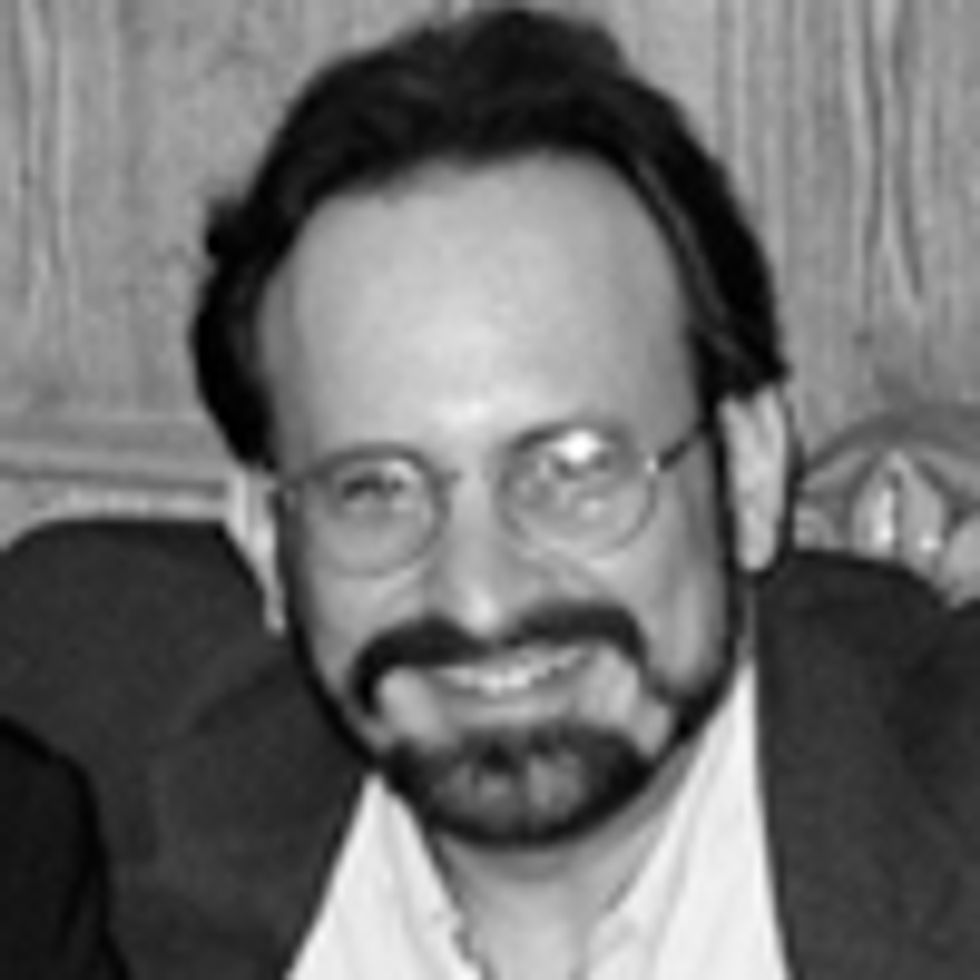 Disaster is about to strike in western Kentucky, a full-blown nuclear catastrophe involving hundreds of tons of enriched uranium tainted with plutonium, technetium, arsenic, beryllium and a toxic chemical brew. But this nuke calamity will be no fluke. It's been foreseen, planned, even programmed, the result of an atomic extortion game played out between the U.S. Department of Energy (DOE) and the most failed American experiment in privatization, the company that has run the Paducah plant into the poisoned ground, USEC Inc.
As now scheduled, main power to the gargantuan gaseous diffusion uranium plant at Paducah, Kentucky, will be cut at midnight on May 31, just nine days from now—cut because USEC has terminated its power contract with TVA as of that time ["USEC Ceases Buying Power," Paducah Sun, April 19, page 1] and because DOE can't pick up the bill.
DOE is five months away from the start of 2014 spending authority, needed to fund clean power-down at Paducah. Meanwhile, USEC's total market capitalization has declined to about $45 million, not enough to meet minimum listing requirements for the New York Stock Exchange, pay off the company's staggering debts or retain its operating licenses under financial capacity requirements of the Nuclear Regulatory Commission.
The Paducah plant cannot legally stay open, and it can't safely be shut down—a lovely metaphor for the end of the Atomic Age and a perfect nightmare for the people of Kentucky.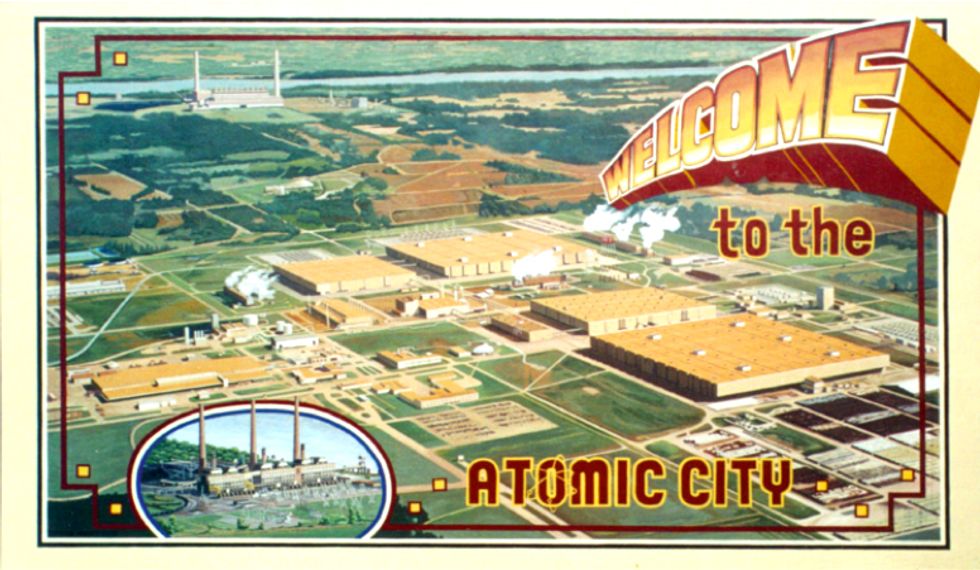 Dirty Power-Down
If the main power to the diffusion cascade is cut as now may be unavoidable, the uranium hexafluoride gas inside thousands of miles of piping and process equipment will crystallize, creating a very costly gigantic hunk of junk as a bequest to future generations, delaying site cleanup for many decades and risking nuclear criticality problems that remain unstudied. Unlike gaseous uranium that can be flushed from pipes with relative ease, crystallized uranium may need to be chiseled out manually, adding greatly to occupational hazards.
The gaseous diffusion plant at Oak Ridge, TN, was powered-down dirty in 1985, in a safer situation because the Oak Ridge plant did not have near the level of transuranic contaminants found at Paducah. The Oak Ridge catastrophe left a poisonous site that still awaits cleanup a quarter-century later, and an echo chamber of political promises that such a stupid move would never be made again. But that was before the privatization of USEC.
Could a dirty power-down at Paducah—where recycled and reprocessed uranium contaminated with plutonium and other transuranic elements was added in massive quantities—result in "slow-cooker" critical mass formations inside the process equipment?
No one really knows.
Everybody does know that the Paducah plant is about to close. Its technology is Jurassic, requiring about ten times the energy of competing uranium enrichment methods around the world. The Paducah plant has been the largest single-meter consumer of electric power on the planet, requiring two TVA coal plants just to keep it operating, and it's the largest single-source emitter of the very worst atmospheric gasses—chlorofluorocarbons (CFCs).
The plant narrowly escaped the selection process that shuttered its sister plants in Tennessee and Ohio long ago. A 2012 apocalypse for Paducah workers was averted only by a last-second, five-party raid on the U.S. Treasury involving four federal entities pitching together to bail out USEC financially, a deal so arcane that knowledge of Mayan astrological codices would be required to grasp its basic principles. The plot would make for a great super-crime Hollywood movie in which Kentucky's own George Clooney and Ashley Judd could star, if only the crafting lawyers and bureaucrats had made the Code of Federal Regulations as easy to decipher as bible code, or half as interesting.
"The deal" that saved Paducah operations for a year, past one crucial election non-coincidentally, probably consumed more net energy than it produced by stupidly paying USEC to run depleted uranium waste back through the inefficient Paducah plant—like a massive government program paying citizens to drink their own pee as a way to cut sewerage costs and keep medics employed prior to a Presidential contest. The deal never would have passed muster if it had been subjected to environmental or economic reviews of any kind, but it wasn't. The "jobs" mantra was chanted, and all applicable laws from local noise-control ordinances to the Geneva Conventions were waived.
But the deal expires on May 31, in nine days. USEC and DOE have both said that discussions for a new extension deal continue, but rumors of a new deal were dashed on May 7, sending USEC stock into a flip-flop, when in an investor conference call, the company announced that no extension had been agreed, with very pessimistic notes about even a "short-term" postponement. That accompanied news that USEC had suffered a $2 million loss in the first quarter of 2013, largely attributable to the power bill at Paducah, which USEC says it's under no obligation to keep paying.
Showing no enthusiasm whatsoever, USEC CEO John Welch said on May 7:
"While we continue to pursue options for a short-term extension of enrichment at Paducah beyond May 31, we also continue to prepare to cease enrichment in early June."
Meanwhile, the Kentucky DOE field office in charge, managed by William A. Murphie, has advertised a host of companies "expressing interest" in future use of the Paducah site, with no explanation of how the existing edifice of egregiousness will be made to disappear. "Off the record," the Kentucky field office has floated dates like 2060 for the completion of Paducah cleanup.
That's two generations from now and kind of a long time for the skilled workforce and other interested parties to hang around. Even the 2060 date assumes that costs can be minimized by evacuating the diffusion cells before power-down—the scenario that seems certain not to happen because no one has the funding for it. Flushing the cells of uranium hexafluoride gas is the only sensible way to power-down, but it's costly and time-consuming. At the Piketon, Ohio, plant a semi-clean power-down has cost billions of dollars and has taken twelve years and counting to accomplish. (Murphie will have to explain why he paid USEC so much money for the extended power-down at Piketon, while simultaneously asserting that a Paducah power-down can be accomplished swiftly and cheaply). Clean power-down also requires that workers and supplies be available on demand, and in the Paducah case, there simply isn't time.
According to reliable sources, contracts are being prepared for the work of placing the plant into what Murphie calls "cold storage"—a term of his invention. But those contracts won't take effect until October when fiscal 2014 funds are available. "Cold storage" at that point means closing the doors, posting guards outside, and otherwise walking away.
Can there yet be an extension deal to hold over the plant until 2014 funds are available? Probably not, because USEC may not last that long, the equipment in the plant has been run to decrepitude with no attention to maintenance, there isn't sufficient time to make the arrangements, and a second end-run around environmental compliance would likely generate lawsuits.
Captains Log: A Heck of a Long Time
As to when the site might be cleaned up for "future use" under a "cold storage" scenario, nothing has even been rumored. I think we are talking Star Trek dates. Or consider the half-life of natural uranium, which is about four and a half billion years.
Until such time, the Paducah plant will either sit like a massive metallic boil on the planet, or be demolished and scavenged for semi-precious metals like the Oak Ridge facility. But the plutonium, americium and neptunium at Paducah may nix the latter possibility. The dirty power-down arranged by Murphie would make it impossible to prevent transuranic atmospheric release during demolition.
I propose a bronze encasement for the whole fandango, with a plaque that reads:
                                                    WRECK OF THE U.S. USEC
GREATEST FAILURE OF GOVERNMENT PRIVATIZATION IN WORLD HISTORY
                                                             IN MEMORIUM
At least that would help Murphie comply with the National Historic Preservation Act. Call it a learning experience.
Interested observers are still awaiting some rabbit to be pulled from Murphie's hat, as he produced one year ago in 2012. To gauge that possibility I sent Murphie an e-mail on May 10, asking him where he was going to get the money to pay for clean power-down with the cut-off date only weeks away as reported by USEC. Specifically, I wrote: "What's up with that?"
And, within hours I received a reply, probably because I had copied Mitch McConnell's chief of staff on my correspondence. Murphie wrote:
"As you are likely aware, the Paducah procurement process has begun involving the USEC facilities. I suggest you look at the DOE CBC home page regarding the proposed IDIQ business opportunities and keep an eye on it for updates. As for the funding question, the DOE did submit a request to Congress that includes language regarding the potential USEC facilities return [a fiscal year 2014 request]."
That's a very interesting reply because, aside from the vacuous PR about fantastic "business opportunities" at a site of nuclear catastrophe (maybe a lollipop factory!), it confirms that DOE does not have some secret stash of funds to evacuate the diffusion cells at Paducah, at least until fiscal year 2014, at least five months too late. Murphie is still calling the certain closure of the Paducah monstrosity "potential," meaning he can't yet pay for it. I asked Murphie to resolve that dilemma in a follow-up e-mail, but alas I had used up my entitlement to one response per five years and so got none.
I admit that some pretty cool proposals for Paducah "future use" have been cooked up by Murphie and his PR people. In mid-2012, Kentucky state legislators sought an exemption from the state's moratorium on nuclear power (a giveaway to coal interests), so that Paducah could become a research center exploring the use of nuclear explosives in fracking for oil and gas. Hot diggity!
"Discussions" between DOE and USEC about extension may indeed be ongoing. But I imagine they are like the proverbial separation negotiations between the gold-miner and the gold-digger. The gold-digger demands maintenance for the lifestyle to which she's become accustomed, or she'll walk. The gold-miner looks at the lump of iron pyrite he's been left with and says: "You already got everything I had."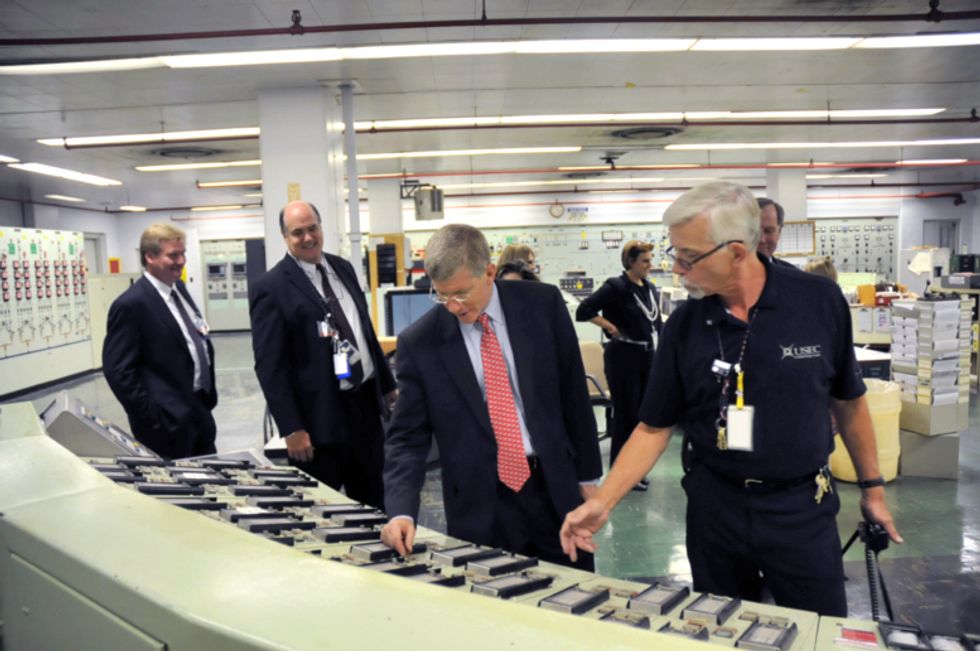 Murphie's Law
So how did it come to this? Since the plant was originally scheduled to cease operations on May 31, 2012, why didn't USEC and DOE have plenty of time to plan for orderly and funded clean power-down, which was precisely what the sleazy one-year extension deal was supposed to give time to accomplish.
The answer is that the entire uranium enrichment enterprise of the U.S. has become a sham operation, a sham designed to funnel U.S. Treasury funds to private companies including USEC and its partners, a sham designed to convert any problem or scandal into additional contractor award fees, a sham designed to keep the fig-leaf of a privatized USEC Inc. from blowing away and exposing all the naughty bits.
Those became the goals of the operation, not enriching uranium, developing new technology or achieving safe operations or cleanup of the sites. Murphie's Law is that if anything can go wrong, it will boost contractor award fees, for a select group of companies hand-picked by Murphie himself. Thus, the principal "cleanup" contractors at Piketon are Fluor and Babcock & Wilcox (B&W), both of which are suppliers to USEC's fake "American Centrifuge Project," and B&W is a strategic partner of USEC with a large share of USEC preferred stock, poised to take over USEC's operations if the latter goes under.
And USEC is going under, by design, leaving its bondholders, pensioners and U.S. taxpayers holding one very empty bag. USEC stock has now lost 99% of value since its bubble peak in 2007. USEC's auditors issued a "going concern" letter in March of this year, warning that the company appears to have no viable business plan moving forward. The New York Stock Exchange issued a delisting warning to USEC in May of 2012, and a second warning on a separate deficiency in May of 2013.
If USEC is delisted, about half a billion dollars of debt to bondholders becomes due immediately, and at least $100 million in pension obligations are owed in Ohio and Kentucky each. But the entire company is only worth about a twentieth of its debts, or about 1 percent of the cost of the new commercial plant it pretends it will build. USEC's 2013 shareholders meeting, at which the crisis might come to a precipitous conclusion, was postponed from April to June, presumably to give the company a chance to depart from Paducah without adding a nuclear crisis to its public liabilities. USEC is now an empty shell about to be shucked: the company's dissolution and the Paducah plant's decommissioning have been timed to coincide.
Once USEC has departed Paducah, it will no longer be in the uranium enrichment business, as it will operate no enrichment facilities. The company, which was created by statute for the sole purposes of enriching uranium and developing new technology, will be doing neither. It will only be an international uranium broker, ironically a front for Russian uranium interests. Imagine if the U.S. Postal Service decided to hoard its U.S. government subsidies, exit the mail delivery business and become only a marketing agent for Russian stamps. That analogy precisely applies to what USEC is doing, in stark violation of the USEC Privatization Act.
But USEC has had two quite powerful politicians in its service, from the states in which it has operated, men who control the Republican caucuses in both chambers of Congress—John Boehner of southern Ohio and Mitch McConnell of Kentucky. If Congress had appropriated the funds to pay for Paducah power-down in a timely fashion, for fiscal year 2013, then the USEC house of cards would have come down one year earlier. There could not have been rumors of federally-financed extension deals, or stock speculation runs premised on talk of a USEC buyout, or shipments of "spare parts" from Piketon to Paducah just to make it look like USEC is a going concern.
In short, if Bill Muphie's office had secured the funds and let the contracts to do a clean power-down of Paducah starting June 1, then the jig would have been up for USEC months ago, the company might already be in liquidation, and hundreds of millions of dollars in continuing federal subsidies to USEC might not have been wasted. For its part, USEC has even now failed to announce a date certain for Paducah closure, although cancellation of its power contract was an effective extortion tactic for wheedling additional dollars from federal coffers.
So Murphie didn't secure the funds and didn't issue the contracts, and kept right on doing federally-paid PR work to falsely suggest there could be a smooth economic conversion at Paducah. Boehner and McConnell ate it all up while chanting the "jobs" mantra, for it reinforced their narrative that USEC Inc. is the best thing since sliced atoms. To keep a large campaign contributor out of bankruptcy court for a few more months, the Paducah plant was permitted to reach the current crisis state. And the people of Kentucky were sent straight to nuclear hell.
Nine days.