This website uses cookies to ensure you get the best experience while browsing it. By clicking 'Got It' you're accepting these terms.


The best of EcoWatch, right in your inbox. Sign up for our email newsletter!
The vegan "Impossible Burger" is growing in popularity.
T.Tseng / Flickr / CC BY 2.0
Update, Sept 4: The bottom of this article has been updated with the Missouri Department of Agriculture's new guidelines and a statement from Beyond Meat.
Missouri is the first state in the country to enact a law that criminalizes certain uses of the word "meat."
The mandate, which came into effect on Tuesday, prohibits companies from "misrepresenting" products as meat if they are not from "harvested livestock or poultry." The measure was approved by the legislature in May and signed by former-Gov. Eric Greitens on June 1. Violators could be fined $1,000 and face imprisonment for a year, according to USA TODAY.
pxhere
Missouri state lawmakers passed an omnibus agriculture bill on Thursday that includes a provision prohibiting plant-based products from being labeled as "meat."
This measure would ban companies from using the term "plant-based meat" to describe their products. It would also prevent any future lab-grown products that hit the market from using the labeling.
EcoWatch Daily Newsletter
Murdo Morrison / Flickr
The monarch butterfly has a new chance at recovery, thanks to an innovative program seeking to crowdsource funding and habitat for the beloved species at an unprecedented scale and pace.
"The Monarch Butterfly Habitat Exchange is a market-based solution for restoring and conserving high-quality monarch habitat on America's private working lands," said David Wolfe, director of conservation strategy and habitat markets at Environmental Defense Fund. "We like to call it an 'Airbnb for butterflies' because it's the only program of its kind that can open the vast untapped potential of large-scale farms and ranches to make habitat available for monarchs, fast."
Pesticide spray sign on Vesterbrook Farm, which suffered damage from herbicide drift.
Herbicide drift has been a major problem last year damaging millions of acres of crops in the U.S.
An organic farmer in Missouri has seen firsthand how destructive herbicide drift can be as it destroys his crops and threatens his livelihood and farm.
You can now walk or cycle across most of the state of Missouri. Gov. Jay Nixon has opened a 47.5-mile extension to the Katy Trail, effectively creating one continuous hike-and-bike path from the St. Louis area to the outskirts of Kansas City.
"You'll be able to go 287 miles on an incredible asset," Nixon told the Kansas City Star at the ribbon-cutting on Dec. 10 in Pleasant Hill, a suburb just south of Kansas City.
According to the governor's office, the new section of the trail follows the corridor of the old Rock Island Railroad for 47.5 miles from Pleasant Hill to Windsor, where a junction connects to the rest of the Katy Trail State Park.
At 287 miles, the Katy Trail is now officially the nation's longest rails-to-trails project, besting the 253-mile John Wayne Pioneer Trail in Washington state. Rail-trails are ideal because it converts unused or abandoned rail corridors into recreational areas for the public. The Katy Trail sits on the former Missouri–Kansas–Texas Railroad.
Tyler Month, vice-president of the Pleasant Hill Chamber of Commerce, told radio station KCUR that the new stretch of the Katy Trail acts like a bridge to smaller communities.
"We're off the beaten path as far as highways go," Month said, "so this attracts a different group of organizations and individuals to our town that would not have otherwise come here."
The scenic and mostly flat trail follows Lewis and Clark's path along the Missouri River. The nearly 300-mile, uninterrupted trail features plenty of nature, Missouri River bluffs and picturesque communities along the way. Horseback riding is also allowed on a 35-mile section of the trail, from Sedalia to Clinton.
The extension took the Missouri Department of Natural Resources seven years to construct at a cost of $15.5 million, KCUR reported.
Plans are underway to extend the trail even further. Imagine someone biking from Jackson County on the state's western border all the way to the iconic Gateway Arch on the eastern border.
Nixon said the trail is "eerily close" to reaching that goal.
Missouri's largest peach grower is suing Monsanto over claims that dicamba drift caused widespread damage to the farm's peach trees. This is Monsanto's first lawsuit over the illegal spraying of the herbicide on its genetically modified (GMO) cotton and soy that's suspected of causing extensive damage to non-target crops across America's farm belt.
Peach tree damaged by dicamba drift Kade McBroom
The lawsuit, Bader Farms, Inc., et al v. Monsanto Company, Case No. 16DU-CC00111, was filed in Dunklin County, Missouri on Nov. 23. Bill Bader of Bader Farms in Campbell, Missouri claims that more than 7,000 peach trees were damaged by the drift-prone and extremely volatile herbicide in 2015, amounting to $1.5 million in losses. This year, the farm said it lost more than 30,000 trees, with financial losses estimated in the millions.
The complaint accuses Monsanto of knowingly selling dicamba-tolerant cotton and soybean seeds to farmers before securing federal approval for the herbicide designed to go along with it. Bollgard II XtendFlex cotton was introduced in 2015 and Roundup Ready 2 Xtend soybeans was introduced earlier this year. However, the U.S. Environmental Protection Agency only approved the corresponding herbicide, XtendiMax with VaporGrip Technology, last month.

Even though the biotech company warned growers against illegal dicamba use on the crops, many farmers allegedly sprayed older versions of dicamba on the crops anyway to stop weeds. However, while Monsanto's crops are genetically engineered to tolerate sprays of dicamba, other crops cannot. And since dicamba is extremely prone to drift, it can be picked up by the wind and land on neighboring fields, crops and native plants. In the fall, 10 states reported horrific damage on thousands of acres of peaches, tomatoes, cantaloupes, watermelons, rice, cotton, peas, peanuts, alfalfa and soybeans.
Bader said in August that 400-500 farmers in his region have been affected: "If they don't get compensation 60 percent will be out of business in two years."
"We need to go after Monsanto. These farmers are being hung out to dry," Bader added.
Bader's lawsuit alleges that Monsanto chose to sell its Xtend cotton and soybean seeds knowing that such destructive spraying would be inevitable.
"Monsanto chose to sell these seeds before they could be safely cultivated," Bev Randles of Randles & Splittgerber, the Kansas City, Missouri law firm representing Bader Farms, said in a statement. "We believe it is against Monsanto's own practice, not to mention industry standards, to release a seed without a corresponding herbicide to protect the crop from destruction. But Monsanto chose greed over public safety and made farms in Southeast Missouri and Northeast Arkansas unwilling test labs for their defective seed system."

The law firm expects similar lawsuits to follow. "Our firm continues to be contacted to help farmers who have been harmed by Monsanto's actions," Randles said. "They are folks who have supported Monsanto by purchasing their products for years, only to have been betrayed in the end. We expect more farmers to file suit in the coming weeks."
In response, Monsanto said that the responsibility lies with the growers who illegally applied dicamba.
"Both prior to and throughout the 2016 season, Monsanto took many steps to remind growers, dealers and applicators that dicamba was not approved for in-crop use at the time, and we do not condone the illegal use of any pesticide," the company said in a statement to Brownfield. "While we sympathize with those who have been impacted by farmers who chose to apply dicamba illegally, this lawsuit attempts to shift responsibility away from individuals who knowingly and intentionally broke state and federal law and harmed their neighbors in the process. Responsibility for these actions belongs to those individuals alone. We will defend ourselves accordingly."
Monsanto developed its Xtend system to address "superweeds" that have grown resistant to glyphosate, the main ingredient in the company's former bread-and-butter, Roundup. The firm expects to see 15 million Roundup Ready 2 Xtend soybean acres and more than 3 million acres of Bollgard II XtendFlex cotton in 2017. According to AgWeb, the technology is also licensed to more than 100 additional brands. The company has invested more than $1 billion in a dicamba production facility in Luling, Louisiana, to meet the demand it predicts.
Critics, however, are worried about the herbicide's potential threat to biodiversity, that it forces growers to switch to the Xtend system and that it only creates another round of superweeds. Dicamba-resistant weeds have already been found in Kansas and Nebraska.
"We can't spray our way out of this problem. We need to get off the pesticide treadmill," Dr. Nathan Donley with the Center for Biological Diversity said. "Pesticide resistant superweeds are a serious threat to our farmers, and piling on more pesticides will just result in superweeds resistant to more pesticides. We can't fight evolution—it's a losing strategy."
In a region still scarred by the 2010 BP oil spill in the Gulf of Mexico, Plains Southcap, LLC, is building a pipeline meant to carry conventional crude oil from Alabama to Mississippi, threatening waterways in both states.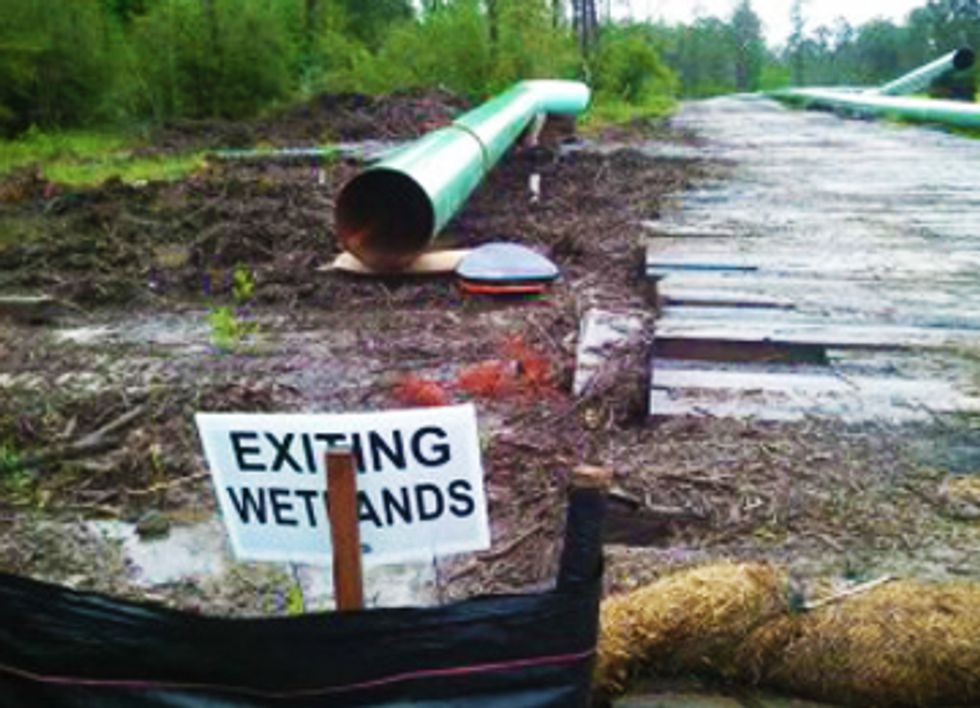 Set to finish construction this year, Southcap's underground pipeline would carry crude from the Ten Mile Terminal in Mobile, AL, to the Chevron refinery in Pascagoula, MS, tearing a path through Hamilton Creek, which feeds into Big Creek Lake, as well as Bangs Lake, only two miles from the refinery.
Pascagoula is among the many towns still in economic and ecological recovery since the BP spill. The Plains pipeline took many residents and activists by surprise. The "nationwide permit" issued by U.S. Army Corps of Engineers (USACE) under the Clean Water Act of 1977, allows for the "expedited permitting and bypass[ing] of public notifications about wetlands," according to the Associated Press.
In Mobile, county officials anxiously await a study by the Mobile Area Water and Sewer Service (MAWSS) of the potential impact the pipeline would have on the city's drinking water. In the meantime, the city of Semmes, AL, has issued a stop-work permit on the pipeline.
"Hopefully, they can make the alternative routes to keep it away from key points in the watershed," Mobile County Attorney Jay Ross told Alabama Media Group reporter John Sharp.
Despite concerns raised in Mississippi and Alabama, Plains Southcap vehemently defends the pipeline's safety. The pipeline is slated to have round-the-clock monitoring as well as additional security features and failsafes. Sharp reported that the pipeline will be buried deeper than what is regulated, "which makes it less susceptible to third-party damage."
Still, many conservationists and activists remain outraged over the potential damage a pipeline could create for the states' wetlands. According to the Sun Herald in Mississippi, the USACE—which approved the pipeline's construction–said the project would require the pipeline to pass through 145 acres of wetlands and cross 33 streams.
While the pipeline is set to carry only medium-grade crude, Plains Southcap remained quiet as to whether the pipeline may switch to the more lucrative but hazardous tar sands in the future.
David Underwood, the Sierra Club's delegate for the Mobile Bay chapter, said if there were a repeat of the 2010 tar sands spill in Kalamazoo, MI, "it would cause irreparable damage."
Visit EcoWatch's PIPELINES page for more related news on this topic.
——–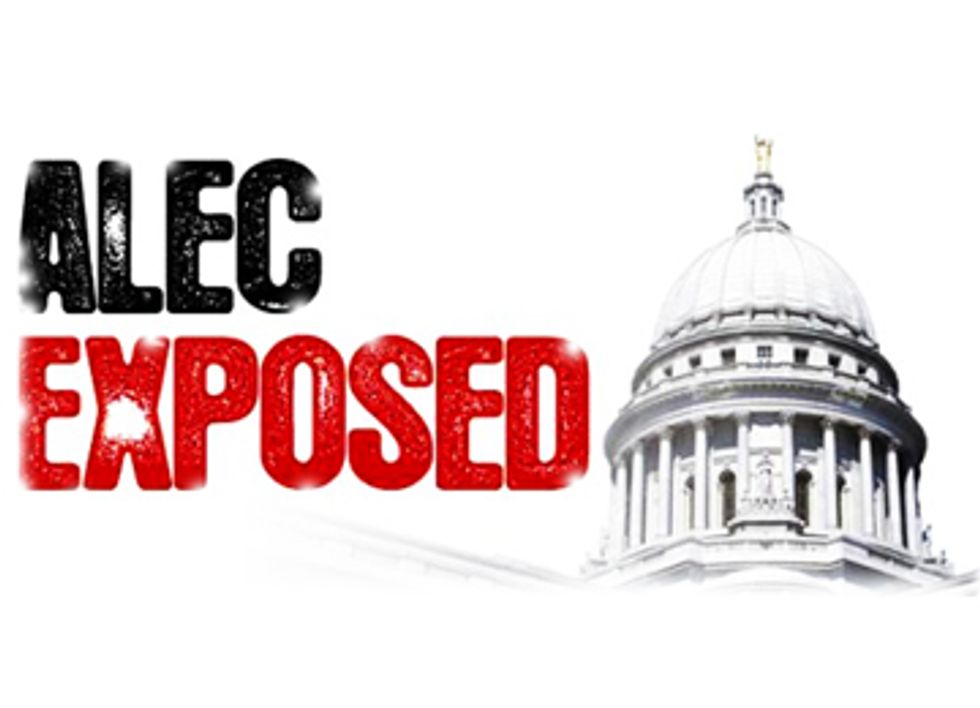 The same law that contributed to George Zimmerman walking free out of a Florida courtroom last weekend after taking the life of 17-year-old Trayvon Martin was primarily written by the same super lobbying group behind legislation protecting natural gas companies from disclosing chemicals used in fracking.
The American Legislative Exchange Council, or ALEC, is a unique kind of lobbying front group responsible for pushing legislation designed to enhance the bottom line of their corporate funders. Corporations like Koch Industries, ExxonMobil and Duke Energy, along with industry trade associations and large corporate foundations provide more than 98 percent of ALEC's funding, whose members, which includes elected officials and corporations, write and pass laws that will benefit those corporations.
Via the laws ALEC pushes through state legislatures, the lobbying group impacts Americans nationwide from voting right laws to environmental regulations (or lack thereof) to guns like Stand Your Ground. We've collected the most significant ALEC laws that could be coming to a state legislature near you, if they aren't there already.
This act prevents states from requiring their energy companies to increase electricity production from renewable energy sources, killing a key government incentives for clean energy projects. ALEC falsely claims that any renewable energy mandate sacrifices economic growth and American competitiveness, a dead horse they have continued to beat for decades.
Because of the economic benefits of renewable energy standards in states like North Carolina and Kansas and in spite of support from ALEC's other Koch-funded friends in the State Policy Network, ALEC's most heated attacks on Renewable Portfolio Standards (RPS) were shot down by Democrats and Republicans alike. Quieter ALEC-supported attempts to repeal or weaken RPS laws also failed in Ohio, Minnesota, West Virginia, Wisconsin, Missouri, Pennsylvania, Connecticut, Maine and Oregon—not a good start for ALEC's top energy-related priority this year.
Greenpeace has initiated an action to demand that the nation's largest utility company, Duke Energy, cut ties between ALEC, a relationship that is polluting Americans and democracy.
6. Resolution in Support of the Keystone XL Pipeline
ALEC is trying to use state resolutions to add pressure to the federal government to approve TransCanada's Keystone XL tar sands pipeline. In fact, ALEC took its member legislators on a Big Oil-funded trip to Alberta, Canada, to promote tar sands, courtesy of lobbyists from TransCanada, Shell, Devon Energy and other oil and gas interests. ALEC's conferences have featured seminars on the controversial pipeline, featuring speakers from oil companies and the Canadian government alike. The Center for Media and Democracy, which runs ALECexposed.org, has filed an ethics complaint in Nebraska for a legislator's failure to disclose the trip and its sponsors. Keep in mind that ALEC is a tax-exempt organization, and their lobbying doesn't count as lobbying to the IRS.
While ALEC has its own model resolution, its state legislator members introduced resolutions straight out of a TransCanada press release, coordinating across state borders to get an apparent jump in support for Keystone XL in Missouri, Michigan, Minnesota and Mississippi all at once.
5. Voter ID Act
These laws prohibit about 11 percent of citizens from voting by requiring a government-issued ID to vote at the polls.
This 11 percent overwhelmingly consists of elderly people, low-income and minority voters and students. Thirty-three states now have voter id laws and four states now have strict photo id requirements in effect. With the Supreme Court's recent gutting of the Voting Rights Act, we can expect this number to increase with ALEC's full support.
4. Arizona's SB 1070 Immigration Law: "No Sanctuary for Illegal Immigrants Act" 
In short, this bill was ALEC's way of making private prison companies rich by rounding up brown people without documentation and tossing them in jail. Although most of this law was struck down in Arizona, the "papers please" provision survives requiring law enforcement to check a person's status if they are stopped, detained or arrested. State legislators and prison and bail industry lobbyists met at an ALEC meeting to write the law which originally stated that law enforcement had to check a person's status only after "contact." The Arizona legislature changed narrowed the law to the current language.
3. Disclosure of Hydraulic Fracturing Fluid Composition Act
The title of this bill is a lie–ALEC's flagship fracking bill prevents oil and gas companies from having to disclose the chemicals in frack fluids that qualify as "trade secrets." Who took the idea to ALEC? ExxonMobil. Bloomberg reports that the ALEC bill has been introduced in at least eight states, although there appear to be more. Exxon's bill became Ohio law with ALEC's help, and a particularly controversial fracking law sponsorship by ALEC legislators passed in North Carolina last year without anyone reporting ALEC's fingerprints. DeSmogBlog has documented attempts in Florida, Illinois and several other states.
ALEC previously drafted a state resolution that puts the regulating authority into the hands of state agencies, which are woefully understaffed, underfunded and ineffective at regulating the powerful gas and oil industry, creating a one-two punch that leaves fracked communities in the dark on chemical disclosure and at the mercy of insufficient and often captured regulatory agencies for protection from fracking pollution.
2. Intrastate Coal and Use Act
This act serves to prevent the U.S. Environmental Protection Agency (EPA) from regulating the coal industry. Specifically, the act prevents the EPA from overruling state permits for coal mining and producing dirty coal products (like liquid coal for fuel) if all the coal operations are conducted within the borders of a single state. This act relies on the "Commerce Clause" claiming that the federal government can only regulate commerce that goes beyond state lines, flying in the face of settled Supreme Court interpretation of the "dormant" Commerce Clause. The first version of this bill was passed in West Virginia in 2011, a state with 273 operating coal mines as of 2011.
Considering the recent national tragedy of the Trayvon Martin ruling and the violence "Stand Your Ground" releases, this law should be repealed immediately in the states it's active. In strong conjunction with the National Rifle Association (NRA), ALEC has managed to push versions of this law in over two dozen states. It allows any killer to claim immunity if they felt a reasonable fear of bodily harm. The Florida version of this law passed in 2005 and was written by a NRA lobbyist.
ALEC is behind loads of more dangerous laws or proposed resolutions that must be exposed, blocked or repealed if active. Please let us know other significant ones we missed in the comments below. 
Visit EcoWatch's ENERGY page for more related news on this topic.
——–

By Will Fantle
From the U.S. Department of Agriculture (USDA) to foreign policy, Congress, state governments, elections and the courts, the feverish politics of genetically modified foods (GMOs) have infected decision making and dramatically tilted policies towards the desires of Monsanto and the biotech industry.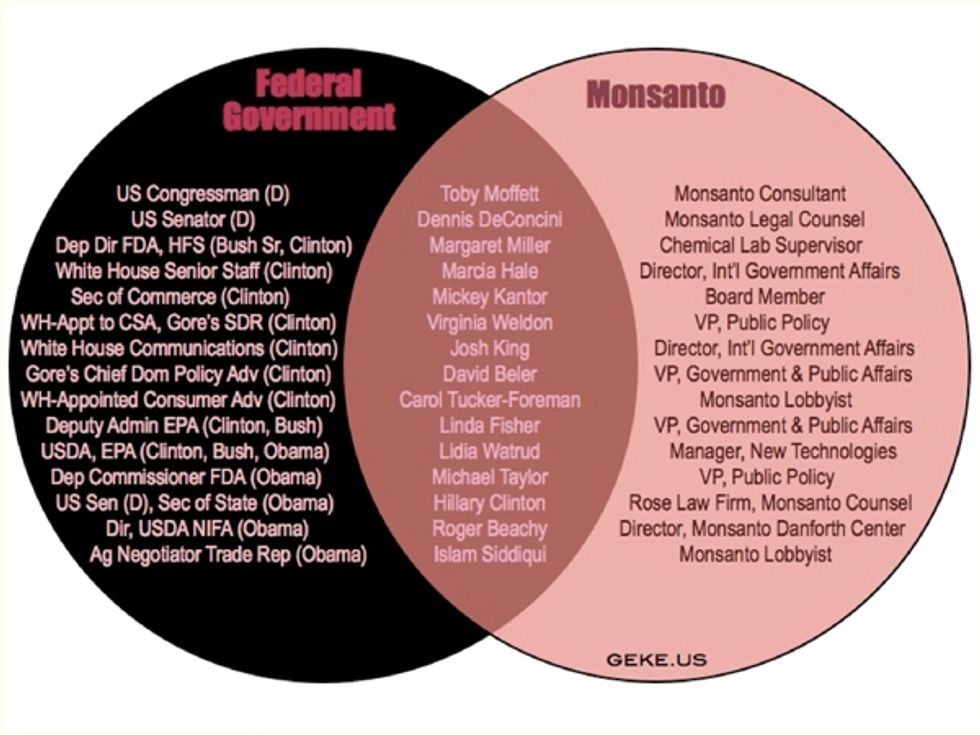 Candidate Barack Obama in 2008 promised change. However, when he came to Washington he appointed former Iowa Governor Tom Vilsack as USDA Secretary. The one-time award winning "Biotech Governor of the Year" has presided over a rapid roll out of new GMO crops and foods. Change he implemented included a series of agency adjustments designed to speed up the approval process for GMOs. Under Vilsack's watch, the agency has never denied the approval of one GMO crop.
Yes, the USDA also brought more attention to the National Organic Program—professional, knowledgeable management, more staffing, more resources. But it's small potatoes compared to the attention afforded biotech. And Vilsack's team has pushed hard for the organic community to swallow a policy of co-existence, the strange view that pollen and DNA recognize fence rows, that rain, winds, birds, insects and other natural forces will refrain from carrying GMO contaminants to non-GMO plants and crops.
Millions of Americans are suspicious of GMO foods for assorted health and environmental reasons. Polling conducted last year by the Mellman Group indicated that nearly 90 percent of Americans would like GMO foods labeled so they can make a choice about what kinds of foods they purchase in the marketplace. Sixty other countries require such labeling.
But Vilsack says no, telling the Farm Bureau at their annual meeting in January, "I know of no health reason connected to GMOs that would require labeling under our current labeling philosophy."
Monsanto and the biotech industry allies spent mightily to narrowly defeat last November's state referendum calling for the labeling of GMO foods sold in California. While labeling advocates decried the misleading and deceptive advertising conducted against the referendum, they were unable to weather the deluge of dollars. Still, the seeds of discontent are spreading. Washington state's voters will have a labeling referendum on the ballot later in 2013. Vermont has passed GMO labeling legislation; Connecticut's Senate overwhelmingly did so as well, as has Maine. Nearly 20 other state legislatures have similar proposals in the works.
"To try to oppose this state by state, that is unsustainable," says Cathy Enright, the executive vice president for food and agriculture for the Biotechnology Industry Organization (BIO), of which Monsanto, DuPont, and Dow Chemical are members.
Seeking to douse the prairie fire, Monsanto—which spends about $6 million annually on lobbying—and its allies are working the fields in Washington, D.C. Their target? The nation's reauthorization of the Farm Bill. Currently winding its way through Congress (as of this writing), an amendment attached to the House Agriculture committee's version, and authored by Rep. Steve King (R-IA), would strip the rights of states to enact labeling laws. The Farm Bill is an essential piece of national legislation that is reauthorized every five years. Once an item gets in the bill, it becomes very difficult to remove. The House and Senate will reconcile differences in their bills, but it is far from certain that either will consider the amputation of state's GMO labeling rights a deal breaker. [Since this was written, the Farm Bill failed to pass the U.S. House.]
Monsanto and their allies also prevailed in a vote in the Senate on an amendment by Sen. Bernie Sanders (I-VT), who wanted to make it clear that states "have the authority" to require the labeling of foods produced through genetic engineering. Sanders' amendment failed 71-27.
While some of the no-votes in the Senate may have come from officials who believe that a national-level regulation is more appropriate, the effort to have the Food and Drug Administration (FDA) do just that is mired axle deep in the muck. The FDA has already said that genetic modification does not materially change the food. But when the deadline passed last year for the agency to respond to a petition requiring GMO food labeling—a petition that contained the signatures of well over a million citizens—their response was that they needed more time to study the matter. Fourteen more months have since passed.
And just so no stone goes unturned, Monsanto is actively pushing state-level legislation in Oregon and elsewhere to override any labeling laws passed by county and municipal governments.
The suppression of dissent in the fertile ground of Washington, D.C., yielded another reward for Monsanto when they snuck a policy rider into an essential appropriations bill earlier this year. Dubbed the Monsanto Protection Act, it swatted down the ability of Monsanto's pesky critics to use judicial review as a brake on questionable regulatory decisions. It allows full speed ahead on the unrestricted sale and planting of genetically modified seeds even when a court finds that they were not properly examined for their impact on farmers, the environment, and human health.
Sen. Roy Blunt (R-MO), from Monsanto's home state of Missouri, authored the controversial rider and then blocked efforts by Sen. Jon Tester (D-MT) and Sen. Jeff Merkley (D-OR) to remove it from the critical governmental operations funding bill.
Tester later told a reporter, "Not only does this ignore the constitutional idea of separation of powers, but it also lets genetically modified crops take hold across this country, even when a judge finds it violates the law." He added that giant multinational agribusiness corporations are treating farmers as "serfs."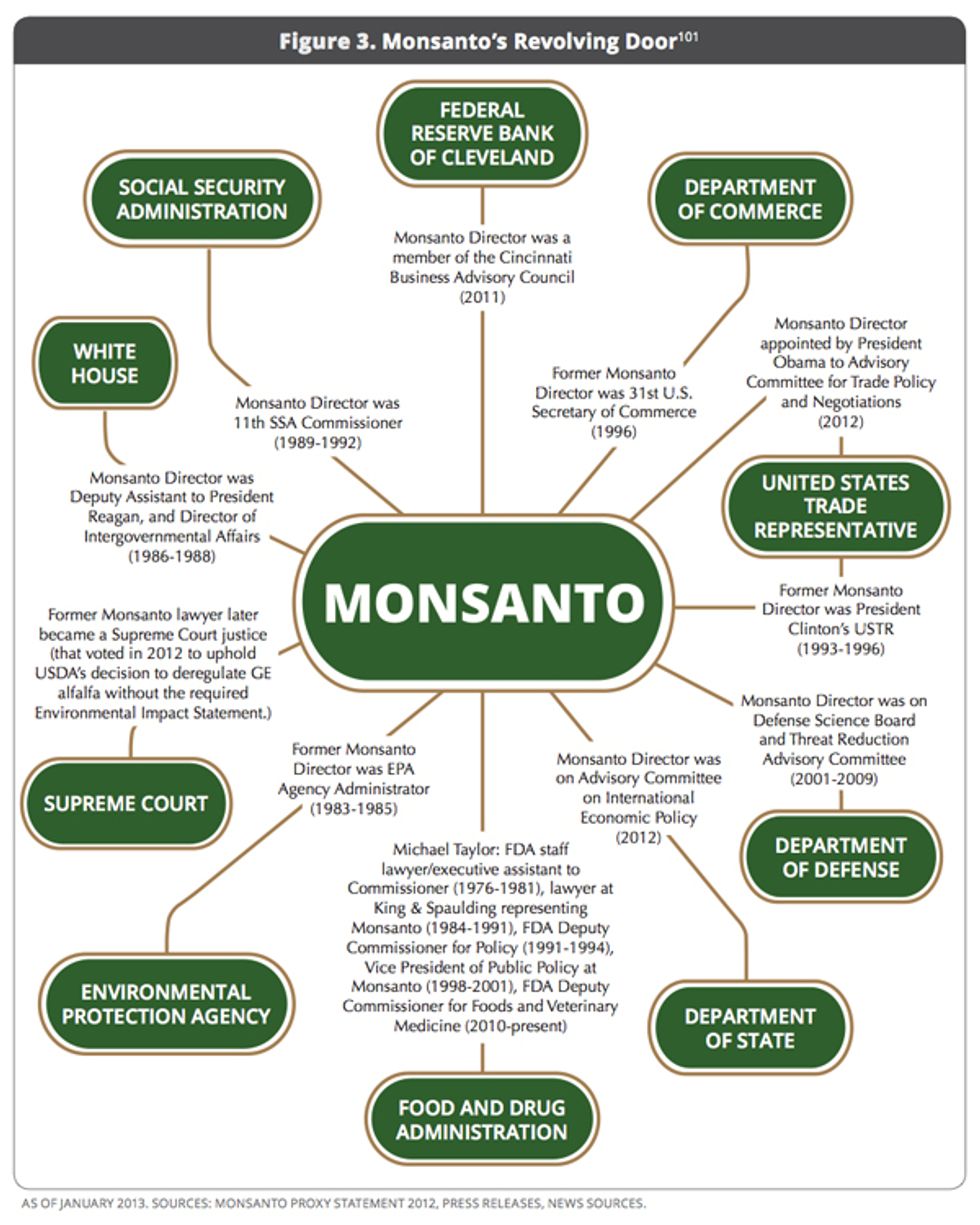 Perhaps it should come as no surprise that Monsanto's power at the federal level is so pervasive. As a recent Food & Water Watch report detailed, board members from the $12 billion company "have worked for the EPA, advised the U.S. Department of Agriculture [USDA] and served on President Obama's Advisory Committee for Trade Policy and Negotiations." Company staff and former employees enjoy a revolving door relationship with jobs and advisory positions in the federal government, at public universities and with trade groups. Even one sitting Supreme Court justice, Clarence Thomas, once worked for Monsanto.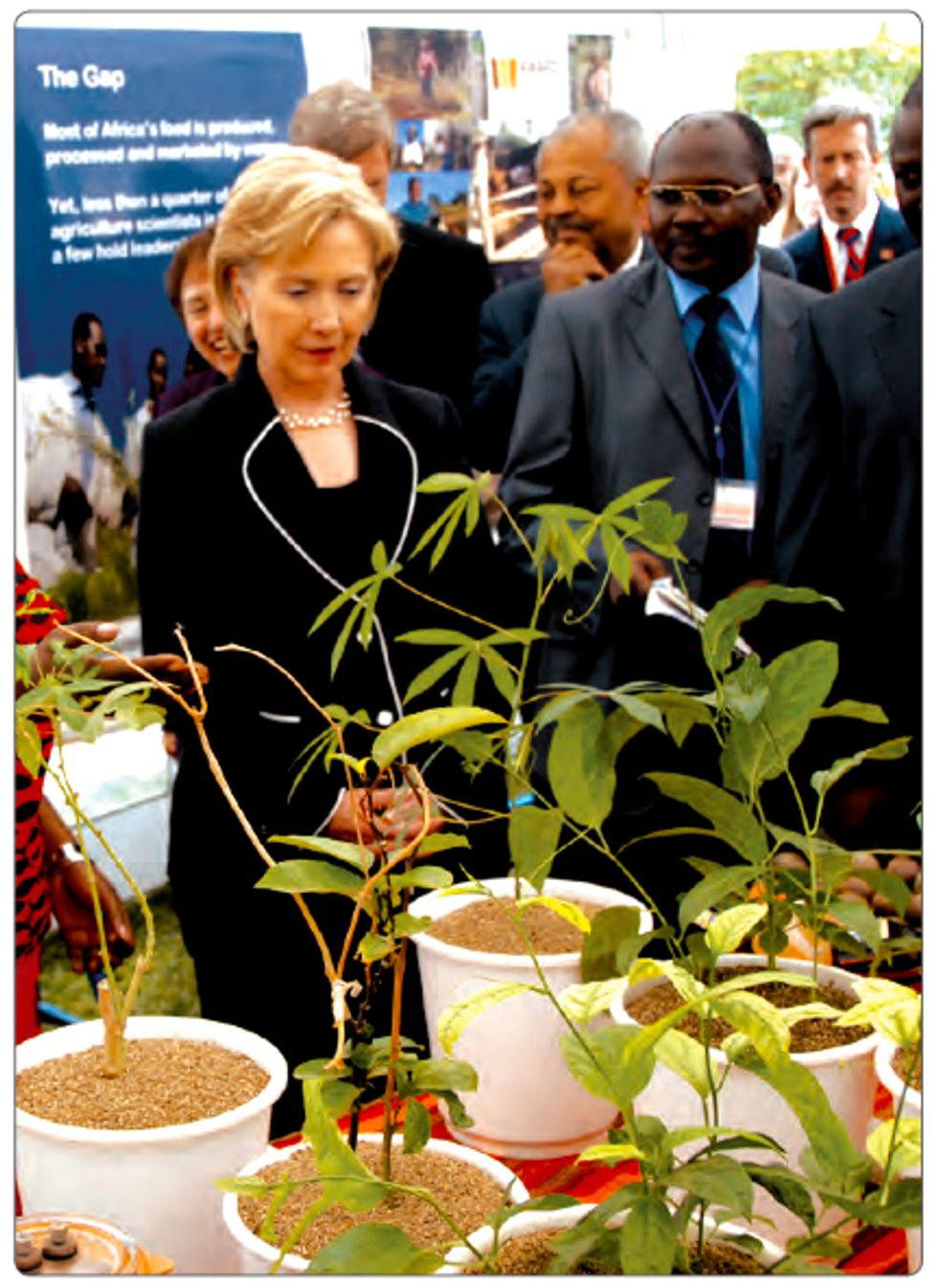 Former Secretary of State Hillary Clinton listens to a presentation on the "genetic improvement" of local crops hosted by the Kenya Agriculture Research Institute. Photo credit: USAID.
Their reach extends far beyond America's shores. Again, according to Food & Water Watch, the State Department works with trade officials to promote GMO crop exports and to force unwilling nations to accept GMO crops and foods. The State Department has engaged in pro-GMO lobbying campaigns in foreign countries, promoted foreign cultivation of GMOs and targeted foreign opinion-makers and reporters with junkets and public events.
Yet signs of cracks in the GMO empire are visible. On May 25, two million people joined March Against Monsanto rallies that were held in more than 400 cities in 52 countries. The growing consumer awareness of GMO foods and crops in the U.S. has sprouted vigorous labeling campaigns across the country with widespread public support for labeling. Even though 90 percent of all corn and soy grown in the U.S. is GMO, with a variety of other crops in the ground or under development, much of the rest of the world has yet to fall under the influence. In fact, just five countries account for 90 percent of total GMO crop production—the U.S., India, Canada, Argentina and Brazil.
The USDA also recently reversed itself and decided to conduct a full environmental impact statement assessing the health and environmental impacts of the next generation of GMO crops. These include, as proposed by Dow and Monsanto, 2,4-D-resistant corn and soybeans and Dicamba-tolerant soy and cotton crops. Still, notes the Center for Food Safety's Andrew Kimbrell, "it remains to be seen whether the agency will undertake the required hard-look analysis of the environmental and economic impacts of these crops."
Reflecting on the importance of a true choice in the marketplace for consumers, the Cornucopia Institute's Codirector Mark Kastel says that "organic food and agriculture offers the only available and verifiable alternative with regulatory oversight from seed to table prohibiting genetically modified organisms in farming and food production."
"Given the astounding influence of Monsanto and their GMO allies on all aspects of our government, it makes Cornucopia's work protecting the integrity of the organic label even more imperative," adds Kastel.
Visit EcoWatch's GE FOODS page for more related news on this topic.
——–

By Brian Sewell
In April, millions of Americans who oppose mountaintop removal celebrated two major court rulings that dealt "major blows" to the coal industry's use of the destructive practice. But a grim reminder of the work ahead came a week ago, when residents of West Virginia's Coal River Valley received a letter from Alex Energy, Inc., saying that they're not done yet.
Shared on Facebook by Coal River Mountain Watch, the terse letter is a soulless script, and very matter-of-factly makes residents aware of the scheduled daily detonations that will likely rattle homes and coat buildings with coal dust. For the next year, residents of Naoma, WV, will be reminded of the true cost of our energy policy by air horn blasts and explosions, courtesy of Alex Energy.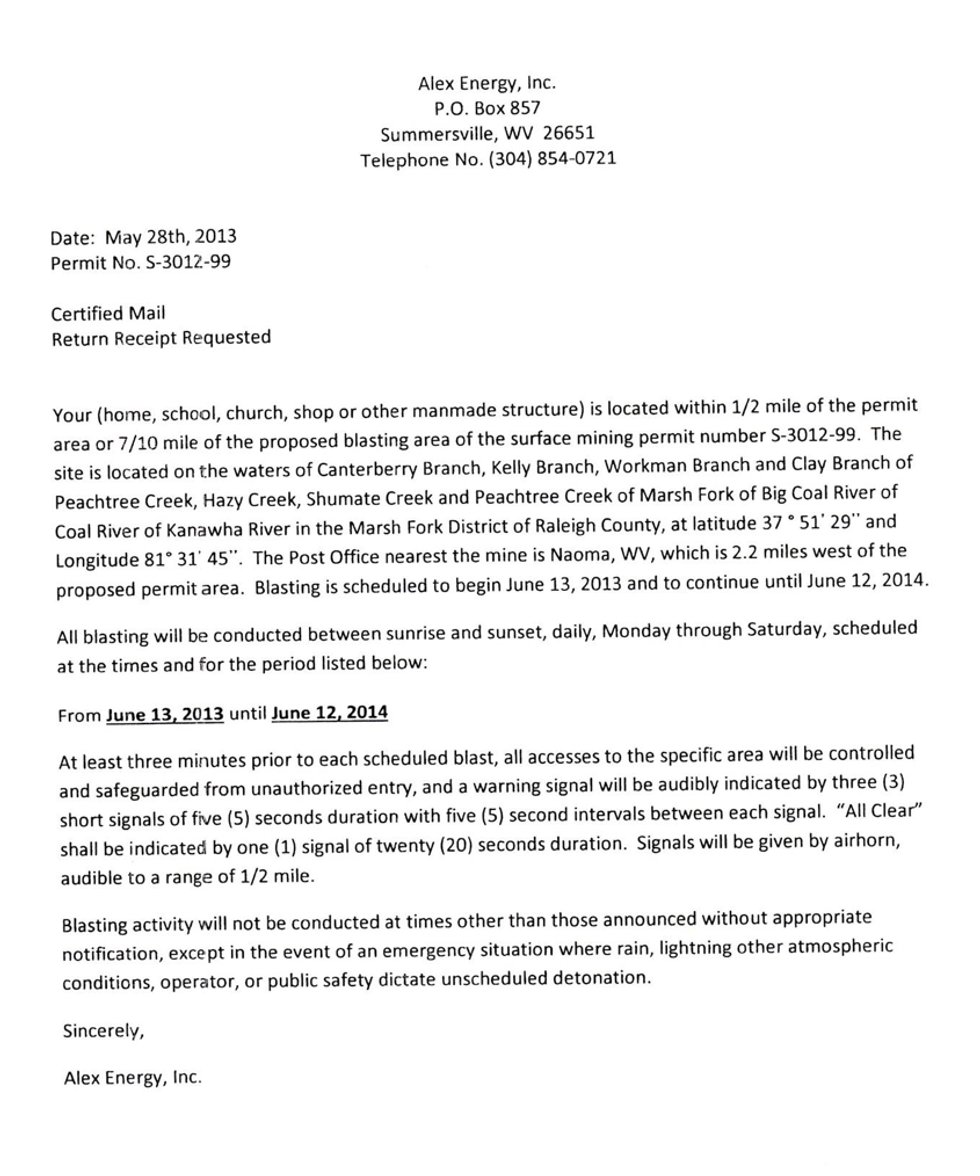 Meanwhile, a U.S. Circuit Court of Appeals last month upheld a permit for Alpha Natural Resources' Highland Reylas mountaintop removal mine in Logan County, WV, despite the fact that it will destroy two and a half miles of streams. In its ruling, the panel of judges wrote that "with the inability to demonstrate that the [U.S. Army Corps of Engineers] failed to take a 'hard look,' the [plaintiff's] arguments are reduced to no more than a substantive disagreement with the Corps."
While headlines in major news outlets claim "Coal is Dead," residents of Appalachia rightfully have their doubts. With little recourse available, they are still being asked to accept the systematic destruction of their homeland and heritage as the cost of doing business. Despite recent victories over the coal industry's use of mountaintop removal, coal is not dead and neither is the most destructive method used to mine it.
In Central Appalachia, proud, self-reliant people have been recast as dependent on the coal industry for shelter, food and meaning. Entire communities have been backed into the absolutely disheartening and hopeless position that, even as the coal production and demand declines, mining will forever be the one opportunity they have to make a living. But recently, it has become clear that even the coal industry cannot keep its promises to miners and their families.
Last week, a federal judge in St. Louis, MO, ruled in favor of the bankrupt Patriot Coal in the company's attempt to gut health care and pension benefits of thousands of workers and retirees. In response, leaders of the United Mine Workers of America are organizing protests and rallies in St. Louis and throughout Central Appalachia. Union members and observers argue that Patriot was intentionally saddled with unsustainable pension and long-term health care obligations when Peabody Coal formed it as a separate company in 2007.
"The outcome will be less health care for the retirees, a poorer future for those retirees, who will likely die earlier than they would have otherwise died due to poor health care," Kentucky State Rep. Brent Yonts told the Associated Press. Rep. Yonts described the ruling as "the day big business struck down the little guy."
For decades, coal companies have destroyed forests, brought down more than 500 mountains, poisoned water and fragmented communities. They've extracted billions of dollars from the region but cannot meet their obligations to the workforce that allowed them to do so. And yet, the industry is still willing to portray itself as the savior of Appalachia.
After hard-won battles, mountaintop removal and the long list of environmental and health concerns that come with it continue. Somehow policymakers and citizens remain willing to accept the coal industry's assurance that it will get better, that they're just not done yet.
Visit EcoWatch's MOUNTAINTOP REMOVAL and COAL pages for more related news on this topic.