This website uses cookies to ensure you get the best experience while browsing it. By clicking 'Got It' you're accepting these terms.


The best of EcoWatch, right in your inbox. Sign up for our email newsletter!
Wilson "Woody" Powell served in the Air Force during the Korean war. But in the decades since, he's become staunchly anti-war.
Nevada Test and Training Range. U.S. Air Force / Airman 1st Class Kevin Tanenbaum
Friday the U.S. Navy released details of a plan to seize more than 600,000 acres of public land in central Nevada to expand a bombing range. The land under threat includes rich habitat for mule deer, important desert springs and nesting sites for raptors like golden eagles.
EcoWatch Daily Newsletter
Sgt. Jerry Rushing / U.S. Department of Defense
By Daniel Ross
A rock seawall protecting the Air Force's Cape Lisburne Long Range Radar Station on the North East Alaska coast is under increasing duress from extreme weather patterns affecting Arctic sea ice—nearly $50 million has been spent replacing vulnerable parts of the wall already.
Abandoned Air Force Base in Greenland. Ken Bower
By Whitney Webb
Last week, mainstream media outlets gave minimal attention to the news that the U.S. Naval station in Virginia Beach had spilled an estimated 94,000 gallons of jet fuel into a nearby waterway, less than a mile from the Atlantic Ocean.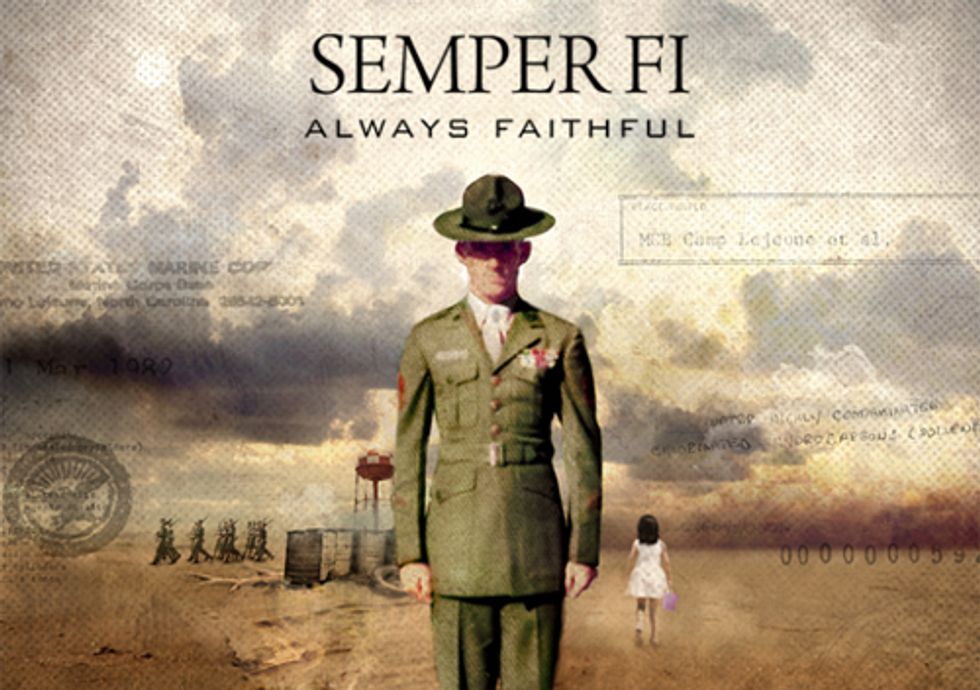 Nearly 40 Marine veterans diagnosed with male breast cancer urged President Barack Obama Dec. 14 to support legislation in Congress that would provide health care for those made ill by carcinogenic chemicals that contaminated drinking water at Camp Lejeune in North Carolina.
"We, the undersigned, are constituents of the largest male breast cancer cluster ever identified—73 men," begins a letter circulated by the Environmental Working Group and signed by veterans, their dependent children and surviving family members. "What happened to us is no coincidence."
Over a period of 30 years, an estimated 1 million servicemen and women, their families and civilian workers at Marine Corps Base Camp Lejeune were exposed to tap water polluted by known carcinogens. These include trichloroethylene (TCE), vinyl chloride and benzene—all classified as known human carcinogens by the U.S. Environmental Protection Agency.
The Marine Corps leadership was aware of the contamination years before steps were taken to remove the chemicals from the drinking water. Thousands of veterans from the base have filed for disability compensation with the U.S. Department of Veterans Affairs, but only a handful have been approved for benefits so far.
"These men are just one small group of the tens of thousands of Marines, sailors, their families and base employees who have been affected by their exposures to the fouled drinking water," said Mike Partain, a son and grandson of Marine officers who was born at Camp Lejeune and was diagnosed with breast cancer in 2007. "Will the medical help we need arrive only after we have all passed away? How many men with breast cancer will it take for our country to recognize that everyone exposed to the contaminated drinking water at Camp Lejeune was poisoned? Where is this nation's honor for our veterans and their families?"
Two pending bills—the Caring for Camp Lejeune Veterans Act of 2011, introduced by Sens. Richard Burr (R-N.C.) and Kay Hagan (D-N.C.), and the Janey Ensminger Act, introduced by Rep. Brad Miller (D-N.C.)—would provide medical care and services to the affected veterans and family members. Both have bipartisan support.
The Camp Lejeune incident, the largest documented case of drinking water contamination at a domestic military facility, is the subject of the award-winning film Semper Fi: Always Faithful. The film, which takes its name from the Marine Corps motto, was recently short-listed for an Academy Award nomination for Best Documentary Feature.
For more information, click here.
—————
Environmental Working Group is a nonprofit research organization based in Washington, D.C. that uses the power of information to protect human health and the environment. To visit our website, click here.