Microsoft's main campus in Redmond, Washington on May 12, 2017. GLENN CHAPMAN / AFP via Getty Images
Microsoft announced ambitious new plans to become carbon negative by 2030 and then go one step further and remove by 2050 all the carbon it has emitted since the company was founded in 1975, according to a company press release.
EcoWatch Daily Newsletter
By Katrine Tilgaard Petersen
Microsoft has announced the single largest corporate purchase of solar power ever seen in the U.S., signing an agreement with sPower to add 315 MW of electricity via two solar projects in Virginia.
Microsoft has been powered by 100 percent renewable electricity since 2014. In 2015, the tech giant joined RE100, a global corporate leadership initiative by The Climate Group in partnership with CDP, now bringing together 130 ambitious companies committed to sourcing entirely renewable power.
In 2016, Microsoft set further ambitious targets to source clean electricity for its data centers directly from local sources of energy; 50 percent by the end of 2018 and 60 percent by early 2020.
Raising the company's total renewable energy portfolio to 1.2GW, the new agreement with sPower puts Microsoft firmly on track to meet these goals, whilst simultaneously supporting the growth of the solar industry in Virginia.
"Huge congratulations to Microsoft on a great achievement. This is powerful leadership from a RE100 pioneer—bringing new solar capacity onto the grid will both benefit their business strategy and accelerate a market shift to renewables," said Sam Kimmins, head of RE100.
He added, "This project is a clear illustration of how supportive policy environments enable corporate renewable electricity off-takers to invest at scale, driving competitiveness and speeding up the transition to a zero emissions economy."
Harnessing the Power of the Sun
When fully operational, the Pleinmont I and II projects will consist of more than 750,000 solar panels spread across more than 2,000 acres, producing approximately 715,00 MWh per year. They are part of a larger 500 MW solar project, the biggest solar development in Virginia.
"This project means more than just gigawatts, because our commitment is broader than transforming our own operations; it's also about helping others access more renewable energy," said Brad Smith, president of Microsoft.
As costs of wind and solar power fall rapidly and approach grid parity, businesses are increasingly seeing the benefits of investing in renewable electricity to source both their own energy needs and facilitate more clean power coming onto the grid.
A recent RE100 Progress and Insights Report reveals the rise of corporate power purchase agreements (PPAs) as a method for such procurement, with the use of PPAs increasing fourfold amongst RE100 members in one year.
Governments and Businesses Working Together
Recent research for the RE100 initiative shows the greatest increase in PPAs is seen in regions where legislative frameworks are most favorable, notably the U.S., Mexico, the UK, Ireland and the Netherlands.
With Virginia being a signatory of the Under2 Coalition, a global network of sub-national governments committed to climate action for which The Climate Group acts as secretariat, the state has expanded significant efforts to cut emissions and drive clean energy investment. Working with Microsoft to facilitate new solar capacity entering onto the grid is part of this process.
"When companies like Microsoft invest in Virginia solar, they opt for clean and reliable energy as well as new jobs in the energy economy we are working hard to build," said Gov. Ralph Northam.
"I am proud that Microsoft is expanding its commitment to solar energy in Virginia, and I look forward to building upon this victory for clean energy and the jobs that come with it."
waterlust.com / @tulasendlesssummer_sierra .
Each product featured here has been independently selected by the writer. If you make a purchase using the links included, we may earn commission.
The bright patterns and recognizable designs of Waterlust's activewear aren't just for show. In fact, they're meant to promote the conversation around sustainability and give back to the ocean science and conservation community.
Each design is paired with a research lab, nonprofit, or education organization that has high intellectual merit and the potential to move the needle in its respective field. For each product sold, Waterlust donates 10% of profits to these conservation partners.
Eye-Catching Designs Made from Recycled Plastic Bottles
waterlust.com / @abamabam
The company sells a range of eco-friendly items like leggings, rash guards, and board shorts that are made using recycled post-consumer plastic bottles. There are currently 16 causes represented by distinct marine-life patterns, from whale shark research and invasive lionfish removal to sockeye salmon monitoring and abalone restoration.

One such organization is Get Inspired, a nonprofit that specializes in ocean restoration and environmental education. Get Inspired founder, marine biologist Nancy Caruso, says supporting on-the-ground efforts is one thing that sets Waterlust apart, like their apparel line that supports Get Inspired abalone restoration programs.
"All of us [conservation partners] are doing something," Caruso said. "We're not putting up exhibits and talking about it — although that is important — we're in the field."
Waterlust not only helps its conservation partners financially so they can continue their important work. It also helps them get the word out about what they're doing, whether that's through social media spotlights, photo and video projects, or the informative note card that comes with each piece of apparel.
"They're doing their part for sure, pushing the information out across all of their channels, and I think that's what makes them so interesting," Caruso said.
And then there are the clothes, which speak for themselves.
Advocate Apparel to Start Conversations About Conservation
waterlust.com / @oceanraysphotography
Waterlust's concept of "advocate apparel" encourages people to see getting dressed every day as an opportunity to not only express their individuality and style, but also to advance the conversation around marine science. By infusing science into clothing, people can visually represent species and ecosystems in need of advocacy — something that, more often than not, leads to a teaching moment.

"When people wear Waterlust gear, it's just a matter of time before somebody asks them about the bright, funky designs," said Waterlust's CEO, Patrick Rynne. "That moment is incredibly special, because it creates an intimate opportunity for the wearer to share what they've learned with another."
The idea for the company came to Rynne when he was a Ph.D. student in marine science.
"I was surrounded by incredible people that were discovering fascinating things but noticed that often their work wasn't reaching the general public in creative and engaging ways," he said. "That seemed like a missed opportunity with big implications."
Waterlust initially focused on conventional media, like film and photography, to promote ocean science, but the team quickly realized engagement on social media didn't translate to action or even knowledge sharing offscreen.
Rynne also saw the "in one ear, out the other" issue in the classroom — if students didn't repeatedly engage with the topics they learned, they'd quickly forget them.
"We decided that if we truly wanted to achieve our goal of bringing science into people's lives and have it stick, it would need to be through a process that is frequently repeated, fun, and functional," Rynne said. "That's when we thought about clothing."
Support Marine Research and Sustainability in Style
To date, Waterlust has sold tens of thousands of pieces of apparel in over 100 countries, and the interactions its products have sparked have had clear implications for furthering science communication.
For Caruso alone, it's led to opportunities to share her abalone restoration methods with communities far and wide.
"It moves my small little world of what I'm doing here in Orange County, California, across the entire globe," she said. "That's one of the beautiful things about our partnership."
Check out all of the different eco-conscious apparel options available from Waterlust to help promote ocean conservation.
Melissa Smith is an avid writer, scuba diver, backpacker, and all-around outdoor enthusiast. She graduated from the University of Florida with degrees in journalism and sustainable studies. Before joining EcoWatch, Melissa worked as the managing editor of Scuba Diving magazine and the communications manager of The Ocean Agency, a non-profit that's featured in the Emmy award-winning documentary Chasing Coral.
U.S. companies are taking a stand in these politically chaotic times.
So far, 127 technology firms are firing back at President Donald Trump's travel ban affecting immigrants and refugees from seven Muslim-majority countries.
Facebook, Apple and Google are leading the fight against Trump's immigration ban https://t.co/6lcwkRfP2a https://t.co/MoNxOmRmLP

— Forbes (@Forbes)1486394161.0
The movement was led by nearly 100 Silicon Valley companies who filed a legal brief on Sunday to oppose the highly controversial executive order, arguing that it is unconstitutional and "inflicts significant harm on American business, innovation, and growth." Apple, Facebook, Google, Microsoft, Uber, Reddit, Netflix and Dropbox were among the 97 companies that initially signed on to support Washington state's lawsuit against Trump's order.
That list got substantially larger late Monday afternoon, when Tesla, SpaceX and 29 other tech firms joined the brief.
Tesla and SpaceX were notably absent on the original list of signatories. CEO Elon Musk, who happens to sit on Trump's business advisory council, previously said he would use his position to "express our objections to the recent executive order on immigration."
Regarding the meeting at the White House: https://t.co/8b1XH4oW6h

— Elon Musk (@Elon Musk)1486085958.0
But as a Tesla spokesperson told the Verge, "as soon as we saw the brief this morning, we insisted on being added."
The suit is being heard in the ninth circuit federal court in San Francisco, California and has already succeeded in temporarily halting the enforcement of the executive order.
Many other companies are making real efforts to be socially responsible. The outdoor industry as a whole has taken a stand against Utah state's and the federal government's proposals to shed public lands.
In an open letter to Trump and Congress, more than 100 outdoor industry leaders led by REI have called upon elected officials to protect public lands and the integrity of the outdoor recreation industry, which powers $646 billion in gross national product.
Outdoor clothing big-hitter Patagonia also announced on Tuesday it will not participate in Utah's Outdoor Retailer shows after Gov. Gary Herbert signed a resolution on Friday urging the Trump administration to repeal the newly named Bears Ears National Monument.
Microsoft announced Monday two new contracts for 237 megawatts of wind energy capacity to run its Wyoming data center entirely on wind power.
Microsoft's data center in Cheyenne, Wyoming.Microsoft
With the latest deal, the company now purchases more than 500 megawatts of wind energy in the country. According to Bloomberg New Energy Finance, the top 50 corporate buyers of solar and wind power in the U.S. will add more than 17 gigawatts by 2020, as the role of companies in combating climate change is expected to become even more important under a Trump administration.
"This investment in wind energy keeps us on pace to meet the energy goals we set last spring," Brad Smith of Microsoft said in a blog post. "We announced earlier this year that roughly 44 percent of the electricity consumed by Microsoft's datacenters comes from wind, solar and hydropower, and we committed to raising this to 50 percent by 2018 and to 60 percent by early in the next decade.
"Innovation and sustainability go hand in hand. We're thinking differently about our datacenters and how we can build and operate them in a more sustainable way. And the innovations we're piloting in this deal are not only good for business, but also good for local communities and the environment as well."
Microsoft
For a deeper dive:
News: Fortune, Bloomberg, Huffington Post
Commentary: The Conversation, Joe Arvai op-ed
For more climate change and clean energy news, you can follow Climate Nexus on Twitter and Facebook, and sign up for daily Hot News.
When reading or opining online about the energy consumed by homes, cars and power providers, it's easy to overlook the amount of electricity the Internet itself requires.
According to a new Greenpeace report, the Web would rank sixth in energy demand if it were a country. The amount of Internet data out there is expected to have tripled from 2012 to 2017. In that time, the Web population is expected to grow from 2.3 billion in 2012 to 3.6 billion people by 2017, or half of the world's population.
With that sort of virtual volume on deck, Web companies have to become greener.
In Clicking Clean: How Companies Are Creating the Green Internet, Greenpeace researchers make it clear which companies are leading the movement and which ones are still relying on fossil fuels.
Greenpeace evaluated the energy choices of 19 familiar Internet companies and more than 300 of their data centers. Five of those firms have announced a goal of powering their operations with 100-perecent renewable energy.
"Apple, Facebook and Google are powering our online lives with clean energy, and building a greener offline world for everyone in the process," Gary Cook, a Greenpeace senior IT analyst, said in a statement. "These companies have proven over the past 24 months that wind and solar energy are ready and waiting to power the internet, and the rest of our economy, with clean electricity."
While all three companies are known for the renewable energy investments of recent years, Greenpeace particularly singled out Apple, the only company to earn a 100-percent score on its four-category Clean Energy Index. The company powers facilities like its Reno, NV data center with all clean energy, despite the local utility's resource mix being more than half comprised of natural gas. The same goes Apple's facility in Maiden, N.C., where 57 percent of the local mix is made up of nuclear energy.
Apple's North Carolina data center, which is home to the iCloud service, is powered by the largest privately owned solar installation in the country. Amazon and eBay, on the other hand, received 15 and 6 percent, respectively, on their indexes.
"Apple's rapid shift to renewable energy over the past 24 months has made it clear why it's one of the world's most innovative and popular companies," Cook said. "By continuing to buy dirty energy, Amazon Web Services not only can't seem to keep up with Apple, but is dragging much of the internet down with it."
In the organization's own words, here is what Greenpeace wants all "major" Internet companies to do:
Make a long-term commitment to become 100-percent renewably powered.
Commit to transparency on IT performance and consumption of resources, including the source of electricity, to enable customers, investors, and stakeholders to measure progress toward that goal.
Develop a strategy for increasing their supply of renewable energy, through a mixture of procurement, investment, and corporate advocacy to both electricity suppliers and government decision-makers.
——–
YOU ALSO MIGHT LIKE
Google to Power Entire Data Center With Wind
Microsoft, Apple, Google Power Data Centers with Renewable Energy
Facebook to Power Data Center With Wind
——–
It takes a lot of energy to enable web users to stream videos, downloads books and other online activities—about the same amount it would take to power 30 nuclear power plants.
Data centers around the world use about 30 gigawatts, or 30 billion watts of electricity, according to Green House Data. U.S. data centers account for nearly one-third of that amount, according to estimates compiled by The New York Times.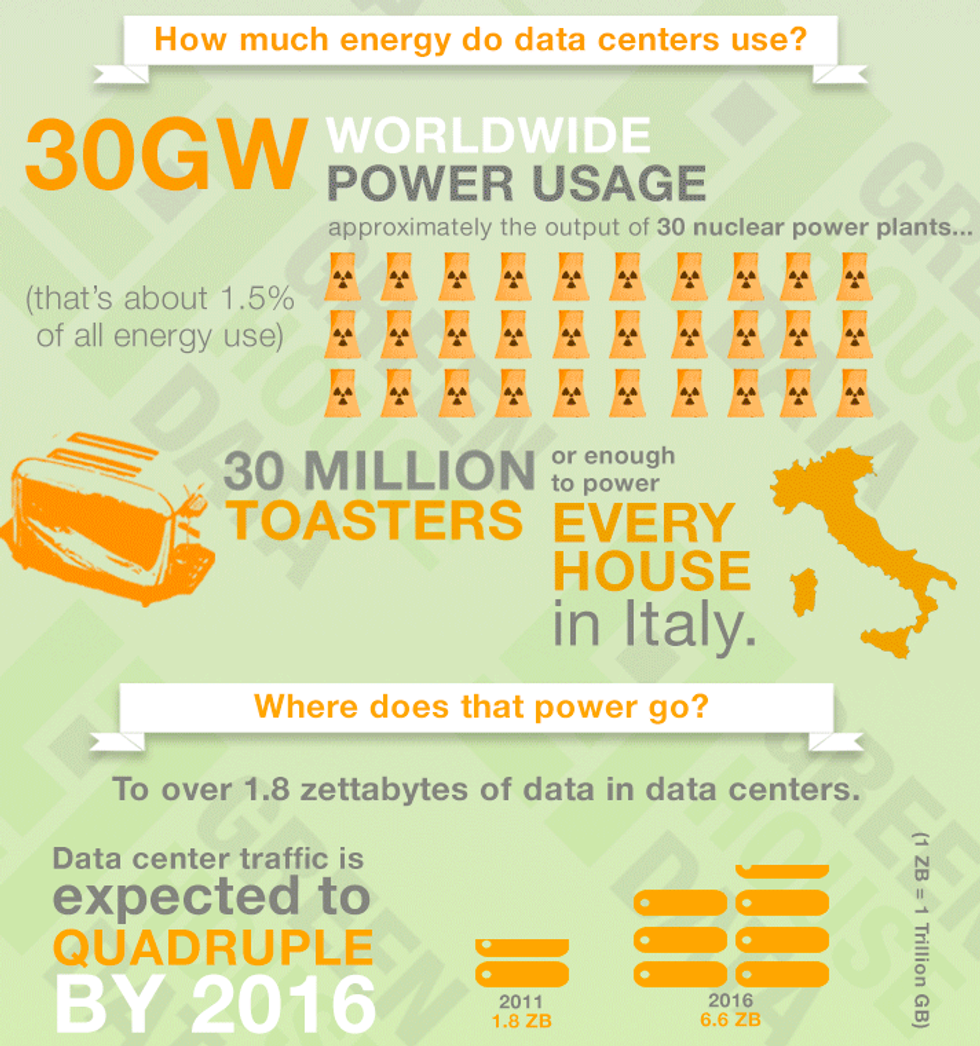 Stanford University research fellow Jonathan G. Koomey told the publication that U.S. data centers used about 76 billion kilowatt-hours in 2010, which equates to about 2 percent of the electricity used by the entire country that year.
Powering data centers with renewable energy sources like wind or solar is an obvious solution to global energy problems. Here are three companies who have announced plans to power their data centers with renewable energy:
Microsoft
The software corporation announced Monday that it would buy 110 megawatts (MW) of energy from a wind farm 70 miles northwest of Fort Worth, Texas to power its San Antonio data center. The 20-year agreement marks the first time the company will power a data center with clean energy.
The power will come from RES Americas' Keechi Wind project, which will begin construction early next year. The wind farm will include 55 wind turbines manufactured by Vestas, largely in Colorado.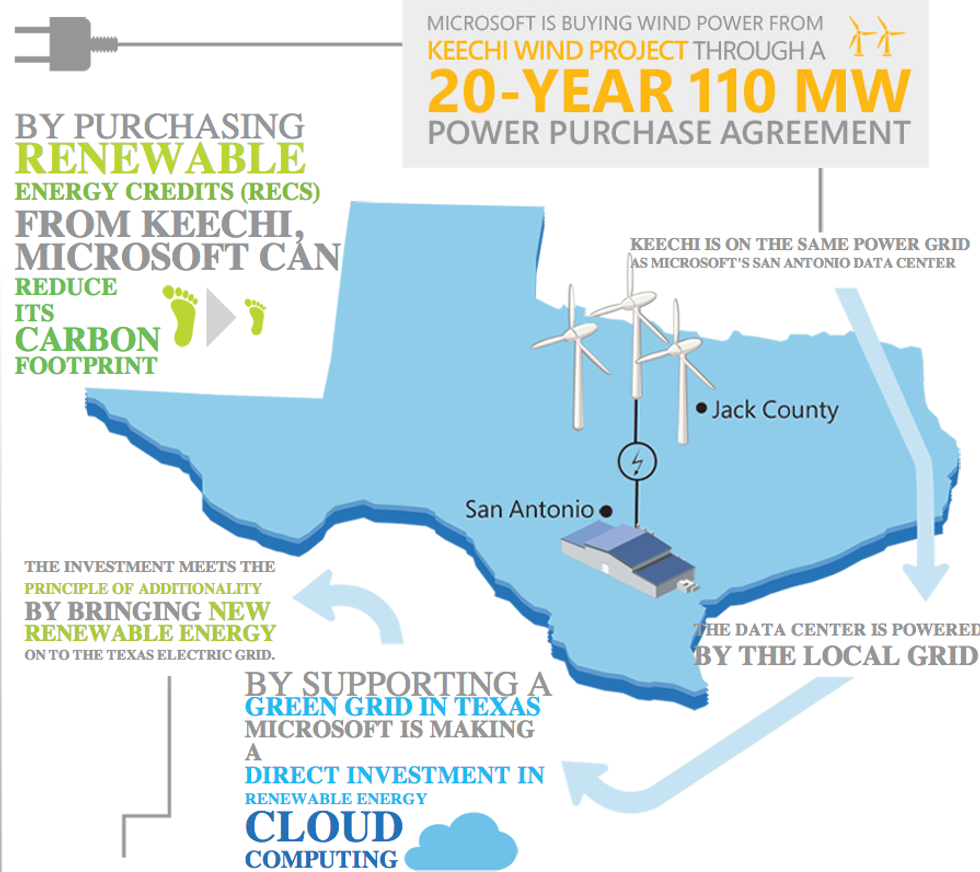 "For Microsoft, signing a long-term [power purchase agreement] for wind energy is a significant milestone in our commitment to carbon neutrality," Robert Bernard wrote on the company's Green Blog. "It also underscores how the carbon fee is changing the way Microsoft does business globally. By placing a dollar value on a metric ton of carbon, Microsoft is building environmental sustainability into our long term business planning and creating a blueprint for more purchases of renewable energy like this one."
Apple
Earlier this year, Apple said it would power its iCloud data centers with renewable energy instead of coal. An environmental report released in March revealed:
An increase in the percentage of renewable energy, from 35 percent to 75 percent, over the last three years at corporate facilities.
Apple opted out of default grid mix program in Prineville, OR in order to power its under-construction data center with wind, hydroelectric and solar.
Like existing data centers in Maiden, NC and Newark, CA, a new Reno, NV site will be completely powered by renewable energy
Google
Google purchased 48 MW of wind energy in 2012 to power a data center in Oklahoma that helps store Gmail, Google Docs and search engine results, Greenpeace reported. The company was faced with using a 50-percent coal mix before striking a power purchase agreement with the local utility.
Google also has a habit of investing millions in renewable facilities. The company Google announced its 13th renewable energy investment in three years last month by helping to fund a 265.7 MW solar project in California. The company pledged $103 million to Silver Ridge Power's Mount Signal Solar project, which will power 80,000 homes and create 900 construction jobs. Google's clean energy investment portfolio—which has eclipsed $1 billion—also includes projects in Germany and South Africa.
"We invest in these projects because they make business sense, because they help put more renewable energy on the grid and because they have a positive impact on the local economies where they operate," Google corporate finance head Kojo Ako-Asare said.
Visit EcoWatch's SUSTAINABLE BUSINESS page for more related news on this topic.