This website uses cookies to ensure you get the best experience while browsing it. By clicking 'Got It' you're accepting these terms.
The University of Manchester
Scientists and environmentalists have raised the alarm about microplastics polluting our oceans. Now, researchers at the University of Manchester have revealed more details of how they might get there.
Microplastic poses a growing concern in oceans and other aquatic habitat. 5Gyres / Oregon State University
A ban on microbeads came into force in Britain on Tuesday, an initiative that will "stop billions of pieces of plastic entering our ecosystem, helping to protect our precious seas and oceans," Prime Minister Theresa May tweeted.
Former President Barack Obama signed a bill in 2015 that phased out the manufacturing of face wash, toothpaste and shampoo containing plastic microbeads by July 1, 2017, and the sale of such beauty products by July 1, 2018.
EcoWatch Daily Newsletter
A bill working its way through the California legislature to ban plastic microbeads from cosmetics and other products made and sold in the state has encountered a snag.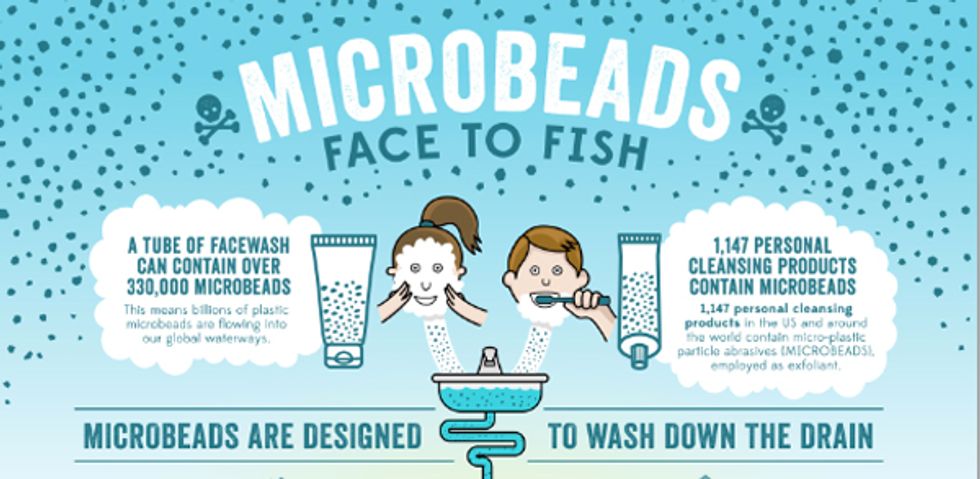 The bill, AB 1699, authored by 5 Gyres Institute and sponsored by Rep. Richard Bloom of Santa Monica, sailed through the other chamber of the legislature, the Assembly, in May. That action came a little less than a month before Illinois enacted such a ban in June becoming the first state to do so.
"Passing the Assembly floor is a big milestone for this bill," Bloom said back in May. "I am proud that my colleagues support our efforts to ensure that our waters are clean. Getting plastic microbeads out of these products will eliminate a significant source of pollution." Every year 38 tons of plastic microbeads are released into California's environment.
Alas, that will have to wait a little longer. The bill failed to garner the needed votes in the Senate by a single vote, but the sponsors have been granted reconsideration, which means if they can get one of the absentee legislators to vote for it, it will pass the Senate and go back to the California Assembly for concurrence.
According to Marcus Eriksen of 5 Gyres Institute, plastics industry lobbyists worked hard to block it, wanting legislation more like the far from ideal bill that passed in Illinois. The Ilinois bill leaves a loophole for plastic, like Polylactic Acid (PLA) the so-called biodegradable plastic that corn cups are made of. Unfortunately, PLA doesn't biodegrade in the environment, it requires an industrial composting facility.
"The California bill is up against its first hurdle, explaining to lawmakers that the microbead bill that passed in Illinois is no shining example of good legislation," said Eriksen. "It's more industry-friendy than water, allowing plastic microbeads from fossil fuels to be replaced with plastic microbeads from other feedstock like plants. Chemically speaking it's the same stuff, with the same problems, and doesn't move us away from the status quo. California policymakers are sold bad information by the cosmetics lobby about naturally derived plastics, but without the facts about the environmental harm they cause.
"They've even gone so far as to say that our bill in California bans natural alternatives to plastic in order to try to kill the bill, which is an outright fabrication. In rhetoric they tell the press they're committed to the environment, in practice they're committed to preserving their bottom line."
"If this bill fails, we all lose and are stuck with the precedent of a bad bill," said Anna Cummins, 5 Gyres' executive director. "5 Gyres is committed to the end goal—preventing toxic plastic beads from polluting our oceans and watersheds—and we will get there. If not at the state level, then city-by-city, which ultimately will be harder for companies that use plastic beads. We hope the business community will quit playing games with legislators and get serious about stopping the pollution they created."
New York was the first state to propose a microbead ban. New York attorney general Eric Schneiderman introduced the Microbead-Free Waters Act there in February with 5 Gyres, presenting it to the legislature for action; it's currently in limbo. And Ohio State Sen. Mike Skindell has introduced SB 304 which would ban microbeads in that state as evidence mounts of increasing micro-plastic pollution of the Great Lakes. But with the Republican supermajority in the Ohio legislature, the bill is unlikely to even get a hearing, says Skindell.
Unfortunately, that will likely be the same fate as that of a bill to ban plastic microbeads on a federal level, introduced by New Jersey Congressman Frank Pallone, Jr. in June.
YOU MIGHT ALSO LIKE
Illinois Breaks Ground With Country's First Microbead Ban
California Assembly Passes Historic Law to Remove Plastic Microbeads from Personal Care Products
5 Gyres Institute Sets Sail For Microbead Research From Bermuda to Iceland
Concern is growing over the threat that widespread plastic waste poses to marine life, with conservative estimates of the overall financial damage of plastics to marine ecosystems standing at $13 billion USD each year, according to two reports released on the opening day of the first UN Environment Assembly.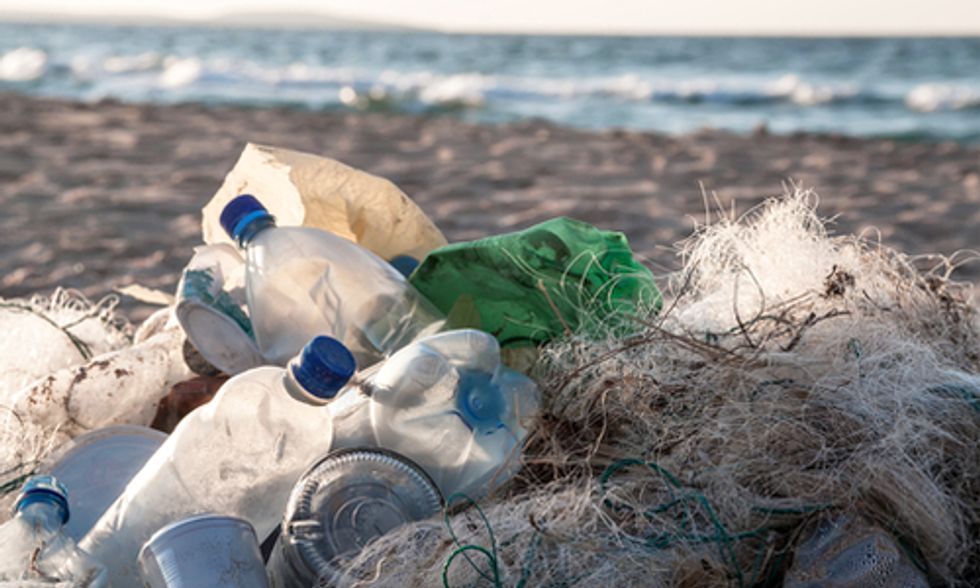 Photo courtesy of Shutterstock
The eleventh edition of the UN Environment Programme (UNEP) Year Book looks at ten issues flagged as emerging by previous reports over the past decade, including plastic waste in the ocean. The UNEP Year Book 2014 gives an update on each issue and provides options for action. Other areas covered include the environmental impacts of excess nitrogen and marine aquaculture, air pollution's deadly toll and the potential of citizen science.
Valuing Plastic, a UNEP-supported report produced by the Plastic Disclosure Project (PDP) and Trucost, makes the business case for managing and disclosing plastic use in the consumer goods industry. It finds that the overall natural capital cost of plastic use in the consumer goods sector each year is $75 billion USD—financial impacts resulting from issues such as pollution of the marine environment or air pollution caused by incinerating plastic.
The report says that more than 30 percent of the natural capital costs of plastic are due to greenhouse gas emissions from raw material extraction and processing. However, it notes that marine pollution is the largest downstream cost, and that the figure of $13 billion USD is likely a significant underestimate.
"Plastics have come to play a crucial role in modern life, but the environmental impacts of the way we use them cannot be ignored," said Achim Steiner, UN under-secretary-general and UNEP executive director. "These reports show that reducing, recycling and redesigning products that use plastics can bring multiple green economy benefits—from reducing economic damage to marine ecosystems and the tourism and fisheries industries, vital for many developing countries, to bringing savings and opportunities for innovation to companies while reducing reputational risks."
"Our economies are still largely fossil-fuel based, with the environmental, economic and health costs hidden," Steiner added. "For example, in the polar regions, scientists have recently found tiny pieces of plastic trapped in sea ice. Transported by ocean currents across great distances, these contaminated particles eventually become a source of chemicals in our food. The key course of action is to prevent plastic debris from entering the environment in the first place, which translates into a single powerful objective: reduce, reuse recycle."
A large and unquantifiable amount of plastic waste enters the ocean from littering, poorly managed landfills, tourist activities and fisheries. Some of this material sinks to the ocean floor, while some floats and can travel over great distances on ocean currents—polluting shorelines and accumulating in massive mid-ocean gyres.
There have been many reliable reports of environmental damage due to plastic waste: mortality or illness when ingested by sea creatures such as turtles, entanglement of animals such as dolphins and whales, and damage to critical habitats such as coral reefs. There are also concerns about chemical contamination, invasive species spread by plastic fragments and economic damage to the fishing and tourism industries in many countries—by, for example, fouling fishing equipment and polluting beaches.
Since 2011, when the UNEP Year Book process last looked at plastic waste in the ocean, concern has grown over microplastics (particles up to five mm in diameter, either manufactured or created when plastic breaks down). Their ingestion has been widely reported in marine organisms, including seabirds, fish, mussels, worms and zooplankton.
One emerging issue is the increasing use of microplastics directly in consumer products, such as microbeads in toothpaste, gels and facial cleansers, the Year Book says. These microplastics tend not to be filtered out during sewage treatment, but are released directly into rivers, lakes and the ocean.
Communities of microbes have been discovered thriving on microplastics at multiple locations in the North Atlantic. This "plastisphere" can facilitate the transport of harmful microbes, pathogens and algal species. Microplastics have also been identified as a threat to larger organisms, such as the endangered northern right whale, which is potentially exposed to ingestion through filter-feeding.
Production trends, use patterns and changing demographics are expected to cause increasing plastic use, and both reports call for companies, institutions and consumers to reduce their waste.
Valuing Plastic finds that consumer goods companies currently save $4 billion USD each year through good management of plastic, such as recycling, and that there is potential for greater savings. However, plastic use disclosure is poor: of 100 companies assessed, less than half reported any data relevant to plastic.
"The research unveils the need for companies to consider their plastic footprint, just as they do for carbon, water and forestry," said Andrew Russell, director of the PDP. "By measuring, managing and reporting plastic use and disposal through the PDP, companies can mitigate the risks, maximize the opportunities, and become more successful and sustainable."
Initiatives such as the PDP and the UNEP-led Global Partnership on Marine Litter have helped raise awareness of, and begun to address, the issue. However, much more needs to be done. Recommendations for further action from the reports include:
Companies should monitor their plastic use and publish the results in annual reports.
Companies should commit to reducing the environmental impact of plastic through clear targets and deadlines, and innovate to increase resource efficiency and recycling.
There should be an increased focus on awareness campaigns to discourage littering and prevent plastic waste from reaching the ocean. An application that allows consumers to check whether a product contains microbeads is already available and is expanding its coverage internationally. 
Since plastic particles can be ingested by marine organisms and potentially accumulate and deliver toxins through the food web, efforts should be stepped up to fill the knowledge gaps and better understand the capacity of various plastics to absorb and transfer persistent, toxic and bioaccumulating chemicals.
"Natural capital valuation has the power to help organizations understand their environmental impacts, including pollution of the ocean," said Richard Mattison, Trucost chief executive. "By putting a financial value on impacts such as plastic waste, companies can further integrate effective environmental management into mainstream businesses. By highlighting the savings from reuse and recycling, it builds a business case for proactive sustainability improvements."
Other Issues
"Ten years ago UNEP alerted the world to the development of dead zones in coastal waters resulting from excess nitrogen seeping into the water," said Steiner. "That was in the first edition of the Year Book series. In the intervening period many more emerging issues have been identified, with some rising to crisis level and others showing encouraging improvement."
"The 2014 Year Book shows how scientific endeavours and policy actions have led to innovative solutions and vital advancements," he added. "It reconfirms the critical role that the environment plays in maintaining and improving the health of people and ecosystems; from well-managed soils and nutrients that underpin food production to the critical role of biodiversity in protecting human health against the spread of infectious diseases. Clean air in our cities prevents the premature death and illness of millions and can save society trillions of dollars."
The UNEP Year Book 2014 lays out the state of play in critical areas, including:
1. Nitrogen
First looked at in 2003 by the Year Book team, nitrogen continues to be used inefficiently as a plant nutrient in many of the world's agricultural systems. The amount of usable nitrogen produced by humans is now about 190 million tonnes per year, greater than the 112 million tonnes created through natural processes.
As nitrogen moves through the environment, the same nitrogen atom can contribute to multiple negative effects in the air, on land, in freshwater and marine systems, and on human health. This sequence continues over a long period and is referred to as the "nitrogen cascade".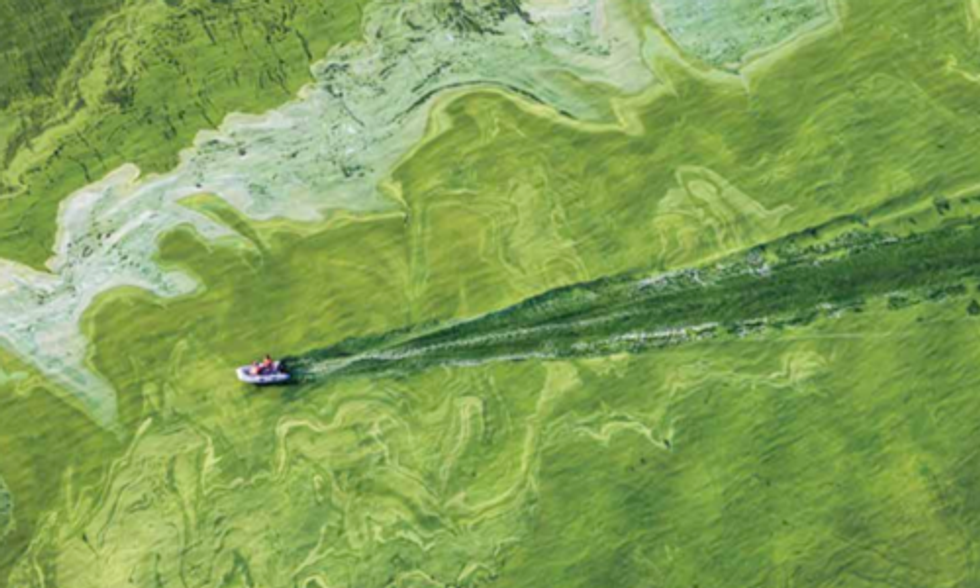 A Balanced Diet for Lake Erie: Reducing Phosphorus Loadings and Harmful Algal Blooms
Excess nitrogen in the environment contributes to many problems, including:
Coastal dead zones and fish kills due to severe eutrophication (a high concentration of nutrients, which leads to excessive plant growth and oxygen deprivation). There are currently over 500 known coastal dead zones in well-studied areas of the world, whereas in 2003 only around 150 such oxygen-depleted areas were reported. Once other regions start reporting, it is estimated that 1,000 coastal and marine areas will be identified as experiencing the effects of eutrophication.
Nitrogen emissions to the air, notably those of nitrous oxide (N2O), contribute to climate change. Sometimes referred to as the "forgotten greenhouse gas", N2O is more than 300 times more effective at trapping heat in the atmosphere than carbon dioxide over a 100-year period. Human activities such as agriculture, deforestation and fossil fuel combustion are increasing the amount in the atmosphere.
Better management practices are essential for improving nitrogen use efficiency, the Year Book finds. This is the most cost-effective option for reducing nitrogen losses to the environment from agricultural sources.
According to the recent UNEP-commissioned report, Our Nutrient World, a 20 percent improvement in global nutrient use efficiency by 2020 would reduce annual use of nitrogen by an estimated 20 million tons. This could produce savings of between $50-$400 billion USD per year in terms of improvements in human health, climate and biodiversity.
2. Marine Aquaculture
Aquaculture production has increased since the 1950s from 650 thousand tons to almost 67 million tons, and today provides half of all fish for human consumption. Marine aquaculture production by volume grew by 35 percent during the last decade, while production in fresh and brackish water grew by 70 and 83 percent, respectively.
While progress has been made towards making marine aquaculture more sustainable, environmental concerns remain. Fish farms can release nutrients, undigested feed and veterinary drugs to the environment. They can also increase risks of diseases and parasites and of harmful algal blooms. In some countries, certain forms of shrimp farming have destroyed large areas of coastal habitats, such as mangrove forests.
Healthy marine ecosystems are fundamental to reaching development goals, with respect to securing food and providing jobs. Marine aquaculture's impacts and predicted growth call for strengthened efforts towards environmentally sound development of the sector to avoid the loss of important ecosystem services.
Technical innovations, the experience and growing skills of aquaculture producers, and improved knowledge of environmental impacts and operational and governance opportunities provide hope for a sustainable marine aquaculture sector supporting a growing world population with food and livelihoods.
3. Air Quality
The World Health Organization (WHO) estimates that in 2012, air pollution led to around 7 million premature deaths (one out of eight total global deaths), more than double previous estimates. It is the leading cause of environmentally related deaths.
Air quality is deteriorating in most cities where there are sufficient data to make comparisons with previous years. The WHO guideline for average annual fine particulate matter is 25 microgrammes per cubic metre. Cities in low- and middle-income countries far exceed this level. For example, in Kathmandu, Nepal, particulate matter (PM2.5) levels of more than 500 micrograms per cubic meter have been measured.
The cost of air pollution to the world's most advanced economies, plus India and China, is estimated at $3.5 trillion USD per year in lives lost and ill health. In Organisation for Economic Co-operation and Development countries, the monetary impact of death and illness due to outdoor air pollution is estimated to have been $1.7 trillion USD in 2010. Research suggests that motorized on-road transport accounts for about 50 percent of that amount.
In light of the high costs related to the health and environmental effects of air pollution, all countries should invest in clean air policies, the report says.
4. Citizen Science
Citizen science, research conducted in whole or part by the public, can go beyond simple data collection to help shape fundamental questions about our world and provide intriguing answers, the report finds. It has grown in the past decade, due in part to the Internet, social media and other technologies. Opportunities to volunteer to take part in scientific research have exploded, from analyzing cancer data to theoretical physics.
Indigenous groups can make important contributions through citizen science, including the use of traditional knowledge, to help protect resources and influence environmental policies. Data and other information generated through citizen science projects have been shown to be reliable and accurate. However, there are barriers to realizing the full potential of citizen science, which can be overcome by:
Better coordination among scientists and project developers to make use of and collaborate with established and proven projects, in order to reduce the redundancy of projects.
Stronger recognition of data from citizen science by scientific communities.
Global coordination to aggregate and analyze data generated by citizen science, which would help reveal valuable information that might be useful for policymakers.
Out of the nearly 300 million tons of plastic created in 2012, 10 percent of it ended up in oceans, according to Phys.org. That trash has to go somewhere—washing onto coastlines and estuaries, or floating in the vast ocean. You may have heard of the Great Pacific Garbage Patch, an area within the North Pacific Subtropical Gyre where an enormous amount of trash circulates. Now, however, it looks like the Great Pacific Garbage Patch has an unassuming competitor in trapping marine debris: the Arctic.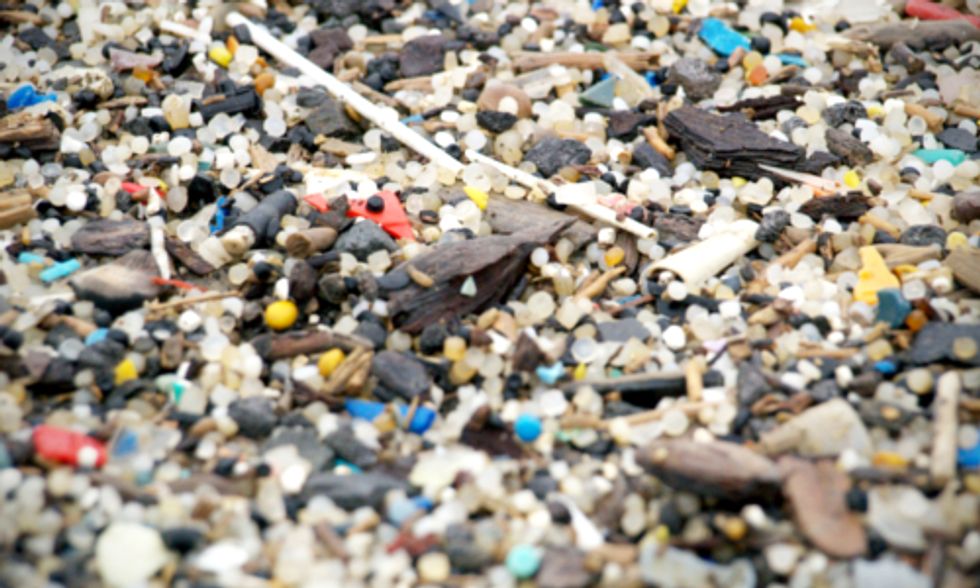 A recently published study in Earth's Future found that a significant amount of microplastics, sub-millimeter broken down pieces of plastic, sit frozen in Arctic sea ice—enough to designate the Arctic as a major global sink for these tiny plastic particles. If melting trends continue at their current rate, explain the authors, the sea ice could unlock over one trillion pieces of microplastics over the next decade alone.
"The abundance of microplastics was substantial, ranging from 38 to 234 particles per cubic meter of ice," the report said. "Although litter has been reported in northern Europe including the Arctic, this is the first report of microplastic in the Arctic and the microplastic concentrations we found are at least two orders of magnitude greater than those reported in Atlantic waters north of Scotland or in waters of the North Pacific Subtropical Gyre."
The authors hypothesized that the particles entered the Arctic from the Pacific Ocean, where both marine debris and microplastics are common. Microplastics accumulate in the oceans from three main sources: microbeads in cosmetics, breaking down of plastic debris and fibers from washing machines, according to the paper.
Ironically, the authors did not intend to study microplastics; instead, they set out to search for sediments and diatoms in sea ice cores from two different National Science Foundation (NSF) and NASA studies, and unintentionally discovered these synthetic particles in varying locations throughout the Arctic Ocean. Their prevalence encouraged the researchers to examine the remaining ice cores, adhering to strict sampling and handling protocols as to not introduce their own plastic particles into the samples. The pieces observed were mostly blue, black, green and red in color, with rayon being the most prevalent material (which the authors point out is technically not a plastic, but a manmade semi-synthetic material used in cigarette filters and hygiene products). Other materials included polyester, nylon, polypropylene, polystyrene, acrylic and polyethylene, according to the study.
So, how do these particulates impact marine life?
Marine organisms ingest these particulates, and there's evidence that the chemicals in these plastics build-up in the organism. A 2013 study found that a species of marine worm, for example, became affected by the toxins, and some even died. Another study, published that same year, found that these plastics and toxins accumulate in the food chain.
And larger marine debris poses additional threats: Fishing nets, plastic bags and tires can sink to the ocean floor and smother coral reefs, while fishing gear can entangle marine mammals and other animals, according to the U.S. Environmental Protection Agency (EPA). Other marine life, like sea turtles and birds, can forsake plastics for food, which can lead to malnutrition or starvation.
Sea ice melt already has a range of consequences, including rising sea levels, disruption to food chains, and habitat loss for many species, but this study points out that climate change has unexpected consequences for the oceans—like Arctic ice unlocking these plastics. The authors suggest that their findings indicate a need to sample Antarctic ice to determine the presence of microplastics there too, and that further studies need to be undertaken to fully understand the environmental impacts of these particulates in the marine environment.
This article was originally published on Oceana's blog.
--------
YOU MIGHT ALSO LIKE
Find Out if Your Facial Scrub Has Plastic Microbeads With New App
Plastic Debris in Oceans Spawn 'Plastisphere' of Microbes 
Study Shows Plastic Microbeads in Facial Scrubs Pollute the Great Lakes
--------
In a historic vote yesterday, the California Assembly passed the Microplastic Nuisance Prevention Law to ban the sale and manufacturing of personal care products containing tiny, synthetic plastic microbeads. Thanks to 5 Gyres Institute, the group that authored the bill sponsored by Assembly Member Richard Bloom (D-Santa Monica), California sets a national precedent for holding companies liable for products that harm aquatic species and pollutes our water.
[blackoutgallery id="321809"]
"The passage of our bill by the California Assembly is a big win not only for California waters, but sets a national precedent for industry to take recoverability and recyclability seriously when formulating products," said Stiv Wilson, associate director of 5 Gyres who was responsible for coordinating the legislative effort. "We are past the tipping point with regard to plastic pollution in our waters and we'll target any product for regulation, redesign or ban that has no sustainable end of life scenario. We're on the offensive to protect our precious waters from mindless plastic pollution."
"Passing the Assembly Floor is a big milestone for this bill," said Assemblyman Richard Bloom. "I am proud that my colleagues support our efforts to ensure that our waters are clean, getting plastic microbeads out of these products will eliminate a significant source of pollution." 
Throughout the last several years, 5 Gyres and researchers from SUNY Fredonia discovered large quantities of plastic microbeads escaping wastewater treatment in several New York watersheds, the Great Lakes, Chicago River and Los Angeles River. In 2013, 5 Gyres and SUNY published a peer-reviewed paper in the Marine Pollution Bulletin, believed to be the first micro-plastic pollution survey of the Great Lakes Region, documenting high concentrations of plastic microbeads in the Great Lakes.
"We found concentrations of plastic microbeads in Lake Erie that rival some of the highest concentrations in the world's oceans," said Dr. Marcus Eriksen, co-founder and research director for 5 Gyres who authored the Great Lakes paper. "Looking to our home waters in the Los Angeles River, we found microbeads there too. Unfortunately, the more we look, the more we find plastic in our environment."
The high concentrations of microplastics in Lake Erie accounted for about 90 percent of the total plastics found. Polyethylene and polypropylene beads were found in the samples, as well as particles of aluminum silicate, or coal ash, a byproduct of coal-fired power plants.
In addition to 5 Gyres there were dozens of California based organizations dedicated to the passage of this bill, including Clean Water Action and Campaign for Safe Cosmetics.
"By passing AB 1699 (Bloom), the California Assembly made a bold move today to reduce the contamination of fish and other marine life with pollutant-covered plastic debris," said Miriam Gordon, director of Clean Water Action. "This is a sensible easy bill to vote for as there is no down side- no job loss or significant impact to California businesses and we hope to see the Senate exercise similar good judgment."
The Microplastic Nuisance Prevention Law will go a long way to protect our watersheds from poorly designed products, including products containing microplastics that are designed to go down the drain and into the environment. 
"Who wants to wash their face with plastics? Microbeads are completely unnecessary, as safer, natural alternatives that don't pollute the water already exist," said Janet Nudelman, director for Campaign For Safe Cosmetics (Breast Cancer Fund). "Consumer pressure has led multinational cosmetics companies to stop using microbeads, including Johnson & Johnson, Procter & Gamble and Colgate-Palmolive, but we need laws on the books to make sure their commitments stick. Eliminating microbeads brings us one step closer to cleaning up the beauty aisle."
——–
YOU MIGHT ALSO LIKE:
Study Shows PlasticMicrobeads in Facial Scrubs Pollute Great Lakes
New York and California Introduce Legislation to Ban Plastic Microbeads in Cosmetics
Find Out if Your Facial Scrub Has Plastic Microbeads With New App
——–