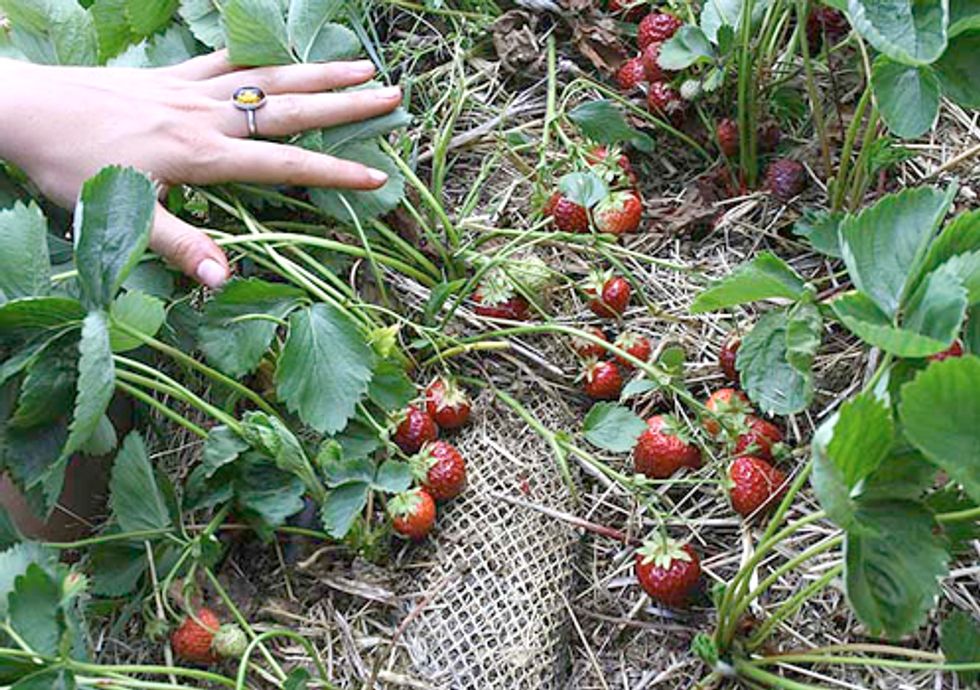 On the heels of the removal of the cancer-causing pesticide methyl iodide from California's strawberry fields, on April 24 state officials announced a new effort to help strawberry growers transition off of all methyl-iodide-like fumigant pesticides and towards safe and sustainable alternatives. Fumigants are injected into the soil to "sterilize" it before planting, and are among the most hazardous pesticides to human health used in California. The state is convening a panel of experts to help develop a plan to support strawberry growers as they transition towards safer, more sustainable technologies and techniques that protect public health and build soil health.
"With this panel, California is signaling support for innovation, including entrepreneurs who will bring new techniques to the market and the cutting-edge farmers who will use them in the fields," said Margaret Reeves, a senior scientist at Pesticide Action Network. "The future of agriculture—quite literally—rests on the ability to build and maintain healthy, vibrant soils. A new plan for strawberry farming should set us on that course."
Starting in August, the California Department of Pesticide Regulation will convene a panel of experts—including academic specialists in economics and agricultural production, farmworker safety specialists and business leaders—who will review alternative technologies to soil fumigant pesticides, as well as the economic and production-level barriers to farming without fumigants, and create a five-year plan to transition California away from most uses of fumigants in strawberry production. The effort, conceived by state officials and Assemblymember Bill Monning, has national significance since more than 85 percent of the country's strawberries are grown in California.
Soil fumigants are applied at very high rates per acre and are readily transformed into a gas, making them difficult to control and prone to drift away from the application site. Rural families and farmworkers throughout California face some of the greatest direct threats of exposure from these chemicals. Fumigants reduce farmers' ability to manage pests because they "sterilize" the soil, killing the live soil organic matter that forms the basis of naturally resilient farming systems. Healthy soil, for its part, reduces the risk of crop loss from biological and physical events.
"This is an exciting time. There is so much potential for positive change that will benefit both farmers and agricultural communities, and it's encouraging that both the Department of Pesticide Regulation and the strawberry growers are embracing the idea of change," said Susan Kegley, consulting scientist at Pesticide Action Network. "This effort will help California maintain its leadership in innovation with new farming techniques that can be used across the nation and globally."
Last month, Brian Leahy—Director of the Department of Pesticide Regulation—signaled a new direction for strawberry growing in California when he awarded the California Strawberry Commission $500,000 to research alternatives to pesticide fumigants. "We really want to work with the industry to look at fumigants," said Leahy. "They are very intense, and we have to find all kinds of alternatives to get away from these most toxic chemicals."
Despite high fumigant pesticide use in conventional agriculture, California also leads the country in organic farming, with more than 430,000 acres in production and average annual growth of 15 percent. Farmers and entrepreneurs have developed a variety of alternatives to fumigant pesticides. Current and emerging alternatives include use of disease-resistant cultivars, solarization, steam treatments, crop rotations, use of green manures such as mustard seed meal, and anaerobic disinfestation.
The fumigant transition panel will also evaluate ways to remove structural barriers to change, including provision of crop insurance and support for small-scale testing of the new methods in the required buffer zone areas to help farmers make the transition. Access to affordable land is also an issue on the Central Coast, the California location with the highest density of strawberry fields.
"Pesticides are poisons—they should not be used as a form of insurance. Instead, we need to provide growers with safer, lower-risk ways to grow their crops," said Tracey Brieger, co-director of Californians for Pesticide Reform. "With the broad scientific and public rejection of methyl iodide, California has an unprecedented opportunity to invest in farmers and technological entrepreneurs to help propel forward a new system of agriculture that will help California thrive into the future."
The growing interest in the new panel and plan follows a multi-year battle to take one new pesticide fumigant, methyl iodide, off the market. After pressure from rural communities, farmworkers, and the scientific community, the manufacturer of methyl iodide, Arysta, pulled product and ended U.S. use last month. UCLA scientist John Froines, who led the external review of the chemical, called it "one of the most toxic chemicals on earth." Advocates in Africa and Latin America are now using California's scientific review to urge their governments to prohibit methyl iodide's use.
As a result, all fumigants are under increasing scrutiny. Methyl bromide is slated for phase-out in 2015 under an international treaty agreement, and several of the other fumigants have severe restrictions on their use. Instead of focusing on safer alternatives, conventional pesticide manufacturers have attempted to market new highly toxic fumigants as replacements for methyl bromide. Rural residents across California have documented the on-the-ground harms that these pesticide fumigants pose to their communities.Last month, for example, a community outside Red Bluff, California released air monitoring results that showed high concentrations of the fumigant chloropicrin applied to strawberry fields near their homes. Chloropicrin, which was a co-ingredient in all of the methyl iodide products, is a severe respiratory irritant and a potent carcinogen.
For more information, click here.
EcoWatch Daily Newsletter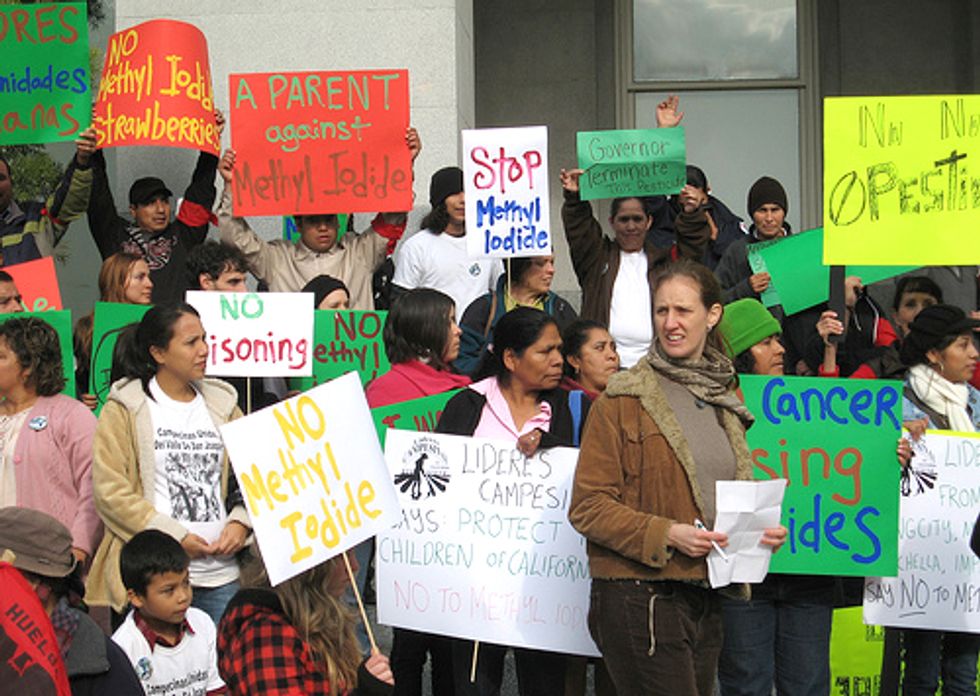 On Feb. 21, more than 60,000 people urged the new Director of the California Department of Pesticide Regulation (DPR) on his first day on the job to take action on cancer-causing pesticide methyl iodide. Representatives of environmental, health and farmworker organizations as well as tens of thousands of individuals urged Director Brian Leahy to repair the image of the tarnished department, criticized for ignoring science and failing to protect public health, by reversing the Schwarzenegger administration's controversial approval of the strawberry pesticide.
"Director Leahy must show his commitment to public health and scientific integrity by immediately suspending all uses of methyl iodide and reversing the approval of this cancer-causing fumigant," said Susan Kegley, PhD, consulting scientist for Pesticide Action Network. "In addition, he should support long-term efforts to partner with farmers and sister state agencies, to help transition away from pesticide fumigants and invest in healthy, sustainable agriculture."
Leahy, a former organic farmer and assistant firector of the Division of Land Resource Protection at the California Department of Conservation takes office after an eleven-month vacancy in the position of the state's chief pesticide regulator. He comes to office more than one year after the approval of methyl iodide—in December 2010, DPR approved the use of methyl iodide, ignoring concerns voiced by both a panel of independent scientists and the agency's staff scientists. One independent scientist has called it "one of the most toxic chemicals on earth," citing research that methyl iodide causes cancer, late-term miscarriages and contaminates groundwater.
More than 200,000 scientists, farmers, farmworkers, environmentalists and other members of the public sent comments to the U.S. Environmental Protection Agency (EPA) last May urging the federal agency to listen to the science and ban the pesticide nationally. Washington State used California's research to reject methyl iodide, and federal regulators have suggested that they are waiting on California in order to determine their next steps.
"Farmworkers are on the frontlines of pesticide exposure," said Maria Machua, spokesperson for United Farm Workers. "California's steps have immediate and direct impacts on the health and safety of farmworkers and their families living in the state, and sets precedence for farmworkers living across the country."
The petition signatures were gathered over the past two weeks, following news of Leahy's appointment, by a coalition of scientist, farmworker and environmental organizations, including the United Farm Workers, Pesticide Action Network, Environmental Working Group, Food & Water Watch, Center for Environmental Health, Change.org, Pesticide Watch, Worksafe and the coalition Californians for Pesticide Reform.
"This is an opportunity for a new day at DPR. Previous directors have all too often caved to industry pressure and rubber-stamped pesticides instead of safeguarding health and promoting a vibrant agricultural system," said Tracey Brieger, co-director of Californians for Pesticide Reform. "Sticking to the science and promoting safe alternatives will reduce pesticide use, protect children's health and support climate-friendly agriculture. With strong leadership, Leahy can make DPR an engine of innovation, economic stability and improved safety."
California leads the country in organic farming with more than 430,000 acres in production and average annual growth of 15 percent. In his new role, Director Leahy has a significant opportunity to work with growers and find opportunities to reduce pesticide use, promote organic production and strengthen California's vibrant agricultural economy.
In the first days of the Brown administration, Californians for Pesticide Reform, a coalition of more than 185 health and environmental organizations, submitted, a platform for pesticide. Healthy Children & Green Jobs: A Platform for Pesticide Reform outlines priority recommendations for how the Brown administration and Leahy can protect health and ensure the success of agriculture in California, including taking action on methyl iodide.
For more information, click here.
waterlust.com / @tulasendlesssummer_sierra .
Each product featured here has been independently selected by the writer. If you make a purchase using the links included, we may earn commission.
The bright patterns and recognizable designs of Waterlust's activewear aren't just for show. In fact, they're meant to promote the conversation around sustainability and give back to the ocean science and conservation community.
Each design is paired with a research lab, nonprofit, or education organization that has high intellectual merit and the potential to move the needle in its respective field. For each product sold, Waterlust donates 10% of profits to these conservation partners.
Eye-Catching Designs Made from Recycled Plastic Bottles
waterlust.com / @abamabam
The company sells a range of eco-friendly items like leggings, rash guards, and board shorts that are made using recycled post-consumer plastic bottles. There are currently 16 causes represented by distinct marine-life patterns, from whale shark research and invasive lionfish removal to sockeye salmon monitoring and abalone restoration.

One such organization is Get Inspired, a nonprofit that specializes in ocean restoration and environmental education. Get Inspired founder, marine biologist Nancy Caruso, says supporting on-the-ground efforts is one thing that sets Waterlust apart, like their apparel line that supports Get Inspired abalone restoration programs.
"All of us [conservation partners] are doing something," Caruso said. "We're not putting up exhibits and talking about it — although that is important — we're in the field."
Waterlust not only helps its conservation partners financially so they can continue their important work. It also helps them get the word out about what they're doing, whether that's through social media spotlights, photo and video projects, or the informative note card that comes with each piece of apparel.
"They're doing their part for sure, pushing the information out across all of their channels, and I think that's what makes them so interesting," Caruso said.
And then there are the clothes, which speak for themselves.
Advocate Apparel to Start Conversations About Conservation
waterlust.com / @oceanraysphotography
Waterlust's concept of "advocate apparel" encourages people to see getting dressed every day as an opportunity to not only express their individuality and style, but also to advance the conversation around marine science. By infusing science into clothing, people can visually represent species and ecosystems in need of advocacy — something that, more often than not, leads to a teaching moment.

"When people wear Waterlust gear, it's just a matter of time before somebody asks them about the bright, funky designs," said Waterlust's CEO, Patrick Rynne. "That moment is incredibly special, because it creates an intimate opportunity for the wearer to share what they've learned with another."
The idea for the company came to Rynne when he was a Ph.D. student in marine science.
"I was surrounded by incredible people that were discovering fascinating things but noticed that often their work wasn't reaching the general public in creative and engaging ways," he said. "That seemed like a missed opportunity with big implications."
Waterlust initially focused on conventional media, like film and photography, to promote ocean science, but the team quickly realized engagement on social media didn't translate to action or even knowledge sharing offscreen.
Rynne also saw the "in one ear, out the other" issue in the classroom — if students didn't repeatedly engage with the topics they learned, they'd quickly forget them.
"We decided that if we truly wanted to achieve our goal of bringing science into people's lives and have it stick, it would need to be through a process that is frequently repeated, fun, and functional," Rynne said. "That's when we thought about clothing."
Support Marine Research and Sustainability in Style
To date, Waterlust has sold tens of thousands of pieces of apparel in over 100 countries, and the interactions its products have sparked have had clear implications for furthering science communication.
For Caruso alone, it's led to opportunities to share her abalone restoration methods with communities far and wide.
"It moves my small little world of what I'm doing here in Orange County, California, across the entire globe," she said. "That's one of the beautiful things about our partnership."
Check out all of the different eco-conscious apparel options available from Waterlust to help promote ocean conservation.
Melissa Smith is an avid writer, scuba diver, backpacker, and all-around outdoor enthusiast. She graduated from the University of Florida with degrees in journalism and sustainable studies. Before joining EcoWatch, Melissa worked as the managing editor of Scuba Diving magazine and the communications manager of The Ocean Agency, a non-profit that's featured in the Emmy award-winning documentary Chasing Coral.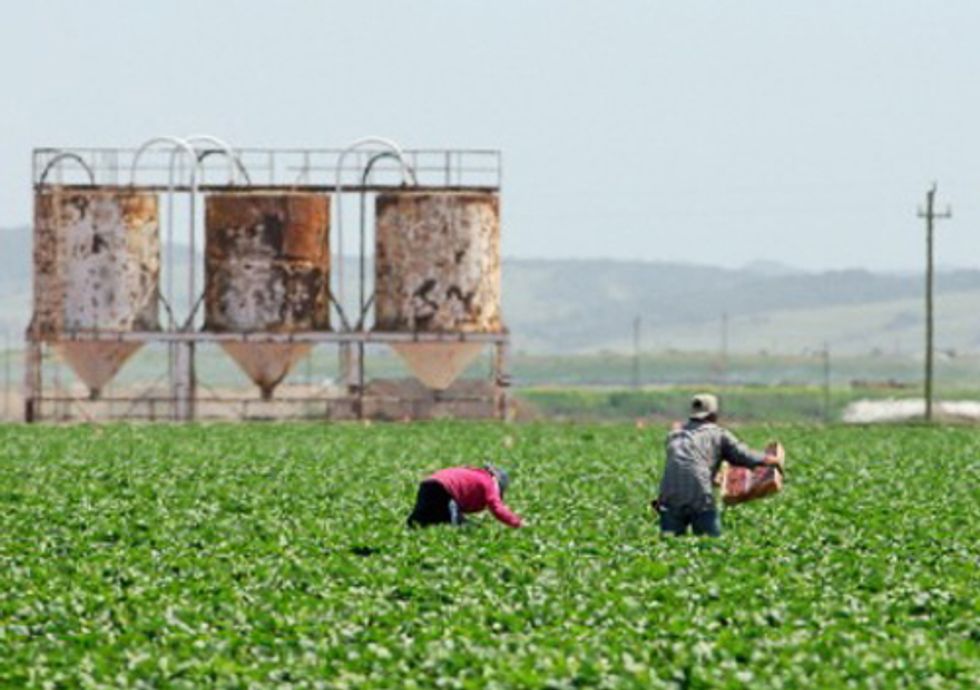 Last week, the Monterey County Board of Supervisors urged California Gov. Jerry Brown to reconsider the state's approval of the carcinogenic fumigant methyl iodide. Monterey County, one of the largest agricultural counties in California, joins Santa Cruz County in mounting pressure to re-examine the controversial decision to approve the toxic chemical as a replacement to the ozone-depleting methyl bromide. This news comes at the heels of the announcement earlier this month that Gov. Brown appointed Brian Leahy, a former organic farmer and the former assistant director at the California Department of Conservation, to head the state Department of Pesticide Regulation (DPR).
According to The Californian, agricultural interests present asked County Supervisors to take no action. However, with dozens of local farm workers in attendance pleading their case, the board passed the resolution on a 4-1 recommending that Gov. Brown take another look at the fumigant.
Methyl iodide is known to cause miscarriages, thyroid dysfunction, and cancer, and is applied to crops like strawberries and peppers. It was approved by California state pesticide regulators in December as an alternative to methyl bromide, an ozone-depleting chemical being phased out under international treaty.
In 2007, EPA fast-tracked the registration of methyl iodide for use as a soil fumigant, despite serious concerns raised by a group of over 50 eminent scientists, including six Nobel Laureates in Chemistry. These scientists sent a letter of concern to U.S. Environmental Protection Agency (EPA) explaining, "Because of methyl iodide's high volatility and water solubility, broad use of this chemical in agriculture will guarantee substantial releases to air, surface waters and groundwater, and will result in exposures for many people. In addition to the potential for increased cancer incidence, EPA's own evaluation of the chemical also indicates that methyl iodide causes thyroid toxicity, permanent neurological damage, and fetal losses in experimental animals." The letter concludes, "It is astonishing that the Office of Pesticide Programs (of EPA) is working to legalize broadcast releases of one of the more toxic chemicals used in manufacturing into the environment."
Several environmental groups sued the State of California last year in an attempt to reverse the state's approval of the chemical. Environmental advocacy groups and other opponents of methyl iodide use in the state have released documents detailing dissension in the ranks of DPR over the risk assessment of methyl iodide and its subsequent approval.
The ongoing court case helped reveal documents showing DPR manipulated data and that department scientists were worried risk managers minimized health dangers and didn't take strong enough steps to mitigate the threats. One of the released documents, a memo from one disapproving DPR scientist, chastised the agency for its cut-and-paste approach to calculations determining how big buffer zones should be to protect public health. During a hearing on Jan. 13, a California Superior Court Judge raised concerns about whether CDPR complied with its legal obligation to consider alternative options before approving the use.
Methyl iodide poses the most direct risks to farmworkers and those in the surrounding communities because of the volume that would be applied to fields and its tendency to drift off site through the air. Methyl iodide causes late term miscarriages, contaminates groundwater, and is so reliably carcinogenic that it's used to create cancer cells in laboratories. It is on California's official list of known carcinogenic chemicals and has been linked to serious risks in reproductive and neurological health. It is approved to be applied to California's strawberry fields at rates up to 100 pounds per acre on much of the state's 38,000 acres in strawberry production, totaling millions of pounds of use. Though methyl iodide will likely be used primarily on strawberries, it is also registered for use on tomatoes, peppers, nurseries, and on soils prior to replanting orchards and vineyards.
Organic certification standards require crop farmers to establish a preventive pest management strategy based on crop rotation, variety selection, biological controls, and sanitation and fertility practices. Synthetic materials that are allowed in organic crop production must satisfy a rigorous review process to insure their necessity, efficacy and safety to humans and the environment throughout their production and utilization. This review process must be updated every five years for the material to remain in use. A journal article from 2010 shows that organic farms produce more flavorful and nutritious strawberries while leaving the soil healthier and more biologically diverse than conventional strawberry farms. For more information on organic versus conventional agricultural practices, see Beyond Pesticides' guide, Organic Food: Eating with a Conscience as well as our organic program page. In addition to the personal health risks posed by pesticide residues, Beyond Pesticides urges consumers to consider the impacts on the environment, farmworker and farm families' health when making food choices.
For more information, click here.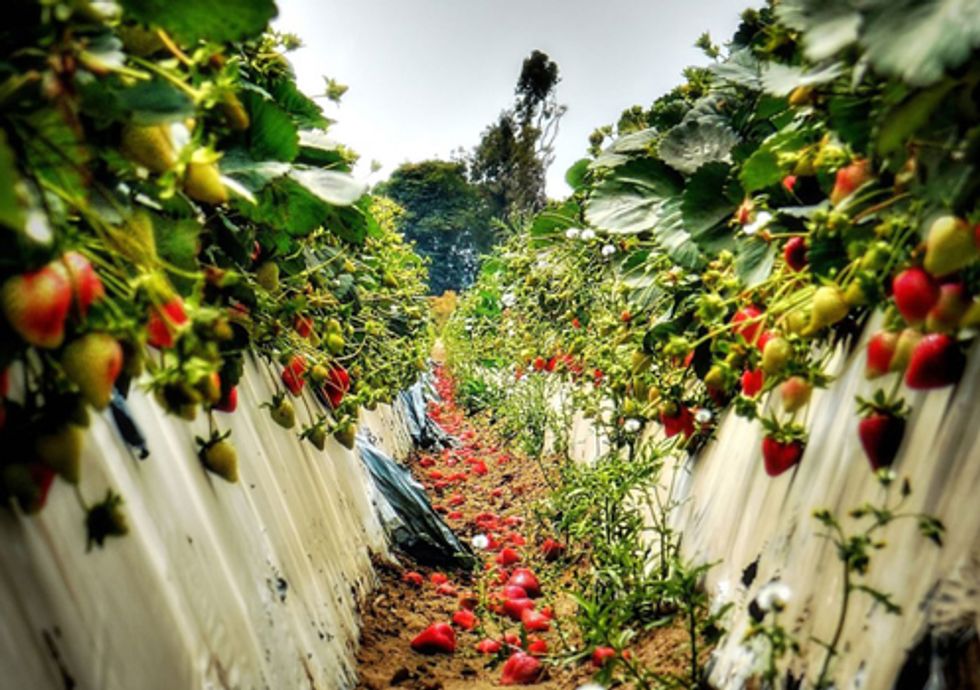 On Jan. 12, California's Alameda County Superior Court heard arguments regarding the state's approval in December 2010 of methyl iodide—a cancer-causing pesticide fumigant approved for use on the state's strawberry fields. Methyl iodide was approved despite independent scientific evidence about the significant health risks it poses to children, rural communities and farmworkers. Judge Frank Roesch is anticipated to file an opinion within the next few months.
"Nobody disputes that methyl iodide is a potent poison," said Earthjustice attorney Greg Loarie. "By approving the cancer-causing pesticide, California's pesticide regulators ignored the science and broke important laws designed to protect public health. The state's duty is to protect the public health and groundwater, not defend corporate profits."
Documents in the case show that top scientists in the California Department of Pesticide Regulation (DPR) warned their superiors of the dangers of methyl iodide and strongly criticized the "acceptable" levels of exposure for farmworkers and the public set by the political appointees running the department. Dozens of independent scientists, including six Nobel Laureates in chemistry, have publicly opposed the use of methyl iodide since 2007.
"The outcome of the case is important for re-establishing the integrity of science-based decision-making by the California Department of Pesticide Regulation and the California Environmental Protection Agency," said Kathy Collins, professor of biochemistry and molecular biology at the University of California, Berkeley. "Their processes must protect the health of people living and working in California by rigorously limiting the use of methyl iodide, even if safe standards for use of the chemical are not preferred by external corporate interests."
The lawsuit challenging approval of methyl iodide was filed in December 2010 by Earthjustice and California Rural Legal Assistance, Inc. on behalf of Pesticide Action Network North America, United Farm Workers of America, Californians for Pesticide Reform, Pesticide Watch Education Fund, Worksafe, Communities and Children, Advocates Against Pesticide Poisoning and farmworkers Jose Hidalgo Ramon and Zeferino Estrada. The suit claims state approval of methyl iodide violates the California Environmental Quality Act, the California Birth Defects Prevention Act, and the Pesticide Contamination Prevention Act. The defendants in the case are the California Department of Pesticide Regulation and Arysta Lifescience, manufacturer of methyl iodide.   
The judge did give some initial indications from bench about his opinions. "Did you consider not approving methyl iodide?...I don't see it. Absent that, I don't see how you can prevail in the lawsuit," said Superior Court Judge Frank Roesch. He also gave defendants until Jan. 20 to make a legal argument that DPR was not required to consider alternatives to methyl iodide under the California Environmental Quality Act.
"The science is clear that cancer-causing methyl iodide shouldn't be used near farmworkers, rural communities and children," said Paul Towers, spokesperson for Pesticide Action Network, the lead plaintiff in the case. "This case highlights the breakdown in government decision-making at the hands of corporate influence—a dangerous precedent that must be rectified."
"The exposure levels that California approved as "safe" for workers are 120 times higher than the levels that government scientists say protect against miscarriages and 56 times higher than the levels they say protect against thyroid cancer," stated Jora Trang, managing attorney of Worksafe, a plaintiff in the case. "Children are more vulnerable to pesticides than adults, so methyl iodide poses a particular risk to teenage farmworkers and young rural residents. The approval of methyl iodide has made lab rats out of our rural children. It is unconscionable."
Only six applications of methyl iodide—including two paid for by the manufacturer, Arysta LifeScience—have taken place in California since the Department of Pesticide Regulation approved it last December. Local governments, and state elected officials, have taken a stand against the chemical. Santa Cruz County recently passed a resolution against the chemical, while Monterey County is considering similar measures. Dozens of state legislators have authored letters in opposition to the chemical. As a result, Gov. Jerry Brown pledged to "take a fresh look" at the issue last March.
"Instead of protecting profits for polluters like Arysta, Gov. Brown should focus on promoting safe alternatives to methyl iodide and other pesticides," said Tracey Brieger, co-director of Californians for Pesticide Reform. "Ensuring a strong agricultural economy in California over the long term requires new thinking and support for innovative growers, not reliance on outdated toxic technology."
For more information, click here.