Residents gathered today to rally against fracking and for renewable energy outside of Gov. Cuomo's (D-NY) fundraiser in Syracuse, NY. The concerned residents urged the Governor not to put New York's clean water, air, environment and economy at risk by allow fracking. Further, they urged the Governor to aggressively invest in renewable energy, which would bring sustainable, good jobs and economic development to New York State without jeopardizing people's health and existing jobs.
"Governor Cuomo must listen to the science and ban fracking, which contaminates water, poisons air and puts our health at risk," said Renee Vogelsang of Frack Action, and a Syracuse resident.
"An overwhelming number of New Yorkers are standing up against fracking because they know it would only bring pollution and ruin to communities across New York State. Governor Cuomo should pioneer a renewable energy economy that will create long-term, safe jobs for New Yorkers," said Vogelsang.
"If Governor Cuomo cares about the future of our state, then he will reject hydrofracking," said Ursula Rozum, a Syracuse resident with the Syracuse Peace Council. "Science overwhelmingly shows that hydrofracking cannot be done safely, that it would only lead to polluted water and poisoned communities, like it has in Pennsylvania and many other states. Fracked methane gas is not a bridge fuel—it's a dirty fossil fuel and a source of climate disrupting greenhouse gasses. Governor Cuomo needs to decide, is he with the people or with the gas industry?"
Gov. Cuomo was in Syracuse for a fundraiser at the Genesee Grand Hotel. The rally began outside of the event at 11:30.
"Fracking poses a serious threat to the health of both our natural and social environments," said Emily Coralyne, a Syracuse resident. "Historically in New York, we have made agreements to maintain stewardship of this land with our native neighbors. If New York State were to allow hydrofracking, they are yet again, breaking promises made to the original people of this land to care for what has been shared with us."
Independent observers have noted that the gas industry cannot be trusted when it describes fracking as safe. A recent investigation by the Times Tribune in Pennsylvania revealed many cases of water contamination from fracking.  And a recent study showed that fracking emits significant amounts of methane—a major contributor to climate change. A recent peer-reviewed study by Duke University in the renowned Proceedings of the National Academy of Sciences linked fracking with water contamination in Pennsylvania.
The latest Siena Poll showed that upstate New Yorkers oppose fracking 52-38 percent. On June 17, 3,000 New Yorkers rallied in Albany to demand that Gov. Cuomo reject fracking and instead aggressively pioneer a renewable energy economy.
A recent peer-reviewed study detailed a plan for New York State to get to 100 percent renewable energy by 2030.
Visit EcoWatch's FRACKING page for more related news on this topic.
——–

EcoWatch Daily Newsletter
By Tara Lohan
An explosion at a nearby gas drilling well pad jostled John Pitcock awake around 4 a.m. Sunday morning.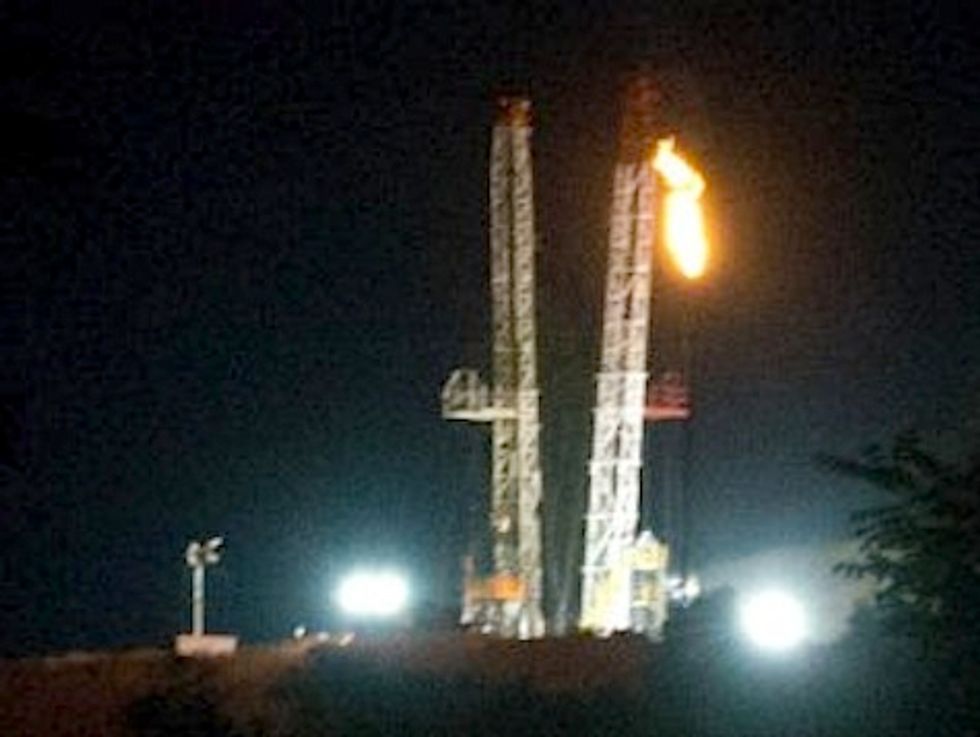 Pitcock and his wife Diane moved with their sons from the Baltimore, MD, area to rural New Milton, WV, in Doddridge County nearly a decade ago to enjoy a quiet country life.
But when drilling companies began tapping the underlying Marcellus Shale in the area for natural gas reserves using high-volume horizontal hydraulic fracturing—or fracking—their peaceful country life disappeared. 
The Pitcocks have been plagued by noise, lights, dust, emissions and truck traffic after a neighbor leased his land to a drilling company, which has erected several well pads on the land adjacent to their property. Over the last year trees have been clear cut, miles of roads built through their rural neighborhood, and drilling has begun. On Friday, July 5, I visited their home and witnessed gas being flared from a well through the night—the light illuminated their front yard from a ridge top about 2,000 feet away. 
John Pitcock reported that the well continued to flare through the next day and night and another well beside it was loudly venting gas on and off. What became a nuisance turned to a real fright during the early morning hours of Sunday as John describes:
The Pitcocks were initially told (after driving off their property to find employees working nearby and emergency response officials) that they needed to evacuate, but were later told it was optional and they could remain.  
Since then conflicting reports have emerged about the number of workers injured and the severity of their injuries at the well pad, which is officially called the Hinterer 2H well on the Ruddy Alt pad and is operated by Antero Resources. The West Virginia Gazette-Mail reported at least seven injured and four or five workers were flown to West Penn Burn Center in Pittsburgh.
The West Virginia Department of Environmental Protection (DEP) and the Doddridge County director of emergency services did not return phone calls as of publication. While the cause of the fire hasn't been determined, writing for the Gazette-Mail, David Gutman explained that this is not the first safety issue that Antero has had recently:
Last August a spark at an Antero-owned well in Harrison County ignited methane gas several hundred feet underground, causing a fireball and a fire that burned for about an hour. Three workers were injured in that fire.
DEP cited Antero for failure to maintain well control for that incident.
DEP has cited Antero for 17 violations of state code in the past three years. Those have been primarily environmental violations—for things like failing to prevent waste runoff, failure to report discharges and contaminating waterways.
One violation, from Jan. 4, warned, "Imminent danger water supplys [sic] threatened by allowing pollutants to escape and flow into the waters of the state."
In June of last year Antero was drilling using water in Harrison County when they accidentally repressurized some old water wells, causing several geysers, one about 10 feet high, that flooded one nearby home and several garages.
In March 2011, state regulators shut down an Antero gas well in Harrison County after mud contaminated with drilling chemicals spilled into a nearby stream.
John Pitcock says that he doesn't think companies should be drilling in this manner in proximity to people's homes.
Visit EcoWatch's FRACKING pages for more related news on this topic.
——–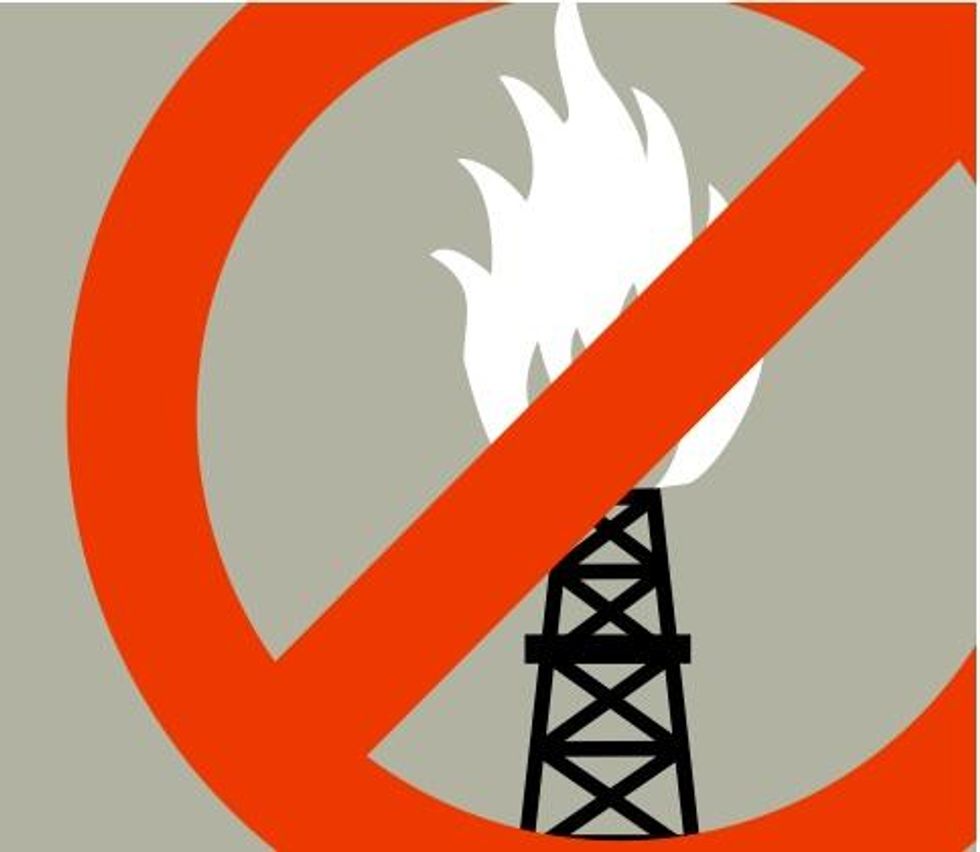 This morning, more than 11,000 residents called on Beacon Hill to ban the dirty drilling process of fracking, in petitions presented by Environment Massachusetts and its allies at a statehouse news conference. The petitions show wide support for H.788, a bill introduced by Rep. Kocot (D-MA) and Rep. Provost (D-MA) to ban fracking and the processing of its toxic wastewater in the commonwealth.
"In states like Pennsylvania, we have already seen fracking contaminate drinking water and make nearby residents sick," said John Rumpler, senior attorney for Environment Massachusetts. "Residents looking at this track record have one message for their legislators today: keep this dirty drilling out of Massachusetts."
Local concern about fracking has grown since the U.S. Geological Survey identified shale gas deposits in the Pioneer Valley last December. Moreover, as New York mulls large-scale fracking next door, drilling operators could soon view Western Massachusetts as a convenient dumping ground for toxic fracking wastewater.
"In light of the threats to our environment and to our health, we cannot allow fracking—or its toxic waste—to come to Massachusetts," said Rep. Provost, sponsor of H.788.
Bill H.788 would protect the commonwealth from both of these threats by both banning fracking and its wastewater. Last year, Vermont already enacted a similar law, and New Jersey legislators voted overwhelmingly for a ban on fracking waste (and citizens there are calling for an override of Gov. Chris Christie's veto).
Laced with cancer-causing and even radioactive materials, fracking wastewater has contaminated drinking water sources from Pennsylvania to New Mexico. For Western Massachusetts, such threats are heightened by the fact that many communities in the Pioneer Valley rely on groundwater as their sole source of drinking water.
"The quantity and quality of our existing water supply is invaluable and irreplaceable," declared Mayor Michael Tautznik of Easthampton. "Gambling our water against the known dangers of this dirty drilling is a loser's proposition."
Today in Greenfield, in solidarity with the petitions gathered by Environment Massachusetts and CREDO, local residents showed their opposition to fracking through community art. Alongside the Climate Summer team, a group of youth traveling exclusively by bicycle throughout the state focused on climate action, local Greenfield community members demonstrated their concern for fracking coming to their community through visual art on the town common.
In addition to impacts on the local environment, fracking and the processing of gas releases methane—a greenhouse gas far more potent than carbon dioxide.
"It turns out that fracking contributes to global warming in a major way," observed Dorian Sosnick Williams, an organizer with A Better Future Project. "If Massachusetts is serious about combating climate change, we cannot allow fracking here."
Rumpler ended the petition delivery with praise for all 14 co-sponsors of H.788: "By sponsoring a ban on fracking, these legislators are standing tall against the oil and gas industry. And today, thousands of their constituents are standing with them."
Visit EcoWatch's FRACKING page for more related news on this topic.
——–
Sign the petition today, telling President Obama to enact an immediate fracking moratorium: