British scientists have identified yet another twist to the threat of global warming. Any further rises in temperature are likely to accelerate the release of methane from rivers, lakes, deltas, bogs, swamps, marshlands and rice paddy fields.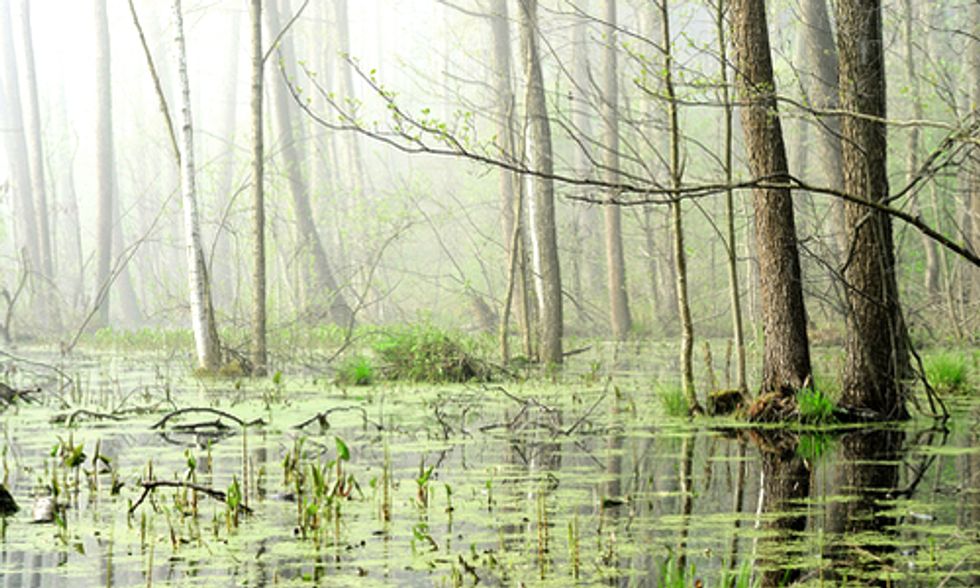 Archaea
that live in waterlogged, oxygen-free sediments.
Photo courtesy of Shutterstock
Methane or natural gas is a greenhouse gas. Weight for weight, it is more than 20 times more potent than carbon dioxide (CO2) over a century, and researchers have repeatedly examined the contribution of natural gas emitted by ruminant cattle to global warming. But Gabriel Yvon-Durocher of the University of Exeter and colleagues considered something wider: the pattern of response to temperature in those natural ecosystems that are home to microbes that release methane.
They report in Nature that they looked at data from hundreds of field surveys and laboratory experiments to explore the speed at which the flow of methane increased with temperature.
Microbes, algae, freshwater plants and animals are all part of an active ecosystem and take their nourishment from and return waste to the atmosphere. Healthy plants take CO2 from the atmosphere with photosynthesis. Most of the methane in freshwater systems is produced by an important group of microbes called Archaea that live in waterlogged, oxygen-free sediments and play an important role in decay.
Plant uptake of CO2 is affected by temperature, and so is microbial methane production. Respiration also releases CO2. The questions the researchers set out to answer were: which gas is more likely to be released in greater quantities as temperatures rise? And is the outcome the same whether they examine the Archaea only, or all the microbes in an ecosystem, or the entire package of submerged freshwater life?
More Heat, More Methane
The answer is, the scientists say, that methane emissions go up with the mercury, and that the ratio of methane to CO2 also goes up in step with temperature. And the result is the same whether you consider the microbes or the whole ecosystem.
"The discovery that methane fluxes are much more responsive to temperature than the processes that produce and consume carbon dioxide highlights another mechanism by which the global carbon cycle may serve to accelerate rather than mitigate future climate change," said Dr. Yvon-Durocher.
This is not the end of the story. All such studies raise as many questions as they answer, and more research is necessary. The next puzzle is how to fit such findings into models of climate change. However, the researchers feel they have cleared up one point. Dr. Yvon-Durocher said:
"Our research provides scientists with an important clue about the mechanisms that may control the response of methane emissions from ecosystems to global warming."
Visit EcoWatch's CLIMATE CHANGE page for more related news on this topic.

You've probably heard that methane from cows, sheep, goats and buffalo (that is, ruminant farts) has been linked to global warming. There are 50 percent more cows and similar animals today than half a century ago (3.6 billion) and methane released from their digestive systems is the biggest human-related source of this greenhouse gas.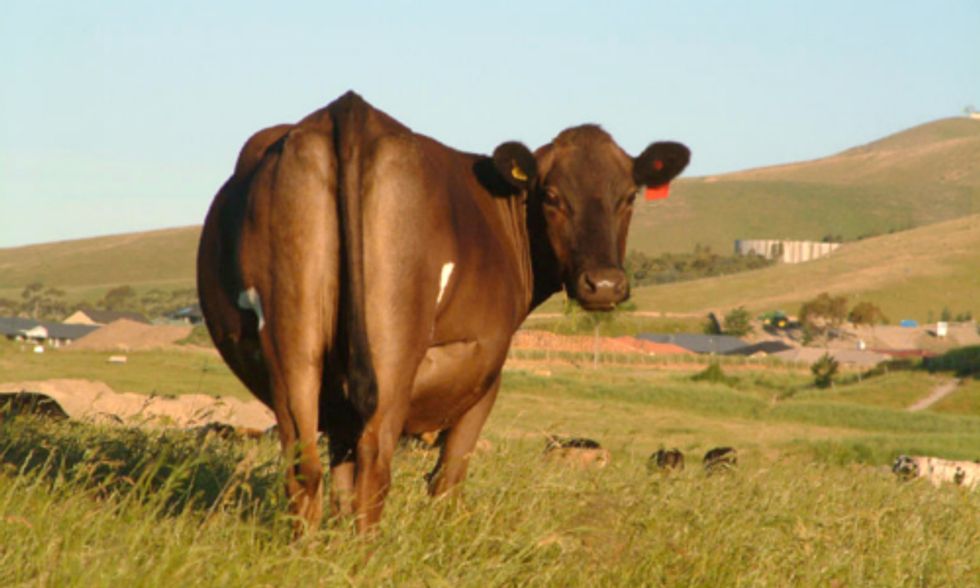 So, to reduce the amount of greenhouse gases cows and the like produce, we need to tax meat.
That's what some scientists have recently proposed in an analysis in Nature Climate Change. Only by increasing the price of meat so people consume less can we cut down on the amount of methane emissions and halt the warming of the planet.
As the scientists say:
Influencing human behavior is one of the most challenging aspects of any large-scale policy, and it is unlikely that a large-scale dietary change will happen voluntarily without incentives. Implementing a tax or emission trading scheme on livestock's greenhouse gas emissions could be an economically sound policy that would modify consumer prices and affect consumption patterns.
Others, including members of the United Nation's climate science panel, have called on people to eat less meat to cut down on the rate at which the earth is warming. Just like taxes on sugar, fat and soda, a tax on meat is a measure meant to get humans to, like it or not, change their ways.
"Because the Earth's climate may be near a tipping point to major climate change, multiple approaches are needed for mitigation," says William Ripple, a study author and a professor in Oregon State University's College of Forestry.
Such a tax, if anyone ever did propose it, would likely cause a huge outcry. You can already hear multinational hamburger and chicken wing purveyors complaining that a meat tax would unfairly penalize them and consumers, as they'd have to charge higher prices.
While a more short-lived greenhouse gas than carbon dioxide (CO2), methane is about 30 times more potent in heating up the Earth. Livestock account for 14.5 percent of all greenhouse gas emissions. Cattle-raising alone contributes 65 percent of the livestock sector's greenhouse gas emissions. They could be cut by 30 percent if farmers used improved techniques in feeding (such as better quality feed), health, husbandry and manure management.
The number of livestock need to be reduced not only to cut methane emissions but also to cut CO2 emissions. The latter have been in part on the rise as more and more forests have been cut down to clear land for cattle to graze on.
The livestock sector supports thousands of people worldwide and proposals for a meat tax and for reducing the number of cattle are not going to be welcome. Nick Allen of Eblex, which represents beef and lamb producers in England, calls a meat tax a "simplistic and blunt suggestion that will inevitably see a rise in consumer prices" and says that livestock have become the "easy scapegoat for emissions."
It's fair to say that Allen is correct on both points. But the fact is that the Earth's temperature is increasing at an accelerated rate. Meat consumption is up in many parts of the world including in the highly populated countries of China and India. It has declined very slightly in the U.S. as more people forego eating so much meat or even cut it out of their diets entirely.
With greenhouse gas emissions from sheep and cattle 19 to 48 times greater than beans or grains per pound of food produced, something that sounds as outlandish as a tax on meat may actually be not only common sense but necessary if we are going to be serious about fighting climate change.
Visit EcoWatch's CLIMATE CHANGE and FOOD pages for more related news on this topic.

EcoWatch Daily Newsletter
On the edge of the western mountain range in Morganton, NC, protesters with Croatan Earth First! are currently occupying an industrial manufacturing facility owned by Momentive and located at 114 Industrial Drive. North Carolinians, who have been fighting to prevent hydraulic fracturing from coming to central North Carolina are joined in this action by people from around the country who also oppose shale gas extraction nationwide.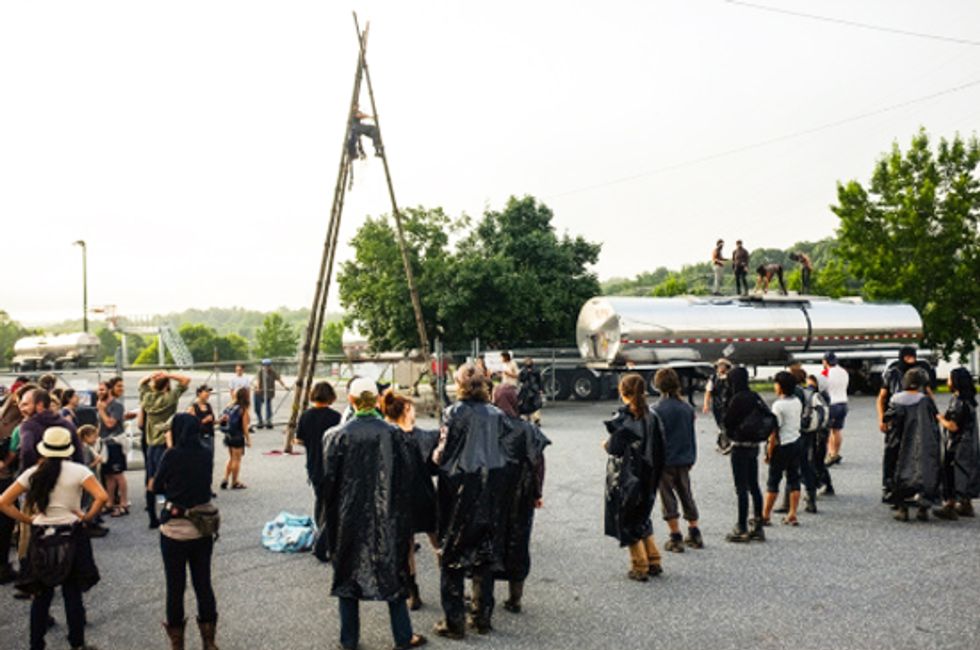 Momentive is one of the largest worldwide distributors of "resin coated proppants," a necessary component for high-volume slickwater hydraulic fracturing, also known as fracking. These chemicals are mixed with millions of gallons of freshwater during the fracking process and are designed to keep the fractures in rock or shale formations open, during or following a "fracturing treatment." Each fracturing stage requires approximately 136 tons of proppants.  
"We are here to send a message to the oil and gas industries: we will not stand idly by as you destroy this land, or any other, for your personal profit. Respect existence, or expect resistance," said an Earth First! activist.
The North Carolina Legislature plans to begin permitting frack sites as early as March 2015 in the Cumnock Shale Basin located underneath Lee, Moore, Chatham and surrounding counties. Fracking has been tied to water aquifer contamination in Pavilion, WY, according to a U.S. Environmental Protection Agency study and linked to high levels of methane in Pennsylvania water wells according to a study by Duke University. Researchers with Cornell University found that fracking operations nationwide released massive amounts of methane (a greenhouse gas) straight into the atmosphere, and concluded that, if not curbed, would speed climate change faster than carbon emissions. 
The North Carolina Legislature is negotiating on the possibility of legalizing toxic wastewater injection in state or transporting it elsewhere. The process uses 1-8 million gallons of clean water each time a well is fracked.
"We are under drought conditions already, yet the oil and gas industry is allowed to pump millions of gallons of water out of our streams. This is devastating life in our rivers and streams. To make matters worse they send this water back into the riverways poisoned with radioactive materials," said organizer Lydia Nickles. "Preserving our waters is preserving our lives and all life. We want an end to shale gas extraction everywhere."  
Activists with the Earth First! movement are calling on people nationwide to resist fracking where they live and organize solidarity actions. 
"Even if you don't have a rig in your area to shut down, you can affect the industry. Momentive and other companies that create proppants for the gas industry have facilities nationwide as well as internationally. It's time to disrupt the chain of supply ... " 
Momentive's worldwide headquarters are located in Columbus, OH, and other locations can be found on their website.
"We are acting in solidarity with and take inspiration from the courageous many who have been standing together to take action in the North Carolina capital during 'Moral Mondays,' and we encourage everyone to continue to show our collective power, acting up against the repressive corporate and legislative powers for the liberation of all and the integrity of land, water and air," stated Croatan Earth First!
Visit EcoWatch's FRACKING page for more related news on this topic.
——–

Watch The Daily Show's John Oliver interview Gasland Director Josh Fox on his new film, Gasland Part II, which elaborates on the government's role in promoting the fossil fuel industry's practice of hydraulic fracturing (or fracking) for natural gas and oil. Exposing the grave warning signs coming from U.S. "energy sacrifice zones," Fox warns of the systemic corruption with regard to our regulatory agencies and industry influence. He also discusses the technical and engineering problems of the fracking process and the effects of methane emissions being worse for climate change than coal. Gasland Part II will debut nationally on HBO, Monday, July 8 at 9 p.m. EST.
Visit EcoWatch's FRACKING page for more related news on this topic.
——–