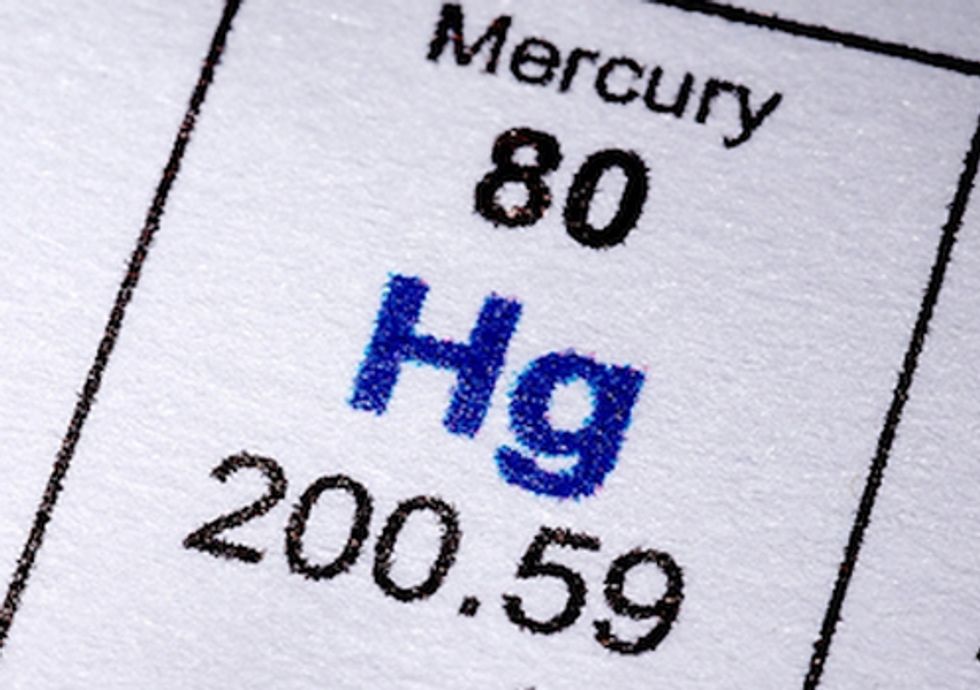 On Feb. 16 representatives of the nation's dirtiest polluters and their friends at special interest groups like the National Mining Association, filed the first lawsuits to block long overdue action to clean up toxic mercury pollution, acid gases and other hazardous air toxics. Toxic mercury is a potent brain poison that threatens prenatal babies and young children, and is linked to severe learning disabilities, deafness, blindness, cerebral palsy and other life-threatening illnesses.
These landmark protections, issued by the Obama administration in December, were published in the Federal Register on Feb. 16. The protections will cut toxic mercury pollution from dirty power plants by more than 90 percent. The vast majority of Americans support these protections, which will ensure a safer, cleaner nation and healthier kids.
But the polluter lobby and their friends in Congress are ignoring this immense public support and the health benefits of mercury protections—opting instead to continue their quest to block life-saving public health protections. In addition to the legal attack, Sen. Jim Inhofe (R-OK) introduced an obscure legislative maneuver to nullify these protections.
In response, a coalition on environmental and clean air advocacy groups issued the following statements:
"Today's attack by corporate polluter front groups on the health of American families and the safety of prenatal babies and young children is outrageous and contemptible, but it's no surprise. The country's dirtiest polluters want to keep their license to pollute the air we breathe and the water we drink without limits or consequences. It's time to put an end to that pollution spree, and protect American children from toxic mercury pollution." – Michael Brune, executive director, Sierra Club
"Earthjustice and our allies have fought a long time to bring these protections about, and we've no intention of stopping now. We will defend them from polluters' attacks in Congress and in the courts, and we will keep working to make sure the safeguards are enforced at coal-burning and oil-fired power plants across the country." – Trip Van Noppen, president, Earthjustice
"The Mercury and Air Toxics Standards are one of the most important public health measures we've seen in a generation. They'll save thousands of lives every year and protect the developing brains and nervous systems of countless American children. Unfortunately, a few utility companies will probably spend lots of money on lobbyists and lawsuits to stop these standards. I would hope that, instead, they'd spend that money to reduce the mercury emissions from their plants and protect the health of their customers." – Fred Krupp, president, Environmental Defense Fund
"On behalf of our clients Conservation Law Foundation, Natural Resources Council of Maine, Environment America, Izaak Walton League of America and the Ohio Environmental Council, Clean Air Task Force will strongly oppose industry attempts to delay or deny the powerful health and environmental benefits of this landmark rule." – Ann Brewster Weeks, senior counsel, Clean Air Task Force
"These long-overdue mercury standards are likely to be among the Obama administration's most significant environmental accomplishments—part of the historic progress America is making toward curbing harmful pollutions that contaminate our air, water, lands and wildlife, and contribute to asthma attacks, heart attacks and even premature deaths." – Frances Beinecke, president, Natural Resources Defense Council
"Industry groups that have had more than a decade to prepare for today's rule to reduce toxic air pollution have, instead, chosen protect higher profits over public health. We will continue the fight to secure these vital and long overdue public health protections." – John Suttles, senior attorney, Southern Environmental Law Center
For more information, click here.
EcoWatch Daily Newsletter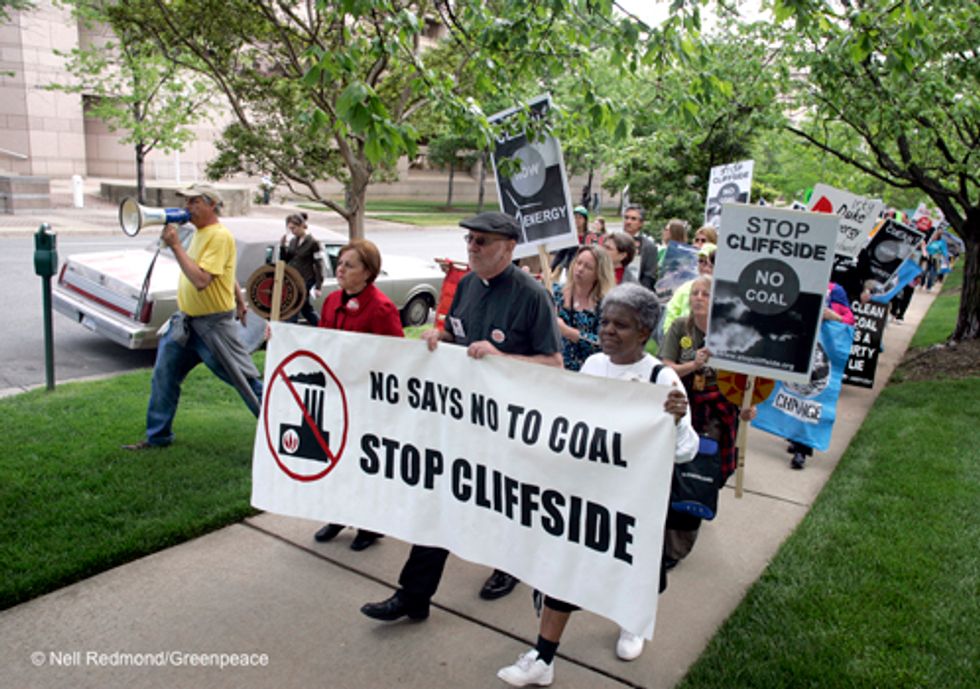 Conservation groups announced a settlement Jan. 17 with Duke Energy that will cut pollution by phasing out more than 1600 mega watts of dirty, old coal-fired power while still meeting customers' energy needs.
The groups reached the settlement in an administrative challenge to the state-issued air pollution permit for construction and operation of a new coal-fired unit at Duke Energy's Cliffside power plant near Shelby, N.C. The Southern Environmental Law Center negotiated the settlement on behalf of Environmental Defense Fund, National Parks Conservation Association, Sierra Club and Southern Alliance for Clean Energy.
Under the settlement terms, Duke Energy will retire old coal-fired units that lack modern pollution control technology, totaling about 1667 megawatts or more than twice the capacity of the new unit at the Cliffside facility. Duke had previously included these coal-plant retirements in its non-binding, long-range plan submitted each year to the state utilities commission. The settlement agreement makes the planned retirements enforceable, thereby locking in reductions in air and water pollution that harms the health of children and families in the Carolinas.
As a result of advocacy by the conservation groups and other clean energy advocates, the new Cliffside unit will operate under the most stringent acid gas controls in the U.S., with a 99.9 percent reduction in such pollution. Acid gases, such as sulfur dioxide and hydrochloric acid, from coal-fired power plants can cause eye, nose, and respiratory tract irritation and inflammation, chest pain, coughing, nausea, impaired lung function, asthma attacks, and chronic bronchitis.
The settlement also tightens a permit provision that Duke Energy must demonstrate best practices to decrease toxic air pollution emitted during malfunction, shut down and start up situations.
Many old power plants operate today without modern pollution controls that are overdue since the Clean Air Act Amendments of 1990. More than 400 coal- and oil-fired power plants nationwide release in excess of 386,000 tons of hazardous air pollutants into the atmosphere each year that are linked to cancer, heart disease, birth defects, asthma attacks and even premature death.
Statements from the attorney and groups involved follow:
"This settlement phases out some of the oldest, dirtiest, and most inefficient coal plants in the Carolinas," said John Suttles, a senior attorney at the Southern Environmental Law Center who represented the groups in court. "In addition to protecting people's health and saving lives, it also will save ratepayers' money by paving the way for a more efficient and sustainable energy future."
"This settlement ends another chapter in the history of polluting coal generation that jeopardizes our health, air and water," said Michael Regan, director of energy efficiency for Environmental Defense Fund. "In the future, energy conservation and new technologies will provide North Carolina with reliable energy while protecting our families and economy."
"The air quality improvements that will result from this settlement will provide present and future generations with substantially cleaner air in the region," said Don Barger, National Parks Conservation Association's Southeast regional director. "The health of our people and parks, including Great Smoky Mountains National Park in particular, will long bear witness to the benefits realized from transitioning away from coal."
"North Carolina has long been a clean air leader, and today's settlement is another important step forward for the Tarheel State. This settlement is critical for the health of North Carolina's families. Coal-fired electricity is the primary source of toxic mercury pollution and is a leading trigger of asthma attacks. These retirements will allow North Carolina to move beyond coal, and focus on clean energy solutions like solar and offshore wind," said Mary Anne Hitt, director of Sierra Club's Beyond Coal campaign.
"We are pleased to finally have a settlement agreement with Duke Energy to offset the enormous amount of carbon dioxide that the Cliffside coal plant will emit over its lifespan," stated Stephen Smith, executive director of Southern Alliance for Clean Energy. "Duke's old coal plants need to come offline to reduce the company's contribution to climate change while making room for cleaner, more sustainable energy sources."
For more information, click here.
—————

Environmental Defense Fund, a leading national nonprofit organization, creates transformational solutions to the most serious environmental problems. EDF links science, economics, law and innovative private-sector partnerships. See twitter.com/EnvDefenseFund and facebook.com/EnvDefenseFund 

Since 1919, the nonpartisan, non-profit National Parks Conservation Association has been the leading voice of the American people in protecting and enhancing our National Park System. NPCA, its 340,000 members, and partners work together to protect the park system and preserve our nation's natural, historical, and cultural heritage for our children and grandchildren.

Sierra Club is the nation's largest grassroots environmental organization with over 17,000 members in North Carolina and more than 1.4 million members and supporters nationwide. Since 2002, Sierra Club's Beyond Coal campaign has successfully stopped 161 new coal plant proposals from moving forward, and is working to move our nation beyond coal to a clean, safe energy economy.

Southern Alliance for Clean Energy is a nonprofit organization that promotes responsible energy choices that create global warming solutions and ensure clean, safe, and healthy communities throughout the Southeast.

The Southern Environmental Law Center is a regional nonprofit using the power of the law to protect the health and environment of the Southeast (Virginia, Tennessee, North and South Carolina, Georgia, and Alabama). Founded in 1986, SELC's team of more than 40 legal and policy experts represent more than 100 partner groups on issues of climate change and energy, air and water quality, forests, the coast and wetlands, transportation, and land use.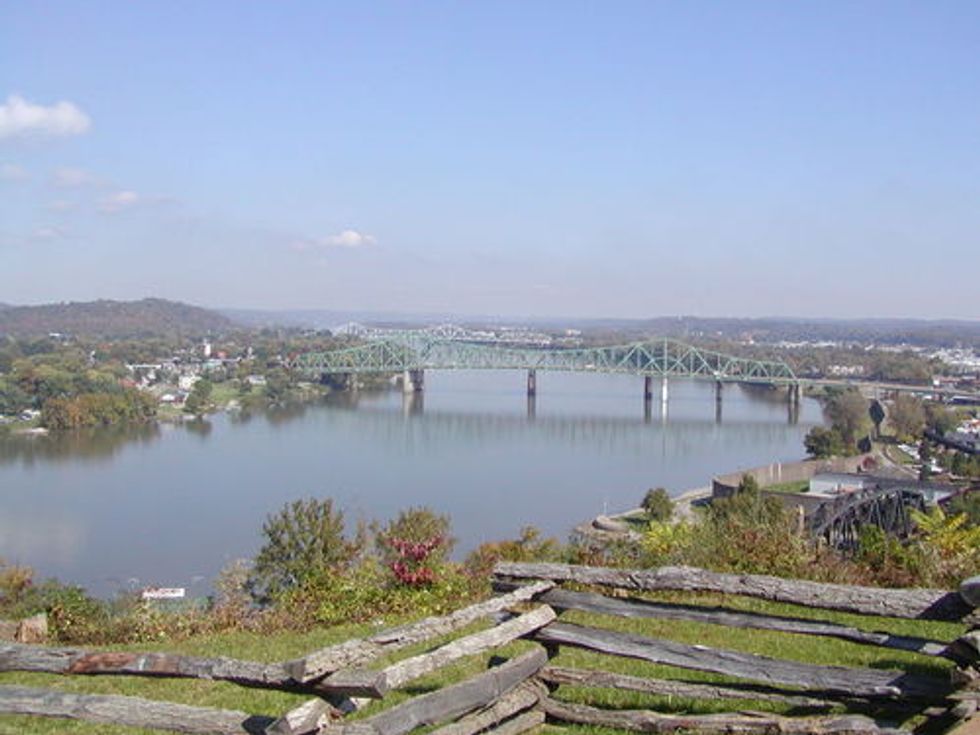 Each year, the Ohio River—which runs through eight eastern states and is the largest stream of the Mississippi River system—is polluted with the highest volume of industrial waste products of any river in the U.S. More than 800 miles of the river are now considered contaminated by mercury, and mercury levels in fish continue to rise.
In the face of these frightening realities, the Ohio River Water Sanitation Commission (ORSANCO) had made plans to put a stop to toxic discharges by 2013—but PPG Industries in West Virginia, a chlorine-manufacturing plant with a history of toxic pollution—is already asking for an exception so they can continue to pollute.1
Tell ORSANCO to deny PPG Industries' request to continue dumping mercury into the Ohio River after 2013.
The Ohio River cannot continue down this dangerous path of pollution. Ten million people rely on the Ohio for their drinking water and more than 3 million children and adults fish, swim and boat in its waters.
Granting PPG Industries an exception sets a dangerous precedent for corporations to bend the rules in order to bolster their bottom lines. It would be a serious setback to efforts to reclaim the river from years of toxic pollution.
Don't let ORSANCO grant PPG Industries a pass to pollute. Send a message to the ORSANCO commissioners now.
After you take action, forward this message to your friends and colleagues.
For more information, click here.
—————
1. For more on PPG's efforts to seek variance for mercury pollution, click here.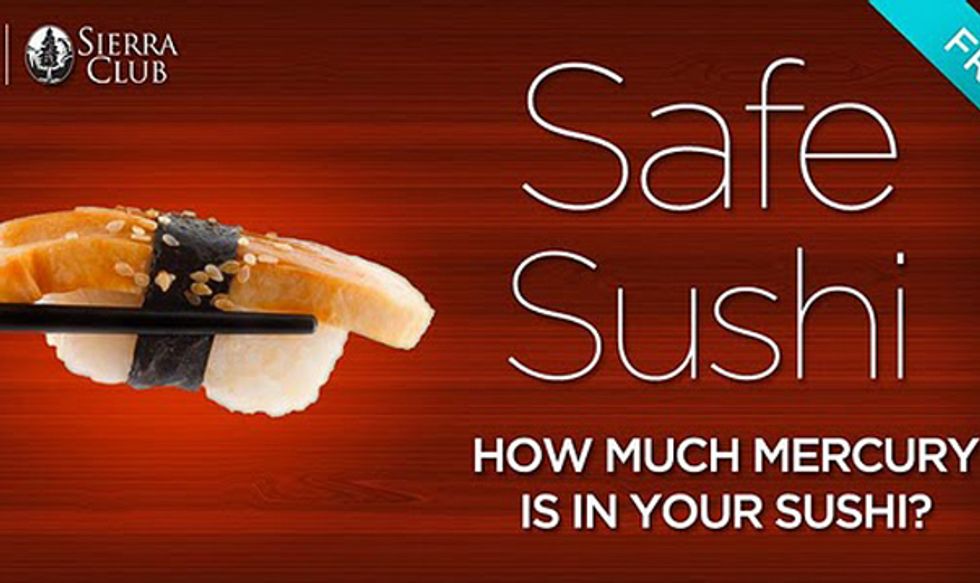 Successfully eating with chopsticks will once again be the most nerve-racking part of eating sushi, thanks to a new app that informs and educates consumers about mercury levels in fish. The Sierra Club, the largest and most effective grassroots environmental advocacy group, announced the availability of the Safe Sushi app Dec. 8.
Safe Sushi is an app for people who love to eat sushi and want to be informed about which fish have high levels of mercury. The app can be used in two ways—sushi novices can search by mercury level (high, moderate and low) and sushi connoisseurs can search by the name of the fish.
Safe Sushi is free to download in the Android Market and will be available for free in iTunes Dec. 16.
Mercury is especially threatening to pregnant women and young children. Alarmingly, as many as one in six American women have enough mercury in their bodies to put a baby at risk and more than 300,000 babies are born each year at risk of mercury poisoning. Safe Sushi is a practical tool for women of child-bearing age who want to educate themselves about the types of fish they should or should not consume.
Mercury comes primarily from coal-fired power plants, where it rains down into our rivers and streams and then gets into the fish. When we eat contaminated fish (such as certain types of tuna), it gets into our bodies. Safe Sushi includes a tutorial that illustrates how mercury is absorbed into the atmosphere and moves through the food chain.
The Sierra Club will celebrate Mercury Awareness Week Dec. 5 —11, as President Barack Obama is expected to issue the first nationwide protections against toxic mercury from coal plants Dec. 16. The mercury protections that President Obama is poised to approve would cut 90 percent of toxic mercury from coal-fired power plants, and thereby reduce the amount of toxic mercury in many fish—protecting women and children.
For more information about the Sierra Club, the Safe Sushi app and Mercury Awareness Week, click here.
For more information, click here.
—————
The Sierra Club is America's largest and most influential grassroots environmental organization with more than 1.4 million members and supporters nationwide. The Sierra Club works to safeguard the health of our communities, protect wildlife, and preserve our remaining wild places through grassroots activism, public education, lobbying and litigation. For more information, click here.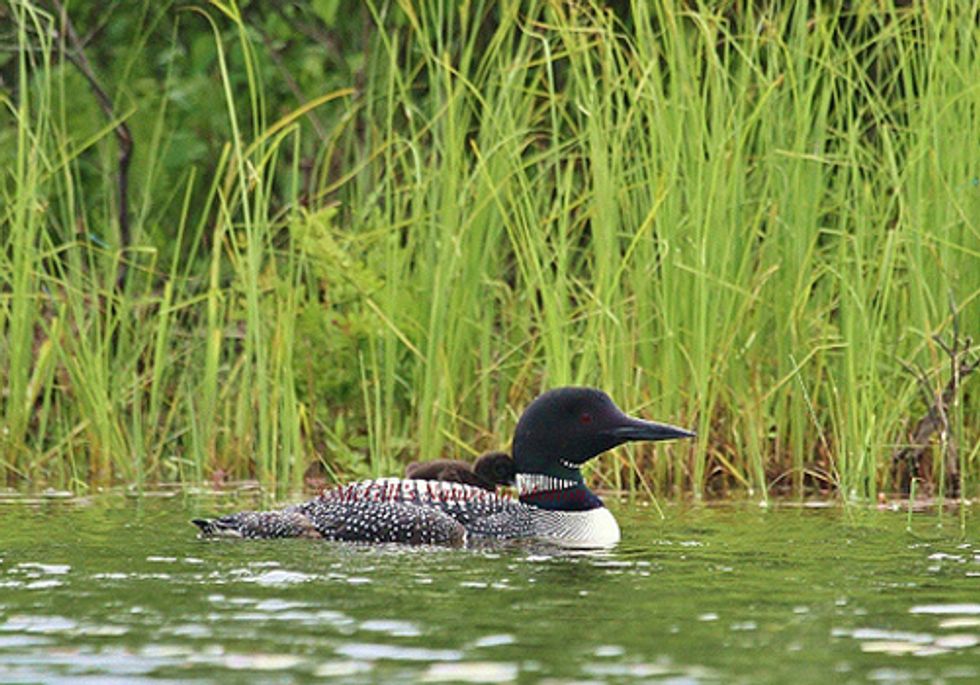 Scientist Dave Evers has been studying loons in Michigan's Seney National Wildlife Refuge impacted by mercury pollution since the late 1980s. He found mercury contamination in the very first loons he tested and since then has studied more than 5,000 of the majestic birds. His findings are troubling for loons and wildlife in the clear lakes of northern Michigan.
Mercury is a particularly harmful toxic air pollutant because it settles from the air onto our lakes, rivers and forests, polluting the environment and accumulating up the food chain as fish and wildlife consume the contamination.
Despite the source of mercury pollution being to the south of the loons' habitat, wildlife scientist Dr. Evers explains in this audio clip from the town hall that mercury from smokestacks can travel long distances in the air, and is transformed into a more toxic form–methylmercury–in the wetlands and forests of Northern Michigan.
Mercury Town Hall Draws Michigan Conservationists
On Dec. 3, more than 14,000 Michiganders joined a tele-town forum on mercury with Dr. Evers and sportsman Bob Garner, former host of Michigan Out-of-Doors television show. Michigan anglers and conservationists participated in a discussion on the importance of the U.S. Environmental Protection Agency's (EPA) new mercury and air toxics pollution limits to Michigan's lakes and wildlife.
Coal-fired power plants are releasing unlimited mercury pollution into the air, but as Dr. Evers explains, there is new technology to scrub much of the pollution from smokestacks.
Now, efforts by the U.S. EPA to finalize mercury and air toxics pollution limits will finally put a stop to unlimited mercury air pollution from coal-fired power plants.
Support for New Mercury Limits
Anglers and conservationists on the tele-town forum spoke up in support for strong air toxics protections wildlife impacted by mercury and other air toxics. Anglers who eat what they catch are at the frontline of mercury exposure.
Listen as Bob Garner explains that it was Michigan outdoorsmen and outdoorswomen who fought for the protections to air and water that we enjoy today. Once again, Michigan's conservationists are showing their support for protections to our air, lakes and wildlife.
Michiganders Call on Senators Levin and Stabenow
Some members in Congress want to weaken clean air and water protections, representing polluters' profits rather than protecting American's health.
It is up to Michigan anglers and conservationists to tell Michigan Senators Carl Levin and Senator Debbie Stabenow that it is time to ensure the limits on mercury and air toxics are not blocked by polluter-funded efforts to undermine the Clean Air Act.
For more information, click here.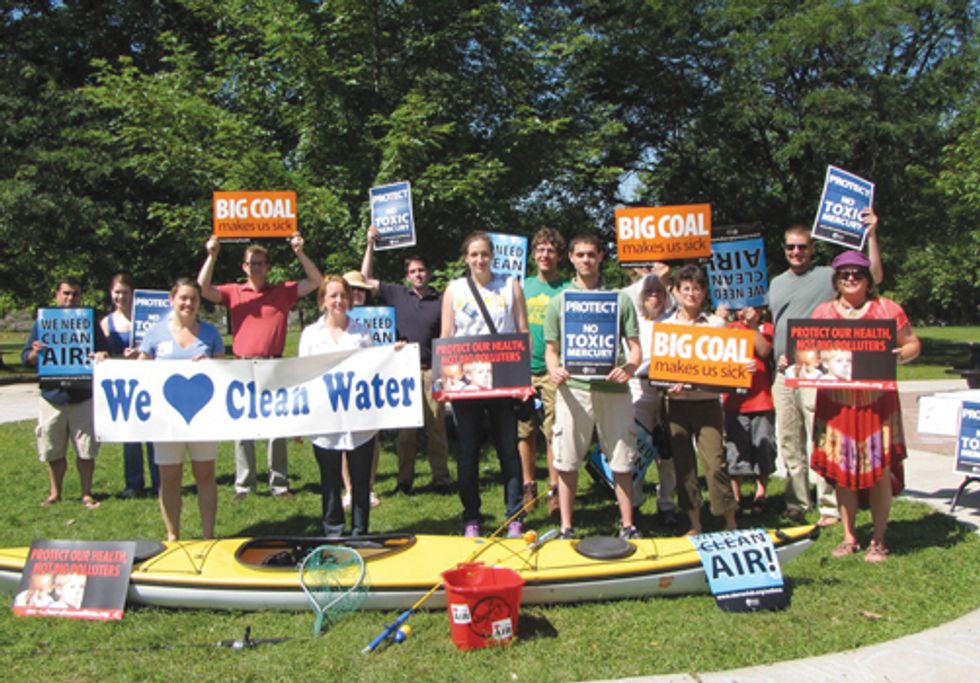 by Marnie Urso
My work on mercury pollution began one cold December morning in 2003 when I bundled my four month old baby in her bunting and drove through the slosh to Burke Lakefront Airport in Cleveland along the Lake Erie shore. Upon arrival, I joined dozens of protesters to greet the U.S. Environmental Protection Agency (EPA) Secretary at the time, Mike Leavitt. Secretary Leavitt had descended upon Cleveland to promote the new Bush Administration rules to regulate mercury pollution from power plants.
At first, you would think that a new mother and environmental activist would welcome such news. After all, coal-fired power plants are the single largest source of mercury pollution, arsenic and acid gases, and account for 25 percent of all toxic metal emissions in the U.S. These pollutants are linked to cancer, heart disease, neurological damage, birth defects, asthma attacks and premature death. Coal-fired power plants are responsible for 99 percent of all mercury emissions from the power sector in the U.S. Mercury pollution poses particular risks to children, affecting their ability to walk, talk, read and write.
Unfortunately, the Bush Administration's proposed rules were severely flawed and fell far short from what was necessary to protect people, animals and the environment from toxic mercury pollutants. Instead of seizing the opportunity to protect the public health from this harmful neurotoxin, as mandated by the courts, the Bush Administration took the opportunity to protect the polluters. Those rules were eventually tossed out by the courts because they did not adequately protect the public's health.
Fast forward to a sunny brisk spring day in 2011, when I dropped off my 7 year old daughter at school and headed to Cleveland's Rainbow Babies and Childrens' Hospital. There I met with parents, children, health professionals, and environmental health advocates to applaud the Obama Administration's new mercury regulations that will for the first time cut mercury emissions from power plants nationwide by 91 percent, reduce arsenic and acid gases by 91 percent, prevent 12,200 trips to the hospital and save up to 17,000 lives each year once implemented. Hundreds of Audubon members and concerned citizens from across Ohio spent that spring and summer submitting comments on the proposed protections. We all eagerly awaited the final rules that were scheduled to come out in July.
I watched as the Plain Dealer editorialized that the mercury rules were too much too fast and I then celebrated my daughter's eighth birthday in August. She was, along with other children in Northeast Ohio, still being subjected to the dangers of high levels of mercury pollution. Unfortunately, as we prepare for the winter holidays, nothing has changed in how mercury is regulated, as the U.S. EPA has delayed the implementation of its rules to reduce mercury emissions from power plants. Further there is pressure from many in the Congress to delay and weaken them even further or eliminate them all together.
The mercury contamination problem in the U.S. is so widespread that as many as one in six women of childbearing age is likely to have mercury levels in her blood high enough to put her baby at risk for mercury poisoning. The health benefits associated with these updated standards are $59 billion to $140 billion in 2016. This means that for every dollar spent to reduce pollution from power plants, we get $5 to $13 in health benefits. The U.S. EPA needs to stand its ground and move forward with the strongest air toxics protections possible to defend public health and protect children from toxic mercury pollution.
We need to keep the promise we made to future generations and implement rules that will clean the air by reducing harmful air pollution toxins like mercury, arsenic, carbon dioxide and ozone. We need leadership that will oppose the polluters who say our kids are not worth the cost of reducing these dangerous emissions. Clean air programs have provided strong public health protections that have saved hundreds of thousands of lives and prevented countless asthma attacks, heart attacks and early deaths.
Contact U.S. Senators Sherrod Brown (D-OH) and Rob Portman (R-OH) at 202-224- 3121 and tell them that we have waited long enough. Our families should be able to breathe fresh air and drink clean water without worrying about mercury in their bloodstream or soot in their lungs. Tell them to support the implementation of the Mercury and Air Toxics Rule, and stop further delay.
For more information, visit www.audubon.org.
--------
Marnie Urso is the grassroots coordinator for Audubon Ohio. The mission of Audubon Ohio is to conserve and restore natural ecosystems, focusing on birds, other wildlife, and their habitats in Ohio by promoting conservation and biodiversity through education and advocacy. She can be reached at murso@audubon.org.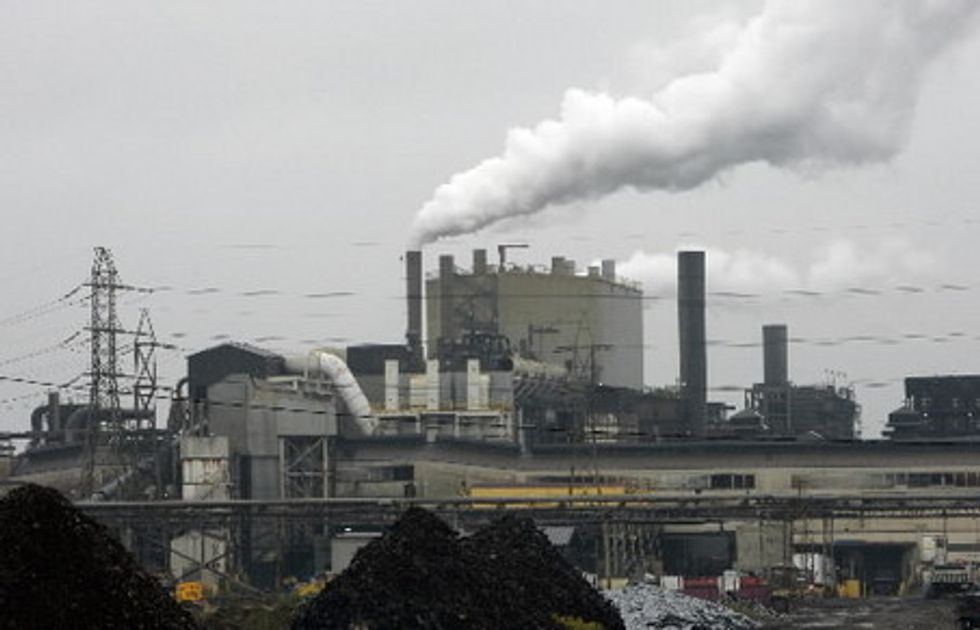 President Barack Obama is facing a December deadline to enact the first-ever federal mercury standards. If he follows through, this would be a major environmental victory with long-lasting effects on the health of Ohioans. This is our last chance to support strong mercury standards and push back against the abuses of big polluters. Ohio's coal plants produce more than 4,208 pounds of airborne mercury a year, ranking second in the country for mercury pollution. It's time for clean air.
Event Details:
What: A community discussion at the Cleveland Public Library followed by a honk-a-thon in Willard Park.
When: Dec. 1 at 11 a.m., honk-a-thon to follow at noon.
Where: Cleveland Public Library, 325 Superior Ave., Cleveland (map) & Willard Park, corner of East 9th St. and Lakeside Ave. E (map)
Experts will be on hand to discuss the dangers of mercury and how the new standards will help save lives. Children are particularly impacted by the destructive health effects of mercury, so we are calling on all parents to help push these protections across the finish line. Bring the kids, too.
If big polluters have their way, these protections will be dead in the water. Join us for this final push.
To register for this event, click here.
For more information, click here or contact Rashay Layman at rashay.layman@sierraclub.org or 614-461-0734 x 307.