Federal officials announced today major changes in advice to pregnant and breastfeeding women by recommending consumption of at least eight ounces of low-mercury fish per week.
It is the first time that the U.S. Environmental Protection Agency (EPA) and Food and Drug Administration (FDA) have issued recommendations on the minimum amount of fish that pregnant women and children should eat. The previous advisory, issued in 2004, included only maximum amounts to protect their fetuses and young children from mercury, which can harm developing brains and reduce IQs.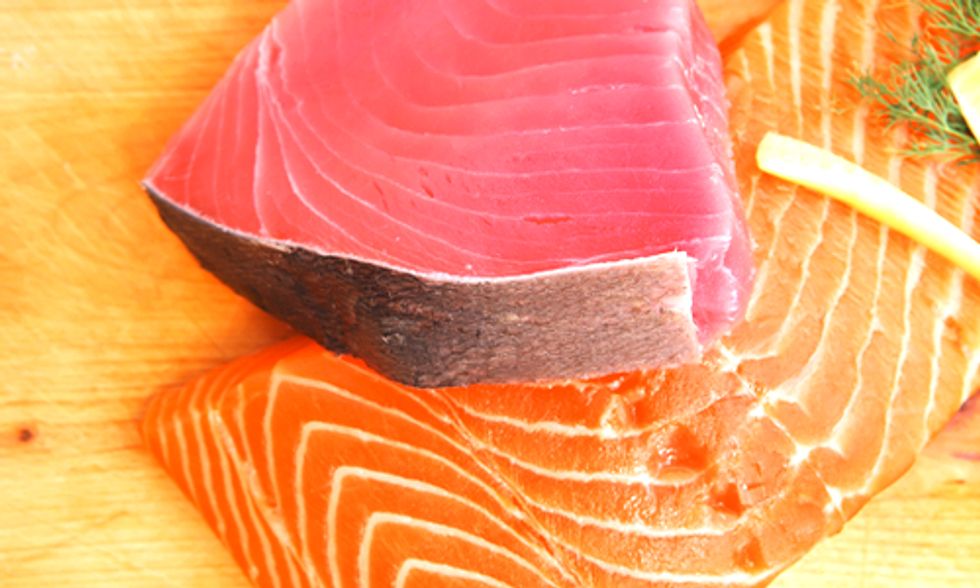 Photo courtesy of Shutterstock
"Eating fish with lower levels of mercury provides numerous health and dietary benefits," Nancy Stoner, the EPA's acting assistant administrator for the Office of Water, said in a statement. "This updated advice will help pregnant women and mothers make informed decisions about the right amount and right kinds of fish to eat during important times in their lives and their children's lives."
Under the long-awaited, proposed new guidelines, pregnant and breastfeeding women are advised to eat a minimum of eight ounces and no more than 12 ounces of fish with low levels of methylmercury, including shrimp, pollock, salmon, canned light tuna, tilapia, catfish and cod. That is equivalent to two or three fish servings per week. Young children, according to the advisory, also should have two or three servings of low-mercury fish per week.
As in the old recommendations, pregnant and nursing women and young children are advised to avoid four high-mercury fish: tilefish from the Gulf of Mexico, shark, swordfish and king mackerel.
The agencies also reiterated their specific recommendations for limits on albacore (or white) tuna: no more than six ounces a week. Advice about consumption of tuna has been highly controversial, with the fishing industry criticizing any limits and health advocacy groups pushing for the FDA and EPA to add it to the list of fish to avoid.
When asked about high levels of mercury in light tuna, Dr. Stephen Ostroff, the FDA's chief scientist, said during a call to reporters that the agencies included only four fish on the "do not eat" list because "they have consistently shown higher levels of methylmercury.
"We will continue to look at levels of methylmercury in a variety of fish and in the future make recommendations about other fish as well," Dr. Ostroff said.
Orange roughy and marlin also have slightly higher concentrations than most fish, added Elizabeth Southerland, EPA's director of the Office of Science and Technology. She said the agencies are asking the public to comment on whether those fish should be added to the list of fish to avoid.
Environmental groups filed a lawsuit against the FDA and EPA earlier this year, saying that the 2004 advisory was out of date and that women should be advised to eat less mercury-contaminated fish. They also are seeking clearer recommendations and labels that are easier for women to understand. EPA and FDA officials on Tuesday declined to comment on the lawsuit.
Environmentalists said today they were disappointed by the proposed changes, mostly because of the lack of warning labels on canned tuna.
"Over one-third of American's exposure to methylmercury is from tuna, because tuna are higher-mercury fish and Americans consume so much," said Michael Bender, director of the Mercury Policy Project. "Albacore 'white' canned tuna generally has three times as much mercury as 'light' tuna. However, Americans consume about three times as much of the light variety. Therefore, each variety—'white' and 'light'—contributes a staggering 16 percent of Americans' dietary exposure."
Representatives of the fish industry lauded the new advice, saying it "clears the water on outdated seafood guidance for pregnant and breastfeeding women."
"FDA is working to translate years of important nutrition science into updated advice, and that's exciting," said Jennifer McGuire of the National Fisheries Institute, which represents seafood companies including Gorton's Inc. and Bumble Bee Foods. "Expectant moms and health professionals alike have been confused about seafood advice during pregnancy and FDA has begun the process of setting the record straight that fish should be a pregnancy staple."
The advice can be confusing, since studies have found both benefits and dangers to eating fish. Studies have linked pregnant women's high mercury consumption in seafood to reduced IQs and memories and other neurological effects in their children. The findings are largely based on two decades of tests of school children in the Faroe Islands, who were highly exposed in the womb through their mother's consumption of whale meat.
At the same time, research has shown that fish consumption provides vital nutrients, Omega-3 fatty acids and protein, for fetal brain growth, and that children's IQs increase when their mothers had eaten low-mercury fish.
"We don't think women would accrue the same benefits in terms of health and development if they were to use supplements in place of fish," Dr. Ostroff said.
FDA officials said their analysis of data from more than 1,000 pregnant women found that 21 percent ate no fish in the previous month. Those who did ate less than the U.S. Department of Agriculture's Dietary Guidelines for Americans recommend.
Before finalizing the rules, the two agencies plan to hold public meetings and will solicit comments for 30 days.
--------
YOU MIGHT ALSO LIKE
How Weight Gain During Pregnancy Could Protect Your Baby From Toxic Chemicals
7 Tips for a Non-Toxic Pregnancy
New Study Show Proximity to Fracking Sites Increases Risk of Birth Defects
--------
EcoWatch Daily Newsletter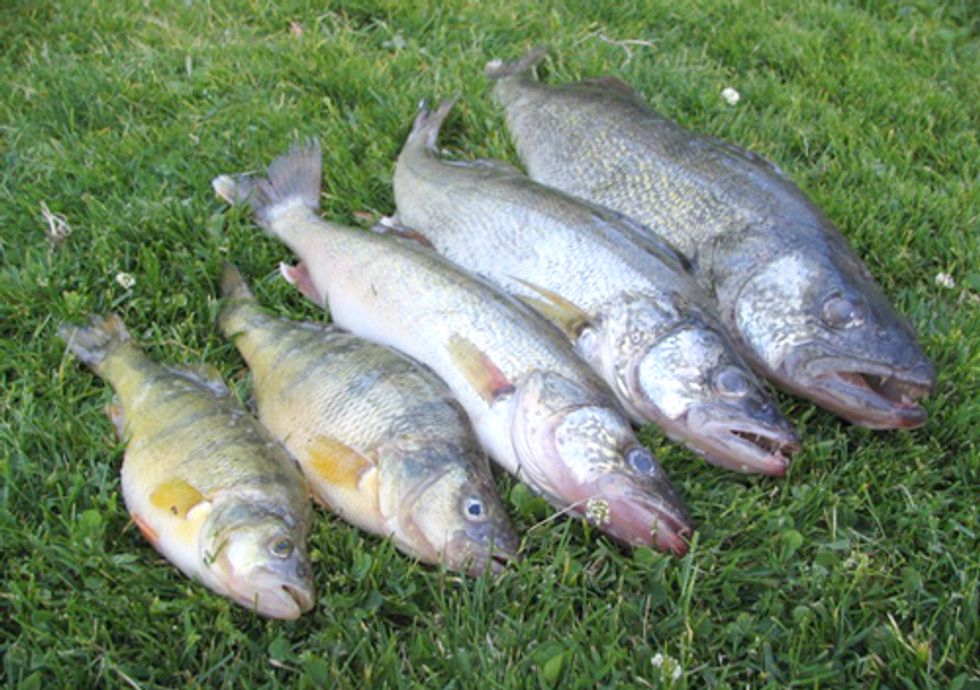 By Brian Bienkowski
Fetuses, newborns and infants are most at risk for mercury exposure, and a sampling of newborns in the Lake Superior basin showed 8 percent of them testing above safe levels.
The study, conducted by the Minnesota Department of Health from 2008 to 2010, tested 1,465 newborns living in Michigan, Wisconsin and Minnesota for mercury. The 8 percent testing above safe levels had methylmercury in them—the kind from fish.
Even small amounts of mercury can hurt infants' developing brain and nervous system.
Babies born in warm months were more likely to have higher levels, which, when coupled with the methymercury findings, suggest that fish consumption is the culprit.
Mercury can easily pass from a mother to her unborn child through the placenta.
The study is the first to look at mercury in newborns, so it's hard to tell whether these levels are similar to those of general population.
Newborns that tested above U.S. Environmental Protection Agency established mercury limits were broken down by state:
No Michigan newborns
3 percent of Wisconsin newborns
10 percent of Minnesota newborns
Minnesotans report eating more locally caught fish, which could explain this discrepancy.
Researchers plan to use the findings to bolster fish consumption outreach to pregnant women.
For more information, click here.
Like many other plant-based foods and products, CBD oil is one dietary supplement where "organic" labels are very important to consumers. However, there are little to no regulations within the hemp industry when it comes to deeming a product as organic, which makes it increasingly difficult for shoppers to find the best CBD oil products available on the market.
<p>Here you can learn about the importance of organic hemp oil, why it's better for the environment, and which CBD companies actually make trustworthy products with sustainable farming processes. origins which weigh heavily on many consumers who want to buy a product that's produced in the best way possible for not only themselves to ingest, but for the environment as well through sustainable farming methods. </p><h2>What Is CBD Oil?</h2><p>First things first, CBD stands for cannabidiol, and it's a cannabinoid found within cannabis sativa plants. This plant compound is believed to have many potential benefits, and it is primarily derived from hemp plants via a CO2 extraction process. </p><p>Since CBD is extracted from industrial hemp, which contains only trace amounts of THC (the psychoactive component in cannabis plants), this means that CBD won't make you feel high like marijuana, which has much higher levels of THC that causes psychoactive effects. Instead, the effects of CBD are much more subtle and promote a general sense of calm and relaxation in most users.</p><h2>What Makes a CBD Oil Organic?</h2><p>In terms of organic labels, perhaps the most important (and prominent) certification comes from the United States Department of Agriculture (USDA). This government organization has been labeling foods as "organic" for many years, but what exactly does this certification entail? Essentially, a label indicating that a product is "USDA Organic" or "Certified Organic" means that at least 95% of the ingredients are obtained from organic sources.</p><p>For a crop to be considered organic by the USDA, it must be grown without the use of industrial solvents, irradiation, genetic engineering (GMOs), synthetic pesticides, or chemical fertilizer. Instead, farmers rely on natural substances and <a href="https://www.usda.gov/media/blog/2012/03/22/organic-101-what-usda-organic-label-means" rel="noopener noreferrer" target="_blank">mechanical, physical, or biologically based farming</a> techniques to cultivate healthy and organic crops.</p><p>Before the passage of the 2018 Farm Bill, no hemp-derived products could be dubbed as "certified organic" since the hemp plant and its extracts were still categorized as a Schedule I Controlled Substance. However, it's still difficult for CBD companies to obtain a USDA certified organic label for their products due to the legal grey area that still surrounds CBD extracts. </p><p>Because of these challenges, and due to the fact that industrial hemp has only recently become an agricultural crop, very few CBD oils are USDA certified organic. Rather, many CBD products contain hemp extracts from plants that were grown in organic conditions but may not be federally certified.</p><h2>What are the Best Organic CBD Oil Brands?</h2><p><em>Each product featured here has been independently selected by the writer. If you make a purchase using the links included, we may earn commission.</em></p><em><br></em>