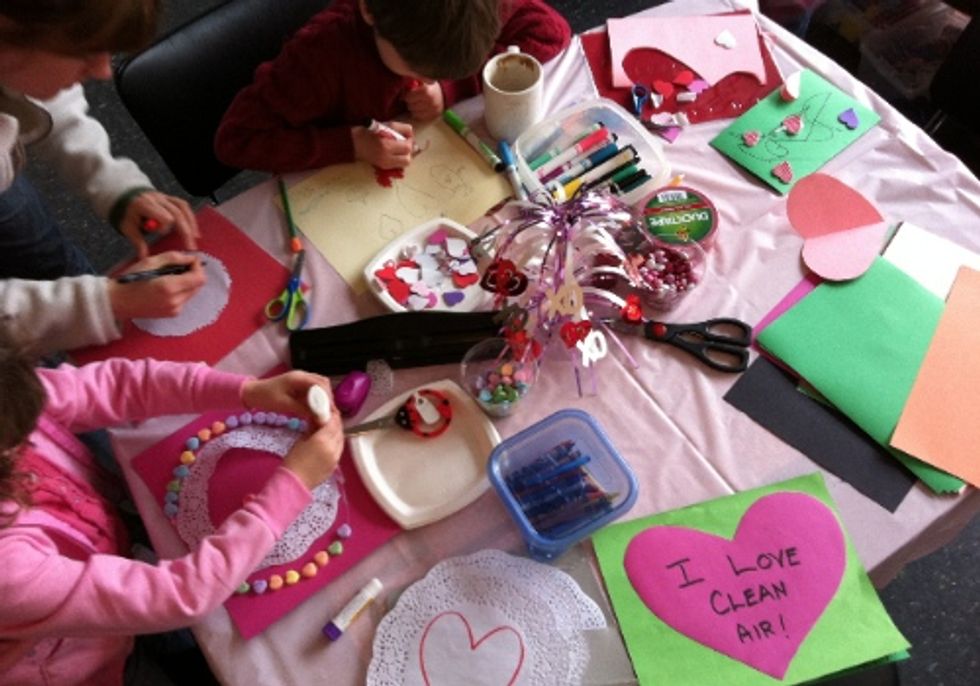 On Feb. 14, Cleveland families declared their love for clean air by delivering handmade Valentines cards to Ohio's U.S. Senators in support of the Environmental Protection Agency (EPA) and new federal clean air standards.
"Some in Congress are working on provisions to block new clean air standards and I want to be sure that Ohio members of Congress don't take my breath away but instead support the U.S. EPA and a clean and healthy future for my children" said Anna Mauser Martinez of Cleveland Heights. She joined her sons at a Valentine card party to create clean air Valentines. "Taking the time to make a handmade Valentine was my way of personally reminding our Senators that I, and many other families they represent, care deeply about clean air and the agencies trying to protect it."
Congress is currently considering several legislative proposals to prevent the EPA from protecting the public health with new clean air standards that would reduce air pollution from toxic substances like mercury, arsenic, soot, smog, carbon and other pollutants. Many of these new standards would save thousands of lives each year.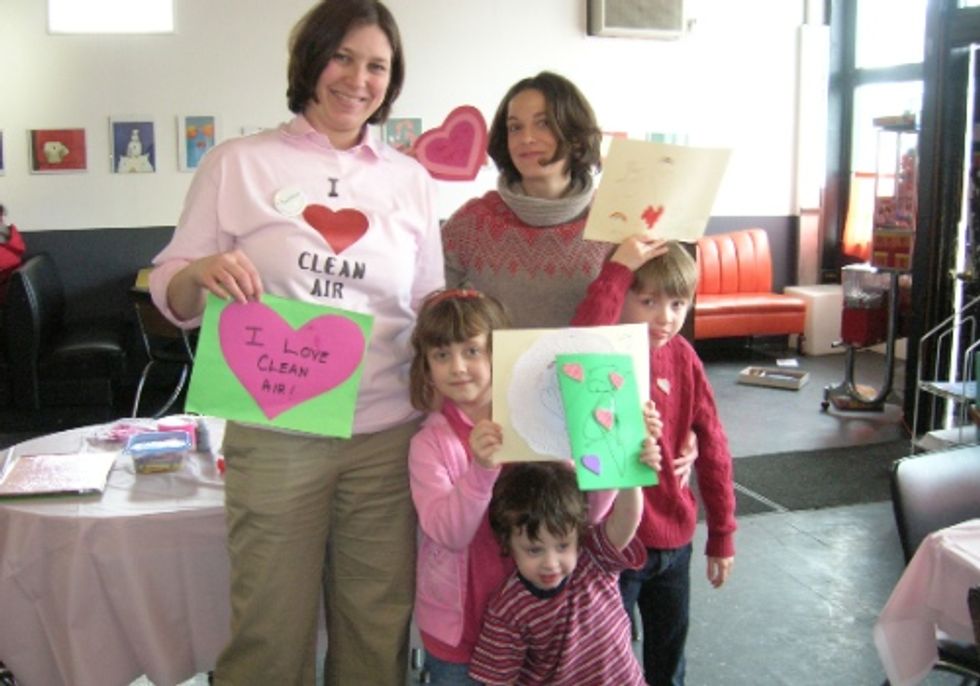 The new mercury and air toxics standards will save as many as 11,000 lives, prevent as many as 130,000 asthma attacks among children and prevent as many as 4,700 heart attacks each year according to the EPA. The Cross State Air Pollution rule will save as many as 34,000 lives, prevent as many as 15,000 heart attacks and prevent as many as 400,000 asthma attacks by reducing dangerous air pollution in communities downwind and often in other states from dirty power plants. The new standards for car emissions will reduce industrial carbon pollution that threatens thousands of lives and will spur innovation that will improve automobile mileage and create jobs in the auto industry.
"Families in Ohio support the U.S. EPA because we love clean air and because we love our children" said Marnie Urso, mother of two and spokesperson for Audubon Ohio. "We are asking Senators Brown and Portman to have a heart and protect the health of our kids here in Cleveland, and across the state, by making sure that the strongest clean air protections are enacted."
For more information about this event, email Marnie Urso. For more information about clean air, visit our Clean Air Act page.
EcoWatch Daily Newsletter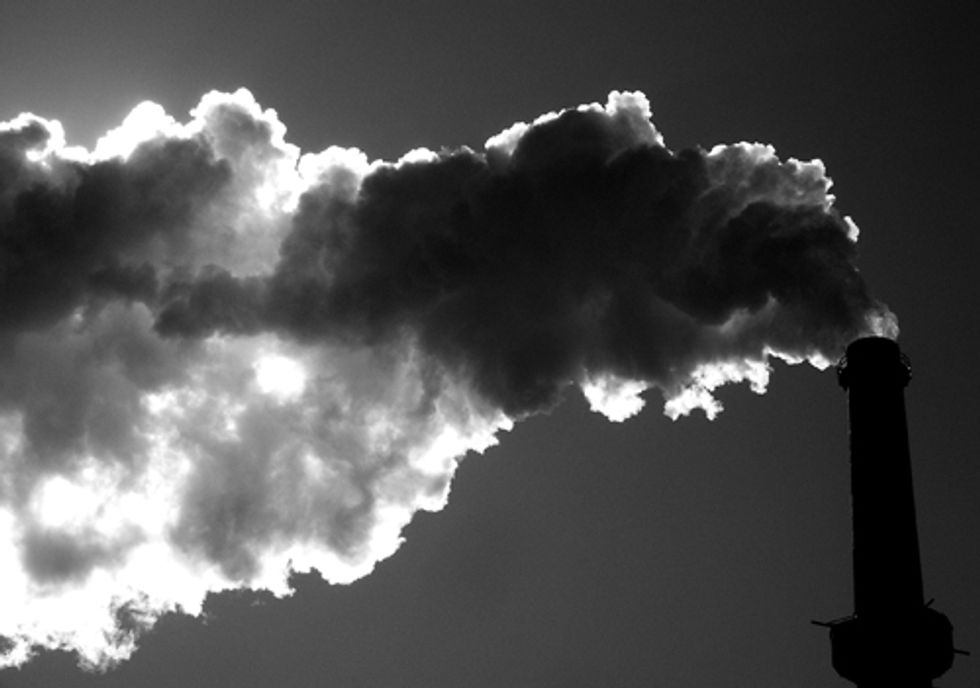 The U.S. Environmental Protection Agency (EPA) announced final rules Dec. 21 to regulate emissions of mercury, lead and other toxic pollutants from coal and oil-fired power plants—regulations the Union of Concerned Scientists (UCS) called "more than reasonable, even if too long in coming."
The Mercury and Air Toxics regulations will limit hazardous pollutants that contaminate the air and water and cause severe health problems such as cancer, heart disease, neurological damage, birth defects, asthma attacks, and even premature death.
"Congress ordered the EPA to regulate toxic air pollution more than 20 years ago when it passed the Clean Air Act Amendments of 1990," said Rachel Cleetus, senior climate economist at UCS. "The EPA has been regulating most industries, up until now, except for the biggest polluters—coal and oil-fired power plants.
"The public health benefits far outweigh the costs," said Cleetus. "And contrary to the doomsday predictions of industry and their allies in Congress, the lights will stay on."
The emissions limits are already being met by the best performing power plants. Utilities will have a sufficient time to comply by installing existing, cost-effective pollution controls. The rules—as with other EPA rules—allow for case-by-case extensions where necessary to ensure that reliability is maintained.
"In some instances, power companies will make the economic choice to retire the oldest, dirtiest, and least efficient power plants, most of which were built before the Beatles announced their breakup in 1970," said Cleetus.
There is enough excess capacity in the system, mainly from natural gas plants that are currently being run at less than full capacity, to meet immediate U.S. energy needs and keep the lights on. New natural gas plants, greater deployment of demand-side management and energy efficiency, and the continued rapid growth of renewable energy technologies can also affordably replace coal plants over time and contribute to a cleaner, reliable energy system.
UCS supports a timely independent system-by-system analysis to identify and address any reliability impacts that may occur.
"We already have the systems, tools and institutions in place to deal with any isolated reliability problems that might arise," said Ellen Vancko, a former North American Electric Reliability Corporation official and reliability expert at UCS. "EPA rules have never caused the lights to go out and these rules will be no exception."
According to studies by the U.S. Department of Energy, the Congressional Research Service, and the Bipartisan Policy Center, along with leading industry experts, such as MJ Bradley & Associates and the Analysis Group, and the country's largest regional transmission organization, PJM Interconnection, the rules do not threaten overall system reliability, and existing planning and coordination procedures can handle any localized concerns.
Forward-thinking companies already have taken steps to clean up their power plants and prepare for these rules. According to the MJ Bradley report, "Companies representing half of the nation's coal-fired generating capacity—11 out of the top 15 largest coal fleet owners in the U.S.—have indicated that they are well positioned to comply with EPA's clean air rules because of early investments in their generating fleets."
"It's time for companies that have delayed cleaning up their coal plants to stop hiding behind a reliability smoke screen," said Vancko. "The industry knows how to do this. EPA has repeatedly stated that it will work with industry stakeholders and the Federal Energy Regulatory Commission to ensure grid stability."
The commission has already initiated a process to elicit views from power companies, regional reliability organizations, the North American Electric Reliability Corporation, state regulators, and others to identify any areas of specific concern and develop a plan to address them. If such challenges emerge, the Clean Air Act gives the EPA the flexibility to bring sources into compliance while maintaining electric reliability.
"The bottom line is that the sky-is-falling narrative is just not credible," said Cleetus. "We don't have to choose between public health and a reliable electric system."
For more information, click here.
—————
The Union of Concerned Scientists is the leading U.S. science-based nonprofit organization working for a healthy environment and a safer world. Founded in 1969, UCS is headquartered in Cambridge, Massachusetts, and also has offices in Berkeley, Chicago and Washington, D.C.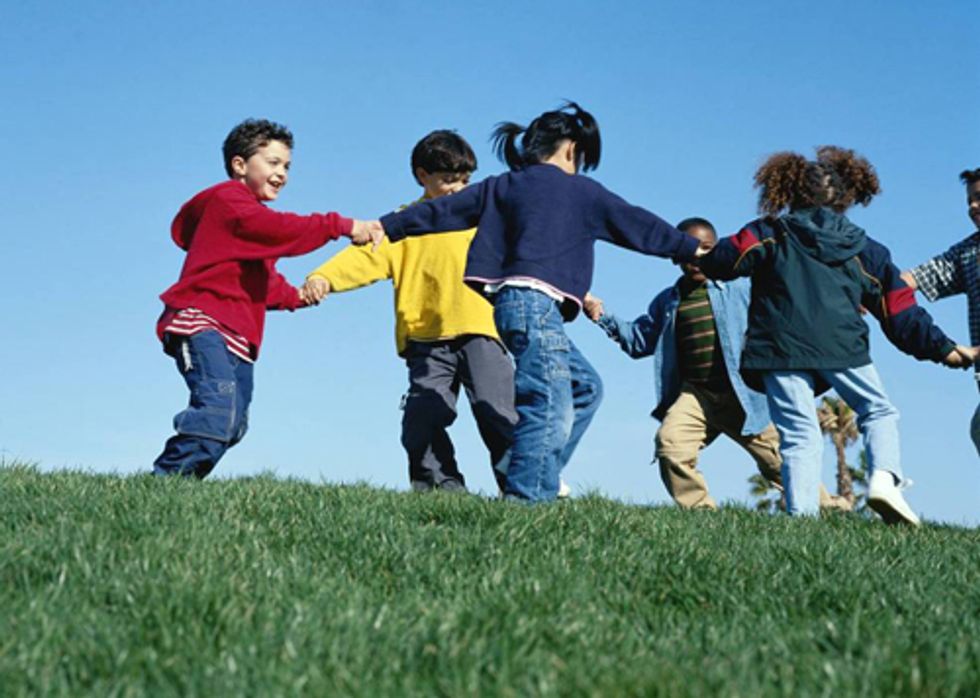 The U.S. Environmental Protection Agency (EPA) released guidelines Dec. 21 that will save lives and protect human health from dangerous heavy metals like mercury and other toxic pollutants from coal-fired power plants.
A big thanks goes out to all of you who took the time to let the EPA know why clean air and water are important to you—this is your victory to celebrate.
These guidelines are important for protecting vulnerable populations like women of child-bearing age, babies, small children and the elderly. Mercury accumulates in fish, making them unsafe to eat. Other forms of air pollution contribute to asthma and other respiratory issues.
EPA's guidelines are expected to prevent up to:
17,000 premature death
4,300 cases of chronic bronchitis
110,000 children's asthma attacks
830,000 lost work days
Good public health policy is also good economic policy. The EPA estimates that for every dollar spent to reduce this pollution, we stand to gain $5-$13 in health benefits.
As we celebrate this victory during the holiday season, we are once again reminded of the tremendous power of people like you speaking up for the things they value most.
It's been a tough year for those who care deeply about clean air and water. We have witnessed a slew of congressional attacks on our right to clean air and water, spurred on by the coal industry. This year, more than 190 votes were cast to weaken environmental protections, with 28 of those votes designed to undermine Clean Water Act protections.
There are more challenges ahead in the new year. With tomorrow marking the 3rd anniversary of the largest coal ash disaster at a TVA plant in Tennessee, the EPA has yet to issue standards on coal ash diposal and storage—and some members of Congress are trying to make sure the EPA doesn't get the chance.
Thank the EPA for standing up for healthy communities, and encourage them to continue to protect our waterways from coal pollution.
For more information, click here.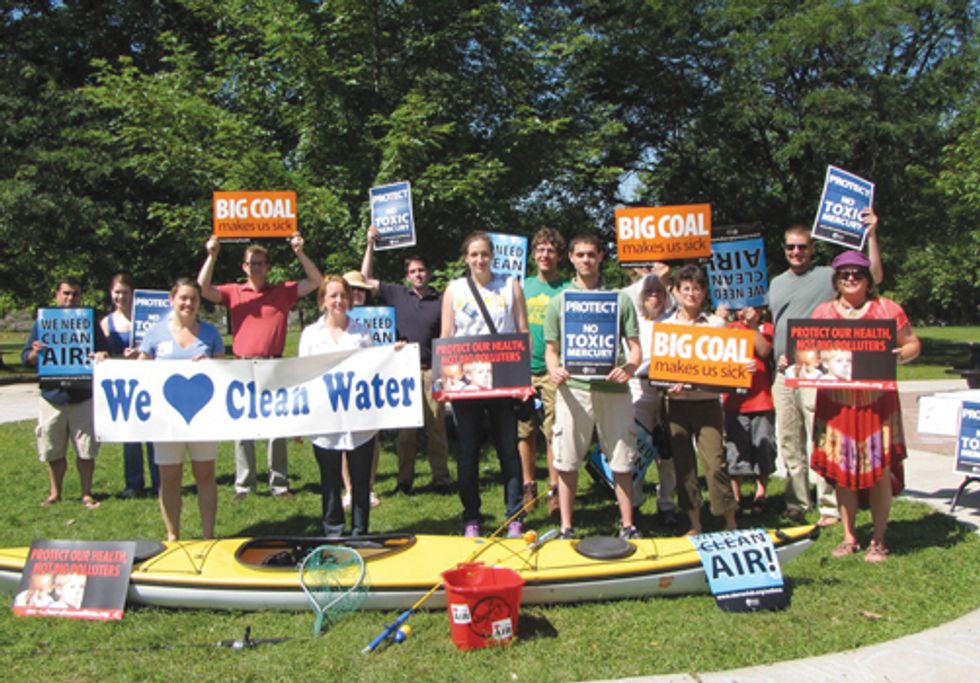 by Marnie Urso
My work on mercury pollution began one cold December morning in 2003 when I bundled my four month old baby in her bunting and drove through the slosh to Burke Lakefront Airport in Cleveland along the Lake Erie shore. Upon arrival, I joined dozens of protesters to greet the U.S. Environmental Protection Agency (EPA) Secretary at the time, Mike Leavitt. Secretary Leavitt had descended upon Cleveland to promote the new Bush Administration rules to regulate mercury pollution from power plants.
At first, you would think that a new mother and environmental activist would welcome such news. After all, coal-fired power plants are the single largest source of mercury pollution, arsenic and acid gases, and account for 25 percent of all toxic metal emissions in the U.S. These pollutants are linked to cancer, heart disease, neurological damage, birth defects, asthma attacks and premature death. Coal-fired power plants are responsible for 99 percent of all mercury emissions from the power sector in the U.S. Mercury pollution poses particular risks to children, affecting their ability to walk, talk, read and write.
Unfortunately, the Bush Administration's proposed rules were severely flawed and fell far short from what was necessary to protect people, animals and the environment from toxic mercury pollutants. Instead of seizing the opportunity to protect the public health from this harmful neurotoxin, as mandated by the courts, the Bush Administration took the opportunity to protect the polluters. Those rules were eventually tossed out by the courts because they did not adequately protect the public's health.
Fast forward to a sunny brisk spring day in 2011, when I dropped off my 7 year old daughter at school and headed to Cleveland's Rainbow Babies and Childrens' Hospital. There I met with parents, children, health professionals, and environmental health advocates to applaud the Obama Administration's new mercury regulations that will for the first time cut mercury emissions from power plants nationwide by 91 percent, reduce arsenic and acid gases by 91 percent, prevent 12,200 trips to the hospital and save up to 17,000 lives each year once implemented. Hundreds of Audubon members and concerned citizens from across Ohio spent that spring and summer submitting comments on the proposed protections. We all eagerly awaited the final rules that were scheduled to come out in July.
I watched as the Plain Dealer editorialized that the mercury rules were too much too fast and I then celebrated my daughter's eighth birthday in August. She was, along with other children in Northeast Ohio, still being subjected to the dangers of high levels of mercury pollution. Unfortunately, as we prepare for the winter holidays, nothing has changed in how mercury is regulated, as the U.S. EPA has delayed the implementation of its rules to reduce mercury emissions from power plants. Further there is pressure from many in the Congress to delay and weaken them even further or eliminate them all together.
The mercury contamination problem in the U.S. is so widespread that as many as one in six women of childbearing age is likely to have mercury levels in her blood high enough to put her baby at risk for mercury poisoning. The health benefits associated with these updated standards are $59 billion to $140 billion in 2016. This means that for every dollar spent to reduce pollution from power plants, we get $5 to $13 in health benefits. The U.S. EPA needs to stand its ground and move forward with the strongest air toxics protections possible to defend public health and protect children from toxic mercury pollution.
We need to keep the promise we made to future generations and implement rules that will clean the air by reducing harmful air pollution toxins like mercury, arsenic, carbon dioxide and ozone. We need leadership that will oppose the polluters who say our kids are not worth the cost of reducing these dangerous emissions. Clean air programs have provided strong public health protections that have saved hundreds of thousands of lives and prevented countless asthma attacks, heart attacks and early deaths.
Contact U.S. Senators Sherrod Brown (D-OH) and Rob Portman (R-OH) at 202-224- 3121 and tell them that we have waited long enough. Our families should be able to breathe fresh air and drink clean water without worrying about mercury in their bloodstream or soot in their lungs. Tell them to support the implementation of the Mercury and Air Toxics Rule, and stop further delay.
For more information, visit www.audubon.org.
--------
Marnie Urso is the grassroots coordinator for Audubon Ohio. The mission of Audubon Ohio is to conserve and restore natural ecosystems, focusing on birds, other wildlife, and their habitats in Ohio by promoting conservation and biodiversity through education and advocacy. She can be reached at murso@audubon.org.