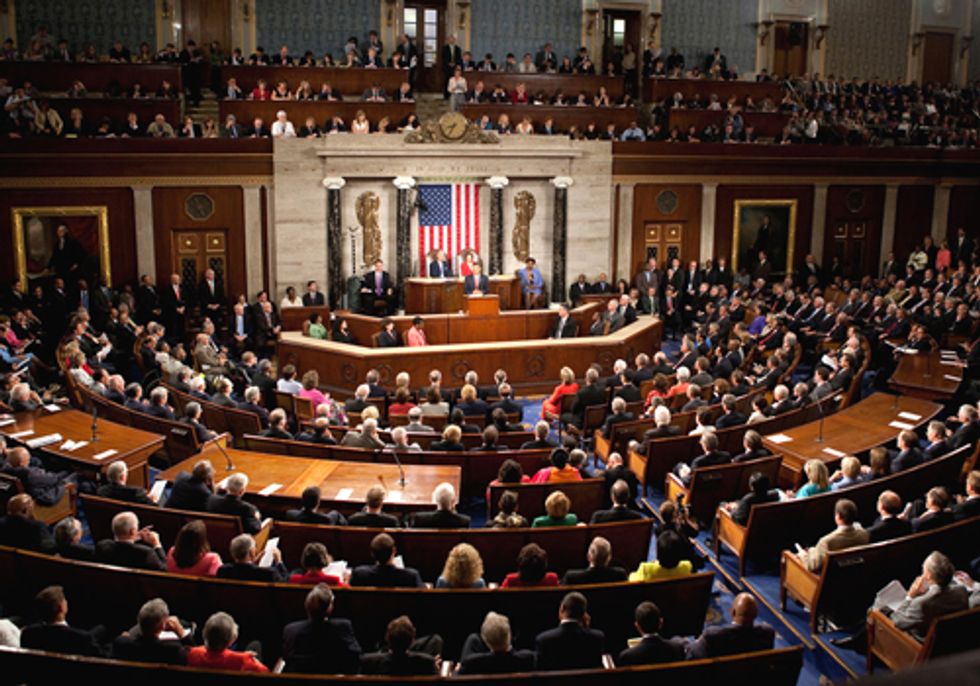 How did your Members of Congress vote on water bills and riders in 2011? Clean Water Network's chart for the U.S. House of Representatives clean/dirty water votes of 2011 is now complete. 
If a member voted 50 percent or higher in support of clean water, they received a blue water drop. If they registered 49 percent or lower, they received a brown water droplet in their column. If you click on the droplet you'll get all of the details on their votes and those of their House colleagues categorized by state. We will continue to update this chart.
To view the Dirty Water Voting Chart, click here.
In the summer of 2011, the Clean Water Network sent a letter to the U.S. Senate, urging all senators to vote no on H.R. 2018, the Clean Water Cooperative Federalism Act, and to oppose all other dirty water bills and riders that come before the Senate floor for action.
Two-hundred and eighty-four national, state and local organizations from 48 states, Puerto Rico and Washington, D.C. signed on to the letter, along with 77 concerned citizens from across the country, including several small business owners (a total of 359 signers). Organizations signing on included national environmental groups, garden clubs, riverkeepers, watershed groups, religious organizations, sportsmen and fishermen associations, and environmental justice organizations.
For more information, click here.
EcoWatch Daily Newsletter
Avocado
Increased consumer interest in sustainability has largely driven the expansion of new organic product lines. It's this combination of consumer consciousness and evolved eco-friendly products that has people searching for the best organic mattress.
But there are many brands in this space. We wanted to take a closer look at the Avocado mattress and explore what makes it such a popular pick in the eco-market.
<h2>What should I look for when buying an organic mattress?<br/></h2><p>Whether it's an <a href="http://avocadomattress.n5ka.net/nrJ1V" target="_blank">Avocado mattress</a> or another product from a reputable manufacturer, there are a few things to consider before making a purchase.</p><p>The first thing to know is that accreditation gets a little fuzzy. </p><p>The reality is that not all mattresses claiming to be "natural" or even "organic" will qualify for an official organic label from the United States Department of Agriculture (USDA). </p><p>In order to do so, mattresses must be made up of 95% certified organic materials. </p><p>In addition, no harmful chemicals can be used in the processing or production of the mattress, which is considered a complex finished textile product. </p><p>As you research, you may find that some mattress manufacturers will call their products "organic" because they use a smattering of organic products—but not enough to carry the USDA seal, a practice that's known as "greenwashing."</p><p>To find a mattress that has been certified organic, you'll want to look for accreditations like GOTS (Global Organic Textile Standard).</p><p><br/></p><p class="shortcode-media shortcode-media-rebelmouse-image"> <img type="lazy-image" data-runner-src="https://assets.rebelmouse.io/eyJhbGciOiJIUzI1NiIsInR5cCI6IkpXVCJ9.eyJpbWFnZSI6Imh0dHBzOi8vYXNzZXRzLnJibC5tcy8yNDg1MzAwNy9vcmlnaW4ucG5nIiwiZXhwaXJlc19hdCI6MTYzOTcwOTM1MH0.LFqDzobbjsMxHhtZv3MQ9iOvBSxDwEQF840cDR8Ze9Y/img.png?width=980" id="5dcba" class="rm-shortcode" data-rm-shortcode-id="47f0b3694c23691bb74eb2e4329e6271" data-rm-shortcode-name="rebelmouse-image" /> </p><p><br/></p><p>You can also look for the GOLS (Global Organic Latex Standard) logo.</p><p><br/></p><p class="shortcode-media shortcode-media-rebelmouse-image"> <img type="lazy-image" data-runner-src="https://assets.rebelmouse.io/eyJhbGciOiJIUzI1NiIsInR5cCI6IkpXVCJ9.eyJpbWFnZSI6Imh0dHBzOi8vYXNzZXRzLnJibC5tcy8yNDg1MzAxMC9vcmlnaW4uanBnIiwiZXhwaXJlc19hdCI6MTYxMzIxMzkwOX0.TQWz8NDTzRpr4Q0sDssTj9r1BwV4cRNbgiGtn9wjWrA/img.jpg?width=980" id="73347" class="rm-shortcode" data-rm-shortcode-id="1952e84d562c83064655dd296fdd14aa" data-rm-shortcode-name="rebelmouse-image" /> </p><p>These two standards help to uphold the 95% organic rule.<br/></p><p><span></span>Once you're squared away with certifications, the rest of the buying process is similar to purchasing a traditional mattress. </p><p>First, you'll want to find one that satisfies your desired level of comfort.<br/></p><p>As a rule, many organic mattresses tend to be a bit stiffer, so testing its firmness—either before purchase or during a trial period after you get it home—is in your best interest. </p><p>Lastly, as with most purchases—especially in the organic space—cost is a factor. A goal of bringing home the best eco-friendly mattress money can buy can price some consumers out of the organic market entirely.</p><h2>What makes Avocado the most popular organic mattress?</h2><p>There are two groups that most people will turn to while researching a product: Expert reviewers and fellow consumers. When it comes to picking the best organic mattress, both the pundits and verified customers agree that an Avocado mattress is at or near the top of the list.</p><p><a href="https://www.usnews.com/360-reviews/mattress/avocado" target="_blank">U.S. News & World Report recently gave Avocado the nod</a> in the categories of best mattress, best for back pain, best for stomach sleepers, best firm mattress and best hybrid mattress, citing its ability to provide a more restful night's sleep.</p><p>Avocado mattresses were also named best healthy mattress and <a href="https://www.health.com/home/healthy-home-awards" target="_blank">best organic mattress in Health.com's Healthy Home Awards</a>, <a href="https://www.shape.com/lifestyle/mind-and-body/best-mattress-in-a-box" target="_blank">best mattress in a box for the environmentally conscious by <em>Shape </em>magazine</a> and <a href="https://www.goodhousekeeping.com/home-products/g29892090/best-mattresses/" target="_blank">best organic mattress by <em>Good Housekeeping</em></a>.</p><p><span></span>The brand has also received a <a href="https://help.avocadogreenmattress.com/en_us/can-you-show-me-your-aca-certification-SJOs16UED" target="_blank">certificate of endorsement from the American Chiropractic Association</a>, been <a href="https://www.avocadogreenmattress.com/consumer-reports/" target="_blank">consistently lauded by <em>Consumer Reports</em></a> and touts <a href="https://www.avocadogreenmattress.com/natural-mattress-reviews/" target="_blank">more than 18,000 5-star reviews</a> from real Avocado mattress customers.</p><h3>Corporate Stewardship</h3><p>Peeling the curtain back on the company's operations and mission, it's easy to see why so many people consider Avocado to be the best organic mattress.</p><p>The brand's products are American-made, designed in Hoboken, New Jersey, and manufactured by hand in Los Angeles. </p><p>Its factories are powered by renewable energy, and Avocado ethically harvests wool for products from sheep that it raises while also producing its own natural latex.</p><p>It's because of that commitment to sustainability and eco-friendly practices that the Avocado mattress became the first in the world to achieve net-zero carbon emissions. And earlier this year, the company announced that it now offsets more carbon than it generates. </p><p>It's also important to mention that <a href="http://avocadomattress.n5ka.net/MG32K" target="_blank">Avocado is certified organic by the USDA</a>.</p><p>With a goal of not only providing superior products that promote healthy sleep, Avocado also believes in the power of sustainability and social responsibility—a belief it backs up by donating 1% of all revenues to environmental nonprofits</p><h3><span></span>Quality Products</h3>