By Mike Gaworecki
Eleven cities from around the world were celebrated recently in Mexico City at the C40 Cities Awards for their commitment to innovation in the fight against climate change.
The eleven-year-old C40 Cities Climate Leadership Group brings together officials from 85 of the world's great cities that collectively represent one quarter of the global economy. The group's focus is spurring urban initiatives that reduce greenhouse gas emissions while increasing the health, well-being and economic opportunity of the more 650 million people who call those 85 cities home.
Sponsored by Bloomberg Philanthropies and Chinese green-tech developer BYD, the C40 Cities Awards recognized the "best and boldest" work being done by mayors to fight climate change and protect their constituents from climate risks.

"The winning projects show that great progress is being made on every continent, and they serve as an inspiration to other cities," C40 President of the Board and U.N. Secretary General's Special Envoy for Cities and Climate Change Michael R. Bloomberg said in a statement. "They also show how cities can help the world meet the ambitious goals set a year ago in Paris."

A panel of former mayors and climate experts selected the ten cities that they felt had adopted the most ambitious and effective urban sustainability programs in the world—and C40 partnered with the Associated Press to capture images of each winning city's projects, allowing you a sneak peek whether you live near one of them or not.

"Today, we celebrate some of the projects that are key to delivering on the world's climate ambition and will help put us on a path to a carbon-safe future," Chuanfu Wang, chairman and president of BYD Co. Ltd, said at the awards ceremony. "We recognise the incredible human power and thoughtful consideration that goes into making these projects reality."
1. Addis Ababa, Ethiopa
The city of Addis Ababa is a winner of the C40 Awards 2016 in the Transportation Category. The Addis Ababa Light Rail Transit (LRT) Project has improved the city's public transport system and created more than 6,000 jobs. The cumulative emission reduction potential of the LRT system is forecasted at 1.8 million tCO2e by 2030.
A lady holding her baby wrapped in a white shawl is transported on an Addis Ababa LRT. Mulugeta Ayene / AP Images for C40
An Addis Ababa Light Rail Tram passes through Ethiopia's largest business district Merakto. Mulugeta Ayene / AP Images for C40
Pedestrians look out over commercial and residential buildings on the city skyline. Nearby an Addis Ababa light rail tram passes by.Mulugeta Ayene / AP Images for C40
EcoWatch Daily Newsletter
By Aaron Packard
Bill McKibben is a kind of big deal here in Australia. Big enough that yesterday, we woke up to find him cartooned in the Canberra Times.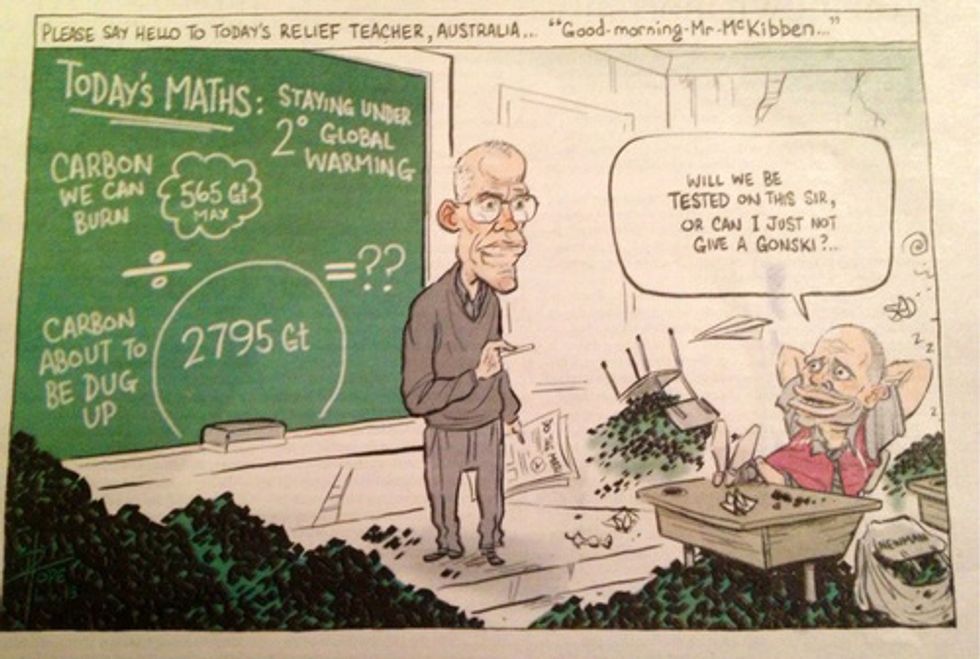 Here are two pieces of context you might like with the cartoon: 
1. The student sitting at the desk is the Premier of Queensland State, Campbell Newman, who is pushing coal extraction like crazy.
2. The Gonski reference is to the Gonski report, which the Australian government commissioned to review the education system in Australia.
The Do the Math tour of Australia is now well underway and with Sydney under our belts, we're part way through our stop in the nation's capital, Canberra. It really is hard to keep up with things, but here's a bit of what has gone on.
Within hours of touching down in Sydney, McKibben underwent an Australian baptism by fire, being a panelist on the live TV show Q & A. Despite being dropped straight in the middle of a foreign culture and a few unsavory characters, McKibben easily stood his ground and impressed the audience, both in studio and watching from home, with his depth of knowledge and clear message about climate challenge. In essence, he mopped the floor with them.
The next day, McKibben found himself on another panel, but this time talking to more than 100 financiers from Sydney and Melbourne. After presenting the "math," a lively debate ensued about the possibilities for and limits to divestment and what the carbon bubble means for investors. Changing tack completely, the next stop was to meet with the head of the Uniting Church of New South Wales and Australian Capital Territory, to say a big thank you for being "the first church in the world" to divest their portfolio of fossil fuel holdings. After a quick prayer it was time to move on to the main event of the day, the presentation at the Seymour Center, University of Sydney—which, as you can see in the photograph below, was packed.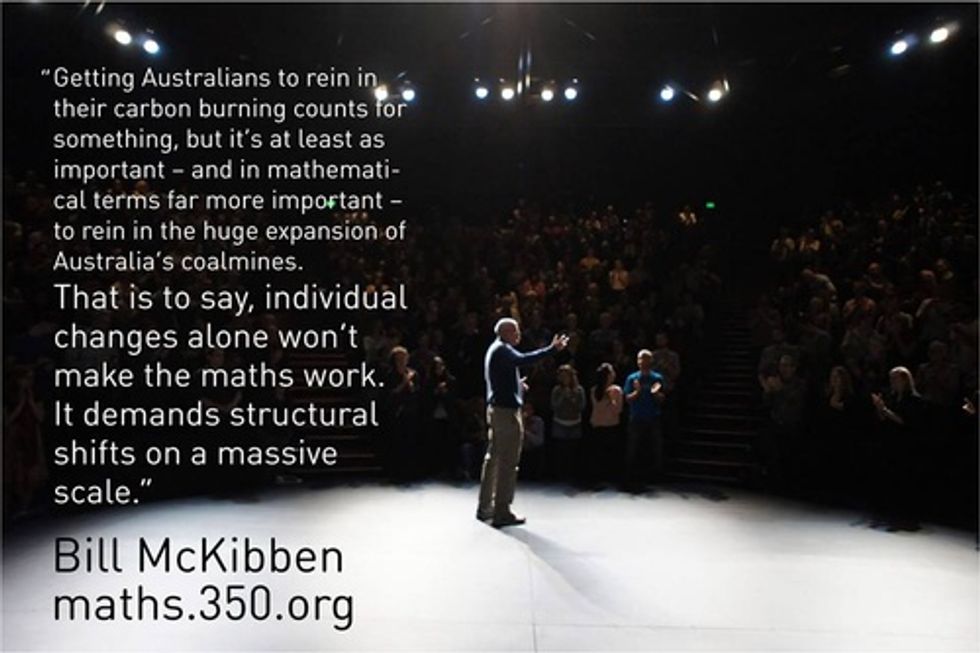 Here is a take on the evening from audience member Georgia Bamber:
If ticket sales, packed seats and a rapt audience are anything to go by, Bill McKibben's first show in Australia was a roaring success. The Seymour Center was abuzz with anticipation at 6 p.m., amazing in light of the fact that we were all there to essentially hear a math lesson.
Despite claims of jetlag, Bill was fantastic. Relaxed and personal, he immediately won the audience over with his charm, intelligence and above all, his passion.
His message to the audience was clear and simple: If the Australian mining industry is allowed to proceed with the massive expansion of coal mining and export that they have planned, the planet will be pushed to warming beyond the point of no return. End of story, no wiggle room. The laws of physics say it is so.
However, gloom and doom about the plight we are in was quickly dispelled as Bill invited young members from Lock the Campus and the Australian Youth Climate Coalition onto the stage to demonstrate his math—using beer. After giggles from the audience and a few sips of beer by Bill and the Lord Mayor of Sydney, everyone was ready to hear the plan of action. Divestment, direct action and perhaps even a little jail time for a few. 
The way Bill connected with the audience was incredible. He not only educated the audience but he fired them up and made them feel empowered. I know I walked away from the evening ready to fight the good fight, and I am pretty sure most everybody else did too.
Thank you Bill, for saying what needs to be said.
Visit EcoWatch's CLIMATE CHANGE and RENEWABLES page for more related news on this topic.
——–
Click here to tell Congress to Expedite Renewable Energy

boonchai wedmakawand / Moment / Getty Images
Delta-8 THC is a cannabis product that has become a bestseller over the past few months, as many consumers find they can legally purchase it from CBD retailers. Its proponents say that Delta-8 THC will give you a nice little buzz, minus some of the more intense feelings (including paranoia) that are sometimes associated with marijuana.

Delta-8 THC is being marketed as a legal option for consumers who either don't live in a state with legal cannabis, or are a little apprehensive about how traditional psychoactive THC products will affect them. But is it all it's cracked up to be? Let's take a closer look, exploring what Delta-8 THC is, how it differs from other THC products, and whether it's actually legal for use.
<h2>What is Delta-8 THC?</h2><p>To better understand <a href="https://www.nytimes.com/2021/02/27/health/marijuana-hemp-delta-8-thc.html" target="_blank">Delta-8 THC</a>, it helps to cover some basics about THC and cannabis.</p><p>Cannabis plants come chock full of different <a href="https://www.nccih.nih.gov/health/cannabis-marijuana-and-cannabinoids-what-you-need-to-know" rel="noopener noreferrer" target="_blank"><em>cannabinoids</em></a>. These are naturally-occuring chemical compounds that bind with receptors throughout your body. They can offer a wide range of mental, emotional, and physical effects; indeed, the healing and therapeutic properties marijuana or <a data-linked-post="2648563694" href="https://www.ecowatch.com/strongest-cbd-oil-2648563694.html" target="_blank">CBD products</a> offer can be attributed to cannabinoids.</p><p>One of the most common cannabinoids is what's known as Delta-9 THC. Simply put, this is the part of marijuana that gets you "high." It's worth noting that Delta-9 THC remains illegal in many states, except for in the most minute doses, and is still illegal at the federal level. CBD products are made with trace amounts of THC, ensuring that consumers can enjoy positive health effects in a perfectly legal way, without the risk of getting high.</p><p>On a chemical level, <a href="https://www.nytimes.com/2021/02/27/health/marijuana-hemp-delta-8-thc.html" rel="noopener noreferrer" target="_blank">Delta-8 THC</a> is not too different from Delta-9 THC; the distinction comes down to just a few molecules. But those molecules make a big practical impact: Delta-8 THC will give you a buzz, but the psychoactive effects are considerably milder than with Delta-9 THC.</p><p>More specifically, many cannabis enthusiasts report that Delta-8 THC helps them feel good but also leaves them relatively clear-headed; and, it doesn't produce the anxiety or jitteriness that often characterize a Delta-9 THC high.</p><p>Additionally, because of the way the law is written regarding Delta-9 THC, some CBD companies now sell Delta-8 THC products in places where traditional cannabis is still illegal.</p><h2>What's the Difference Between Delta-9 THC and Delta-8 THC?</h2><p>Here are the primary differences to note between Delta-9 and Delta-8 THC:</p><ul class="ee-ul"><li>Delta-9 THC is the primary psychoactive ingredient found in marijuana. In other words, it's the part that gets you high.</li><li>Though some states have found workarounds, Delta-9 THC is still illegal under federal law.</li><li>Delta-8 THC is also found in the cannabis plant, though it's not quite as powerful or as well-known. </li><li>Delta-8 THC is milder in its psychoactive effects. And, it's not <em>technically </em>illegal under current law.</li></ul><p>These are just a few of the key distinctions to keep in mind. Delta-8 THC is popular among consumers who want a smoother high, and don't want to violate federal law.</p><h2>Is Delta-8 THC Legal?</h2><p>We noted that Delta-8 THC is not <em>technically </em>illegal. Here, we need to get into some of the nuanced legal considerations that surround this substance.</p><p>First of all, there are plenty of cannabis companies that actively promote Delta-8 THC as a legal way to get high. Again, that's technically true, but is still a point of debate for some.</p><p>For one thing, it's not explicitly listed as an illegal substance. While federal laws, and some state laws, specifically ban Delta-9 THC, Delta-8 THC is never mentioned. More to the point, though, many proponents will cite the<a href="https://www.usda.gov/farmbill" rel="noopener noreferrer" target="_blank"> 2018 Farm Bill</a>. This law legalized several industrial hemp products on a national level, including CBD.</p><p>The Farm Bill also includes some fairly nuanced positions regarding THC. In summary, the law says that hemp and cannabis-derived products are legal so long as they contain less than 0.3 percent Delta-9 THC.</p><p>With that said, some lawyers contend that Delta-8's heyday may soon come to an end. That's because the Farm Bill clears it only so long as it's derived directly from hemp; most of the Delta-8 THC products sold today aren't made from hemp, but rather from synthetically-altered CBD.</p><p>Some of these issues are a little fuzzy, and <a href="https://www.rollingstone.com/culture/culture-features/delta-8-thc-legal-weed-explained-1113859/" rel="noopener noreferrer" target="_blank">the legal future of Delta-8 THC</a> remains a little uncertain. For now, though, many experts would argue that it is legal to purchase.</p><h2>What Kinds of Delta-8 THC Products Are Available?</h2><p><em>Each product featured here has been independently selected by the writer. If you make a purchase using the links included, we may earn commission.</em></p><p>If you're looking to try Delta-8 THC products, you'll certainly find plenty of different products. Dispensaries and legal cannabis stores currently have a trove of products that use this cannabinoid. Some examples include:</p><ul class="ee-ul"><li>Vape cartridges, tinctures, and capsules.</li><li>Beverages made with Delta-8 THC, including some seltzers.</li><li>Edibles, including Delta-8 THC gummy bears, chocolate bars, and more.</li></ul><p>The cannabis industry has really been running with Delta-8 THC, finding creative ways to bring it to market. And chances are, even more products will be springing up in the weeks and months to come. </p><p>It's very important to note that you should only purchase Delta-8 THC products from reputable brands and established cannabis retailers. We do not recommend purchasing any products that contain Delta-8 THC from gas stations or vape shops. If you are looking for a reputable place to explore these products, here are a few brands that we trust and recommend:</p>
<img class="rm-lazyloadable-image rm-shortcode" type="lazy-image" data-runner-src="https://assets.rebelmouse.io/eyJhbGciOiJIUzI1NiIsInR5cCI6IkpXVCJ9.eyJpbWFnZSI6Imh0dHBzOi8vYXNzZXRzLnJibC5tcy8yNjAzNjAyMy9vcmlnaW4uanBnIiwiZXhwaXJlc19hdCI6MTYzMTMxMjAyNX0.wRpb_E9ZFZFNgkYsYh6cleNbTezo16rUeTmifcP_yCk/img.jpg?width=980" id="60683" width="400" height="400" data-rm-shortcode-id="32630bf41fd6909a232194b540c570eb" data-rm-shortcode-name="rebelmouse-image" />
nuleafnaturals.com
<p><a href="https://nuleafnaturals.com/product/full-spectrum-delta-8-thc-oil-30mg-ml/" target="_blank" rel="noopener noreferrer">NuLeaf Naturals Full Spectrum Delta 8 THC Oil</a> is made from organic hemp and organic virgin hemp seed extract. It's available in a 150 mg bottle and a 450 mg bottle, which both provide 15 mg of Delta 8 THC per serving. This formula is also available in a soft gel.</p>
<img class="rm-lazyloadable-image rm-shortcode" type="lazy-image" data-runner-src="https://assets.rebelmouse.io/eyJhbGciOiJIUzI1NiIsInR5cCI6IkpXVCJ9.eyJpbWFnZSI6Imh0dHBzOi8vYXNzZXRzLnJibC5tcy8yNjAzNjE2Ni9vcmlnaW4uanBnIiwiZXhwaXJlc19hdCI6MTY2OTcwNTgzM30.opm4l5-rSqV1HfvrbVE16EEVZvqxI42xgqnsQfL9p2M/img.jpg?width=980" id="2c749" width="400" height="400" data-rm-shortcode-id="a678e76d8cd5e13bae95d9c3ae664b85" data-rm-shortcode-name="rebelmouse-image" />
botanyfarms.com
<p>The <a href="https://www.botanyfarms.com/product/delta-10-thc-vape-cartridge/?aff=14" target="_blank">Botany Farms Delta-10 THC Vape Cartridge</a> actually contains both Delta-10 and Delta-8 THC.This is designed to provide the desired effects of Delta-8 THC but without the drowsiness. They also offer a vape cartridge with a 1:1 concentration of <a href="https://www.botanyfarms.com/product/delta-10-delta-8-thc-vape-cartridge/?aff=14" target="_blank">Delta-8 THC</a> and Delta-10 THC. Note that while vape products can be used to aid in smoking cessation, we do not recommend vaping or smoking because of the negative health effects they can cause.</p>
<h2>What are the Pros and Cons of Delta-8 THC?</h2><p>As you consider whether Delta-8 THC is worth your time, it may be helpful to weigh the pros against the cons.</p><p><strong>Pros</strong></p><p>Let's start with some of the positives:</p><ul class="ee-ul"><li>Delta-8 THC does have psychoactive effects, but it's a milder effect than with traditional Delta-9 THC.</li><li>Delta-8 THC is currently legal and widely accessible in multiple states.</li><li>There are a wide number of products that use Delta-8 THC.</li></ul><p><strong>Cons</strong></p><p>Now, a few of the downsides.</p><ul class="ee-ul"><li>Delta-8 THC isn't quite as commonplace as other cannabis products, including CBD, and some of the options on the market are expensive.</li><li>While this substance is technically legal, there are plenty of uncertainties over its legal future. It's something you want to keep in mind.</li><li>As a relatively new product, Delta-8 THC products are not regulated by the FDA and there is not independent testing in place to verify that it is safe or pure.</li></ul><p>As with any cannabis product, Delta-8 THC has its pros and cons. As you seek the cannabis product that's best for you, it's largely a matter of personal preference.</p><p>Also note that smoking, vaping, or otherwise imbibing any kind of cannabis-related product can carry some medical risks and negative health consequences. If you have any specific concerns, we recommend consulting with your doctor before you try any Delta-8 THC product.</p><p><em><strong>Josh Hurst </strong></em><em>is a journalist, critic, and essayist. He lives in Knoxville, TN, with his wife and three sons. He covers natural health, nutrition, supplements, and clean energy. His writing has appeared in Health, Shape, and Remedy Review.</em></p>