1. 50,000 Large Dams Are Clogging the World's Rivers:
About 50,000 dams with a height of 15 meters or more and millions of smaller dams have been built on the world's rivers. Some of them date back centuries, but most were built after World War II. About 5,000 dams have a height of 60 meters or more—another 350 such giants are currently under construction.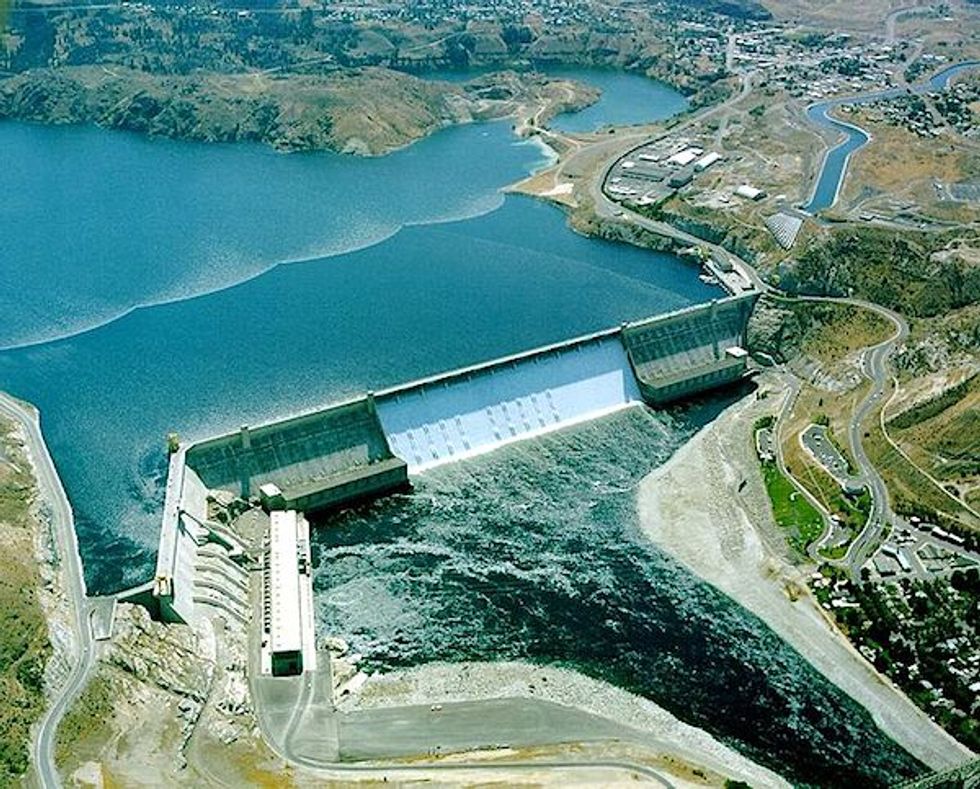 2. Dams Are Changing the Face of the Earth:
Dams have fragmented two-thirds of the world's large rivers and flooded a land area the size of Spain. Their reservoirs contain three times as much water as all the world's rivers, and constantly lose close to four Niagara Falls to evaporation. Dams trap 40 cubic kilometers of sediments every year, and starve deltas of the silt that protects them against the intruding sea.
3. Dams Provide Important Services:
Dams generate 16 percent of the world's electricity and irrigate food crops for 12-15 percent of the world's population. To a lesser extent, dams have also been built for water supply, flood protection, navigation and tourism purposes. Most dams have been built for irrigation, but 80 percent of the water they store is used for hydropower.
4. Dams Kill Fish:
Dams block the migration of fish, deplete rivers of oxygen and interfere with the biological triggers that guide fish. They also reduce the ability of rivers to clean themselves. Due to dam building and other factors, the population of freshwater species declined by 37 percent between 1970-2008—more than the populations of any other ecosystems. Tropical freshwater populations declined by a stunning 70 percent.
5. Dams Are Changing the Climate:
Dams are not climate-neutral. Particularly in the tropics, organic matter rotting in their reservoirs emits methane, an aggressive greenhouse gas. Scientists have estimated that reservoirs account for four percent of all human-made climate change, equivalent to the climate impact of aviation. The floods and droughts caused by climate change in turn make dams less safe and less economic.
6. Dams Displace People:
Dams have displaced an estimated 80 million people, with 23 million alone in China. Displacement robs people who are already poor and marginalized of their resources, skills and cultural identity, and impoverishes them further. Dams have also negatively impacted about 500 million people living downstream. The benefits of dams often bypass the people who sacrifice their livelihoods for them.
7. Dams Can Put Human Rights at Risk:
Most dams that displace large populations are being built by authoritarian governments. In Burma, China, Colombia, Ethiopia, Guatemala, Sudan and other countries, dam builders have often responded to opposition with serious human rights violations. In the worst dam-related massacre, more than 440 indigenous people were killed to make way for Guatemala's Chixoy Dam in 1982.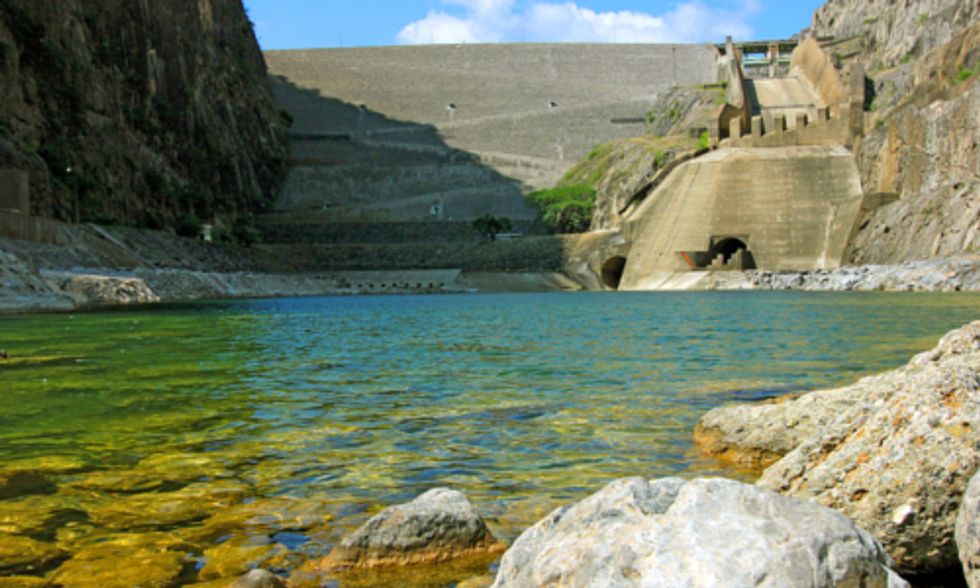 8. Dams Are Expensive:
Large dams belong to the most expensive investments many governments have ever made. An estimated 2,000 billion dollars has been spent on dams since 1950. Due to planning errors, technical problems and corruption, dams experience average delays of 44 percent and cost overruns of 96 percent. Such massive overruns make them uneconomic.
9. Dams Don't Last Forever:
Sooner or later reservoirs silt up, and the cost of maintaining dams becomes bigger than their benefits. In the U.S., more than 1,000 dams have been removed at great cost. When dams are not properly built or maintained, they can break. In the world's biggest dam disaster, the failure of China's Banqiao Dam killed an estimated 171,000 people in 1975.
10. Better Solutions Are Usually Available:
In 2012, governments and businesses installed 75 gigawatt of wind and solar power, compared with 30 gigawatt of hydropower. Such alternatives fare even better when social and environmental impacts and transmission costs are included. The International Energy Agency has proposed that 60 percent of the funds needed to achieve energy access for all should go to local renewable energy projects.
--------
YOU MIGHT ALSO LIKE
DamNation Explores History of Dams and Brilliance of Rivers Reborn, Premieres at SXSW
Women Without Borders, Patagonia Without Dams
Groups Appeal to UN to Stop Forced Evictions of Indigenous People for Mega-Dam Construction
--------
EcoWatch Daily Newsletter
DamNation explores the sea change in our national attitude toward big dams from an engineering wonder to the realization that our future is dependent on the life and health of our rivers.
After watching a 30-pound salmon hurtling 20 feet into the air in a vain attempt to reach the spawning grounds that lie barricaded upriver confirmed what the creators of this film always thought to be true—too many dams for far too long have been destroying entire watersheds.
In making the documentary, filmmakers traveled from Maine to California to interview dam owners, residents and politicians about the contentious issues surrounding large-scale, hydropower dams. After nearly three years in the making, DamNation premiered at the South By Southwest on Monday in Austin, TX.
"When obsolete dams come down, rivers bound back to life, giving salmon and other wild fish the right of return to primeval spawning grounds, after decades without access," reads the film's press kit. "DamNation's majestic cinematography and unexpected discoveries move us through rivers and landscapes altered by dams, but also through a metamorphosis in values, from conquest of the natural world to knowing ourselves as part of nature."
The film is presented by Stoecker's biology and photography firm, Stoecker Ecological and Patagonia, the California clothier founded by Yvon Chouinard in 1973.
http://vimeo.com/ondemand/damnation/89928979
One look at the trailer above shows how the movie explores the nation's decades-old fascination with dams to more recent movements to restore bodies of water. The process is often political, as Chouinard, executive producer of DamNation and long-time "dam buster" who supports groups working to tear down dams, describes.
"Here's how the decades long process often goes: One or two individuals decide an obsolete dam should be taken down. They persuade others, who help fund the effort and start the ball rolling against opposition from the dam owner, house boaters, water skiers, the Army Corps of Engineers, local politicians and sometimes Congress.
"But after many years the idea gains momentum and scientists get hired to do studies that take several more years. Finally, there's a groundswell that can't be ignored and reason wins out. At the final dam-busting ceremony, you get to hear all the local politicians take credit for 'this great idea.' And after the river is restored and the fish have returned you never hear a single person say, 'Gee, I wish we had our dam back.'"
While it's pretty clear where the filmmakers—Matt Stoecker, Travis Rummel, Ben Knight and Beda Calhoun—stand on the issue, they say DamNation is a balanced look at dams and their impacts across the country.
"Some call it a movement, others call it a generational shift in values," the kit reads. "DamNation documents both—and the undeniable momentum behind river restoration that has begun to take hold in our country."
Visit EcoWatch's ENERGY and WATER pages for more related news on this topic.

By Peter Bosshard
As the World Bank makes an effort to raise billions of dollars from donor governments for its International Development Association (IDA) fund, civil society groups are calling on governments to shift support for energy projects from the Bank to institutions that prioritize clean, local energy sources for the poor.
The World Bank is asking donor governments to replenish the IDA—its fund for the poorest countries—at a meeting in Moscow, Russia, on Dec. 16-17. The Bank plans to finance a new generation of controversial mega-dams, including the Inga 3 Dam on the Congo River, from the IDA fund.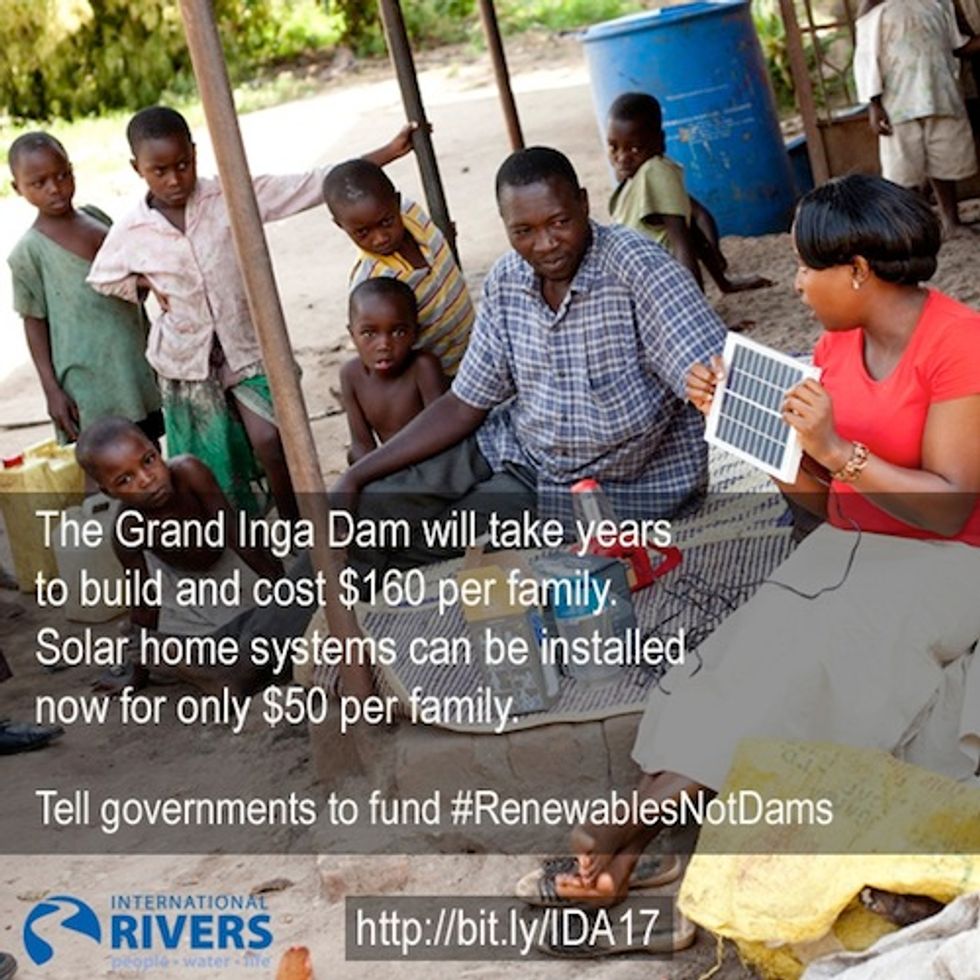 From 2008-2013, the World Bank spent less than 10 percent of its loans for energy projects on the expansion of access to electricity for rural communities. The proposed increase in support for mega-dams would worsen this imbalance. The Inga 3 Dam for example will serve export markets and the mining industry, not the 99 percent of Congo's rural population who have no access to electricity.
The International Energy Agency found that 70 percent of rural areas in developing countries are best electrified by mini- and off-grid solutions based on solar, wind and micro-hydropower. Ahead of the fundraising party in Moscow, civil society groups are calling on donor governments to shift $1.6 billion—the amount IDA has traditionally spent for destructive energy projects—from the World Bank's IDA fund to institutions that support clean local energy solutions.
"Poor rural communities will pay the price for a new generation of destructive mega-dams, but will be the last to benefit from the electricity they generate," commented Peter Bosshard, policy director of International Rivers. "We forced the World Bank to pull out of destructive dams through pressure on its donor governments in the 1990s, and if necessary, we will do it again."
International Rivers, 350.org and other civil society groups are supporting the call with petitions and advocacy work. There will also be a protest at the World Bank meeting in Moscow on Dec. 16.
"Shifting resources from the World Bank to institutions that support solar, wind and micro-hydropower will send a message that the Bank's big-is-beautiful philosophy is no longer acceptable," said Sena Alouka, the executive director of Jeunes Volontaires pour l'Environnement in Togo. "It will also provide additional funding for projects that reduce energy poverty while protecting the climate and local ecosystems."
"It is highly symbolic that the World Bank fundraiser takes place in Russia, which follows the Bank's model of building large export-oriented energy projects," said Eugene Simonov of Rivers without Boundaries. 
"The Russian government just completed the disastrous Bogushansky Dam on the Angara River and plans to build up to 10 dams in the transboundary Amur Basin for exporting electricity to China," Simonov continued. "Investing in decentralized green energy sources would benefit the people of the Amur Basin much more."
The NGO call is supported by advocacy efforts in Germany, the Netherlands, Norway, Switzerland and the U.S. You can sign the global civil society call here.
Visit EcoWatch's ENERGY and WATER pages for more related news on this topic.