This website uses cookies to ensure you get the best experience while browsing it. By clicking 'Got It' you're accepting these terms.


The best of EcoWatch, right in your inbox. Sign up for our email newsletter!
Here's the Norwegian army's plan to fight climate change: have everybody go meatless once a week.
Norwegian troops will be eating vegetarian meals on Mondays to cut their consumption of ecologically unfriendly foods whose production contributes heavily to global warming. Spokesman Eystein Kvarving says the plan is meant to be "a step to protect our climate" by serving food "that's respectful of the environment."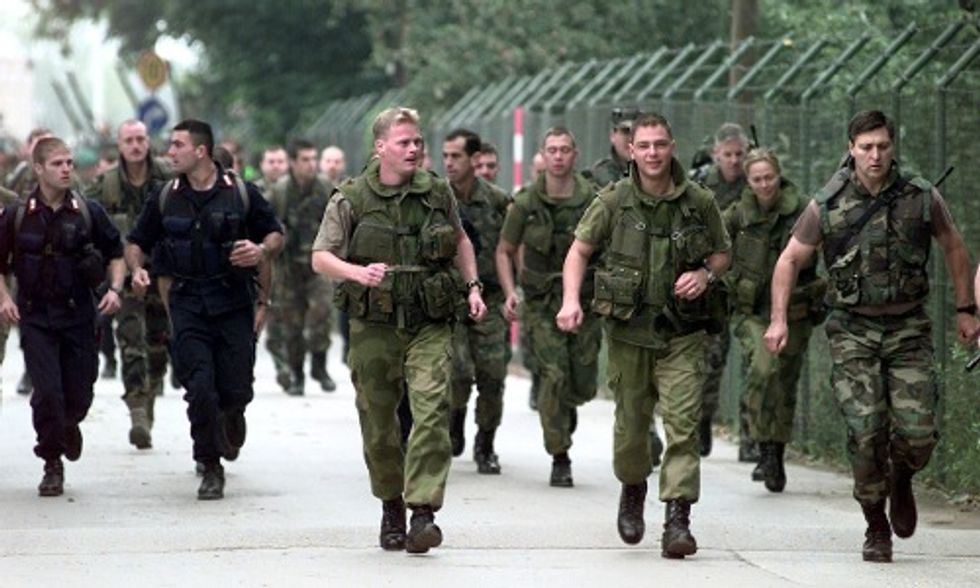 Norway's 10,000 troops eat about 35,000 meals a day, so the army foregoing meat could put a bit of a dent in the country's overall meat consumption. The army alone consumes about 150 tons of meat a year.
Meat is a staple of most Norwegians' diet with the average Norwegian eating more than 1,200 animals over the course of their life including 1,147 chickens, 22 sheep, six cattle and 2.6 deer. A 2005 report found that only 1 percent to 2 percent of Norwegians are vegetarian.
The new culinary regimen already has been implemented on Norway's main bases and will soon be introduced to all units, including those who are overseas; it's hoped that doing so will reduce meat consumption by 330,000 pounds a year. The first Meatless Monday was last week at the Rena military base 90 miles north of Oslo.
The response was positive, said Pal Stenberg, a nutritionist and navy commander in charge of the catering division. As he comments, the soldiers "seemed to eat a lot of it until journalists asked, 'You know it's not meat in there?' And then they said, 'What?'"
Stenberg knows he's up against a formidable enemy, the belief that eating meat is necessary to develop strength and stamina.
"It seems that people don't think it's possible to be an iron man as a vegetarian, it seems like they don't think a good soldier can be a vegetarian, but we have a lot of soldiers who are vegetarian, so I know it's possible," he said. "We have to use a lot of effort in communicating both the environmental benefits and the health benefits."
Stenberg acknowledges that the project could be a failure. For it to work, he says that soldiers must "understand why they should eat more environmentally friendly."
The Future in Our Hands, which originated in Norway and seeks to safeguard "the environment for future generations and a fair distribution of wealth globally" welcomed the army's announcement and praised the defense ministry for taking concrete actions to address environmental issues.
Norway's military has already allotted 15 percent of its catering budget to organic food, in keeping with national standards. Serving vegetarian meals once a week is in many ways the next logical step. Karving emphasizes that the decision to have the army eat vegetarian once a week is strictly in the interest of fighting climate change—not to save money—and being "more ecologically friendly and also healthier."
The United Nations Food and Agriculture Organization estimates that livestock supply chains account for nearly 15 percent of all greenhouse gas emissions. Imagine if the armed forces of a few more nations emulated Norway's experiment?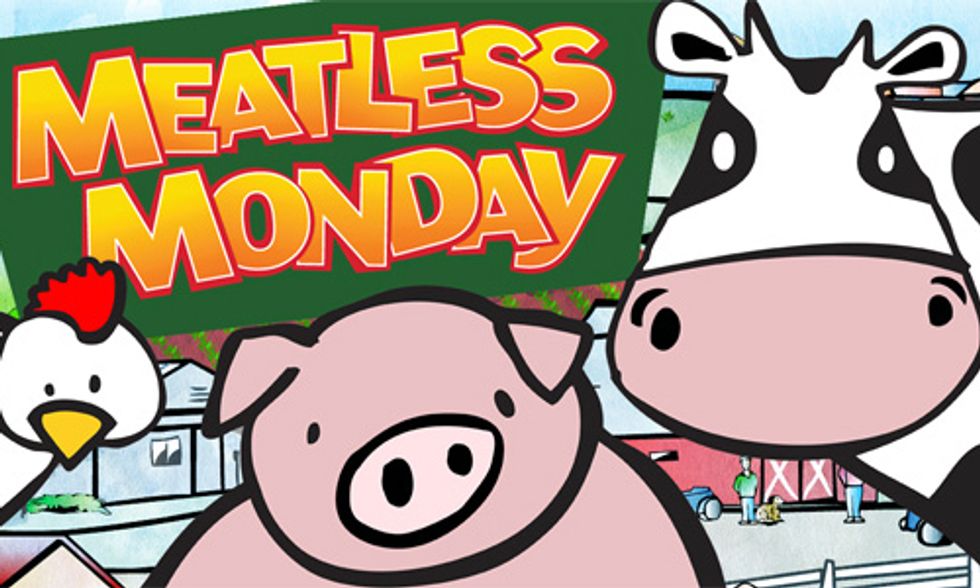 Philadelphia, home of the Philly cheesesteak, recently joined the growing number of communities urging residents to refrain from eating meat once a week.
The city council unanimously passed a resolution saying the city "recognizes the benefits of a diet high in fruits and vegetables and urges residents to participate in Meatless Mondays to improve their health and decrease their carbon footprint."
A number of other U.S. communities, including San Francisco, Baltimore, Los Angeles and Oakland, have launched their own Meatless Monday campaigns. That's in addition to countless school districts, hospitals, corporations and individuals across the U.S. and in 30 countries around the world, according to the Meatless Monday campaign.
Going meatless once a week may reduce your risk of chronic preventable conditions like cancer, cardiovascular disease, diabetes and obesity. Red and processed meat consumption is associated with increases in total mortality, cancer mortality and cardiovascular disease mortality. Consuming beans or peas results in higher intakes of fiber, protein, folate, zinc, iron and magnesium and lowers intakes of saturated fat and total fat.
Going meatless can help reduce your carbon footprint, too. The United Nations' Food and Agriculture Organization estimates the meat industry generates nearly one-fifth of the man-made greenhouse gas emissions that are accelerating climate change worldwide—far more than transportation. Annual worldwide demand for meat continues to grow. Reining in meat consumption once a week can help slow this trend. 
Meatless Mondays can save precious resources like fresh water and fossil fuel. The water needs of livestock are tremendous, far above those of vegetables or grains. An estimated 1,800 to 2,500 gallons of water go into a single pound of beef. Tofu produced in California requires 220 gallons of water per pound.
On average, about 40 calories of fossil fuel energy go into every calorie of feed lot beef in the U.S. Compare this to the 2.2 calories of fossil fuel energy needed to produce one calorie of plant-based protein. Moderating meat consumption is a great way to cut fossil fuel demand.
The Meatless Mondays campaign emerged from Johns Hopkins University's School of Public Health in 2003, but its roots go back much further. Meatless Mondays says that merely eliminating meat is not enough—healthy, environmentally friendly meat-free alternatives such as beans, should be added as well.
For other days, Meatless Mondays "strongly" recommends hormone-free, grass-fed, locally-raised meat whenever possible.
Here's a video that explains the Meatless Monday campaign:
Visit EcoWatch's FOOD page for more related news on this topic.

EcoWatch Daily Newsletter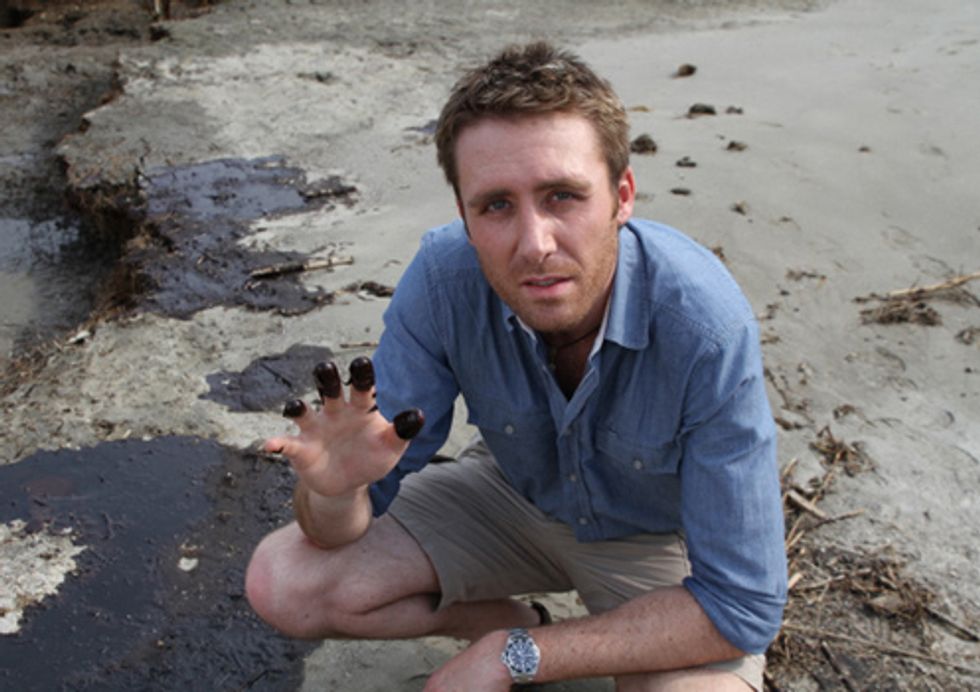 EarthEcho International, a leading environmental education nonprofit organization, is working with the NEA Foundation and Discovery Education to bring educators and students new resources to EarthEcho's Water Planet Challenge site. Continuing to engage youth through Web-based interactive tools, the new features include Student Achievement Grants with the NEA Foundation and a webinar with Discovery Education that will empower youth to design, create and implement service-learning projects in their communities.
On Jan. 25 at 2:00 p.m. EST, EarthEcho will partner with Discovery Education, the leading provider of high quality, curriculum-based digital content and professional development resources, to host a food-focused webinar featuring Philippe Cousteau, Jr. The webinar will explore the environmental and community impact of daily food choices and include commentary from guest experts Brent Kim—content developer on Teaching the Food System—and Ralph Loglisci of Johns Hopkins Center for a Livable Future. Based on the What's On Your Fork? Action Guide, the webinar will give participants a new perspective on issues associated with modern industrial food production and its environmental impacts. To sign up for the What's On Your Fork? webinar and download the Action Guide, click here. For teachers and students interested in learning more about a MEATLESS MONDAY campaign, the Action Guide provides information on offering plant-based food choices one day a week at school, at home, and throughout the community.
What's On Your Fork? is authored for EarthEcho by Cathryn Berger Kaye with contributions from the Johns Hopkins Center for a Livable Future. The Guide was inspired in part by the Participant Media-River Road Entertainment film, Food, Inc., released by Magnolia Pictures, and the discussion materials Participant Media and Center for Ecoliteracy created for the film. Active participants will have a chance to win Food, Inc. videos during the webinar.
The NEA Foundation-EarthEcho Water Planet Challenge Grants in amounts of $2,000 are available as Student Achievement Grants to middle and high school public educators. A collaborative effort between EarthEcho and the NEA Foundation, the Water Planet Challenge grants support service-learning programs that improve the health of our water resources. To apply, applicants must cite specifically how they are utilizing EarthEcho's Water Planet Challenge Action Guides in the classroom with their students. The application deadline is Feb. 1. For more information, click here.
From conserving energy and improving the quality of our drinking water to understanding the impact of the Gulf of Mexico oil disaster, the Water Planet Challenge's extensive collection of Action Guides, videos, lesson plans and service-learning materials helps educators and their students affect change one classroom, one community at a time. The Water Planet Challenge resources are available to middle and high schools through a partnership with Discovery Education. Water Planet Challenge Action Guides and resources are provided at no cost to students, educators and community leaders.
Primary funding for the Water Planet Challenge is provided by the Toyota U.S.A. Foundation, a $100 million charitable endowment created to support education programs serving kindergarten through 12th grade students and their teachers in the U.S., with an emphasis on mathematics, science and environmental science. For additional information about the Toyota U.S.A. Foundation, click here.
For more information, click here.
—————
Discovery Communications (NASDAQ: DISCA, DISCB, DISCK) revolutionized television with Discovery Channel and is now transforming classrooms through Discovery Education. Powered by the number one nonfiction media company in the world, Discovery Education combines scientifically proven, standards-based digital media and a dynamic user community in order to empower teachers to improve student achievement. Already, more than half of all U.S. schools access Discovery Education digital services. Explore the future of education by clicking here.
The NEA Foundation is a public charity supported by contributions from educators' dues, corporate sponsors and others who support public education initiatives. We partner with education unions, districts and communities to create powerful, sustainable improvements in teaching and learning. We have invested $8 million in grants for more than 2,500 educators to help students succeed. For more information, click here.
EarthEcho International is a leading environmental nonprofit committed to youth engagement, action, and leadership through education. EarthEcho helps young people everywhere understand the critical role we play in the future of the planet through the one thing that connects us all – water. EarthEcho International is a nonprofit 501(c)(3) organization founded by siblings Philippe and Alexandra Cousteau in honor of their father Philippe Cousteau Sr., son of the legendary explorer Jacques Yves Cousteau. For more information about EarthEcho International, click here.