This website uses cookies to ensure you get the best experience while browsing it. By clicking 'Got It' you're accepting these terms.
Chickens raised for meat in McDonald's supply chain suffer every day. ANDREW SKOWRON / OPEN CAGES / The Humane League
By Taylor Ford
Golden arches tainted with blood. A ribbon-cutting ceremony for the "Headquarters of Cruelty." Dozens of protesters. Horrified passersby.
garett_mosher / iStock / Getty Images
In a significant win in the fight to save antibiotics, McDonald's—the largest and most iconic burger chain on the planet—announced Tuesday that it will address the use of antibiotics in its international supply chain for beef by 2021.
EcoWatch Daily Newsletter
McDonald's shareholders rejected a proposal to take the first step in banning plastic straws at its 36,000 outlets worldwide.
The proposal, published in an SEC filing in April, would have required the fast food giant to prepare a report on the business risks of using plastic straws, and the company's efforts to develop and implement more sustainable alternatives in its restaurants.
Pexels
By Elizabeth Sturcken
Feeling down about our planet in 2018? Don't!
There are many reasons to be hopeful around environmental action in the new year—and if the following developments don't make you feel better, I've prescribed some action steps at the end that are guaranteed to set you on a healthier, happier path.
Brian Wanamaker / Flickr
More and more businesses are stepping up to reduce consumer waste. Iceland Foods, a major UK supermarket chain specializing in frozen food, announced on Tuesday that it will eliminate plastic packaging from its own brand of products by the end of 2023.
In a separate announcement on Tuesday, McDonald's said it will add recycling to its more than 36,000 locations around the world by 2025 and pledges that all packaging on customer products will come from "renewable, recycled or certified sources" by that same year.
By Kari Hamerschlag
When McDonald's announced earlier this week that it has eliminated antibiotics important in human medicine from its entire chicken supply—at least six months ahead of schedule—the news filled me with optimism that we can make even bigger changes in how meat is produced in this country. The move, which comes after two years of dialogue with Friends of the Earth and a coalition of groups working to end the misuse of antibiotics in meat production, shows that with the right mix of encouragement and pressure, change can sometimes come quickly.
Friends of the Earth
Given the high stakes, we need change as fast as we can get it. The Centers for Disease Control and Prevention has identified the routine use of antibiotics in livestock production as a major contributor to the rise of antibiotic-resistant bacteria that kills at least 23,000 people a year. Roughly 70-80 percent of all antibiotics sold in the U.S. are used in livestock production.

I first engaged McDonald's on this issue at the Menus of Change conference in Boston in 2014. After Dan Coudreaut—McDonald's vice president of culinary innovation—proclaimed in front of 400 people that McDonald's agreed with the Menus of Change Principles of Healthy, Sustainable Menus, I was the first to the microphone to ask: "Does that mean that McDonald's will stop selling meat that is produced with routine antibiotics? Or that you will start serving a veggie burger?" I was surprised and heartened when he responded: "The issue of antibiotics is very important and we are looking into it seriously."
After the panel, I spoke with a McDonald's senior public relations officer and asked if McDonalds would consider meeting with a group of public interest organizations to further discuss the issue. Seven months and several meetings later, in March 2016, McDonald's unveiled its policy to eliminate antibiotics important in human medicine from its U.S. chicken supply. It also announced its Global Stewardship Vision, a commitment to work with pork and beef suppliers to reduce unnecessary antibiotics.
Largely because of its good policy on chicken, McDonald's received a "C" in the inaugural Chain Reaction Scorecard, a report that evaluates the nation's top 25 restaurant chains' meat and poultry antibiotics policies. The company's announcement will likely improve McDonald's grade in the second scorecard, which will be released in September 2016.
I am hopeful that McDonald's announcement will have important ripple effects, showing other lagging companies like Darden—the owner of Olive Garden—and KFC that offering chicken raised without routine antibiotics is good for business and achievable in short order. These positive changes can also light a fire under recalcitrant poultry producers, like Sanderson Farms, that continue to discount the scientifically proven links between over use of antibiotics in livestock production and the rise of anti-resistant bacteria in humans.
For the millions of eaters who are demanding better meat, McDonald's announcement shows that companies are listening even though Washington is not. The government's primary response—the Food and Drug Administration's Voluntary Guidance 213 that curbs drug use for growth promotion, will do little to stop the routine overuse of antibiotics in animal agriculture, since many drugs have dual uses of sickness prevention and growth promotion.
While we push lawmakers to act, diners must redouble their pressure in the marketplace through social media and comment pages—and by voting with their forks, especially at restaurants like Olive Garden, which portray themselves as "responsible" but continue with irresponsible practices such as routine use of antibiotics in their meat supply.
In the meantime, while McDonald's deserves praise for making good on its promise, it must understand that to effectively reverse the alarming rise in antibiotic resistant bacteria, the company must also address the misuse of these lifesaving drugs in the nation's beef and pork supply. McDonald's first step must be to amend its aspirational, yet toothless policy for its global meat supply. Its inadequate policy on beef is especially troubling given the company's promotion of its "sustainable beef" initiative, which fails to live up to the meaning of "sustainable" by lacking any meaningful benchmarks on reducing antibiotics or other drugs and harmful chemicals.
McDonald's shareholders agree on the need for swift action on beef and pork. In May 2016, 26 percent of its shareholders voted for a resolution, asking the company to eliminate the routine use of antibiotics in its beef and pork supply. In March, a coalition of investors managing $1.4 trillion in financial assets called on ten of the largest restaurant companies—including McDonald's and Darden—to end the routine use of antibiotics important to human health in their global meat and poultry supply chains.
McDonald's can't do this alone. It's time for other companies to join this effort and put pressure on the recalcitrant pork and beef industries that are resisting change. If you agree, please voice your concerns to McDonald's, Olive Garden, Wendy's, KFC and other chain restaurants. They are more likely to act knowing that positive action will be rewarded by customers who understand the urgency of this leading public health threat.
We must also insist on bigger changes. McDonald's progress on antibiotics gives me hope that we can move the food industry toward healthier, more sustainable and humane meat production overall. To reduce the need for antibiotics, we must ask restaurants to work with its producers to end the stressful, crowded and unsanitary conditions in which most food animals are raised. We should also ask for more veggie and organic, humane, pasture–raised options that are better for people, the environment and the animals. If you agree, you can take action here.
Kari Hamerschlag is deputy director of the Food and Technology Program at Friends of the Earth.
Food & Water Watch (FWW) delivered a letter signed by more than 100,000 Americans telling fast-food giant McDonald's not to buy a new genetically engineered organism (GMO)—a potato from one of its main suppliers that is up for approval by the U.S. Department of Agriculture (USDA).
The Innate brand GMO potato that awaits regulatory approval was developed by J.R. Simplot, which is McDonald's leading potato supplier for its fries. The five GMO varieties of Simplot's potatoes up for approval are engineered to reduce black spot bruising and are less likely to produce the chemical acrylamide when fried (some studies have linked acrylamide to cancer).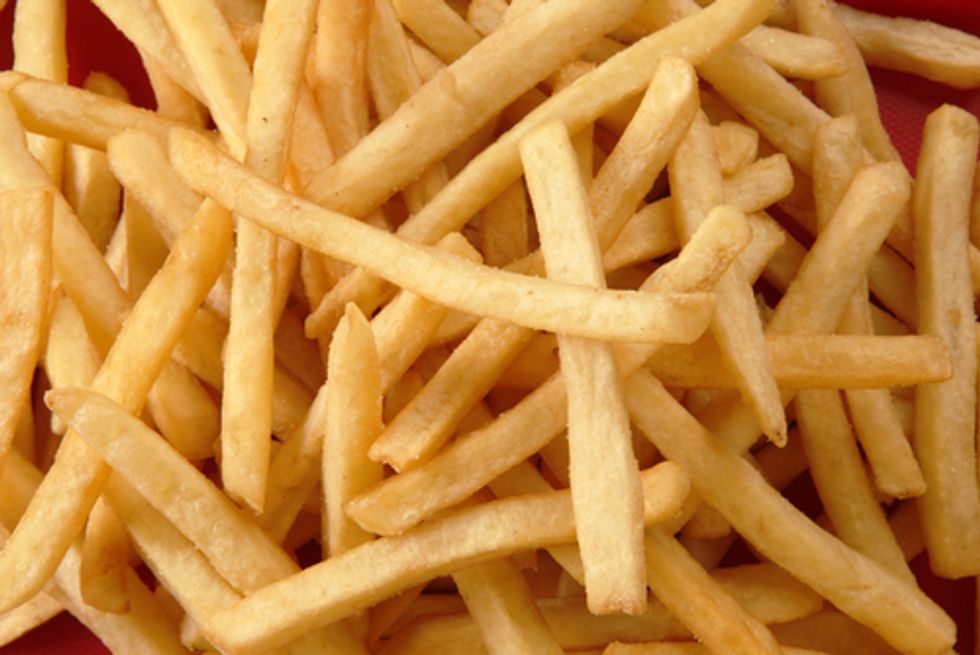 Shutterstock
These potatoes will be used as frozen fries, potato chips and shoestrings, which make up about half of the potato market in the U.S., according to the company.
McDonald's, which controls 15 percent of the fast-food market, is the largest purchaser of potatoes in the U.S. McDonald's buys more than 3.4 billion pounds of U.S. potatoes annually, according to a 2009 Associated Press article.
"If this new genetically engineered potato is approved, McDonald's has the power to make it ubiquitous and consumers will never know that the fries in their kids' Happy Meal contain DNA genetically altered in a lab," said Wenonah Hauter, FWW executive director and author of the book Foodopoly: The Battle Over the Future of Food and Farming in America.
FWW submitted more than 40,000 comments to the USDA in July encouraging it to not approve the potato. However, it is possible that USDA could release its Environmental Assessment and finding of no significant impact (FONSI) any day now. After that point, only one more public comment period is available before approval.
"Poll after poll shows that consumers want to know whether their food is genetically engineered," Hauter said. "These 100,000 people who have joined us in calling on McDonald's further prove that Americans are fed up with being guinea pigs in the science experiment of under-tested, unlabeled and potentially unsafe GE foods. Agreeing to buy this biotech potato will put McDonald's reputation for its world-famous fries at risk."
On Nov. 8, McDonald's announced it had no plans to use the genetically engineered Arctic apple McDonald's in response to a request by the environmental group Friends of the Earth.
"While it's a step on the right direction for McDonald's to say they currently don't have plans to use the genetically engineered apple, apples are small potatoes compared to the amount of potatoes McDonald's uses on a daily basis," Hauter said.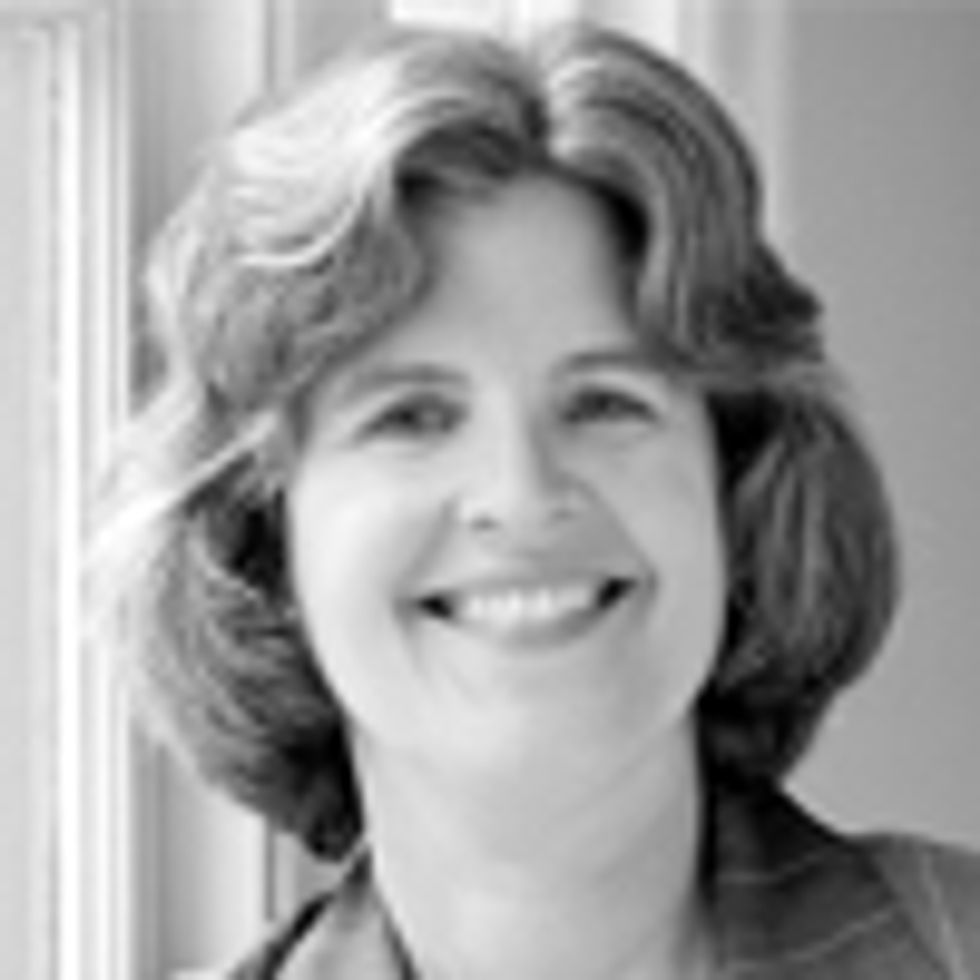 Last month, I participated in an important panel at a childhood obesity conference to discuss the current strategy backed by some advocacy groups: asking industry to market "healthier" foods to children. But as Susan Linn and I recently argued, any marketing to children is harmful, regardless of the product's nutritional content.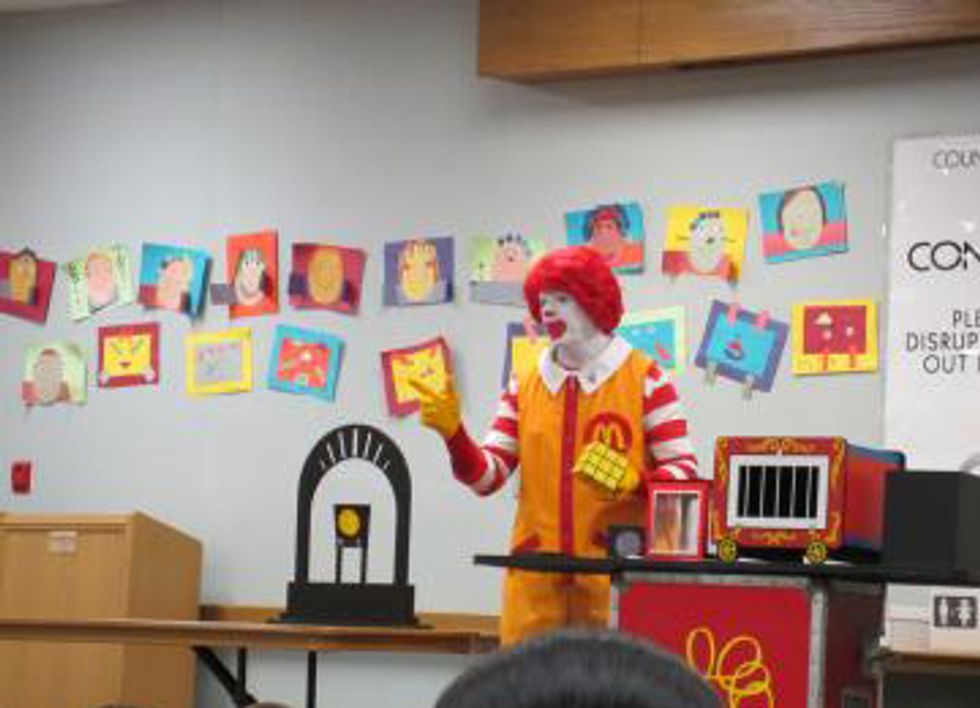 Instead of begging corporations to tweak the grams of sugar, fat and salt that these highly processed junk foods contain, we should demand that industry stop exploiting children altogether. Some advocates argue this approach is too radical. But it's actually far more practical and ultimately more effective because of certain key tactics that industry uses to target children.
You Can't Put Nutrition Standards on a Clown
A nutrition standards approach to marketing to children fails to address the powerful and ubiquitous marketing strategy of branding. When Ronald McDonald goes into elementary schools or anywhere else he may roam, he (in the words of McDonald's own CEO) "does not hawk food." Problem solved, right? Except that the very purpose of using Ronald as a brand ambassador is to get children to associate fun and happy times with McDonald's. This technique is so effective that young children prefer the taste of food wrapped with the McDonald's logo. This is true even for food McDonald's doesn't sell. Here is how researchers described it: "Our findings add to past research by demonstrating that specific branding can alter young children's taste preferences." That's powerful stuff.
Another study of 3 to 5-year-old children found that McDonald's was the most recognized brand, followed by other fast food and soda brands. (The children were shown 50 different brands across 16 product categories.) These researchers seemed surprised that even very young children could recognize brands, "at a much earlier age than previously theorized."
Branding is a key strategy for every corporation trying to build lifelong brand loyalty among impressionable children. They know the key to getting more consumers hooked on their products is to target children as young as possible. There is simply no way to apply nutrition standards to branding.
Stealth Ads on the Internet Don't Have Nutrient Content
Another critical way that food corporations such as McDonald's target children is through "advergaming" websites. For example, you hardly see any food images on HappyMeal.com, just a lot of fun and games. So improving nutrition standards won't work there either. Moreover, the name of the game for such sites is to gather information about users, which in this case are unsuspecting children. That's why the Center for Digital Democracy filed a complaint last year with the Federal Trade Commission charging that McDonald's and several other food and media corporations violated the Children's Online Privacy Protection Act by asking children to share their friends' email addresses. But as Adweek explained, McDonald's engages in even more aggressive tactics:
McDonald's website for Happy Meals goes a step further, inviting children to make a music video by uploading their pictures and encouraging them to share the video with up to four friends, who then receive an email from McDonald's: "You've been tagged for fun by a friend! Check it out! It's a Star in Video at the McDonald's Happy Meal Website."
That Happy Meals contain apple slices and milk seems rather irrelevant when you consider how low this corporation will stoop to exploit children. According to McDonald's internet privacy policy (almost a year after this complaint was filed) the company still encourages children to share friends' names and email addresses but assures us that such information is deleted after McDonald's contacts the friend. That's a relief.
Most importantly, research suggests that this sort of stealth advertising can be more effective than traditional television commercials because children are less aware of online ads, probably because they are too busy having fun. According to a report from the Kaiser Family Foundation:
From a marketer's perspective, one of the potential advantages of an "advergame" is the ability to draw attention to your brand in a playful way, and for an extended period of time (at least relative to a 30-second television ad) … On the Internet, the boundaries between advertising and other content may be harder for a child to distinguish. This medium does not have the natural breaks between commercial and non-commercial content which typify television.
That could help explain why the most recent federal government report on food marketing to children suggested that corporations were shifting their advertising spending from television to "new media" such as online, mobile and viral marketing, which are also relatively inexpensive. 
An Incremental Approach to End Food Marketing to Children
Some advocates contend that tweaking the nutritional content of foods marketed to children is a good approach because it's incremental, while stopping marketing altogether is asking for too much. But why must this be the only way to engage in incrementalism? I can think of many incremental alternative solutions to the nutrition approach to food marketing to children. The possibilities are truly endless, starting with the above examples of branding and internet targeting.
Let's take branding. Even if McDonald's won't agree to Corporate Accountability International's demand to Retire Ronald, there are plenty of smaller steps the fast food giant could take right now. For example, Ronald could stop visiting grade schools. I would consider that a pretty huge victory; far better than the addition of apple slices and milk to Happy Meals. Or Ronald's image could stop appearing on children's toys. Speaking of toys, McDonald's could stop including them in Happy Meals. As could other fast food chains like Burger King, which is now promoting its "BK Crown Activity Box" with various toy tie-ins. Imagine, parents buying food for the food, not the toys.
These and many other incremental steps the food industry could take to stop targeting children have the advantage of not being dependent on nutrition standards that industry gets to define and manipulate. It's also far easier to monitor and enforce a policy such as "no advergaming" than one based on grams of salt, sugar and fat. But most importantly, marketing to children is inherently deceptive and harmful and we should demand corporations stop engaging in this unethical behavior. Because that's the right thing to do.
Visit EcoWatch's FOOD page for more related news on this topic.
——–
SHARE YOUR THOUGHTS BELOW: Is marketing unhealthy fast food to children immoral?

——–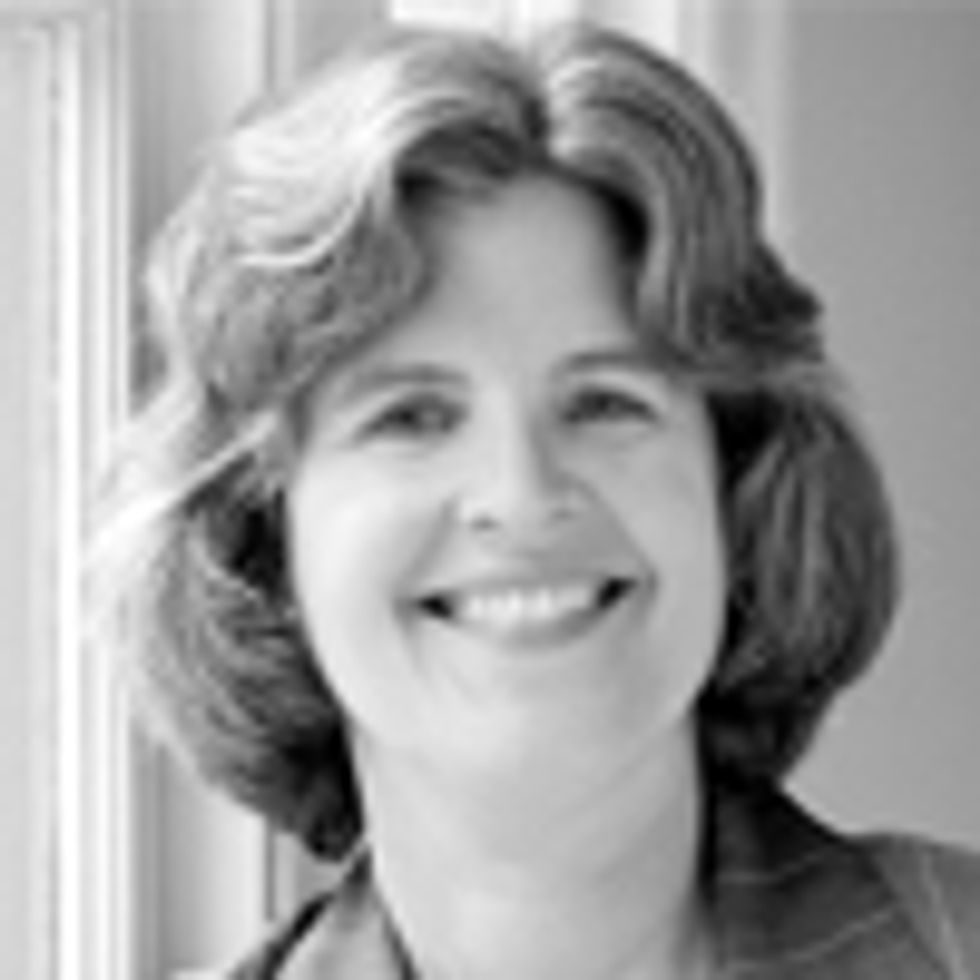 In response to the public outcry over the negative impacts of junk food marketing to children, food companies have started using popular media characters to market "healthy" foods to children. These products include fruits and vegetables, as well as processed food. So we now have Campbell's Disney Princess "Healthy Kids" soup, Kellogg's Scooby-Doo! cereal (with less sugar) and others.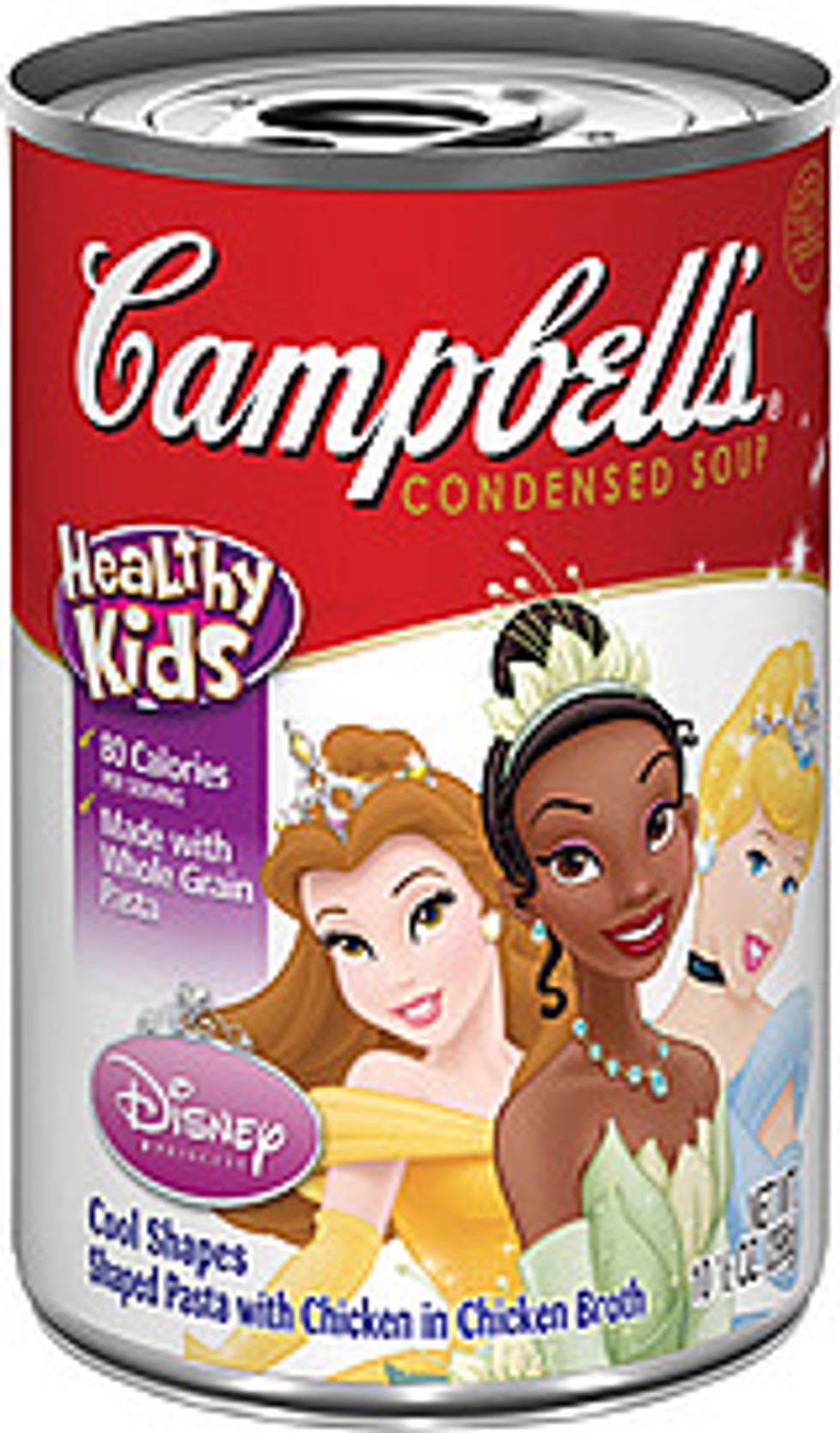 But is this really progress?
The developmental vulnerabilities of children, along with the legal, ethical and political pitfalls of encouraging the food industry to target kids, make marketing food to children harmful regardless of nutritional content.
Children are Especially Vulnerable to Advertising
Researchers and advocates for children's health agree that advertising junk food to children is effective. One 30-second commercial can influence the food preferences of children as young as age two. For young children, branding even trumps taste. Preschool children report that junk food in McDonald's packaging taste better than food in plain wrapping—even if it's the same food. Similar studies show the same results for food packaging featuring media characters.
Research demonstrates that marketing any product to children under age 12 is inherently deceptive. Unlike adults, young children do not have the cognitive capacity to fully understand the purpose of advertising. Very young children cannot even distinguish between a TV program and a commercial. Until the age of about eight, they don't really understand the concept of selling and they tend to believe what they see.
Moreover, only 40 percent of 11 and 12 year olds have a full understanding of persuasive intent—that every aspect of advertising is designed to convince them to do things they might not do otherwise. This makes children especially vulnerable to deception by hyperbole, puffery and other common advertising techniques.
Marketing Healthy Food Undermines Healthy Child Development
Some advocates argue that deceiving children to eat healthy food is good strategy. But such tactics are actually harmful. A primary goal for advocates should be for children to develop a healthy relationship to food. Foisting character-branded products on children undermines that effort. Marketing to children does more than sell products—it inculcates habits and behaviors. Marketing branded produce such as Kung-Fu Panda Edamame to children instills the unhealthy habit of choosing food based on marketing cues such as celebrity, rather than on a child's own innate hunger, taste or good nutrition.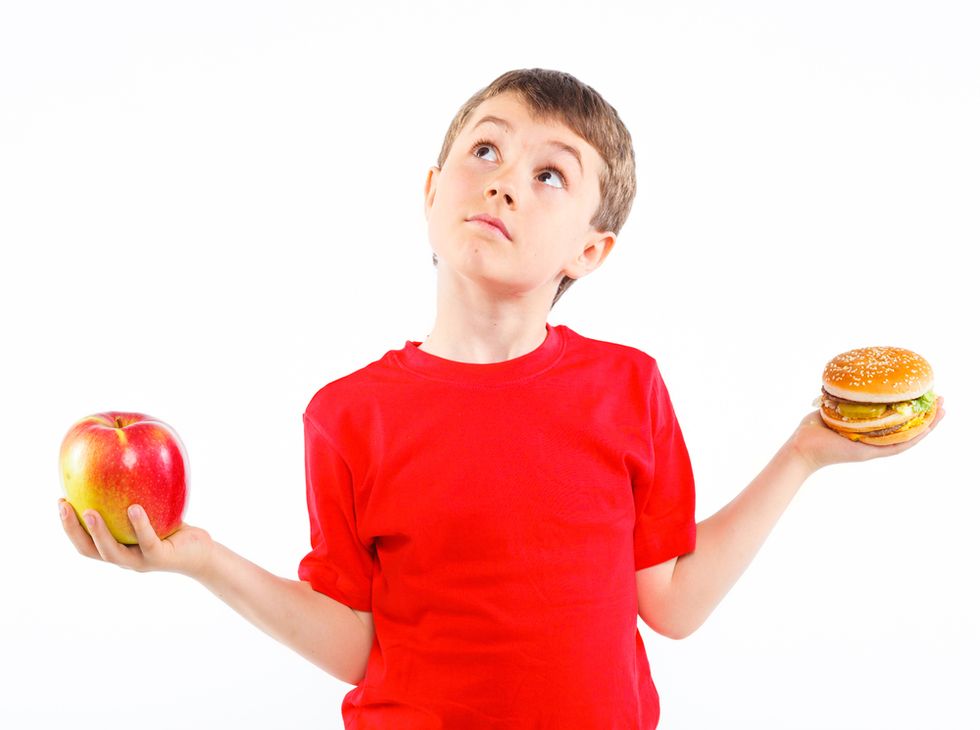 Photo courtesy of Shutterstock
Children's health depends on more than diet—their social, emotional and cognitive nourishment are also important. Popular media icons used to sell kids veggies also market myriad other products, including junk food, junk toys and screen media. Research shows that, among other harms, such commercialism inhibits children's creative play—the foundation of learning, creativity, constructive problem solving and the capacity to initiate and complete tasks and projects—which is essential to a truly healthy childhood. And excessive screen time is linked to problems ranging from unhealthy eating, sleep disturbance and poor school performance.
All Marketing to Children is Inherently Misleading
While the food industry claims it has a First Amendment right to advertise to children, the law says otherwise. Free speech is not a blank check; it has limits. Current federal law actually prohibits unfair or deceptive advertising. Similarly, false or misleading advertising is not allowed under most state consumer protection statutes.
Marketing to children does not get First Amendment protection because it is inherently misleading. If a young child cannot even understand the purpose of an ad, then marketing anything to that child is both unfair and deceptive. The nutritional content of the product being marketed is irrelevant.
With enough political will, lawmakers could pass new laws banning marketing to children without running afoul of the First Amendment. Such policies are in effect in several other countries, and have not caused the economic sky to fall.
Calling for governmental endorsement of marketing "healthy" food to children potentially undermines these legal theories, which we need to preserve as we build a larger movement of advocates to protect children in a more effective and meaningful way.
We Can't Beat the Food Industry at its Own Game
Finally, the food industry is happy to play along when advocates call for the marketing of "healthier" food to children. Corporate lobbyists have invented a voluntary self-regulation scheme to convince politicians and the public they've got it covered with nutrition standards that allegedly protect children.
But as many of these same advocates have rightly pointed out again and again, this non-system is a dismal failure. Even the federal government couldn't persuade the food industry to improve its voluntary guidelines.
By begging and pleading with the food industry to improve how it markets to children, instead of working to end food marketing to children entirely, we are continuing to endorse a failed system in which industry gets to set the rules, break them whenever it pleases, and then take credit for doing the right thing. The CEO of McDonald's recently claimed with a straight face that his company does not market to children. To bolster his case, he pointed to milk and apple slices in Happy Meals. This is just the sort of twisted logic that results from advocates asking industry to set nutrition standards for food marketing to children.
Less sugar in Scooby-Doo cereal and more apple slices in Happy Meals will not make children healthier. Instead of settling for such crumbs, advocates should take a stronger stand to protect children and demand that corporations stop engaging altogether in the unethical practice of marketing to children. Yes, this is a Herculean task and yes, it will take a massive movement to accomplish. Let's get to work. The cost to children is too high if we don't.
Visit EcoWatch's FOOD and HEALTH pages for more related news on this topic.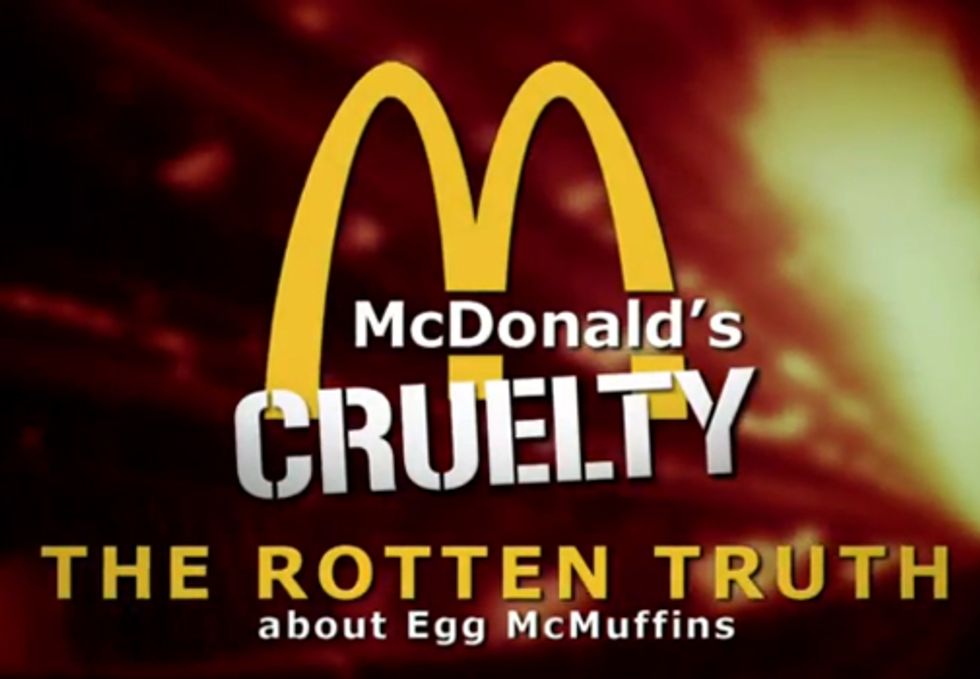 McDonald's has just discovered bigger isn't always better. McDonald's—one of the nation's largest egg purchasers—has just dropped one of the biggest egg producers in the U.S. after undercover filming showed abuse of chicks and hens at facilities in Iowa, Minnesota and Colorado.
Sparboe Farms of Litchfield, Minnesota produces 300 million eggs per year in shell, liquid, frozen and dried form. The company supplies retailers and food service outlets across 26 states. The undercover filming showed disturbing abuse of chicks and older hens at several of the company's farms.
In addition to this undercover video, Sparboe Farms recently received a warning letter from the U.S. Food and Drug Administration that said inspectors found "serious violations" at five Sparboe facilities of federal regulations meant to prevent Salmonella. The warning said eggs from those facilities had been "prepared, packed, or held under insanitary conditions whereby they may have become contaminated with filth, or whereby they may have been rendered injurious to health."
McDonald's is finding out that there is a price to be paid for dealing with industrial egg producers like Sparboe. By their very design these industrial systems fail to meet the needs of the hens, protect the consumer from health problems such as Salmonella, and provide farm workers with a safe and positive working environment.
Following the horrific recall of more than half a billion eggs in Iowa last year—where significant failings in basic management of the hens and their environment led to serious Salmonella risk—this is another scandal in an industry that seems incapable of regulating itself. As Animal Welfare Approved (AWA) pointed out at the time, recent research has shown a direct correlation between flock size and confinement and the presence of Salmonella—basically the bigger the flock and the more confined, the greater the risk of infection. It is also well documented that caged systems inherently lead to poor animal welfare. A standard industry cage forces birds to live in an area smaller than a sheet of paper. The natural stress response to such close confinement is pecking and cannibalism, a problem which the industry has "solved" by removing all or parts of the birds' beaks. This type of band-aid approach is especially disturbing given that science has already shown pasture-based systems to resolve this issue.
As McDonald's is discovering, part of the problem with the industrial farming model is that big agribusiness puts production in the hands of very small group of producers—leaving consumers and birds vulnerable to disease and abuse with limited options of alternative products. There must be a point at which McDonald's, Target and other retailers of eggs look beyond their corporate bottom line and see the future.
It may surprise you to know that McDonald's has some experience of better and more sustainable sourcing—McDonald's Europe that is, not McDonald's U.S. Over 95 percent of all eggs used by McDonald's across 21 European countries are either free-range or cage free "barn" eggs. McDonald's in the U.K. says that in 2009 they used more than 91 million free-range (pastured) eggs on their breakfast menu, and that all the eggs for their sauces and the breakfast menu were sourced from British farmers. In addition, the hens are all fed non-GM feed, and the company estimates that the egg farmers have planted nearly half a million trees on pastured laying hen ranging and foraging areas to provide shade and shelter for the hens, thereby improving the environment on the farms. McDonald's Europe is committed to reaching a 100 percent non-caged egg supply by 2012.
McDonald's Europe is working with companies that see the farmers and their birds and animals as an important and integral part of their business, not just figures on a balance sheet. This model of production is providing 100 percent pastured eggs in one country and a growing majority of non-caged egg in another 20 countries. This is the result of a committed effort on the part of McDonald's to learning how to stimulate demand, manage distribution and to set real, monitored and achieved targets for improvement. The success of this model shows that the lessons have been learned. Why then can McDonald's in the U.S. not learn from its European operation?
There are many farmers in America who are willing and able to step up and provide these pastured eggs for companies like McDonald's, if only the company were seriously interested. In a joint statement Nov. 22, John Boyd of the National Black Farmers Association and Andrew Gunther of Animal Welfare Approved invited executives of McDonald's to start the conversation and to make a commitment to move away from unhealthy and abusive caged eggs. The alternative is out there. We challenge McDonald's to start looking for it.
For more information, click here.