Yesterday at the National Press Club in Washington, DC, clean energy philanthropist Tom Steyer, President of CE Action, unveiled We Love Our Land, a first-of-its-kind digital campaign to engage President Barack Obama's online supporters, including Organizing for America members, in helping the Administration protect the public interest by rejecting the Keystone XL Pipeline.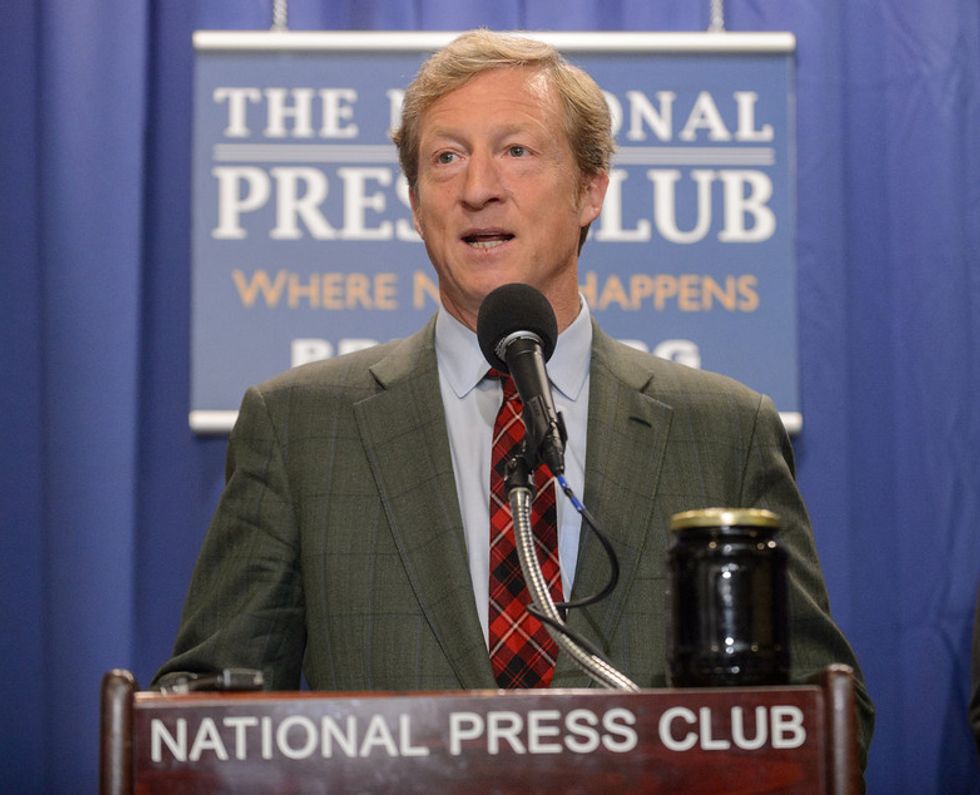 "President Obama is very smart. He understands our energy and climate crisis," said Steyer. "The arguments for Keystone were a house of cards, and that house collapsed weeks ago when local Canadian government officials withdrew their support for a Keystone alternative coming across their lands. We want voters to know the pipeline doesn't stand up against serious scrutiny. We're betting that they can help the President make the right decision and reject Keystone."
The digital campaign, which will run through next Labor Day, will use online petitions, videos and coordinated days of online action led by progressive bloggers who will be joining this effort, to rally the President's core supporters across Facebook and Twitter.
To demonstrate the dangers of the Keystone pipeline to American communities along its proposed route, Steyer commissioned the first-ever chemical analysis of tar sands oil collected from the March 2013 spill in Mayflower, AR. An independent laboratory analysis conducted by Environmental Working Group found seven highly toxic substances: benzene, toluene, ethylbenzene, 1,2,4-trimethylbenzene, xylene, chromium and lead. Rev. Ron Stief of the United Church of Christ poured out a sample of the oil to give attendees an idea of what it might be like to have the thick, sticky noxious-smelling substance spilled in their community.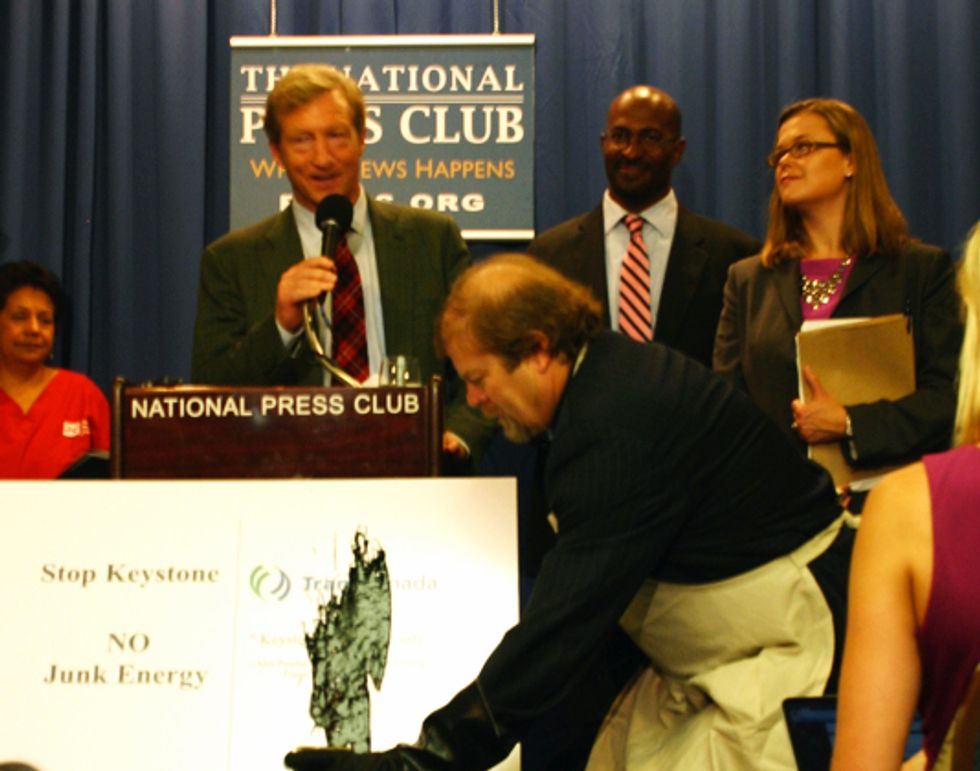 Sierra Club
.
Steyer also premiered a video featuring testimonials from the Mayflower community to highlight the health and environmental damage that spilled tar sands oil has caused to their community.
"We need to let Americans know how much damage pipelines like Keystone can have on our communities, on people's health and our kids' future," said 28-year Mayflower resident Genevieve Long, who originally planned to participate in the event, but had to change plans due to ongoing medical appointments following the March oil spill. "The oil ran right through the middle of Mayflower, past the school and the senior center. It was thick, you could see the chunks of tar sands and it smelled awful. Who's going to want to buy a contaminated property in our town now?"
Steyer was joined by a diverse group of environmental, faith and minority leaders in demonstrating the dangers of the Keystone pipeline and rallying the President's supporters to reject the project: Gene Karpinski, League of Conservation Voters; Susan Casey-Lefkowitz, NRDC Action Fund; Leslie Fields, Sierra Club; Van Jones, Rebuild the Dream; Patrick Carolan, Franciscan Action Network; Rev. Ron Stief, United Church of Christ; Rose Berger, Sojourners Magazine/Sojourners Creation Care Campaign; Former Sen. Timothy E. Wirth; Suzan Shown Harjo, Morning Star Institute; Andrew Nazdin, Power Shift; Rev. Lennox Yearwood, Hip Hop Caucus; Ellen McNulty, National Wildlife Federation; Marianne Comfort, Sisters of Mercy of the Americas; and Conn Nugent, The H. John Heinz III Center.
Visit EcoWatch's KEYSTONE XL and TAR SANDS pages for more related news on this topic.
——-
EcoWatch Daily Newsletter
Early this morning, concerned community members and activists from the Texas Action Coalition for the Environment and Tar Sands Blockade attended the Pipeline and Hazardous Materials Safety Administration's (PHMSA) Pipeline Safety Public Awareness Workshop, at the Hyatt Regency in Richardson, TX. The protesters staged a tar sands spill and carried banners and signs to say that tar sands aren't being regulated and must be stopped. Activists are expected to continue demonstration outside until dusk, when they will hold lighted billboards reading "PHMSA: No Tar Sands Pipelines" and "Water > Oil."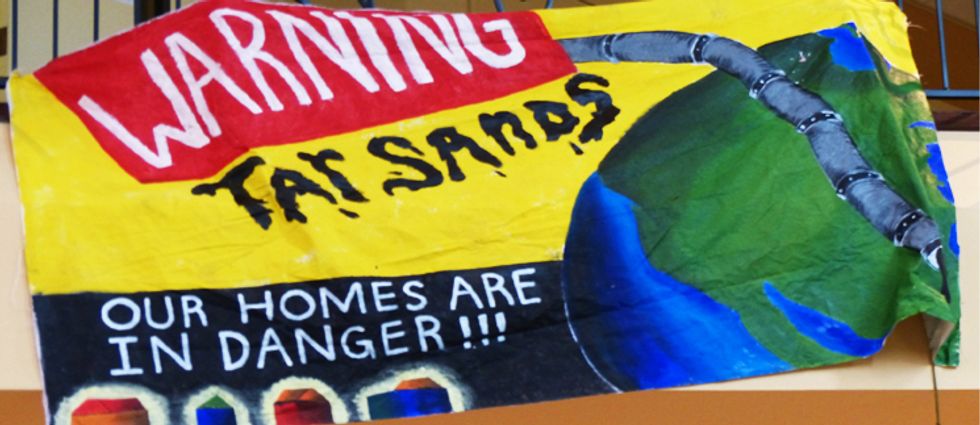 Many from across the Keystone XL pipeline route attended the workshop and aired their grievances directly to regulators, asking pertinent questions during panel "question and answer" sessions in order to draw out a complete record of the PHMSA assessment of its awareness efforts.
The sad truth is that PHMSA fails to properly regulate diluted tar sands bitumen—the deadly substance which has leaked in the hundreds of thousands of gallons from shoddily maintained pipelines regulated by PHMSA, poisoning communities like Mayflower, AR, and Kalamazoo, MI. In fact, Sen. Edward Markey recently revealed that while PHMSA issued a Corrective Action Order against ExxonMobil for the Pegasus tar sands pipeline, they allowed Exxon to use a disaster response plan that had not yet been approved without facing any consequences. Exxon did not detect and respond to the spill in Mayflower within the required time limit of the formally approved safety plan. This is just one of many examples of industry and government collusion and oversight to keep the high risk and toxicity of tar sands out of the eyes and mind of the public.
Of particular concern is the fact that tar sands (diluted bitumen or "dilbit") is a different chemical composition than crude oil, and yet it is only classified as such when it benefits the industry bottom line. On the basis that tar sands dilbit is "synthetic crude" and not crude oil, the transport of tar sands through pipelines in the U.S. is exempt from payments into the Oil Spill Liability Trust Fund. Otherwise, regulators claim that tar sands bitumen is a type of crude oil. Tar sands are far more difficult and costly to clean up and spills are more toxic to water, wildlife and affected persons as a result of the differences in composition. "Tar sands dilbit needs to be recognized and classified as different from crude oil, for the sake of public awareness and pipeline safety," says Aly Tharp, one of the organizers of today's protest.
UPDATE:
Update 3:30 pm: Blockaders have disrupted a panel titled "Affected Stakeholder Awareness Panel" to bring attention to the safety concerns of landowners and impacted residents who are not included in PHMSA's definition of stakeholders. Emergency planners on the panel are totally unaware of the differences between tar sands and conventional crude oil.
Tar sands are toxic and have the consistency of crunchy peanutbutter. This is diluted with chemicals and heated up  so the tar sands mixture can flow through a pipeline. Tar sands sinks. Emergency planners across the country still do not know how to clean up a spill.
Watch the livestream here.
Update 2 p.m.: Photo of banner drop inside hotel lobby greeting conference guests
Update 1:55 p.m.: Blockaders have moved outside chanting "no tar sands, no way, not ever not today!"
Update 1:45 p.m.: What is PHMSA? PHSMA is the regulatory agency required to inspect the pipeline during installation and is responsible for matoking sure the land is properly restored according to code developed by the American Society of Mechanical Engineers. PHSMA's code makes inspections of the pipeline during installation mandatory, not optional, since that is the only way to assure code compliance. Furthermore the Keystone XL project was mandated to supply a project-specific quality manual that details how the regulations and codes will be met.
You can read more about PHMSA and the Keystone XL in this excellent article on EcoWatch by Stefanie Spear.
Update 1:30 p.m.: Blockaders have been stopped from entering the hotel lobby by unmarked security. Blockader who was detained has been released.
Update 1:15 p.m.: One blockader has been detained. Several have been stopped outside of the hotel.
Be sure to sign this EcoWatch petition: Tell PHMSA to Immediately Investigate Anomalies in the Southern Leg of TransCanada's Keystone XL pipeline.
Click here for the latest updates on this action.
Visit EcoWatch's KEYSTONE XL page for more related news on this topic.
——-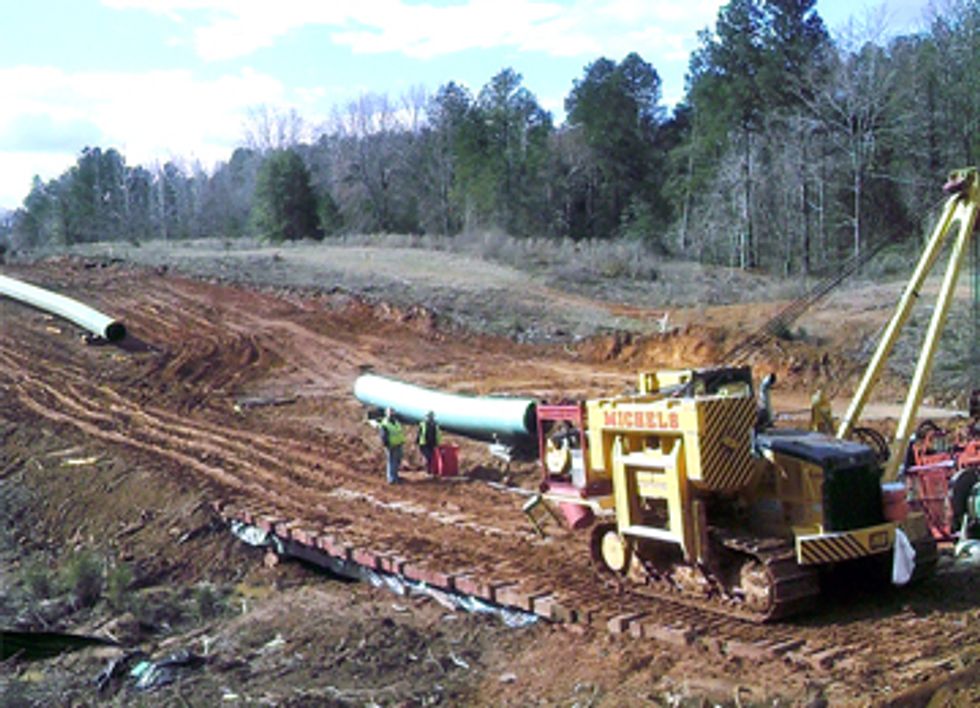 Sign this petition to tell the federal Pipeline Hazardous Materials Safety Administration (PHMSA) to perform its legal duty to protect human health and the environment from TransCanada's southern leg of the Keystone XL pipeline.
 
PHMSA's mission is to protect people and the environment from the risks of hazardous materials transportation. Their vision is that no harm results from hazardous materials transportation. PHMSA is failing to fulfill its responsibilities in regards to TransCanada's southern segment of the Keystone XL pipeline.
Stand with Landowners Against TransCanada and tell PHMSA to do its job and immediately investigate the anomalies, stop further construction of the southern leg of the Keystone XL pipeline, write a formal report, appropriate enforcement and hold a town hall meeting in east Texas to discuss the findings of the investigation.
Read this article for background information.
This exclusive video shows the extent of the anomalies on the southern leg of the Keystone XL pipeline:
[emailpetition id="9"]
Today the U.S. and the state of Arkansas filed a joint enforcement action against ExxonMobil Pipeline Company and Mobil Pipe Line Company (ExxonMobil) in federal district court in Little Rock, AR. The complaint addresses ExxonMobil's unlawful discharge of heavy crude oil from a 20-inch-diameter interstate pipeline —the Pegasus Pipeline—that ruptured in Mayflower, AR, on March 29.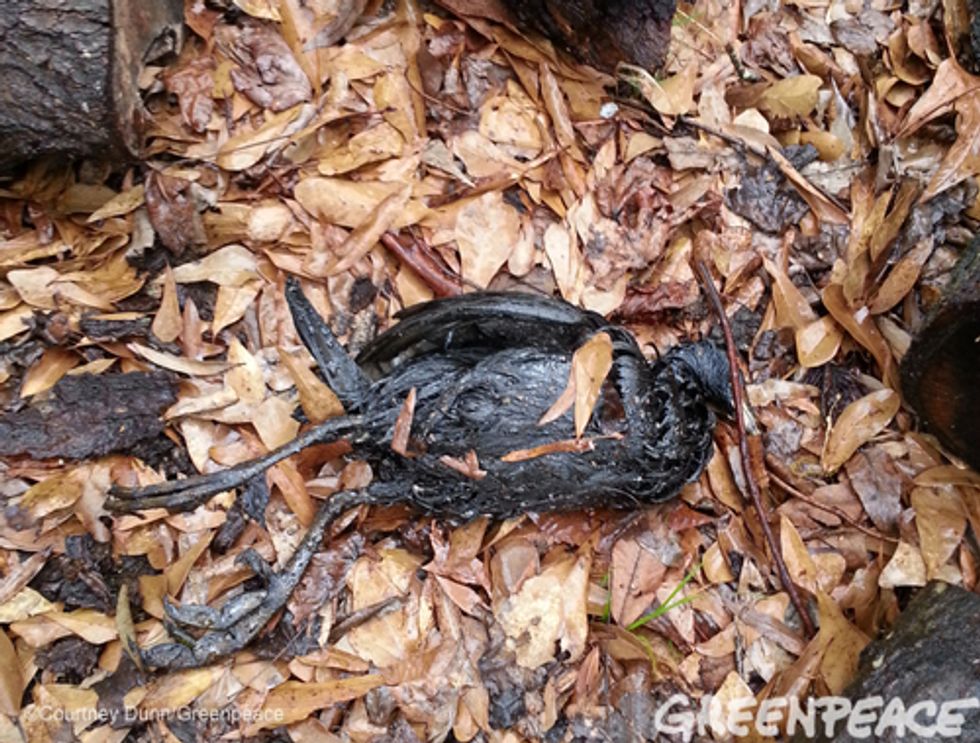 As alleged in the complaint, a segment of the Pegasus Pipeline ruptured in a residential neighborhood in the town of Mayflower. The pipe was buried approximately two feet below the ground at that location. The oil spilled directly into the neighborhood and then into nearby waterways, including a creek, wetlands and Lake Conway. Residents were forced to evacuate their homes due to the hazardous conditions in the neighborhood resulting from the spill. The oil has contaminated land and waterways and impacted human health and welfare, wildlife and habitat. Cleanup efforts are still ongoing, and many residents still have not been able to return home.
The Pegasus Pipeline runs approximately 850 miles from Patoka, IL, to Nederland, TX. The pipeline is used to transport Canadian heavy crude oil. The pipeline originally was constructed in the 1940s.
The complaint alleges six causes of action against the defendants. The U.S., on behalf of the U.S. Environmental Protection Agency, seeks civil penalties and injunctive relief under the federal Clean Water Act for the oil spill. The state of Arkansas, on behalf of the Arkansas Department of Environmental Quality by the authority of the Arkansas Attorney General, seeks civil penalties for violations of the Arkansas Hazardous Waste Management Act and the Arkansas Water and Air Pollution Control Act. The state also seeks a declaratory judgment on ExxonMobil's liability for payment of removal costs and damages related to the spill pursuant to the federal Oil Pollution Act.
Visit EcoWatch's TAR SANDS and PIPELINES pages for more related news on this topic.
——-