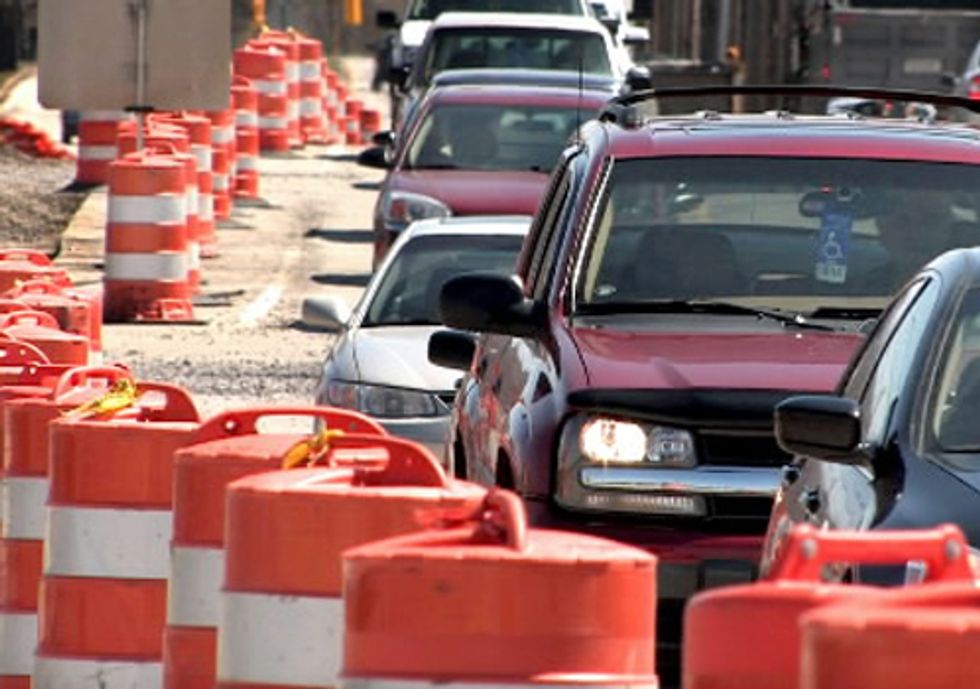 Rep. Dave Camp (R-MI), chairman of the House of Representatives' Ways and Means Committee on Feb. 2 proposed eliminating dedicated federal funding for mass transit, moving funds currently used for mass transit and putting them instead toward building new highways. This proposal for the bill comes on top of provisions from other House committees that would not only force us to consume more oil, but actually open new, destructive drilling throughout the country. 
Environment America Transportation Advocate John Cross issued this statement in response:
"We are stunned that Rep. Camp is proposing to eliminate all dedicated funding for public transit—guaranteeing that America becomes more dependent on oil. Big Oil is the winner in every step of this process at the expense of the air we breathe, the places we love, and the Americans who take more than 10 billion trips on public transit every year. 
"The House has now proposed eliminating all dedicated federal funds for any form of transportation other than highways, roads and airports in an attempt to throw clean transportation choices under the bus. This comes on top of the blatant gift to Big Oil of proposing that we pay for new highways by granting the oil companies the right to drill off our coasts and in the Arctic National Wildlife Refuge and to develop destructive oil shale. 
"When it comes to transportation, this House is taking us down a dead end road to pollute our air, threaten our climate, endanger our country's treasured spaces, and grant oil corporations' every wish."
For more information, click here.
EcoWatch Daily Newsletter
stocknroll / Getty Images
More and more Americans are retrofitting their bathrooms with high-end bidets, allowing them to enjoy cleanliness and hygiene without creating as much paper waste. Not all bidets are created equal, however, and before deciding on a particular brand, it's important to do your homework. Take a look at our comprehensive Toto bidet review, and our reviews of Tushy and Omigo, to learn more about all of their options.

<h2>Toto overview</h2><p>Toto is a company that has been around for over 100 years. They aim to improve people's quality of life, and they do that specifically by focusing on bathrooms. To that end, Toto is known for high-quality products including toilets, faucets, showers, bathtubs, and bidets. </p><p>Toto has also expressed an admirable commitment to ecological stewardship. As <a href="https://www.totousa.com/about-toto/toto-way" target="_blank">their corporate website</a> notes, they strive to "protect the global environment by conserving finite natural resources and energy." One example of this is their donation of any imperfectly fired porcelain products for recycling and reuse as porcelain floor tile. Their <a href="https://www.totousa.com/about-toto/living-toto-library/smart-sustainable-packaging-solution" rel="noopener noreferrer" target="_blank">packaging</a> uses differing levels of recycled post-consumer paper products while their forklifts operate using <a href="https://www.totousa.com/about-toto/living-toto-library/plant-based-hydraulics" rel="noopener noreferrer" target="_blank">plant-based hydraulics</a> made from soybean oil instead of traditional hydraulic oil.</p><p>Toto is definitely a company with a superior reputation when it comes to bathroom accessories in general, and bidets in particular. Here are reviews of some of the specific products in the Toto line.</p><h2>Toto bidet reviews</h2><p>There are two different bidet product families available from Toto: standalone bidets and bidet seat attachments. Their standalone models include the Piedmont bidet, the Lloyd bidet, and the Clayton bidet, while their bidet toilet seat offerings include a wide selection in the popular Washlet line. Here are details on the three standalone options and three of the most popular bidet seat attachments.</p><p><em>Each product featured here has been independently selected by the writer. If you make a purchase using the links included, we may earn commission.</em></p><h3>Toto standalone bidets</h3><h4></h4>
<h3>Toto bidet seats</h3>