Yesterday, environmental groups including Clean Ocean Action, Food & Water Watch and Edison Wetlands Association blasted the offshore Port Ambrose Liquefied Natural Gas (LNG) facility at a press conference just before the public hearing at the New Jersey Expo and Convention Center in Edison, NJ. The groups cited reasons to reject this project including, threats to tourism, commerce and the marine environment, the connection to hydraulic fracturing, also known as fracking, the deficiencies in the application and the fact that an identical project was vetoed by Gov. Christie. Hundreds of citizens attended and spoke out against the project at the public hearing as well, with momentum building in opposition to Port Ambrose following last night's public hearing in Long Beach, NY.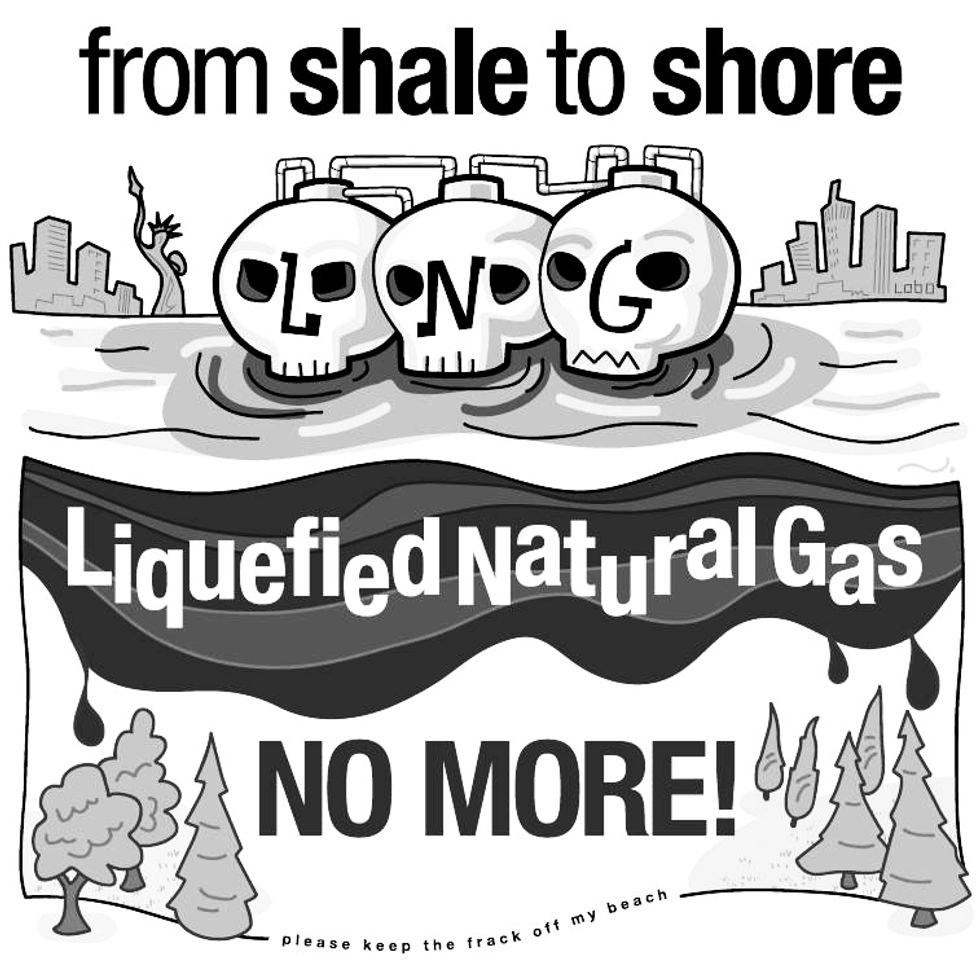 Surfrider Foundation
.
"I am proud that so many residents came and spoke out yesterday. I repeat my demand that the public be provided more information, more time for comment, more hearings and more opportunity to be heard," stated Nassau County Legislator David Denenberg (D-Merrick). "This project has security, economic, commercial and environmental concerns that must be discussed and dealt with before closing off public comment and moving to the next step," stated Mr. Denenberg.
 
The Port Ambrose LNG facility has been proposed off the coast of Long Branch, NJ, and 17 nautical miles south of Jones Beach, NY. The project is the same proposal that New Jersey Gov. Chris Christie vetoed. The only difference is the name. The project, if licensed, would allow both exports and imports of natural gas, resulting in accelerated hydro-fracking in the region and higher energy costs.
 
While the application is for an import facility, existing Department of Energy approvals have authorized up to 40 percent of our domestically-produced natural gas to be exported to certain nations around the world, and more approvals are in the pipeline for exports to the rest of the globe. Opponents of the project say any LNG facility will be for both import and export and it will create demand for fracking, via exports.
 
"This proposed LNG facility has the capability to destroy our Garden State. New Jersey is one the most densely populated areas in the country and our Jersey Shore generates millions of dollars through summer recreation alone," said Dana Patterson, Edison Wetlands Association's program supervisor. "Our communities must not be put at risk so a precarious facility can operate for pure profit without consideration for our water quality, diverse sea life, thriving fisheries or health and safety of our residents," she explained.
 
"The last thing our still suffering Sandy damaged New Jersey Shore needs is an LNG export facility. We know the process of fracking to extract the gas destined for export risks our drinking water, air and ocean as it is not even regulated," said ocean advocate and paddler Margo Pellegrino. "With this proposed terminal we increase this risk to our own drinking water and ocean, our own health, and pay more for our own 'home grown' energy as prices skyrocket with European demand for our dirty fuel. To say the idea of such a facility anywhere on the East Coast, but especially here in this most trafficked of all waterways is a 'bad idea' is an extreme understatement," added Pellegrino.
 
"Port Ambrose would require a massive investment in dirty fossil fuels and fracking at a time when the threat of climate change demands we switch to truly clean energy," said Matt Smith, an organizer with Food & Water Watch, a consumer advocacy organization. "In this post-Superstorm Sandy era, New Jersey residents are saying no to fossil fuels, no to fracking and no to this ill-concieved hazard to our air, water and climate," stated Smith.
 
"Liberty Natural Gas, an unknown and well-connected foreign company is using their significant money, lobbyists and influence to bring this floating disaster to our region. By holding this hearing in Edison, NJ, the Maritime Administration is trying to ignore the Jersey Shore, which is why we are hosting a 'Citizens' Hearing' tomorrow in Sea Bright, NJ," explained Cindy Zipf, executive director of Clean Ocean Action. "Citizen's voices unable to get to Edison can come and testify and the comments will be officially submitted for the record," said Zipf.
 
The citizens' hearing, organized by Clean Ocean Action, is tonight in Sea Bright, NJ, at the Sea Bright Public Beach, 1099 Ocean Ave., Sea Bright, NJ 07760. There will be an informational open house from 4:30 - 5:30 p.m. and the hearing will be from 6 - 8 p.m. Comments made at this hearing will be submitted to the federal government.
Visit EcoWatch's LIQUEFIED NATURAL GAS and FRACKING pages for more related news on this topic.
———
SHARE YOUR THOUGHTS BELOW: Do you feel misled upon learning the plans to export LNG since officials have long claimed that fracking for natural gas will create energy independence?
———

EcoWatch Daily Newsletter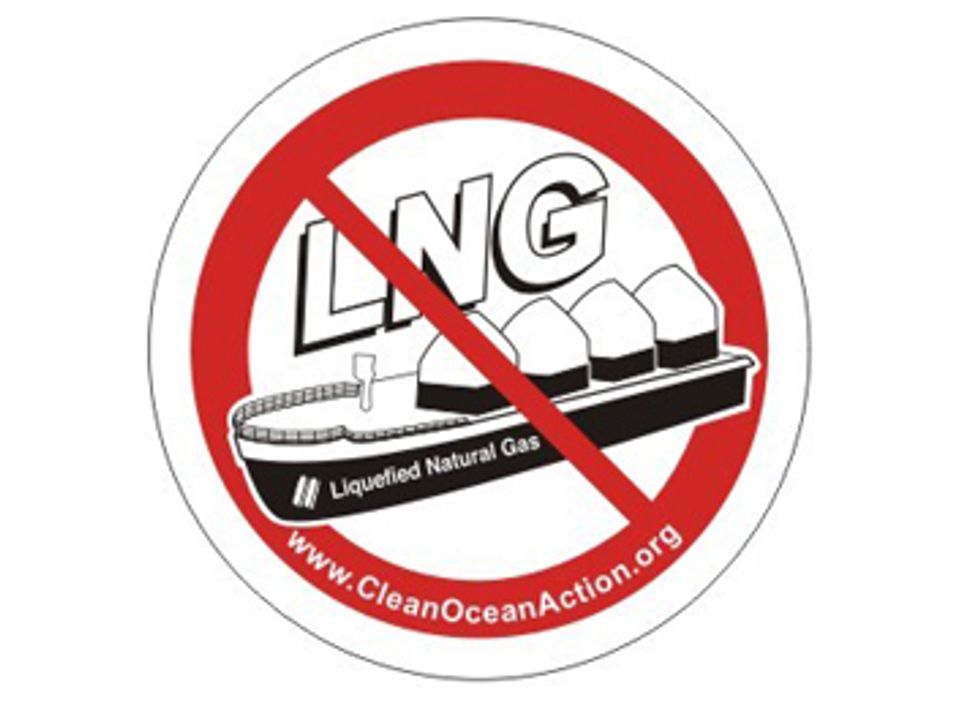 Today, 130 environmental and public advocacy groups sent a letter to the Maritime Administration asking that the public be given more time to consider and comment on a propose liquefied natural gas (LNG) port that would be constructed in the waters off Long Island and the Jersey Shore. After the application was announced on June 14, the project sponsor subsequently released 1,500 pages of a 4,000+ page application that federal agencies have found to be still incomplete in more than 150 specific areas. Despite the length, technical complexity and incomplete nature of the material, the public is required to read, analyze and meaningfully comment on the application by July 23.
 
"This LNG port will adversely impact the economies and ecologies depended upon by millions of Americans and the public deserves the opportunity to give it careful consideration," said Sean Dixon, coastal policy attorney at Clean Ocean Action. Dixon noted that New Jersey Governor Chris Christie vetoed this proposal in 2011 (and reaffirmed it in 2012) because, according to the Governor's original veto, it "would present unacceptable and substantial risks to the State's residents, natural resources, economy and security … stifle investment in renewable energy technologies by increasing our reliance on foreign sources … [and] create a heightened risk in a densely developed region, including potential accidents or sabotage disrupting commerce in the Port of New York and New Jersey." Dixon notes that "this application is for the same port that was wrong for the people and economies of New York and New Jersey last year, and the year before that; Liberty may be back, but nothing has changed."
 
Bruce Ferguson of Catskill Citizens for Safe Energy is concerned that construction of an LNG terminal could lead to increased shale gas extraction, or "fracking." "I'm well aware that the sponsor says that the proposed port will be used to import LNG from abroad, but there is nothing in the law that can prevent the sponsor, or a future owner of the port, from using it to ship fracked shale gas to Europe and Asia." Ferguson also noted that the U.S. will soon become a net exporter of natural gas and that existing import facilities are being revamped to handle exports.
 
The Maritime Administration has scheduled just two public hearings on the proposal, the minimum allowed by law:
New York State
Tuesday, July 9
Open House: 4:30 - 5:30 p.m.
Hearing: 6 - 8 p.m.
Allegria Hotel
80 West Broadway, Long Beach, NY
516-889-1300
New Jersey
Wednesday, July 10
Open House: 4:30 - 5:30 p.m.
Hearing: 6 - 8 p.m.
NJ Convention and Exposition Center
97 Sunfield Avenue, Edison, NJ
732-417-1400
Clean Ocean Action is also hosting a "citizens' hearing"—open to all—the next day, on July 11:
Citizens' Hearing
Thursday, July 11
Rally Against LNG: 4:30 - 5:30 p.m.
Hearing: 6 - 8 p.m.
Sea Bright, NJ, Public Beach
732-872-011
"Residents of the entire region have grave concerns over this proposed LNG port that could easily be converted to facilitate gas exports instead of imports. This likely conversion would increase demand throughout the Northeast for dangerous pipelines and fracking, and disrupt families' lives for hundreds of miles," said Emily Wurth, water program director at Food & Water Watch. "Residents of many states deserve numerous public hearings to voice their concerns about this ill-advised plan."
 
"We are affirming the request for additional public hearings and an extension for the public comment period for the 'Port Ambrose' project in the interest of the general public's health, safety and the rights of the public to comment on this application; this port is a threat to the ocean, marine life, and ecosystems that sustain us all," said Suzanne Golas, a Sister of St. Joseph of Peace and director of WATERSPIRIT. "As the Maritime Administration is charged with 'meeting the country's maritime commercial mobility while supporting the national security and protecting the environment,' we find this request for additional public hearings and an extension for the public comment period clearly within the scope of the Maritime Administration's responsibility to ensure comprehensive and adequate input from the general public while reviewing this application."
Visit EcoWatch's FRACKING and LIQUEFIED NATURAL GAS pages for more related news on this topic.
——–

Like many other plant-based foods and products, CBD oil is one dietary supplement where "organic" labels are very important to consumers. However, there are little to no regulations within the hemp industry when it comes to deeming a product as organic, which makes it increasingly difficult for shoppers to find the best CBD oil products available on the market.
<p>Here you can learn about the importance of organic hemp oil, why it's better for the environment, and which CBD companies actually make trustworthy products with sustainable farming processes. origins which weigh heavily on many consumers who want to buy a product that's produced in the best way possible for not only themselves to ingest, but for the environment as well through sustainable farming methods. </p><h2>What Is CBD Oil?</h2><p>First things first, CBD stands for cannabidiol, and it's a cannabinoid found within cannabis sativa plants. This plant compound is believed to have many potential benefits, and it is primarily derived from hemp plants via a CO2 extraction process. </p><p>Since CBD is extracted from industrial hemp, which contains only trace amounts of THC (the psychoactive component in cannabis plants), this means that CBD won't make you feel high like marijuana, which has much higher levels of THC that causes psychoactive effects. Instead, the effects of CBD are much more subtle and promote a general sense of calm and relaxation in most users.</p><h2>What Makes a CBD Oil Organic?</h2><p>In terms of organic labels, perhaps the most important (and prominent) certification comes from the United States Department of Agriculture (USDA). This government organization has been labeling foods as "organic" for many years, but what exactly does this certification entail? Essentially, a label indicating that a product is "USDA Organic" or "Certified Organic" means that at least 95% of the ingredients are obtained from organic sources.</p><p>For a crop to be considered organic by the USDA, it must be grown without the use of industrial solvents, irradiation, genetic engineering (GMOs), synthetic pesticides, or chemical fertilizer. Instead, farmers rely on natural substances and <a href="https://www.usda.gov/media/blog/2012/03/22/organic-101-what-usda-organic-label-means" rel="noopener noreferrer" target="_blank">mechanical, physical, or biologically based farming</a> techniques to cultivate healthy and organic crops.</p><p>Before the passage of the 2018 Farm Bill, no hemp-derived products could be dubbed as "certified organic" since the hemp plant and its extracts were still categorized as a Schedule I Controlled Substance. However, it's still difficult for CBD companies to obtain a USDA certified organic label for their products due to the legal grey area that still surrounds CBD extracts. </p><p>Because of these challenges, and due to the fact that industrial hemp has only recently become an agricultural crop, very few CBD oils are USDA certified organic. Rather, many CBD products contain hemp extracts from plants that were grown in organic conditions but may not be federally certified.</p><h2>What are the Best Organic CBD Oil Brands?</h2><p><em>Each product featured here has been independently selected by the writer. If you make a purchase using the links included, we may earn commission.</em></p><em><br></em>