Beyond Meat
Plant-based meats are touted as the technological solution to the health and environmental problems caused by excessive meat-eating. Venture capital is flooding to what seems like a hot new market.
One objection to these products is that they are heavily processed and contain long lists of processing ingredients (my emphasis on the color ingredients).
The Beyond Burger: pea protein isolate, expeller-pressed canola oil, refined coconut oil, water, yeast extract, maltodextrin, natural flavors, gum arabic, sunflower oil, salt, succinic acid, acetic acid, non-GMO modified food starch, cellulose from bamboo, methylcellulose, potato starch, beet juice extract (for color), ascorbic acid (to maintain color), annatto extract (for color), citrus fruit extract (to maintain quality), vegetable glycerin.
The Impossible Burger: water, textured wheat protein, coconut oil, potato protein, natural flavors, 2% or less of: leghemoglobin (heme protein), yeast extract, salt, soy protein isolate, konjac gum, xanthan gum, thiamin (vitamin B1), zinc, niacin, vitamin B6, riboflavin (vitamin B2), vitamin B12.
I was intrigued by this article from Food Navigator about the color problem. Plant-based meats are naturally an unappealing grey and need color to make them appear palatable. What to do?
According to botanical extract supplier, Naturex, whose portfolio includes colouring foods, plant-based meat analogues are "a booming sector" and, with colour one of the most important factors in determining a food's appeal, manufacturers are interested in natural ways to colour meat alternatives.
Category manager for natural colours at Naturex Nathalie Pauleau said that carmine, derived from cochineal insects, is the most frequently used colour for real meat applications but cannot be used in plant based products because it is not vegetarian.
Vegetable-based alternatives include beetroot or red radish concentrates that deliver good colouring results, and in Europe, both can be classified as colouring foods, she said.
But there are big problems with color stability under conditions of heat and high or low pH. If manufacturers want a browner color, carmelized sugar sometimes works.
As for the "bleeding" burger produced by Impossible Foods: this is
A plant-based burger made from the standard base ingredients of wheat, potato and soy protein. The addition of its IP-protected ingredient, leghemoglobin, however, means that the burger's label lists added flavours but no colours. Leghemoglobin is a heme molecule similar to myoglobin and haemoglobin that make blood and meat red but is found in the roots of nitrogen-fixing plants such as soy, meaning it is vegetarian-friendly. When added to the burger, it looks like blood.
And how do these taste? Not bad, by most reports.
But one of my personal food rules is never to eat anything artificial. These products are off my dietary radar.
EcoWatch Daily Newsletter
iStock
The U.S. Department of Agriculture (USDA) announced its revised school meal rules, in words that would make George Orwell proud:
The U.S. Department of Agriculture today [Nov. 29] provided local food service professionals the flexibility they need to serve wholesome, nutritious, and tasty meals in schools across the nation. The new School Meal Flexibility Rule ... reflects USDA's commitment, made in a May proclamation to work with program operators, school nutrition professionals, industry, and other stakeholders to develop forward-thinking strategies to ensure school nutrition standards are both healthful and practical ... This action reflects a key initiative of USDA's Regulatory Reform Agenda, developed in response to the President's Executive Order to alleviate unnecessary regulatory burdens.
Try and get your head around this. The revised rules make school meals less nutritious. They allow schools to:
Serve flavored rather than plain low-fat milk (higher in sugar).
Be exempt from serving whole grain-rich products.
Have until the end of the 2020-2021 school year to reduce the salt in school meals.
This rule will be in effect for school year 2018-2019. USDA is accepting public comments for longer term use here.
I will never understand why adults would lobby to make school meals less healthful, but here is the School Nutrition Association praising the changes. The association cites survey data indicating that 65 percent of school districts are having trouble with whole grains and 92 percent with sodium requirements.
I love Margo Wootan's quote (she is director of nutrition policy at the Center for Science in the Public Interest):
The proposal is a hammer in search of a nail ... Virtually 100 percent of schools are already complying with the final nutrition standards, including the first phase of sodium reduction.

Here are:
American Heart Association's press release
waterlust.com / @tulasendlesssummer_sierra .
Each product featured here has been independently selected by the writer. If you make a purchase using the links included, we may earn commission.
The bright patterns and recognizable designs of Waterlust's activewear aren't just for show. In fact, they're meant to promote the conversation around sustainability and give back to the ocean science and conservation community.
Each design is paired with a research lab, nonprofit, or education organization that has high intellectual merit and the potential to move the needle in its respective field. For each product sold, Waterlust donates 10% of profits to these conservation partners.
Eye-Catching Designs Made from Recycled Plastic Bottles
waterlust.com / @abamabam
The company sells a range of eco-friendly items like leggings, rash guards, and board shorts that are made using recycled post-consumer plastic bottles. There are currently 16 causes represented by distinct marine-life patterns, from whale shark research and invasive lionfish removal to sockeye salmon monitoring and abalone restoration.

One such organization is Get Inspired, a nonprofit that specializes in ocean restoration and environmental education. Get Inspired founder, marine biologist Nancy Caruso, says supporting on-the-ground efforts is one thing that sets Waterlust apart, like their apparel line that supports Get Inspired abalone restoration programs.
"All of us [conservation partners] are doing something," Caruso said. "We're not putting up exhibits and talking about it — although that is important — we're in the field."
Waterlust not only helps its conservation partners financially so they can continue their important work. It also helps them get the word out about what they're doing, whether that's through social media spotlights, photo and video projects, or the informative note card that comes with each piece of apparel.
"They're doing their part for sure, pushing the information out across all of their channels, and I think that's what makes them so interesting," Caruso said.
And then there are the clothes, which speak for themselves.
Advocate Apparel to Start Conversations About Conservation
waterlust.com / @oceanraysphotography
Waterlust's concept of "advocate apparel" encourages people to see getting dressed every day as an opportunity to not only express their individuality and style, but also to advance the conversation around marine science. By infusing science into clothing, people can visually represent species and ecosystems in need of advocacy — something that, more often than not, leads to a teaching moment.

"When people wear Waterlust gear, it's just a matter of time before somebody asks them about the bright, funky designs," said Waterlust's CEO, Patrick Rynne. "That moment is incredibly special, because it creates an intimate opportunity for the wearer to share what they've learned with another."
The idea for the company came to Rynne when he was a Ph.D. student in marine science.
"I was surrounded by incredible people that were discovering fascinating things but noticed that often their work wasn't reaching the general public in creative and engaging ways," he said. "That seemed like a missed opportunity with big implications."
Waterlust initially focused on conventional media, like film and photography, to promote ocean science, but the team quickly realized engagement on social media didn't translate to action or even knowledge sharing offscreen.
Rynne also saw the "in one ear, out the other" issue in the classroom — if students didn't repeatedly engage with the topics they learned, they'd quickly forget them.
"We decided that if we truly wanted to achieve our goal of bringing science into people's lives and have it stick, it would need to be through a process that is frequently repeated, fun, and functional," Rynne said. "That's when we thought about clothing."
Support Marine Research and Sustainability in Style
To date, Waterlust has sold tens of thousands of pieces of apparel in over 100 countries, and the interactions its products have sparked have had clear implications for furthering science communication.
For Caruso alone, it's led to opportunities to share her abalone restoration methods with communities far and wide.
"It moves my small little world of what I'm doing here in Orange County, California, across the entire globe," she said. "That's one of the beautiful things about our partnership."
Check out all of the different eco-conscious apparel options available from Waterlust to help promote ocean conservation.
Melissa Smith is an avid writer, scuba diver, backpacker, and all-around outdoor enthusiast. She graduated from the University of Florida with degrees in journalism and sustainable studies. Before joining EcoWatch, Melissa worked as the managing editor of Scuba Diving magazine and the communications manager of The Ocean Agency, a non-profit that's featured in the Emmy award-winning documentary Chasing Coral.
Mike Mozart / Flickr
A reporter asked:
I was wondering if you could share your thoughts with me about the new study finding phthalates in boxed Mac & Cheese. Should consumers be afraid of just Mac & Cheese, considering phthalates are ubiquitous and found in almost every food we consume? What are your recommendations?

Here's what I said:
The moral of this story is to eat a healthy diet and you don't have to worry about things like phthalates. What is a healthy diet? It's one in which most of the calories come from relatively unprocessed fruits, vegetables, and grains, and heavily processed foods—like boxed Mac & Cheese—are kept to a minimum. The phthalate-in-Mac-and-Cheese problem is a processing issue. Phthalates leach in during processing. You love Mac and Cheese? Great. Make your own.
Toxic Industrial Chemicals Found in 10 Types of Macaroni and Cheese Powders https://t.co/KorVSZ6kiA @Earthjustice @ewg @NonGMOProject @NRDC

— EcoWatch (@EcoWatch)1499965784.0
What's going on here?
For starters, I love Mac & Cheese, although not so much for the kind in boxes.
In case you don't know much about this dish, check out the Hartman group's useful historical infographic.

As for phthalates:
So why am I not more upset about them? They are easy to avoid. Just don't eat foods in boxes.
David Katz has an excellent piece that puts phthalates in a wider dietary context:
This whole topic represents risk distortion, and it's something we tend to do all the time. We all know, or certainly should, that a dietary pattern of wholesome, whole foods, mostly plants, is monumentally good for us. Such a diet not only minimizes bad chemicals in the food we eat, it—more importantly—minimizes bad food in the food we eat!
How about convincing journalists that food biotechnology is the solution to the world's food problems and that any criticism of it is a critique of science in the same category as climate-change denial (as I told Thacker).
The journalist Paul Thacker explains that strategy in an article in Tuesday's Progressive:
In recent months, media outlets have reported on a disturbing trend of corporate-sponsored journalism. The British Medical Journal exposed a multiyear campaign by Coca-Cola to influence reporters covering obesity by secretly funding journalism conferences at the University of Colorado. The watchdog group Health News Review reported that two journalism professors at the University of Kansas asked more than 1,100 health-care reporters about their views on opioids in a survey that was funded, in part, by the Center for Practical Bioethics, a group the U.S. Senate Finance Committee investigated for its ties to opioid manufacturers ... Hints of the biotech industry's media tactics have leaked from court cases filed against Monsanto alleging glyphosate causes cancer. Several filings reference internal Monsanto documents that describe the company's social media strategy called "Let Nothing Go"—a program in which individuals who appear to have no connection to the industry rapidly respond to negative social media posts regarding Monsanto, GMOs, and agrichemicals.

His article describes the fierce industry pushback against anyone who raises questions about food biotechnology.
I know about that pushback firsthand. That's why this site no longer accepts comments.
We need open discussion about issues related to food biotechnology. This article is a good place to begin.
The U.S. Environmental Protection Agency (EPA) is not doing enough to prevent weed resistance to the herbicide glyphosate (Roundup) says a new report from the EPA's Inspector General's Office, which draws in part on a report from the agbiotech company, Pioneer: Weed Management in the Era of Glyphosate Resistance.
The EPA Inspector General's Office report explains that glyphosate (Roundup) is used on crops modified to tolerate this herbicide, which kills surrounding weeds but leaves the GMO crop intact.
If you use enough of it long enough, weeds develop resistance.
U.S. farmers are planting more herbicide-resistant GMO corn and soybeans (this figure is from the Pioneer report):
Here's how much glyphosate U.S. farmers are using:

2012: 283.5 million pounds
Weeds resistant to herbicides were first reported in 1968. Weed resistance is now increasing rapidly (this figure is from the Inspector General's Office report):
Weeds resistant to glyphosate are spreading rapidly throughout the U.S. (this figure is in both reports):

What should government do to stop this? A quick lesson on GMO regulation:

U.S. Department of Agriculture regulates these crops.
EPA regulates herbicides used on these crops
U.S. Food and Drug Administration regulates their safety.
The EPA Inspector General said EPA is not doing enough to mitigate herbicide resistance:
It is not communicating with farmers or other stakeholders about managing resistance.
It is not collecting data on herbicide resistance through its adverse incident reporting database.
It is not dealing with the need to develop alternatives.
It is not tracking progress in addressing weed resistance.
What should be done? Pioneer says:
A truly integrated strategy should incorporate non-chemical control tactics as well. Mechanical weed control and crop rotation are examples of two such tactics available to growers, but the feasibility of their implementation will vary depending on the characteristics of a cropping system.
Non-chemical control tactics? Sounds like sustainable agriculture, no?
Weed resistance is a big reason not to use glyphosate.
Another is its suspected carcinogenicity, but I will save that for another time.
Would you believe 870 comments? These were filed in response to my post last week about the GMO propaganda film.
Remove My Clip From GMO Propaganda Film https://t.co/22U2elvnlm @TrueFoodNow @Cornucopia_Inst

— EcoWatch (@EcoWatch)1498079105.0
I realize that this sort of thing is a deliberate, if shameful, strategy of the agbiotech industry: "Let Nothing Go."
As described in a document filed in a lawsuit by U.S. Right to Know:
"Monsanto even started the aptly-named 'Let Nothing Go' program to leave nothing, not even Facebook comments, unanswered; through a series of third parties, it employs individuals who appear to have no connection to the industry, who in turn post positive comments on news articles and Facebook posts, defending Monsanto, its chemicals, and GMOs."
This is not about thoughtful discussion of the scientific, social and political issues raised by GMOs. This is about personal attacks to discredit anyone who raises questions about those issues, as I did.
Trolling is not appropriate on this site. Hence: no more comments.
I will continue to write about GMOs as new developments occur.
In the meantime, I commend the first chapter of Safe Food: The Politics of Food Safety to your attention. It does much to explain why opinions of GMOs are so polarized and why the science of GMOs has become so politicized.
I have asked repeatedly to have my short interview clip removed from this film. The director refuses. He believes his film is fair and balanced. I do not.

I am often interviewed (see media) and hardly ever quoted incorrectly or out of context. This film is one of those rare exceptions.
In my 10-second clip, I say that I am unaware of convincing evidence that eating GM foods is unsafe—this is what I said, but it is hugely out of context.
Safety is the industry's talking point. In the view of the GMO industry and this film, if GMOs are safe, they ought to be fully acceptable and nothing else is relevant.
GMO Film Narrated by Neil deGrasse Tyson: A Blatant Case of Monsanto Corporate Propaganda https://t.co/gVKGPEV5lc @truefoodnow @GMOTruth

— EcoWatch (@EcoWatch)1497996023.0
I disagree. I think there are plenty of issues about GMOs in addition to safety that deserve thoughtful consideration: monoculture; the effects of industrial agriculture on the environment and climate change; the possible carcinogenicity of glyphosate (Roundup); this herbicide's well documented induction of weed resistance; and the how aggressively this industry protects its self-interest and attacks critics, as this film demonstrates.
Food Evolution focuses exclusively on the safety of GMOs; it dismisses environmental issues out of hand. It extols the benefits of the virus-resistant Hawaiian papaya and African banana but says next to nothing about corn and soybean monoculture and the resulting weed resistance, and it denies the increase in use of toxic herbicides now needed to deal with resistant weeds. It says nothing about how this industry spends fortunes on lobbying and in fighting labeling transparency.
Instead, this film hammers hard on three out-of-context points:
GMOs are safe
Anyone who thinks otherwise is anti-science, ignorant, and stupid.
Organic foods are bad and proponents of organic foods are deceitful.
Its biases are apparent throughout but the bias against organics is particularly striking.
For example, in arguing that proponents of organic agriculture are paid by the organic industry, the film refers to an article on the front page of the New York Times. But most of that article was about how the GMO industry recruits and pays academic researchers to front for it. The film fails to mention that.
The obvious question: Who paid for this film?
The official answer: The Institute for Food Technologists (IFT).
IFT is a professional association for food scientists and technologists involved in the processed food industry. I have been a member of it for years; its journal, Food Technology, is useful for keeping up with what the food industry is doing.
I had no idea that IFT sponsored films, let alone one that must have been very expensive to produce (on location in Hawaii and Uganda, among other places).
I can't help but think Monsanto or the Biotechnology Innovation Organization must have given IFT a grant for this purpose, but IFT takes complete responsibility for commissioning the film (if you have any information about this, please let me know).
Food Evolution is opening Friday in New York. I view it as a slick piece of GMO industry propaganda.
If you want a thoughtful discussion of the real issues raised by food biotechnology, you will need to look elsewhere.
Full disclosure: half of my book Safe Food: The Politics of Food Safety deals with GMO issues. These have not changed much since the book appeared in 2003 and in a revised edition in 2010. The GMO industry's defenses and attacks are much the same, just louder and more expensively produced.
Last week the U.S. Food and Drug Administration (FDA) warned pet owners not to feed specific lot numbers of Evanger's canned Hunk of Beef or Against the Grain Grain Free Pulled Beef with Gravy canned dog food because they might contain enough pentobarbital to sicken or kill their animals.
The FDA began investigating Evanger's Dog & Cat Food Company Inc. when it learned about five dogs in a single household that suffered acute neurological symptoms shortly after eating the product. One dog was euthanized after secondary complications and three others recovered after receiving veterinary care. One of the dogs treated remains on seizure medication and the fifth dog that ate the least amount of food recovered with time.
The stomach contents of the deceased dog and an open can of the product were tested by an FDA Veterinary Laboratory Investigation and Response Network lab and unopened cans of the product from the pet owner and retailer that sold the products (from the same production lot), were tested by FDA's lab. All of the samples tested positive for pentobarbital.

Yikes indeed.
7 Natural Ingredients You Should Add to Your Dog's Diet https://t.co/Nr6YSOD3nB @nytimeshealth @africarenewal

— EcoWatch (@EcoWatch)1473975914.0
Pentobarbital is a drug used for euthanizing animals. Years ago, the remains of euthanized animals (sometimes pets) went to rendering plants and the resulting mess ended up in pet foods.

But when Mal Nesheim and I were researching our pet food book, Feed Your Pet Right, which came out in 2010, we searched for but could not find evidence that any pet food company was still doing that.
Everyone we asked, from veterinarians, to pet food makers, to government regulators told us that rendered, euthanized animals were no longer in pet foods, not least because the ingredients would have to be disclosed on the labels and no manufacturer wanted to do that.
The U.S. Department of Agriculture (USDA) said it checked and the canned foods really do contain beef.
Since when are cattle treated with pentobarbital?
If they aren't, how did the drug get into the pet food?
Evanger's advertises its ingredients as "human grade." Oops.
Susan Thixton, who runs the blog, TruthAboutPetFood, snagged a screenshot of Evanger's website before they "edited" out the part about how their products are "made with completely human grade" ingredients. Here's her explanation:
The FDA must agree. It said:

In its recent press release announcing a limited product recall, Evanger's Dog & Cat Food Company, Inc. stated that the beef for its Hunk of Beef product came from a "USDA approved" supplier. However, the FDA reviewed a bill of lading from Evanger's supplier of "Inedible Hand Deboned Beef—For Pet Food Use Only. Not Fit For Human Consumption" and determined that the supplier's facility does not have a grant of inspection from the United States Department of Agriculture's Food Safety and Inspection Service. The meat products from this supplier do not bear the USDA inspection mark and would not be considered human grade.

For more information:
iStock
The U.S. Food and Drug Administration (FDA) and the U.S. Environmental Protection Agency (EPA) have just issued advice to pregnant women about eating fish.
Fatty fish have long-chain omega-3 fatty acids which are good for health.
Why You Need Omega-3 Fatty Acids in Your Diet - EcoWatch https://t.co/3VYd0amodm @livestrong @nytimeswell

— EcoWatch (@EcoWatch)1468445424.0
But some have methylmercury, which is toxic to the developing fetus.

And all have PCBs or other organic compounds that are unlikely to promote health.
The advice? Eat 2 to 3 servings of lower-mercury fish per week for a total of 8-12 ounces.
That's fine, but which fish are low in methylmercury?
Read This if You Love Eating Fish But Worry Your Getting Too Much Mercury Exposure https://t.co/Pb6OOJ9oti @FishWiseOrg @seafoodfuture

— EcoWatch (@EcoWatch)1458346524.0
For this, the agencies have created an reference chart that sorts 62 types of fish into three categories:
FDA
"Best Choices" (eat two to three servings a week)

"Good Choices" (eat one serving a week)
"Fish to Avoid"
Here's where things get tricky.
Choices to avoid include, among others, Bigeye Tuna and Tilefish from the Gulf of Mexico.
Good choices include Albacore and Yellowfin Tuna and Tilefish from the Atlantic Ocean.
Good luck telling the difference.
As I've written before (and also see this post and this one about fish politics), if you want to avoid methylmercury during pregnancy, it's best to avoid tuna. Consumer Reports advises pregnant women not to eat tuna at all.
Center for Science in the Public Interest said:
The best advice for pregnant or nursing women and parents of small children is to choose fish that are low in mercury and high in omega-3 fatty acids, like salmon and sardines. They should avoid albacore tuna altogether and consume tuna labeled as "light tuna" very sparingly—no more than two ounces per week for women and one ounce per week for kids.
And are PCBs a non-issue? Could fish politics have anything to do with this?
Here are the documents:
Jennifer Falbe and other investigators from Kristin Madson's group at UC Berkeley have just produced an analysis of the effects of the Berkeley soda tax on consumption patterns.
Berkeley's soda tax passed in a landslide in November 2014.Berkeley vs. Big Soda
They surveyed people in low-income communities before and after the tax went into effect. The result: an overall 21 percent decline in reported soda consumption in low-income Berkeley neighborhoods versus a 4 percent increase in equivalent neighborhoods in Oakland and San Francisco.
The Los Angeles Times breaks out these figures:

In Oakland and San Francisco, which have not yet passed a tax, sales of regular sodas went up by 10 percent.

Other findings, as reported by Healthy Food America:
During one of the hottest summers on record, Berkeley residents reported drinking 63 percent more bottled water, while comparison cities saw increases of just 19 percent.
Only 2 percent of those surveyed reported crossing city lines to avoid the tax.
The biggest drops came in consumption of soda (26 percent) and sports drinks (36 percent).
Agricultural economist Parke Wilde at Tufts views this study as empirical evidence for the benefits of taxes. He writes on his U.S. Food Policy blog that it's time for his ag econ colleagues to take the benefits of taxes seriously:
There is a long tradition in my profession of doubting the potential impact of such taxes … Oklahoma State University economist Jayson Lusk, who also is president of the Agricultural and Applied Economics Association (AAEA), has blogged several times about soda taxes, agreeing with most of the Tamar Haspel column in the Washington Post and concluding stridently: "I'm sorry, but if my choice is between nothing and a policy that is paternalistic, regressive, will create economic distortions and deadweight loss, and is unlikely to have any significant effects on public health, I choose nothing" (emphasis added).

Wilde points out that Lusk has now modified those comments in a blog post.
All that said, I'm more than willing to accept the finding that the Berkeley city soda tax caused soda consumption to fall. The much more difficult question is: are Berkeley residents better off?
Yes, they are.
This Is What a Soda Commercial Would Look Like If They Were Telling the Truth https://t.co/NfPqtsMP1M @markhymanmd https://t.co/bXkhIp2JfF

— EcoWatch (@EcoWatch)1454608302.0
The Berkeley study is good news and a cheery start to the week. Have a good one.

Addition
Politico adds up the "piles of cash" being spent on the soda tax votes in San Francisco, Oakland and Alameda and analyzes the soda industry's framing of the tax as a "grocery tax."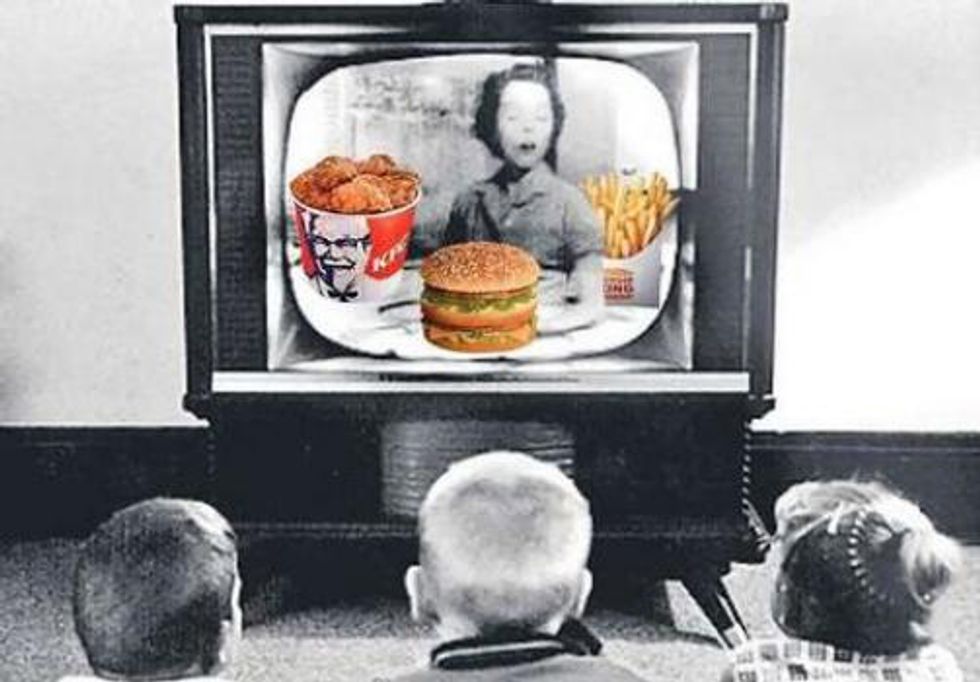 By Marion Nestle
For some time now, I've been arguing that legal scholars ought to be challenging the contention of food corporations that the First Amendment gives them the right to market foods any way they like, even to kids.
I simply cannot believe that the founding fathers of the U.S. intended the First Amendment for this purpose.
In December 2010, I urged public interest lawyers to examine current food marketing practices in the light of the First Amendment. I am pleased to see that they are now doing so.
Samantha Graff of the National Policy & Legal Analysis Network to Prevent Childhood Obesity (NPLAN) forwards two co-authored articles published this month:
Health Affairs: Government Can Regulate Food Advertising to Children Because Cognitive Research Shows It Is Inherently Misleading, by Samantha Graff, Dale Kunkel, and Seth E. Mermin.
The childhood obesity crisis has prompted repeated calls for government action to curb the marketing of unhealthy food to children. Food and entertainment industry groups have asserted that the First Amendment prohibits such regulation.

However, case law establishes that the First Amendment does not protect "inherently misleading" commercial speech. Cognitive research indicates that young children cannot effectively recognize the persuasive intent of advertising or apply the critical evaluation required to comprehend commercial messages.

Given this combination—that government can prohibit "inherently misleading" advertising and that children cannot adequately understand commercial messages—advertising to children younger than age twelve should be considered beyond the scope of constitutional protection.
American Journal of Public Health: Protecting Young People from Junk Food Advertising: Implications of Psychological Research for First Amendment Law, by Jennifer L. Harris and Samantha K. Graff.
In the United States, one third of children and adolescents are overweight or obese, yet food and beverage companies continue to target them with advertising for products that contribute to this obesity crisis.

When government restrictions on such advertising are proposed, the constitutional commercial speech doctrine is often invoked as a barrier to action. We explore incongruities between the legal justifications for the commercial speech doctrine and the psychological research on how food advertising affects young people.
These papers are a great start to the conversation, as was a previous contribution from these authors: A Legal Primer for the Obesity Prevention Movemen, American Journal of Public Health, 2009.
First Amendment scholars—weigh in, please.
And while pondering these questions, take a look at Raj Patel's piece in The Atlantic, Abolish the food industry. In his view, the First Amendment issue is a no brainer:
I side with the American Psychological Association in thinking that advertising to children is unconscionable. Rather than dwell on the First Amendment issue, which strikes me as an easy case to make, I think it's worth addressing a deeper question underlying the San Francisco cigarette-in-pharmacy ban—Why allow an industry that profits from the sale of unhealthy food at all?
For more information, click here.