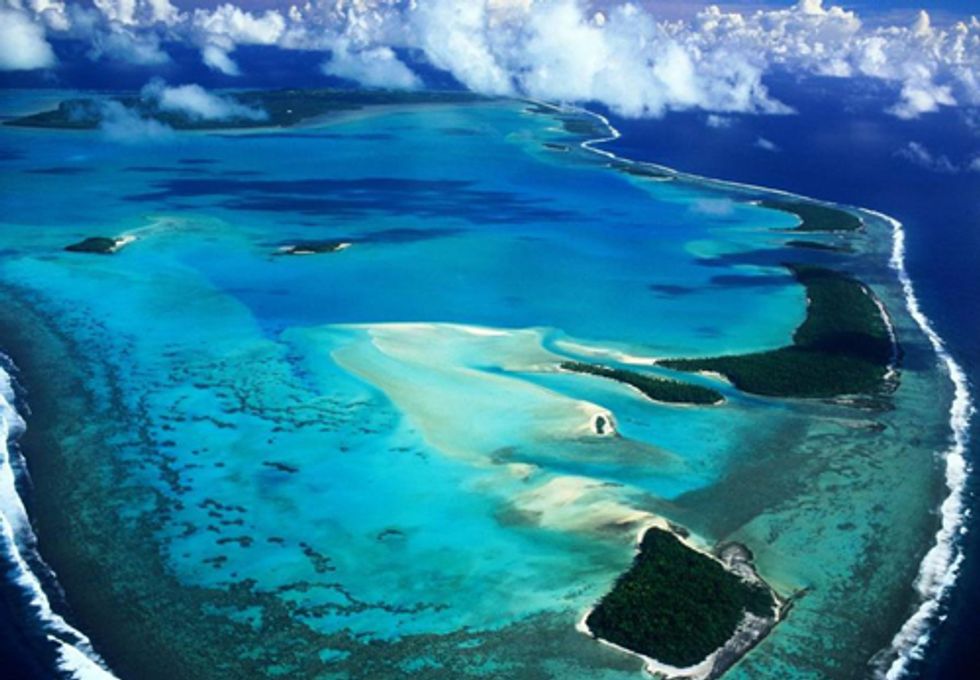 A recent commitment by the U.S.-based Geographic Information System (GIS) software company Esri marks a crucial demonstration of innovative leadership in marine conservation, said leaders from Conservation International, attending the Eye on Earth Summit in Abu Dhabi, United Arab Emirates earlier this month. At the summit, Esri committed to build a database for the new Cook Islands Marine Park to aid in the spatial planning of the one million square kilometer park, which was officially declared earlier this year by Cook Islands Prime Minister Henry Puna.
The commitment followed Prime Minister Puna's challenge to the international community at the summit, to provide support to developing countries who have expressed a commitment to protecting the oceans.
"Working with Esri in the development of initiatives that will lead to better management of our ocean and a more secure future for all Cook Islanders is a very exciting development that underlines the global significance of our marine park declaration," Prime Minister Puna said.
The Cook Islands Marine Park is a large addition to the Pacific Oceanscape, an innovative commitment by 16 Pacific Island governments to integrated marine conservation and sustainable management across approximately 40 million square kilometers of ocean. Prime Minister Puna and the Cook Islands delegation was joined at the summit by Teuea Toatu, executive director of the Phoenix Islands Protected Area (PIPA) in Kiribati, and a delegation from Conservation International (CI) which has committed technical and scientific assistance to implement the Pacific oceanscape since its inception.
"The Pacific Islands are leading the world in marine conservation, and the commitment by the Cook Islands of one million square kilometers of its Exclusive Economic Zone to a marine park is the latest example of this. The support announced by Esri and the University of California Santa Barbara will make a crucial difference to achieving a globally-significant conservation area, and will set the standard for future innovation in the Pacific Islands," said Michael Donoghue, executive director of Conservation International's Pacific Islands Program.
Esri, in partnership with University of California, Santa Barbara and the United Nations Environment Programme World Conservation Monitoring Centre, agreed to assign two senior scientists to bring together all the available information on the marine park into a single digital platform, and to train Cook Islands people to operate it. The project will begin in early 2012 with a stakeholder meeting in Rarotonga.
"We came here to see cutting-edge initiatives for the collection of environmental data and investigate how we can improve access to information in the Pacific Islands," Prime Minister Puna said. "There is much work to be done to fulfill the promise of our marine park, but we now have some innovative partners in our endeavour, and the Cook Islands is now clearly positioned as a global leader in marine conservation and a champion of island states."
"The mission of the Eye on Earth summit is to develop recommendations for how data sharing can be used to make a clear path toward sustainability," said Jack Dangermond, Esri founder and president. "Esri is proud to provide the technical support through our most recent innovation, ArcGIS Online, which will help to make the Cook Islands Marine Park initiative and the Cook Island government's vision a reality."
Prime Minister Puna was the keynote speaker at the third day of the summit, which is focused on information gathering and sharing to provide for a sustainable future. The 4-day summit attracted more than a thousand delegates from around the world and had a line-up of prestigious guest speakers including Dr. Jane Goodall, Dr. Sylvia Earle and former U.S. President Bill Clinton.
"The range of expertise and technological innovation that was on display at the summit was remarkable, and I was very encouraged at the support that was offered from so many quarters," said Kevin Iro, a member of the Cook Islands Marine Park Steering Committee. "It has become even clearer to me that the Cook Islands is on the right track in developing our marine park, not only for the benefit of our own future generations, but also as a significant contribution to the future of the global oceans." 
Esri is a global leader in GIS technology and software, with more than 350,000 organisations using its products globally.
The Cook Islands Marine Park, the world's largest marine park, is scheduled to be officially established at the  next meeting of the Pacific Islands Leaders Forum, to be held in the Cook Islands in August 2012 and will be a major focus of this forum.
For more information, click here.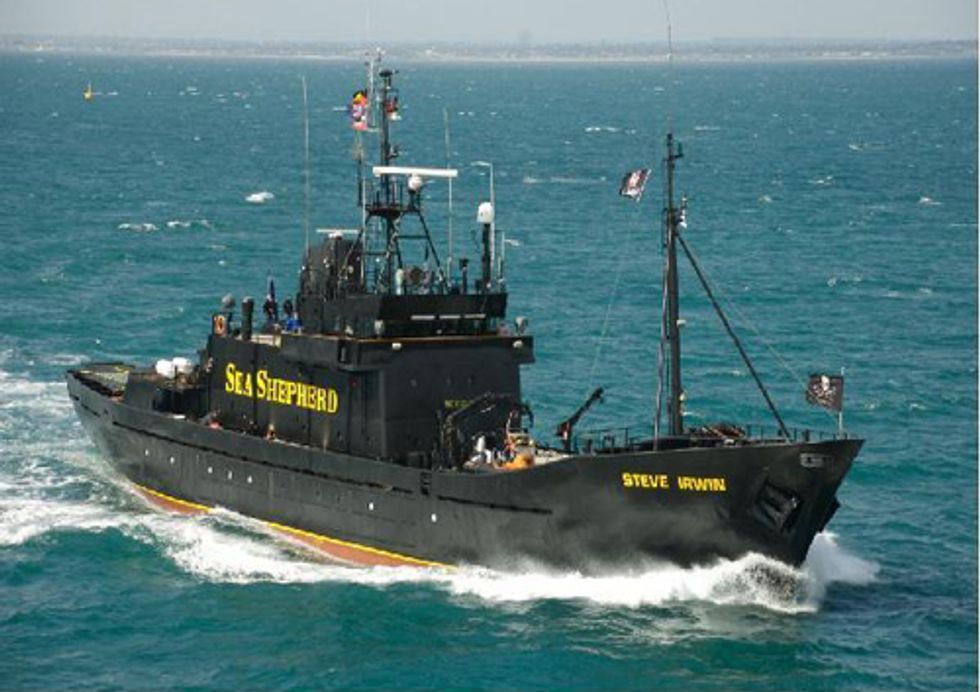 Eighteen officers of the Wakayama Prefecture police raided the Charmant Hotel where Sea Shepherd's Cove Guardians have been staying near Taiji, Japan. Armed with a warrant, which they claimed was for video taken by Cove Guardian Erwin Vermeulen, the police seized all of the Sea Shepherd volunteers' computers, phones, hard drives, photos, cameras and other items that the police deemed suspicious. The cell phones and cameras emptied of all secure digital (SD) cards were subsequently returned to the three Sea Shepherd volunteers present. No reasons have been given for this raid.
The raid follows the arrest of Dutch citizen and Cove Guardian Vermeulen, who was charged with assault on an employee of the Dolphin Resort Hotel. Vermeulen had been filming the transfer of dolphins from the sea to holding pens at the resort, and this employee called out to the police and claimed that Vermeulen had pushed him. There were no witnesses to this event. Vermeulen has been held in jail at Shingu since Dec. 16 with no communication or visitation permitted from Sea Shepherd personnel or family members.
This is the latest in a recent series of instances of harassment of Sea Shepherd volunteers in Japan. Two female Cove Guardians were assaulted by a fisherman Nov. 5, despite video evidence of the unprovoked assault, the fisherman was questioned briefly and released. On arrival in Osaka airport Dec. 16, enroute to Taiji, a male Cove Guardian from the U.S. was stripped down to his underwear, searched, and all of his computer equipment, camera, and Sea Shepherd clothing and paraphernalia were taken from him. No reason was given.
Detained and stripped of all electronics and communications equipment except their personal cell phones during the hotel raid were Sea Shepherd's remaining three Cove Guardians (Scott West, Melissa Sehgal and Ron Ball) and one volunteer from "Save Japan Dolphins" (Heather Hill), all U.S. citizens. They have since been released.
Sea Shepherd's Cove Guardians have been present to photo-document this ignoble tradition every September-March since 2008. Their mission is to promote public awareness and to pressure the government of Japan to stop supporting and permitting this practice. The Cove Guardians follow strict guidelines from Sea Shepherd headquarters to respect all local laws, maintain a low profile, and to serve as journalists to witness and document events there. This is the first time ever that the Cove Guardians have been imprisoned, subject to search and seizure, or even accused of violating any local laws.
The government of Japan has been taking multiple approaches to hobble Sea Shepherd's nonviolent protests of their large-scale dolphin and whale slaughters, through combinations of arrests, harassment, lawsuits, and imposition of financial and psychological hardship on the organization and its volunteers.
They have filed a lawsuit against Sea Shepherd in the U.S. for allegedly interfering with their annual whale hunt. And they claim to have spent the equivalent of $30 million USD this year, over and above their usual subsidies, to equip their whalers now headed for the Southern Ocean Whale Sanctuary with new tactics to oppose Sea Shepherd. This, despite the underfunded Tsunami Relief Fund and despite the International Maritime Organization's new regulation banning the use of heavy fuel oil—hence of the type used by the whalers' factory ship—south of 60° latitude.
Sea Shepherd's Founder and President, Captain Paul Watson said, "None of these bullying tactics by Japan will deter us from continuing to protect the whales and dolphins and other marine life of this planet."
This year's killing season in Taiji will go on through the end of March 2012. Sea Shepherd is encouraging the public to send emails, letters, phone calls and other communications to local Taiji government offices, the Fishermen's Union, Taiji Whale Museum, Dolphin Base, the Dolphin Resort hotel, and Japanese embassies and consulates around the world. They are also requesting donations to cover immediate replacement of at least one laptop and several SD cards for the volunteers' cameras, so that their documentation work can continue immediately.
For more information, click here.
—————
For several years, Sea Shepherd has been documenting and working to gain public support in order to end the brutal, unnecessary, unproductive annual capture and slaughter of hundreds of wild dolphins in Taiji, Japan. The continued courageous on-site presence of Sea Shepherd volunteers has brought about significant reduction in the number of dolphins tortured and killed, but their aim is to end it. Sea Shepherd's campaign in Taiji this year is called Infinite Patience, and their volunteers there are known as Cove Guardians.
EcoWatch Daily Newsletter