By Peter Kelley
At the end of last year, we fought hard to extend the renewable energy production tax credit (PTC) as part of the payroll tax extension bill. Our federal legislators heard us loud and clear—and we were included on the short list of provisions to be extended through that bill. In the end, Congress only negotiated a narrow two-month extension of the payroll tax provision, so our legislators are back to the drawing board, and they have a new deadline for passing tax legislation—Feb. 29.
As an advocate for American wind power, I ask you to make a renewed effort to reach out to your legislators and emphasize this key message—"It is urgent that you act to extend the PTC in any tax legislation that moves forward this month."
The PTC is the primary policy tool to promote wind energy development and manufacturing in the U.S. While it is set to expire at the end of 2012, the wind industry's long lead times to develop projects and order wind turbines from manufacturers means that the credit has already effectively expired for the industry. Congress has a choice to make—extend the PTC this month, and keep the wind industry on track to employ 500,000 people, or halve the work force, including tens of thousands of manufacturing jobs that will not return to this country.
For more information, click here.
—————
American Wind Energy Association (AWEA) is a national trade association representing wind power project developers, equipment suppliers, services providers, parts manufacturers, utilities, researchers, and others involved in the wind industry—one of the world's fastest growing energy industries. In addition, AWEA represents hundreds of wind energy advocates from around the world.
EcoWatch Daily Newsletter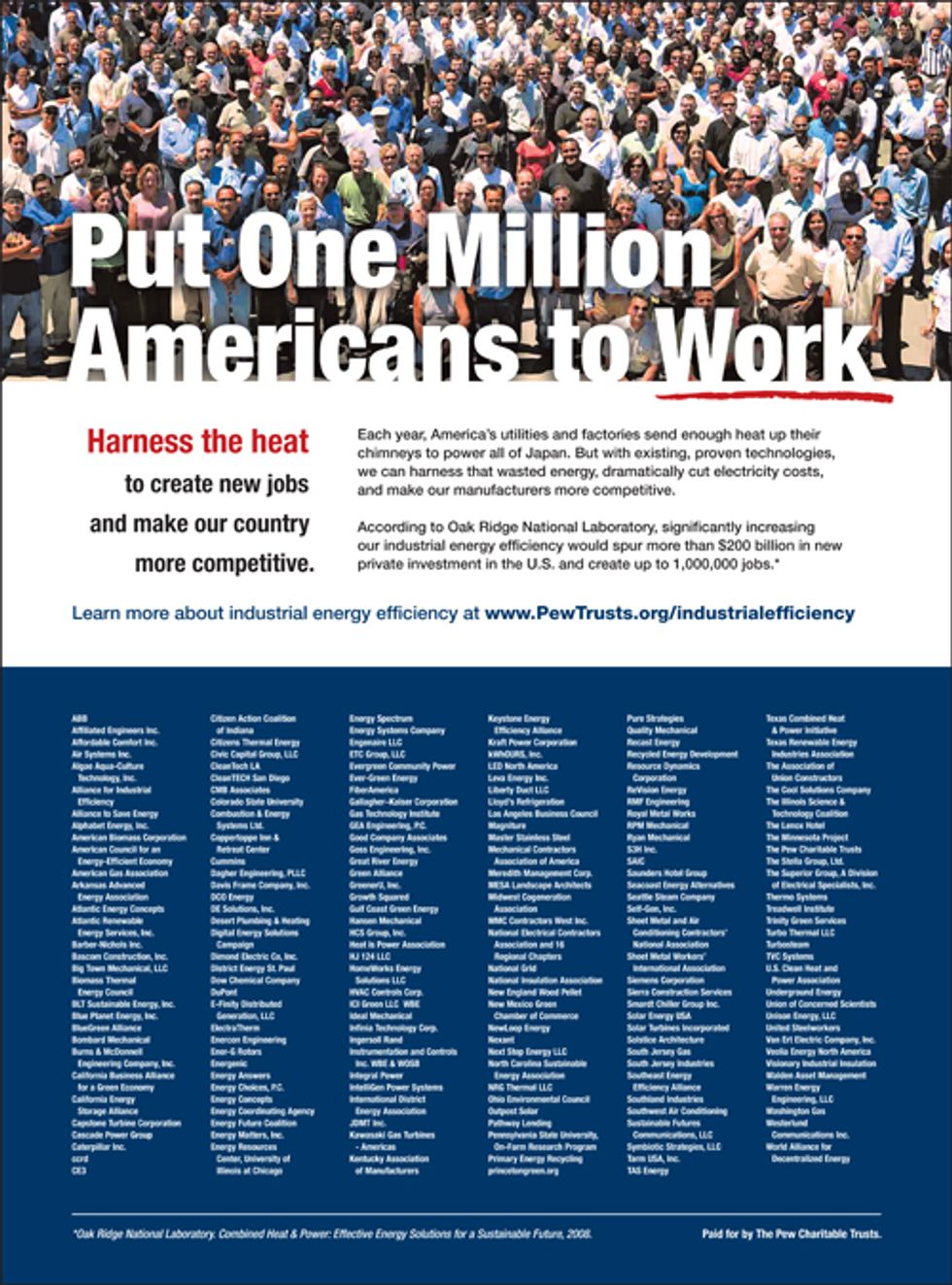 As energy is expected to play prominently in the State of the Union address, the Pew Clean Energy Program and more than 200 businesses and trade groups are touting the economic benefits of increasing industrial efficiency in a full-page advertisement Tuesday, Jan. 24, in the Hill, Politico, and Roll Call. Signers include Caterpillar, DuPont, Dow Chemical Co., Siemens Corp., American Biomass Corp., American Council for an Energy-Efficient Economy, Master Stainless Steel, Los Angeles Business Council, Texas Combined Heat and Power Initiative, and the U.S. Clean Heat and Power Association. The ad reads:
"Each year, America's utilities and factories send enough heat up their chimneys to power all of Japan. But with existing, proven technologies, we can harness that wasted energy, dramatically cut electricity costs, and make our manufacturers more competitive.
"According to Oak Ridge National Laboratory, significantly increasing our industrial energy efficiency would spur more than $200 billion in new private investment in the U.S. and create up to 1,000,000 jobs. Harness the heat to create new jobs and make our country more competitive."
To see the full size ad, click here.
Many manufacturers, hotels, campuses, and utilities across the country already recycle their waste heat—a process known as cogeneration, or combined heat and power (CHP). But much more can be done. The Oak Ridge lab estimates that the U.S. has the potential to double industrial energy efficiency, providing impressive economic benefits. Rising energy prices affect companies large and small. Using wasted heat and recycling energy can dramatically reduce costs and give businesses the flexibility to invest those savings elsewhere. Click here for more information.
Three bipartisan bills in the U.S. House deal with industrial energy efficiency, and a bill authored by Rep. Charles F. Bass (R-NH), which seeks to double CHP, has been drafted. A Senate bill authored by Jeanne Shaheen (D-NH) and Rob Portman (R-OH) on efficiency includes a CHP provision. Sens. Jeff Bingaman (D-NM) and Olympia Snowe (R-ME) are expected to submit a bill soon that also will address industrial efficiency.
And Capitol Hill will soon have its own CHP project. The Capitol Power Plant is developing a design for producing 18 MW of electricity through improved energy-efficiency processes to heat congressional buildings. The improvements will help Congress reduce energy use by up to 30 percent.
Although installation requires an initial investment, companies recoup their costs and start to see savings within a few years. For example:
The Penn England Farm employs CHP to produce electricity for its dairy operations.
The Cox Interior Inc. manufacturing plant in Campbellsville, Ky., operates a 5-MW system that saves the company $4.5 million a year. It also produces more electricity than the company needs, so Cox Interior sells about $50,000 worth of power back to the local utility.
The Sierra Nevada Brewing Co. in Chico, Nevada, installed a 1-MW system that will save the company $400,000 a year and pay for itself within five years of operation.
Lorin Industries in Michigan has recycled its wasted heat since 1943 and expanded capacity in 1990. The system saves the company $540,000 a year, and the newest addition paid for itself in just four years—largely due to the significant decrease in the company's need to purchase more costly peak electricity.
For more information, click here.
Like many other plant-based foods and products, CBD oil is one dietary supplement where "organic" labels are very important to consumers. However, there are little to no regulations within the hemp industry when it comes to deeming a product as organic, which makes it increasingly difficult for shoppers to find the best CBD oil products available on the market.
<p>Here you can learn about the importance of organic hemp oil, why it's better for the environment, and which CBD companies actually make trustworthy products with sustainable farming processes. origins which weigh heavily on many consumers who want to buy a product that's produced in the best way possible for not only themselves to ingest, but for the environment as well through sustainable farming methods. </p><h2>What Is CBD Oil?</h2><p>First things first, CBD stands for cannabidiol, and it's a cannabinoid found within cannabis sativa plants. This plant compound is believed to have many potential benefits, and it is primarily derived from hemp plants via a CO2 extraction process. </p><p>Since CBD is extracted from industrial hemp, which contains only trace amounts of THC (the psychoactive component in cannabis plants), this means that CBD won't make you feel high like marijuana, which has much higher levels of THC that causes psychoactive effects. Instead, the effects of CBD are much more subtle and promote a general sense of calm and relaxation in most users.</p><h2>What Makes a CBD Oil Organic?</h2><p>In terms of organic labels, perhaps the most important (and prominent) certification comes from the United States Department of Agriculture (USDA). This government organization has been labeling foods as "organic" for many years, but what exactly does this certification entail? Essentially, a label indicating that a product is "USDA Organic" or "Certified Organic" means that at least 95% of the ingredients are obtained from organic sources.</p><p>For a crop to be considered organic by the USDA, it must be grown without the use of industrial solvents, irradiation, genetic engineering (GMOs), synthetic pesticides, or chemical fertilizer. Instead, farmers rely on natural substances and <a href="https://www.usda.gov/media/blog/2012/03/22/organic-101-what-usda-organic-label-means" rel="noopener noreferrer" target="_blank">mechanical, physical, or biologically based farming</a> techniques to cultivate healthy and organic crops.</p><p>Before the passage of the 2018 Farm Bill, no hemp-derived products could be dubbed as "certified organic" since the hemp plant and its extracts were still categorized as a Schedule I Controlled Substance. However, it's still difficult for CBD companies to obtain a USDA certified organic label for their products due to the legal grey area that still surrounds CBD extracts. </p><p>Because of these challenges, and due to the fact that industrial hemp has only recently become an agricultural crop, very few CBD oils are USDA certified organic. Rather, many CBD products contain hemp extracts from plants that were grown in organic conditions but may not be federally certified.</p><h2>What are the Best Organic CBD Oil Brands?</h2><p><em>Each product featured here has been independently selected. If you make a purchase using the links included, we may earn commission.</em></p>