A wild manatee swims through algae floating in the water near Tampa, Florida. milehightraveler / Getty Images
By Larry Brand
Millions of gallons of water laced with fertilizer ingredients are being pumped into Florida's Tampa Bay from a leaking reservoir at an abandoned phosphate plant at Piney Point. As the water spreads into the bay, it carries phosphorus and nitrogen – nutrients that under the right conditions can fuel dangerous algae blooms that can suffocate sea grass beds and kill fish, dolphins and manatees.
It's the kind of risk no one wants to see, but officials believed the other options were worse.
About 300 homes sit downstream from the 480-million-gallon reservoir, which began leaking in late March 2021. State officials determined that pumping out the water was the only way to prevent the reservoir's walls from collapsing. They decided the safest location for all that water would be out through Port Manatee and into the bay.
Florida's coast is dotted with fragile marine sanctuaries and sea grass beds that help nurture the state's thriving marine and tourism economy. Those near Port Manatee now face a risk of algal blooms over the next few weeks. Once algae blooms get started, little can be done to clean them up.
The phosphate mining industry around Tampa is just one source of nutrients that can fuel dangerous algae blooms, which I study as a marine biologist. The sugarcane industry, cattle ranches, dairy farms and citrus groves all release nutrients that often flow into rivers and eventually into bays and the ocean. Sewage is another problem – Miami and Fort Lauderdale, for example, have old sewage treatment systems with frequent pipe breaks that leak sewage into canals and coastal waters.
All can fuel harmful algal blooms that harm marine life and people. Overall, blooms are getting worse locally and globally.
Red tide in recent years has killed large numbers of Florida's manatees, a threatened species. David Hinkel/U.S. Fish and Wildlife Service
The Problem With Algae Blooms
Just down the coast from Port Manatee, the next three counties to the south have had algae blooms in recent weeks, including red tide, which produces a neurotoxin that feels like pepper spray if you breathe it in. Karenia brevis, a dinoflagellate, is the organism in red tide and produces the toxin.
This part of Florida's Gulf Coast is a hot spot for red tide, often fueled by agricultural runoff. A persistent red tide in 2017 and 2018 killed at least 177 manatees and left a trail of dead fish along the coast and into Tampa Bay. If the coastal currents carry today's red tide father north and into Tampa Bay, the toxic algae could thrive on the nutrients from Piney Point.
A map shows red tide reports just south of Tampa Bay. Florida Fish and Wildlife Conservation Commission
Even blooms that are not toxic are still dangerous to ecosystems. They cloud the water, cutting off light and killing the plants below. A large enough bloom can also reduce oxygen in the water. A lack of oxygen can kill off everything in the water, including the fish.
This part of Florida has extensive sea grass meadows, about 2.2 million acres (8.9 billion square meters) in all, which are important habitat for lots of species and serve as nurseries for shrimp, crabs and fish. Scientists have argued that sea grass is also a major carbon sink – the grass sucks up carbon and pumps it down into the sediments.
Once the nutrients are in a large body of water, there isn't much that can be done to stop algae growth. Killing the algae would only release the nutrients again, putting the bay back where it started. Algae blooms can remain a problem for years, finally declining when a predator population develops to eats them, a viral disease spreads through the bloom or strong currents and mixing disperse the bloom.
Agriculture Runoff Poses Risks to Marine Life
The phosphate mining industry around Tampa is a large source of nutrient-rich waste. On average, more than 5 tons of phosphogypsum waste are produced for every ton of phosphoric acid created for fertilizer. In Florida, that adds up to over 1 billion tons of radioactive waste material that can't be used, so it's stacked up and turned into reservoirs like the one now leaking at Piney Point.
The reservoirs are obvious in satellite photos of the region, and they can be highly acidic. To get the phosphate out of the minerals, the industry uses sulfuric acid, and it leaves behind a highly acid wastewater. There have been at least two cases where it ate through the limestone below a reservoir, creating huge sinkholes hundreds of feet deep and draining wastewater into the aquifer.
Since saltwater had previously been pumped into the Piney Point reservoir, acidity is less of an issue. That's because the seawater would buffer the pH. There is some radioactivity, but only slightly above regulatory standards, according to state Department of Environmental Protection, and probably not much of a health hazard.
But the nutrients are a risk. In 2004, water releases from the Piney Point reservoir contributed to an algae bloom in Bishop Harbor, just south of the current release site. In 2011, it released over 170 million gallons into Bishop Harbor again after a liner broke.
Piney Point: Florida's Leaking Reservoir
Map: The Conversation/CC-BY-ND
Another significant source of algae-feeding nutrients is agriculture, particularly cattle ranching and the sugarcane industry. Nutrient runoff from cattle ranches and dairy farms north of Lake Okeechobee end up in the lake. South of the lake, much of the northern third of the Everglades was converted to sugarcane farms, and those fields back-pumped runoff into the lake for decades until the state started cracking down in the 1980s. Their legacy nutrients are still in the lake.
The nutrient-rich water in the lake then pours down the Caloosahatchee River and into the Gulf of Mexico near Fort Myers, south of Tampa. That's likely feeding the current red tide off the mouth of the Caloosahatchee River.
When water from the Everglades region's agriculture is pumped south instead, huge blooms tend to appear in Florida Bay at the southern tip of the state. Some scientists believe it may be damaging coral reefs there, though there's debate about it. During times that flow of water from the farms increased, reefs throughout the Florida Keys have been harmed. Those reefs have become overgrown with algae.
With the current red tide, the coastal currents have carried it north as far as Sarasota already. If they carry it farther north, it will run into the Piney Point area.
Larry Brand is a Professor of Marine Biology and Ecology, University of Miami.
Disclosure statement: Larry Brand has received funding from the National Science Foundation, National Institutes of Health, Environmental Protection Agency, National Oceanic and Atmospheric Association, National Park Service, Department of Energy, Office of Naval Research, Army Corps of Engineers, Florida Department of Health, Dade County Department of Environmental Resources Management, Cove Point Foundation, and Hoover Foundation.
Reposted with permission from The Conversation.
From Your Site Articles
Related Articles Around the Web
EcoWatch Daily Newsletter
Mother and baby manatees at Three Sisters Springs in Crystal River, Florida. James R.D. Scott / Moment / Getty Images
The first few months of 2021 have been extremely deadly for manatees as food sources in Florida have become increasingly limited, scientists say.

waterlust.com / @tulasendlesssummer_sierra .
Each product featured here has been independently selected by the writer. If you make a purchase using the links included, we may earn commission.
The bright patterns and recognizable designs of Waterlust's activewear aren't just for show. In fact, they're meant to promote the conversation around sustainability and give back to the ocean science and conservation community.
Each design is paired with a research lab, nonprofit, or education organization that has high intellectual merit and the potential to move the needle in its respective field. For each product sold, Waterlust donates 10% of profits to these conservation partners.
Eye-Catching Designs Made from Recycled Plastic Bottles
waterlust.com / @abamabam
The company sells a range of eco-friendly items like leggings, rash guards, and board shorts that are made using recycled post-consumer plastic bottles. There are currently 16 causes represented by distinct marine-life patterns, from whale shark research and invasive lionfish removal to sockeye salmon monitoring and abalone restoration.

One such organization is Get Inspired, a nonprofit that specializes in ocean restoration and environmental education. Get Inspired founder, marine biologist Nancy Caruso, says supporting on-the-ground efforts is one thing that sets Waterlust apart, like their apparel line that supports Get Inspired abalone restoration programs.
"All of us [conservation partners] are doing something," Caruso said. "We're not putting up exhibits and talking about it — although that is important — we're in the field."
Waterlust not only helps its conservation partners financially so they can continue their important work. It also helps them get the word out about what they're doing, whether that's through social media spotlights, photo and video projects, or the informative note card that comes with each piece of apparel.
"They're doing their part for sure, pushing the information out across all of their channels, and I think that's what makes them so interesting," Caruso said.
And then there are the clothes, which speak for themselves.
Advocate Apparel to Start Conversations About Conservation
waterlust.com / @oceanraysphotography
Waterlust's concept of "advocate apparel" encourages people to see getting dressed every day as an opportunity to not only express their individuality and style, but also to advance the conversation around marine science. By infusing science into clothing, people can visually represent species and ecosystems in need of advocacy — something that, more often than not, leads to a teaching moment.

"When people wear Waterlust gear, it's just a matter of time before somebody asks them about the bright, funky designs," said Waterlust's CEO, Patrick Rynne. "That moment is incredibly special, because it creates an intimate opportunity for the wearer to share what they've learned with another."
The idea for the company came to Rynne when he was a Ph.D. student in marine science.
"I was surrounded by incredible people that were discovering fascinating things but noticed that often their work wasn't reaching the general public in creative and engaging ways," he said. "That seemed like a missed opportunity with big implications."
Waterlust initially focused on conventional media, like film and photography, to promote ocean science, but the team quickly realized engagement on social media didn't translate to action or even knowledge sharing offscreen.
Rynne also saw the "in one ear, out the other" issue in the classroom — if students didn't repeatedly engage with the topics they learned, they'd quickly forget them.
"We decided that if we truly wanted to achieve our goal of bringing science into people's lives and have it stick, it would need to be through a process that is frequently repeated, fun, and functional," Rynne said. "That's when we thought about clothing."
Support Marine Research and Sustainability in Style
To date, Waterlust has sold tens of thousands of pieces of apparel in over 100 countries, and the interactions its products have sparked have had clear implications for furthering science communication.
For Caruso alone, it's led to opportunities to share her abalone restoration methods with communities far and wide.
"It moves my small little world of what I'm doing here in Orange County, California, across the entire globe," she said. "That's one of the beautiful things about our partnership."
Check out all of the different eco-conscious apparel options available from Waterlust to help promote ocean conservation.
Melissa Smith is an avid writer, scuba diver, backpacker, and all-around outdoor enthusiast. She graduated from the University of Florida with degrees in journalism and sustainable studies. Before joining EcoWatch, Melissa worked as the managing editor of Scuba Diving magazine and the communications manager of The Ocean Agency, a non-profit that's featured in the Emmy award-winning documentary Chasing Coral.
Nick Aumen / USGS
By John R. Platt and Dipika Kadaba
Florida manatees had another deadly year in 2019.
An estimated 531 manatees died in Florida waters in the past 12 months. That's a significant decrease from the number of deaths in 2018, when 824 manatees died, but it still represents a nearly 10 percent loss to their population in the state.
Some manatees die from natural causes each year, but most of this year's mortalities were caused by a particularly human element:
Boats.
According to the Florida Fish and Wildlife Conservation Commission, which keeps track of manatee mortality, at least 136 manatees died last year after being struck by speeding watercraft. That's nearly two times the number of manatees killed by boats in 2014. The number of boat strikes started to climb in 2016 — the same year the U.S. Fish and Wildlife Service proposed downlisting the species' conservation status from "endangered" to the lesser category of "threatened."
As a result of this and other threats, manatee populations appear to be on the decline again. The most recent annual synoptic survey, conducted at the beginning of 2019, found 5,733 manatees in Florida waters — down from 6,620 just two years earlier. (Florida uses these surveys to provide a general view of manatee populations and but does not use them to assess long-term trends.)
What else killed manatees this past year? Watch our video below to learn more.
Reposted with permission from The Revelator.
From Your Site Articles
Related Articles Around the Web
Two baby Loggerhead turtles. U.S. Air Force / Senior Airman Veronica McMahon
Florida's longest red tide in more than a decade has killed scores of the state's most iconic marine animals.
The current outbreak, which began in October 2017 off southwest Florida, has been tied to a record 589 sea turtle deaths and 213 manatee deaths, the Herald-Tribune reported, citing figures from the Florida Fish and Wildlife Conservation Commission.
As of December 20, 127 bottlenose dolphins have been stranded along the southwest coast, according to the National Oceanic and Atmospheric Administration. The mammals showed positive results for the red tide toxin, brevetoxin.
That's not to mention the massive fish kills that resulted from the toxic algae bloom.
Sea turtle species that have been affected by the poisonous brew including loggerhead and Kemp's ridley sea turtles, both of which are federally protected. Kemp's ridleys are considered the world's most endangered marine turtle.
Local turtle patrollers, including Suzi Fox, the director of Anna Maria Island Turtle Watch & Shorebird Monitoring, told the Herald-Tribune that the outbreak could affect next year's sea turtle nesting season, an unfortunate turn after several record seasons.
Blooms of the red tide organism, Karenia brevis, were detected as recently as Jan. 11 in southwest Florida, including "high" cell concentrations (more than 1 million cells per liter) in Sarasota County and offshore of Collier County, according to the Florida Fish and Wildlife Conservation Commission.
Current red tide sampling mapFlorida Fish and Wildlife Conservation Commission
Respiratory irritation—a symptom from breathing red tide toxins—was also reported in Manatee and Sarasota counties that same week, the commission said.
Last week, Florida's new Gov. Ron DeSantis unveiled a sweeping executive order that includes plans to study red tide and the creation of a task force to solve Florida's other algae outbreak, the toxic blue-green bloom from Lake Okeechobee.
The Establishment of a Blue-Green Algae Task Force, charged with focusing on expediting progress toward reducing th… https://t.co/5s3EsgqgtO

— Ron DeSantis (@Ron DeSantis)1547132852.0
From Your Site Articles
Related Articles Around the Web
Mom and baby West Indian manatees in Three Sisters Springs, Florida. James R.D. Scott / Getty Images
2018 has not been a good year for Florida's iconic manatees. A total of 540 sea cows have died in the last eight months, surpassing last year's total of 538 deaths, according to figures posted Monday by Public Employees for Environmental Responsibility (PEER).
The figure will likely climb higher before the year's end amid the state's ongoing toxic algae crisis. The red tide in the state's southwest is the known or suspected cause of death for 97 manatees as of Aug. 12, the Florida Fish & Wildlife Conservation Commission recently reported.
Combined with the winter cold spell, which claimed 69 manatees, more than 10 percent of the state's estimated manatee population of around 6,300 individuals could be wiped out this year, PEER noted.
The 540 reported deaths is also the second highest total in a decade. The deadliest year on record was 2013, when 830 Florida manatees perished. A third of those deaths were also linked to red tide.
PEER
Other threats to the gentle giants include blue-green algal blooms along Florida's east coast as well as boat strikes, which resulted in 75 manatee deaths, according to Save the Manatee Club.
"Florida's manatees have no defense against this ecological disaster," said PEER Executive Director Jeff Ruch in a statement, noting that red tides and algal blooms poison both manatees and their food supplies. "Florida's steadily declining water quality is a death warrant for the manatee."
Red tide, which is caused by the Karenia brevis organism, is a natural phenomenon but some have blamed climate change for worsening the crisis, as well as mining and agricultural practices that can cause excess nutrients to flush into the waters.
In a press release Monday, PEER said it has documented a "precipitous decline in water pollution enforcement under Governor Rick Scott, as well as the massive amounts of phosphorus and other nutrients discharged daily both legally and illegally into Florida's waters."
"The increased duration, scale, and toxicity of red tide and algal bloom events should be an eco-wakeup call for Florida," Ruch added. "Governor Scott has declared a red tide emergency but the role his own environmental policies have played in spawning this crisis deserves examination."
Last year, the West Indian manatee was downlisted from "endangered" to "threatened" by the U.S. Fish and Wildlife Service (FWS). Conservationists felt that the downgrade came too soon.
"We believe this is a devastating blow to manatees," Patrick Rose, executive director of Save the Manatee Club, said in a statement then. "A federal reclassification at this time will seriously undermine the chances of securing the manatee's long-term survival. With the new federal administration threatening to cut 75 percent of regulations, including those that protect our wildlife and air and water quality, the move to downlist manatees can only be seen as a political one."
Save the Manatee Club said that FWS "failed to adequately consider data from 2010 to 2016, during which time manatees suffered from unprecedented mortality events linked to habitat pollution, dependence on artificial warm water sources, and record deaths from watercraft strikes."
Florida's deadly red tide started nine months ago and has become the state's longest on record since 2006. Besides manatees, the outbreak has killed scores of marine life, including countless crabs, eels and fish, hundreds of endangered sea turtles, potentially a whale shark and 11 bottlenose dolphins.
#Florida Gov. Scott Issues Emergency Order for Toxic #RedTide #algaebloom @flgovscott https://t.co/frBZ44nxGz

— EcoWatch (@EcoWatch)1534338131.0
From Your Site Articles
Related Articles Around the Web
The West African Manatee (Trichechus senegalensis) is the least studied mammal in Africa despite having a home range larger than the U.S., encompassing 21 African countries. At the same time, it faces serious threats from hunting and accidental capture in fishing nets.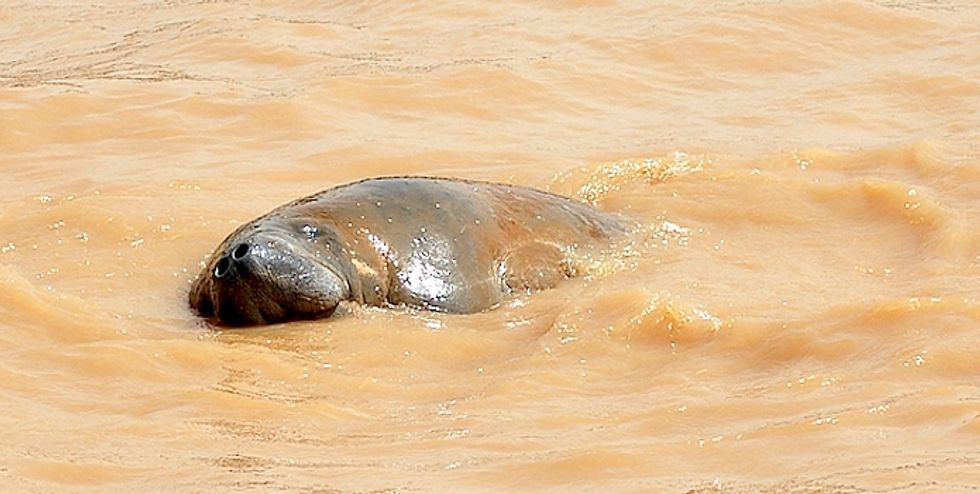 This lack of knowledge about the species raises concern for its future, given what we know about the impact of key threats to the survival of the West African Manatee, according to project leader Lucy Diagne. Conservation of the species is greatly hindered by the lack of basic knowledge about their distribution and habitat needs. They are often referred to as the "forgotten" sirenian. 
The species is highly susceptible to incidental capture in fishing nets and is hunted almost everywhere it occurs, despite existing protection laws in all range countries. There are no accurate estimates of population abundance, and the impact of hunting and habitat destruction are poorly documented, but the trade in manatee bushmeat is well known in Africa. The species is believed to be in decline throughout much of its range, but without baseline information, it is impossible to know how to conserve these manatees, and conservation is also unlikely without capacity building.
This Save Our Species (SOS)-funded project is however, tipping the balance in favor of these gentle, mysterious creatures. By kick-starting conservation action across three African countries which comprise part of their vast range to provide tailor-made solutions for the manatees in three very different contexts. Implemented by Sea2Shore Alliance, the project is creating solutions in Senegal, Mali and Nigeria. In this installment, Diagne focuses on the Nigerian context.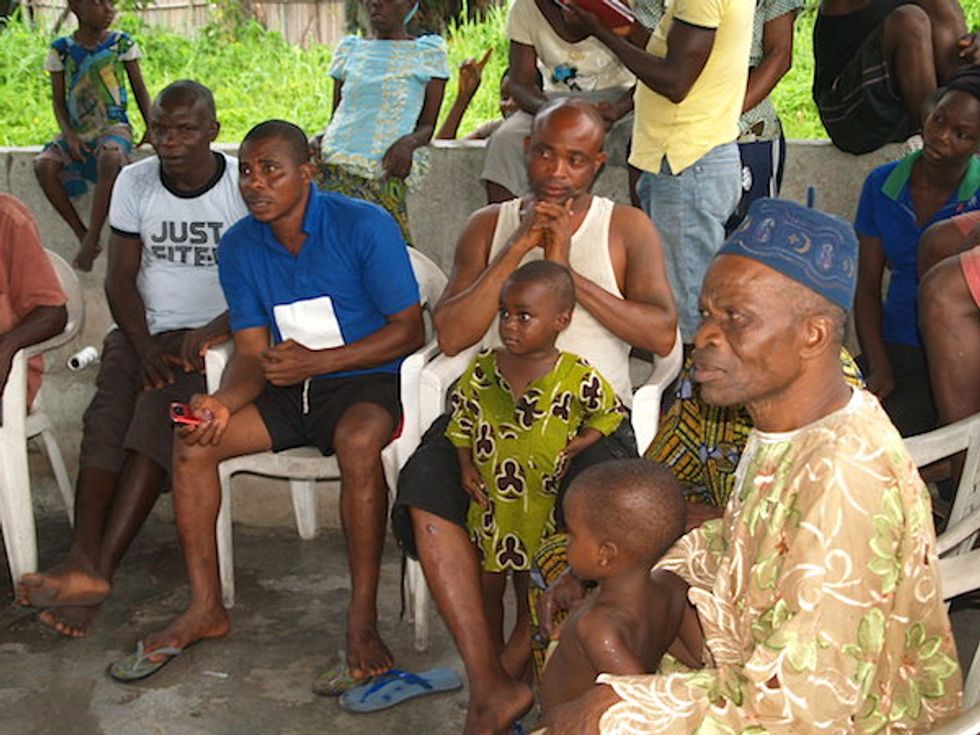 Using Aquaculture as an Incentive
In Nigeria, a unique scheme for alternative livelihoods was proposed to stop manatee hunting. Manatee hunters were incentivized to give up hunting and to remove manatee traps in the Lekki Lagoon, near to Lagos. In return, they were offered training and equipment to take up catfish aquaculture.
Changing the attitudes of manatee hunters was not easy. In the early days of the project, the hunters who had originally agreed to participate wanted to take up the aquaculture training without giving up manatee hunting. The project leader Bolaji Abimbola had to reassert the value of manatee conservation and the benefit of having a stable, year round income from aquaculture.
His efforts were aided by the Senegal project leader Tomas Diagne, Lucy's husband, who visited the Lekki Lagoon. Tomas spoke with the villagers about his 20 years working with the local people at Tocc Tocc Reserve in northern Senegal to bring them the benefits of alternative livelihoods that conserved manatees. But understanding the nuances of community dynamics helped seal the deal. Bojali observed that while the men might tend the fish cages it was the women who prepared them for market, gutting them and smoking them. And so the project expanded to include this activity. Soon the village community became much more invested in the project, agreeing to remove manatee traps and give up hunting to learn aquaculture skills.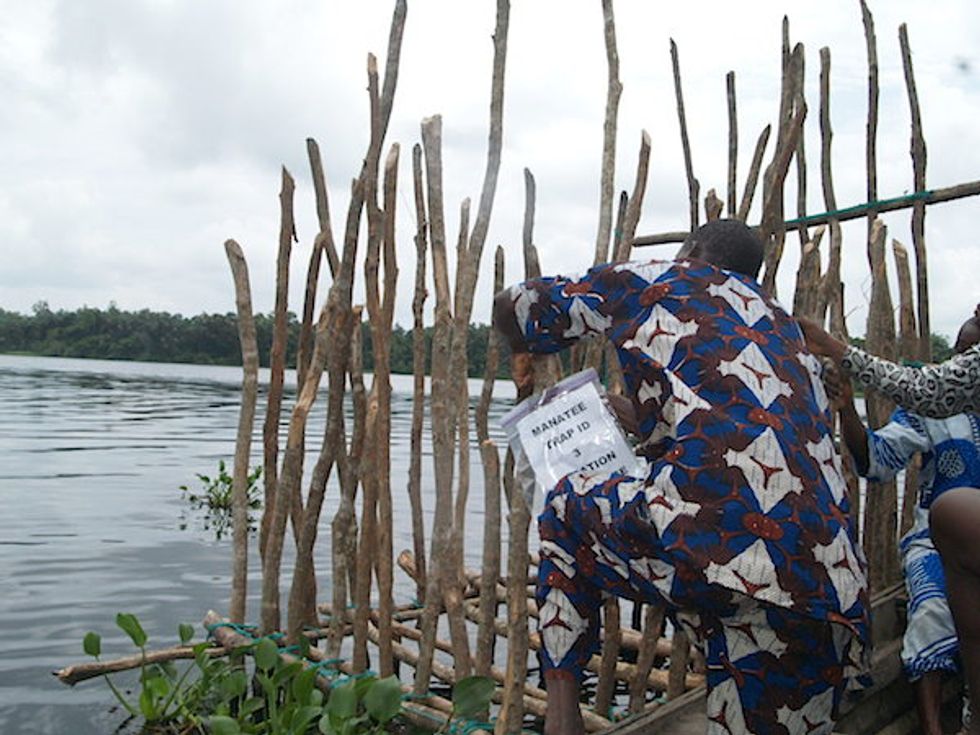 Equipping them for a new livelihood, Bojali ensured the hunters were trained in cage construction, catfish breeding and culturing. The range of tasks was broad: the hunters constructed cages from PVC pipes and other supplies, learned how to determine the sex of catfish, practiced injecting the fish in preparation for breeding, mastered stripping eggs off fish and fertilizing them, as well as how to prepare adult fish for market. Meanwhile, removal of manatee traps commenced and installation of additional cages stocked with catfish fingerlings also began.
The investment in the community is beginning to pay off according to Diagne. Nine manatee traps were removed in Lekki Lagoon in 2013, which will directly lead to greater conservation of manatees in this region. Additionally, three other communities have expressed interest in adopting the aquaculture training scheme for their villages in return for stopping manatee hunting. So, the good example from these new livelihood opportunities is spreading to neighboring villages.
"We hope this project can be used as an example for other places in Africa to show that alternative livelihoods to manatee hunting are achievable," said Diagne.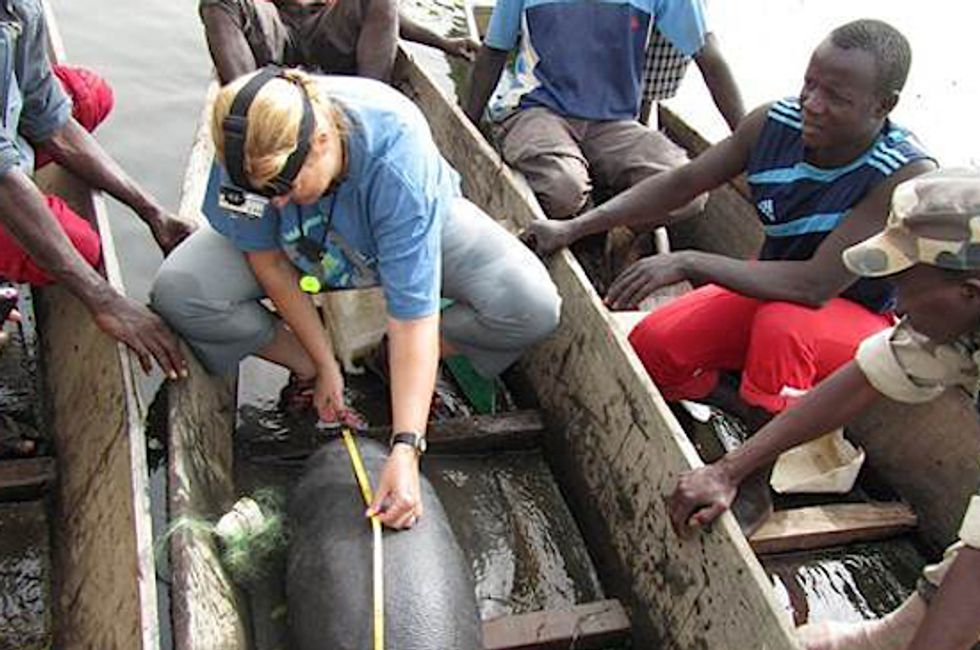 As global human populations soar toward 9 billion by 2050, the world is increasingly looking to Africa as a breadbasket. With its own population expected to double to 2 billion by 2050, there is further pressure and good reason for African economies to improve agricultural resilience and self-reliance. The challenges are many and the scale of the task is immense. Projects like Sea2Shore's approach in Nigeria may represent drops in the ocean of the food security challenge but they also represent examples of holistic thinking and practical solutions to help reduce the conflict between man and nature along the way.
Primarily, this multinational SOS funded project is the first step in drumming up research and conservation interest for the much-neglected West African Manatee. But crucially, these initiatives in Nigeria as well as Senegal and Mali have the potential to serve as a model for several other manatee sites in the region. This would in turn help develop a concerted conservation strategy for the species across its entire range in West Africa. And that it empowers people with new livelihood options along the way is just what might seal the deal for gathering widespread support.
--------
YOU ALSO MIGHT LIKE
2013 Deadliest Year on Record for Manatees
Manatees Dying in Record Numbers From Toxic Algal Bloom
--------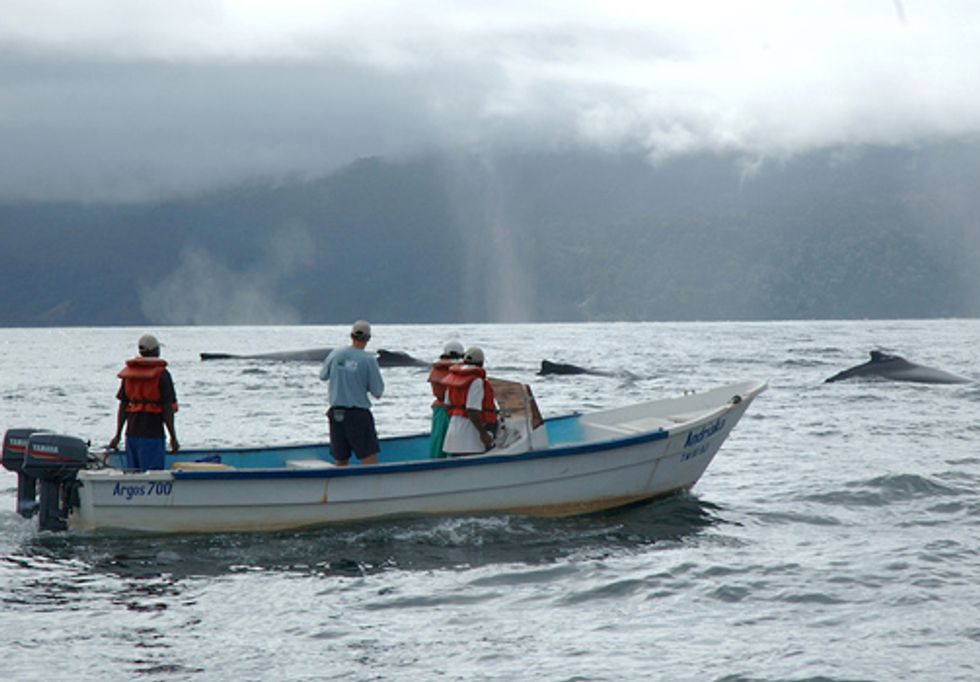 The fate of the world's great whale species commands global attention as a result of heated debate between pro and anti-whaling advocates, but the fate of smaller marine mammals is less understood, specifically because the deliberate and accidental harvesting of dolphins, porpoises, manatees and other warm-blooded aquatic denizens is rarely studied or monitored.
To shed more light on the issue, researchers from the Wildlife Conservation Society (WCS) and Okapi Wildlife Associates have conducted an exhaustive global study of human consumption of marine mammals using approximately 900 sources of information. The main finding—since 1990, people in at least 114 countries have consumed one or more of at least 87 marine mammal species. In addition to this global review, Wildlife Conservation Society scientists work in remote countries around the world to assess and actively address the threat to dolphin populations with localized, applied conservation efforts.
The new global study appears in the most recent edition of Biological Conservation. The authors include Dr. Martin D. Robards of the Wildlife Conservation Society, and Dr. Randall R. Reeves of Okapi Wildlife Associates.
"International bodies such as the International Whaling Commission were formed specifically to gauge the status of whale populations and regulate the hunting of these giants," said Robards, lead author of the new study. "These species, however, represent only a fraction of the world's diversity of marine mammals, many of which are being accidentally netted, trapped, and—in some instances—directly hunted without any means of tracking as to whether these harvests are sustainable."
In order to build a statistically robust picture of human consumption rates of marine mammals around the world, Robards and Reeves started with records on small fisheries focused on small whales (i.e. pilot whales), dolphins, and porpoises from 1975 and records of global marine mammal catches between 1966 and 1975. From there, the authors consulted some 900 other sources and consulted with numerous researchers and environmental managers, an exhaustive investigation that took three years to complete. The team only counted information with actual evidence of human consumption of marine mammals, omitting instances where marine mammals were caught (either intentionally or not) for fishing bait, feed for other animals, medicines, and other uses.
The list of marine mammals killed for human consumption includes obscure species such as the pygmy beaked whale, the South Asian river dolphin, the narwhal, the Chilean dolphin, the long-finned pilot whale, and Burmeister's porpoise. Seals and sea lions are on the list as well, including species such as the California sea lion and lesser known species such as the Baikal seal. The polar bear (a bear that is considered a marine mammal) also makes the list. Three species of manatee and its close relative the dugong, considered a delicacy in some parts of the world, are also widespread targets of human consumption.
Overall, the historical review reveals an escalation in the utilization of smaller cetaceans, particularly coastal and estuarine species since 1970, often caught as accidental "bycatch" in nets meant for fish and other species. Once caught, however, small cetaceans are being increasingly utilized as food in areas of food insecurity and/or poverty, what the authors call "fishing up the food chain."
"Obviously, there is a need for improved monitoring of species such as the Atlantic and Indo-Pacific humpback dolphins and other species," said Dr. Howard Rosenbaum, director of WCS's Ocean Giants Program. "In more remote areas and a number of countries, a greater immediate need is to understand the motivations behind the consumption of marine mammals and use these insights to develop solutions to protect these iconic species that lead to more effective management and conservation."
WCS's Ocean Giants Program works in a number of seascapes of critical importance to small cetaceans in particular. These efforts are focused on the local level to address local impacts on coastal dolphin populations, providing on-the-ground practical conservation actions to compliment the global investigative work highlighted above.
In Congo, Gabon, and Madagascar, WCS conservation scientists Dr. Salvatore Cerchio and Tim Collins are conducting scientific studies to assess the status of impacted dolphin populations, and work with local communities of traditional fishermen to reduce accidental bycatch and deliberate hunting of dolphins. In these regions, the scientists are documenting a worrying trend in increased captures and use of dolphins for food, and they are sometimes also being sold in markets better known for their association with terrestrial bushmeat.
In response, Cerchio and the WCS Madagascar team have worked with local communities to establish a local conservation association composed of fishermen, local traditional laws protecting dolphins, and development of community-based whale and dolphin watching as an alternative livelihood. On the other side of the African continent, the coasts of Gabon and Congo represent one of the last strongholds for the rare Atlantic humpback dolphin. Catches by fishermen in Gabon are extremely rare, but groups of dolphins that cross the border (a finding of recent WCS work) risk capture in coastal gillnets set by artisanal fisherman. "The Atlantic humpback dolphin may well be the rarest mammal in the Congo basin region," said Tim Collins. "Unfortunately, few have ever heard of it, least of all the fisherman eating them out of existence."
For more information, click here.