This website uses cookies to ensure you get the best experience while browsing it. By clicking 'Got It' you're accepting these terms.


The best of EcoWatch, right in your inbox. Sign up for our email newsletter!
Nick Aumen / USGS
By John R. Platt and Dipika Kadaba
Florida manatees had another deadly year in 2019.
An estimated 531 manatees died in Florida waters in the past 12 months. That's a significant decrease from the number of deaths in 2018, when 824 manatees died, but it still represents a nearly 10 percent loss to their population in the state.
Two baby Loggerhead turtles. U.S. Air Force / Senior Airman Veronica McMahon
Florida's longest red tide in more than a decade has killed scores of the state's most iconic marine animals.
The current outbreak, which began in October 2017 off southwest Florida, has been tied to a record 589 sea turtle deaths and 213 manatee deaths, the Herald-Tribune reported, citing figures from the Florida Fish and Wildlife Conservation Commission.
EcoWatch Daily Newsletter
Mom and baby West Indian manatees in Three Sisters Springs, Florida. James R.D. Scott / Getty Images
2018 has not been a good year for Florida's iconic manatees. A total of 540 sea cows have died in the last eight months, surpassing last year's total of 538 deaths, according to figures posted Monday by Public Employees for Environmental Responsibility (PEER).
The figure will likely climb higher before the year's end amid the state's ongoing toxic algae crisis. The red tide in the state's southwest is the known or suspected cause of death for 97 manatees as of Aug. 12, the Florida Fish & Wildlife Conservation Commission recently reported.
The West African Manatee (Trichechus senegalensis) is the least studied mammal in Africa despite having a home range larger than the U.S., encompassing 21 African countries. At the same time, it faces serious threats from hunting and accidental capture in fishing nets.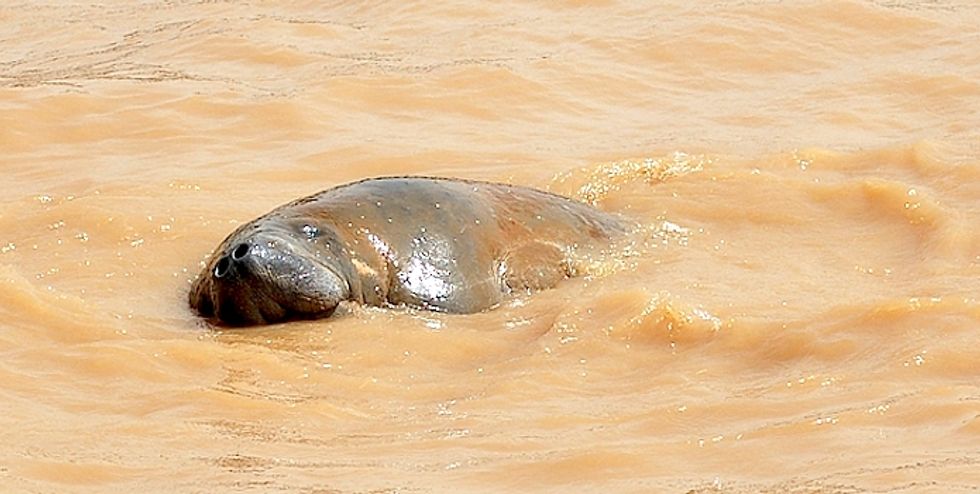 This lack of knowledge about the species raises concern for its future, given what we know about the impact of key threats to the survival of the West African Manatee, according to project leader Lucy Diagne. Conservation of the species is greatly hindered by the lack of basic knowledge about their distribution and habitat needs. They are often referred to as the "forgotten" sirenian. 
The species is highly susceptible to incidental capture in fishing nets and is hunted almost everywhere it occurs, despite existing protection laws in all range countries. There are no accurate estimates of population abundance, and the impact of hunting and habitat destruction are poorly documented, but the trade in manatee bushmeat is well known in Africa. The species is believed to be in decline throughout much of its range, but without baseline information, it is impossible to know how to conserve these manatees, and conservation is also unlikely without capacity building.
This Save Our Species (SOS)-funded project is however, tipping the balance in favor of these gentle, mysterious creatures. By kick-starting conservation action across three African countries which comprise part of their vast range to provide tailor-made solutions for the manatees in three very different contexts. Implemented by Sea2Shore Alliance, the project is creating solutions in Senegal, Mali and Nigeria. In this installment, Diagne focuses on the Nigerian context.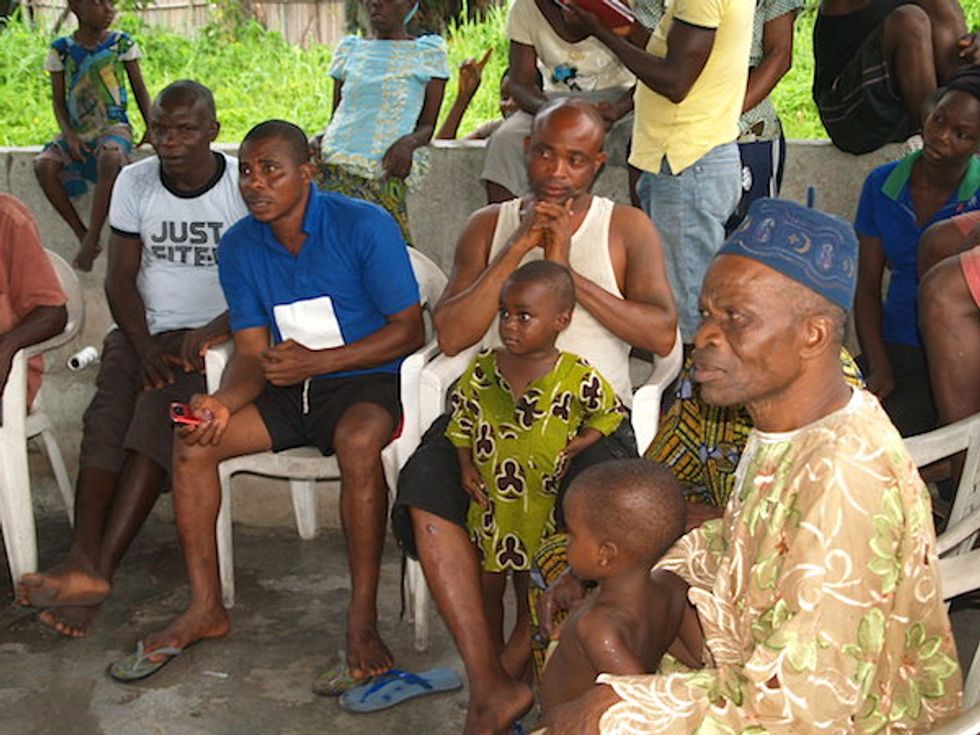 Using Aquaculture as an Incentive
In Nigeria, a unique scheme for alternative livelihoods was proposed to stop manatee hunting. Manatee hunters were incentivized to give up hunting and to remove manatee traps in the Lekki Lagoon, near to Lagos. In return, they were offered training and equipment to take up catfish aquaculture.
Changing the attitudes of manatee hunters was not easy. In the early days of the project, the hunters who had originally agreed to participate wanted to take up the aquaculture training without giving up manatee hunting. The project leader Bolaji Abimbola had to reassert the value of manatee conservation and the benefit of having a stable, year round income from aquaculture.
His efforts were aided by the Senegal project leader Tomas Diagne, Lucy's husband, who visited the Lekki Lagoon. Tomas spoke with the villagers about his 20 years working with the local people at Tocc Tocc Reserve in northern Senegal to bring them the benefits of alternative livelihoods that conserved manatees. But understanding the nuances of community dynamics helped seal the deal. Bojali observed that while the men might tend the fish cages it was the women who prepared them for market, gutting them and smoking them. And so the project expanded to include this activity. Soon the village community became much more invested in the project, agreeing to remove manatee traps and give up hunting to learn aquaculture skills.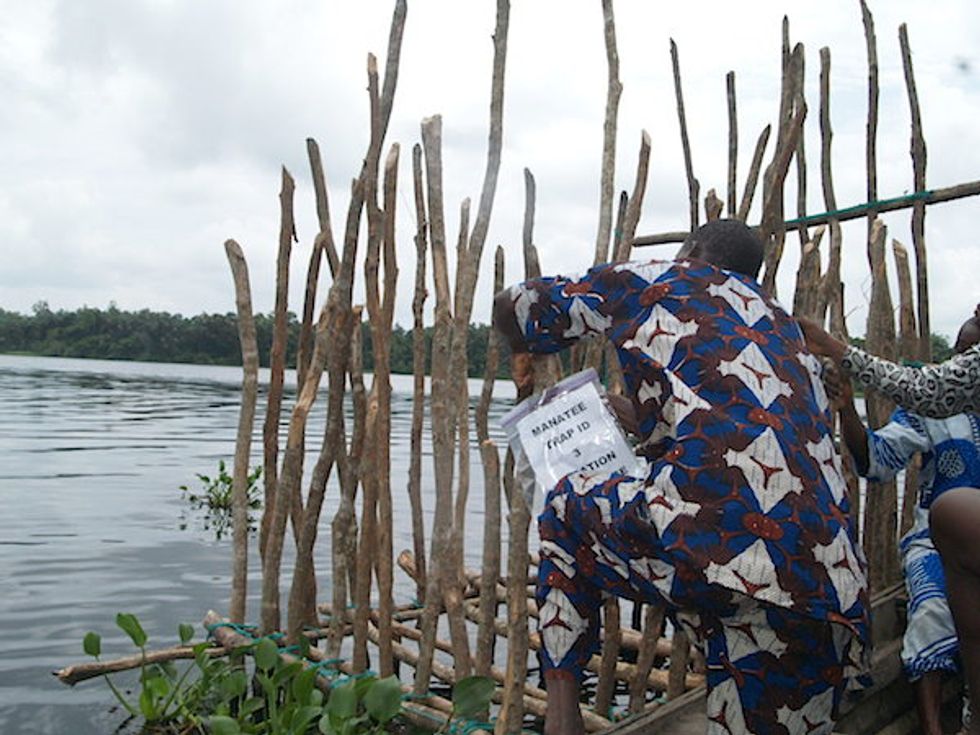 Equipping them for a new livelihood, Bojali ensured the hunters were trained in cage construction, catfish breeding and culturing. The range of tasks was broad: the hunters constructed cages from PVC pipes and other supplies, learned how to determine the sex of catfish, practiced injecting the fish in preparation for breeding, mastered stripping eggs off fish and fertilizing them, as well as how to prepare adult fish for market. Meanwhile, removal of manatee traps commenced and installation of additional cages stocked with catfish fingerlings also began.
The investment in the community is beginning to pay off according to Diagne. Nine manatee traps were removed in Lekki Lagoon in 2013, which will directly lead to greater conservation of manatees in this region. Additionally, three other communities have expressed interest in adopting the aquaculture training scheme for their villages in return for stopping manatee hunting. So, the good example from these new livelihood opportunities is spreading to neighboring villages.
"We hope this project can be used as an example for other places in Africa to show that alternative livelihoods to manatee hunting are achievable," said Diagne.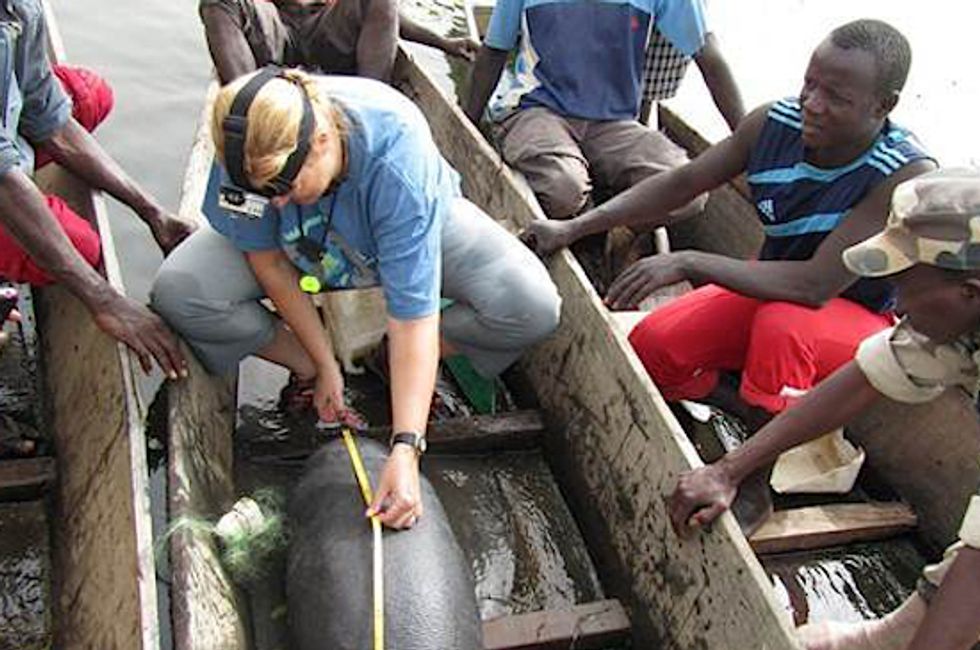 As global human populations soar toward 9 billion by 2050, the world is increasingly looking to Africa as a breadbasket. With its own population expected to double to 2 billion by 2050, there is further pressure and good reason for African economies to improve agricultural resilience and self-reliance. The challenges are many and the scale of the task is immense. Projects like Sea2Shore's approach in Nigeria may represent drops in the ocean of the food security challenge but they also represent examples of holistic thinking and practical solutions to help reduce the conflict between man and nature along the way.
Primarily, this multinational SOS funded project is the first step in drumming up research and conservation interest for the much-neglected West African Manatee. But crucially, these initiatives in Nigeria as well as Senegal and Mali have the potential to serve as a model for several other manatee sites in the region. This would in turn help develop a concerted conservation strategy for the species across its entire range in West Africa. And that it empowers people with new livelihood options along the way is just what might seal the deal for gathering widespread support.
--------
YOU ALSO MIGHT LIKE
2013 Deadliest Year on Record for Manatees
Manatees Dying in Record Numbers From Toxic Algal Bloom
--------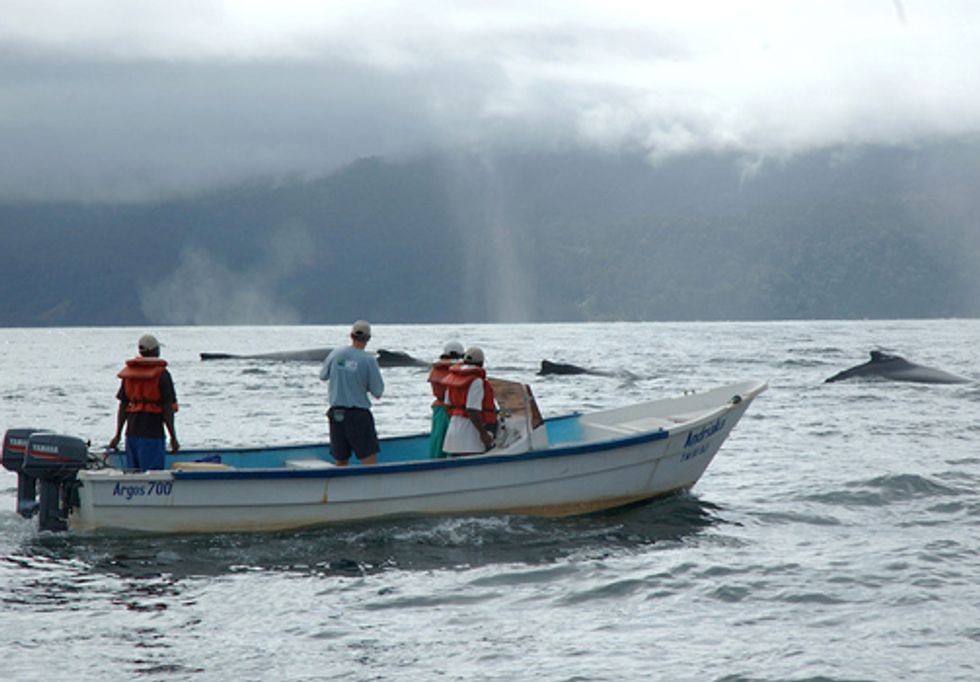 The fate of the world's great whale species commands global attention as a result of heated debate between pro and anti-whaling advocates, but the fate of smaller marine mammals is less understood, specifically because the deliberate and accidental harvesting of dolphins, porpoises, manatees and other warm-blooded aquatic denizens is rarely studied or monitored.
To shed more light on the issue, researchers from the Wildlife Conservation Society (WCS) and Okapi Wildlife Associates have conducted an exhaustive global study of human consumption of marine mammals using approximately 900 sources of information. The main finding—since 1990, people in at least 114 countries have consumed one or more of at least 87 marine mammal species. In addition to this global review, Wildlife Conservation Society scientists work in remote countries around the world to assess and actively address the threat to dolphin populations with localized, applied conservation efforts.
The new global study appears in the most recent edition of Biological Conservation. The authors include Dr. Martin D. Robards of the Wildlife Conservation Society, and Dr. Randall R. Reeves of Okapi Wildlife Associates.
"International bodies such as the International Whaling Commission were formed specifically to gauge the status of whale populations and regulate the hunting of these giants," said Robards, lead author of the new study. "These species, however, represent only a fraction of the world's diversity of marine mammals, many of which are being accidentally netted, trapped, and—in some instances—directly hunted without any means of tracking as to whether these harvests are sustainable."
In order to build a statistically robust picture of human consumption rates of marine mammals around the world, Robards and Reeves started with records on small fisheries focused on small whales (i.e. pilot whales), dolphins, and porpoises from 1975 and records of global marine mammal catches between 1966 and 1975. From there, the authors consulted some 900 other sources and consulted with numerous researchers and environmental managers, an exhaustive investigation that took three years to complete. The team only counted information with actual evidence of human consumption of marine mammals, omitting instances where marine mammals were caught (either intentionally or not) for fishing bait, feed for other animals, medicines, and other uses.
The list of marine mammals killed for human consumption includes obscure species such as the pygmy beaked whale, the South Asian river dolphin, the narwhal, the Chilean dolphin, the long-finned pilot whale, and Burmeister's porpoise. Seals and sea lions are on the list as well, including species such as the California sea lion and lesser known species such as the Baikal seal. The polar bear (a bear that is considered a marine mammal) also makes the list. Three species of manatee and its close relative the dugong, considered a delicacy in some parts of the world, are also widespread targets of human consumption.
Overall, the historical review reveals an escalation in the utilization of smaller cetaceans, particularly coastal and estuarine species since 1970, often caught as accidental "bycatch" in nets meant for fish and other species. Once caught, however, small cetaceans are being increasingly utilized as food in areas of food insecurity and/or poverty, what the authors call "fishing up the food chain."
"Obviously, there is a need for improved monitoring of species such as the Atlantic and Indo-Pacific humpback dolphins and other species," said Dr. Howard Rosenbaum, director of WCS's Ocean Giants Program. "In more remote areas and a number of countries, a greater immediate need is to understand the motivations behind the consumption of marine mammals and use these insights to develop solutions to protect these iconic species that lead to more effective management and conservation."
WCS's Ocean Giants Program works in a number of seascapes of critical importance to small cetaceans in particular. These efforts are focused on the local level to address local impacts on coastal dolphin populations, providing on-the-ground practical conservation actions to compliment the global investigative work highlighted above.
In Congo, Gabon, and Madagascar, WCS conservation scientists Dr. Salvatore Cerchio and Tim Collins are conducting scientific studies to assess the status of impacted dolphin populations, and work with local communities of traditional fishermen to reduce accidental bycatch and deliberate hunting of dolphins. In these regions, the scientists are documenting a worrying trend in increased captures and use of dolphins for food, and they are sometimes also being sold in markets better known for their association with terrestrial bushmeat.
In response, Cerchio and the WCS Madagascar team have worked with local communities to establish a local conservation association composed of fishermen, local traditional laws protecting dolphins, and development of community-based whale and dolphin watching as an alternative livelihood. On the other side of the African continent, the coasts of Gabon and Congo represent one of the last strongholds for the rare Atlantic humpback dolphin. Catches by fishermen in Gabon are extremely rare, but groups of dolphins that cross the border (a finding of recent WCS work) risk capture in coastal gillnets set by artisanal fisherman. "The Atlantic humpback dolphin may well be the rarest mammal in the Congo basin region," said Tim Collins. "Unfortunately, few have ever heard of it, least of all the fisherman eating them out of existence."
For more information, click here.