This website uses cookies to ensure you get the best experience while browsing it. By clicking 'Got It' you're accepting these terms.


The best of EcoWatch, right in your inbox. Sign up for our email newsletter!
Malaysian Environment Minister Yeo Bee Yin (front 2nd L) and officials inspect a container containing plastic waste shipment on Jan. 20, 2020 before sending back to the countries of origin. AFP via Getty Images
The Southeast Asian country Malaysia has sent 150 shipping containers packed with plastic waste back to 13 wealthy countries, putting the world on notice that it will not be the world's garbage dump, as CNN reported. The countries receiving their trash back include the United States, the United Kingdom, France and Canada.
Art direction: Georgie Johnson. Illustrations: Freya Morgan
By Joe Sandler Clarke
"Don't expect us to continue buying European products," Malaysia's former plantations minister Mah Siew Keong told reporters in January last year. His comments came just after he had accused the EU of "practising a form of crop apartheid."

A few months later Luhut Pandjaitan, an Indonesian government minister close to President Joko 'Jokowi' Widodo, warned his country would retaliate if it was "cornered" by the EU.
EcoWatch Daily Newsletter
Deforestation on peatland for palm oil plantation in Borneo, Indonesia.
glennhurowitz / Flickr / CC BY-ND 2.0
A Bornean orangutan in Kalimantan, the Indonesian part of Borneo. An endangered species, the ape is threatened by the unbridled expansion of oil palm plantations into their forest homes. Rhett A. Butler / Mongabay
By Hans Nicholas Jong
Banning palm oil in favor of other vegetable oils deemed less destructive to the environment could lead to greater biodiversity losses, a new report says.
The report by the International Union for the Conservation of Nature (IUCN) comes amid mounting debate about the use of palm oil, with the European Union seeking to phase out the use of the ubiquitous commodity in biofuels by 2030, citing environmental and human rights violations in the production of the commodity.
Rising carbon dioxide levels could lead to fewer moisture clouds forming over the Amazon rainforest. Ana_Cotta / CC BY 2.0
Scientists have discovered another factor that might interact with rising carbon dioxide emissions to influence climate change—tropical forests.
In a study published in Nature Climate Change Friday, researchers found that the way tropical forests interact with increased atmospheric levels of carbon dioxide could alter rainfall patterns, drying out the Amazon rainforest and increasing precipitation in African and Indonesian forests.
Female Bornean orangutan with offspring. Photo courtesy of Dr. Marc Ancrenaz
By Basten Gokkon
The world lost nearly 150,000 orangutans from the island of Borneo in the past 16 years due to habitat loss and killing, and is on track to lose another 45,000 by 2050, according to a new paper in the journal Current Biology.
The study, published Feb. 15, observed 36,555 orangutan nests across Borneo, an island that is shared between Indonesia, Malaysia and Brunei, between 1999 and 2015. During that period, the researchers reported a steep decline in the number of nests they encountered over a given distance: the encounter rate more than halved from 22.5 nests per kilometer (about 36 per mile) to 10.1 nests per kilometer. That decline, they calculate, represents an estimated loss of 148,500 individual Bornean orangutans (Pongo pygmaeus).
By Mitch Jones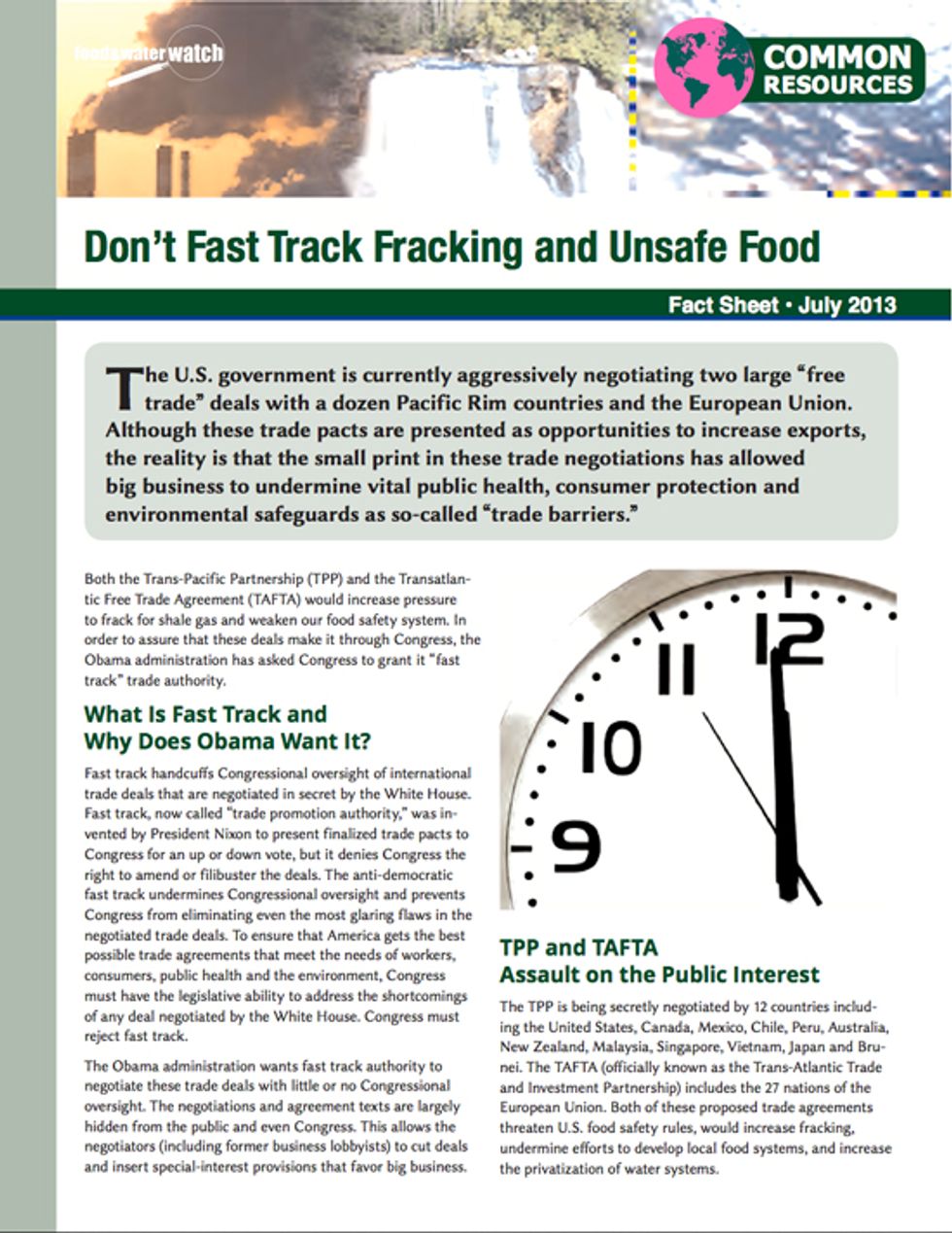 We've all seen the results in states across the country of the influence that the American Legislative Exchange Council and the Koch Brothers have amassed. And if you think the results of their agenda to hand more and more power to corporations at your expense are bad, you should really hate the new "trade" deals being negotiated to hand even more power to corporations at our expense.
The Transpacific Partnership (TPP) is being secretly negotiated by 12 countries, including the U.S., Canada, Mexico, Chile, Peru, Australia, New Zealand, Malaysia, Singapore, Vietnam, Japan and Brunei. The Trans Atlantic Free Trade Agreement (TAFTA) includes the 27 nations of the European Union. Both of these proposed trade agreements threaten U.S. food safety rules, infringe upon public and private land with an increased push for fracking, undermine efforts to develop local food systems and increase the privatization of water systems.
While its supporters talk about them as "trade" deals, in reality the TPP and TAFTA would be a permanent power grab by corporations and their financiers that would make it impossible for future generations to choose what laws and rules they want to live under. They would permanently enshrine the very economic system that has lead to greater imbalances in income and wealth and increasing economic crises. These deals would also allow foreign corporations to sue the federal, state and local governments over laws and policies that violate the "trade" deal, but protect us from unsafe food, dirty water and dangerous fracking. It's outrageous!
How do we know that these deals will give more power to corporations and leave our children, our air and water, and our food safety at greater risk? Because while the American people aren't being told what's in the deal, and while members of Congress are being shut out of the negotiations, representatives from more than 600 corporations and corporate interests are able not only to see the text of the agreement, but also are able to help influence what goes into it.
We need to stop these trade deals before they give even more power to corporations. Food & Water Watch just published a new fact sheet, Don't Fast Track Fracking and Unsafe Food, with extensive details on these trade agreements and provides information on how to contact your representatives to oppose these corporate giveaways.
Visit EcoWatch's FOOD and FRACKING pages for more related news on this topic.
——–
SHARE YOUR THOUGHTS BELOW: What do you think would be the result of these trade deals in the U.S.?

——–

Asia Pacific has surpassed the rest of the world in its consumption of materials and will continue to dominate world material flows, according to a new United Nations Environment Programme (UNEP) report released today.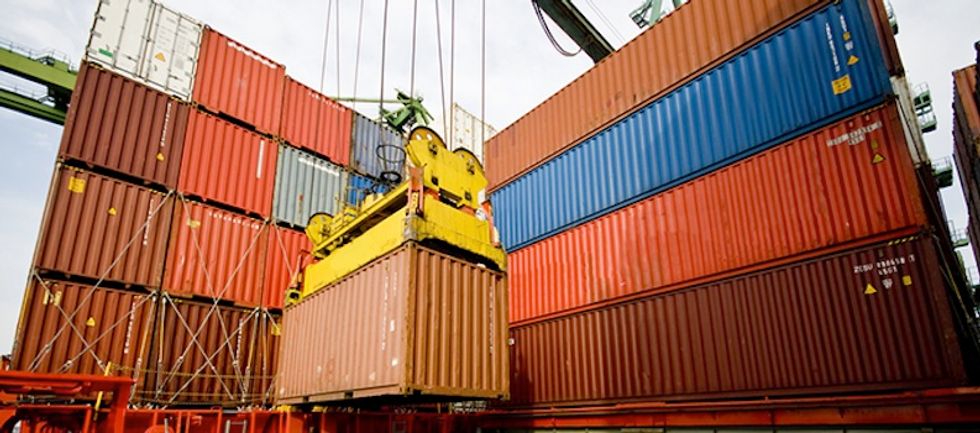 The region's trade balance indicates that the current rate of exploitation of its resource base is no longer sufficient to support the region's fast-growing economies and changing lifestyles. From 1970-2008, consumption of construction minerals increased 13.4 times, metal ores and industrial minerals consumption 8.6, fossil fuels 5.4 and biomass 2.7 times.
The data indicates that, at this rate, the region will be increasingly dependent on imports and unable to sustain its economies and lifestyles. The current rate of consumption is also having a negative impact on the environment.
The report, Recent Trends in Material Flows and Resource Productivity in Asia and the Pacific, presents an insight of the 2011 Resource Efficiency: Economics and Outlook for Asia and the Pacific (REEO) report on material flows and resource productivity in Asia and the Pacific. It brings together data extending the latest reported year up to 2008 and thus includes the onset of the global financial crisis.
The report highlights the region's material intensity—consumption of materials per dollar of Gross Domestic Product (GDP)—as an area of serious concern, as this will increase pressures on the environment and exceed the region's rapid growth. Currently, material intensity for Asia Pacific is three times the rest of the world.
"Each dollar of GDP requires increasing amount of materials," said Dr. Park Young-Woo, regional director of UNEP Regional Office for Asia and the Pacific. "The findings do not give signs of decoupling material consumption and natural resource use from economic growth in the region."
"Resource efficiency needs to increase rapidly to offset material growth in the Asia Pacific region, which needs systems innovations in urban areas, transportation modes, energy production and economic structure," he added.
Almost all of the world's growth in domestic material consumption, from the onset of the global financial crisis in 2008, can be attributed to Asia Pacific, which now shapes the world trajectory on growth in material consumption, according to the report.
Domestic materials consumption increased from 6.2 billion tonnes to 37.5 billion tonnes between 1970 and 2008, an annual growth rate of 4.8 percent. China and India heavily account for consumption by 2008, with China accounting for more than 60 percent of the regional total domestic material consumption, and India contributing more than 14 percent. The regional average per-capita material consumption now stands at 89 percent that of the rest of the world.
China shows the most dramatic trends in recent years: Per-capita material consumption increased by 25 percent between 2005 and 2008. China has reinforced its position as a net importer of materials (in particular petroleum) due to strong domestic demand, contrary to the common perception of China as a mass exporter. 
China has shown good progress in improving resource efficiency since the 1980s, but this has slowed down recently. It is still far less resource-efficient than the Asia Pacific and global averages.
In India, overall material consumption has remained low. However, metal ores and industrial minerals use grew by 8.6 percent each year over the period from 1998 to 2008, which indicates that India is entering a rapid acceleration phase in its transition to an industrialized economy. The insight showed another new development since the launch of the first REEO report: the stagnation since 2004 of the previously impressive improvements in resource efficiency from 1970 to 2004.
The report found that the region is moving from a biomass- to minerals-based economy, indicating that the most-populous countries like China and India are transitioning from agrarian to industrialized economies. Biomass dropped from more than half to 25 percent of the region's domestic extraction, while construction materials grew to 51.4 percent.
Population growth was also found to be the least-important driver of growing extractive pressures on the environment. Growing affluence and material intensity were cited as primary drivers and any effort to stabilize extractive pressure will need to address both, according to the report.
"The findings of the report conclude that countries in Asia and the Pacific face even greater challenges to make the transition of current economic growth patterns towards green growth, and to transform the economies into truly green economy, despite the strong efforts in development of policies and strategies by member countries," said Dr. Park. 
The report also underlined the urgent need for policymakers in the region to be vigilant in using of the latest data when developing their policies. It recommends the establishment of a global harmonized database that shares material use data for all countries as an important step in helping policymakers and businesses anticipate resource issues, and to provide academia with reliable data to support decision makers with the policy relevant science.
Country specific highlights
Australia: Extraction per capita is driven by exports of fossil fuels and metal ores. Australia is increasingly serving as an energy materials supplier to the industrial transformation in the Asia Pacific region. Resource use per capita is five times the regional and global averages. 
China: See above.
India: See above.
Indonesia: Indonesia is a massive exporter of raw materials, in particular fossil fuels. It has been an unusual case since 2005 in that material consumption per capita and material intensity have decreased in recent years, which is normally desirable. This overall trend is largely due to significant fluctuations in use of one resource group in particular: metal ores. 
Japan: Typically characterized as a stable industrialized economy with a relatively high level of resource use per capita considering the near absence of primary industry. Japan has gradually demonstrated a decline in material intensity.
Malaysia: has shown historical volatility in material use per capita. Material intensity is high compared to regional averages, but has been declining in recent years.
Pakistan: The most biomass-based economy (3t biomass/capita out of the total 4.8tmaterials/capita). The slow growth in construction material use per capita reveals the low priority of infrastructure development in this period. 
Republic of Korea (RoK): The historic material use data of the RoK clearly outlines its transition to an industrialized economy since the 1980s.
Thailand: Like many Asian industrializing countries, Thailand's material use patterns are largely dominated by construction materials. In the past years, Thailand showed promising improvements in material intensity, reducing from 4kg/$ in 2004 to 3kg/$ in 2008. 
Viet Nam: The journey from one of the lowest resource users to close to average for the region has been based on a steady acceleration in the use of construction materials (from 0.3t construction materials/cap in 1970 to 5.3t construction materials/cap in 2008). One interesting finding is a sudden decline in the export of fossil fuels from 2007 to 2008. This is partly explained by decreased extraction of fossil fuels, but also due to growing domestic demand of fossil fuels. Viet Nam may be a net importer of fossil fuels in the near future.
Visit EcoWatch's BIODIVERSITY page for more related news on this topic.
——–
Click here to tell Congress to Expedite Renewable Energy.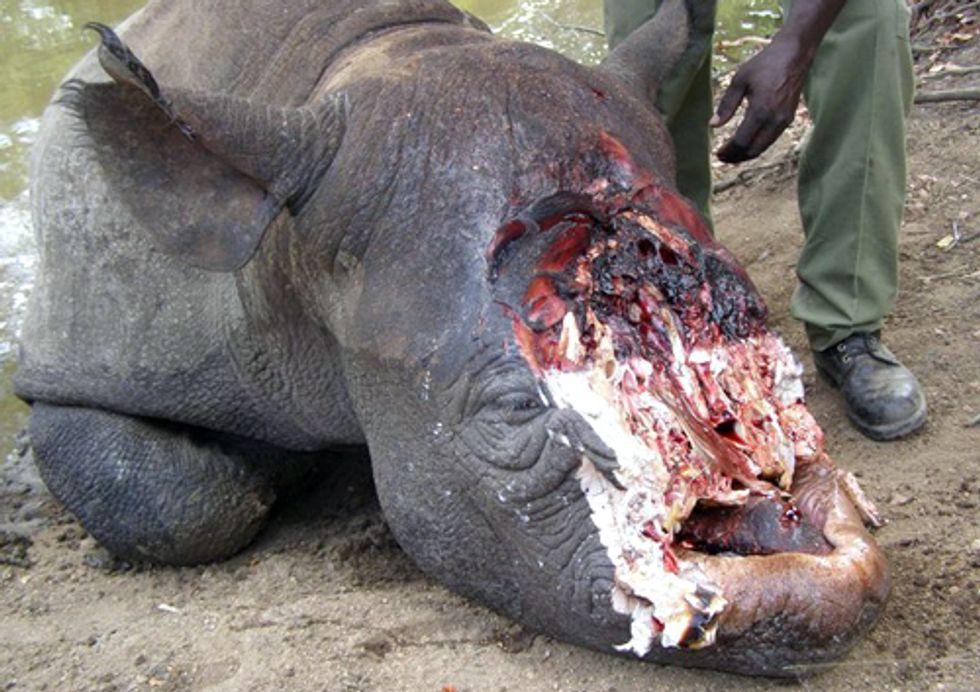 Photo courtesy of Anti-poaching Unit, Zimbabwe
Escalating levels of poaching and illegal trade in rhino horns are seriously undermining rhino conservation efforts, putting the survival of these species at risk—according to a report by International Union for Conservation of Nature (IUCN) and TRAFFIC.
 
The report examines the conservation status and trade in African and Asian rhino species.
 
"The findings of the report are alarming," says Tom Milliken, a rhino expert from TRAFFIC. "Today, rhino poaching and illegal horn trade are at their highest levels in over 20 years, threatening to reverse years of conservation effort, particularly in Africa. There is no doubt that rhino species are facing a serious crisis."
 
According to the report, by the beginning of 2011 there were 20,165 White Rhinoceros (Ceratotherium simum) and 4,880 Black Rhinoceros (Diceros bicornis) in Africa. However, at least 1,997 rhinos were poached between 2006 and September 2012 and over 4,000 rhino horns have been illegally exported from Africa since 2009, with an estimated 92 percent of these coming from rhinos specifically killed to obtain their horn.
 
South Africa, home to 83 percent of Africa's rhinos and 73 percent of all wild rhinos worldwide, is the principal source of rhino horns in illegal trade. A record 668 rhinos were poached there in 2012, according to official government figures released in January 2013.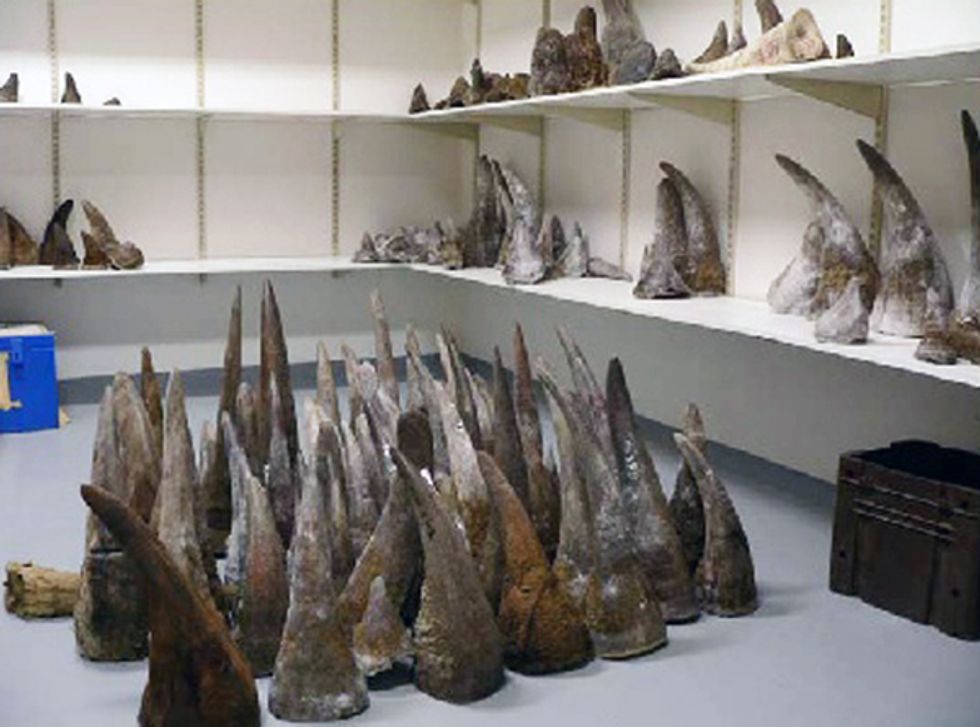 Photo Courtesy of Simon Milledge/TRAFFIC
Illegal trade in rhino horns involves highly organized, mobile and well-financed criminal groups, mainly composed of Asian nationals based in Africa. These networks have recruited pseudo-hunters including Vietnamese citizens, Thai prostitutes and proxy hunters from the Czech Republic and Poland to obtain rhino horns in South Africa on the pretense of trophy hunts for illegal commercial trade. Pseudo-hunting has significantly reduced as a result of a decision to prevent nationals of Vietnam from obtaining hunting licenses and changes to South African law in April 2012. However, there remains a continued need to ensure that only bona fide hunters are granted permits, according to the report.
 
"Rhinos are killed for their horns, which are seen as highly desirable status symbols in parts of Asia, notably Vietnam, but also increasingly in China," says Bibhab Kumar Talukdar, Chair of IUCN Species Survival Commission's (SSC) Asian Rhino Specialist Group. "Horns are also increasingly used for non-traditional purposes such as hangover cure and body detoxifier, especially in Viet Nam."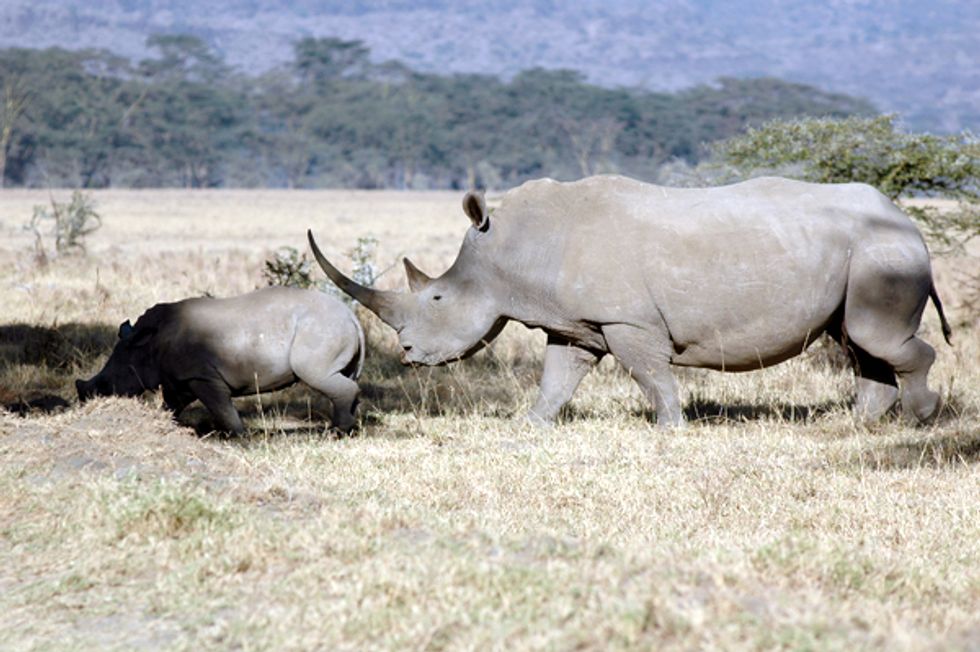 White Rhinoceros (Ceratotherium simum). Photo courtesy of Jean-Christophe Vié
In Asia, although conservation action in Nepal and India has resulted in increased numbers of the Greater One-horned Rhinoceros (Rhinoceros unicornis), the situation in Indonesia and Malaysia remains serious for the world's two rarest rhino species—the Sumatran Rhinoceros (Dicerorhinus sumatrensis) and the Javan Rhinoceros (Rhinoceros sondaicus). The Javan Rhinoceros, with only around 35 to 45 surviving individuals, is confined to a single park in Indonesia after the last animal of its Indochinese subspecies, Rhinoceros sondaicus annamiticus, was found dead, its horn removed, in Vietnam in 2010. The report calls for enhanced protection and biological management of the remaining Sumatran and Javan Rhinoceros to prevent their extinction.
 
Thefts of rhino horns from museums and zoos have increased worldwide, creating the need for improved law enforcement, monitoring and enhanced information management with regards to rhino numbers, sales and translocations, the report finds.
 
"Trade in rhino horns is a global problem that needs to be addressed by the international community by putting pressure on those countries that are driving illegal trade in rhino horn and those with inadequate wildlife legislation, such as Mozambique," says Richard Emslie, from IUCN SSC African Rhino Specialist Group. "At the same time, increased poaching is negatively affecting rhino conservation incentives and budgets, threatening future rhino population growth."
 
The report was compiled by the IUCN SSC African and Asian Rhino Specialist Groups and TRAFFIC, the wildlife trade monitoring network. It was mandated by Convention on International Trade in Endangered Species (CITES) and aims to inform the rhino horn debate at the 16th meeting of the Conference of the Parties to CITES, taking place in March 2013 in Bangkok, Thailand.
Visit EcoWatch's BIODIVERSITY page for more related news on this topic.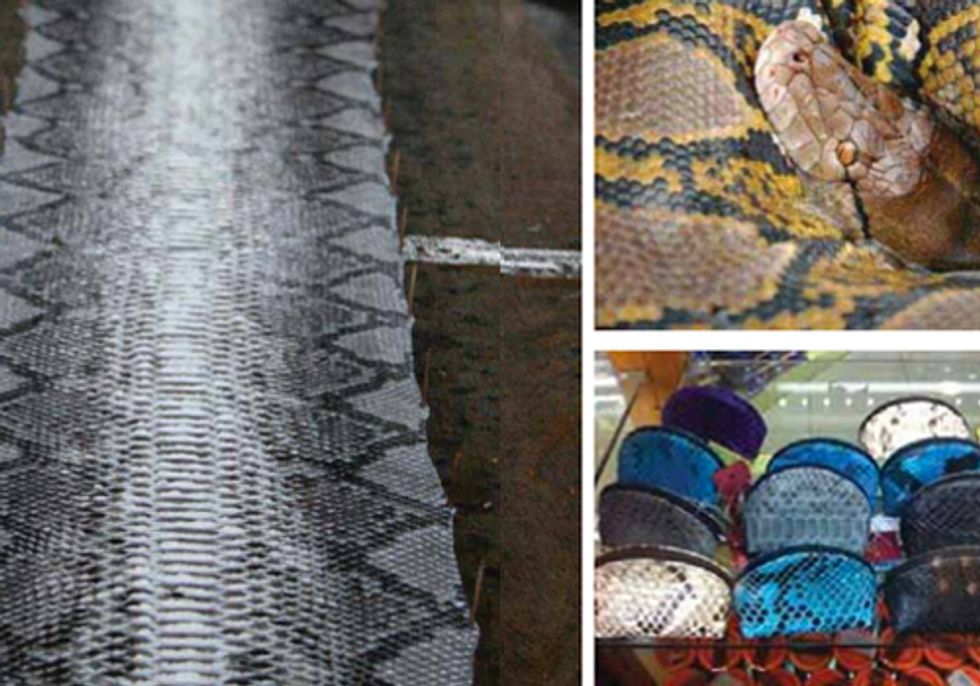 A new study finds that close to half a million python skins are reported as exported annually from Southeast Asia. The main importer is the European fashion and leather industry. The study raises concerns over the illegality in parts of the trade, animal welfare issues and the trade's impact on the conservation of python populations.
The report, Trade in South-East Asian Python Skins, was launched today by the International Trade Centre (ITC), in co-operation with TRAFFIC and the International Union for the Conservation of Nature (IUCN), and reveals that the trade in python skins is worth an estimated U.S. $1 billion annually.
Alexander Kasterine, head of ITC's Trade and Environment Program, said: "The report shows that problems of illegality persist in the trade in python skins and that this can threaten species' survival. The fashion and leather industry has a stronger role to play in supporting Convention on International Trade in Endangered Species of Wild Flora and Fauna (CITES) and developing countries to ensure supply is legal and sustainable."
Indonesia, Malaysia and Vietnam are the main sources of exports of python skins, with European Union countries–in particular Italy, Germany and France–the biggest importers. Around 70 percent of all python skins are re-exported via Singapore. The report notes that a lack of transparency concerning undisclosed stockpiles in Singapore could be facilitating the laundering of illegally sourced skins.
Tomas Waller, the chair of the Boa and Python Specialist Group (BPSG) of IUCN added that "it would appear a substantial proportion of the skins in trade are sourced illegally from wild animals, beyond agreed quotas and using false permits to launder the skins."
"With potentially large mark-ups along the supply chain, there is a strong financial incentive for illegal trade in python skins and considerable scope for traders to issue false permits," said Olivier Caillabet, program officer with TRAFFIC in Southeast Asia and a co-author of the report.
Although more than 20 percent of exports of reticulated python skins from Southeast Asia (mainly Vietnam and Lao PDR) are declared as captive-bred, the report argues that the "commercial case is not convincing and needs to be specifically assessed," noting that the cost of breeding, feeding and maintaining the snakes to reach slaughter size appears much higher than the market price.
The report recommends that the fashion industry implements a traceability system to demonstrate to consumers that its sourcing is legal and sustainable. The system would complement the existing CITES permitting system, to allow identification of skins along the length of the supply chain.
An additional concern regards the possible lack of sustainability of sourcing. Large numbers of wild pythons are slaughtered before they reach the reproductive stage, meaning harvest quotas may have been set at unsustainable levels. The report recommends a precautionary approach is applied to harvesting, with legally binding minimum skin size limits to ensure protection of immature snakes.
The report highlights previously unknown slaughter methods, yet argues that trade bans are not an effective or fair way to address illegality and animal welfare issues.
Visit EcoWatch's BIODIVERSITY pages for more related news on this topic.
[Editor's note: While working on this post I kept thinking of the Annie Leonard's The Story of Electronics. Watch her movie below and then read about the organizations that are trying to clean up this toxic industry.]
The American Public Health Association (APHA) yesterday called on the global electronics' industry, public health officials and international agencies to step up efforts to protect workers and communities, citing well documented adverse health effects caused by many toxic chemicals used in the manufacture of electronic and electrical products worldwide.
"The rapid growth of the electronics industry has been accompanied by massive increased use of toxic chemical substances and an increase in adverse health outcomes during manufacturing and end of life stages," said Joe DiGangi, PhD, IPEN. "Manufacturers need to address this problem up front in the design phase by reducing and eliminating toxic chemicals."
In making its recommendations, American Public Health Association (APHA) noted the dramatic increase in the production and use of electrical and electronic products, including a global supply chain that works through a complicated web of subcontractors, often located in Asia.
"Weak, or nonexistent regulations, lack of information about the chemicals to which they are being exposed, insufficient oversight, and a failure to consistently report and track disease patterns associated with the industry compound the problem in many Asian manufacturing facilities," explained Dr. Jeong-ok Kong, an occupational health physician with the Korean Institute of Labor, Safety and Health in Korea who presented data indicating unusually high incidence of cancer among Samsung workers in Korea. "Unfortunately the response of the industry is often to continue the harm by exploiting scientific uncertainty and promoting weak policies under the guise of 'sound science.'"
Several presentations at the APHA conference documented adverse health outcomes due to exposure to hazardous chemicals in the electronics industry in China, Korea, Malaysia, Indonesia and elsewhere. Some of the most important health impacts and patterns cited in the APHA resolution include cancers, lung disease, reproductive disorders, congenital anomalies in offspring and musculoskeletal problems from repetitive motion tasks. Companies named in the resolution included Acer, Advanced Micro Devices, Apple, Dell, AU Optronics, Hewlett Packard, Hon Hai (Foxconn), HTC, Intel, Lenovo, LG, Samsung, Taiwan Semiconductor Manufacturing Company and Young Fast Optoelectronics.
APHA endorsed three key strategies to strengthen occupational and environmental health in the electronics industry, including:
Right to know. The right of workers and communities to know the identities and hazards of chemicals they are being exposed to and ways to protect themselves is a key chemical safety principal.
Prevention through design. When the costs of chemical pollution, clean-up, and adverse health effects on individuals and communities are factored into product cost analyses, it becomes clear that the most effective way to address hazardous chemicals in manufacturing electronic products is to use safer chemical and non-chemical alternatives.
Health surveillance. APHA endorses the use of health surveillance that would include collection of data, analysis, and dissemination of information about injuries, illnesses, hazards and exposures in the electronics sector, with full access for workers to monitoring protocols and results, as well as medical records.
--------
Organizations involved in this campaign, include:
The American Public Health Association is the oldest and most diverse organization of public health professionals in the world and has been working to improve public health since 1872.
Asia Monitor Resource Center focuses on Asian labor concerns and supports a democratic and independent labor movement promoting the principles of labor rights, gender consciousness, and active workers' participation in work-related issues.
Asian Network for the Rights of Occupational and Environmental Victims is a coalition of victims' groups, trade unions and other labour groups across Asia, all committed to the rights of Victims and for overall improvement of health and safety at the workplace.
Center for Environmental Health protects people from toxic chemicals and promotes business products and practices that are safe for public health and the environment.
Electronics TakeBack Coalition promotes green design and responsible recycling in the electronics industry. A key goal is to require consumer electronics manufacturers and brand owners to take full responsibility for the life cycle of their products, through effective public policy requirements or enforceable agreements.
Hesperian Health Guides develops and distributes health materials that provide knowledge for action, and inspire action for health and are designed in partnership with and for community health workers and others in poor and marginalized communities around the world to prevent and cure disease, and to challenge the social injustices that cause poor health. www.hesperian.org
International Campaign for Responsible Technology connects activists and organizations around the world to make the electronics industry accountable and sustainable.
IPEN is a leading global organization working to establish and implement safe chemicals policies and practices that protect human health and the environment around the world. IPEN's global network is comprised of more than 700 public-interest organizations in 116 countries working in the international policy arena and in developing countries.
Supporters for the Health and Rights of People in the Semiconductor Industry (SHARPS) is composed of independent labor unions, human right groups, occupational safety and health groups, progressive political parties, and workers' organizations, supporting workers rights and occupational health, particularly in Samsung manufacturing facilities
Worksafe is dedicated to eliminating all types of workplace hazards and advocates for protective worker health and safety laws and effective remedies for injured workers. Worksafe watchdogs government agencies to ensure they enforce these laws.