This website uses cookies to ensure you get the best experience while browsing it. By clicking 'Got It' you're accepting these terms.


The best of EcoWatch, right in your inbox. Sign up for our email newsletter!
Artist impression of the largest bird that ever lived. Jaime Chirinos / Zoological Society of London
The largest bird that ever stalked Earth's surface is officially the "Vorombe titan," a previously unidentified species of elephant bird that once roamed the island of Madagascar.
Literally meaning "big bird" in Malagasy and Greek, the giant creature could weigh more than 1,700 pounds and stood nearly 10 feet tall, a new study published Wednesday in Royal Society Open Science has revealed.
Proboscis monkey sub-mature male feeding on leaves. Anup Shah / Getty Images
By Jason Bittel
At last count, there were 505 nonhuman primate species living in the wilds of 90 countries across the globe. That might make you think of Earth as the Planet of the Apes (plus monkeys, lemurs, tarsiers and lorises), but according to a large study published last month, those statistics are a little misleading.
EcoWatch Daily Newsletter
By Edward Carver
Lemurs in Madagascar have been under pressure from deforestation, poaching, drought and other challenges for years. Now, in the much-visited Berenty Reserve near the island's southern tip, one species faces a mysterious new threat.
In the last month and a half, at least 31 Verreaux's sifakas (Propithecus verreauxi) have died in the reserve. Most were found already dead; others were found gravely ill and later died from respiratory failure. Berenty staff and local scientists have reached out to veterinarians and primatologists across the world. The experts believe that a parasite or tick-borne disease is likely to blame, but the exact cause remains unknown.
Protecting key regions that comprise just 17 percent of Earth's land may help preserve more than two-thirds of its plant species, according to a new Duke University-led study by an international team of scientists.
The researchers from Duke, North Carolina State University and Microsoft Research used computer algorithms to identify the smallest set of regions worldwide that could contain the largest numbers of plant species. They published their findings yesterday in the journal Science. 
"Our analysis shows that two of the most ambitious goals set forth by the 2010 Convention on Biological Diversity—to protect 60 percent of Earth's plant species and 17 percent of its land surface—can be achieved, with one major caveat," said Stuart L. Pimm, Doris Duke professor of conservation ecology at Duke's Nicholas School of the Environment.
"To achieve these goals, we need to protect more land, on average, than we currently do, and much more in key places such as Madagascar, New Guinea and Ecuador," Pimm said. "Our study identifies regions of importance. The logical—and very challenging—next step will be to make tactical local decisions within those regions to secure the most critical land for conservation."
Plant species aren't haphazardly distributed across the planet. Certain areas, including Central America, the Caribbean, the Northern Andes and regions in Africa and Asia have much higher concentrations of endemic species, that is, those which are found nowhere else.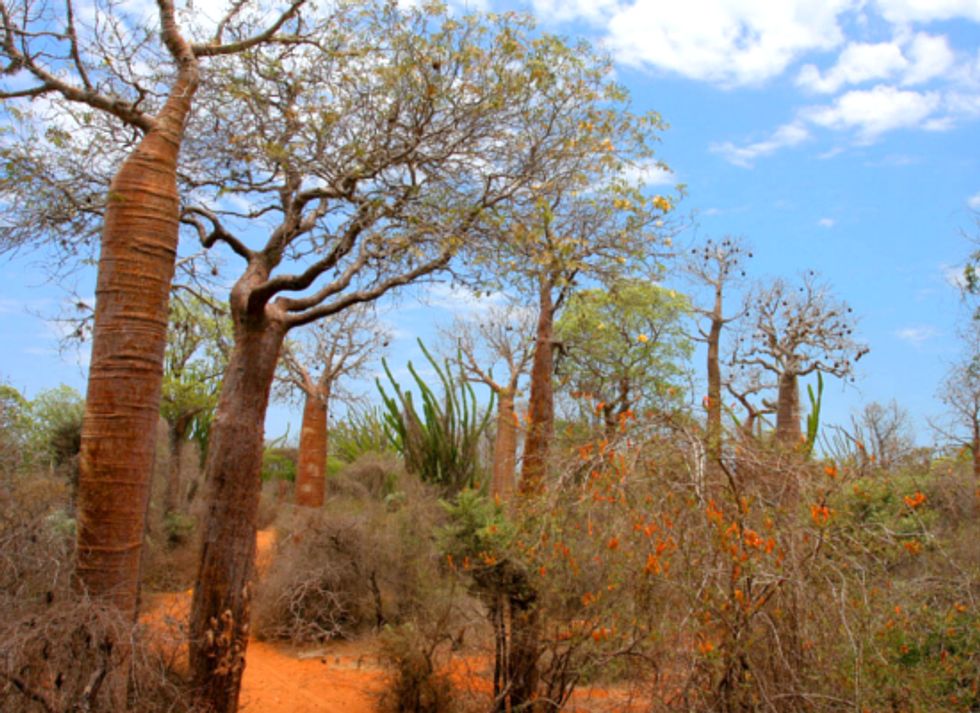 "Species endemic to small geographical ranges are at a much higher risk of being threatened or endangered than those with large ranges," said Lucas N. Joppa, a conservation scientist at Microsoft Research's Computational Science Laboratory in Cambridge, UK. "We combined regions to maximize the numbers of species in the minimal area. With that information, we can more accurately evaluate each region's relative importance for conservation, and assess international priorities accordingly."
To identify which of Earth's regions contain the highest concentrations of endemic species, relative to their geographic size, the researchers analyzed data on more than 100,000 different species of flowering plants, compiled by the Royal Botanic Gardens in Kew, England. 
Joppa and Piero Visconti, also of Microsoft Research's Computational Science Laboratory, created and ran the complex algorithms needed to analyze the large spatial database. 
Based on their computations, Clinton N. Jenkins, a research scholar at North Carolina State University, created a color-coded global map identifying high-priority regions for plant conservation, ranked by endemic species density.
"We also mapped where the greatest numbers of small-ranged birds, mammals and amphibians occur, and found that they are broadly in the same places we show to be priorities for plants," Jenkins said. "So preserving these lands for plants will benefit many animals, too."
Without having access to the Royal Botanic Gardens' plant database, which is one of the largest biodiversity databases in the world, the team would not have been able to conduct their analysis, said Joppa, who received his Ph.D. in ecology from Duke in 2009.   
Pimm and Jenkins lead the conservation nonprofit Saving Species, which works with local communities and international agencies to purchase and protect threatened lands that are critical for biodiversity.
"The fraction of land being protected in high-priority regions increases each year as new national parks are established and greater autonomy is given back to indigenous peoples to allow them to manage their traditional lands," Pimm said. "We're getting tantalizingly close to achieving the Convention of Biological Diversity's global goals. But the last few steps remaining are huge ones."
Visit EcoWatch's BIODIVERSITY page for more related news on this topic.
——–
A new report released on the sidelines of the World Future Energy Summit today, shows that even if all electricity is to be generated through renewable energy (RE) sources, and with solar photovoltaics (PV) alone, it would take up only an insignificant amount of total land area, contrary to common perception.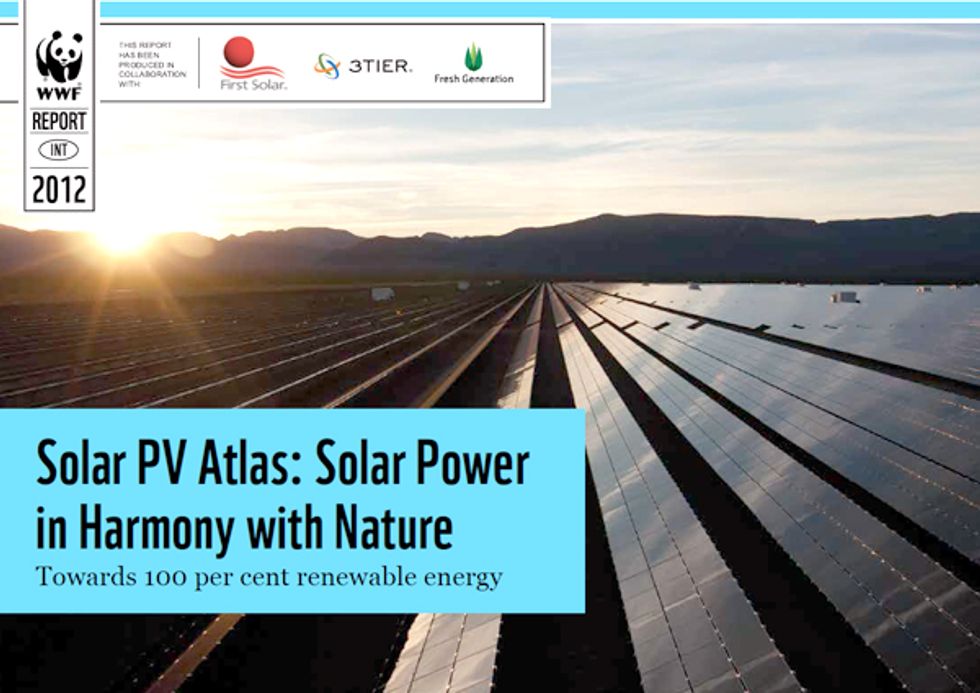 The report, Solar PV Atlas: solar power in harmony with nature, shows through seven cases—six countries and one region—less than 1 percent of the total land mass would be required to meet 100 percent of projected electricity demand in 2050, if generating electricity only with solar PV .
World Wildlife Fund (WWF) teamed up with First Solar, 3TIER and Fresh Generation to develop the report. It looks at Indonesia, Madagascar, Mexico, Morocco, South Africa, Turkey and the Indian state of Madhya Pradesh.
The regions represent diverse geographies, demographics, natural environments, economies and political structures. They receive different but good average levels of sunshine, and all show vast potential for widespread development of solar PV, a well-established, commercially available and reliable technology today.
The report illustrates that PV technology, when well-planned, does not conflict with conservation goals and clarifies that no country or region must choose between solar PV and space for humans and nature.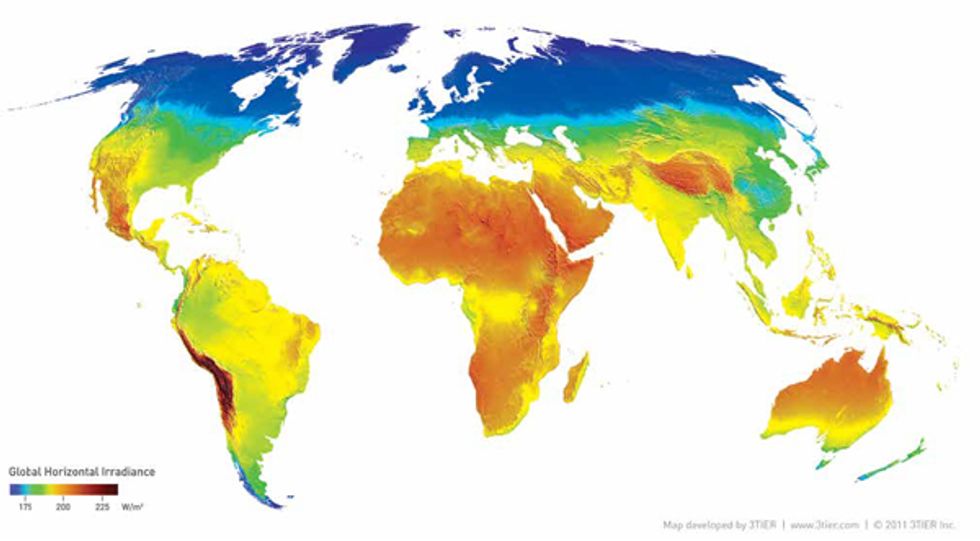 "Research has found that PV power plants provide considerable environmental benefits, including a low carbon footprint and a short energy pay-back time. Replacing existing grid electricity with PV arrays significantly reduces greenhouse gas and heavy metal emissions as well water usage," says Lettemieke Mulder, First Solar vice president for sustainability.
This new report supports WWF's vision of 100 perecent RE by 2050. "We are actively promoting investments and measures in renewable energy technologies that help to make this happen," according to Jean-Philippe Denruyter, WWF's manager Global Renewable Energy Policy.
"As climate change increasingly threatens people and the natural world, it is more important than ever to work for the rapid and wide-scale adoption of well sited, responsibly operated renewable energy power facilities. Environmental protection and renewable energy can and are developing in parallel," says Samantha Smith, leader of the WWF's Global Climate & Energy Initiative.
Visit EcoWatch's RENEWABLES and ENERGY pages for more related news on this topic.
——–
Click here to tell Congress to Expedite Renewable Energy.