The new species, Rhombophryne ellae, is well camouflaged among the rainforest leaflitter. Mark D. Scherz
Located just off the southeastern coast of Africa, Madagascar is a remote island nation and home to one of the most biodiverse pockets in the world, among them the elusive diamond frog. Even in the most well-studied areas, new species are constantly being discovered.

Defining and characterizing the "hyper diverse island" is an ongoing effort that has yielded many results in recent years, including defining and characterizing frogs of the diamond genus Rhombophyrne. In the last decade alone, the diversity of diamond frogs has more than doubled, yet even so a number of undescribed species still persist in the wild. Now, Rhombophyrne ellae is a brightly orange colored, highly miniaturized frog described in Zoosystematics and Evolution that is furthering the scientific community's understanding of amphibians on this remote, isolated island.
"As soon as I saw this frog, I knew it was a new species," said Dr. Mark D. Scherz of the Technical University of Braunschweig. "The orange flash-markings on the legs and the large black spots on the hip made it immediately obvious to me. During my Master's and Ph.D. research, I studied this genus and described several species, and there are no described species with such orange legs, and only [a] few species have these black markings on the hip. It's rare that we find a frog and are immediately able to recognize that it is a new species without having to wait for the DNA sequence results to come back, so this was elating."
The study is just the third to have been published on reptiles or amphibians in the park, and describes the finding of R. ellae in 2017. Characterized by the orange coloration on its legs and large black spots, this species is closely related to another poorly known and undescribed species of frog from northern Madagascar. It remains unclear why diamond frogs have such dramatic coloration even though it appears that this feature has evolved in many Madagascar frogs.
In itself, the discovery highlights how little is still known about our planet, particularly small species found in remote and biodiverse places around the world – even the most well-studied regions.
"The discovery of such a distinctive species within a comparatively well-studied park points towards the gaps in our knowledge of the amphibians of the tropics," said Sherz.
"It also highlights the role that bad weather, especially cyclones, can play in bringing otherwise hidden frogs out of hiding – R. ellae was caught just as Cyclone Ava was moving in on Madagascar, and several other species my colleagues and I have recently described were also caught under similar cyclonic conditions."
Though the conservation status of R. ellae still remains unknown, the researchers conclude that it is likely to be considered "near threatened" due to its small range.
EcoWatch Daily Newsletter
Participants at the tree-planting event in Ankazobe district, Madagascar, on Jan. 19. Valisoa Rasolofomboahangy / Mongabay
By Malavika Vyawahare, Valisoa Rasolofomboahangy
Madagascar has embarked on its most ambitious tree-planting drive yet, aiming to plant 60 million trees in the coming months. The island nation celebrates 60 years of independence this year, and the start of the planting campaign on Jan. 19 marked one year since the inauguration of President Andry Rajoelina, who has promised to restore Madagascar's lost forests.
"The government has the challenge of making Madagascar a green island again. I encourage the people to protect the environment and reforest for the benefit of the future generations," Rajoelina told the hundreds of people who attended the launch in Ankazobe district, 100 kilometers (60 miles) northwest of the capital, Antananarivo. In a span of a few hours, about 1 million trees were planted over 500 hectares (1,235 acres), according to the environment ministry — an area one-and-a-half times the size of New York City's Central Park.
Madagascar, the oldest island in the world and the fourth-largest, spanning 59 million ha (146 million acres), is home to an astounding range of plant and animal life. Between 2001 and 2018, it lost about one-fifth of its tree cover, according to Global Forest Watch, driven primarily by the expansion of shifting agriculture, known locally as tavy. The destruction of Madagascar's forests could sound the death knell for many of its endemic species, found nowhere else on the planet.
Months of planning and a massive nationwide effort to amass seeds and populate nurseries culminated in the highly publicized launch. It saw participation from NGOs, schools, government ministries, and the army. Rajoelina, dressed in a T-shirt and jeans, launched the planting season by tucking a seedling into a pocket of earth. He later lent a hand to children, took selfies with babies, and was even photographed, hoe in hand, hauling dirt. But experts say the real heavy lifting to reclaim forests will come after the saplings are in the ground.
"Right now, we are at the stage of planting trees, but the big question is: What is next? How to protect those young trees, so we don't plant them in January and then destroy them in July," said Jonah Ratsimbazafy, a prominent Malagasy primatologist who heads the Groupe d'Étude et de Recherche sur les Primates (GERP).
Seedlings at the tree-planting site in Ankazobe district, Madagascar, on Jan. 19. Valisoa Rasolofomboahangy / Mongabay
For the planting season that runs until April, the Rajoelina administration wants 60 million seedlings to be planted across 40,000 ha (99,000 acres). Experts interviewed by Mongabay last November said it would be a formidable undertaking, especially for a country where almost 80 percent of the population does not have access to grid electricity, and felling trees to make charcoal for cooking is a widespread practice. Reconciling the immediate needs of the country's poor and the long-term goal of stemming and then turning the tide of deforestation will be tough, observers say. It remains to be seen whether Rajoelina has the will to see it through, given his checkered record on the environment.
Madagascar has hosted tree-planting drives in the past, but the push from the president's office this time around is expected to make a difference. Nirina Rakotonanahary, 30, a participant at the launch, said it was his first time taking part in a tree-planting drive, which he said was popularized by the president. Close to 200,000 seedlings were gathered in nurseries for the launch event and transported to the Ankazobe site on trucks. For the national campaign, an estimated 100 million seeds have been rounded up by regional centers of the environmental ministry and its partners. The seedlings are being distributed free of cost to institutions and associations from government-run nurseries.
The launch made it clear the government is trying to strike a balance between planting endemic species and agroforestry species, some of which are exotic and invasive. The 50 species that are available at the nurseries include exotic acacia, eucalyptus, fruit trees and various spice trees. Rakotonanahary said he planted fruit trees because if the yield was good, they might be able to export the produce.
Seedlings at the tree-planting site in Ankazobe district, Madagascar, on Jan. 19. Valisoa Rasolofomboahangy / Mongabay
To secure the trees, especially those viewed as useful by people, will be an uphill task. "We want to encourage people to plant and not consume the fruits of the trees inside the parks or cut them to make charcoal," said Mamy Rakotoarijaona, director of Madagascar National Parks. Despite being protected areas, national parks in Madagascar have also witnessed significant deforestation; they have now emerged as important sites for the reforestation campaign.
To extend the drive to remote areas, the government plans to use drones and airplanes. During the launch event, about 5 tons of seeds in the form of seed balls were dropped from an aircraft over 500 ha of land. Each ball of soil is packed with 25 seeds. The success rate measured in terms of how many seeds survive and germinate is about 60 percent, according to a government release that cited a pilot project carried out in 2018. The ministry of environment also said the practice would save on the cost of plastic bags that hold seedlings before they are transplanted.
The immediate concern is to sustain the momentum for tree planting, and in the longer term to ensure that gains are not frittered away. The president, in his speech, said that meeting concrete targets and following up with action would be central to the campaign. "This time, the action will be continuous, and there will be a follow-up. The state will recruit guards to monitor and protect the young plants," Alexandre Georget, Madagascar's environment minister, said at the launch.
In Ankazobe, there is a plan to recruit 50 people to monitor the saplings because the area is at risk from forest fires that could wipe out within days any gains from a planting campaign months in the making. Involving local communities is indispensable not just in planting trees but in monitoring and safeguarding them, according to Ratsimbazafy of GERP. "If the authorities do not have a clear and efficient strategy to fight against deforestation and fires, then Madagascar won't return to forests," he said.
That's a view echoed by Alliance Voahary Gasy, a coalition of Malagasy environmental NGOs. It expressed support for the large-scale effort but noted that if the government did not take strict action against those breaking environmental rules, including government officials, the campaign would fail to meet its objectives.
While millions of seeds may sprout forth from the red soils of Madagascar in the coming months, a sense of optimism about the greening campaign has yet to take root. Rakotonanahary, who helped plant fruit trees in Ankazobe, also struck a despondent note. "I'm not sure they will all survive," he said of the newly planted trees. "The problem is that in Madagascar, we make efforts one day, and then we do not continue."
Malavika Vyawahare is a staff writer for Mongabay.
Reposted with permission from Mongabay.
waterlust.com / @tulasendlesssummer_sierra .
Each product featured here has been independently selected by the writer. If you make a purchase using the links included, we may earn commission.
The bright patterns and recognizable designs of Waterlust's activewear aren't just for show. In fact, they're meant to promote the conversation around sustainability and give back to the ocean science and conservation community.
Each design is paired with a research lab, nonprofit, or education organization that has high intellectual merit and the potential to move the needle in its respective field. For each product sold, Waterlust donates 10% of profits to these conservation partners.
Eye-Catching Designs Made from Recycled Plastic Bottles
waterlust.com / @abamabam
The company sells a range of eco-friendly items like leggings, rash guards, and board shorts that are made using recycled post-consumer plastic bottles. There are currently 16 causes represented by distinct marine-life patterns, from whale shark research and invasive lionfish removal to sockeye salmon monitoring and abalone restoration.

One such organization is Get Inspired, a nonprofit that specializes in ocean restoration and environmental education. Get Inspired founder, marine biologist Nancy Caruso, says supporting on-the-ground efforts is one thing that sets Waterlust apart, like their apparel line that supports Get Inspired abalone restoration programs.
"All of us [conservation partners] are doing something," Caruso said. "We're not putting up exhibits and talking about it — although that is important — we're in the field."
Waterlust not only helps its conservation partners financially so they can continue their important work. It also helps them get the word out about what they're doing, whether that's through social media spotlights, photo and video projects, or the informative note card that comes with each piece of apparel.
"They're doing their part for sure, pushing the information out across all of their channels, and I think that's what makes them so interesting," Caruso said.
And then there are the clothes, which speak for themselves.
Advocate Apparel to Start Conversations About Conservation
waterlust.com / @oceanraysphotography
Waterlust's concept of "advocate apparel" encourages people to see getting dressed every day as an opportunity to not only express their individuality and style, but also to advance the conversation around marine science. By infusing science into clothing, people can visually represent species and ecosystems in need of advocacy — something that, more often than not, leads to a teaching moment.

"When people wear Waterlust gear, it's just a matter of time before somebody asks them about the bright, funky designs," said Waterlust's CEO, Patrick Rynne. "That moment is incredibly special, because it creates an intimate opportunity for the wearer to share what they've learned with another."
The idea for the company came to Rynne when he was a Ph.D. student in marine science.
"I was surrounded by incredible people that were discovering fascinating things but noticed that often their work wasn't reaching the general public in creative and engaging ways," he said. "That seemed like a missed opportunity with big implications."
Waterlust initially focused on conventional media, like film and photography, to promote ocean science, but the team quickly realized engagement on social media didn't translate to action or even knowledge sharing offscreen.
Rynne also saw the "in one ear, out the other" issue in the classroom — if students didn't repeatedly engage with the topics they learned, they'd quickly forget them.
"We decided that if we truly wanted to achieve our goal of bringing science into people's lives and have it stick, it would need to be through a process that is frequently repeated, fun, and functional," Rynne said. "That's when we thought about clothing."
Support Marine Research and Sustainability in Style
To date, Waterlust has sold tens of thousands of pieces of apparel in over 100 countries, and the interactions its products have sparked have had clear implications for furthering science communication.
For Caruso alone, it's led to opportunities to share her abalone restoration methods with communities far and wide.
"It moves my small little world of what I'm doing here in Orange County, California, across the entire globe," she said. "That's one of the beautiful things about our partnership."
Check out all of the different eco-conscious apparel options available from Waterlust to help promote ocean conservation.
Melissa Smith is an avid writer, scuba diver, backpacker, and all-around outdoor enthusiast. She graduated from the University of Florida with degrees in journalism and sustainable studies. Before joining EcoWatch, Melissa worked as the managing editor of Scuba Diving magazine and the communications manager of The Ocean Agency, a non-profit that's featured in the Emmy award-winning documentary Chasing Coral.
Ruffed Lemur (Varecia Variegata), Andasibe-Mantadia National Park, Toamasina Province, Madagascar. Insights / Universal Images Group / Getty Images
By Andrea L. Baden
The island of Madagascar off the southeastern coast of Africa hosts at least 12,000 plant species and 700 vertebrate species, 80% to 90% of which are found nowhere else on Earth.
Isolated for the last 88 million years and covering an area approximately the size of the northeastern United States, Madagascar is one of the world's hottest biodiversity hotspots. Its island-wide species diversity is striking, but its tropical forest biodiversity is truly exceptional.
Sadly, human activities are ravaging tropical forests worldwide. Habitat fragmentation, over-harvesting of wood and other forest products, over-hunting, invasive species, pollution and climate change are depleting many of these forests' native species.
Andrea L. Baden is an assistant professor of anthropology at Hunter College.
Andrea L. Baden receives funding from the National Science Foundation, The Leakey Foundation, J. William Fulbright Foundation, Primate Conservation, Inc., and the Margot Marsh Biodiversity Fund. She is affiliated with Hunter College of the City University of New York, The Graduate Center of the City University of New York, and the New York Consortium in Evolutionary Primatology, and is a Scientific Advisor for the Mangevo research site to the Centre ValBio Research Station.
Reposted with permission from The Conversation.
Rod Waddington / CC BY-SA 2.0
By John R. Platt
For years now conservationists have warned that many of Madagascar's iconic lemur species face the risk of extinction due to rampant deforestation, the illegal pet trade and the emerging market for the primates' meat.
Yes, people eat lemurs, and the reasons they do aren't exactly what we might expect.
One 2016 study found — perhaps not surprisingly — that Madagascar's extreme poverty drives the poorest families to hunt and eat lemurs and other wildlife. The study was conducted in Masoala National Park, home to ten of Madagascar's 110-plus lemur species, including several critically endangered species.
Local hunters know that killing lemurs is against the law, but there's a reason that doesn't stop them. The study, published in Biological Conservation, found that "almost all children in lemur-hunting households were malnourished." Wild-caught meat, tragically, is the only readily available solution for hungry families. The authors concluded that "unless lemur conservation efforts on the Masoala [peninsula] prioritize child health, they are unlikely to reduce lemur hunting or improve lemur conservation."
Although poverty is endemic in Madagascar, it's not the only factor driving lemur consumption. Two additional studies published that year in PLOS One and in Environmental Conservation revealed that Madagascar's wealthier and middle-class citizens are equal participants. The studies uncovered a massive supply chain that transports meat from lemurs and other endangered species into urban and semi-urban areas, where it is sold in restaurants, open-air markets and even supermarkets.
The studies, the result of almost 2,000 interviews throughout the northern half of Madagascar, found that the meat trade in these more urban areas is not about poverty. Instead, it's because people have a preference for wild-caught meat over more commercially grown livestock.
Combined with the first study, the two supply-chain papers reveal a complex answer as to who is eating lemurs and why.
"It's not just poor, rural people and it's not just rich, urban people," said Temple University researcher Kim Reuter, the lead author of the PLOS One and Environmental Conservation papers and a co-founder of the Lemur Conservation Network. "There are a lot of people in the middle, your average Malagasy person living in semi-urban areas for example, who eat bushmeat." In fact, Reuter and her colleagues found, these urban consumers eat twice the amount of wild-caught meat as people living in rural areas, and they're willing to pay more for it.
Reuter's studies concluded that this trade could be enough to push several species closer toward extinction.
She also pointed out that it's important to study what happens to lemurs outside of natural habitats and protected areas, and that conservation programs need to address the meat trade in addition to other efforts such as forest preservation.
Three years after those studies were published, some progress is being made on the bushmeat front. Again, it's probably not what you expect. According to a report in Mongabay, several ongoing projects aim to produce a new protein-heavy cash crop to help wean people off of lemur meat.
Insects, it turns out, may fit that bill.
Insect consumption in Madagascar is already fairly common, with locusts and beetles being among the most popular choices. Anthropologist Cortni Borgerson from Montclair State University hopes to take that further and has embarked on a three-year study to see if insect farming can provide enough food to reduce both malnutrition and the need to hunt wild meat.
"You can see that there is a clear correlation between malnourishment, food insecurity and lemur hunting," Borgerson told Mongabay. "But that also makes it very solvable: We just need to solve what you put on top of your rice. If we can fix this, people will shift off."
Another thing that may help: tourism. Recreational travel to Madagascar, which plunged during the country's recent political unrest, has soared in recent months, and vacation bookings for this summer at more than a third higher than they were at this time last year. This could bring much-needed income to the Malagasy people and provide an incentive to protect wild lemur populations for viewing by eco-tourists. (On the other hand, it also has the potential to further incentivize the lemur pet trade. Many hotels and restaurants have been known to display "cute" lemur in cages or on chains in order to attract tourists, who are unaware that the animals have been snatched from the wild and may not live long in captivity.)
Lemur at a hotel.
Leonora Enking / CC BY-SA 2.0
The tourism boom and the insect research remains in their early phases, but still, they represent progress for the world's eighth-poorest country, a land where at least 95 percent of lemur species are threatened with extinction and far too many people suffer in poverty. With those threats continuing to weigh heavily on both wildlife and people, every step forward is critical — both for humans and wildlife.
(An earlier version of this article was published by Scientific American.)
Reposted with permission from our media associate The Revelator.
From Your Site Articles
Related Articles Around the Web
Artist impression of the largest bird that ever lived. Jaime Chirinos / Zoological Society of London
The largest bird that ever stalked Earth's surface is officially the "Vorombe titan," a previously unidentified species of elephant bird that once roamed the island of Madagascar.
Literally meaning "big bird" in Malagasy and Greek, the giant creature could weigh more than 1,700 pounds and stood nearly 10 feet tall, a new study published Wednesday in Royal Society Open Science has revealed.
"They would have towered over people," James Hansford, the study's lead author and a paleontologist at the Zoological Society of London (ZSL), told Agence France Presse. "They definitely couldn't fly as they couldn't have supported anywhere near their weight."
One such specimen weighed about 1,895 pounds, roughly the same as an adult giraffe, AFP noted.
Elephant birds stomped across Madagascar for 60 million years until they were hunted to extinction around 1,000 years ago, AFP wrote.
Vorombe titan takes the title as the worlds largest ever bird. "Vorombe" means "big bird" in Malagasy. There are 3… https://t.co/7HfCcJwfql

— James Hansford (@James Hansford)1537951584.0
The title of "world's largest bird" has been at the center of rigorous study and debate for decades. But after analyzing hundreds of elephant bird bones from museums around the world, ZSL researchers found convincing evidence that the Vorombe titan was actually the largest, taking the title away from the previous record-holder, Aepyornis maximus.
The researchers also gave the first taxonomic reassessment of the elephant bird family in more than 80 years. They discovered there were actually three genera of elephant birds rather than two, and four distinct species rather than 15, per The New York Times.
"Elephant birds were the biggest of Madagascar's megafauna and arguably one of the most important in the [island's] evolutionary history—even more so than lemurs," Hansford said in a press release. "This is because large-bodied animals have an enormous impact on the wider ecosystem they live in via controlling vegetation through eating plants, spreading biomass and dispersing seeds through defecation. Madagascar is still suffering the effects of the extinction of these birds today."
The authors of the new paper say their work can help conservation efforts in Madagascar, which is home to several critically threatened species.
"Without an accurate understanding of past species diversity, we can't properly understand evolution or ecology in unique island systems such as Madagascar or reconstruct exactly what's been lost since human arrival on these islands," co-author Samuel Turvey from ZSL's Institute of Zoology said in the press release. "Knowing the history of biodiversity loss is essential to determine how to conserve today's threatened species."
95% of World's #Lemur Population on Edge Of Extinction #EndangeredSpecies @defenders @zoologybristol @ptes @usfws https://t.co/ypLVHwPp9r

— EcoWatch (@EcoWatch)1533366190.0
From Your Site Articles
Related Articles Around the Web
Proboscis monkey sub-mature male feeding on leaves. Anup Shah / Getty Images
By Jason Bittel
At last count, there were 505 nonhuman primate species living in the wilds of 90 countries across the globe. That might make you think of Earth as the Planet of the Apes (plus monkeys, lemurs, tarsiers and lorises), but according to a large study published last month, those statistics are a little misleading.
In truth, just four nations—Brazil, Madagascar, Indonesia and the Democratic Republic of the Congo (DRC)—harbor 65 percent of all primate species. And nearly two-thirds of the primates living in those hot spots (we'll call them the Big Four) are facing extinction.
Primates can be loosely defined as mammals with opposable thumbs, but they come in all sizes and dispositions, from timid, one-ounce pygmy mouse lemurs to stately, 550-pound Grauer's gorillas, to drunk 12-pound vervets. And the places these animals call home are just as diverse. Let's see how the humans in the four most primate-heavy countries are managing (or failing) to save their cousins.
Big, Beautiful Brazil
That more primates—crested capuchins, dwarf marmosets, red-bellied titis, sakis, uakaris, night monkeys and so on—live in Brazil than anywhere else should come as no surprise. The South American country is nearly as large as the U.S., and within its borders lies 60 percent of the Amazon rainforest, which accounts for more than half of all the rainforest left on Earth.
Unfortunately, Brazil allowed agriculture and timber operations to clear 114 million acres of this prime primate habitat between 2001 and 2016—the largest loss of forest over that period among the Big Four. (The next closest, Indonesia, lost half as much.) Even more concerning, Brazil has recently shifted toward more environmentally exploitative government policies and looser conservation laws, which scientists suspect will lead to even more deforestation.
Mining is also threatening Brazil's primates, and not only because it's tearing up the land. A 2017 study found that the country has at least 126 dams holding back mining-contaminated water and that these structures are "vulnerable to failure in the forthcoming years." And when these dams do burst, they befoul every waterway for hundreds of miles downstream with a wave of toxic sludge. (Mining dam collapses are dangerous for non-endangered primates, too. Twenty people died in 2015 when a large mine-tailings dam collapsed on the Doce River.)
But for all of Brazil's environmental woes, the country is also full of hope. According to Russell Mittermeier, coauthor of the new study and chair of the IUCN Species Survival Commission Primate Specialist Group, Brazil is the most successful among the Big Four at maintaining its primate diversity. He attributes this to the work of the country's large community of primate conservation professionals.
Take the northern muriquis, the largest monkeys in the New World. Also known as wooly spider monkeys, they can grow to more than four feet tall, and people often hunt them for meat. Further, the large tracts of Atlantic forest they once inhabited have been sliced and diced to the point where only pockets of the monkeys remain.
But in recent decades, organizations like the Muriqui Institute for Biodiversity, the Pro-Muriqui Institute and the National Institute of the Atlantic Forest have formed to give these monkeys a boost. While northern muriquis are still critically endangered, one population has risen from just 22 individuals to at least 354 as of 2015. (For a related Brazilian primate success story, check out my earlier piece on golden lion tamarins.)
Brazil is also capable of halting its deforestation habits and has done so in the past. From 2005 to 2012, the country reduced its rate of forest loss by a whopping 80 percent.
Brazil is the architect of its own destiny, for good or ill, but as of now, Mittermeier thinks it will tip toward the good. "It's the country where we have the highest likelihood of keeping all known species and subspecies into the next century," he said.
DRC's Future Is Very Much TBD
Gorillas, chimpanzees, monkeys and the most adorable of the adorable (though a bit gross), bushbabies, all call the Democratic Republic of the Congo home—as does one of the world's fastest growing human populations. The mountainous jungles of this large central-African nation are lush, but rampant government corruption and myriad warring factions run just as thick here. Together, these factors make the DRC the most worrisome of the Big Four.
The DRC has some of the planet's most important great ape conservation areas—places like Virunga National Park, home to the mountain gorillas that Dian Fossey made famous and Kahuzi-Biega National Park, where you'll find the rare Grauer's gorilla (as few as 17,000 are thought to remain).
As in the other Big Four nations, logging and agriculture threaten the DRC's wildlife, but poaching is the biggest problem here. Almost every primate known to inhabit this country has at some point ended up for sale in its bushmeat markets—even the tiny talapoin, which weighs about as much as a teacup Yorkie. At a single market in Kisangani, the country's third-largest city, one study found more than 8,500 primates over the course of four months—including many critically endangered ones, such as the Dryas monkey and, yes, the Grauer's gorilla.
It's likely that several of the products you own are adding to the loss of primates in the DRC. The country produces more than half of the world's cobalt, which is a key component in the lithium ion batteries that power smartphones, computers and electric cars. In just the past five years, demand for cobalt to fuel these industries has tripled, and experts expect it to double again by 2020.
The cobalt mining industry brings more roads, more deforestation and more workers looking for relatively easy sources of protein into the DRC's otherwise remote forests. A study from 2017 estimated that 8 to 10 million people make a living each year at these surface mines—and that translates to a lot of primates on the plate.
While corruption and lack of government accountability are rife in the DRC, even here there is hope. A recent census of the mountain gorillas Dian Fossey studied shows that the gorilla's numbers have actually increased since 2010, making it the only great ape population on Earth proven to be on the upswing.
Madagascar's on Its Own
The African island of Madagascar has the luxury of sharing precisely zero land borders with another country. This is good news in some ways, as it means the island's wildlife is protected from violent conflicts and from poachers spilling over from neighboring countries (as happens on the DRC-Rwanda border and the Brazil-Colombia border). But islands come with their own biodiversity risks.
The landmass now known as Madagascar separated from the Seychelles and India between 84 and 95 million years ago and it boasts an array of species found nowhere else on Earth. This includes five families of primates made up of 15 different genera and 111 species and subspecies.
"Madagascar is far and away the highest major primate conservation priority in the world," said Mittermeier.
But he notes that 90 percent of its natural habitats have already disappeared, thanks to agriculture and logging over the past century. "You have all of this incredible primate diversity found nowhere else in an area about the size of three New Jerseys," he said. "And New Jersey is not a very big state."
The Malagasy government has done very little to enforce its own environmental laws. Fortunately, local communities and NGOs are taking matters into their own hands. For instance, the only way tourists can gain access to the Andasibe-Mantadia National Park—home of the indri, one of the world's largest living lemurs—is by hiring a local guide.
NGOs are also taking the reins to save the critically endangered golden-crowned sifaka. About 6,000 of these cream-colored beauties remain in the northern stretches of the island, where forest fragmentation has greatly reduced their habitat. A local Malagasy NGO known as Fanamby teamed up with Conservation International in 2005 to secure a 49,000-acre protected area for the sifaka. Their numbers continue to decline, but so long as there are protected forests, there is hope.
Indonesia Is a Mixed Bag
Last comes Indonesia, a nation of more than 17,000 islands in the Pacific. Known for its orangutans—some of which have lost more than half of their habitat over the past 16 years to palm oil plantations—Indonesia is also home to googly-eyed tarsiers, lanky gibbons and lovely little langurs.
The country also has the largest population of Muslims on Earth—which is good news for its primates for one simple reason: Primates aren't considered halal, so Muslims usually won't eat them.
But while Indonesian primates have dodged the dinner plate, they have not escaped habitat destruction. Widespread clearing of tropical forests for palm oil and timber has put many primates here on the ropes. Without their natural homes, the animals sometimes seek food and shelter near human communities, where they are viewed as garden pests and killed. Weighing up to 220 pounds, orangutans are particularly conspicuous crop raiders, and when found, they're often shot.
The endangered Javan gibbon, also known as the silvery gibbon, is also running out of room to roam. Logging has pushed these animals out of the lowlands they prefer and into higher elevations, but there's obviously a limit to how high the gibbons can go and still survive. At most, only about 4,000 silvery gibbons remain, and some scientists estimate that their habitat has been reduced by up to 98 percent in all.
Still, conservationists aren't giving up on the gibbon yet. They are about to release into the wild a half dozen silvery gibbons that were born in captivity. It's not a magic bullet, but each primate returned to the wild population helps expand genetic diversity and gives the species a tiny boost toward staving off extinction.
As to where the Indonesian government stands on primate conservation, the timbre of a recent news story is not encouraging. The country is set on a massive hydroelectric dam project and appears to be actively downplaying concerns about the effect its construction could have on Tapanuli orangutans, a species discovered just last fall and already feared to be endangered.
The Good News?
Realizing so many of our cousins face so many existential threats of our own making can be disheartening, but there is one silver lining: No primate has gone extinct in more than 100 years. (There have been some close calls, though. For instance, the Bouvier's red colobus monkey was thought to be extinct until scientists rediscovered it in 2015.)
"This is the only larger group of mammals for which we did not lose at least one species or subspecies in the 20th century," said Mittermeier. The question now is, can we make it another 100 years with our family tree intact?
From Your Site Articles
Related Articles Around the Web
By Edward Carver
Lemurs in Madagascar have been under pressure from deforestation, poaching, drought and other challenges for years. Now, in the much-visited Berenty Reserve near the island's southern tip, one species faces a mysterious new threat.
In the last month and a half, at least 31 Verreaux's sifakas (Propithecus verreauxi) have died in the reserve. Most were found already dead; others were found gravely ill and later died from respiratory failure. Berenty staff and local scientists have reached out to veterinarians and primatologists across the world. The experts believe that a parasite or tick-borne disease is likely to blame, but the exact cause remains unknown.
This is the one of largest lemur die-offs that scientists in Madagascar can remember. "We haven't seen something like this before," Patricia Wright, a lemur expert and the founder of Centre ValBio, a research center in eastern central Madagascar, told Mongabay.
A Verreaux's sifaka (Propithecus verreauxi)Rhett A. Butler
Verreaux's sifakas were struggling long before this outbreak. The white, fluffy lemurs were already listed as endangered by the International Union for Conservation of Nature (IUCN). The population is highly fragmented and has been declining for decades, according to the IUCN. The species is found in the dry areas and spiny forests of southwest Madagascar.

By coincidence, a large IUCN Red List Primate Specialist Group meeting took place last week in Antananarivo, Madagascar's capital, and reassessing the endangerment status of all lemur species was a top agenda item. The group decided to uplist all nine sifaka species from endangered to critically endangered, according to people in attendance. The status change is not yet official, but during the meeting the Facebook page of the specialist group's Lemur Conservation Network project mentioned it: "We are very sad to announce that all sifaka species are now under the Critically Endangered criteria."
Verreaux's sifakas travel in groups of up to 14 individuals, and at least two of these groups have been killed off in Berenty since late March. Berenty is a private reserve run by a French family that owns a local sisal business. For decades, it has been a research site and a popular ecotourism destination. Lemurs are the main attraction.
Scientists have pieced together clues about the cause of death by assessing the afflicted sifakas that were found still alive. Several of those sifakas had paralyzed hind legs; to move, they had to drag themselves by their hands on the forest floor. (Normally, Verreaux's sifakas have powerful hind legs that allow them to bounce sideways on the ground or jump as far as 3 meters, or 10 feet, from tree to tree.) Within a day, in most of the cases, the paralysis moved up the body and into the lungs, causing death from respiratory failure.
Verreaux's sifakas in a heated territorial chaseRhett A. Butler
Most of the dead sifakas were found covered in ticks, which scientists say may have caused the paralysis by transmitting a neurotoxin or some type of infectious rickettsial bacteria to the sifakas. However, in 2014, scientists found many other Verreaux's sifakas covered in ticks, and they showed no signs of disease.

Another possibility is that the recent deaths were caused by single-cell toxoplasma parasites, which affect the nervous system and which, like rickettsial bacteria, could have been brought to the area by humans. The parasites could have been in the local soil or in cat dung. Tissue and organ samples from the dead sifakas' bodies have been sent to the Institut Pasteur de Madagascar, in Antananarivo, but the test results have not yet come back.
Almost all of the dead sifakas were male, and this at first led scientists to believe that perhaps the deaths were due to aggressive territorial disputes. Because outside threats have forced Verreaux's sifakas and other lemur species to crowd into small areas, this wouldn't be surprising. "When we found the first 9 [dead sifakas] we thought it might be due to an overpopulation," Claire Foulon, the reserve manager, told Mongabay. However, the dead bodies showed no signs of violence, and that theory has now been ruled out. Experts are not sure why most of the dead sifakas are male.
A Verreaux's sifaka nursing her babyRhett A. Butler
Whatever the cause of the illness turns out to be, other types of lemurs do not appear to be as vulnerable to it as the Verreaux's sifakas. So far, none of the many ring-tailed lemurs (Lemur catta) in the same area have been affected. However, one brown lemur (genus Eulemur) was found dead, apparently from the same illness.

No sifakas have been found sick or dead since April 30, so experts are hopeful that the worst may be over. "As most of the news has been pointing to this localized event within a timeline, I am hoping that whatever has caused the 37 deaths (which is the number that was discussed at the IUCN meeting) has ridden its course," Edward Louis, director of the NGO Madagascar Biodiversity Partnership and director of conservation genetics at the U.S.-based Omaha's Henry Doorly Zoo and Aquarium, said in an email to Mongabay. (Louis and other experts cited a death toll in the high thirties, but Foulon, the reserve manager, later told Mongabay that only 31 sifakas had died in the outbreak.)
A team of veterinarians from Germany is now on site to support the Malagasy veterinarian working on the case.
A Verreaux's sifaka dancingRhett A. Butler
Reposted with permission from our media associate Mongabay.

From Your Site Articles
Related Articles Around the Web
Protecting key regions that comprise just 17 percent of Earth's land may help preserve more than two-thirds of its plant species, according to a new Duke University-led study by an international team of scientists.
The researchers from Duke, North Carolina State University and Microsoft Research used computer algorithms to identify the smallest set of regions worldwide that could contain the largest numbers of plant species. They published their findings yesterday in the journal Science. 
"Our analysis shows that two of the most ambitious goals set forth by the 2010 Convention on Biological Diversity—to protect 60 percent of Earth's plant species and 17 percent of its land surface—can be achieved, with one major caveat," said Stuart L. Pimm, Doris Duke professor of conservation ecology at Duke's Nicholas School of the Environment.
"To achieve these goals, we need to protect more land, on average, than we currently do, and much more in key places such as Madagascar, New Guinea and Ecuador," Pimm said. "Our study identifies regions of importance. The logical—and very challenging—next step will be to make tactical local decisions within those regions to secure the most critical land for conservation."
Plant species aren't haphazardly distributed across the planet. Certain areas, including Central America, the Caribbean, the Northern Andes and regions in Africa and Asia have much higher concentrations of endemic species, that is, those which are found nowhere else.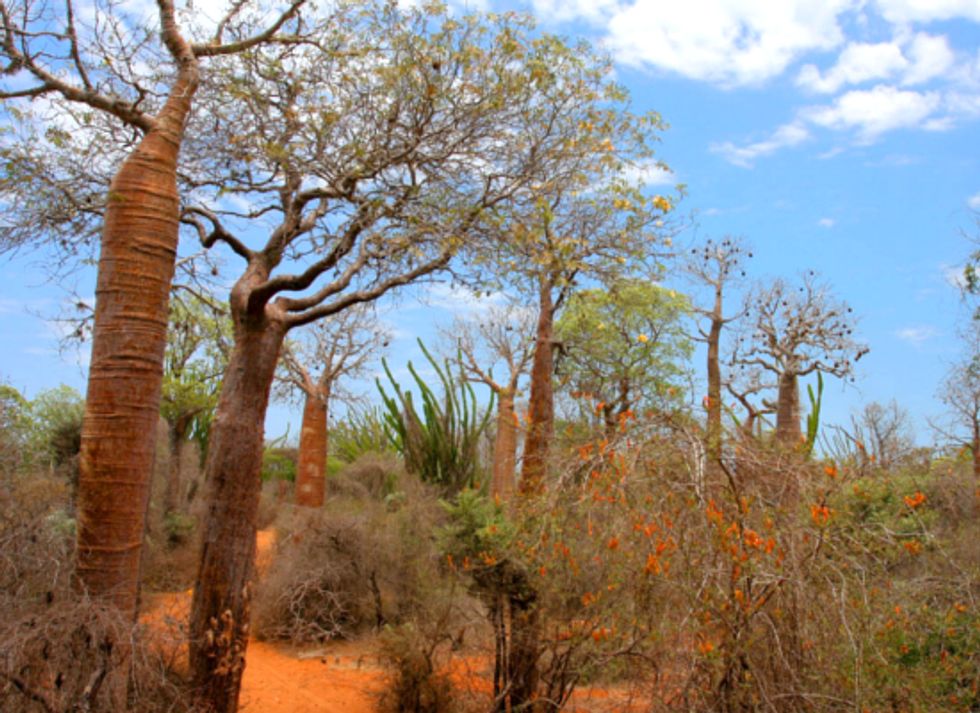 "Species endemic to small geographical ranges are at a much higher risk of being threatened or endangered than those with large ranges," said Lucas N. Joppa, a conservation scientist at Microsoft Research's Computational Science Laboratory in Cambridge, UK. "We combined regions to maximize the numbers of species in the minimal area. With that information, we can more accurately evaluate each region's relative importance for conservation, and assess international priorities accordingly."
To identify which of Earth's regions contain the highest concentrations of endemic species, relative to their geographic size, the researchers analyzed data on more than 100,000 different species of flowering plants, compiled by the Royal Botanic Gardens in Kew, England. 
Joppa and Piero Visconti, also of Microsoft Research's Computational Science Laboratory, created and ran the complex algorithms needed to analyze the large spatial database. 
Based on their computations, Clinton N. Jenkins, a research scholar at North Carolina State University, created a color-coded global map identifying high-priority regions for plant conservation, ranked by endemic species density.
"We also mapped where the greatest numbers of small-ranged birds, mammals and amphibians occur, and found that they are broadly in the same places we show to be priorities for plants," Jenkins said. "So preserving these lands for plants will benefit many animals, too."
Without having access to the Royal Botanic Gardens' plant database, which is one of the largest biodiversity databases in the world, the team would not have been able to conduct their analysis, said Joppa, who received his Ph.D. in ecology from Duke in 2009.   
Pimm and Jenkins lead the conservation nonprofit Saving Species, which works with local communities and international agencies to purchase and protect threatened lands that are critical for biodiversity.
"The fraction of land being protected in high-priority regions increases each year as new national parks are established and greater autonomy is given back to indigenous peoples to allow them to manage their traditional lands," Pimm said. "We're getting tantalizingly close to achieving the Convention of Biological Diversity's global goals. But the last few steps remaining are huge ones."
Visit EcoWatch's BIODIVERSITY page for more related news on this topic.
——–
A new report released on the sidelines of the World Future Energy Summit today, shows that even if all electricity is to be generated through renewable energy (RE) sources, and with solar photovoltaics (PV) alone, it would take up only an insignificant amount of total land area, contrary to common perception.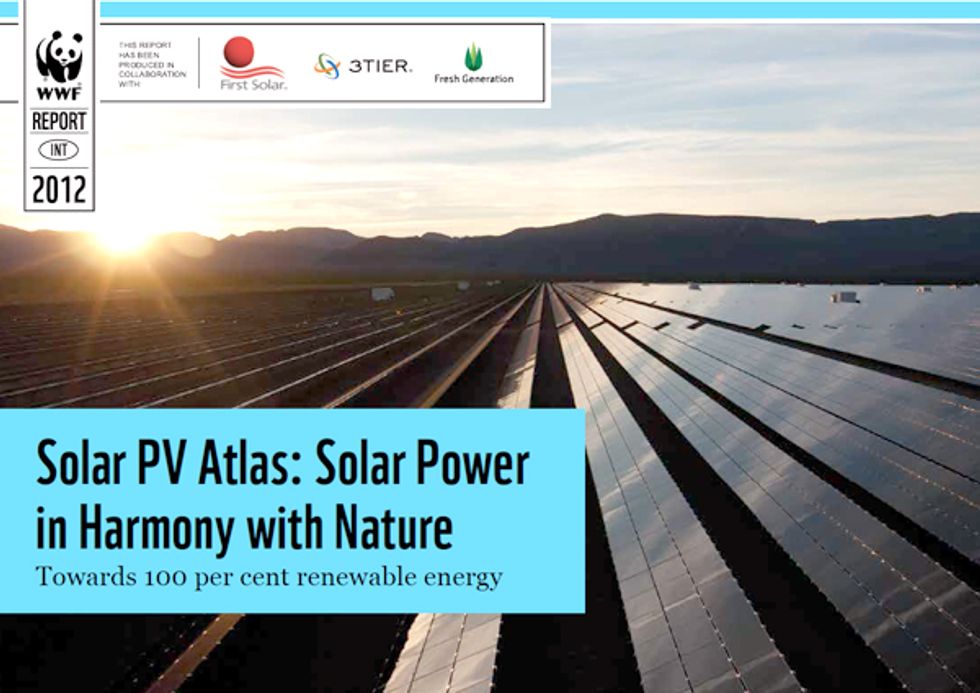 The report, Solar PV Atlas: solar power in harmony with nature, shows through seven cases—six countries and one region—less than 1 percent of the total land mass would be required to meet 100 percent of projected electricity demand in 2050, if generating electricity only with solar PV .
World Wildlife Fund (WWF) teamed up with First Solar, 3TIER and Fresh Generation to develop the report. It looks at Indonesia, Madagascar, Mexico, Morocco, South Africa, Turkey and the Indian state of Madhya Pradesh.
The regions represent diverse geographies, demographics, natural environments, economies and political structures. They receive different but good average levels of sunshine, and all show vast potential for widespread development of solar PV, a well-established, commercially available and reliable technology today.
The report illustrates that PV technology, when well-planned, does not conflict with conservation goals and clarifies that no country or region must choose between solar PV and space for humans and nature.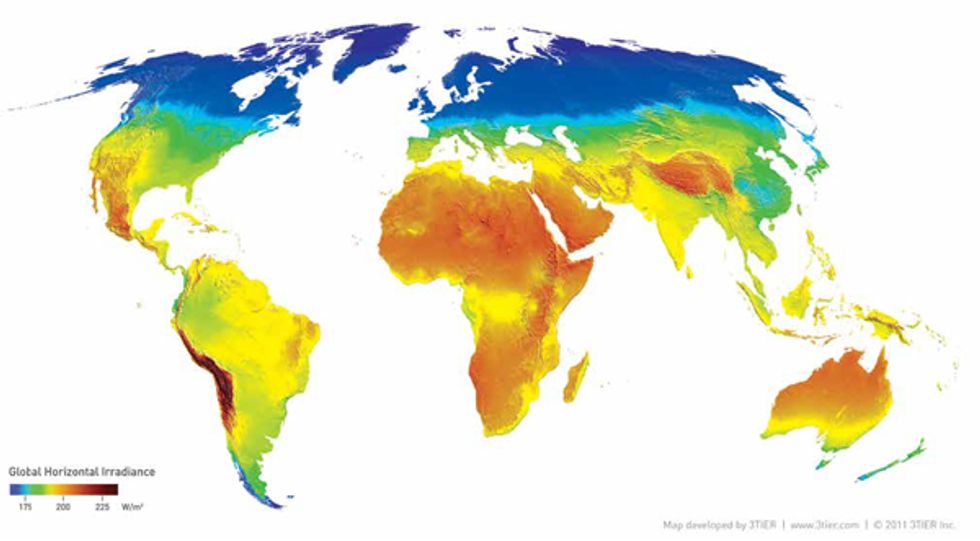 "Research has found that PV power plants provide considerable environmental benefits, including a low carbon footprint and a short energy pay-back time. Replacing existing grid electricity with PV arrays significantly reduces greenhouse gas and heavy metal emissions as well water usage," says Lettemieke Mulder, First Solar vice president for sustainability.
This new report supports WWF's vision of 100 perecent RE by 2050. "We are actively promoting investments and measures in renewable energy technologies that help to make this happen," according to Jean-Philippe Denruyter, WWF's manager Global Renewable Energy Policy.
"As climate change increasingly threatens people and the natural world, it is more important than ever to work for the rapid and wide-scale adoption of well sited, responsibly operated renewable energy power facilities. Environmental protection and renewable energy can and are developing in parallel," says Samantha Smith, leader of the WWF's Global Climate & Energy Initiative.
Visit EcoWatch's RENEWABLES and ENERGY pages for more related news on this topic.
——–
Click here to tell Congress to Expedite Renewable Energy.