This website uses cookies to ensure you get the best experience while browsing it. By clicking 'Got It' you're accepting these terms.
The human coronavirus causes respiratory infections (colds), and gastroenteritis. Cavallini James / BSIP / Universal Images Group / Getty Images
On Dec. 31, 2019, the World Health Organization (WHO) country office in China was informed of 27 patients with pneumonia of unclear cause in Wuhan — a metropolis with 19 million inhabitants in Hubei province.
The Paradise Fossil Plant in Kentucky. Coal-fired power plants are a major source of air pollution.
TVA / GPA Photo Archive / Flickr /
CC BY 2.0
Tweeting that the U.S. has the cleanest air in the world does not make it so. Not only do we rank 10th, but a new study says that after steady improvement during the Obama-era, air pollution has gotten worse while Donald Trump has been president.
EcoWatch Daily Newsletter
The Centers for Disease Control (CDC) released new numbers that show vaping-related lung illnesses are continuing to grow across the country, as the number of fatalities has climbed to 33 and hospitalizations have reached 1,479 cases, according to a CDC update.
Pexels
Mice exposed to nicotine-containing e-cigarette vapor developed lung cancer within a year.
More research is needed to know what this means for people who vape.
Other research has shown that vaping can cause damage to lung tissue.
A new study found that long-term exposure to nicotine-containing e-cigarette vapor increases the risk of cancer in mice.
Histopathology of Acute Lung Injury Associated with Vaping. New England Journal of Medicine
People who develop respiratory illnesses after using e-cigarettes to vape nicotine and marijuana are showing symptoms akin to chemical burns in their lungs, according to new research by Mayo Clinic doctors.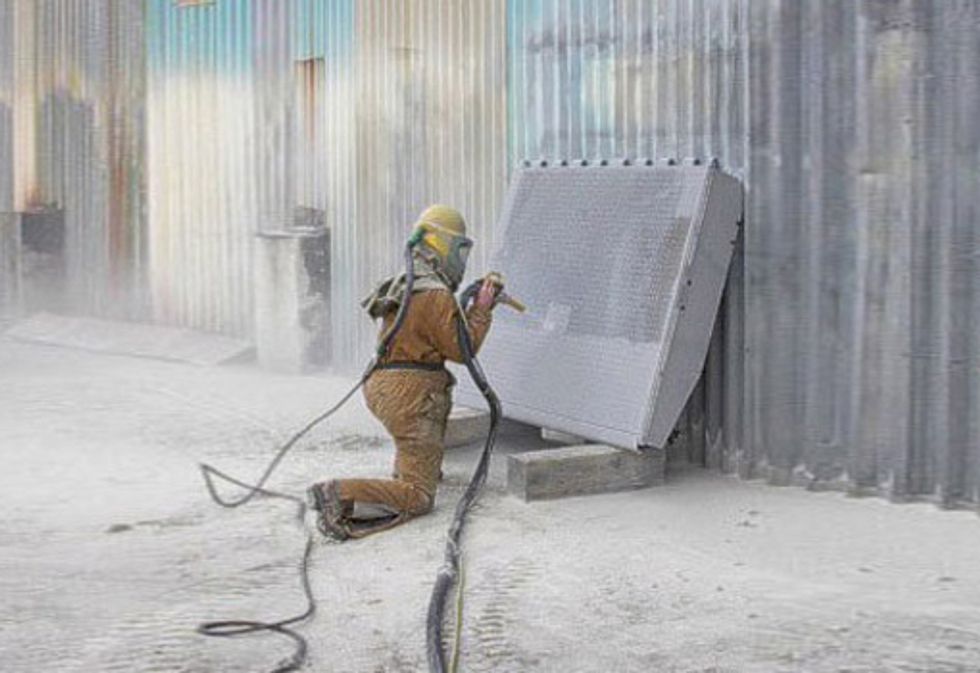 An extraordinary delay in the development of federal protections against exposure to crystalline silica is harming American workers, more than 300 public health scientists, doctors and occupational safety experts told President Obama Jan. 25.
In a letter, the group asked the president to intervene and direct the White House Office of Management and Budget (OMB) to complete its review of a proposed rule from the Occupational Safety and Health Administration (OSHA) to protect workers from exposure to the deadly dust "so that the public, workers, unions, public health experts and employers have the full opportunity to participate in the development of this important worker protection measure."  
Despite being required by executive order to complete its review of proposed rules within 90 days, OMB has held the rule for nearly a year, with no signal of when its review will be complete.
"This delay in action by OMB leaves workers at significant risk of disease and death," according to the letter. "It also prevents the rulemaking process from moving forward, obstructing public participation on this important worker safety and public health matter."
The scientists have joined the American Industrial Hygiene Association in questioning whether the delay is due to politics. The letter notes that OMB staff has held at least nine private meetings on the proposed rules, most of which involved individuals that represent companies with a direct financial stake in their outcome.
The rule has been in development for 14 years. On Dec. 21, 2011, the National Advisory Committee on Occupational Safety and Health wrote the secretaries of Labor and Health and Human Services to emphasize the importance of issuing the proposed silica rule "so that the public hearings and comment period can commence, and a final silica standard issued to protect workers from this serious workplace hazard."
"The White House's job is to coordinate the development of rules that protect the public, not to stand in their way," said Francesca Grifo, director of the Union of Concerned Scientists' Scientific Integrity Program. "The OMB is hundreds of days behind schedule, and every day these rules are delayed, more workers are at risk."
An estimated 1.7 million workers in the U.S. are exposed to respirable crystalline silica, a product of industrial processes like stonecutting, road building and sand blasting that can cause lung cancer, silicosis and other respiratory illnesses.
"Working in silica dust has left me with bad lungs," said Leonard Serafin, a former railroad worker with silicosis from San Bernardino, Calif. "Every day, I struggle to do activities because of my condition. I want to see that other people are protected from this dust—it's not fair to expose people to something this dangerous when they can be protected."
The Centers for Disease Control and Prevention report that about 200 workers die each year from silicosis, and studies estimate there are as many as 7,300 new cases of silicosis annually among U.S. workers. Most of the time, the prognosis is grim.
"When a person with silicosis starts to have trouble breathing, it is too late for effective treatment because the silica dust has caused permanent scarring of the lungs," said Dr. Robert Harrison, clinical professor of Medicine at University of California San Francisco and an occupational disease expert who signed the letter. "When I see a patient with silicosis, it's a stark reminder that our worker safety regulations are inadequate. Silicosis is 100 percent preventable."
Signers of the letter include public health and occupational safety advocates from 39 states and the District of Columbia along with several advocacy groups, including the National Council for Occupational Safety and Health, the Union of Concerned Scientists and Interfaith Worker Justice.
For more information, click here.
—————
The Union of Concerned Scientists is the leading U.S. science-based nonprofit organization working for a healthy environment and a safer world. Founded in 1969, UCS is headquartered in Cambridge, Massachusetts, and also has offices in Berkeley, Chicago and Washington, D.C.