Exxon Mobil refinery in Baton Rouge, Louisiana.
Wikipedia / CC BY-SA 4.0
By Julie Dermansky
Early morning skies Wednesday in Baton Rouge, Louisiana, were alight from a fire that started around 2:30 a.m. at an ExxonMobil refinery. The blaze, though contained before the sun came up, is a reminder to the surrounding community of yet another danger of living next to refineries and chemical plants.
Exxon's refinery is located along the stretch of Mississippi River between Baton Rouge and New Orleans known as "Cancer Alley" due to the high number of chemical plants and refineries—and illnesses possibly connected to emissions—along the river's banks.
Exxon issued a statement to CBS affiliate WAFB while the fire smoldered, saying the community was not impacted by emissions from the refinery fire and that air quality readings were "below detectable limits."
Mary Lee Orr, executive director of The Louisiana Environmental Action Network (LEAN), questions the possibility of making such a determination so fast. Her group has been working with Cancer Alley communities, helping to reduce their exposure to pollution from the area's oil and petrochemical industry.
Exxon's Baton Rouge refinery is adjacent to one of the company's eight facilities named in a settlement reached with the U.S. Environmental Protection Agency (EPA) and the Department of Justice (DOJ) and announced Oct. 31.
Last year LEAN filed a lawsuit against an Exxon chemical facility in Baton Rouge, next to the refinery that caught on fire Wednesday. That suit alleges the facility has been violating the Clean Air Act by failing to report pollution releases correctly. Lisa Jordan, director of Tulane University's Environmental Legal Clinic and representing LEAN in this case, said it is too early to say how the recent agreement between the federal government and Exxon will impact their own case. Jordan said LEAN's case encompasses a broader range of issues than those in the one recently settled.
According to the DOJ, the settlement "resolves allegations that ExxonMobil violated the Clean Air Act by failing to properly operate and monitor industrial flares at their petrochemical facilities, which resulted in excess emissions of harmful air pollution."
#Exxon Settles Air Pollution Lawsuit, Will Pay $2.5 Million in Fines, $300 Million for Technology Upgrades https://t.co/VagH3bwonE @350

— EcoWatch (@EcoWatch)1509556361.0
It requires Exxon to install and operate air pollution control and monitoring technology to reduce air pollution from 26 industrial flares at five facilities in Texas and three in Louisiana, at a cost of about $300 million. In addition, the company must pay a civil penalty of $2.5 million.

Some environmental groups have described the fines as a slap on the wrist, but LEAN'S technical adviser Wilma Subra believes the settlement is substantial. "The amount of money to be spent on air pollution improvements is a positive step in the right direction," she told me.
However, Subra is concerned that the air pollution monitoring devices in the agreement will only monitor benzene, which is known to cause cancer. In her view, Exxon should be required to monitor a whole host of other potentially harmful chemicals it is emitting.

The instances of pollution cited in the recently settled suit do not include emissions from any of Exxon's Texas facilities affected by Hurricane Harvey. Subra pointed out that the pollution incidents at Texas refineries and chemical facilities following the hurricane show that industry has no method for controlling pollution when hurricanes hit, something she hopes industry will change soon.
Exxon's Baytown, Texas, operation was among the eight industrial facilities included in the recent settlement. It was also one of the plants that reported pollution releases due to Hurricane Harvey. In this case, the refinery's roof sank due to the storm's heavy rains, which resulted in the release of hazardous gases—including volatile organic compounds and benzene above permitted levels, according to the New York Times.
Or also sees the agreement between Exxon and the Trump administration as a positive step toward protecting Cancer Alley communities. But "sadly, in the short term, the agreement won't help the community," she told me. "It will take time to implement the new pollution reduction devices."
And though EPA Administrator Scott Pruitt stated that "this agreement shows, EPA is dedicated to partnering with states to address critical environmental issues and improving compliance in the regulated community to prevent future violations of the law," the agency under Trump has been racing to undo its previous work. Recently Pruitt announced a measure to repeal former President Barack Obama's EPA policy to curb greenhouse gas emissions from power plants, a plan Trump's EPA has concluded would have substantial health benefits.
Furthermore, a list of potential names for the agency's Science Advisory Board and Clean Air Scientific Advisory Committee includes a sizable increase in industry representatives and consultants, as reported by the Intercept. On that list are two scientists who have worked for Exxon, indicating the oil and gas giant could have greater influence over EPA science and policies in the future.
Reposted with permission from our media associate DeSmogBlog.
EcoWatch Daily Newsletter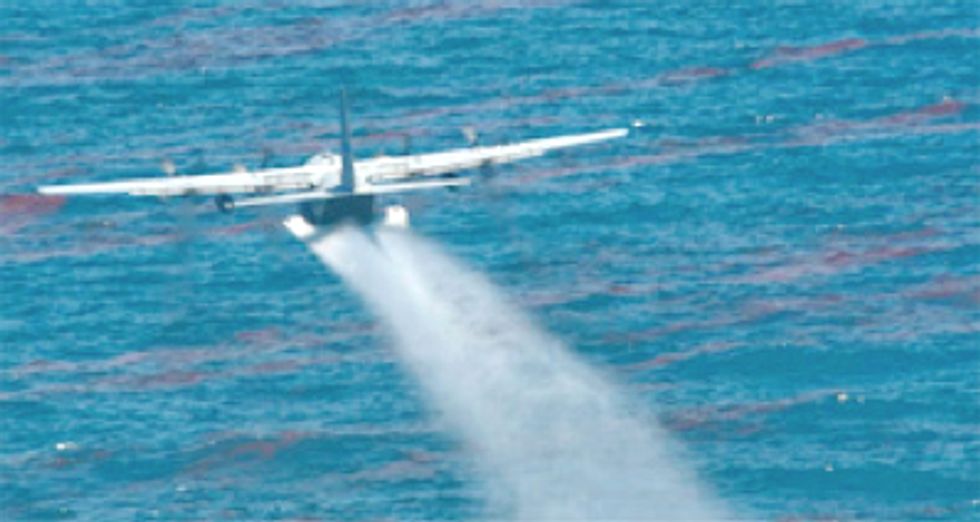 A new well leak in the Gulf of Mexico is spewing natural gas and possibly crude oil 75 miles off the coast of Louisiana, reports the U.S. Coast Guard and the Bureau of Safety and Environmental Enforcement.
According to the LA Times, authorities reported a "rainbow sheen" of natural gas, more than four miles wide and three-quarters of a mile long, floating on the surface of the Gulf after a fly-over assessment Tuesday. How much had spilled was unclear.
The platform is owned by Energy Resources Technology Gulf of Mexico, LLC (ERT), which is a subsidiary of Talos Energy. According to a statement from the company, workers were attempting to permanently plug and abandon their non-producing well over the weekend when the leak occurred.
According to the Associated Press, workers were trying to temporarily plug the well Monday night when they lost control of it. The five workers on the platform were evacuated safely and two other wells were shut off, stated the U.S. Coast Guard.
As authorities are working closely with the ERT to monitor pollution response efforts, it is still unclear as to which chemicals can be used to safely clean up fossil fuel spills from offshore drilling and other incidents.
News of the leak broke the same day a coalition of environmental and public health groups filed notice to appeal a decision over the Clean Water Act regarding the use of chemical dispersants for oil spills.
Initially, the groups filed suit in August 2012 to compel the U.S. Environmental Protection Agency (EPA) to comply with the Clean Water Act in preparing and publishing the list of dispersants eligible for use in oil spill response.
According to a press release from public interest environmental law firm Earthjustice, the District Court dismissed the coalition's suit on May 7 reasoning that the EPA initially made its decision not to identify bodies of water or safe quantities for eligible dispersants back in the 1980s and 1990s, even though it was required by the Clean Water Act.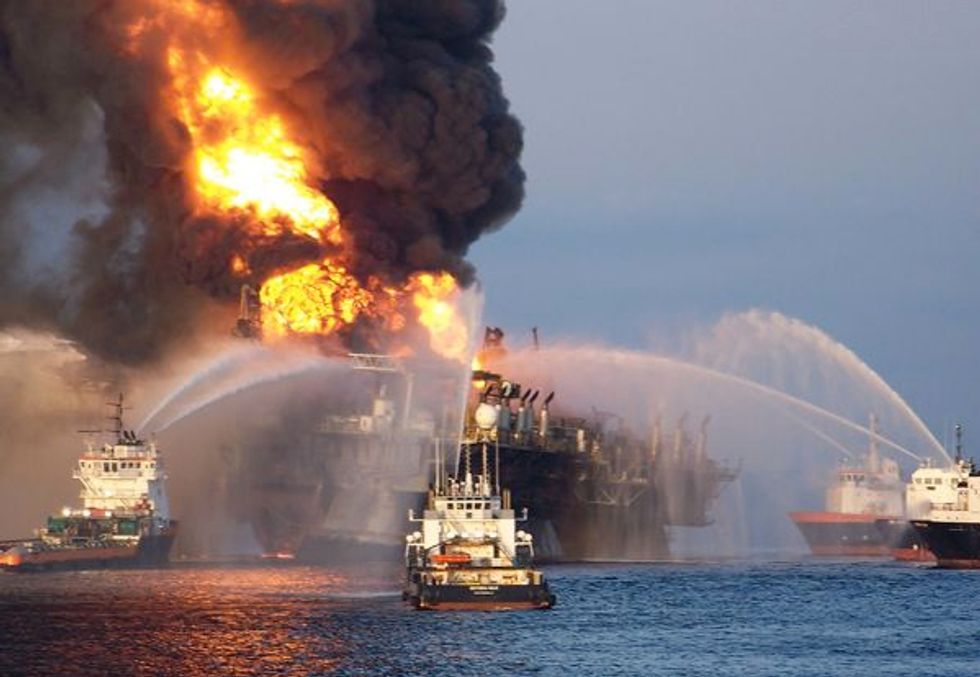 LEANweb.org
.
Earthjustice explains that the Clean Water Act requires the EPA to identify the waters in which dispersants and other spill mitigating devices and substances may be used, and the quantities that can be used safely, as part of the EPA's responsibility for preparing and publishing the National Contingency Plan. But the EPA currently fails to include this required information in its list of eligible dispersants under the National Contingency Plan, which governs responses to discharges of oil and hazardous substances. This meant that during the 2010 BP Deepwater Horizon disaster, 1.83 million gallons of dispersants were released into the ocean without prior scientific study and evaluation of the toxicity of those dispersants and without any understanding of whether those dispersants were safe for the Gulf of Mexico, particularly in the unprecedented quantities that were used. Research into the aftermath of that disaster suggests that indeed they were not safe.
According to the press release, the District Court stated that the groups should have challenged the EPA's decision when it was first made and were too late to claim violations of the Clean Water Act. This interpretation of the law allows an agency to continue violating clear statutory mandates so long as these violations were not caught and corrected within the first six years of their occurrence.
In October 2010, Earthjustice and the coalition had filed a rulemaking petition calling on the EPA to set a toxicity standard, require dispersant manufacturers both to improve testing of their products for toxicity and to disclose the ingredients of the dispersants as a condition of allowing the product to be eligible for use in response to spills. Earthjustice stated that while the rulemaking has been expected for years, it has yet to be released.
Earthjustice represents the Louisiana Shrimp Association, Florida Wildlife Federation, Gulf Restoration Network, Louisiana Environmental Action Network, the Alaska-based Cook Inletkeeper, Alaska Community Action on Toxics, Waterkeeper Alliance and Sierra Club in this action.
Visit EcoWatch's CLEAN WATER ACT and OFFSHORE OIL DRILLING pages for more related news on this topic.
———
SHARE YOUR THOUGHTS BELOW: What should the EPA do to enforce the Clean Water Act?
———

waterlust.com / @tulasendlesssummer_sierra .
Each product featured here has been independently selected by the writer. If you make a purchase using the links included, we may earn commission.
The bright patterns and recognizable designs of Waterlust's activewear aren't just for show. In fact, they're meant to promote the conversation around sustainability and give back to the ocean science and conservation community.
Each design is paired with a research lab, nonprofit, or education organization that has high intellectual merit and the potential to move the needle in its respective field. For each product sold, Waterlust donates 10% of profits to these conservation partners.
Eye-Catching Designs Made from Recycled Plastic Bottles
waterlust.com / @abamabam
The company sells a range of eco-friendly items like leggings, rash guards, and board shorts that are made using recycled post-consumer plastic bottles. There are currently 16 causes represented by distinct marine-life patterns, from whale shark research and invasive lionfish removal to sockeye salmon monitoring and abalone restoration.

One such organization is Get Inspired, a nonprofit that specializes in ocean restoration and environmental education. Get Inspired founder, marine biologist Nancy Caruso, says supporting on-the-ground efforts is one thing that sets Waterlust apart, like their apparel line that supports Get Inspired abalone restoration programs.
"All of us [conservation partners] are doing something," Caruso said. "We're not putting up exhibits and talking about it — although that is important — we're in the field."
Waterlust not only helps its conservation partners financially so they can continue their important work. It also helps them get the word out about what they're doing, whether that's through social media spotlights, photo and video projects, or the informative note card that comes with each piece of apparel.
"They're doing their part for sure, pushing the information out across all of their channels, and I think that's what makes them so interesting," Caruso said.
And then there are the clothes, which speak for themselves.
Advocate Apparel to Start Conversations About Conservation
waterlust.com / @oceanraysphotography
Waterlust's concept of "advocate apparel" encourages people to see getting dressed every day as an opportunity to not only express their individuality and style, but also to advance the conversation around marine science. By infusing science into clothing, people can visually represent species and ecosystems in need of advocacy — something that, more often than not, leads to a teaching moment.

"When people wear Waterlust gear, it's just a matter of time before somebody asks them about the bright, funky designs," said Waterlust's CEO, Patrick Rynne. "That moment is incredibly special, because it creates an intimate opportunity for the wearer to share what they've learned with another."
The idea for the company came to Rynne when he was a Ph.D. student in marine science.
"I was surrounded by incredible people that were discovering fascinating things but noticed that often their work wasn't reaching the general public in creative and engaging ways," he said. "That seemed like a missed opportunity with big implications."
Waterlust initially focused on conventional media, like film and photography, to promote ocean science, but the team quickly realized engagement on social media didn't translate to action or even knowledge sharing offscreen.
Rynne also saw the "in one ear, out the other" issue in the classroom — if students didn't repeatedly engage with the topics they learned, they'd quickly forget them.
"We decided that if we truly wanted to achieve our goal of bringing science into people's lives and have it stick, it would need to be through a process that is frequently repeated, fun, and functional," Rynne said. "That's when we thought about clothing."
Support Marine Research and Sustainability in Style
To date, Waterlust has sold tens of thousands of pieces of apparel in over 100 countries, and the interactions its products have sparked have had clear implications for furthering science communication.
For Caruso alone, it's led to opportunities to share her abalone restoration methods with communities far and wide.
"It moves my small little world of what I'm doing here in Orange County, California, across the entire globe," she said. "That's one of the beautiful things about our partnership."
Check out all of the different eco-conscious apparel options available from Waterlust to help promote ocean conservation.
Melissa Smith is an avid writer, scuba diver, backpacker, and all-around outdoor enthusiast. She graduated from the University of Florida with degrees in journalism and sustainable studies. Before joining EcoWatch, Melissa worked as the managing editor of Scuba Diving magazine and the communications manager of The Ocean Agency, a non-profit that's featured in the Emmy award-winning documentary Chasing Coral.
Gulf Change, a group of Gulf Coast mothers, grandmothers and concerned citizens, is calling for an immediate Congressional hearing concerning actions needed in order to address the continuing health effects of the BP Oil drilling disaster.
More than 2,400 cases of chemical poisoning have been reported across the Gulf Coast, with symptoms including headaches, respiratory illness, pulmonary issues, seizures, gastrointestinal problems, rectal bleeding, skin and eye ailments, memory loss and neurological issues.
Clean-up workers, fishermen and coastal residents have reported symptoms and proper diagnosis and care is urgently needed, particularly for children who are suffering the effects of oil and dispersant exposure.
Kindra Arnesen, resident of South Plaquemines Parish in South Louisiana describes the children's health crisis in her community:
"...we have 388 children in the local elementary school and in that school we have sick kids all over the place, they're suffering from upper respiratory infections, severe asthma, all the sudden, in kids that had nothing wrong with them before. Skin conditions, lesions in between their fingers, around their mouths. As of April 2011 we had a closet full of nebulizers to help them breath. A closet full of nebulizers for a school with 388 kids. Where's the red flag?"
A recently released video by the Louisiana Environmental Action Network (LEAN), highlights the health struggles of several coastal families. One mother of three, Julie Creppel, of Burras, La., estimates her son has been on antibiotics ten or eleven times in the two years since the disaster and her 12-year old daughter's health has also suffered:
"They say she's got acute sinusitis....I've had to pick her up multiple times from school since the spill. I never picked her up before. She's stayed sick and had to miss more school now than she ever has before...and her stomach, it bothers her...she swears it's killing her."
In addition to their call for an immediate Congressional hearing, Gulf Coast activists are calling for health care for effected clean-up workers and residents and for the Gulf Coast Claims Facility, the victim's compensation fund paid for by BP and administered by Kenneth Feinberg, to immediately pay all health-related and economic claims.
Click here and here to be a hero to children on the Gulf Coast today.
For more information, click here.