This website uses cookies to ensure you get the best experience while browsing it. By clicking 'Got It' you're accepting these terms.


The best of EcoWatch, right in your inbox. Sign up for our email newsletter!
Researchers found a surprisingly high concentration of microplastics in London rain.
Ed Schipul /
CC BY-SA 2.0
Microplastics have been found everywhere in the world, from the depths of the ocean to the pristine mountaintops of the Pyrenees mountains to Arctic snow. Now a team of researchers in the United Kingdom is testing the concentrations of microplastics in cities. Sure enough, the tiny plastic particles are raining down on urban populations, as The Guardian reported.
StephenMitchell / Flickr / CC BY-NC-ND 2.0
EcoWatch Daily Newsletter
Climate change demonstrators gather in Parliament Square during climate change protests in central London, on April 15. Robin Pope / NurPhoto / Getty Images
More than 100 people were arrested during ongoing climate change protests in London that brought parts of the British capital to a standstill, police said Tuesday.
Protestors block traffic on Westminster Bridge, demanding urgent action on climate change. Amer Ghazzal / Barcroft Media via Getty Images
On Saturday, More than 6,000 climate activists shut down five bridges in Central London. The protest, organized under the banner of Extinction Rebellion to call for urgent action on climate change, was the first to intentionally block the bridges "in living memory," the group reported.
NYC Mayor Bill de Blasio and London Mayor Sadiq Khan at a forum on Sept. 18, 2016. Michael Appleton / Mayoral Photography Office
As regional, state, city and business leaders head to San Francisco for the Global Climate Action Summit Wednesday, New York City and London are stepping up as urban leaders on climate change.
In a joint statement published in The Guardian on Monday, New York City Mayor Bill de Blasio and London Mayor Sadiq Khan urged cities around the world to join them in divesting from fossil fuels.
One plastic bottle at a time, adventurer Dhruv Boruah pedals up and down England's rivers and canals not only to collect waste but to also raise awareness about the planet's growing plastic problem.
The 35-year-old former management consultant, who now heads The Thames Project, picks up plastics and other debris from waterways every three weeks, CNN reported.
Pixabay / Google Maps
London's busy financial capital has made a significant announcement to stop plastic waste.
PxHere
London-based Pivot Power unveiled plans to build the world's first national network of grid-scale batteries and rapid-charge stations across the UK to accelerate electric vehicle (EV) adoption and to usher in low-carbon transport.
The ambitious £1.6 billion ($2.1 billion) initiative consists of 50-megawatt batteries constructed at 45 sites around the country and located near towns and major roads. The hubs will be installed at electricity sub-stations to help National Grid manage supply and demand.
By Andy Rowell
The madness surrounding Britain's fracking frenzy reached new heights this morning when London's Conservative Mayor argued that fracking could take place on the streets of London.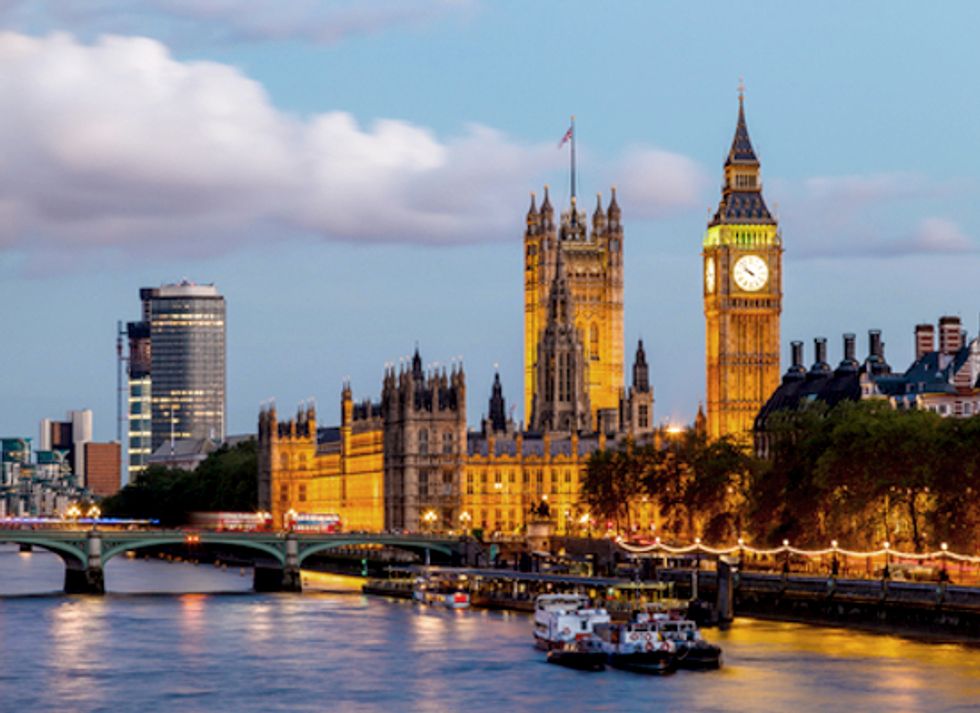 Photo courtesy of Shutterstock
According to the Times newspaper, the Mayor, Boris Johnson, "has said he is willing to offer up the streets of London to companies hoping to solve Britain's energy crisis by drilling for shale gas."
Comments like that make it easy to think that Johnson has lost sight of his senses. The fracking process requires many more wells than conventional oil and gas drilling, so it is difficult to think where these wells will go in London, apart from being placed in parks, unless Johnson is going to start ripping up homes instead.
Maybe Johnson thinks that the Olympic Park could be a great place to frack, or even the grounds of Buckingham Palace. I doubt the joggers in Hyde Park every morning would appreciate seeing a "closed for fracking" sign on the newly installed and shut gates. And the thought of polluting the valuable water aquifers below London is unthinkable for millions of people.
But Johnson is a long-term advocate of fracking. Writing in the Telegraph newspaper last December he launched an attack on renewable energy. He criticized the "white satanic mills" covering Britain's countryside, before adding in typical literary terms that "wave power, solar power, biomass—their collective oomph wouldn't pull the skin off a rice pudding."
Instead, he argued, fracking was the solution to the country's energy needs. The fracking revolution was "glorious news for humanity" and "Britain should get fracking right away," he wrote.
It is not only millions of Londoners who face the fracking threat. The so-called influential stockbroker belt to the south of London could hold 700 million barrels of shale oil, according to some estimates.
As an article in Bloomberg reports, the advent of fracking may "shatter the idyll" of many of the influential, expensive rural villages that are located in the Wessex and Wield basins.
Again, it is difficult to see how hundreds of wells could be drilled in some of Britain's most affluent areas, without a groundswell of opposition. What makes it more interesting for the Conservatives is that these areas are what is known as "true-blue Tory" country. They could be about to have a war with their own people.
"I have grave concerns about our water supplies," Anne Hall, a former county councillor from Balcombe in West Sussex told Bloomberg. Across the area "No fracking" signs are posted everywhere because Cuadrilla Resources plans soon to drill an exploratory well. "The possible impact on surrounding towns and villages would be catastrophic," she argues.
The reality is that if the Government gives the go ahead to frack in London and across the South East, millions of people in the UK may soon be living near fracking wells. And they may not like it one bit. The backlash against this government could be unpredictable and unprecedented.
Visit EcoWatch's FRACKING page for more related news on this topic.
In recent months fracking has received attention as an apparent means through which the UK could reduce carbon emissions in an effort to combat climate change. Terry Hathaway takes issue with these claims, arguing that they rest on a highly select focus on the available data, with the U.S. being far from the exemplar that advocates of fracking have made it out to be.
Hydraulic fracturing is a way of producing natural gas that is trapped in underground shale formations. It has been accused of having a much higher carbon cost than conventional methods of gas extraction, causing earthquakes and contaminating local water tables. Opposition to fracking has grown as these claims have received high profile coverage. In fact, Promised Land, a movie about the impact of fracking on local U.S. farming communities, is coming out in the UK soon.
Yet recent media reports have sought to paint shale gas as one of the main ways in which the U.S. has, and the UK could, reduce their carbon emissions in an effort to combat climate change. The New York Times, for instance, ran with a headline of "Shale Gas to the Climate Rescue." Likewise, a Guardian Comment Is Free blog post called fracking "the monster we greens must embrace." It is an argument that is catching on, with Poland claiming that its desire to exploit its shale deposits is part of a climate strategy.
The main supporting evidence in the fracking-as-green argument has been figures released by the Energy Information Administration and International Energy Administration. These figures show natural gas having displaced coal in the U.S. electricity generation market. The argument goes that the shale gas boom reduced the price of natural gas by 25 percent, which meant that cheaper natural gas displaced coal in U.S. energy generation thereby decreasing the emissions caused in the production of electricity.
This part of the story is true, but it is highly selective in its focus. In actual fact, it is nothing more than poor carbon accounting that allows this argument to be made. What is missing from the story is that losing their position in the U.S. market has not led U.S. coal producers to significantly reduce the production of coal. Instead of being used in America, exports of coal have boomed and other countries—most notably the UK—are now gobbling up the excess American coal, as the graph below shows.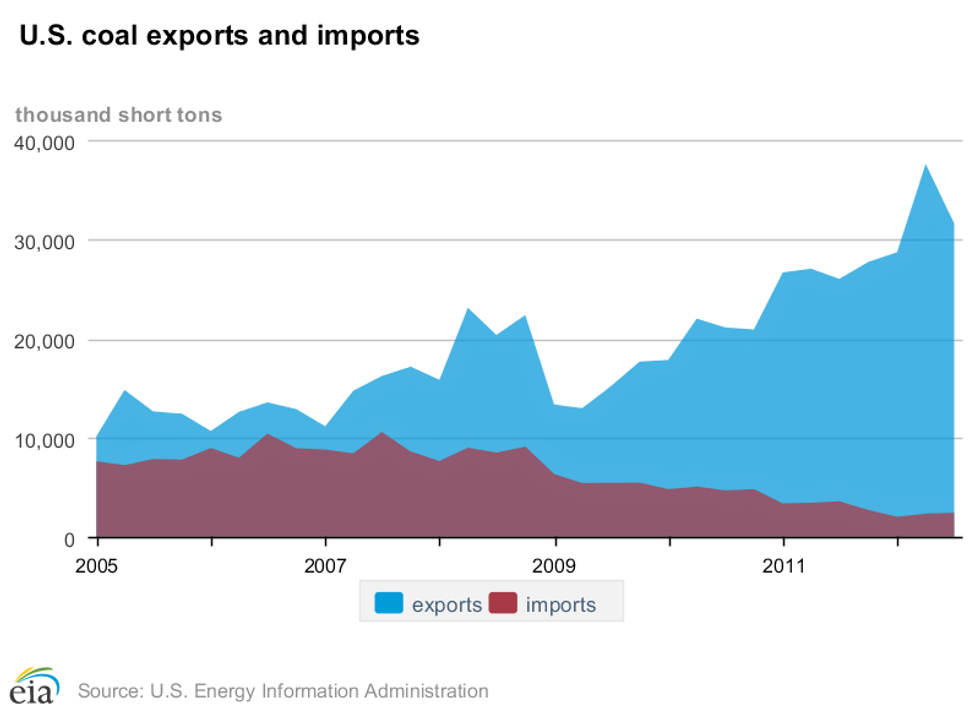 While Europe has been a big market for American coal so far, developing countries are being incentivized by the reduced price of U.S. coal to use more of it. In fact, India, with its 1.25 billion people, is a rapidly growing market for coal. So, while shale gas may have improved the U.S. record on CO2 emissions, it has worsened the record elsewhere and has the potential to worsen it further.
Additionally, by focusing only on CO2 emissions in the production of electricity the carbon cost of fracking—the production of shale gas—is missed. Instead, the carbon accounting displayed in this argument is just a basic comparison of the CO2 produced when natural gas or coal combusts. In the comparison natural gas obviously wins, but fracked natural gas may not. That, of course, is also not even saying anything about earthquakes and water contamination, which clearly shouldn't be excluded from an environmental debate.
The two oversights in the fracking argument allow shale gas to be painted green, when in reality it is anything but. Similar attempts have been made to paint the Canadian tar sands green, by the Canadian government no less. These are arguments that must be exposed for what they are: greenwashing. It seems obvious to say so, but the world's production of carbon will not be reduced through the greater use of fossil fuels, nor will it be reduced through policies that focus only on local emissions and omit the impact of the policy on global emissions.
Visit EcoWatch's FRACKING page for more related news on this topic.
Terry Hathaway is a doctoral researcher in the Department of Politics and International Studies at the University of Leeds. His thesis is an investigation of the role of business in US oil-dependency policy making. Follow Hathaway at @Terry_Hathaway.
Note: This article gives the views of the author, and not the position of the British Politics and Policy blog, nor of the London School of Economics.
——–
Sign the petition today, telling President Obama to enact an immediate fracking moratorium: